Photo Plus: Quick samples from Sony A7 and A7r with 12mm Voigtlander!
Pre-order the Sony A7 and A7r at the links HERE.
Not good photos by any stretch but I managed to snap off a few quick shots at the Sony booth with the A7 and A7r with the Voigtlander 12mm f/5.6 I had with me because I wanted to check for color shifts and issues and it was VERY hard to do this test because this is an f/5.6 lens and indoors and handheld, forget about it. High ISO city. In any case you can see how it did below in these awful conditions (for a lens like  this).
I set the A7 and A7r  to AUTO ISO and neutral color with AWB. JPEG only here guys. Again, these were super quick test snaps just to test for the color shifting and edge issues when using ultra wides on this camera. This lens gives issues with the Leica M so many are curious how it would do with the A7. I can say that it was well-balanced on the camera and the A7 series feels like it was made for RF lenses. I know for a fact that the 50 Sonnar I tried yesterday was gorgeous in quality all the way around.
But look for some REAL photos with the new cameras next week 🙂
Images:
1st up, the 12mm on the A7r, full size file..JPEG straight from camera so whatever NR the camera does at default, this is it. ISO 5000. Keep in mind it is not even focused..just testing for color shifts..
Click the image to see the full size 36MP OOC ISO 5000 JPEG file. This is a true 12mm image. This is a torture test for the Sony A7r. An M mount ultra wide lens.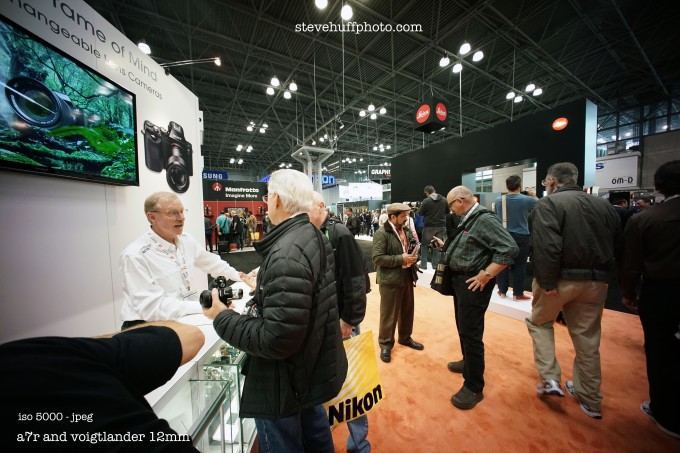 –
and a few more below resized to 1800, OOC JPEGS – one from the A7 and one from the A7r – again, not even focused correctly