Midnight Crazy Comparison! HIGH ISO – Sony A7, A7r, Leica M and E-M1!
It's just past midnight and probably will be 1Am before I am finished writing this post but I just can not sleep and am not sure why. In fact, I feel wired for some reason. Maybe it is the fact that tomorrow I will be yet another year older and hitting the age of 44 yet my brain is telling me I am 25 and full of energy 🙂 Nahhh. I think it was the fact that I was laying in bed thinking about what the high ISO performance of the Sony A7 and A7r is like side by side. I decided to get up from bed to go to my office and do a quick and dirty high ISO test between them. While I was at it I added the Leica M 240 and the Olympus E-M1. All cameras were using a 35mm or equivalent lens and all are OOC JPEGS without any NR turned on.
I noticed some reviews of the Sony were claiming mushy details at high ISO. Well, that is because they were using Noise Reduction. TURN IT OFF on ALL of your cameras for best results. It is my opinion that NR should not even be an option for a camera as it always obscures details and adds odd side effects to your images. Almost like a painting. The 1st thing I do when using a new camera is I turn off all noise reduction. It is off on my Olympus E-M1, the Sony RX10 ,the A7's and the M 240 does not even have it as an option (from what I have seen) so Leica did it right.
The A7r…I am bonding with it…
The Sony A7r has been really attaching itself to me. After a few days I prefer it to the 7 in all ways..even shutter sound. It may be longer but it is a little more "silkier" it seems.  I also prefer the higher resolution as it is something I just do not have in any other camera. Having no AA filter is only good IMO and my favorite cameras do not have them (Leica M, E-M1, RX1R, etc). Also, the Sony/Zeiss 35 2.8 is THE lens to order with this system. I like the 55 1.8 as well but the 35 has something about it and I can tell it has those Zeiss qualities. Many have asked me how the A7r with Zeiss 35 2.8 compares to the RX1 or RX1R. Well, the A7r focuses faster, is higher resolution, just as sharp but you lose that f/2 and have to settle for f/2.8. But at f/2.8 you still get a great look to the image. Full frame + f/2.8 is good 🙂
A quick snap while in Ikea today with the A7r and 35 2.8 Zeiss. f/2.8 at ISO 400. JPEG.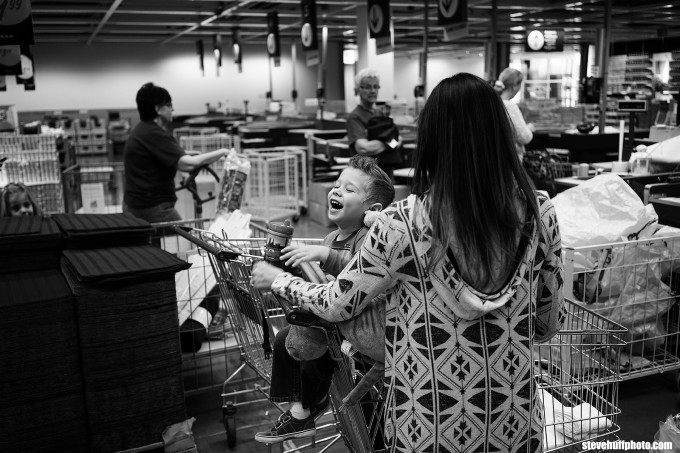 So at $2300 for the A7r and $800 for the 35 you are $300 over the cost of the Rx1 but you also have a built in EVF which would run you almost $500 for the RX1R. So in many ways, the A7r is the better bet unless you want the smaller RX1R with the f/2 Zeiss.
So again, my full review is in the works for these new A7 cameras, so check back soon for the full detailed report with loads of images. I will also be in Los Angeles next week with some buddies at a studio testing out these cameras in a studio situation as well as some quick street work. Can't wait and these images and my report on them will be in the full review.
The Crazy Comparison – HIGH ISO!
Hey! This was supposed to be a High ISO Crazy Comparison! Lol..well, here you go!
The Sony's had the 35 Zeiss 2.8 mounted, the Leica has an old 35 3.5 Summaron mounted and the Olympus had the 17 1.8 mounted for a 35mm Equiv. ALL shots were JPEG, noise reduction OFF, OOC color and Exposure and AWB. The Sony and Olympus were shot at f/2.8 and the Leica f/4.
It is not a sharpness test but a noise test so here we go!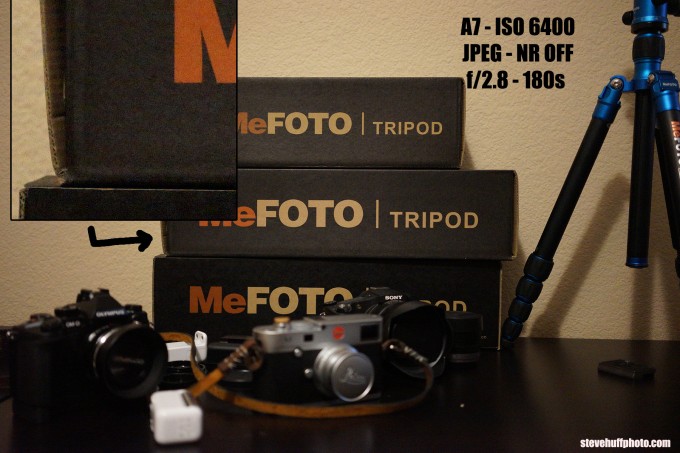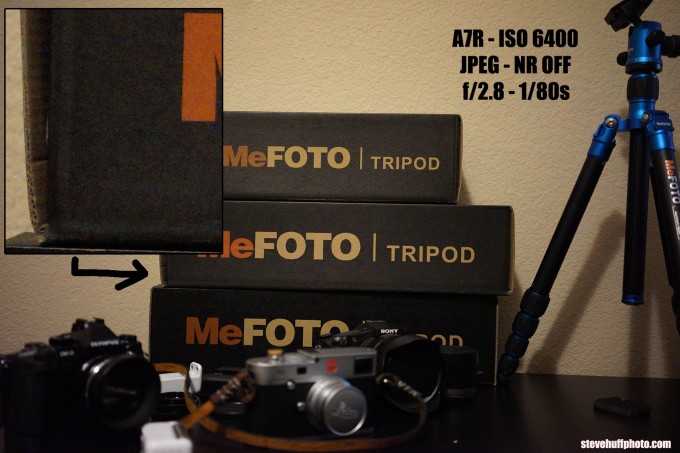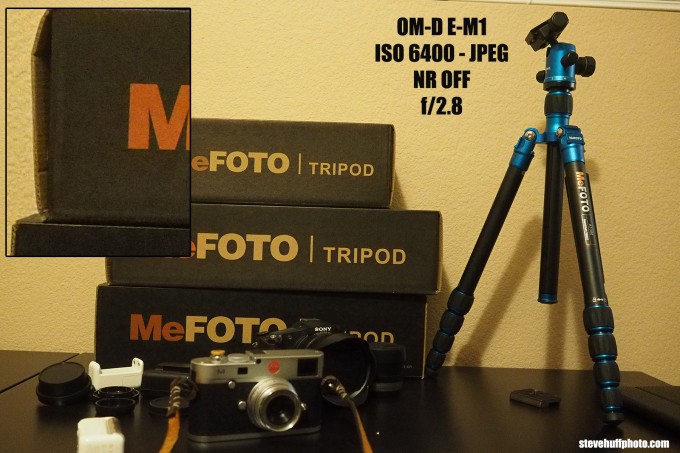 So there you go. Olympus did the worst with AWB, Leica did the best. As for noise at ISO 6400? What do YOU think? 100% crops are embedded so you must click the images above for the larger size. What I think is that ALL of them did great for a midnight indoor high ISO test in my office at ISO 6400 :). These days, high ISO is great on all decent cameras.
It is now 12:51 AM..and I am ready for bed..finally 🙂 Have a great night (or morning) everyone!
Steve
PS – You can pre-order the A7 cameras at my pre-order link page HERE!