The Sony NEX-7 Takes Flight
by Bob Towery – 
For the past three years, I have been taking my family to Ixtapa/Zihautanejo, Mexico, for a January vacation. We stay in a beautiful condo right on the beach, and for two weeks life could not get any more idyllic.
The first year we went, I did get out one day to attempt some serious photography. I hired a taxi driver and said "take me out to the country, where there aren't any tourists!" I did enjoy this, and got some interesting local people shots, but after doing so realized this was probably sort of a dangerous thing to do.
So the last two years I just took my most basic kit, a Sony NEX-7 and the 18-200mm zoom. This lens is obviously slow and a real compromise, but realistically I'm just looking to get some vacation snaps, right?
Sun Splash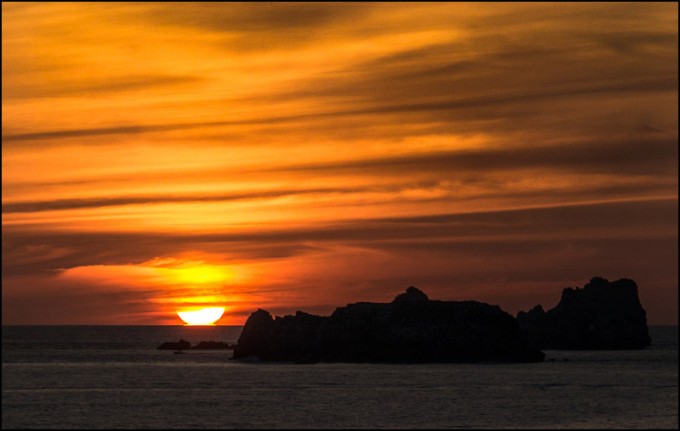 This is the kind of "postcard" sort of shots that I would get. Nothing wrong with that. Except that I got frustrated. Here I was in this beautiful place, and I'm making post cards? Isn't there something more? That night I went to bed (after a few rum "painkillers") trying to imagine what I could put together photographically.
The next morning, as is my custom, I went for a walk on the beach. The entire round trip is four miles, so it's pretty nice. As I was turning the door handle to leave, I realized I didn't have my camera. "Why bother?" was my first thought. More postcards? But something told me I should grab it anyway and I did. (My grandmother always said: play your hunches.)
I walked along and tried to quiet my busy mind. Although on vacation, my thoughts turn to work, the other various things that occupy my life. I had the Sony on a shoulder strap, and my hand on the body to keep it from flailing around as I trudged through the morning's wet sand.
All of a sudden a pelican appeared to my left, in my peripheral vision. As I swung the camera up to my face, I depressed the shutter to awaken it. I kept my left eye on the pelican and moving the camera quickly to try to get the bird framed I was totally startled. The EVF had this smeared image that lasted for a little over a second. My brain was totally confused as I still had both eyes opened, but I had seen this completely strange and unreal view in my right eye.
And at that second I recalled my dream, sometime during the previous night. Flight. I often dream of flying. Sometimes, it's like a Superman thing. I take two steps downhill and I'm airborne. Most often though I'm in some kind of wacky flying craft. A platform, something like out of the land based Star Wars crafts. It's nearly always semi-dark and I float along over a lit up city, small forests, that kind of thing. I have done a lot of private flying, and a private pilot's nemesis, power lines, often appear in my dreams.
But not last night. No, I was a bird. Not just any bird, evidently, as the images from the dream began to appear in my brain. They were such a mess that I just sat down on the sand, closed my eyes, listened to the crashing Pacific Ocean waves and marveled at the dream replay. This was perhaps a jungle bird, a flying sasquatch. From another time. Slow, maybe just having one eye, as the colors and lack of acuity were so surreal. I considered that this bird every so often emerges from the jungle, only early or late, to briefly reconnect with the Ocean and the creatures along the shore.
This bird would take in the modern birds, faster, more refined, able to see right through the water to catch fish. And those strange upright creatures without wings. Unbelievably fast and loud creatures which carry the upright beings on their back. Once in a while, even a creature that had not changed that much from the prehistoric times, something I could recognize.
These images from my dream were different from I had ever dreamt before, and as I picked myself up from the sand I determined to attempt to make images that week that would represent these strange visions.
Over the course of the next few miles along the beach I developed the idea that I would use a slow shutter, early and late in the day, and create my version of this ancient being's vision. Processing in Lightroom 5 completed the recreation.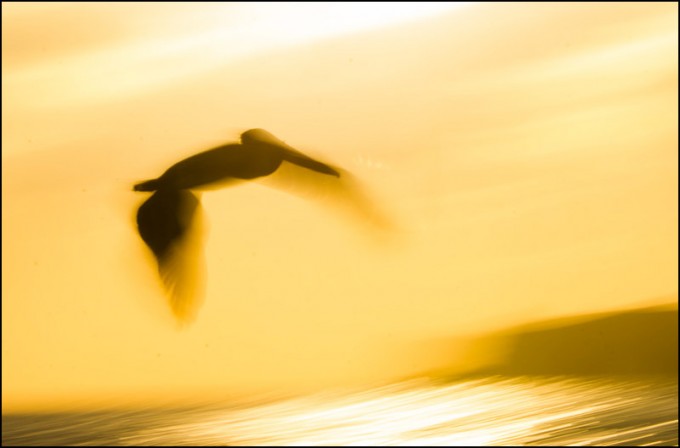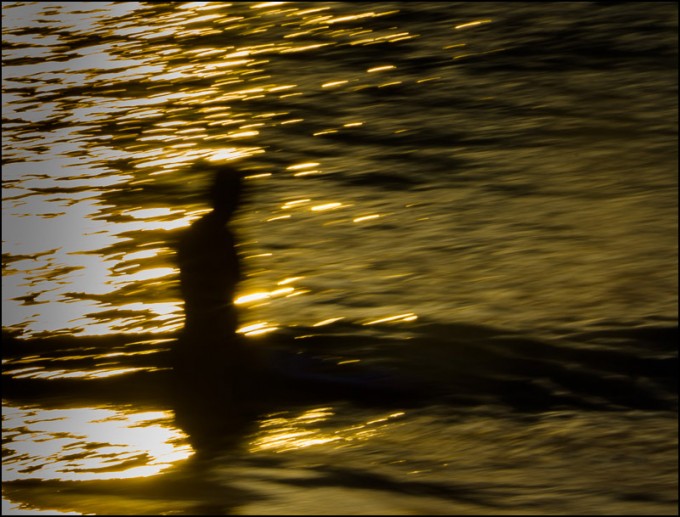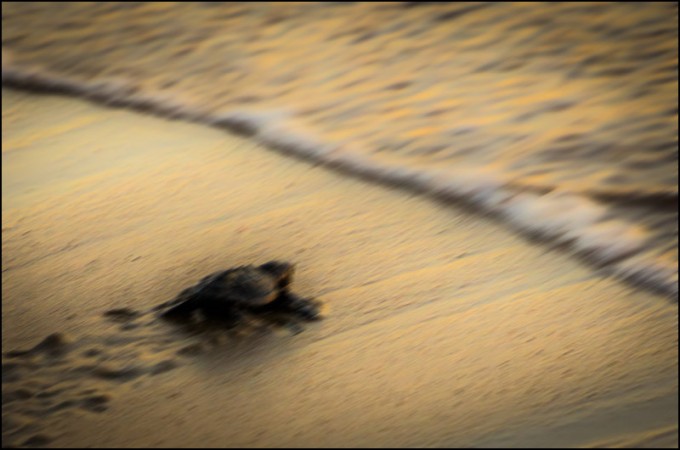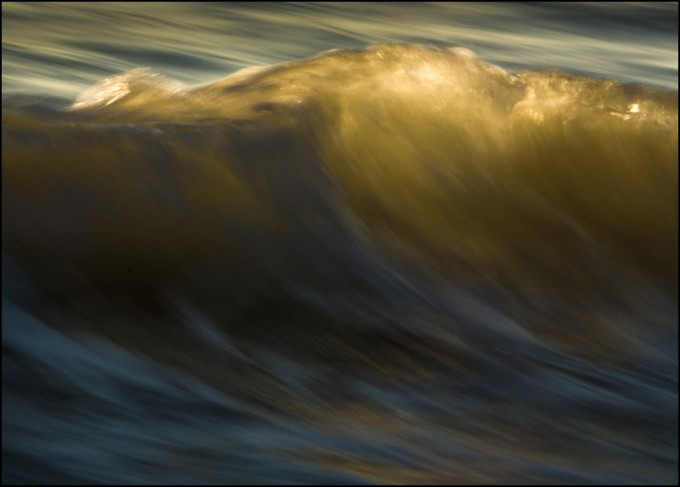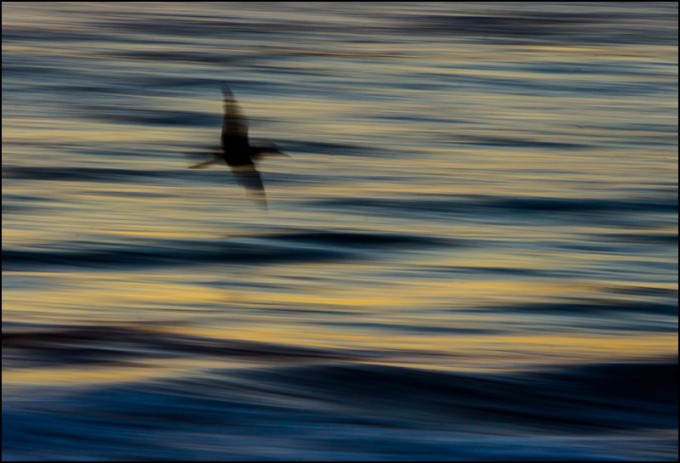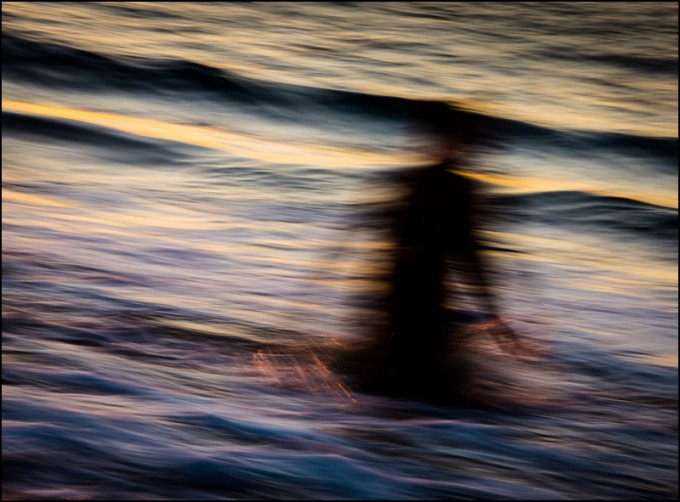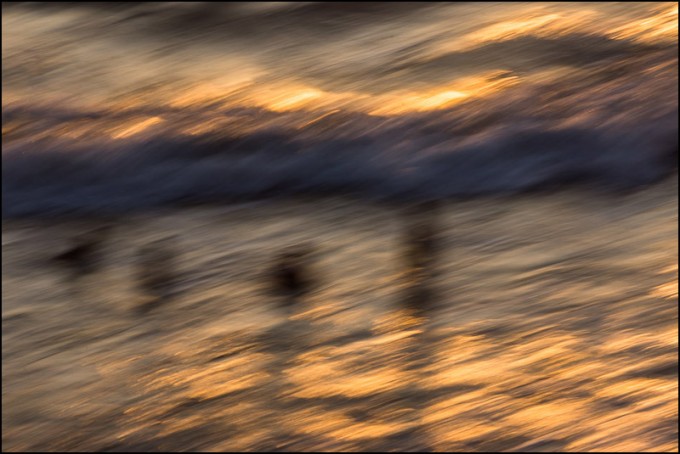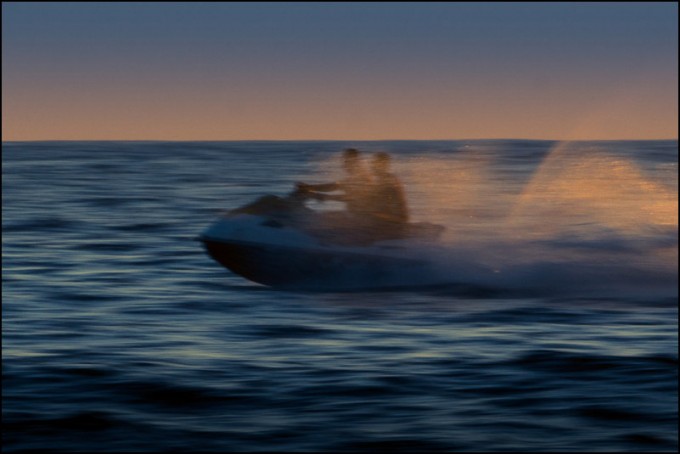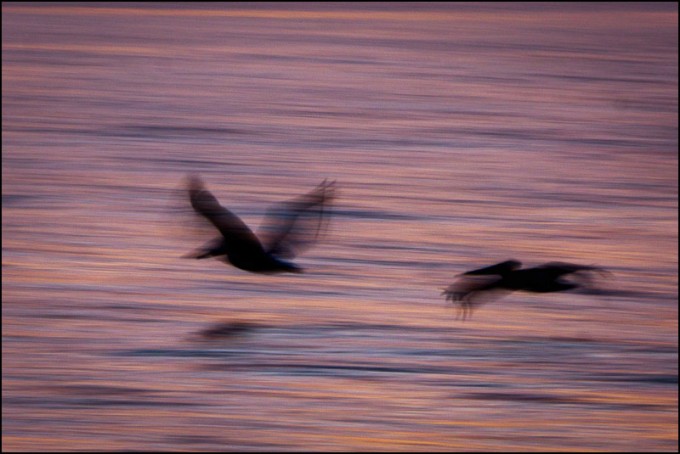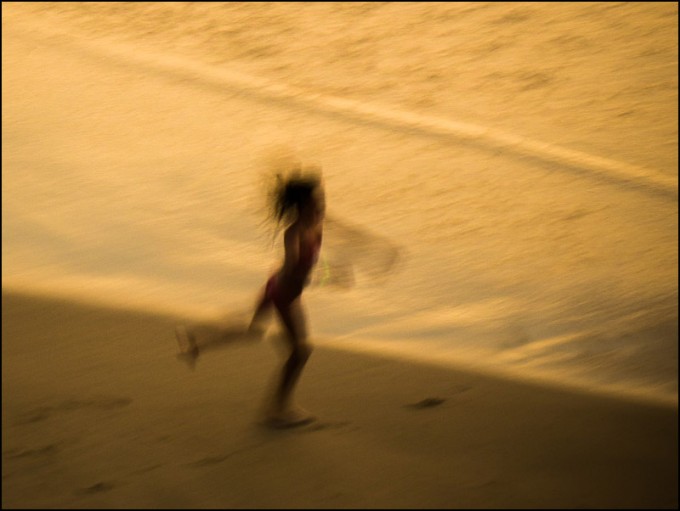 In closing, I'd like to make a brief point. To the extent I was successful, I believe it was mainly because after the dream, I was shooting with a real purpose. I intended to make certain types of images. I find I create much more compelling images when I shoot with a purpose, as opposed to "seeing what I can find." This particular theme was pretty complex, but it doesn't have to be. You can say "today I'm going to shoot yellow!" Or shadows, or only looking down or up. It doesn't really matter what it is, but having a purpose orients our brain to find subject matter in a more interesting way.
Bob Towery – www.dreamtomorrowblog.com