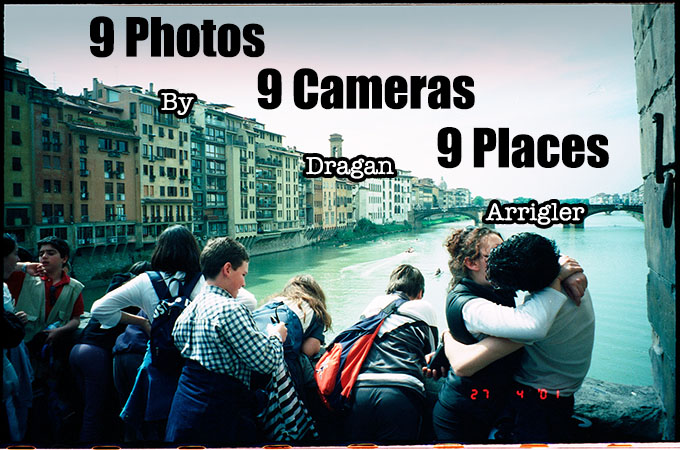 USER REPORT: 9 Photos, 9 Places, 9 Cameras
By Dragan Arrigler
Recently posted Paris photo by Gianmaria Veronese here reminded me of my own photograph I made from almost the same spot in March 1985. It was my 35 mm b&w film era and 16 years later, in 2001 I started to work with digital cameras. I would like to present a short user report and briefly describe the 9 cameras I used to make 9 very different photos of 9 different places from 1985 to 2013.
1. In 1985 I was a photojournalist and I always carried around a lot of cameras, lenses, etc. Still, my favorite combination was Canon F, 24 mm lens, and Kodak TRI X, while the vast array of other lenses and accessories in my bag waited there "just in case". In those days I used 24 mm lens for almost everything – landscapes, cityscapes, portraits, etc. It gave me such a broad and dynamic view at the world around me. I preferred contrasty, grainy photos and as a rule my b&w films were slightly underexposed and slightly overdeveloped. I still have one Canon F from 1980. In has been regularly serviced (three times in 33 years) and it works like new.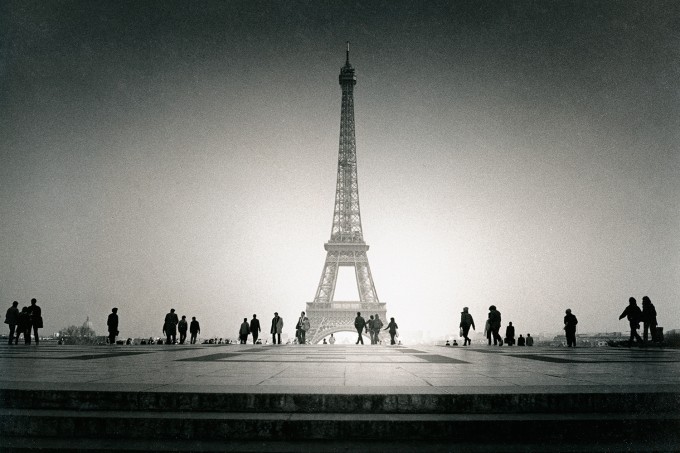 –
2. I made the picture of Pontevecchio in Florence in 2001 with Olympus Mju (Stylus) Zoom Wide 80 (I have always loved Olympus cameras for their size and weight). It was automatic 35 mm compact camera with 28-80 mm lens, considered very wide for late '90, when it was designed. It had autofocus, small LCD frame counter and was waterproof. A perfect travel companion. The camera even displayed some sort of metadata, as can be seen on the lower right side of the photo. The kids on the picture didn't seem to be interested in the magnificent renaissance architecture around them, and neither was I.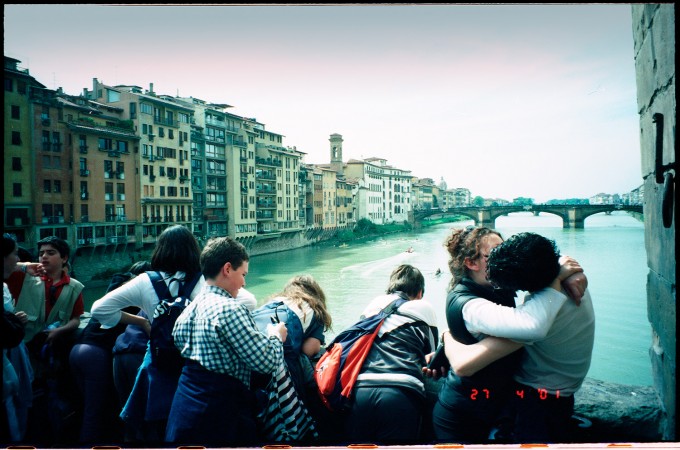 –
3. My first digital camera was Olympus E-20P, purchased in autumn 2001. Soon after that, in February 2002 I had to do a job on Bonaire, a amall island in the Dutch Caribbean. Digital photography being sort of unexplored territory at the time, I didn't risk and packed my trusted analog cameras as well. Most of the work was indeed done on 35 mm color slides, but with my new toy I made some charming pictures, too. One of them was a photo of windsurfers in beautiful Jibe City on the eastern coast of the island, where constant trade winds and shallow turquoise Caribbean sea waters make ideal windsurfing spot. I sold E-20P the next year after purchasing my first Canon DSLR, but I still remember its perfect zoom lens 35-140mm f 2,0-2,4 with certain nostalgia.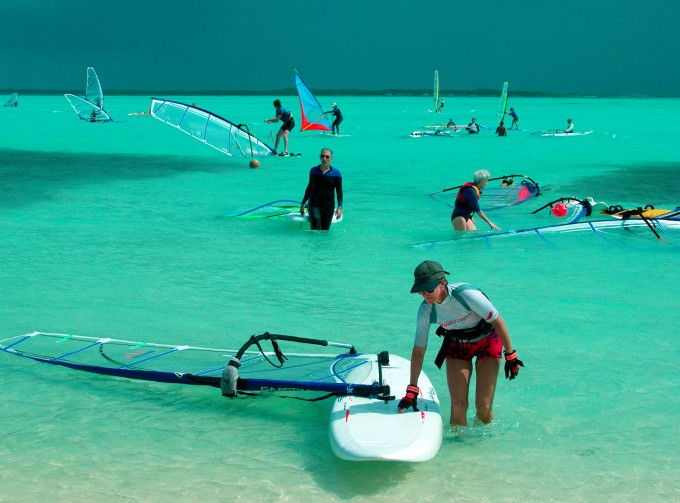 –
4. Canon PowerShot S30 was a terrible camera by today's standards, but was a precious pocket compact in 2003. I took it along on my trip to Provence that summer. It is fun and more or less safe to make photos with such a small and unobtrusive camera – without using flash, nobody takes you seriously, especially when you work in relatively dark interiors or at night. Café de Nuit in Arles, once beloved Vincent Van Gogh's motif, was a perfect place to prove this. In postproduction, inspired by master's paintings, I slightly exaggerated the colors, just like he did in 1888.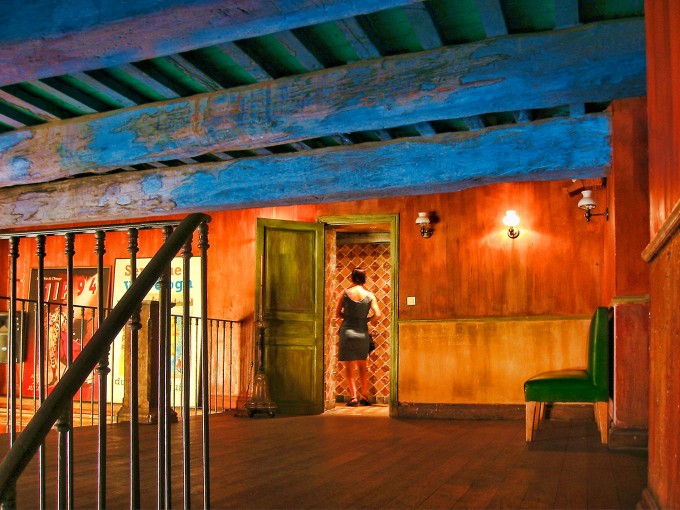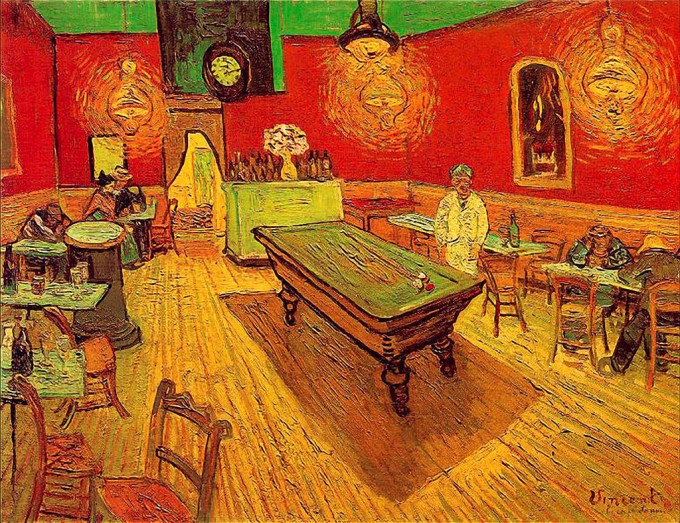 –
5. I was presented Holga for my birthday in 2006. Yes, it is a rickety, cheap plastic Chinese camera. It leaks light, the lens is terrible (60 mm f 8,0 – somewhere between normal and wide-angle lens for 120 film) and it incorporates only one shutter speed which is not defined precisely – it's probably around 1/60. And B, of course. Exposure demands a lot of guesswork. But it gives you the basic thrill of photography: you can never really tell what you will get. If the predictability of digital photography has begun to bore you, get a Holga. For best results use very old films, expired long ago. And there is more: you will never again feel the urge to invest in digital filters which imitate corny emulsions, cross processing, picture frames, over saturated or washed-out colors, vignetting, as well as dust & scratches. Nothing of this was applied to the photo of the romantic old house in Vrhnika, Slovenia.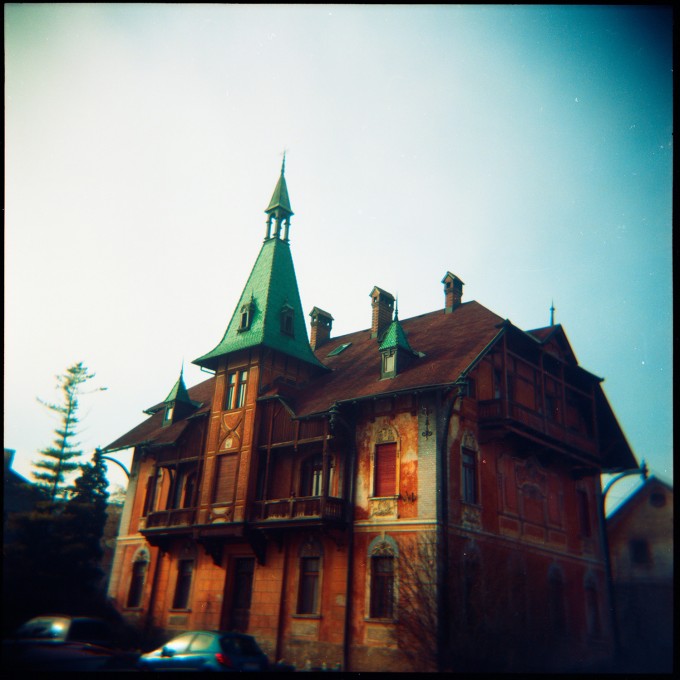 –
6. Another Canon PowerShot, the A640 was used to photograph silhouettes in a small beach bar on Caribbean island Antigua in 2008. This camera had almost limitless autonomy, because it was powered by four AA batteries and I purchased it prior to a sailing trip where I didn't expect to have any AC outlets at hand. AA are the most common batteries – you can buy them anywhere in the world. You just have to buy a large (and heavy) stock. Being so dependent on energy is digital cameras' big disadvantage in comparison to analog ones. For instance, I replaced the battery of my 1980 Canon F maybe three or four times in more than 30 years.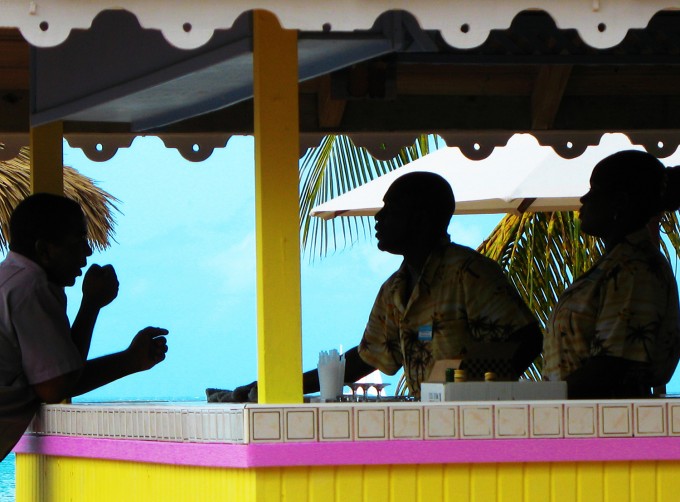 –
7. Yet, it's a digital era and small cameras are so expendable. I only had the A640 two years and then I replaced it with the third Canon PowerShot, S90. It is even smaller than A640 and claimed to be better, a great third camera for professionals, with a lot of manual controls. But in terms of picture quality I never really saw a big difference – except that it has very usable wide aperture of f 2,0 at 28 mm (equivalent) zoom setting. The other side of zoom, 105 mm (equivalent) f 4,9 is much sadder story, though. Anyway, this camera was used to make the picture of the biker (luckily dressed in red) sweating uphill on endless winding road in literally and metaphorically breathtaking, exotic, hot, humid, Avatar-like island Reunion in Indian ocean. One final remark on this tiny device: it incorporates optical stabilizer, but being so small and light (just 175 g), it just can not match the stability of big and heavy DSLR cameras with big and heavy lenses.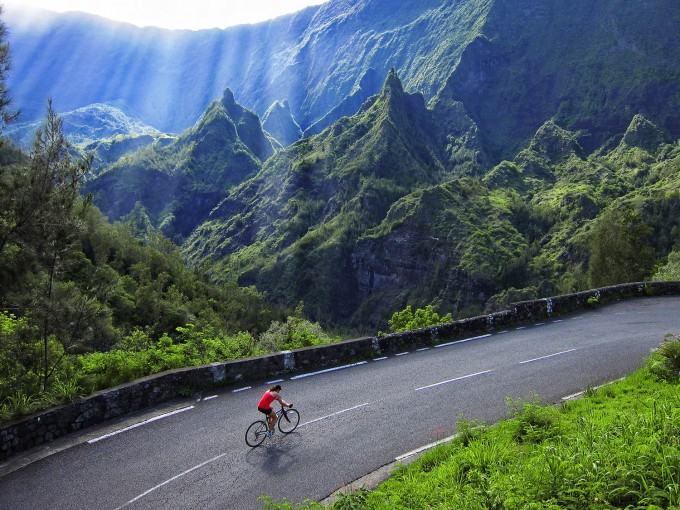 –
8. If you like red color, Denmark is one of the countries to travel to. Red is a dominant color in their flag and elsewhere. With a bit of luck and good weather you can make nice geometric pictures like I did in the small port of Struer in north-west part of the country. I used Canon EOS 5D, bought in 2005 (can you imagine that it has already been called "vintage"?) and good old zoom 24-85 mm f 3,5-4,5, designed in 1996. In spite of being almost ancient by today's standards, it is still one of the best and most durable combinations if you want to travel light.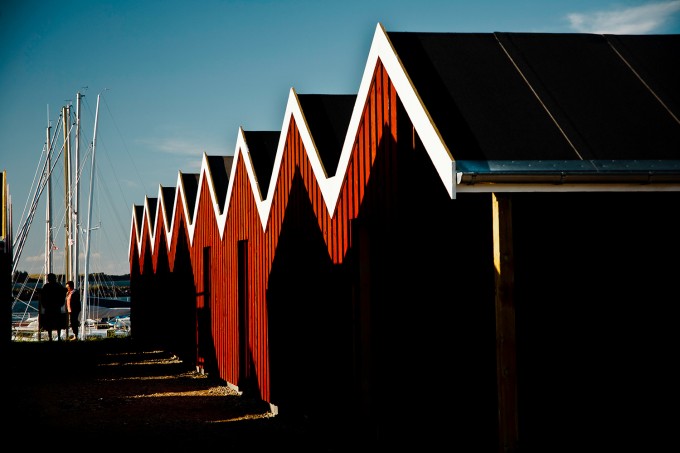 –
9. Finally, I would like to share some observations regarding Voigtländer Nokton 25 mm f 0,95. Read some tests of this product, e. g. here or here and let me just add this: it's a fantastic toy, a sheer pleasure, but not in the least easy to use. And more than just a toy, of course. It's solidly built, it's big and heavy, heavier than my Olympus E-P3, including EVF and strap. Now just think: a heavy lens plus f 0,95 plus in-camera image stabilisation – a photographer with steady arm and some experience can work in almost total darkness without even having to use high ASA setting. The twilight picture of exotic Lisbon funicular was made handheld with 1/25 s at f 1,4 and ASA 320. And there is even more: it can focus down to approximately 8 centimetres or 3,15 inches which almost makes it a macro lens, too. Unfortunately, it has two drawbacks: manual focus and manual aperture ring. It is difficult to focus it in darkness owing to its extremely shallow depth of field (probably this problem will be solved with the newer cameras incorporating focus peaking). In bright daylight, where circumstances call for smaller f-stop, it's even more complicated; remember, the aperture is manual and you have to focus at working f-stop. This is not easy even at f 4, and nearly impossible at f 8 or f 11. Of course, it's 25 mm lens and everything in finder appears to be sharp. Not so later, when you critically observe your masterpiece at 100% magnification on the computer monitor. In short, this lens needs some patience and a lot of practice. If you have no patience or not enough time to practice, go and buy Panasonic's 20 mm f 1,7 lens. It's a very good solution, too.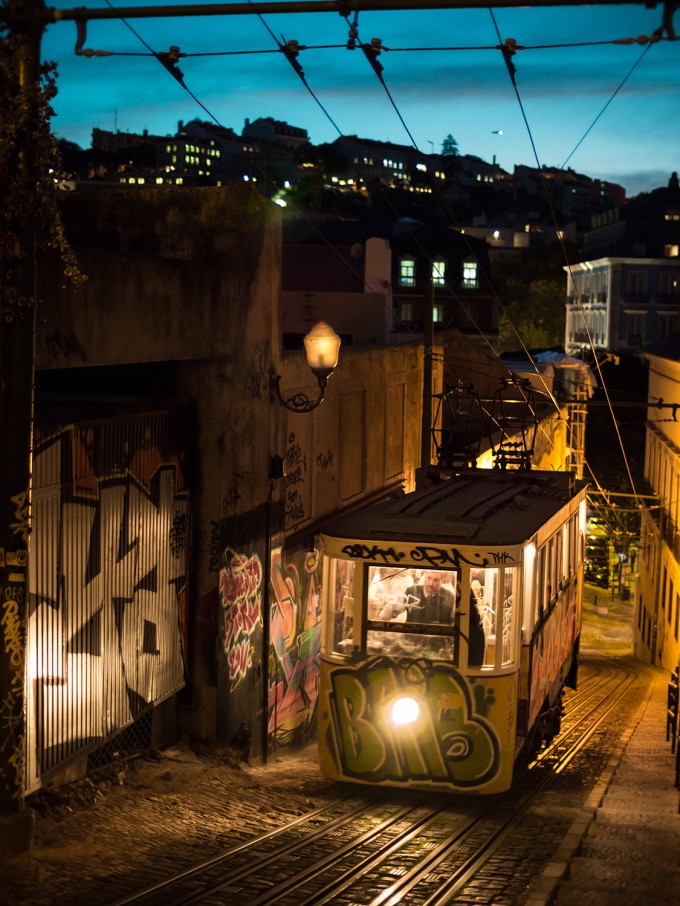 Conclusion: the point of this user report (and hopefully the pictures) is to inspire the readers to grab whatever camera they have, go out and do with it the best they can. There is absolutely no guarantee that they will make good photos with the best camera and the sharpest lens in the world. But there is a fair chance that their pictures will be widely admired even if they were made with cheap, plastic, outdated three megapixel devices. Just consider: would the photo of Café de Nuit be better, had it been photographed with a good, 36 megapixel camera, like Nikon D800E or even 60 megapixel Hasselblad H5D? Perhaps tehnically; it would be sharper, with more details, the resolution would be substantially bigger. But would it match the atmosphere of Van Gogh's painting? I don't think so. Sometimes the photos are about mood, not tehnical quality. Buy any camera, get used to it, then just forget it and focus on the pictures. To quote Don McCullin, the famous war photographer of the 1960s and 1970s: "I only use the camera like I use a toothbrush. It does the job."
Dragan Arrigler