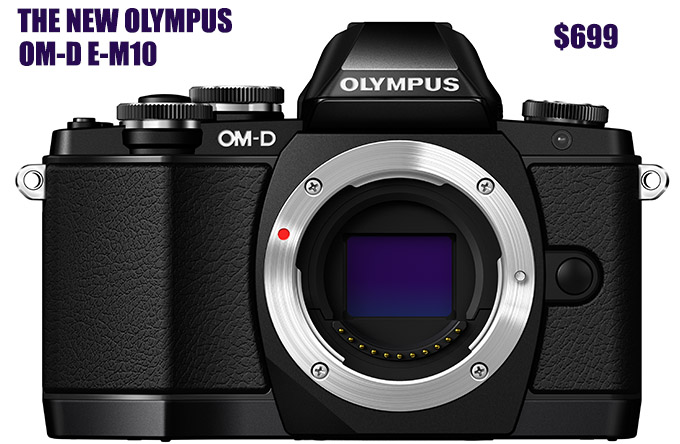 The OM-D E-M10 and 25 1.8 Lens! New Olympus Firecrackers!!
Sweetness! It must be new camera week as just now Olympus officially announced the much talked about and rumored "baby" E-M5, the E-M10 (right after Fuji dropped the HOT X-T1)! This is IMO a $699 firecracker that will allow anyone to get a taste of the fantastic E-M5 at a great price point. The E-M10 is an all metal body full of features and is pretty much the full IQ of the E-M5 and E-M1 in more affordable body that any enthusiast can afford. The OM-D E-M10 will NOT replace the E-M5. Instead the lineup will remain as it is for now – the starter E-M10, the middle of the road E-M5 and the rock n rolling pro, the E-M1. I feel this is a great move as it gives a more affordable option to those wanting the OM-D experience. Same IQ, same solid build, same experience!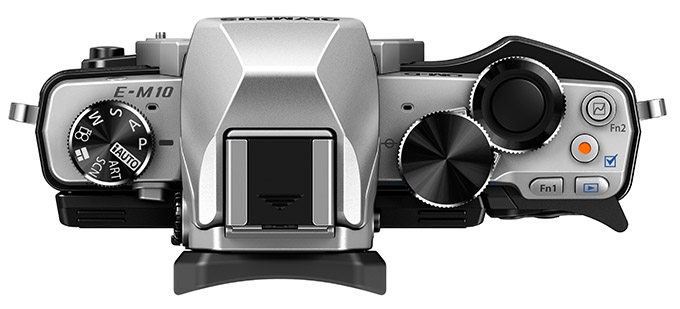 If anyone has shown that the Olympus M 4/3 offerings can hang with the big boys it is this very website. Guest post after guest post has shown the power of these little Olympus bodies and IMO they can do anything an APS-C can do besides a little bit less performance at high ISO. They are faster, more accurate in the AF, have better lenses, more lenses and better build than just about any comparable mirrorless body. I am a HUGE HUGE fan of the E-M5 and E-M1 and I expect the E-M10 to be just as wonderful with a few dumbed down features such as 3-Axis IS to the 5-Axis of the more expensive brothers.
To see some wonderful examples of what these Micro 4/3 Olympus bodies can do click HERE, HERE and HERE. 
You can pre-order the new OM-D E-M10 body only in BLACK HERE or SILVER HERE at B&H Photo.
You can also buy them in kit form – BLACK or SILVER. 
Amazon also has the E-M10 for pre-order HERE!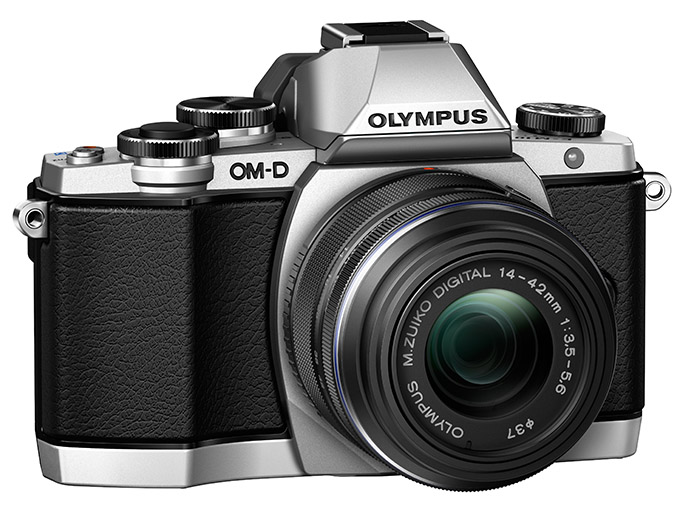 Below are the quick notes I took at last weeks briefing on the camera:
New 3 Axis IS
8 FPS shooting
Built in WiFi and Flash (first time for flash)
$699 body 0nly
$799 body and kit 14-42 II kit
New Grip – very cool design!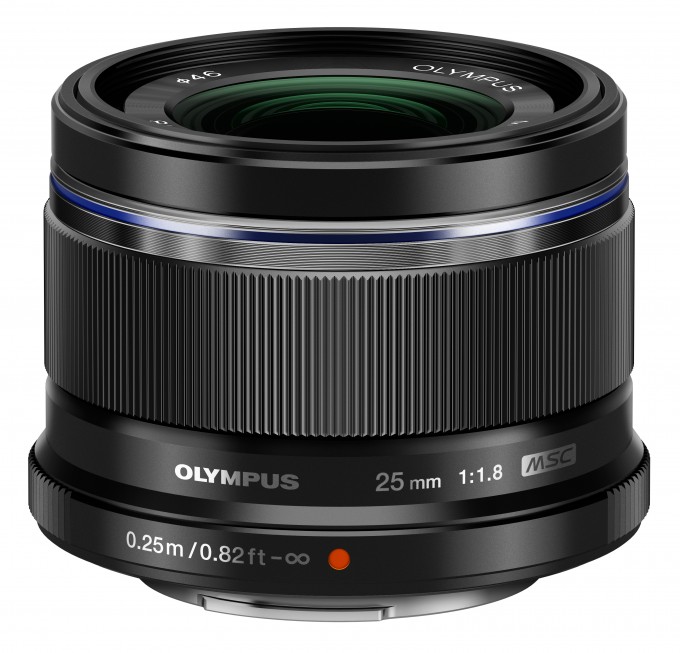 The New 25 1.8 Lens
I am also VERY excited about the new Olympus 25 1.8 lens even though we already have the amazing Panasonic 25 1.4. I will tell you why: The design is small, high quality and uses the same optical formula as the super sweet 45 1.8, which is a stellar lens. It will be available in black or silver and for $399. It will focus FAST, be silent in Autofocus and I have no doubt it will be an amazing lens. I have my pre-order in! At $399 this is the biggest no brainer for any Micro 4/3 user who has not yet jumped to the Panasonic 25 1.4. I can not tell a lie..I prefer Olympus lenses to Panasonic lenses as I love the design, feel, silence and speed, oh, and the IQ. The lens below is on the silver OM-D E-M10. NICE. For $1100 you can get the E_M10 and the new 25 1.8 (50mm equivalent) so you have your camera and fast 50, all in a small but high performing package.
Of course I will be reviewing the new OM-D E-M10 as soon as I can get one!
You can pre-order the new 25 1.8 Lens at B&H Photo in Black HERE or in Silver HERE.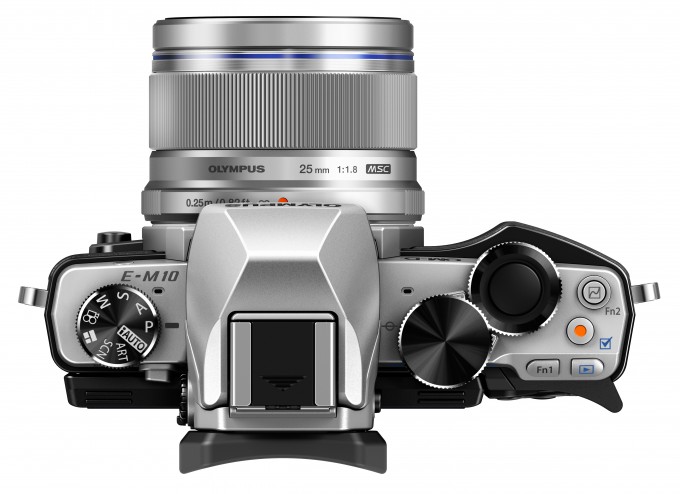 Other new Olympus Cameras and Lenses announced…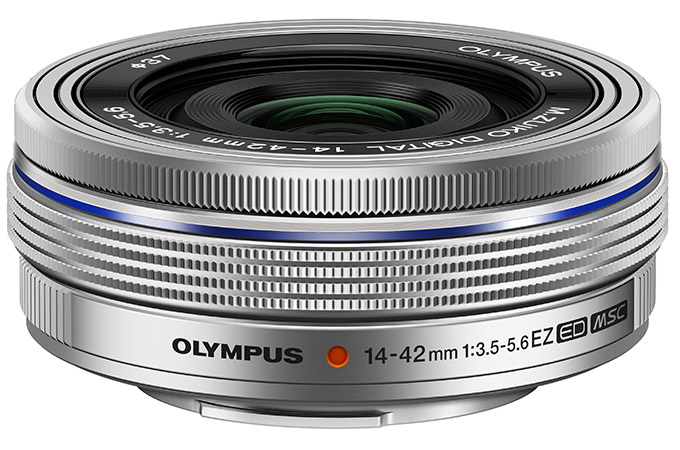 Olympus has also announced a new super zoom, the SP-100 (A 50X $399 camera with EVF) as well as a new TOUGH camera, the TG-850 for $279 with swivel LCD and drop proof, freeze proof, water proof and crush proof all the way (I will review this one). There is a new fisheye lens cap lens and a new pancake version of the 14-42 Kit zoom (that will NOT be the included lens with the E-M10..OLD ONE IS BUNDLED). The new zoom is actually smaller than the older 17 2.8 Pancake!
The new 9mm fisheye lens cap!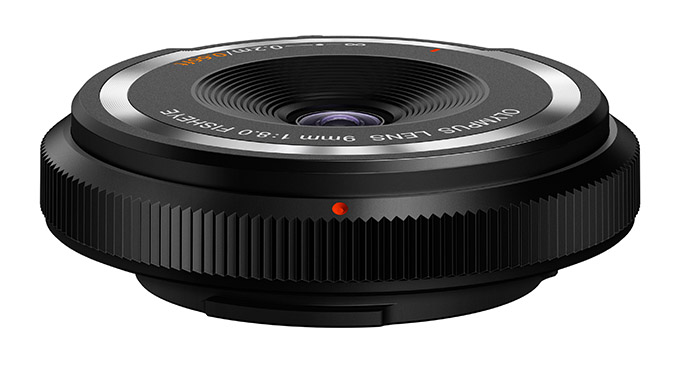 You can read all about the SP-100 HERE and the TOUGH HERE.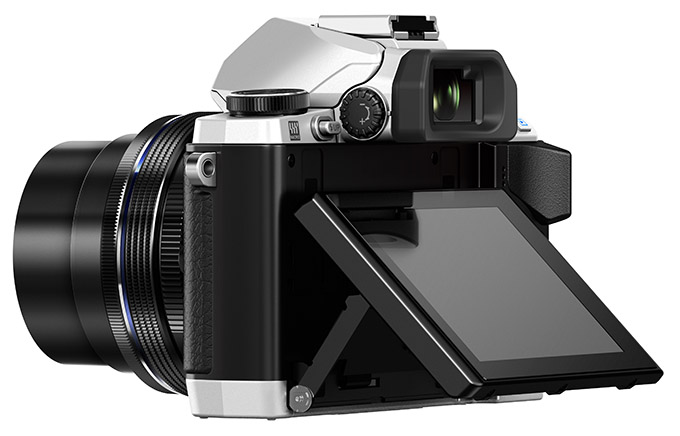 MORE INFO ON THE NEW E-M10!
OLYMPUS EXPANDS OM-D® CAMERA LINE-UP WITH NEW, EXTREMELY COMPACT E-M10 — THE OM-D FOR ALL
The Image Quality and Power of the E-M1 and E-M5 are now Packed into a More Affordable OM-D Body; Two New Lenses Broaden Olympus's Micro Four Thirds® System
CENTER VALLEY, Pa., January 29, 2014 — Olympus adds to its award-winning OM-D family with the new E-M10, an interchangeable lens camera that combines the outstanding image quality, speed and power of the flagship Olympus® OM-D E-M1 and the Olympus OM-D E-M5 into an extremely compact and stylish all-metal body. Featuring the new TruePic VII image processor, the same found in the OM-D E-M1, 16 megapixel Live MOS sensor, Wi-Fi® technology, a large, high-speed electronic viewfinder, 3-axis image stabilization, ultrafast autofocus and a built-in flash, it's the OM-D for photographers looking for an affordable, yet powerful, system camera they can use every day. The new, super-slim M.ZUIKO® DIGITAL 14-42mm f 3.5-5.6 EZ pancake zoom lens and the super-bright M.ZUIKO DIGITAL 25mm f1.8 expands Olympus Micro Four Thirds line-up to 15 lenses.
Best-In-Class Image Quality
The Olympus OM-D E-M10's 16-megapixel Live MOS sensor, combined with the TruePic VII image processor and M.ZUIKO lenses, delivers beautiful image quality with high resolution, superior color reproduction and high sensitivity that exceeds other cameras in its class. A maximum sensitivity of ISO 25600 is perfect for shooting dark scenes and indoor shooting locations, and ISO LOW mode (100 equivalent) expands the low-sensitivity end. The sensor's rich dynamic range makes smooth gradations possible and beautifully depicts high-contrast highlights and shadows. Fine Detail Processing II technology configures the appropriate sharpness processing for each individual lens resulting in natural, high-quality resolution.
The Olympus OM-D E-M10's in-body 3-axis image stabilization system is derived from the world's first 5-axis system in the E-M5 and E-M1. The 3-axis version effectively counteracts yaw, roll and pitch with both still shots and HD movies, regardless of the lens attached to the camera yielding great results even in poor lighting conditions or when using an exposure time of 1/15 second or less.
Speed
The on-board FAST AF is Olympus' fastest-ever AF system and uses 81 target areas that cover the whole image. Small AF Target and Super Spot AF modes make it possible to zoom in and focus accurately on minute sections of the frame. The E-M10 is also capable of capturing high-speed action with 8fps sequential shooting, the fast processor supports continuous capture of up to 20 RAW frames or an unlimited number of JPEG frames*, and the Continuous Auto Focus with Tracking mode accurately tracks and captures moving subject as fast as 3.5 fps.
Beautiful OM-D Design
The ultra-slim, compact and lightweight Olympus OM-D E-M10 body is built with precision-machined metal parts and a premium feel that inspires the user. Two easy-to-reach metal dials give excellent operability and improved control, and the grip is designed to rest comfortably in the user's hand. Despite its size, the E-M10 is the first OM-D with a built-in flash that is optimized for 1/250 second synchronization, a benefit for daytime flash photography.
High-Speed Creative EVF
The large, 1,440,000-dot electronic high resolution viewfinder (EVF) located on the optical axis of the E-M10 features a 120-fps refresh rate, a 100 percent field of view and maximum 1.15x magnification to help accurately frame shots. An eye sensor seamlessly switches the display between the tilting, 3.0-inch touch-screen monitor and the electronic viewfinder. Camera setting information, such as shutter speed, is displayed at the bottom of the viewfinder and photographers can take full advantage of the EVF's ability to display the effects of various exposure adjustments, Art Filter effects and Creative Controls like Color Creator, Image Aspect control, Highlight/Shadow control, Live Histogram, Display of five different grid patterns and even a Level Gauge — all without having to remove your eye from the viewfinder.
In-Camera Creativity
New features, including Live Composite Mode and Photo & Movie Capture, expand the user's creative potential. Live Composite Mode is a tool that offers previews of long exposures in the EVF, a perfect tool for anyone looking to easily capture light trails when shooting a star-filled sky. Photo & Movie Capture lets users shoot high-quality still images without interrupting the video recording. 12 Art Filters, three HDR capture modes and Photo Story support your photographic imagination.
Built-In Wi-Fi
The Olympus OM-D E-M10 includes built-in Wi-Fi, and the setup is simple. By quickly scanning the QR code displayed on the camera's LCD with a smart device, it syncs with the Wi-Fi network created by the camera. The free Olympus Image Share smartphone app synchronizes a user's smartphone and E-M10 so the camera's Live View is effectively displayed on the phone. In this way, the camera can be controlled by touching the smartphone display as if it were the camera itself, and users can send selected images directly to websites and social media.
Two New Micro Four Thirds Lenses
Olympus has also introduced two new Micro Four Thirds lenses to its line-up. The super-slim M.ZUIKO DIGITAL 14-42mm* f3.5-5.6 EZ pancake zoom lens measures just .9 inches thick, making it the world's slimmest standard zoom lens.** It has a smooth electric zoom that is suitable for shooting movies, and can also be zoomed in and out remotely using compatible smartphones through the updated Olympus Image Share app. The super-bright, lightweight, high-performance M.ZUIKO DIGITAL 25mm* f1.8 lens has a fixed focal length and is ideal for capturing portraits or close-ups from as little as 9.8 inches away. Both new lenses are sold separately.
New Micro Four Thirds Accessories
A host of new Micro Four Thirds accessories join the Olympus Micro Four Thirds line-up, including the fixed-aperture F8.0 Fish Eye Body Cap lens with a focal length of 9mm (35mm equivalent: 18mm). It's an ultra-slim accessory for creative wide-angle shooting through its 5-element, 4-group lens construction. The multi-use lens barrier MF lever switches from pan focus shooting to close up 8-inch shooting with a single press of the lever. The ECG-1 matching ergonomic grip is a removable grip exclusively for use with the E-M10. Designed for absolute comfort, the grip is the perfect thickness for resting the ring finger and pinky when holding the camera. A single press of the lever on the bottom of the grip easily removes it, making replacing batteries and memory cards seamless. The MCON-PO2 macro converter is compatible with six Olympus Micro Four Thirds lenses and adapts them for close-up shooting. Finally, the Automatic Opening Lens Cap LC-37C is available exclusively for use with the new M.ZUIKO DIGITAL ED 14-42mm F3.5-5.6 EZ. When the camera is turned off, this accessory protects the lens from dust and scratches, and when the camera is powered on the lens cap instantly opens for snapshots and quick shooting.
*35mm Equivalent
**As of January 29, 2014. Shortest distance between the mount and the front end of the lens, when retracted.