Quick updates on the Fuji X-T1
by Brad Husick
(see Brad's initial thoughts at the bottom of my X-T1 review HERE)
I am still loving my new X-T1 and the results I am getting with Leica glass are fantastic. Here are three quick updates:
1) The new Fuji MHG-XT handgrip (the one without the battery) has arrived and I can say that although it's fairly expensive for a non-electronic item, it is very well built and well thought-out. The mount screw is a hex and is fully recessed into the bottom to allow easy mounting to Arca-Swiss style heads. The left side (as viewed from the back of the camera) is nicely tapered and smoothed for a good feel in the hand. The front of the grip comes up just high enough to wrap your middle finger over the top. The box even comes with the proper hex key for mounting. I'd say this grip is a fantastic addition to the handling of the camera without making the overall package too large. I was worried about this when considering the battery grip.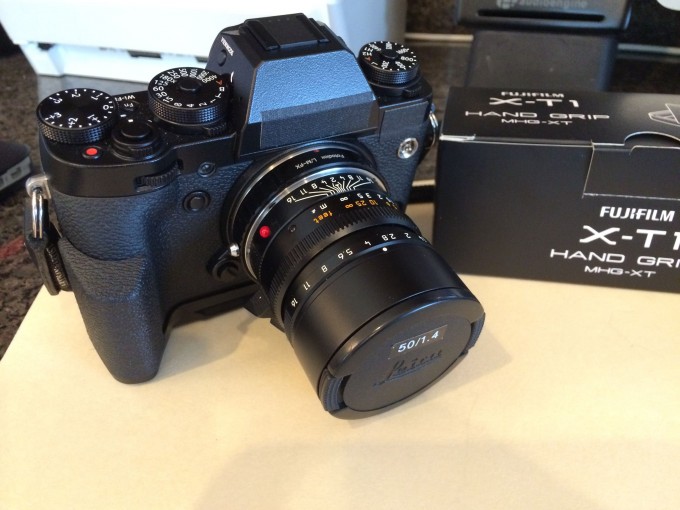 2) The light leak issue from inside the left door (as viewed from the back) is real. You can test this by turning on the camera and leaving the lens cap or body cap in place, then opening the door and shining a flashlight into the top portion of the ports. I have attached a photo to show this. The good news is that Fuji is fixing all the cameras with this issue and when I spoke with them yesterday they said they are taking names and addresses to send out mailing labels when the replacement parts get to New Jersey from Japan. It shouldn't be long now before that happens. In the mean time, just leave the cap closed when shooting and you shouldn't have any troubles.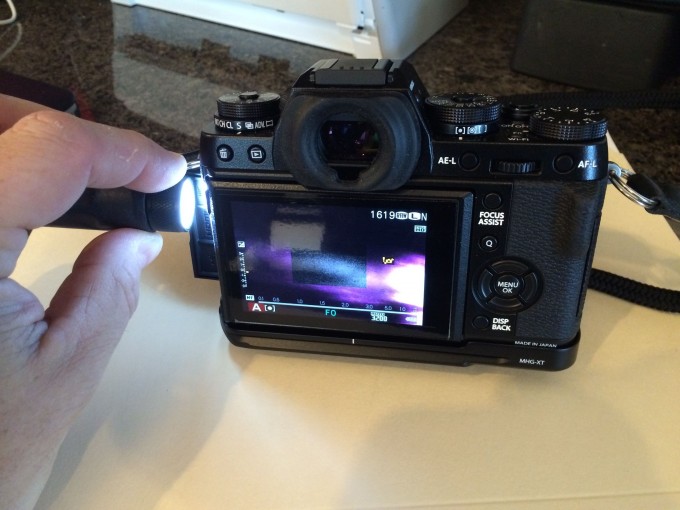 3) I re-ran my indoor sports shooting test (see Steve's review article near the bottom for my section) this time shooting at f/4 and ISO 6400 with the camera set to "high performance" mode and JPEG only capture. The results were better but still not up to the level of full size Nikon or Canon DSLR sports performance. Frame rates were high (but not 8 fps) and the buffer allowed for 10 to 15 shots. I suspect that with one of the new Sandisk UHS-2 SDXC cards (280MB/sec) we would see that number skyrocket, but these cards aren't shipping just yet. My conclusion on indoor sports shooting with the X-T1 remains – we need faster zooms (f/2.8) and I am not selling my D4 any time soon.
Brad
03/20: UPDATE:
The lacrosse photos were taken with the kit zoom, as was the restaurant photo. The photo of me was taken with the Leica 50mm Summilux ASPH lens at f/1.4. The full frames are that – full frame. The "zoomed" images are screen captures at 100% in Lightroom. Minimal processing was done.
Thanks,
Brad