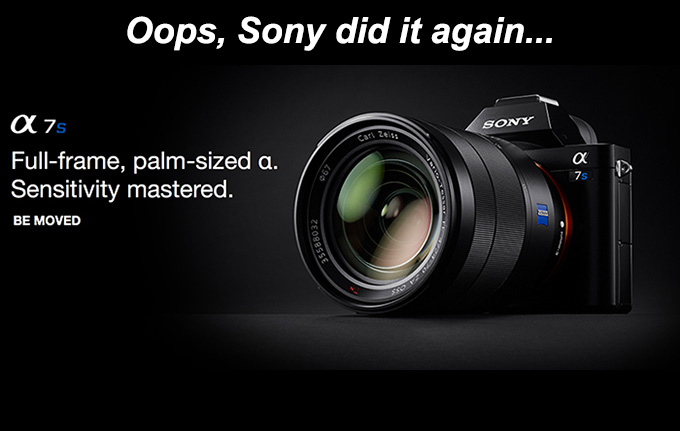 The new Sony A7s brings amazing high ISO, 4K video and crazy creative possibilities!
The all new Sony A7s is now up for pre-order at B&H Photo HERE or Amazon HERE at $2,498.00. 
So I have been busy all weekend with some travel (so am a couple of hours late with this) but MAN OH MAN did Sony just KILL it with the latest announcement. The new SONY A7s which will be a full frame A7 but with a 12.2 MP BRAND NEW sensor with insane crazy high ISO capabilities up to over 400,000 ISO. Imagine the possibilities…you have a nice fast lens attached, a nice small file size, no noise. Astrophotography anyone? INSANE! Low light interior? INSANE!
This new sensor will, according to Sony, offer the best dynamic range and noise performance of ANY full frame camera. Period. I love the fact that this has a 12.2 MP sensor! SMALL file sizes with RICH gorgeous tonality. I have said for years that 10MP is enough for any use, and 16 is maximum that is needed. 12.2 is sweet and should bring up the performance of this sensor. Wow. Sony did it again. I had no clue about this one, they did not even tell the press about it.
Sony is one of the most forward thinking companies out there and they have just proved it again with the new Sony A7s. Pricing and Availability is yet to be determined. I guess $1800 for the body, but it is just a guess. The A7s seems like it will be the perfect body for those who want HQ video AND images in one. Of course we will have to wait and see but I will keep you all informed as it progresses. I already told Sony I MUST have one for review when they are ready!
B&H Photo already has it listed HERE!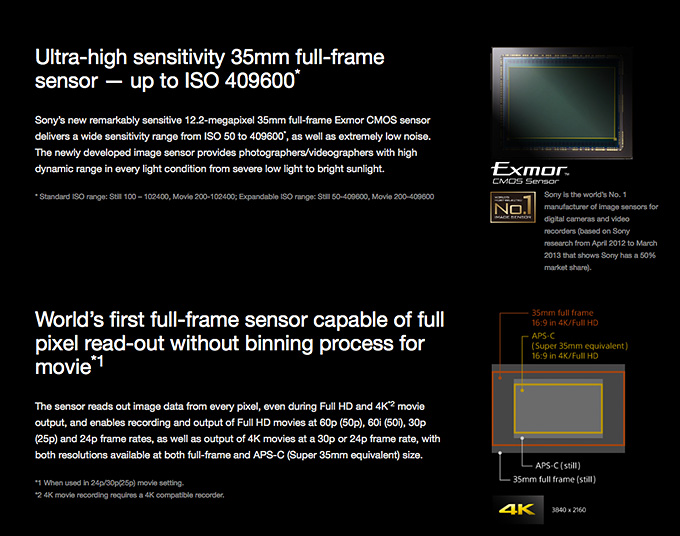 ISO 50-409600
Amazingly high dynamic range
4K recording 
The "S" means "sensivity
Take a look at the official Sony video showing an example often ISO possibilities.
And the video possibilities:
and the official press release:
Sony's α7S Full-Frame Camera Realizes a New World of Imaging Expression
Features newly developed, wide dynamic range sensor with awe-inspiring sensitivity
SAN DIEGO, April 6, 2014 – Joining the acclaimed α7 and α7R family of the world's smallest full-frame interchangeable lens cameras1, Sony's new α7S model puts extraordinary sensitivity, low noise and spectacular 4K video quality into the hands of professional photographers and videographers.
The innovative α7S camera features a newly developed, 12.2 effective megapixel 35mm Exmor® CMOS sensor paired with a powerful BIONZ X image processor, allowing it to shoot at a sensitivity range of ISO 50 – 4096002 with unprecedented dynamic range and low noise.
The new model is also the world's first camera to utilize the entire width of a full-frame image sensor in 4K video acquisition, and does this without cropping or line skipping as it can read and process data from every one of the sensor's pixels. This allows 4K video shooters to utilize all of the artistic and creative benefits provided by the unique sensor.
"The α7S gives Sony the most complete, versatile lineup of full-frame cameras in market today," said Neal Manowitz, director of the interchangeable lens camera business at Sony Electronics. "Between the α99, VG900, RX1, α7, α7R and now α7S models, we have completely revolutionized what it means to be a 'full-frame' camera, bringing a new level of quality and portability to enthusiast photographers and videographers."
Wide ISO Sensitivity (ISO 50 – 409,6002) and Impressive Dynamic Range
Sony, the world's largest manufacturer of image sensors, has developed a unique 12.2 MP sensor with extraordinary sensitivity that allows the α7S camera to collect dramatically more light than traditional cameras and to produce beautifully detailed, low-noise images in even the darkest environments.
The camera also features a newly developed on-sensor technology that allows it to optimize the dynamic range throughout the entirety of the ISO50 – 409,600 sensitivity range. This on-sensor technology also broadens the range of tonal gradation in bright environments and minimizes noise in dark scenes, allowing the camera to deliver impressive results in these extreme conditions where other cameras (and image sensors) typically struggle.
World's First Full-Frame Camera with Full Pixel Read-out3 (without pixel binning) during Movie Shooting
With the new α7S camera, the high-speed read out of the 35mm full-frame image sensor combined with the high-speed processing of the BIONZ X processor enables significant improvements in video quality.
These powerful components allow the camera to process data from all of the sensor's pixels and output stunning HD and 4K (QFHD 3840 x 2160 pixels) video3 while utilizing the full-width of the sensor. In addition to the benefits for low-light shooting, the read out of all pixels frees the video from aliasing, moiré and false color artifacts (as opposed to pixel binning) to achieve the highest quality video.
Additional Pro-Quality Video Functions
In video mode, the α7S can output 4K video4 at QFHD (3840×2160) to an optional external 3rd party 4K recorder, and can record full HD (1920×1080) at frame rates of 60p, 60i, 30p and 24p directly to a compatible memory card. Video modes can be changed from full-frame to APS-C (super 35mm equivalent) if desired, and in this crop mode, the camera can support high frame rate 120fps shooting at standard HD resolution (1280 x 720p), creating a 5x slow-motion effect.
The α7S camera is also equipped with S-Log2 gamma. Common to Sony's range of professional video cameras, S-Log2 expands the dynamic range by up to 1300% to minimize clipped highlights and loss of detail in shadows. Additionally, for the first time ever in a Sony α camera, the α7S adopts the workflow-friendly XAVC S recording format in addition to AVCHD and MP4 codecs. XAVC S format allows for full HD recording at a data rate of 50 mbps with lower compression for improved video quality.
Other specialist video functions on the new camera include a picture profile that can adjust settings like gamma, black, level and color adjustment, and can be saved for use in a multi-camera shoot. It also has Full HD and 4K base band HDMI® output, time code/user bit for easier editing, synchronous recording feature with compatible devices, various marker and zebra displays on both the LCD screen and viewfinder and can dual record XAVC S as well as MP4 (1280×720 @30p).
The camera also has a Multi-terminal interface shoe that is compatible with Sony's XLR Adaptor Microphone Kits (XLR-K1M plus a new model under development), allowing the use of professional microphone systems.
Low-light Shooting Advantages
The high ISO sensitivity range of the α7S camera is extremely effective for still image shooting, especially in low-light conditions, where the camera can shoot at high shutter speeds while keeping noise as low as possible. This is particularly useful for shooting indoor, dimly lit sporting events or other situations where most cameras typically struggle.
The camera is also equipped with the same high-precision Fast Intelligent AF system as the α7R camera, with drastically improved low-light AF sensitivity that can go as low as -4EV.
Expanding α Mount System and New Power Zoom Lens for Movie Shooting
Directly compatible with the growing family of E-mount lenses, the α7S camera can also be used with A-mount and others lens systems with optional adapters. Sony's complete α lens system now includes 54 total lenses for both A and E mounts, including several premium offerings from Carl Zeiss® and G Series Lenses.
As a whole, Sony's E-mount lens system is particularly well-suited for video shooting, with a variety of models containing "movie-friendly" features like smooth focusing, powered zoom control, and silent iris/aperture control. Building on this, Sony has announced development of a brand new, full-frame power zoom 28-135mm F4 lens E-mount lens that is an ideal match for the powerful movie capabilities of the α7S model.
Pricing and availability of the α7S full-frame interchangeable lens camera will be announced at a future date. To learn more about the product in the meantime, please visit www.store.sony.com, and follow #SonyAlpha on twitter for the latest α camera news.