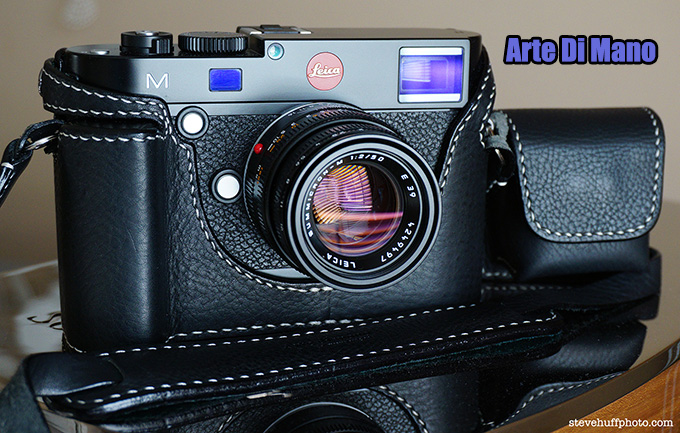 Arte di Mano review, My favorite half case for the Leica M!
By Steve Huff
You can buy  these lovely cases over at LeicaStoreMiami HERE.
Hey guys! It's Steve here, your favorite Leica, Sony, Olympus, Panasonic, Nikon and overall "any good" camera fanboy with yet another cool accessory review. This time I am reviewing something very special, very beautiful, very functional and very expensive. For the Leica M 240 there are many kinds of half cases available. They run the gamut from $50 to $500 and the one I am reviewing today is up there with the most expensive of the lot, of not THE most expensive of the lot. No, it is not a Luigi case but  speaking of Luigi, his cases have now been copied up and down and left and right. Luigi used to be the one and only original..the only case for the Leica M that you would buy if you wanted the real deal premium. Hand crafted, hand stitched, big beefy leather and quality. Not anymore. In fact, many tell me that Luigi has been slipping in quality lately, and if that is the case I feel it is because he is so busy and also trying to stay competitive with the new competition.
My video review of the Arte di Mano case is below, check it out 🙂
The only Luigi case I have ever owned was a let down for me. The cutouts were way off and borderline crooked on the back. It did not fit my M9 well at all. I mean, it fit, but it was not a "fit like a glove" style of fit. It was a more of a loose goose style of fit. I never used it due to the bad fit and awkward feel. Luigi has many fans and I can say he has huge passion for his craft. In fact, I have seen others who own his cases and they look gorgeous and over time they develop a rich patina. I have seen many with superb fit and finish so I may have just gotten a bad apple with mine. Then again, lately many have told me they had issues, so I ruled out Luigi for my M 240 case quest.
With me, since I run a review site I am always exposed to the newest products for cameras. I get companies constantly wanting me to review their products from cases, straps, iPhone cases, iPad cases, bags, and all kinds of accessories. 75% of the time I decline the offer (if it doesn't really make me say "wow", that is cool I will not review it) and other times I get the product and am let down by it, so no review.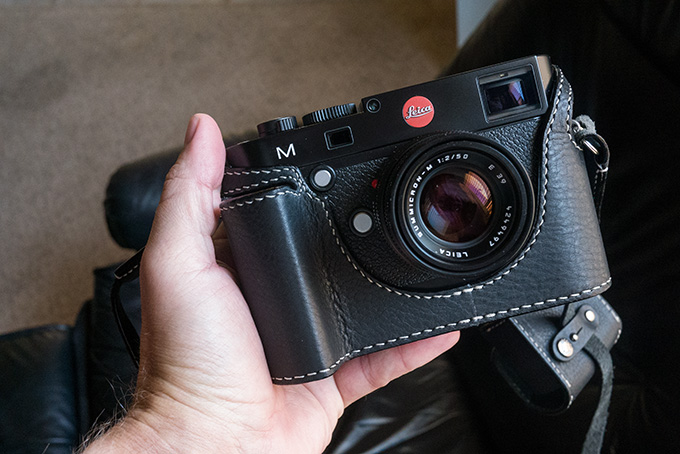 Cases for the M 240 that I have reviewed so far:
Gariz – (My review here)
I have had my share of M cases and have reviewed a couple of them on these pages. The very 1st was the Gariz M 240 case which I really think looks amazingly sharp on the camera. It is basic, does not wrap around the top and fits like it should. A glove. It is attractive, it feels nice (but not luxurious) and comes in at around $220. You can see my review for it HERE. .
Classic Cases – (My review here)
The classic cases M 240 case is pure old school and quality craftsmanship. In fact, when it arrived I replaced my Gariz with it so I could review it. After a while I appreciated it for its thick and sturdy quality. The classic cases M case is one you would like if you want thick sturdy leather that will age over time into a softer richer look and feel. When it is new though it is stiff. Also, my copy was not cut perfect. Since my review I was told they are now cut perfectly to avoid any issues.
FYI: I have also tried cases from Leica and Artisan and Artist that were not very good at all. The fit was loose and sloppy and the feel of the cases were not up there with the better cases. I found them to be not worth the money.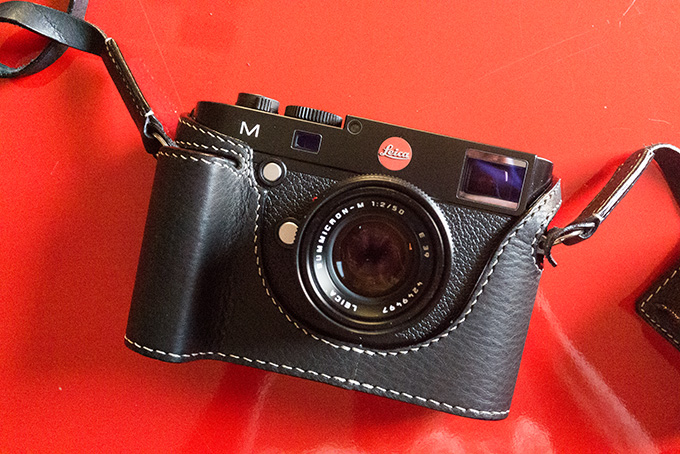 and now…The Creme of the Crop
When the M came out I remember seeing a line of cases appear that everyone was raving about. Arte di Mano. These cases were handcrafted masterpieces with a snug fit that made it appear that the M was made for case instead of the other way around.
This is a case I immediately wanted but when I saw the price I refused to pay that much for a case. I mean, $390 for a half case? Nonsense. Well, that was my 1st thought. But as time went on, I really wanted one. I saw a couple of others who had them and wow, they felt so nice and had zero fit issues. I started to think..the camera is $7000. What is $390 for a case to protect it and give it a better grip? Nahhh, I ended up not being able to go to $390 so I ordered the Gariz for $200. But then I received the classic cases model. After a while, and seeing a friends Arte di Mano case I reminded myself of a rule I made to myself recently. BUY ONCE and be done with it. Meaning, do not buy the things you really do not want..save up for the ones you want. This will keep you from losing money in the long run.
Here is a video showing the process of making a case for the Leica X1. All by hand with attention to detail. Each case is also unique as each one is made by hand. No mass production.
So I decided to save up a little stash of cash every month until I could buy the Arte di Mano (I do not use or own even one credit card, by choice. I am all cash or nothing) case and possibly a new strap to match and soon the time came. I logged on to Lecia Store Miami where they sell the entire line and saw something new from Arte di Mano for the M 240. A few new cases actually. Uh oh, I had not planned on this..new cases and new (more expensive) prices.
They now have the standard case with grip built into the case or the cases that can be used on the M OVER the Leica M grip ($300 accessory) or even the M grip with GPS. The new cases looked amazingly cool. So I said "screw it" and placed an order for the M case that is for use with the M grip (which I also ordered). I ordered the extra long classic strap and then the leather pouch to hold my Leica EVF when I am not using it (snaps on to the strap). I told myself I was nuts but spent the cash anyway. The very next day my boxes arrived. Once I took them from the boxes and put the camera in the case I knew I made the right choice. "Ahhhhh..perfect" is what i said as the camera slid down into the supple soft leather case. After a couple of days shooting the camera with the case and using the strap I do not think I will ever buy any other brand of case for the M ever again. Really. I may review other brands but it will be very tough for anything to approach this level of fit and quality IMO.
From the fit, that could not be any better to the soft and supple luxurious leather it already feels like a nicely worn in leather case. The quality of the case is beautiful and is really for those of us who appreciate beautiful things such as this. If you own and love your Leica M then you would adore this case. That is IF you like half cases. Many of us M shooters prefer to shoot the camera naked 😉 If you enjoy using a half case and enjoy a nice strap, this set is about as good as it gets but as Chris Kringle says in Santa Clause is Coming to Town "Be prepared to pay!"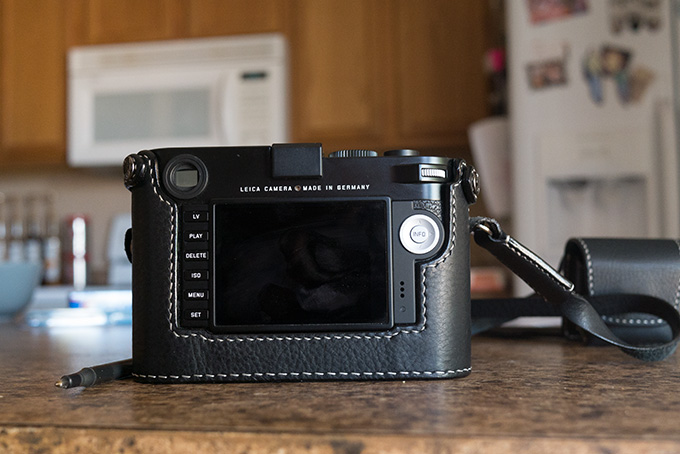 I have seen hundreds of M half cases in use from meeting so many of you out there over the years. I am telling you now..if you are not 100% thrilled with your half case fit, or are in the market for a half case then take a serious look at the Arte Di Mano line. I know of what I speak.
Leica Store Miami (Dale Photo) sells the entire line from cases to straps to EVF pouches. As for the EVF pouch it is so soft and well made. Again, luxury. Previous brand have always used the very hard stuff leather. This is like a fine leather glove. The way I like it.
So the Arte Di Mano line gets my 100% highest recommendation if it is quality you want. For pricing, they are in the stratosphere but I am afraid you do have to pay if you want this level of quality for your M. There are many choices in a case for your M but not many up to this level. Damn, am I now a Arte Di Mano fanboy? 100%!
A few of the styles of M case that are available from the Arte di Mano line starting with the version I have:

Direct links to what I bought:
and the Leica grip I purchased.
Arte di Mano also makes cases for the Leica M9, M-E, Monochrom, X-Vario and X1 and X2. I expect there to be a T case as well coming soon so if you own a different Leica you can still own a taste of case perfection.
–
PLEASE! I NEED YOUR HELP TO KEEP THIS WEBSITE RUNNING, IT IS SO EASY AND FREEE for you to HELP OUT!
Hello to all! For the past 5 years I have been running this website and it has grown to beyond my wildest dreams. Some days this very website has over 200,000 visitors and because of this I need and use superfast web servers to host the site. Running this site costs quite a bit of cash every single month and on top of that, I work full-time 60+ hours a week on it each and every single day of the week (I received 200-300 emails a DAY). Because of this, I need YOUR help to cover my costs for this free information that is provided on a daily basis.
To help out it is simple. 
If you ever decide to make a purchase from B&H Photo or Amazon
, for ANYTHING, even diapers..you can help me without spending a penny to do so. If you use my links to make your purchase (when you click a link here and it takes you to B&H or Amazon, that is using my links as once there you can buy anything and I will get a teeny small credit) you will in turn be helping this site to keep on going and keep on growing.
Not only do I spend money on fast hosting but I also spend it on cameras to buy to review, lenses to review, bags to review, gas and travel, and a slew of other things. You would be amazed at what it costs me just to maintain this website. Many times I give away these items in contests to help give back you all of YOU.
So all I ask is that if you find the free info on this website useful AND you ever need to make a purchase at B&H Photo or Amazon, just use the links below. You can even bookmark the Amazon link and use it anytime you buy something. It costs you nothing extra but will provide me and this site with a dollar or two to keep on trucking along.
AMAZON LINK (you can bookmark this one)
B&H PHOTO LINK – (not bookmark able) Can also use my search bar on the right side or links within reviews, anytime.
You can also follow me on Facebook, Twitter, Google + or YouTube. 😉