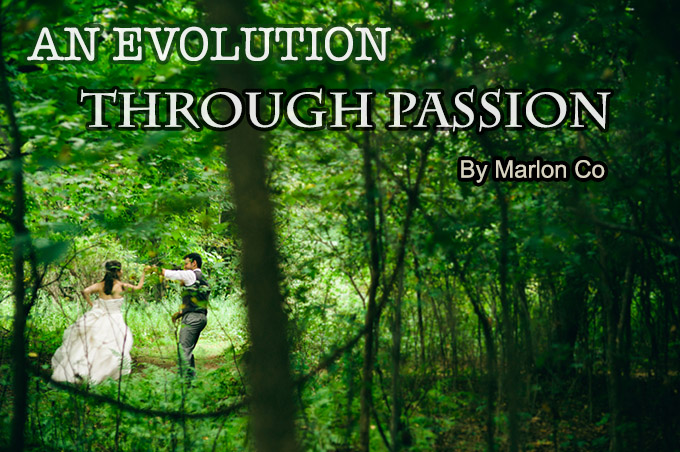 An Evolution Through Passion
By Marlon Co
Thank you so much! Your site and its contributors are truly an inspiration to me. I check the site everyday and the combination of technical information and passionate art-makers make this site a place where anyone can feel welcome, which is why I write to you today. I am a young 25 (soon to be 26) year old based out of Westchester, New York. I am a graphic designer by trade and a photographer by passion.
My interest in photography began in my freshman year in high school. I remember my girlfriend at the time asking me what I wanted for Christmas and I said without hesitation: a digital camera. What I had pictured in my mind was a DSLR, but I knew that was a lofty request. Instead I received a Sony point-and-shoot that was interesting but didn't provide me the control I was seeking. Plus it was almost unusable given the fact that it devoured AA-batteries, burning through a pair after about 20 shots or so…insane. Nonetheless this was still a blessing to me as it prompted me to do some more research into the tools I needed to achieve what I wanted to in photography. In a sense it gave me passion and G.A.S. This is of course a good thing at the beginning of one's photographic life. Experimentation with techniques and equipment is paramount to finding out what works for you. But as we all know, once you figure out what does work, G.A.S. does not easily go away. You still have the urge to try more stuff, especially given the current leaps technology is making.
Fast forward to my senior year of high school; I dropped photography for a while in those in between years, but still did research online. I explored different styles of photography to see what I was attracted to and more importantly what I enjoyed—initially this was street like many others before me. While this stimulated my interests, I still did not have a camera to work with. Naïve as I was, I had not considered film at all; a much cheaper alternative to buying digital for high school student at the time. Desiring to get what I wanted, I set out looking for work. After a year of working at a chocolate shop after school I had saved enough to purchase a Canon Digital Rebel XT. It was with this camera that I first began exploring the world and light.
Follow Your Own Direction, Leica M9, 50mm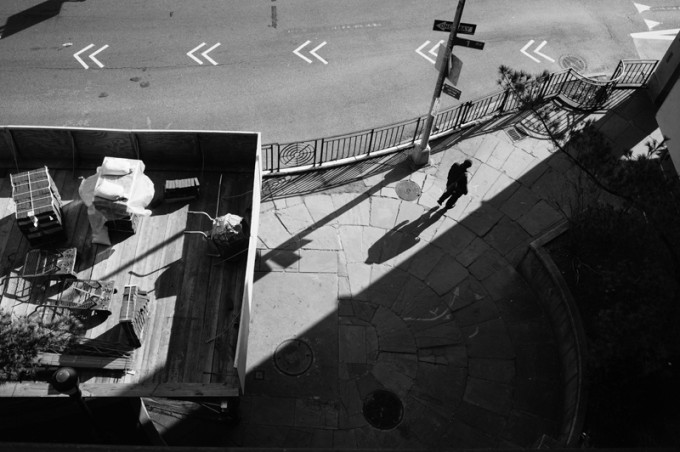 I practiced throughout my college career and while my shots were OK in my eyes, they never reached the level I wanted to accomplish. I blame a lot of that on the fact that I was just blindly shooting things, not shooting RAW, and not knowing enough about the photographic workflow; especially in processing. I was still snap-shooting but not CRAFTING shots with purpose, care, and intent. Slightly discouraged by my perceived lack of skill, photography took the back seat while I played with graphic design in college.
It was four years later in my last year in college that I had the opportunity to rediscover my love of photography. I have the darkroom to thank for that. Most importantly I am thankful for my professor who taught the only two classes in photography at my university; the only classes I ever took. It was in his first class that I went back to the roots of photography and learned the beauty of film and the darkroom, shooting with the standard AE-1. In the second class we developed our styles and each decided on a series to individually produce for a final show at the end of the semester. These classes truly shaped and solidified my passion.
It's been four years since I graduated…I pursued graphic design as my career path but photography remained (and so did G.A.S). Since then, I've been continuously shooting with a variety of cameras. I eventually landed on an M9-P last year when I found out I loved the small size and awesome little lenses of rangefinders after shooting a Zorki-4 (now broken) and an R-D1s. My next investment will be the M (or next incarnation), but that's down the line…
Follow Your Own Direction, Leica M9, 50mm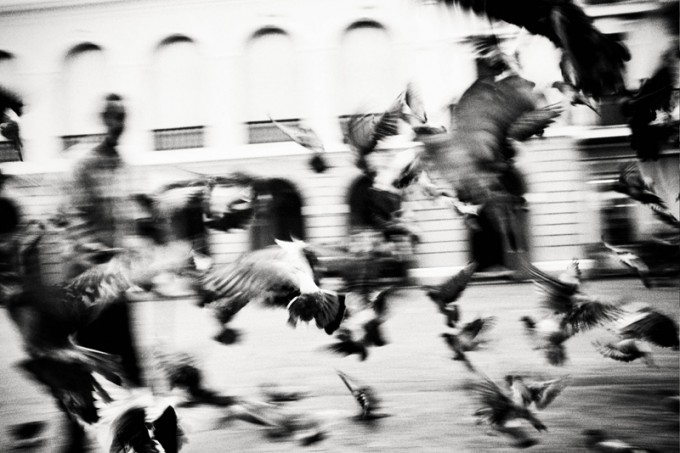 This time last year, at the close of a long-term design project, I decided to give-in to my passion and I started looking for work in photography with the simple desire to learn more and to grow. I never got any "real" jobs, but I still kept shooting. My subject matter and style was as eccentric as I was. A few months later, I was hired by a friend from high school and got to shoot my first paid gig as a photographer; a wedding of all things! While this was not my first time shooting at a wedding—I had previously snapped at two weddings for fun— this was the first time it meant anything because now it wasn't just for me, it was for someone else; I had to produce. The couple trusted in my ability and style. At the end of the day I think I did a pretty good job for my first time. The bride mentioned that she cried while looking at the shots I had taken, rest assured they were tears of joy, so I think the newly weds enjoyed them as well!
Woodland Dance, Leica M9, 50mm
They were a truly fun couple to photograph.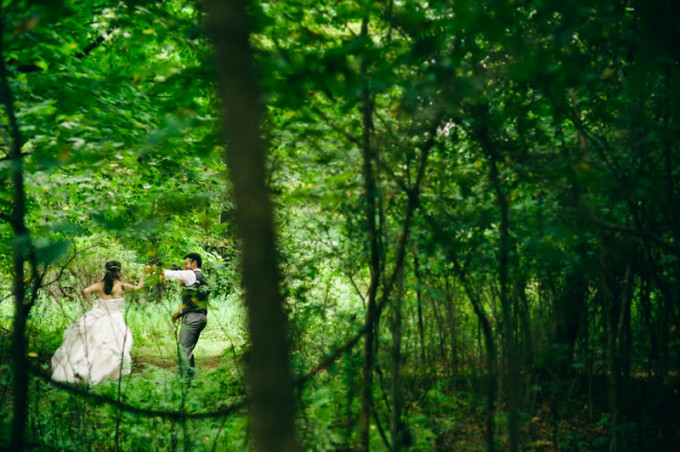 –
Laughing During the Ceremony, Leica M9, Voigtlander 75mm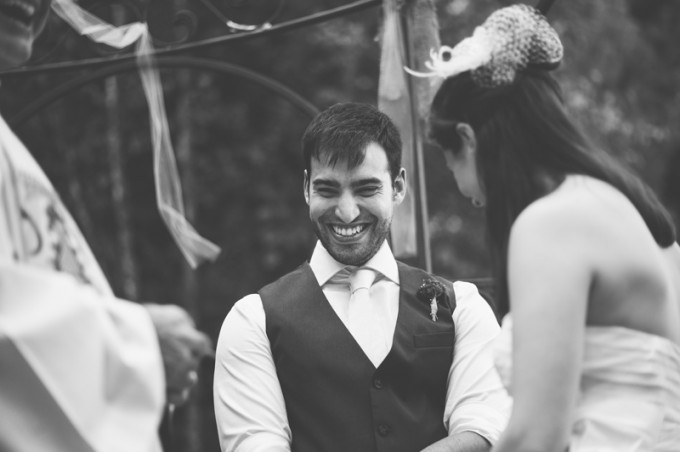 That event further changed me. It proved to me that someone out there thinks I am good at this and instilled in me a confidence that I could pursue photography. However, as we all know working in art is extremely difficult and is easier said than done. The term "starving artist" doesn't exist merely by random chance, it describes the struggle that we as artists have to go through to be "successful." Most times, especially in our formative years, that means doing a lot of work for essentially no pay–but if we really cared about cash, we would've done something else right?
Around the same time, another friend offered me the chance of a lifetime. He is a comedian who wanted to travel the United States to do shows and pursue his own art. Fortunately for me, he wanted someone to document the adventure. Being a photographer, he thought I would be a natural fit to film the entire journey. So on October 8th, 2013 we set out in a 31ft RV and traveled the United States. We left from New York and moved down the East coast to Miami, zig-zagging through the Southern states until we reached the Pacific, then headed up the West coast to Vancouver, B.C. Eventually we made our way back through the middle states until we arrived home in New York. Frequent stops allowed us the time to really see the land and meet its people.
Raheem the Jewler, Leica M9, Canon 50mm 1.2 LTM
He tried to sell me various lenses after seeing my M9 while I was walking around a flea market in Florida. While he did not have any M lenses, he had a kind heart and was eager to have his picture taken, something I find quite rare in people.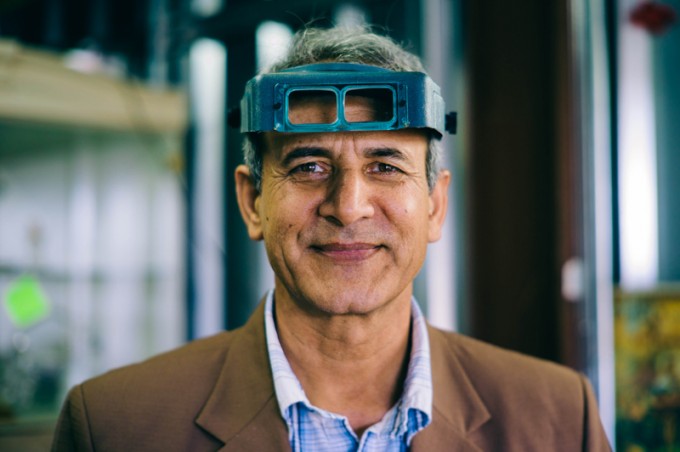 –
Abby and Nick, Leica M9, Voigtlander 35mm 1.4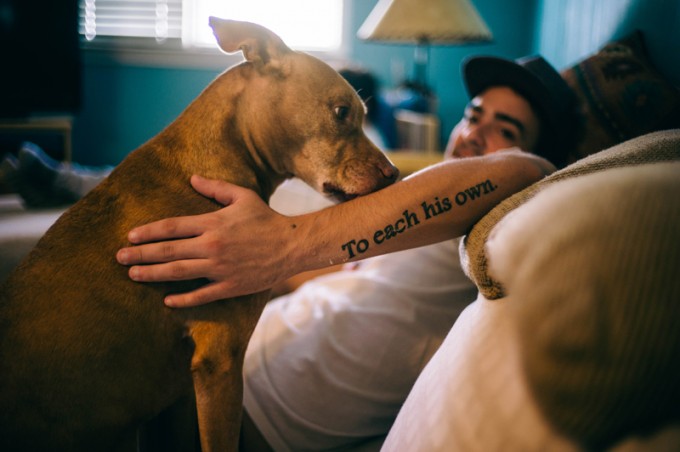 Fast forward to now, nine months later—yes, you read that correctly—I emerge from that experience tired, but ultimately more whole. Leaving your comfort zone so entirely and spending that much time away from all that you love reveals a lot about person. It provides you with a whole new perspective and I wouldn't have given up this experience for anything. Photography is about perspective after all; it is a point of view on the world.
Now what's the point of all this? Especially that title at the top that has, so far, had nothing to do with anything other than being a mini biography of my photographic life? Well I'm about to get to that. The common thread that is meandering through these various phases of my young life is this: passion. Not once in all those years did I ever lose interest completely. While there were times of self-doubt, as there always will be, my passion for this craft kept me wanting to learn and now it inspires me to produce.
Last year, I foolishly thought that the only thing I needed to become a fully realized photographer was a job in photography. I felt that if I worked in any field that involved photography I would be recognized as more "professional." In a sense I was looking for validation from those already in the field that I was good enough. At times I still feel this way, but I now realize that it really doesn't matter as long as you produce and do what you love. Who cares what other people think? If you like your work, you like your work, and that's what matters. As long as you produce (practice) you're succeeding as an artist; and hopefully simultaneously promoting your own happiness.
The trip around the US provided me with the realization that my dreams are as real as I make them. If I want to be a photojournalist (arguably my favorite type of photography, and one of the hardest fields to get into), I simply have to create my own stories. Just because I haven't gotten a job as a photojournalist doesn't mean I'm not one. I am as much a photojournalist as I make myself to be and now that I am home I have taken a retrospective look at my work to find common themes and stories in my photography. In parallel to this I am also diving into the stories I want to start to work on. In a nutshell, I just want to DO. I want to stop waiting around, talking, and thinking; I want to produce and do so with purpose.
Exhale, Canon Digital Rebel XT, 50mm 1.4
Probably one of the first chances at photojournalism. My brother called me at 3AM telling me I needed to pick him up on I-287 in Westchester. He narrowly avoided the car wreck on the right coming home from work, but got a flat from the debris. This police office walks slowly back towards the scene, his breath visible in the February night.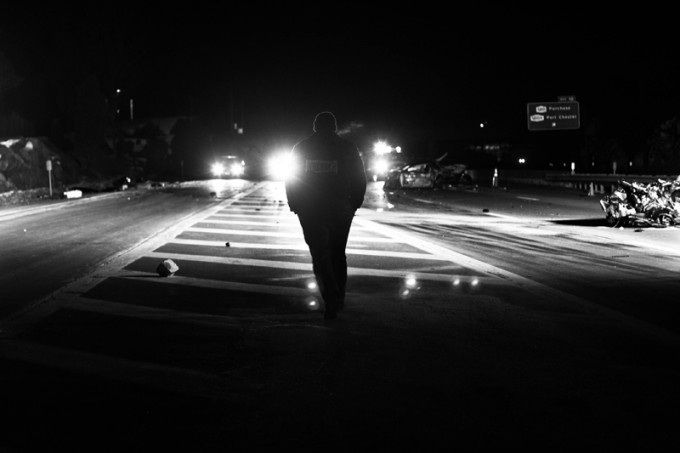 So this is my philosophy now: to just produce, produce, PRODUCE! To chase the stories, images, and ideas that interest me with abandon, but without losing clarity and focus. If the art gets noticed, it gets noticed, but that's not the important part. It's giving yourself to your passions fully. If you're not producing, you're not practicing, and if you're not practicing, then you're not evolving/growing. Simple as that.
While this is all just the rambling thoughts of a 25-year-old who has tried to pursue a path less traveled; I think the lesson applies to everyone who may have doubts about their own passions. At times I felt defeated, but that defeat came from within. Similarly, success also comes from within, so if you love what you do: DO IT! At all costs, through all challenges and doubt. Indulge in your passion and you will get better, you will evolve, you will grow, and you will become more yourself. No person or job title can take that personal success from you, much less define it; you have to define yourself on your terms.
Now that you've gotten to know me and my (possibly) not so eccentric ideas, I'd like to show how I've started to put these ideas into practice, in pictures now! Don't worry not so much reading left!
The first set is an incomplete series that I "discovered" while looking at old photos and have decided to expand upon into the future. My brother and I have always traveled around NY when it experiences harsh weather conditions. For the New York Tri-State area, this typically means hurricanes and big snow storms. Protected by my brother's jeep, he calls it the Mongoose, and believe me this thing growls, we carefully navigate our hometown and occasionally venture into NYC to witness the power of nature. I always have a camera during these bonding moments between us, and often find a moment of calm in these storms.
Golf Course, Hurricane Irene 2011, Nikon D90, Voigtlander 40mm
A golf course near my old home in Larchmont, NY transformed by Irene into a lake.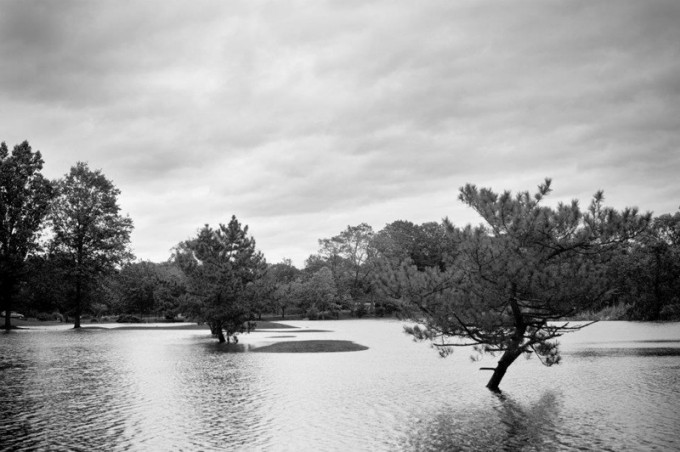 –
Random Snowstorm, Canon 50mm 1.4
I left the shelter of my friends home to find these tracks in the empty street and untouched snow.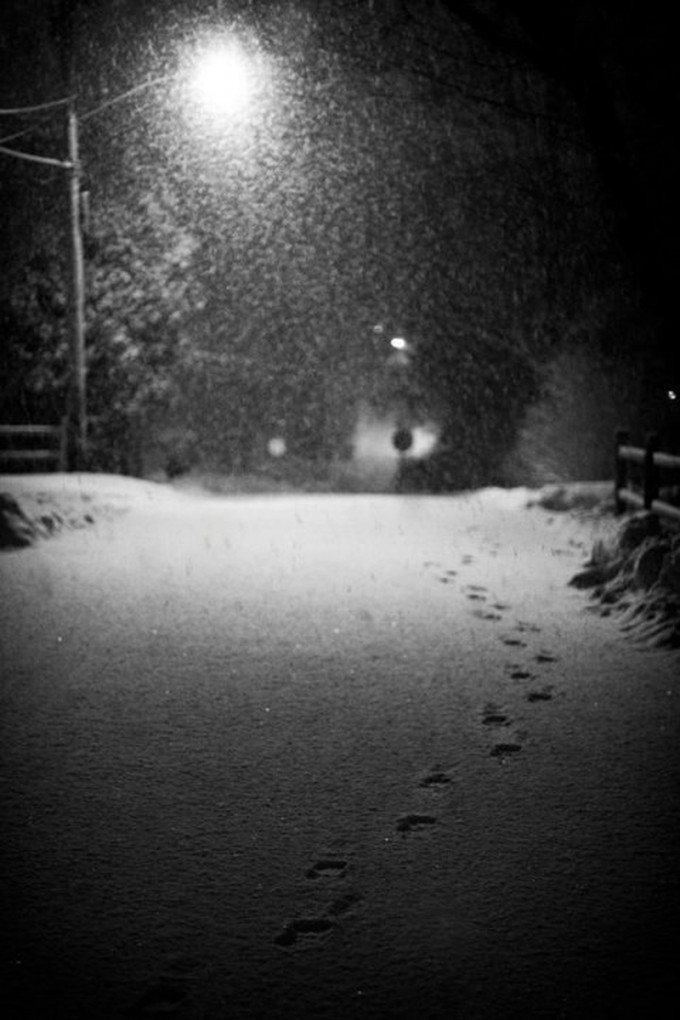 –
Along the Edge, Hurricane Sandy, Leica M9, Canon 50mm 1.2
Literally just an hour before Sandy made landfall, my brother and I were driving around Mamaroneck, NY to find these people taking a walk, despite the rising water and inpending storm. The hulls of the boats are usually not visible from this angle and the next day four of these trees were gone.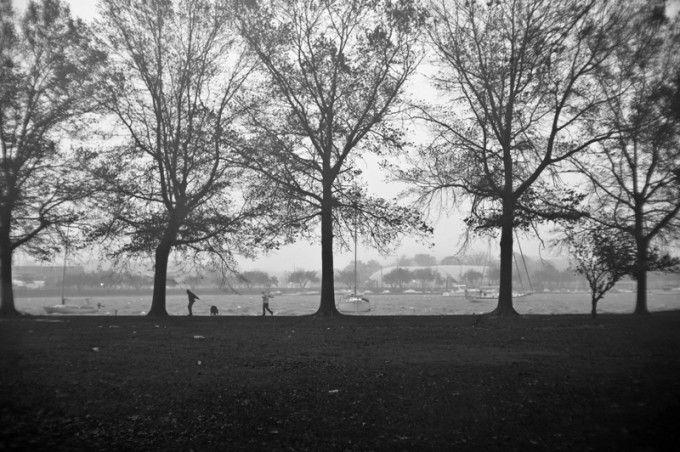 –
Going Home, winter storm Nemo, Leica M9, 35mm 1.4
During a late night drive in this storm, my brother was wiping off the accumulating frost on his windshield wipers when this brave soul was slowly biking home in the snow.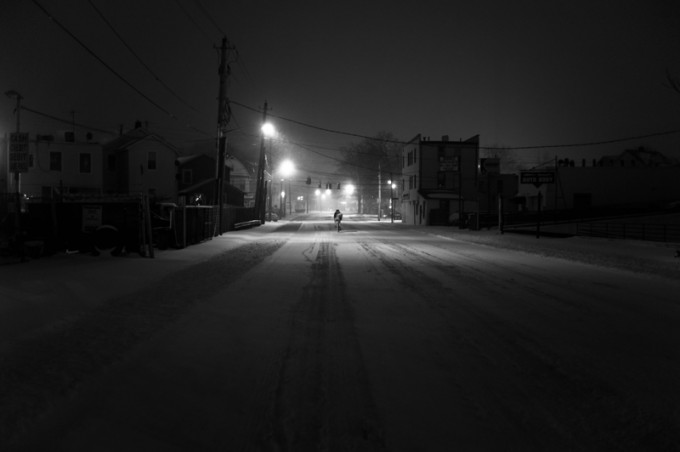 This next series is what I've titled "Colorful Patchwork" and it represents my experience of the vast North American landscape as I traveled on the RV road trip. These photos came out of my internal need to produce a photographic project while on the road trip. I never expected it to turn out this way, as I mainly shoot with some human element present, but the images are simply half-memories of what I thought was beautiful at that moment as the world passed by the RV window or when I stood still long enough to really see. For this series, I put a general constraint on the composition of the photos and what I noticed is that, while somewhat repetitive, the set as a whole is stronger because of those guidelines. Another important lesson I learned: create with intent and purpose, focus.
Chesapeak Bay Bridge, Canon 5D MKII, 75mm
A really amazing bridge, but somewhat discomforting when in the fog and you can't see the end 23 miles later.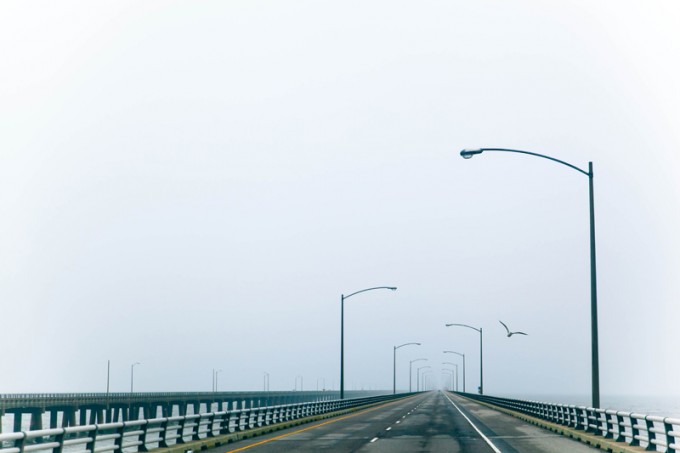 –
South Beach, Miami, Leica M9, 50mm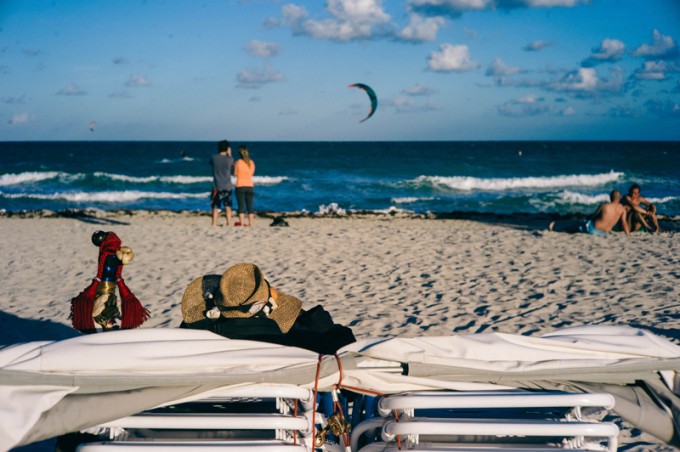 –
Atlanta, Leica M9, 50mm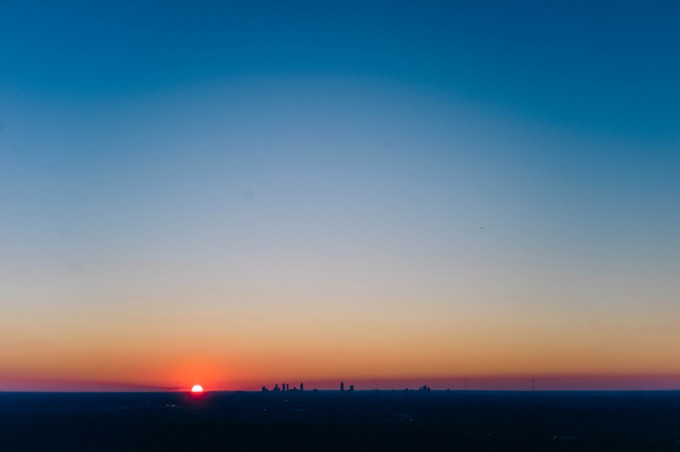 –
Waking-up to the Pacific, Leica M9, 50mm
After 3.5 months of driving and reaching California at night, waking up to this sight in Malibu nearly brought tears to the eyes.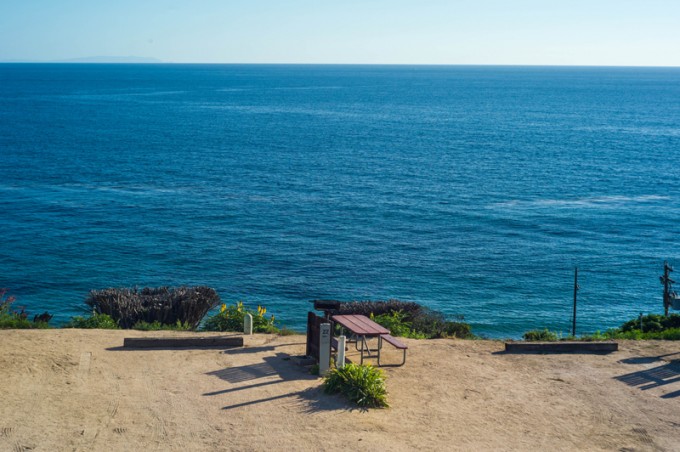 So you start producing, great, but what happens now? Well, you keep going thats for sure, but you also put yourself out there if that's part of your goals. So here at the beginning of my newest adventure (the first time I've ever submitted to a major blog such as this one), I am beginning a process of bringing my work to a larger audience to see what happens. I'm jumping in head first and running with it.
You've seen quite a random selection of what I do as a photographer, like I said my style and subject matter is eclectic. You've also gotten a glimpse of how I evolved with my photography. That whole process is now propelling me into the future of my work with a new motivation and even stronger passion.
So here I am. My name is Marlon and I love photography. The world—this life—is beautiful if you choose to see it that way. I hope my photos remind people of that.
If you liked my work feel free to check out my links below. If you didn't like it at all, well you're entitled to that, no hard feelings! I have plenty of years ahead to get better and maybe change your mind!
www.facebook.com/mc0photography
A few more shots: