PRESS RELEASE
NEW: THE SLR Magic HyperPrime CINE 10mm T2.1 and SLR Magic 77 ND 0.4-ND 1.8 filter
SLR Magic expands its micro four thirds lineup with new wide angle lens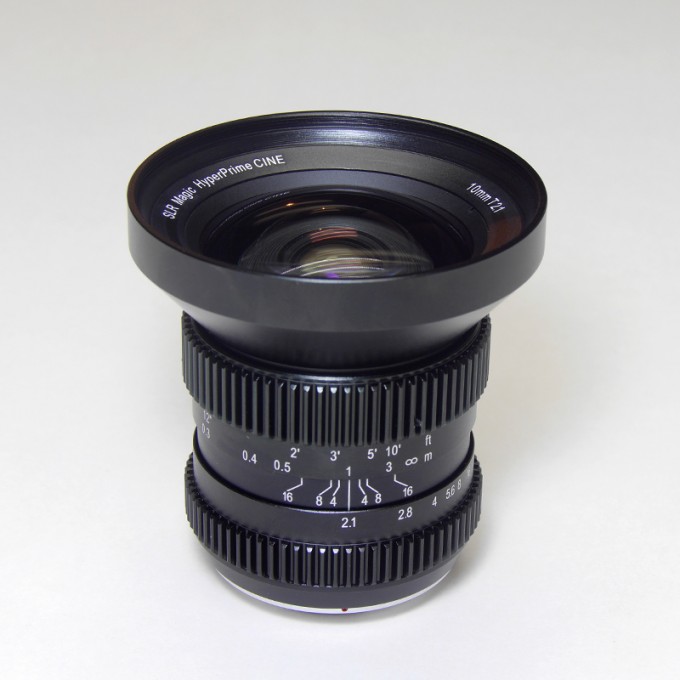 Hong Kong, China (September 3, 2014) – SLR Magic expands the micro four thirds lens lineup with the new SLR Magic HyperPrime CINE 10mm T2.1 wide angle lens. With this latest addition, the portfolio of lenses for the micro four thirds system is now comprised of thirteen focal lengths. The product will be officially introduced during upcoming Photokina 2014 fair in Cologne.
The field of view of this new HyperPrime Lens corresponds to a 20mm lens in 35mm format and this fast wide angle of view opens up many new creative composition opportunities, particularly in the fields of interior, architectural and landscape cinematography and photography. Additionally, a fast max aperture of T2.1 makes the SLR Magic HyperPrime CINE 10mm T2.1 ideal for available-light photography.
We place our highest priority in the development on our lenses to fulfill the demands of professional cinematographers and photographers. The design and build of the SLR Magic HyperPrime CINE 10mm T2.1 is solid and reliable.
The SLR Magic 77 ND 0.4-ND 1.8 filter is a solid variable neutral density filter providing a reduction of about 1.3 to 6 stops. The 0.4 to 1.8 density creates a darkening of the entire image, allowing you to photograph with a wider aperture or slower shutter speed than normally required. The degree of density is easily controlled by rotating the front filter ring via the non-removable lever. By slowing your exposure time you are able to control depth of field and convey movement more easily. Both filter substrates are combined into one filter ring, this filter is low profile and helps to eliminate vignetting on most lenses. The front filter ring diameter is 86mm in diameter, further helping to reduce vignetting, on wide angles lenses such as the SLR Magic HyperPrime CINE 10mm T2.1 lens.
The SLR Magic HyperPrime CINE 10mm T2.1 (MSRP: $799 US) and SLR Magic 77 ND 0.4-ND 1.8 filter (MSRP: $179 US) will be available from authorized SLR Magic dealers starting end of October 2014.
The SLR Magic HyperPrime CINE 10mm T2.1 will be first presented at Photokina 2014 fair. The SLR Magic stand would be in (No. L-011, Hall 5.1) during the fairs which are to be held in Cologne from 16th to 21st of September 2014. For all those who want to visit Photokina 2014 fairs.
SLR Magic is currently looking for volunteers to test this lens at a special price. If interested:
Send an email to support@slrmagic.com with the subject "SLR Magic 10mm T2.1 volunteer".
Include sample videos/photos or link to photo/video reviews you have done in the past.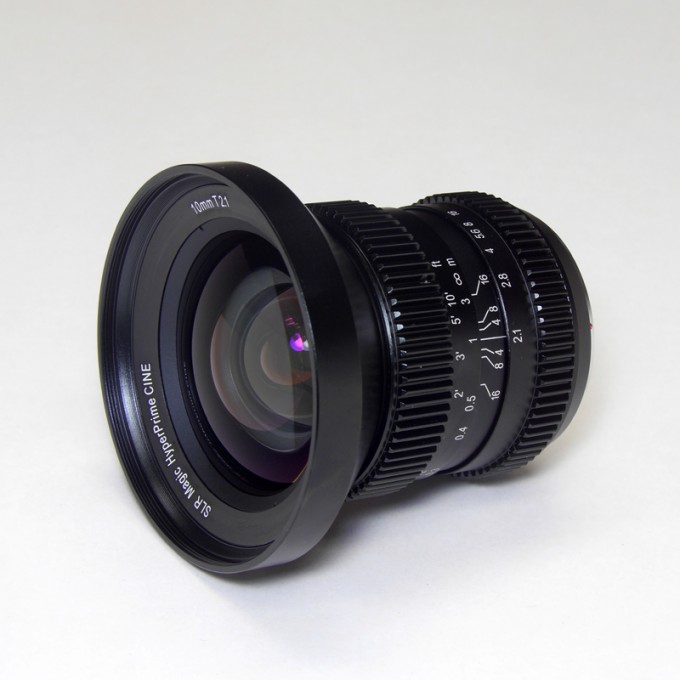 Technical Data
SLR Magic HyperPrime CINE 10mm T2.1
Lens Type:
Fast wide-angle lens
Compatible Cameras:
All micro four thirds mount cameras
Optical Design:
13 elements in 11 groups
Distance Settings:
Distance range: 0.20m to ∞, combined scale meter/feet
Aperture:
Manually controlled diaphragm, 11 aperture blades , Lowest value 16
Bayonet:
micro four thirds
Filter Mount:
Internal thread for 77mm filter; filter mount does not rotate.
Surface Finish:
Black anodized
Dimensions:
Length to bayonet mount:
approx. 79.45mm (approx. 3.12in)
Largest diameter:
approx. 80.00mm (approx. 3.14in)
Weight:
approx. 420g (approx. 14.8oz)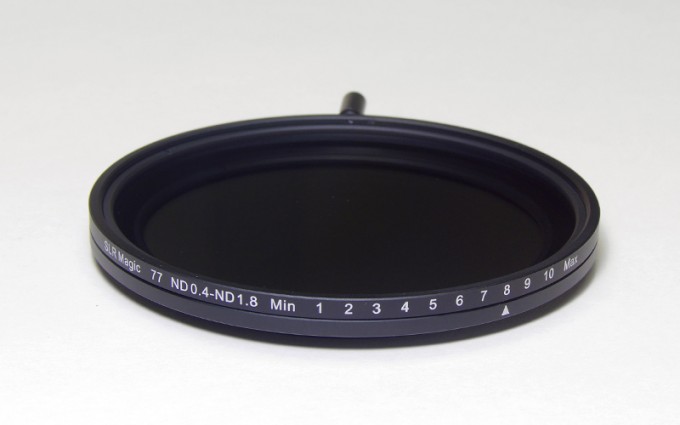 SLR Magic 77 ND 0.4-ND 1.8
Type:
Variable density
Size:
77 mm
Filter Factor:
0.4 – 1.8 (1.3 – 6 stops)
Front Filter Thread Size:
86mm