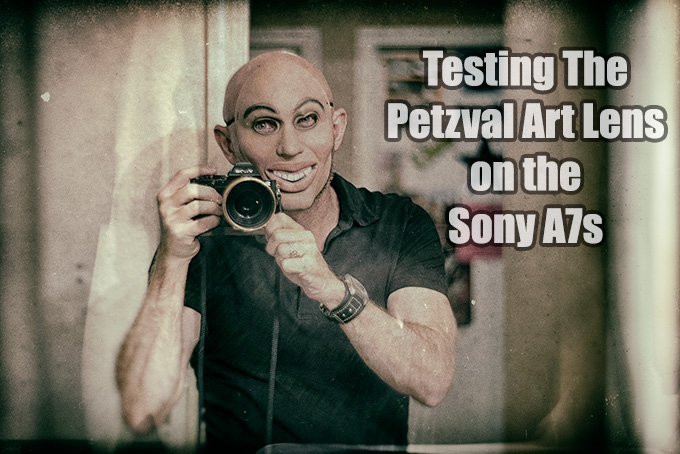 The Lomography Petzval Art Lens Review
You can buy the Petzval Art Lens at Cameraquest using the direct link HERE
You can also buy it at B&H Photo HERE
A long time ago in a land far far away there was a special and important portrait lens invented. The 1st usable portrait lens ever created, and it was designed by  Joseph Petzval in 1840. It was made of brass and it was very large, intended for cameras of the time. The unique look of the images from this lens was normal at the time, as it was the only useful portrait lens around. Even so it was a lens designed to cut down on exposure time from 30 minutes to mere seconds.
More on Joseph Petzval from Wikipedia: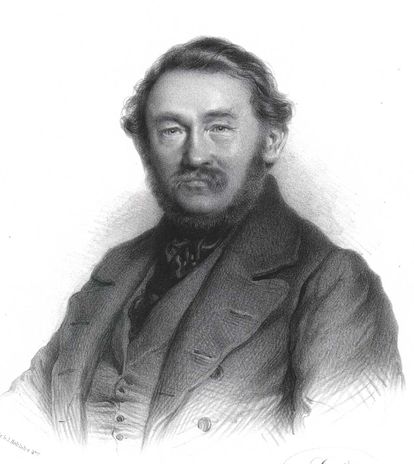 "Petzval's greatest achievements lie in his work with geometric optics. In 1839, Louis Daguerre presented the Daguerreotype, the first commercially successful photographic process. Fox Talbot's calotype was discovered earlier but did not enjoy commercial success. Petzval learned of the invention from his friend, Viennese professor Andreas von Ettingshausen. The daguerreotype was problematic in that it required exposure times as long as 30 minutes to create a portrait. With Ettingshausen's urging, Petzval set up a workshop and laboratory at Kahlenberg in Vienna and, after six months of complex computations, produced designs for improved objective lenses for both portraiture and landscape photography. Because the artillery was one of the few occupations that used advanced mathematical computations at the time, Archduke Ludwig lent eight artillery cannoners and three corporals to the computational efforts. The calculations these men carried out in tandem with each other have been regarded as an early (albeit human) example of a parallel computer.
Petzval's portrait objective lens (Petzval Porträtobjektiv) was an almost distortionless Anachromatischer vierlinser (double achromatic objective lens, with four lenses in three groups). The luminous intensity of this flat "portrait lens" was substantially higher than the daguerre standard of 1839, the Wollaston Chevalier lens (f/16). The screen f/3.6 with a focal length of 160 mm made crucially shorter exposure times possible — using exposures of only about 15 to 30 seconds compared to the 10 minutes previously. Thus, snapshots became possible for the first time."
So Mr. Petzval is an important guy in history as he was responsible for creating the first usable portrait lens. Photos from that time all have a unique classic yet surreal look due to the photo process AND the lens being used.
Enter Today's Re-Creation of the famous Petzval Lens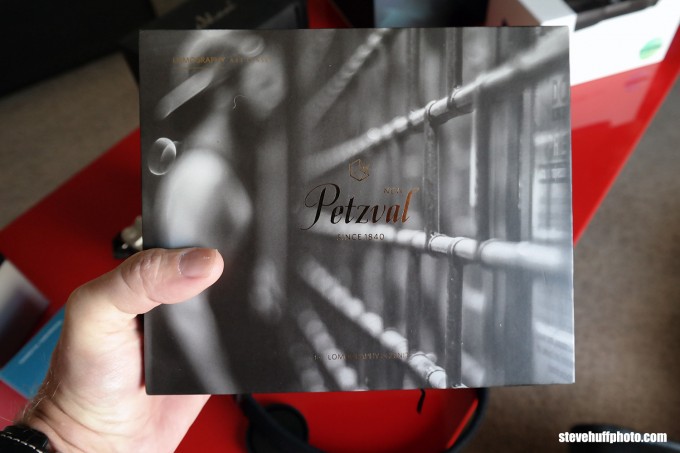 As time went on of course lens design became more of an advanced art and therefore lenses became sharper, well corrected, and with more sharpness across the frame. Today most lenses are perfected for optimum performance as we can do things today that could not be done in 1840.
Personally, I would say that many of the expensive lenses made today are almost too corrected! Sure, there are many more uses for a perfect lens than a not so perfect one but sometimes I get bored with that "perfect" look as it is the same look everyone has in their images today. Many of us are constantly seeking perfection it seems when it comes to our cameras and lenses, so I say it is a good thing when we take a slight curve or u-turn into a surreal dreamy world ever now and again 🙂
When something unique comes along TODAY that goes against the normal then I am always interested to take a look, so this new Petzval lens made by Lomo attracted my attention from the get go. Over a year ago now in August of 2013 Lomography put up a kickstarter for an exciting new portrait lens. This lens was the NEW Petzval, recreated in a smaller for full frame Nikon and Canon mounts. While much smaller than the Petzval of the old days, this one retained the same shape, design and brass construction. It also kept the insane swirly bokeh, soft edges and classic out of this world fantasy land look. The new Petzval inspired lens was announced as an 85mm f/2.2 design and promised a classic look just like the old version put out.
As you can see, an original Petzval lens is on the left..the new version (which was a prototype) is on the right. Much more manageable in size 🙂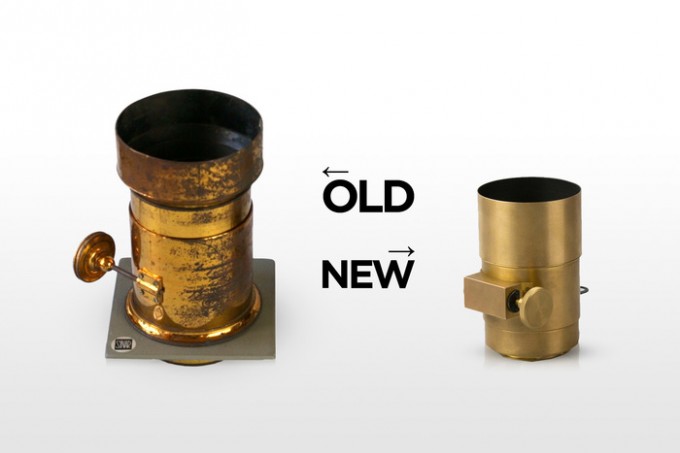 As soon as I saw the Kickstarter I WANTED THIS LENS but for some reason my funds were low so I was going to wait to contribute enough to get one of the first lenses. Then, I forgot about it and before I knew it the Kickstarter raised 1.4 Million (they had a $100,000 goal). It was insane! Almost one and a half million was raised which really showed not only the power of Kickstarter but also showed there was a true demand for this amazing new recreation/re-imagining of the first classic portrait lens. So while the signature of the bokeh and rendering is not for everyone, plenty of backers contributed and gave money for this project so they would be assured of a lens for themselves.
 Even though this is an f/2.2 lens and not an f/0.95 design, the Bokeh effect is insane. Some will HATE it, some will LOVE it. Me, I adore it and feel it is a great "every now and then when the time is right" kind of lens. To be honest, the lens is so beautiful to see and hold, I wanted one just to have it on my shelf! Even if I use it only a few times each year it will be worth it just to have this tool in my arsenal. I shoot it on my Sony A7s which is IMO, the best camera available today for using all kinds of cool lens via adapters. Can't beat a small full frame with intense low light capabilities.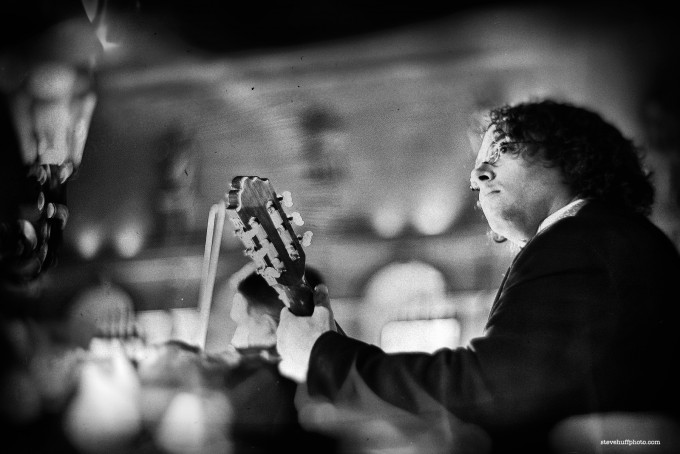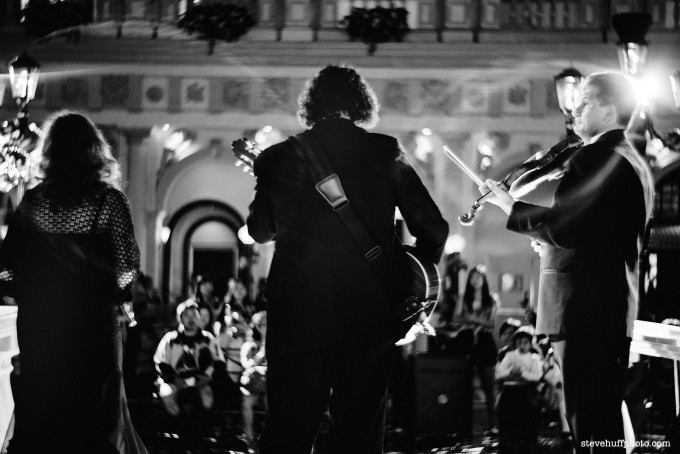 So yes, I wanted to try one…
A year or so went by and I forgot about the lens until a site sponsor, Cameraquest.com informed me that they were now a Lomo Art Lens dealer and they had the lens IN STOCK! $599 with free shipping.
I was asked if I wanted to review it so of course I could not pass it up. Soon, Stephen Gandy shipped me the lens and when it arrived I was literally blown away by the gorgeous packaging that went into the lens. A gorgeous quality box, a full book about the lens and the history of it with many sample photos, the aperture system and a few other things. For $599, to me, this seemed like a steal. When I pulled the shiny brass lens out of the bag it was in I was very impressed. The look, design, weight and quality was so nice down to the engraving of the name on the lens barrel.
The lens is made in Russia, and it looks and feels TOP NOTCH. The only issue I have found is that the lens cap, which is also brass, always falls off. It is not tight enough so I always find it at the bottom of my bag. Lomo may want to adjust this in future production runs.
Below is the video I made when the lens arrived. You can see the packaging and hear my very 1st thoughts on it:
Love at 1st Sight
After I had the lens for 3-4 days I knew I wanted to commit and buy it. I contacted Stephen at Cameraquest and told him I was going to make the purchase. I also needed the adapter as I was using a Nikon mount version on a Sony A7s, so I needed a Nikon to Sony E-Mount adapter, which Stephen also sells and sent out to me for my testing and eventual purchase as well.
A lens I recently re-reviewed here on these pages was the Canon Dream lens. A lens I had bought not once, but twice in Leica M mount and when I bought my 2nd copy for $3100 I vowed to NEVER sell it… until I received an offer impossible to pass up for it via email. Then I did indeed sell it as I knew I would be a fool to pass up that offer. Even though I sold that lens for much more than I paid, I missed it as soon as it went out the door and started searching for something unique again..something that could give me a similar vibe..and when the Petzval arrived, THERE IT WAS! Just what I was looking for.
With this Petzval lens coming in at only $599 I can get a taste of that Canon dream lens..a bit of that flavor for MUCH MUCH less. While this lens is not the same as the Dream Lens I owned (IMO) I do feel it is a bit similar in rendering with a different signature at the edges and slightly in the Bokeh. I like the dream lens better but for the money, now that my 2nd dream lens was gone, buying the Petzval for my special effect lens was a no brainer.
Color or B&W..does not matter. What you will get is the same Petzval rendering and look.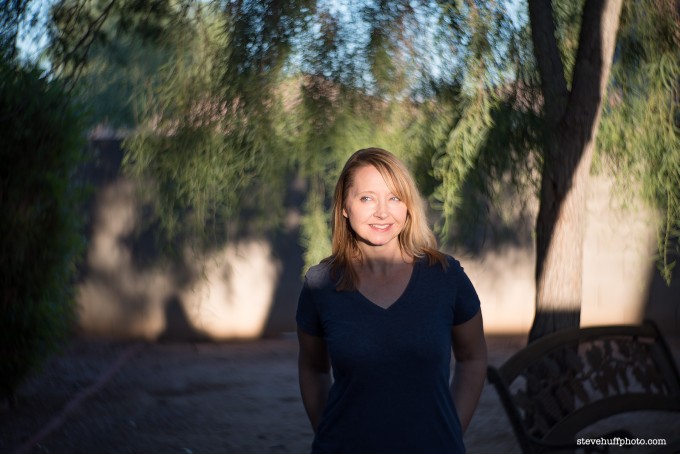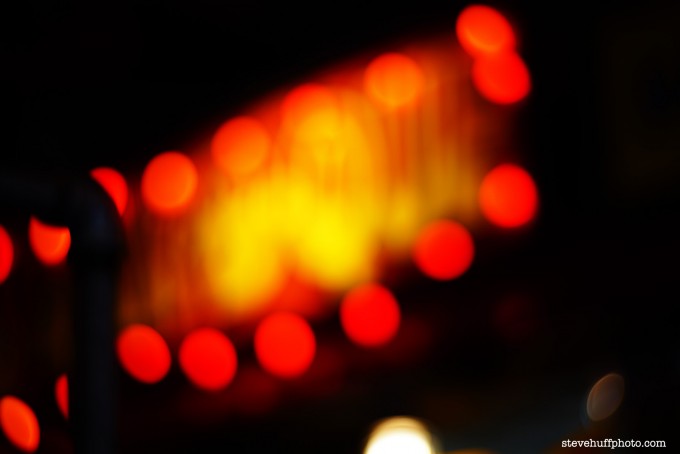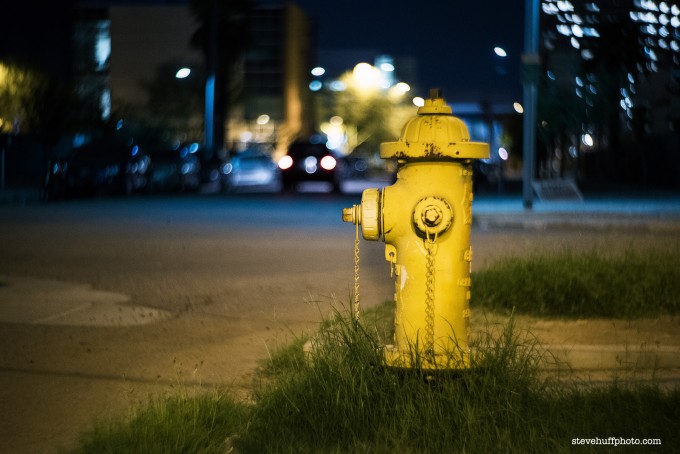 Using the Petzval Lens…
As stated, my Petzval was purchased in Nikon mount which makes it easy to convert for use on the Sony A7s or Leica M 240. The lens is slightly long and manual focus only. The Aperture system is the old waterhouse system meaning there are aperture plates you put into the cameras aperture slit. Me, I use this lens at f/2.2 or f/2.8. By f/4 it sharpens up so much it almost renders like a normal lens, making the Petzval a Jeckyl and Hyde kind of lens. I feel the unique selling point of the lens is the swirly Bokeh effect and soft edges. So I basically always leave the f/2.2 aperture plate in. If you remove the plate you get a TEENY bit more speed according to Lomography and possible flare issues but when I tested this I saw no real difference in Bokeh or Exposure or flare. For those hoping to see more craziness without a plate, there really is none. Many would ask "Why use any plate at all"? Well, without an aperture plate inserted you are allowing dust to float down into the lens, and this is never a good thing 🙂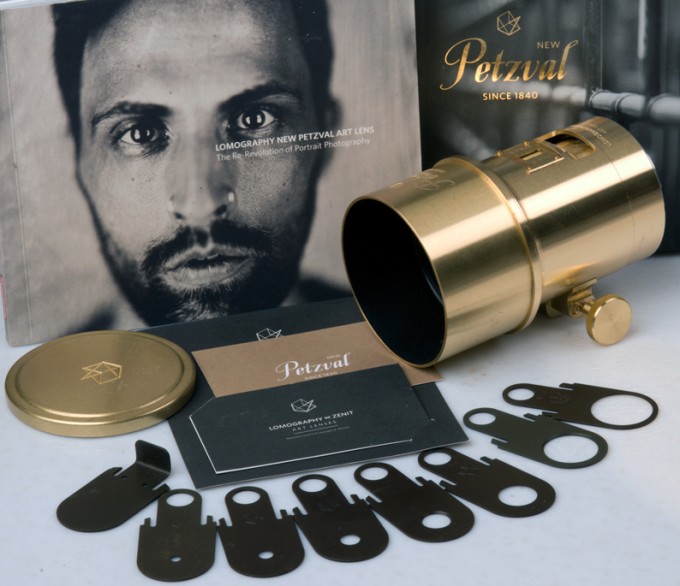 The way you focus the lens is also unique. There is a dial on the left of the lens and this is what you rotate to focus. It is VERY simple and works well. In fact, I wish more lenses worked like this! It seems much more precise. It was so easy to focus on the Sony A7s with the nice big clear EVF that I never had a focus issue. It's brilliant!
More in COLOR – All wide open at f/2.2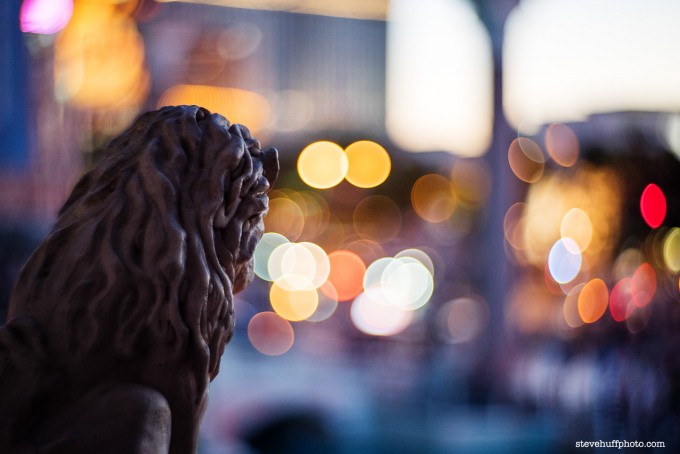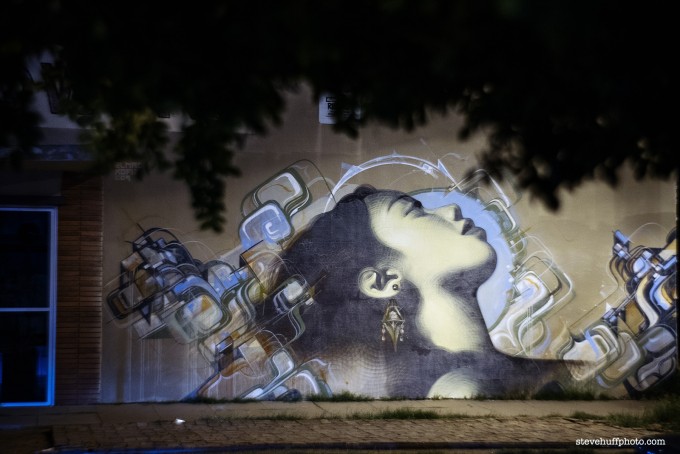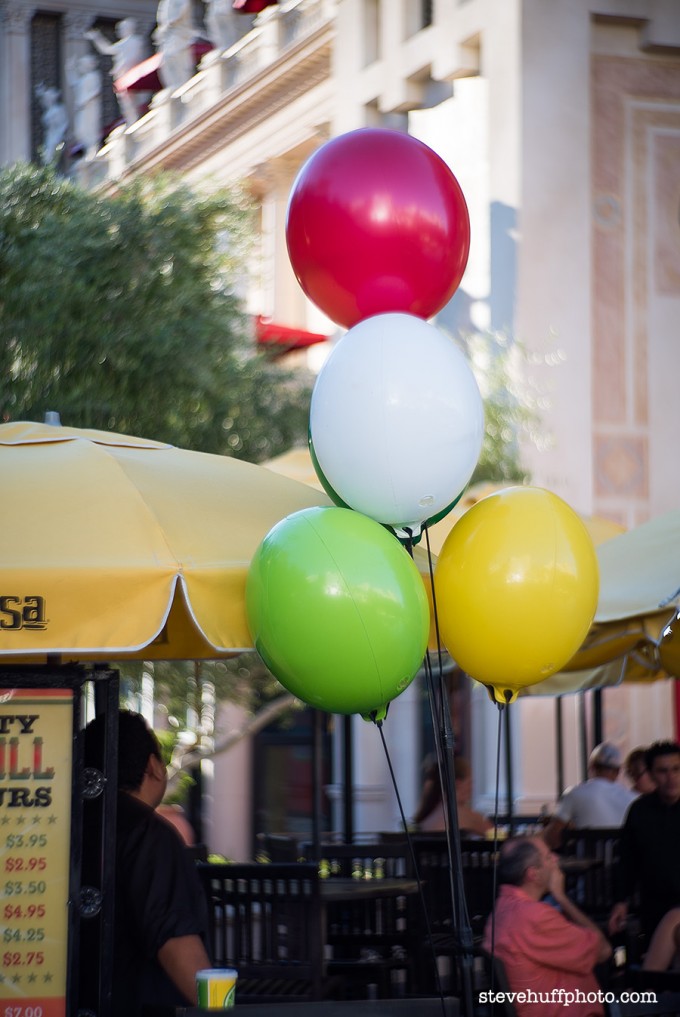 On the Sony A7s I just plopped on the Nikon to E Mount adapter and then the lens. That was it, ready to rock and swirly roll. Using the lens was a piece of cake. I feel an EVF based mirrorless makes it easier to use this lens because with a Nikon DSLR you are looking through an optical viewfinder and it makes it very very hard to nail focus using the Petzval. I prefer the what you see is what you get type of thing.
It's NOT an Everyday Lens!
If you are looking for ONE lens and one lens only, this would not be it. While fun, interesting and unique, the look can be overdone so I would reserve it for certain situations or scenarios. I have seen GORGEOUS portraits with this lens and I have seen AWFUL portraits and mis-use of this lens. Using it takes some practice as not everything will look good with it. Some subjects may look really awful using this lens and it probably takes a month or two to really get to know it inside and out. Me, I have been shooting with it for only two weeks so I still have some learning to do before I create my own Petzval "Masterpiece".
I bought the lens for those few times a year I get the itch for an "artistic" lens. Lenses like the Noctilux, the Canon Dream Lens, Canon 85L and this lens are what I call "Art Lenses" because they create images that can sometimes appear as paintings. They specialize in the surreal and I LOVE these kind of lenses.
Take a look at a few more samples using this very crazy lens – click them for larger versions that look better, especially if you are using a large display (I use a 27″)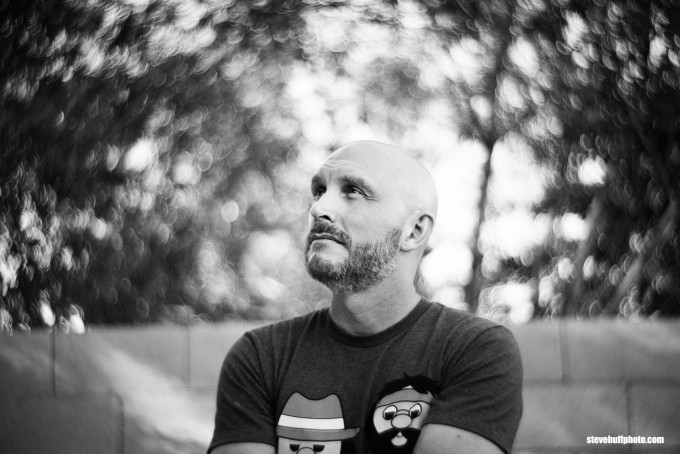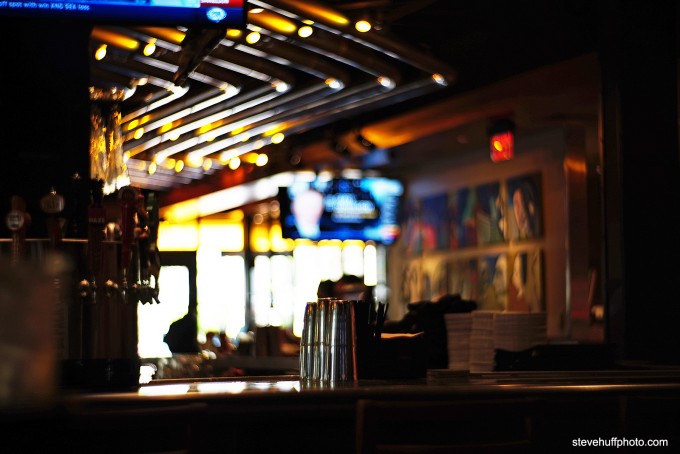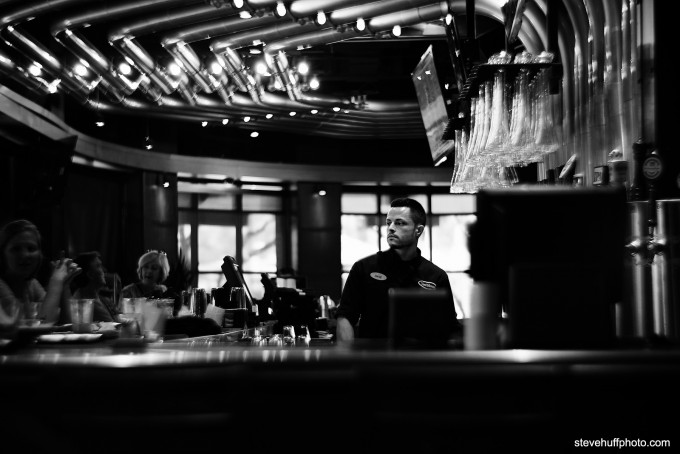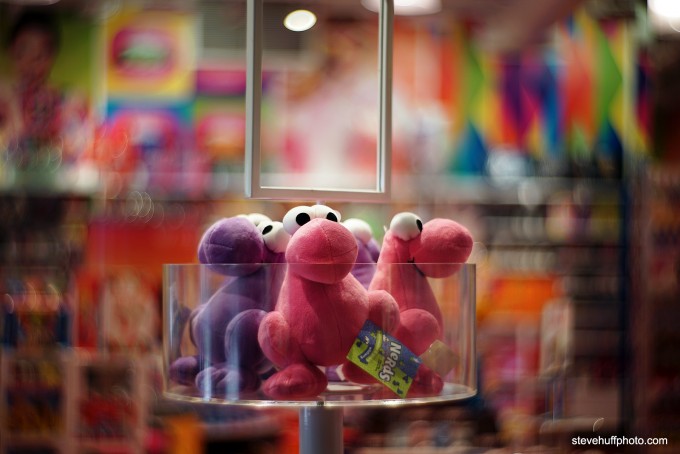 What to expect from the Petzval
If you buy this lens one thing to keep in mind is that when shot wide open you will get images just like you see here. Swirly Bokeh, soft edges and corners, sharp in the dead center of the frame and lower contrast (which is easily fixing in post). All of these ingredients add up to create the signature look of this lens. I can already make a prediction: Many comments here will say "The Bokeh makes me dizzy or sick", "Those shots are awful", "I could never use this lens"…then others will say "Wow, that is a cool lens" or "I own one and love it" or "I want one"!
People are usually split on these kinds of swirly lenses. This is one thing that makes the world so great and interesting, no two individuals are alike 🙂 
Many classic lenses render in a similar way though not so extreme. When shooting this lens remember it is manual focus, manual aperture and will work perfect with the camera set to aperture priority mode. Focusing via a nice EVF is, for me, a breeze. Also, this lens was made for full frame sensors and to get the most out of it this is how I would recommend using it. When taking a full frame lens and using an APS-C or smaller sensor you lose part of the lens signature which is why I never use Leica M glass in Micro 4/3. This lens would be fantastic on the A7s (all images here with the Sony) or even the Leica M 240. All you need is the adapter for each and you are in business. Of course, you can also use it on any Nikon DSLR or if you buy the Canon mount, any Canon DLSR.
This lens is indeed an "Art" lens and I would love to see a 35 or 50mm made just like it as sometimes I find this focal length of 85mm a little long. Lomo should create wider versions with the same design..a trio if you will.
Man I just love the swirl in this shot. Surreal, dreamy, with just the right amount of softness for the portrait. I shot this to show the background rendering of foliage as well as the swirl.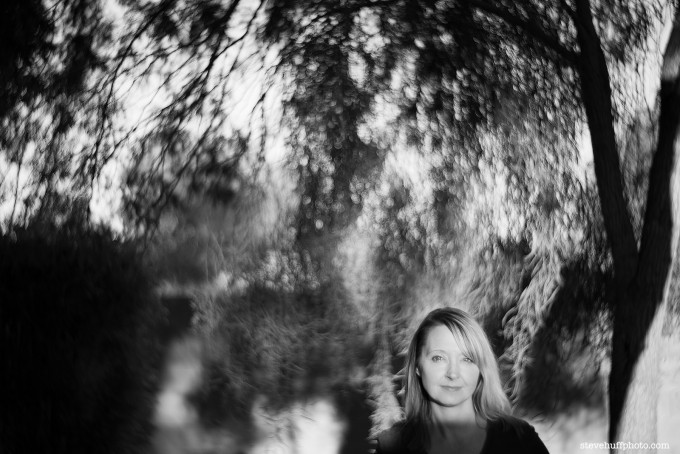 When shooting this lens expect the Bokeh performance of a faster lens. For some reason it blows out the background like an f/1 lens. It's crazy but for me, it is beautiful (on most occasions).
My Bottom Line Conclusion on the Petzval Lens
When this lens was announced I WANTED ONE in a bad way. Then I was busy and forgot about it. When it was finally released and I saw samples, the early samples, I was not so impressed. As time went on I studied some of the amazing samples available online and knew I would eventually own one. When Stephen Gandy offered the lens up for review I could not pass it up. I would be able to test it and if I liked it, I could purchase it. Once I saw the attention to detail in the packaging and design as well as the build of the lens and accessories, I was hooked. After shooting off 10 frames or so I was sold.
The lens is not an everyday lens but it is one that will be used from time to time when I want that special dreamy effect. Much like the Canon Dream Lens I recently re-visited, this lens has some craziness to the rendering, but I am a crazy guy so I love it. But…I would tire of it if I used it daily, really quick.
Depending on the background of your subject you could end up with a nasty busy mess or a beautiful ethereal image that looks like a painting. It takes reality and distorts it a little, giving us a taste of what it is like to be an artist. Those photographers with the eye and vision for the unique will get it. Others will not. 100% personal preference. But it does take practice to determine the best distance from subject to lens and subject to background. Get these just right and the images deliver the look you want. It's a hell of a lens! While shooting it in Las Vegas I had so many ask me about the lens. When eating a waitress saw it and had to ask all about it telling me she wanted one for her son. It will get attention, but it was all good attention. People were genuinely curious about it due to the design and looks.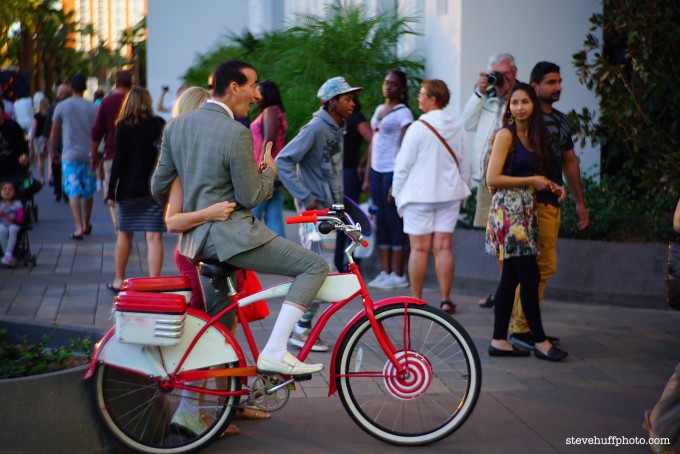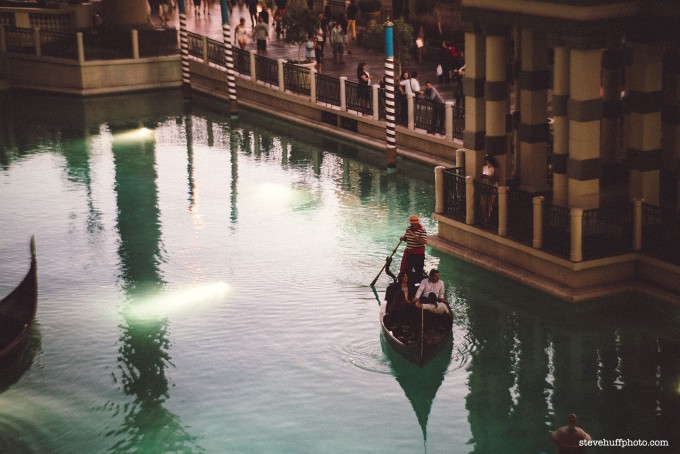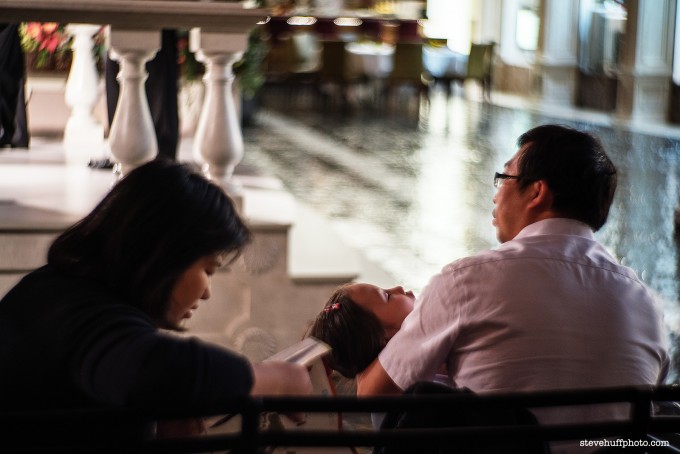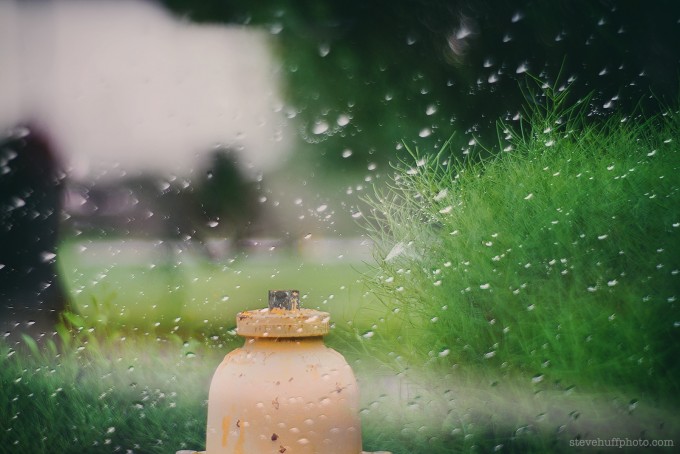 I am happy I decided to make the purchase as it can be used on my Sony A7s or on a Leica M-P. It also sharpens up more at f/2.8 and by f/4 will give you pretty nice consistent results without the swirl. Using the old-fashioned aperture system is quite nice actually. I haven't lost one yet and I love the process of pulling one out and using the next, though I admit, I feel this lens is made for wide open use so I RARELY change it.
If this type of image rendering suits you, I highly recommend this lens. I feel in 10 years it will be desirable and one day even collectible if they stop production of it. Look at the Canon Dream lens. A few years ago you could buy one for $900, now expect to pay $4500-$5000 and up for a clean M mount version. (what I sold my last one for).
At $599, it is priced more than right IMO. You get a great experience from opening of the box, to holding the lens, to using it. There is only ONE complaint from me and that is the lens cap. It always falls off, so I usually leave mine off unless it is sitting on the shelf. Other than that it is just what I expected and I am really surprised that this lens was not priced a little higher due to the superb packaging, build quality, brass design and novelty of it.
Thanks Lomography!
You can buy this lens from Stephen Gandy at the link HERE. He ships FAST and is a great guy to deal with.
You can buy the Nikon to E-Mount adapter from him as well, using the direct link HERE.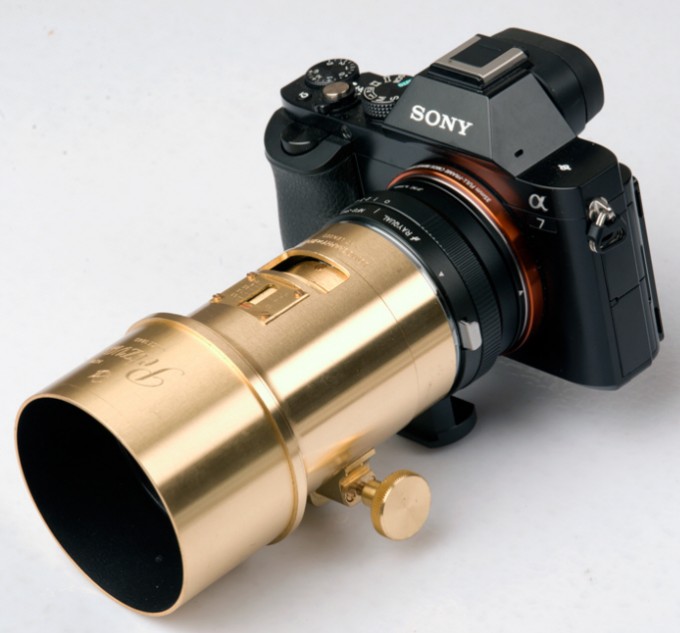 PLEASE! I NEED YOUR HELP TO KEEP THIS WEBSITE RUNNING, IT IS SO EASY AND FREEE for you to HELP OUT!
Hello to all! For the past 5 years I have been running this website and it has grown to beyond my wildest dreams. Some days this very website has over 200,000 visitors and because of this I need and use superfast web servers to host the site. Running this site costs quite a bit of cash every single month and on top of that, I work full-time 60+ hours a week on it each and every single day of the week (I received 200-300 emails a DAY). Because of this, I need YOUR help to cover my costs for this free information that is provided on a daily basis.
To help out it is simple. 
If you ever decide to make a purchase from B&H Photo or Amazon
, for ANYTHING, even diapers..you can help me without spending a penny to do so. If you use my links to make your purchase (when you click a link here and it takes you to B&H or Amazon, that is using my links as once there you can buy anything and I will get a teeny small credit) you will in turn be helping this site to keep on going and keep on growing.
Not only do I spend money on fast hosting but I also spend it on cameras to buy to review, lenses to review, bags to review, gas and travel, and a slew of other things. You would be amazed at what it costs me just to maintain this website. Many times I give away these items in contests to help give back you all of YOU.
So all I ask is that if you find the free info on this website useful AND you ever need to make a purchase at B&H Photo or Amazon, just use the links below. You can even bookmark the Amazon link and use it anytime you buy something. It costs you nothing extra but will provide me and this site with a dollar or two to keep on trucking along.
AMAZON LINK (you can bookmark this one)
B&H PHOTO LINK – (not bookmark able) Can also use my search bar on the right side or links within reviews, anytime.
Outside of the USA? Use my worldwide Amazon links HERE!
You can also follow me on Facebook, Twitter, Google + or YouTube. 😉
One other way to help is by donation. If you want to donate to this site, any amount you choose, even $5, you can do so using the paypal link HERE and enter in your donation amount. All donations help to keep this site going and growing!
 I do not charge any member fees so your donations go a long way to keeping this site loaded with useful content. Thank you!