Readers chime in on the Sony A7II!
Before posting my own Sony A7II Review I asked if any readers had gotten their A7Ii yet and if so, send in some thoughts about it. A couple of you sent in your own thoughts after getting the camera, so here they are!
The A7II can be ordered at Amazon or B&H Photo
My full A7II review is HERE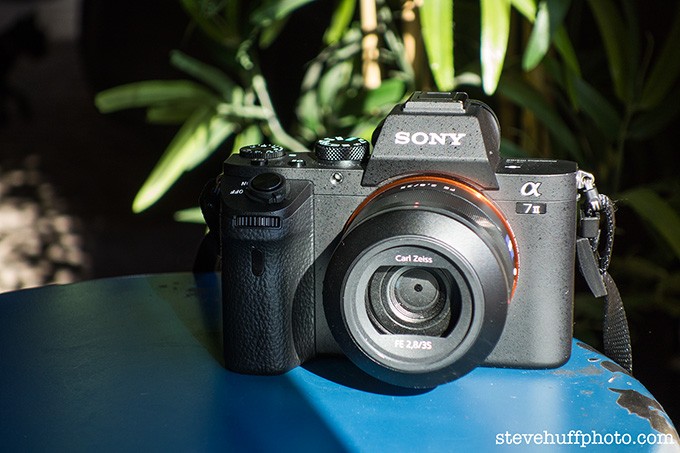 David Scott
Steve — I'm a long-time reader of your blog and solidly am with you on the Sony A7, A7s and A7II. I've all but abandoned Nikon, having sold everything save one D600 and a couple of lenses — but they never get used.
This message, however, is about the fabulous (in my opinion) combo of A7II and the Tamron 150-600mm for Sony (mounted with an LA-EA4 adapter). Below is one of the very first shots I've made using this duo. Top is the original, bottom a crop. So far, virtually every image I've captured at 600mm has been tack sharp. Autofocus seems very fast. However, I haven't yet had a chance to try nailing birds in flight. At the moment, the hawks and buzzards that ordinarily circle the skies here are nowhere to be seen.
I literally have had the camera and lens for only a couple of days and December wildlife north of Atlanta has been, well, sparse. I don't send this image as an example of fine art but, rather, a demonstration of the how well the A7II and Tamron get along.
I have become a thorough Sony A7-line fan and only wish the A7II had a silent shutter option like my beloved A7s. Still, it's extra megapixels and stabilization feature mean I'll be carrying both bodies on every shoot. Since most of my regular work is indoors under ordinary, daylight-balanced fluorescents, the A7s has been my go-to camera.
For me, smaller, lighter, quieter — and now steadier — rocks!
Handheld at full tele (600mm), ISO 1000, 1/500th sec., f/6.3 (wide open); SteadyShot set manually at 600mm via the camera menu.
(Keep in mind this is at 600mm and HANDHELD! If you never tried this it is NOT easy and about impossible without good IS)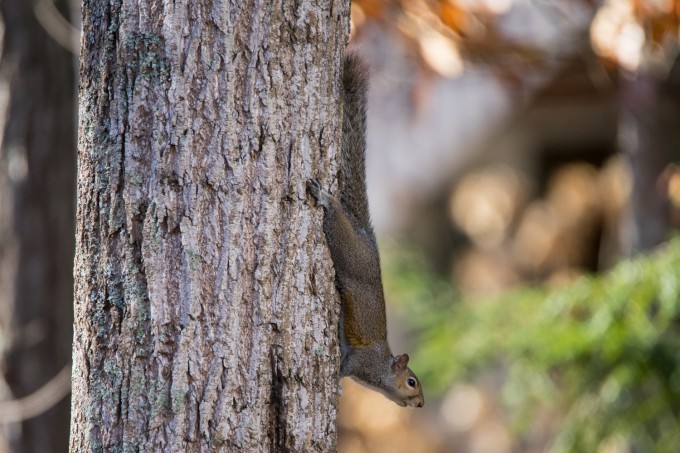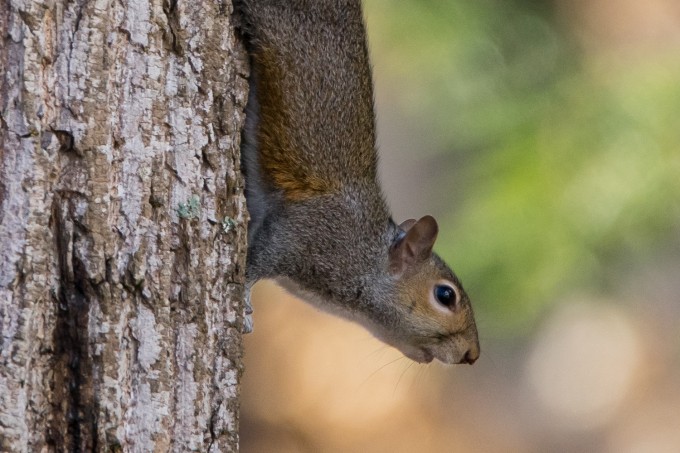 ——
David Fonseca
Hey Steve! You asked for A7II impressions and here are mine. Hopefully they are useful to you. You were the main reason why I purchased my EM1 and A7 so here is my help to you in return! I am including some test shots I took with my 2 Canon FD powerhouses, the 50mm 1.2L and 80-200 F4L. This is what I wrote on a forum site I contribute to, talkemount.com. The original post is here: http://www.talkemount.com/showthread.php?t=9372
So the A7II arrived today, a day later than I expected when I first put in the preorder but a day earlier then I expected from just a few days ago. I own the A7 and love it. It has become my go to camera. Reasons I felt the upgrade were important to me were, hated the original grip and button placements, no IBIS, a tad slow, poor video features. The A7II seemed to cover these very well. The things I wished for but didn't make the cut was, silent shooting and a newer improved sensor.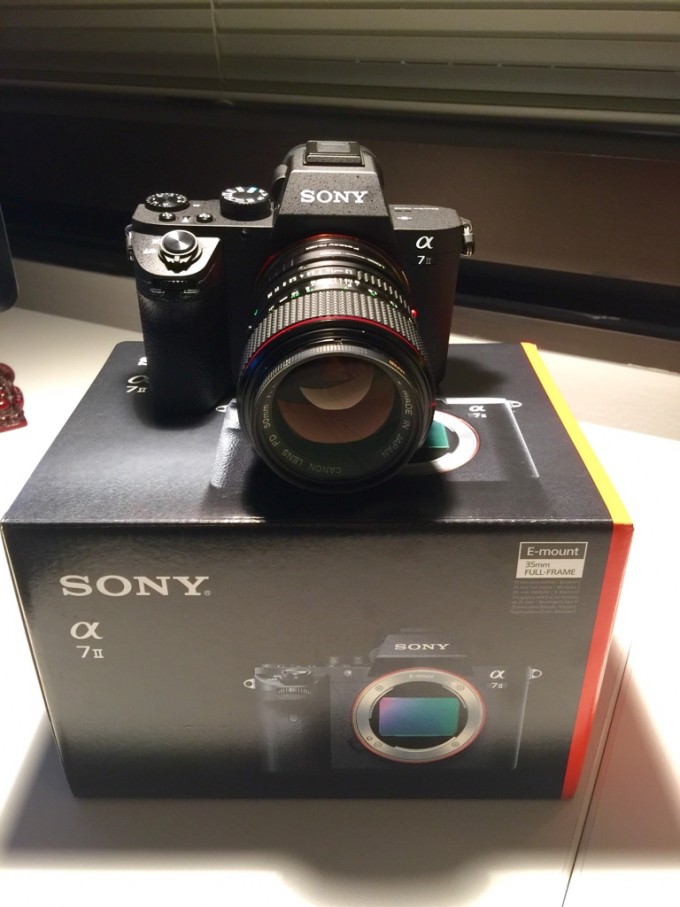 1st impression out of the box are pretty consistent with what we have seen from online reviewers. Noticeably heavier but the grip is fantastic. Very comfortable shooting without a strap with a heavy solid metal lens like the FD 50mm 1.2L that I have on it now. Overall construction is VERY good. Buttons, dials and screen. Very smooth but solid movement and actuations. Startup time is fast. Almost instant for me in most cases. Shutter is definitely quieter but not stealthy by any means.
Things I'm not sure about yet. The front dial on the grip is a little hard to get to with my fingers and I have to struggle a bit to get to it. Tilt screen is also hard to get to. Not a lot of edge to grab a hold of (Tip From Steve: On the right side of the LCD, underneath, is a lip to grab onto to pull out the LCD). The self-cleaning shutter-clang at power down still happens sometimes. Also when you turn it on and the SteadyShot is engaged there is a small vibration in the body right at boot-up. I tried it a few times and got it to do it fairly constantly. EVF is identical to the A7.
OK so now for a quick steady shot comparison. These are shot with the FD 50mm 1.2L. The steady shot ability with non electronic manual focus lenses was what I was most looking to get with this camera and so far I think its working really nice.
First set. Shot at 1/10 at f8 ISO 200 handheld with dim desk lamp as only source of light. I cropped in a lot. This figure stands at about 3.8″ tall
Without SSI (5 Axis)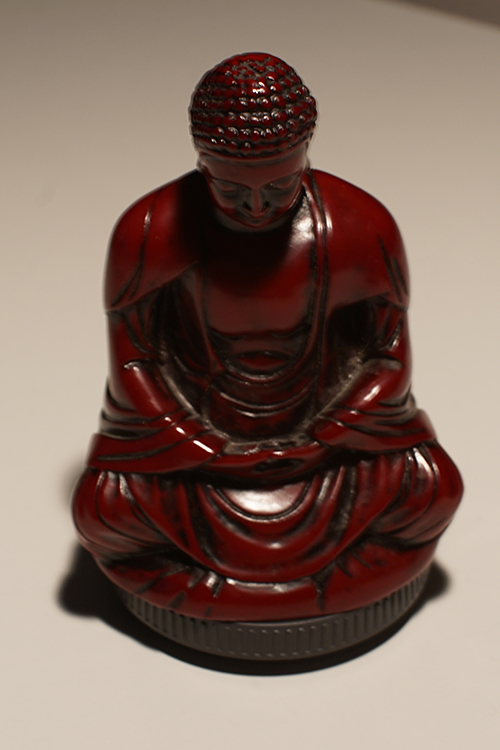 With SSI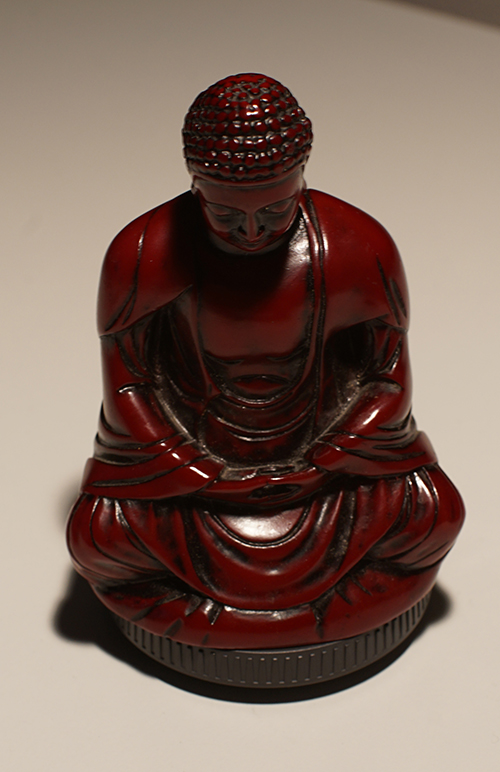 This next one surprised me so much that I had to take it twice to be sure. Shot at 1/6 at f8 ISO 50. Same desk lamp
Without SSI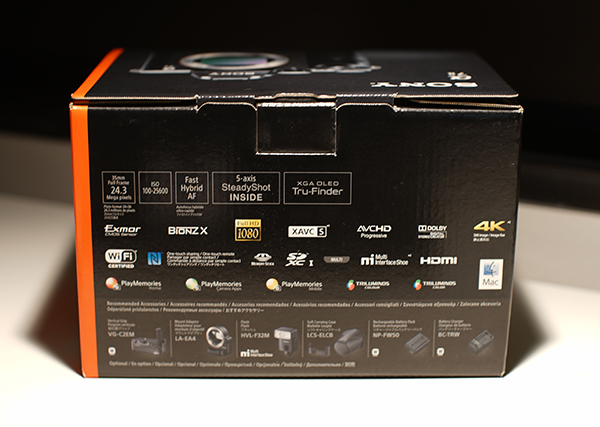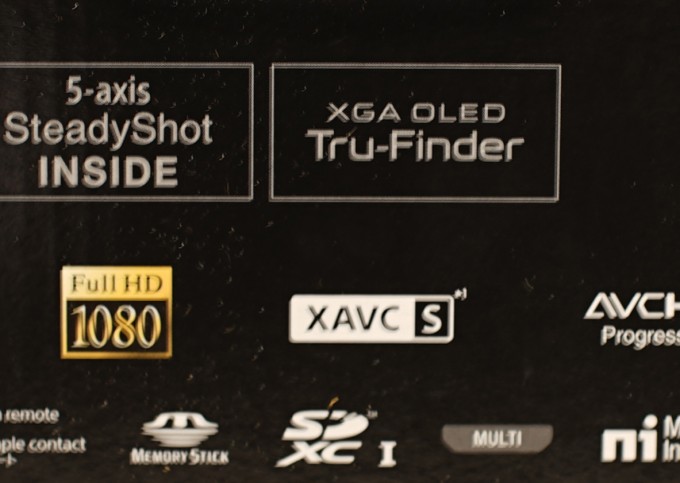 With SSI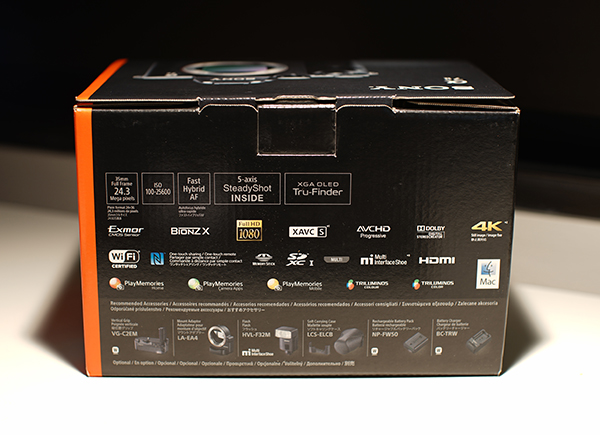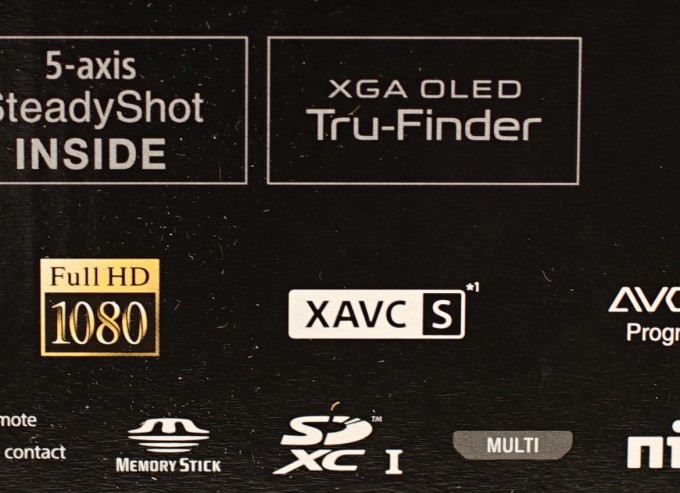 So SteadyShot Inside is not too shabby on a 40+yo lens. Now I know some of us were wondering if the steady shot is engaged in the preview. Id say it is engaged with a shutter half press but using it on a 50mm lens is hard to tell. However when using the focus zoom feature, it doesn't seem to engage as I couldn't tell much movement change with it on/off. This weekend I plan on trying it on my 80-200mm and see how it fairs with the longer FL. So far so good though
And then here is a follow up with the 80-200mm f4L:
Ok so finally home and playing around with my 80-200mm. The steady shot is way more noticeable at 200 mm. Also it's very comfortable holding the camera with this beast on it. A few other things I am noticing.
Menu and C3 buttons are much easier to get to than previously.
I was able to map the FL selection to C3. Very convenient for me to be able to make quick adjustments with a legacy zoom lens.
The higher resolution screen seems to allow you to magnify the image in review a lot closer than previously.
Wi-Fi access is much more reliable – A big plus for me as I use this feature often!
Emount is definitely more robust. I nice solid 'click' when you engage the lens
Not seeing steady shot when using focus magnification. Will have to check the manual to see if there is a way to engage it.
Here is two shots indoors and hand held.
200mm f4 ISO 100, 1/25, with and without steady shot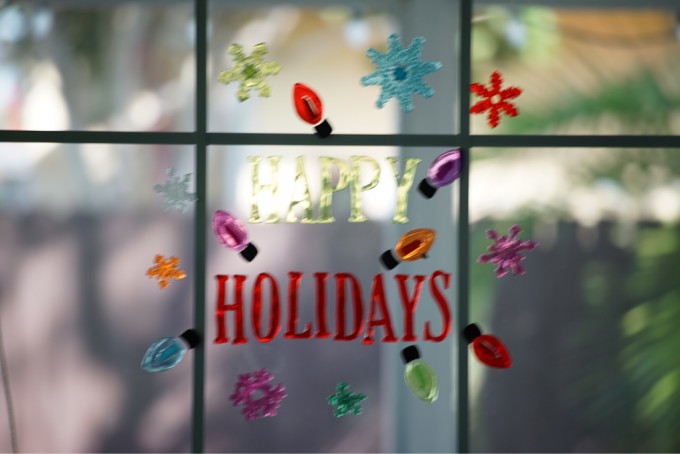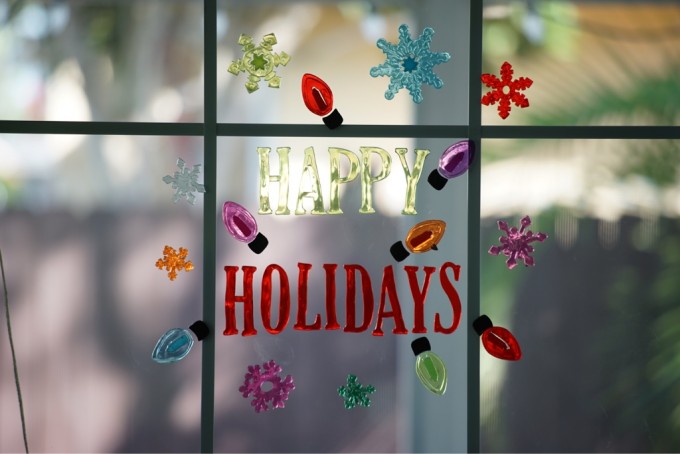 Here is what the 80-200mm fdn looks like on it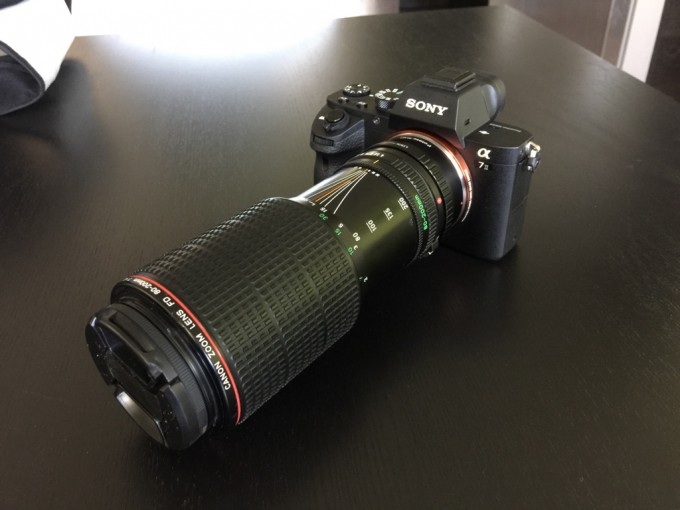 —–
Mikee Catacutan
Wow, this things feels like a brick. Not a bad brick but just a really solid magnesium alloy framed brick. I like the weight of the original A7 but definitely like the feel of the mark II better and if I had to choose, I'd go with the more solid feel as I think it could withstand some serious traveling.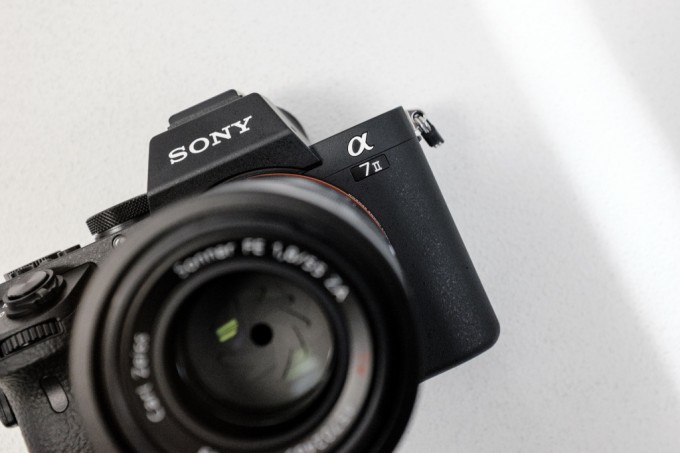 Other physical difference include the finish. It's way more premium looking and feeling over the original A7's shiny plastic like finish. As we all know, the grip is also larger. It feels good but I also didn't have a problem with the original, however the added real estate for the placement of the shutter button absolutely feels perfect.
On the original A7, there was a little movement between the body and lens. I've used the camera in light showers with no problems but the A7II has a much more improved lens mount. The click you hear when mounting a lens sounds confident and there's absolutely no wiggle between body and lens.
All the button feel similar, with a few feeling more solid adding to the premium aspect of the camera. I thought the screen would be exactly the same however the black borders on the LCD are reversed with the thicker border being on the right of the LCD. That means the A7 screen protector won't align with the A7II unless you flip it upside down resulting in an upside down Sony logo. I ended up leaving it on for the time being for protection and will change it out later, or maybe not. It doesn't bother me. You can see it below: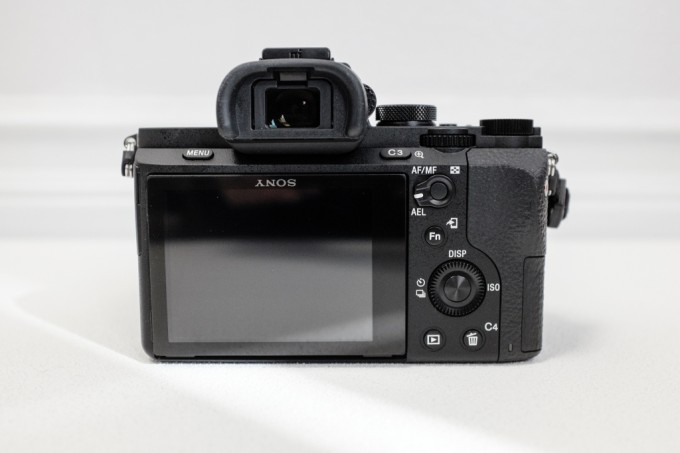 So without a doubt, the camera feels great. I will admit needing to get use to the added weight. It's not heavy, it's just different from the original A7, which I've been using extensively for a year.
As far as internal improvements go, I can already feel the auto focus has improved greatly in that I don't feel it's a concern anymore. We'll see how it goes as I do more shooting but I'm super happy with it. Start up time is a bit faster. Not by a lot but it's definitely less annoying.
And then there's IBIS. This is why I decided to sell my A7 and upgrade. Any help in taking care of camera shake, I'm all for it and I think it's definitely worth it for me. Especially when I'm shooting in constantly changing scenes/light and without the ability to set a minimum shutter speed but want to keep my lens wide open, the added image stabilization will give me more confidence that if it does go down to say 1/30th of a second, I'll still be ok. I don't venture too far below 1/80th for handheld shots because I absolutely hate blurry images, so now that I can feel more comfortable at lowers shutter speeds, I'll worry less and focus more on composition.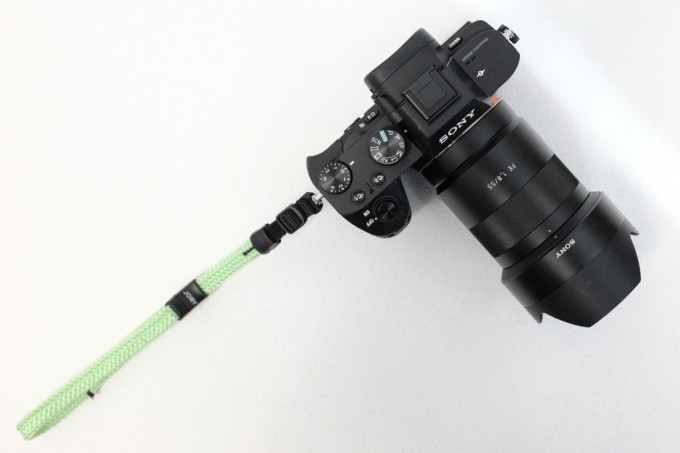 So there you have it. My first impressions of this beast. I have a shoot on Saturday so I'm excited to put this guy to work. I'm already a fan of the quality of the A7 so I'm sure I'll be just as happy, if not more, with these files.
And some images from Mikee Catacutan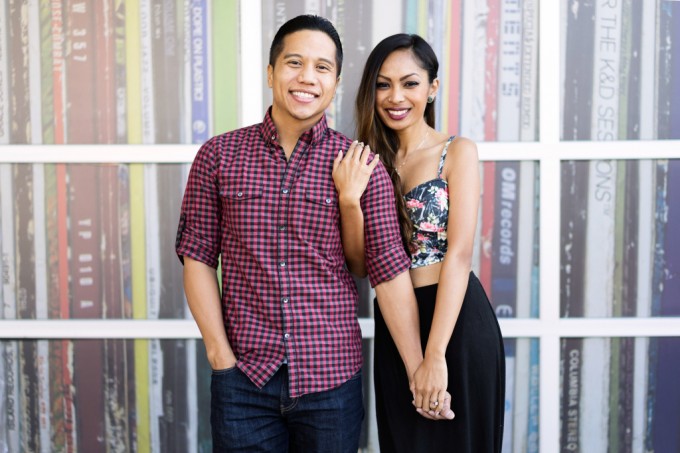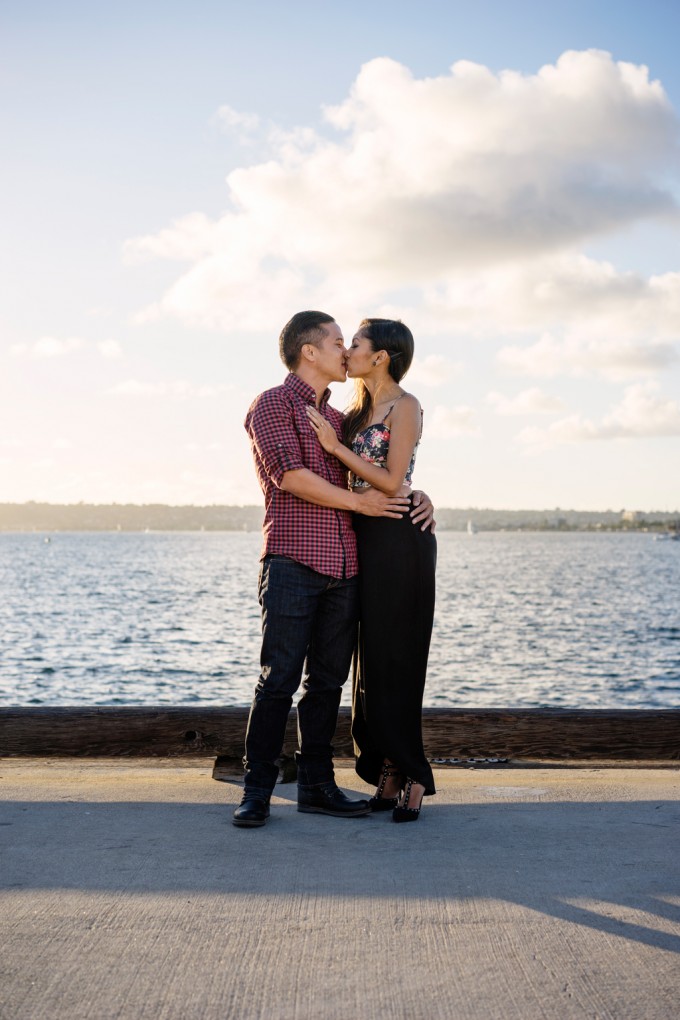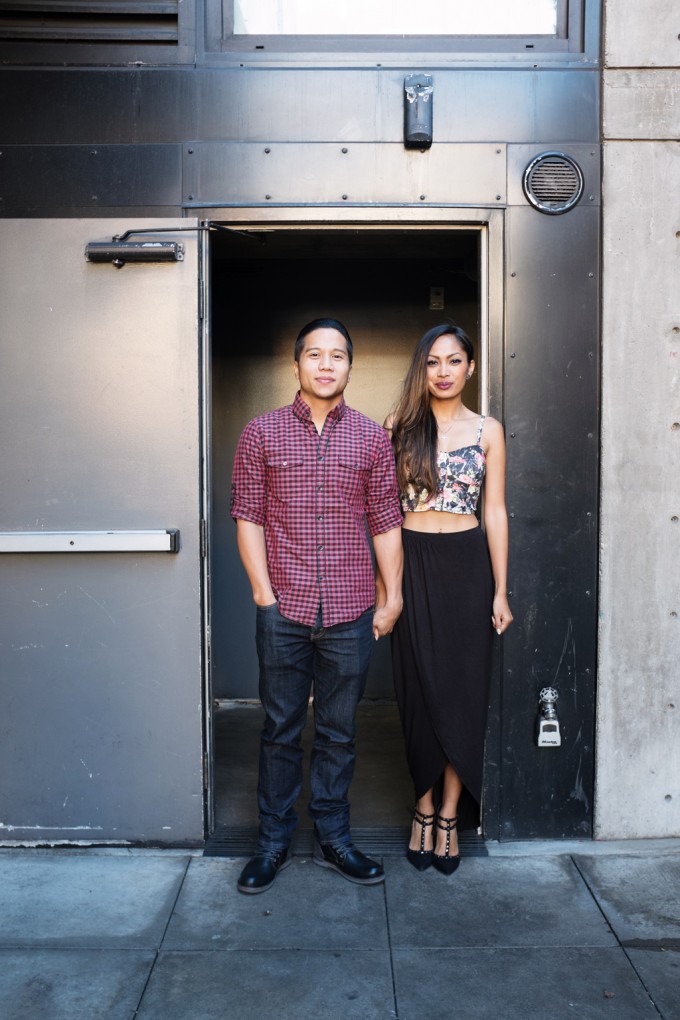 –
Beau Reyes
Hello, Steve im a long time Sony alpha user and just received my A7II. The camera reminds me of my old a900 but shrunk down. I take pictures for an adult basketball league and was able to test out the camera this past weekend. While they say the af is 30% faster id say its 100% more accurate. Aside from having to shoot at high iso, the camera performed beautifully paired with the 70-200mm f4 G.
Thanks for running an amazing website.
Take Care,
Beau Reyes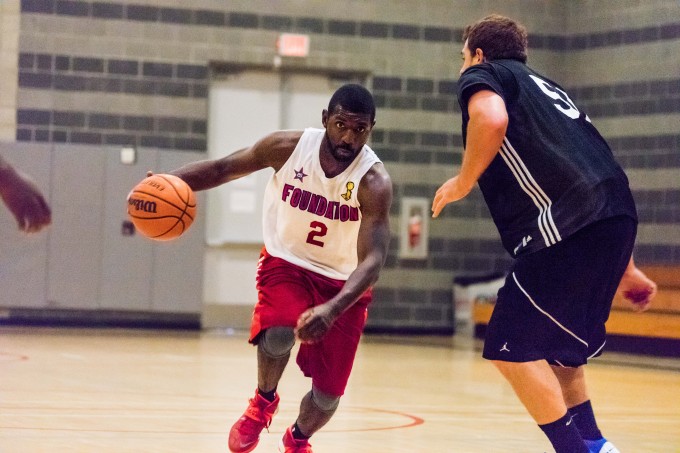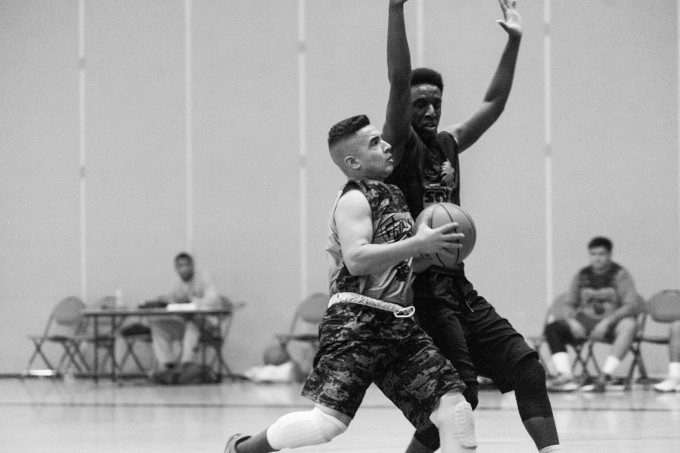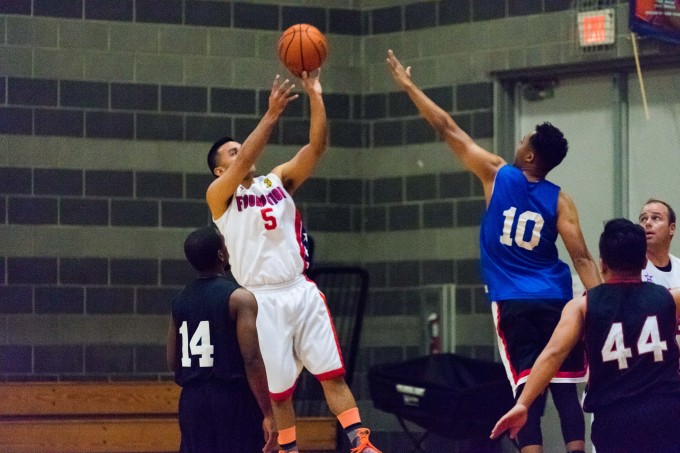 —
Richard M Poniarski
Steve;
I saw your page about people who got the A7mII recently and thought I would send you a couple of shots I took. I got mine last Friday and the next day headed into New York City to the International Motorcycle show, where two of the shots were taken, and then to a local car show on Long Island, where I took the blue Coupe de Ville picture. All were jpgs, as Lightroom didn't have support for the new Sony, though the update now does and I am returning to shooting RAW.
As to the camera, it is really awesome. All the shots were taken with the Sony/Zeiss 24-70mm f4 FE OSS lens and the combination of the lens's stabilization and the IBIS is stunning. I have been able to take shots at much slower shutter speeds than I ever have, something very important to me as I have a familial neurological condition that causes my hands to shake. I love the deeper grip and the shutter button placement is perfect. Only thing making it less than perfect is that there still aren't enough FE lenses to complete my kit. Once that is done, I will be a very happy camper.
Thanks a lot for all your work and keep it up!