MIRRORLESS BATTLE! Micro 4/3 vs APS-C vs Full Frame!
E-M1, X-T1, A7s – 8 side by side tests
This was a blast to do, and shows the STRENGTHS AND WEAKNESSES of Micro 4/3, APS-C and Full Frame cameras, specifically the E-M1, X-T1 and A7s. Even I was surprised at some of these results and I did each test fair and square according to my rules below, which have been my comparison rules for seven years because it shows REAL WORLD shooting (not nonsense that no one does when shooting an not pro studio or lit images from a shooter who is sponsored by a camera company). This is as close as I will ever get to a "scientific test" while keeping it "real world", and yes, it is what it is. Even so, whatever camera "loses" this test will have the fans of that brand attacking me, no matter which one loses. Should be entertaining in that regard as well. 🙂
Images and test descriptions will speak for themselves. Just how much difference is there between Micro 4/3,  APS-C and Full Frame when using the same or equivalent focal length? Sharpness, IS, color, detail, B&W conversions and more are tested here. 
I let each camera choose exposure. 

I am using the E-M1, X-T1 and A7s for this test so take it as just that. 

I set the aperture on each camera to match DOF of the smaller sensors the best I could for some tests.

For one test I will use each lens wide open to show DOF differences.

I shot each camera in the same way for each test, either hand-held or tripod.

ALL images are converted straight from RAW, WYSIWYG

Used the 25 1.4 on the E-M1, 35 1.4 on the Fuji and 55 1.8 on the Sony

I will pick my personal preference winner after each test based on the test itself. Score will be tallied at the end. These will be my preferences and may not be yours, which is OK. 

I used Adobe Camera RAW for ALL conversions which is what 95% of us use for our RAW files. No jumping through hoops to help any brand.

Was going to use A7II but it has many more MP and I had loaned it out to a friend for a few days so I did not have it. The A7s is the Sony Flagship in the A7 line, and is closest in MP to the Olympus and Fuji.

As this is a test of cameras in real world use, I let cameras choose exposure and used AWB so we can see what to expect in the real world. When we go out to shoot these cameras 95% of us use them in this way..auto exposure and auto white balance. So what you see here is what you can expect to get from each systems flagship camera. For detail shots all cameras were set to same ISO and Aperture. 
With all of that out-of-the-way, remember that the tests here are all dependent on lenses used. Some lenses on some systems will render differently when it comes to sharpness, color, bokeh, etc. I used a well-regarded lens for each system, lenses that have had rave reviews. OLY: 25 1.4 Panaleica. FUJI – 35 1.4 Fuji. SONY – 55 1.8 Zeiss.
Hand held test at 1/60th s. and basic overall IQ.
My pick for best IQ here at 1/60th is the Olympus E-M1 for sharpness and color. Right click on each image and open in a new tab or window for full size files.
The reason the E-M1 did so well and WON the 1st test below? The 5 Axis IS kept it steady letting me shoot in lower light at a minimal ISO. The other two bumped ISO but also were stopped down a little more. ALL were at 1/60th S. If each image was sharp, it would almost be a wash here and would have to go by color preferences. I still prefer the E-M1 color here as well but what is important is it shows how useful the 5 Axis can be, even for 1/60th s.
YOU MUST CLICK IMAGES FOR LARGER AND CORRECT VERSIONS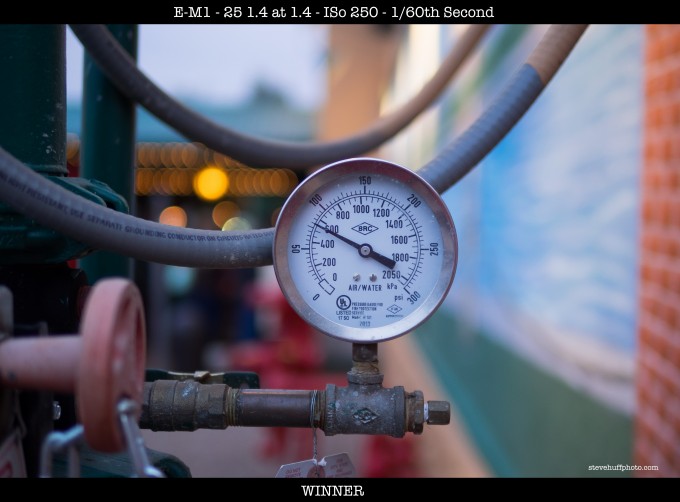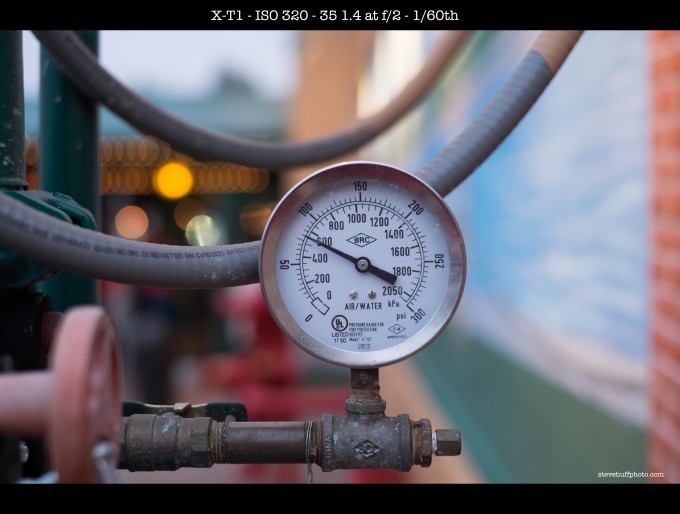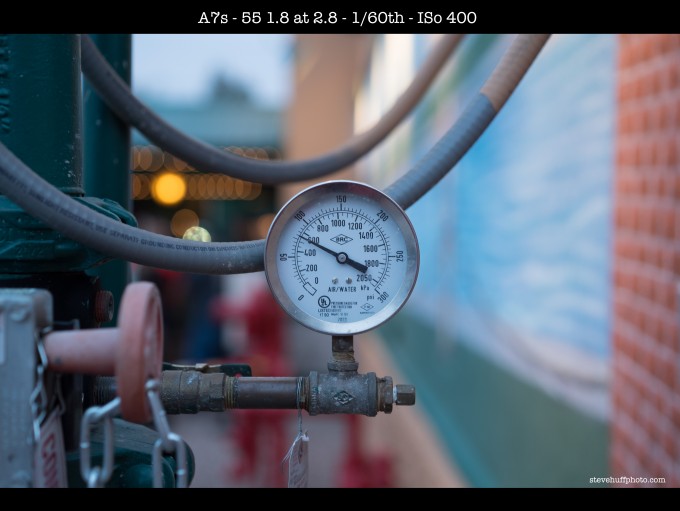 –
Tripod Test Stopped Down for DETAIL – Same aperture on each camera.
The winner to my eyes is Olympus yet again.
Here I stopped down each lens to F/4. NO, I did not stop down the larger sensors more as this is in no way a DOF test, it is a detail test and each lens should be at the same aperture to be 100% fair. So the Olympus E-M1 and 25 1.4 was set to F/4, the Fuji X-T1 and 35 1.4 was set to f/4 and the Sony A7s and 55 1.8 was set to f/4. All were ISO 200, all were shot from a tripod that was in the same exact position for each camera.
YOU MUST CLICK THE IMAGES TO SEE THE LARGER VERSIONS AS  TRUE 100% LARGE CROPS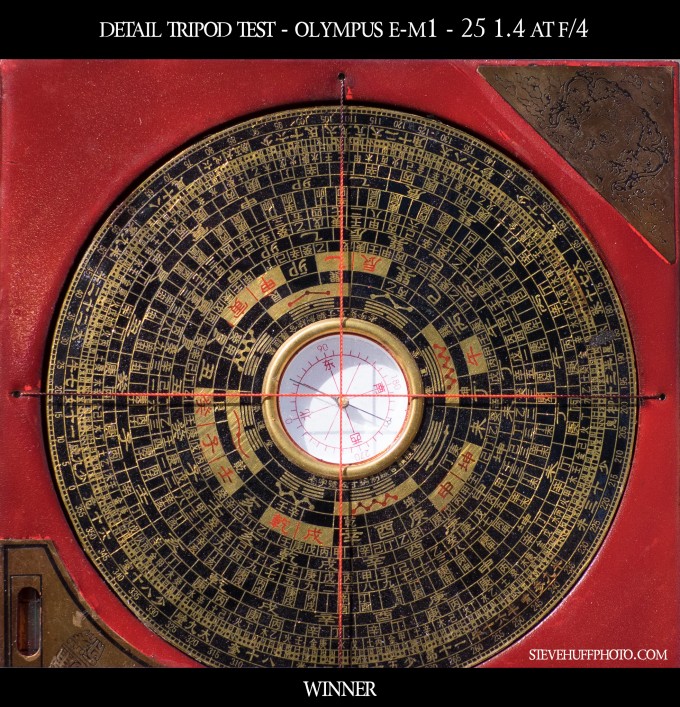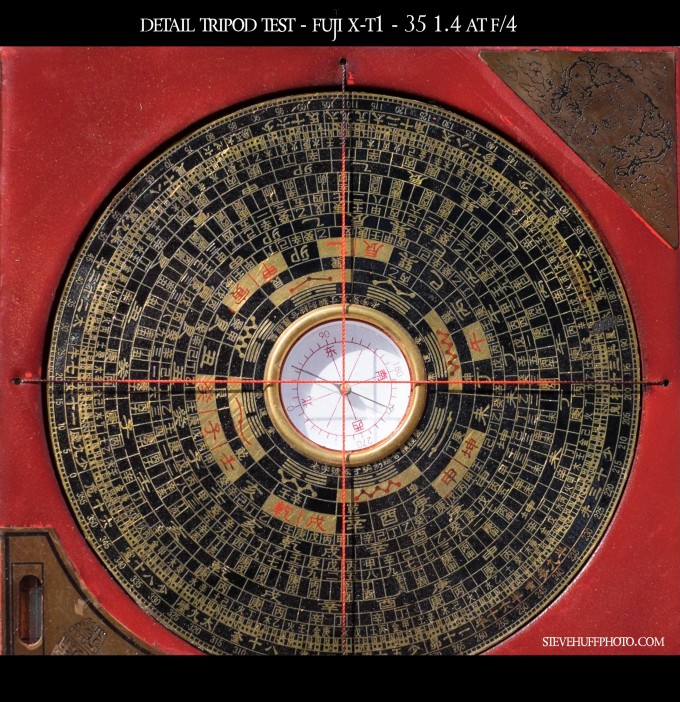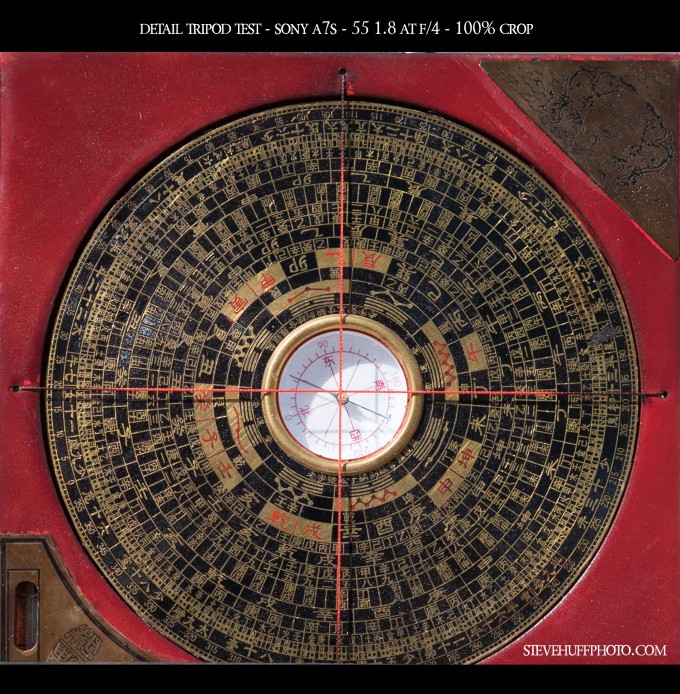 SMALLER CROPS 


–
Each Lens Wide Open – A Shallow DOF Test
For me, there is no substitute for Full Frame if you want shallow DOF, but some will prefer a little bit of a larger DOF that you get from Micro 4/3 or APS-C. The reason being is that with the Olympus, you can still get some shallow DOF but you image will be sharper with more detail in most cases, if using a good lens. Same with APS-C in most cases. With full frame you can miss focus easily due to the shallow DOF. BUT if you nail it with FF the results are indisputable. For this reason, I choose the SONY as the winner here as it has the most capability for SHALLOW DOF or LARGE DOF and  this is a shallow DOF test 🙂
 BTW, the most detail at 100% came from the E-M1 but for shallow DOF, nothing beats full frame. The differences you see are from the lens focal length, not the sensor. The wider the less the larger the DOF (less blur), the longer the lens the more shallow DOF (more blur). Olympus used a 25mm, Fuji a 35mm and the Sony a 55mm. All give the same equivalent field of view but each lens has an effect on Depth of Field which is why you see a more shallow DOF on the Sony. As you can see, the difference between the DOF with the APS-C Fuji and Olympus are actually slight. Nothing to stress over.
YOU MUST CLICK IMAGES FOR LARGER AND CORRECT VERSIONS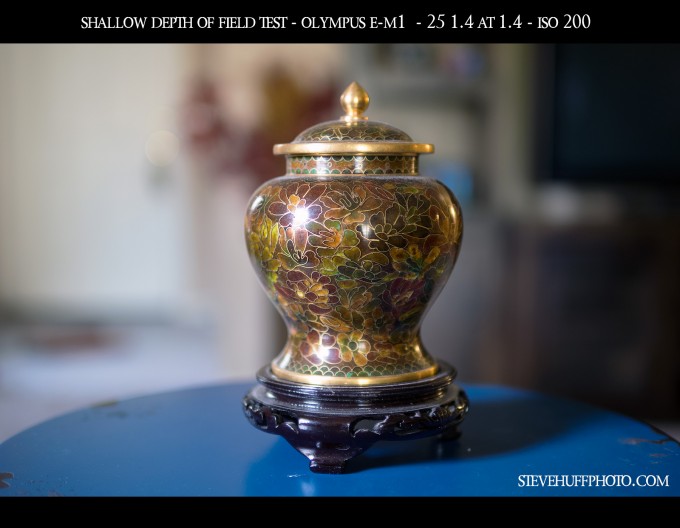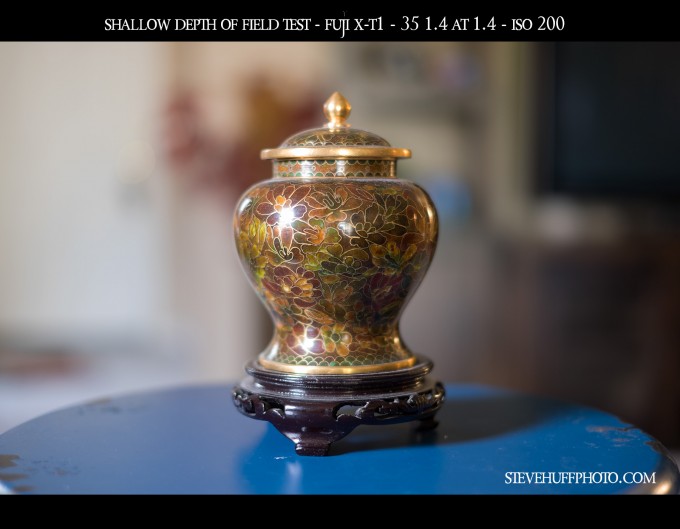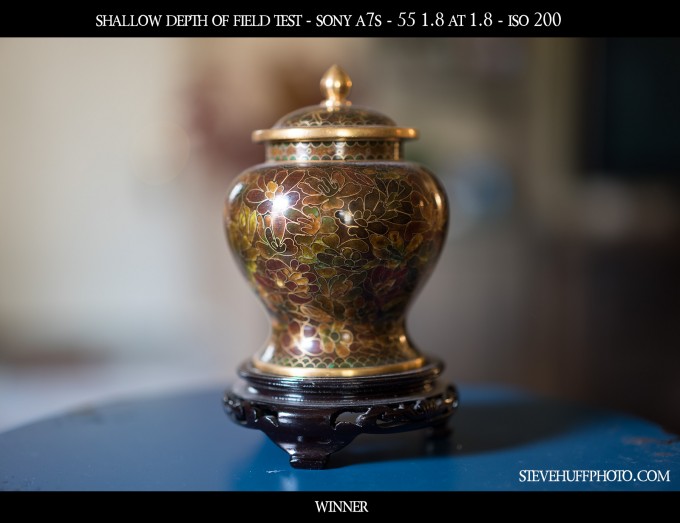 –
B&W Conversion Test
I did a crazy comparison test once showing how the E-M1 could replicate the Leica Monochrom to some extent, when it came to tonality (not detail) so how will this test go for B&W conversion between these three powerhouse cameras? For this test I shot in color and then converted to B&W using the same exact Alien Skin B&W filter for each file. Many claim Fuji has an amazing capability for B&W conversion, above other standard cameras. I never noticed this at all, so  let's see how that holds up…
CLICK EACH IMAGE TO SEE IT CORRECTLY!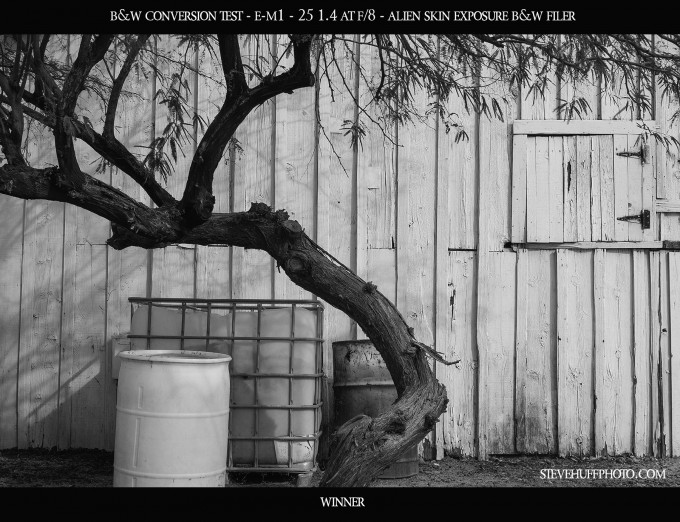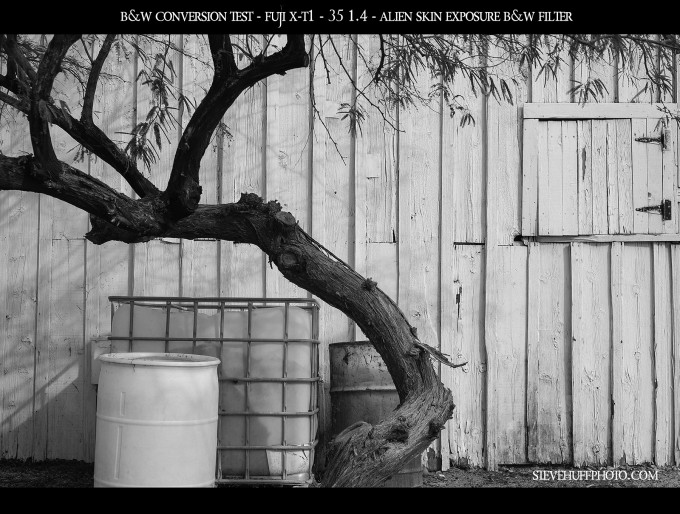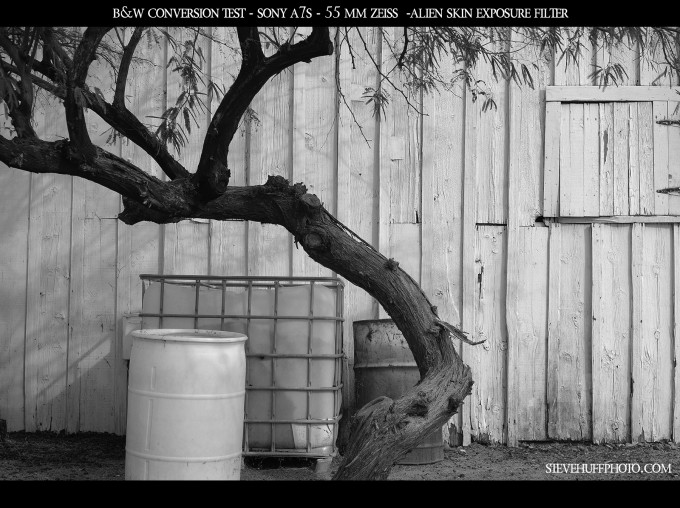 For me, and my tastes, I prefer the Olympus rendering the most. To me, it resembles the Leica Monochrom more than the others, and that is a camera I consider to be the best B&W camera ever made (next to film of course). In fact, this E-M1 file looks eerily similar to a Monochom file. There seems to be more grayish tones and more black details which is preferred, especially for post processing. The Fuji is 2nd place for my tastes and the Sony 3rd but they look the same as any camera B&W conversion. For the most grey tones, the Olympus somehow gets it.  You can see more details when clicking on the images for larger sizes (as long as you are not viewing on a phone).
But let us see another B&W example…CLICK THEM TO SEE THEM CORRECTLY!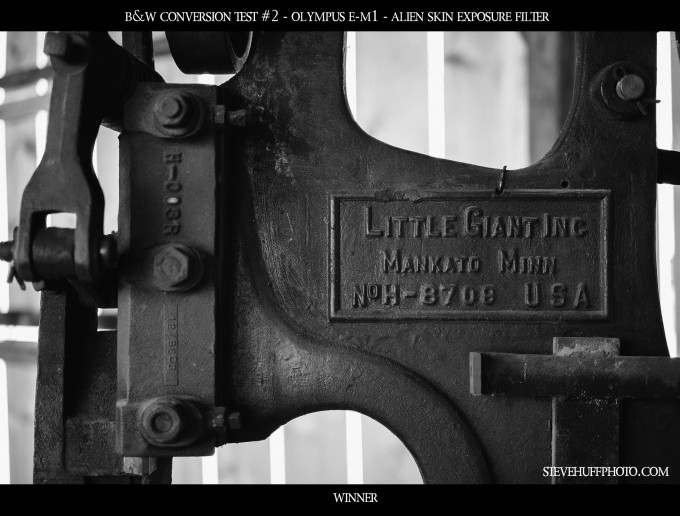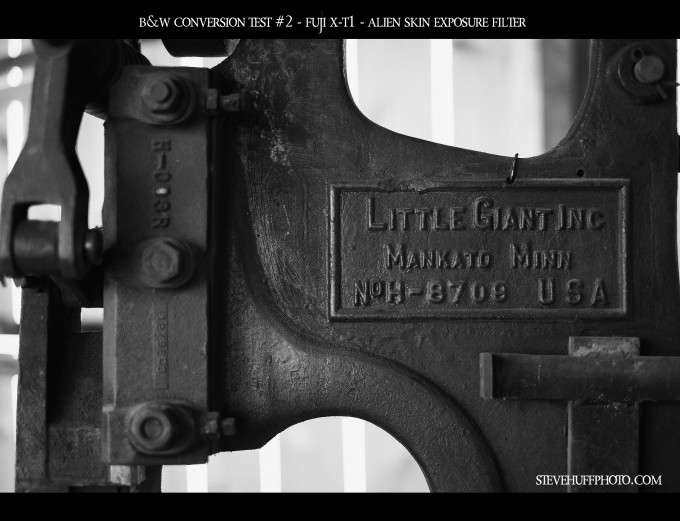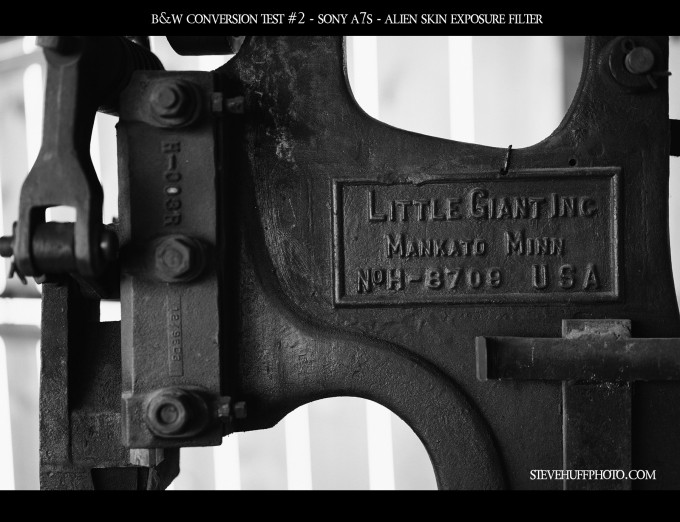 Again, here I slightly prefer the Olympus but ALL are great. I see none here that are a huge step above the others though the Olympus has the most detail yet again. Interesting huh?
SCORE SO FAR: So far we have Olympus with 2, Sony with 1 and Fuji with 0. Let's keep on moving.
–
Color Test
Just to show how each camera renders colors. These are all from RAW so any in camera color choice will not come into play.  Shot outdoors in natural direct light to give all cameras the best chance at showing their stuff. This will be 100% personal preference as what I like in color you may not. I did three color shots and chose three different winners, so this one is a draw as color can be quite good from all of these cameras.
The 1st sample is for color accuracy only. After looking at the crayons with my own eyes and looking at these images I feel the Sony comes closest to reality, with Olympus being 2nd and Fuji 3rd. 100% crops are embedded when you click on the image for a larger view.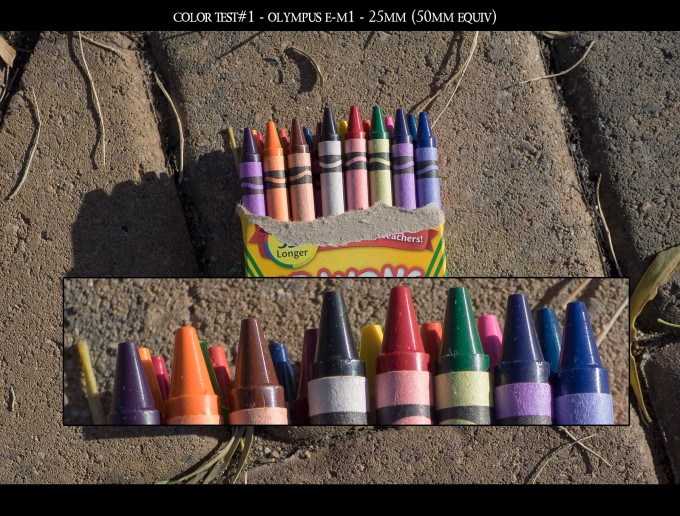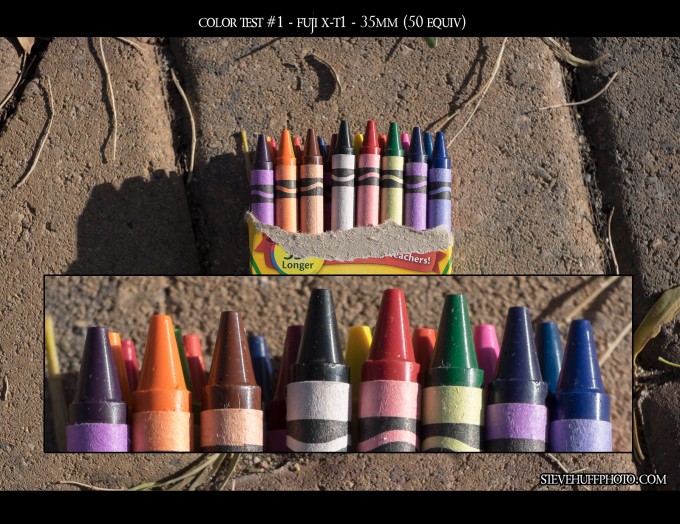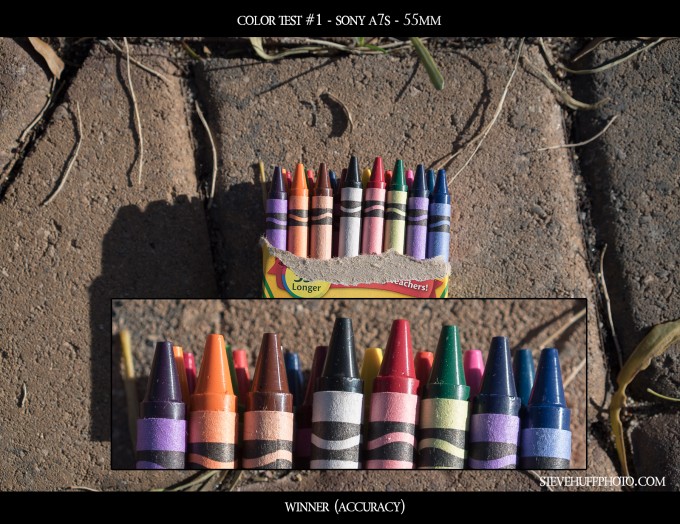 –
Another color test and this one was between the Fuji and Olympus with the edge for me going to the Fuji. I feel Olympus is equally as good but the Fuji shot has a teeny bit more something that I like. Either are superb. The sony has a yellow cast here so it gets last place.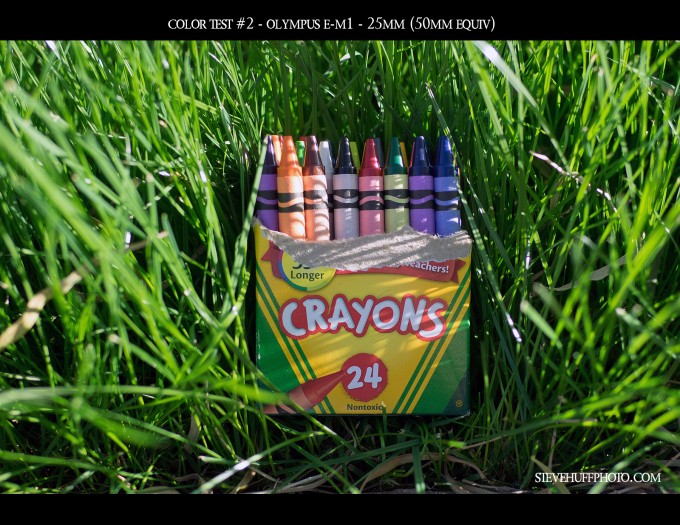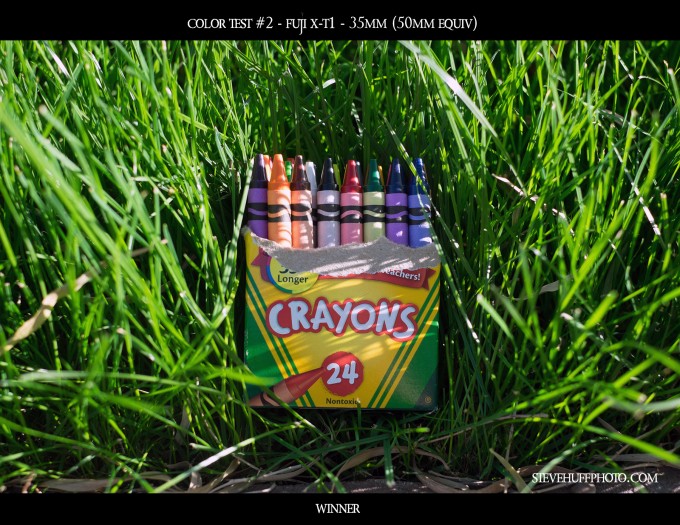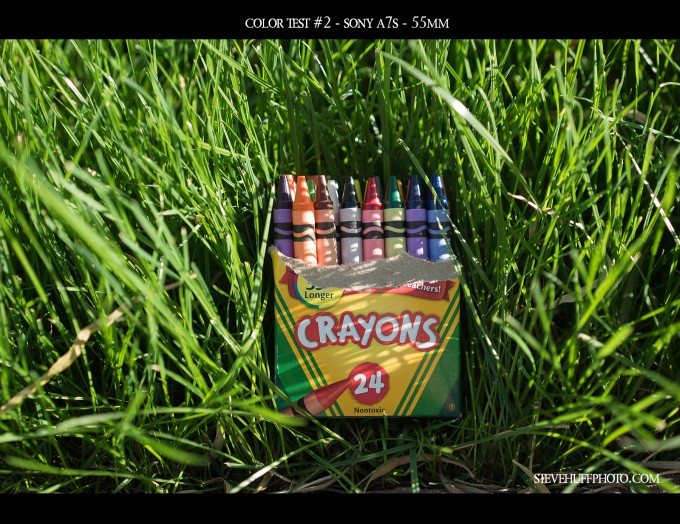 –
Finally another color shot in beautiful morning light. My grass, up close. 😉 This time I much preferred the Olympus shot with the color, the light and the highlights all working for me. Then the Fuji. The Sony here is a bit dull but that is only in direct comparison. Many may prefer the Fuji or Sony here.  All from RAW. There is no "winner" – just preference.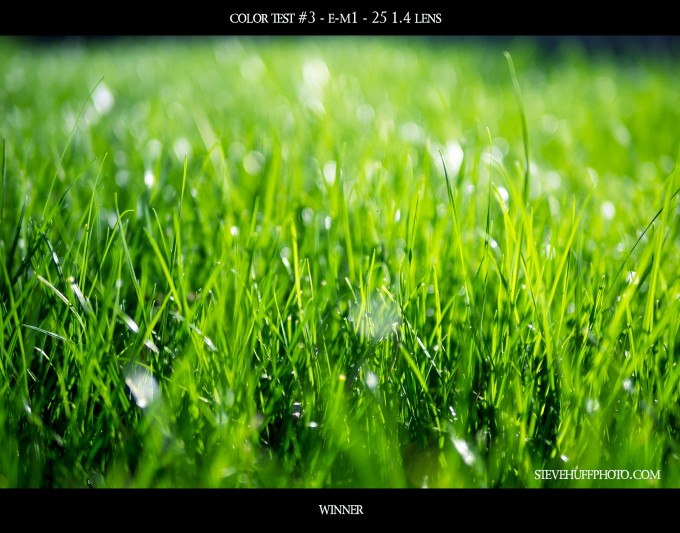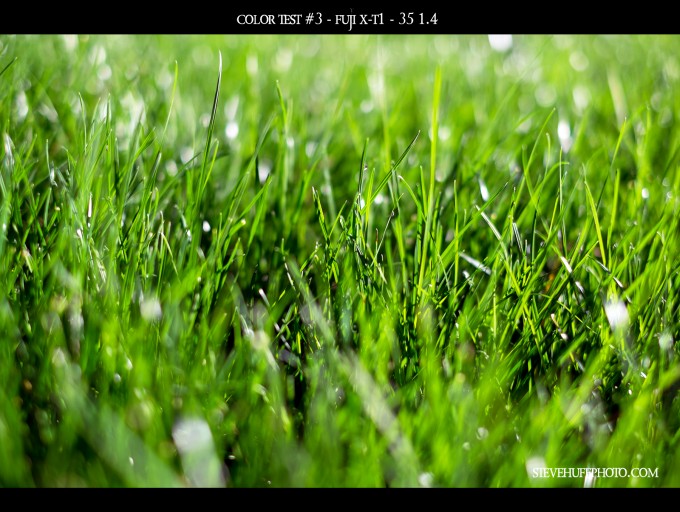 –
Portrait Test
Many of us love portraits, so how will each camera do with a basic portrait? Let us see which YOU prefer. I prefer the Olympus as the Sony AWB really screwed the pooch creating a much too cool image. The Fuji is a bit overdone with color and INCORRECT color IMO while the Olympus strikes a balance that is most pleasing to me. This was just a simple indoor natural light test shot and nothing more. I am not a huge fan of the rendering of any of these to be honest as it was a quick indoor portrait with no good light, but it had to do.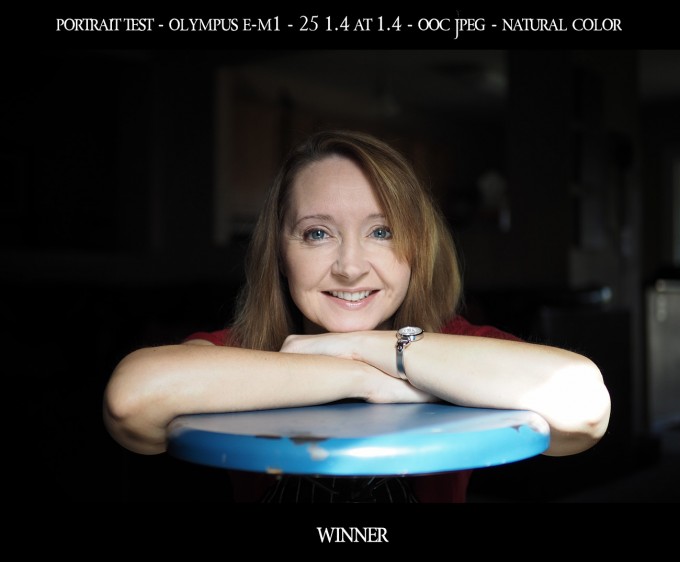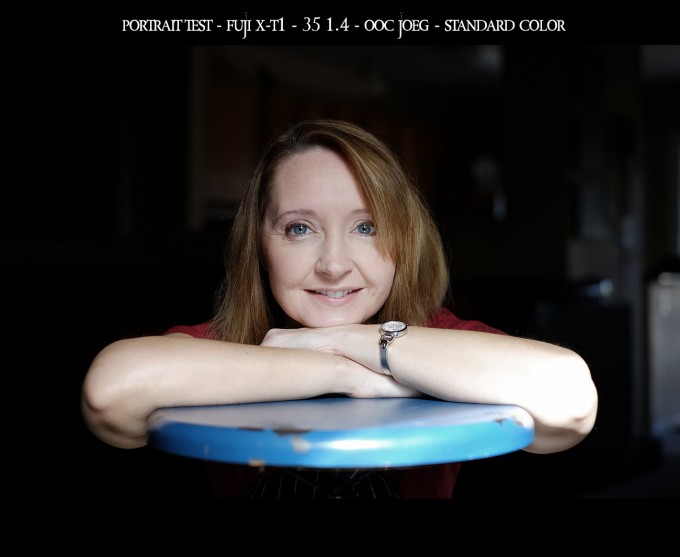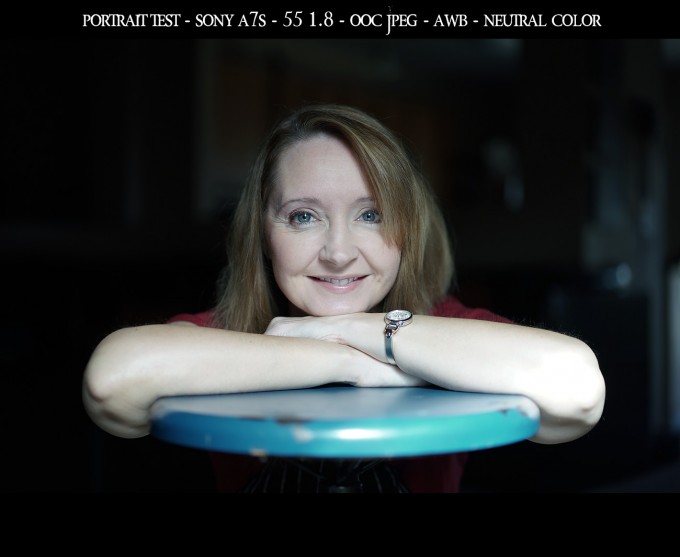 –
Here they are converted to B&W using the VSCO T-Max Preset. Click them for larger 1800 pixel wide versions to see the detail and rendering better. The Fuji has the most contrast here,but it looks better than the color version. The Olympus stays nice and neutral and the Sony looks much nicer in B&W due  to the color being off in the original. But one is Micro 4/3, one is APS-C and one is full frame. NOT that huge of a difference.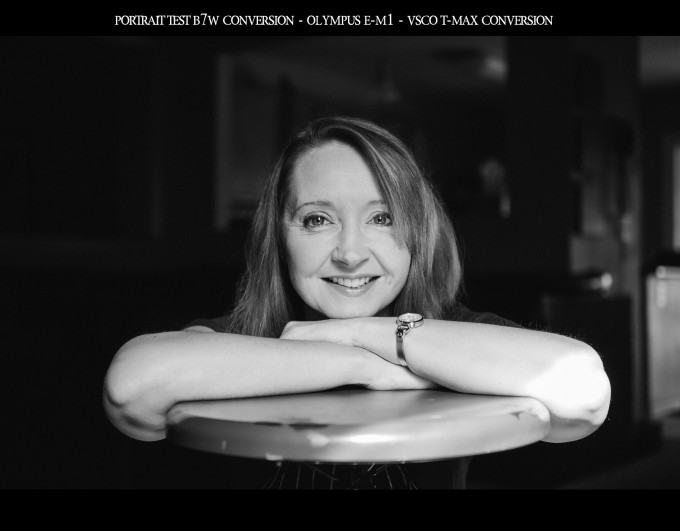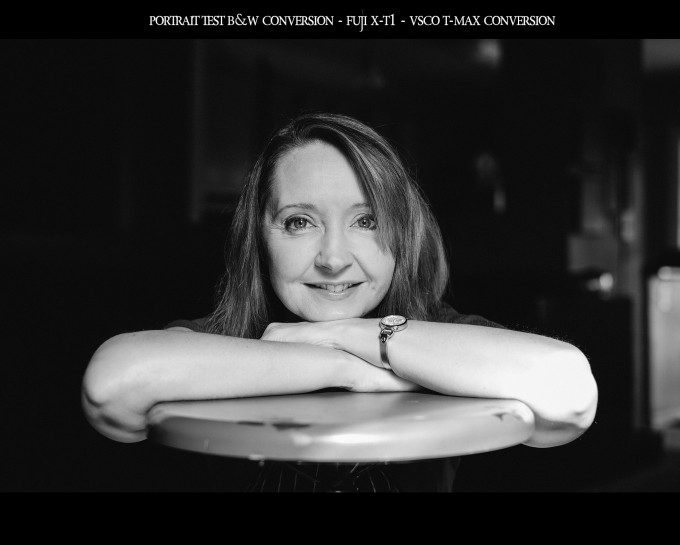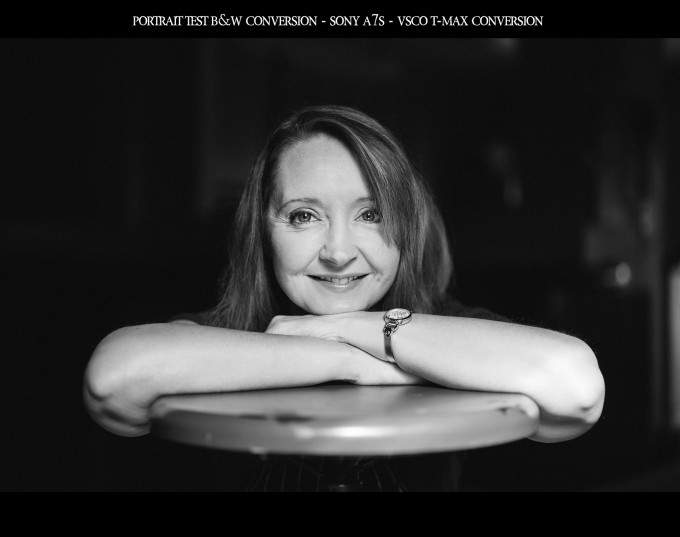 –
DR Test
Dynamic Range is good from all three of these cameras, and the Olympus E-M1, contrary to popular belief has is about equal in DR to the Fuji X-T1 with 12.7 stops of DR. The Fuji, in RAW (it is less in JPEG) can do between 9 and 13 stops of DR and the Sony has 13.2. So all are similar but the Sony has the most (as you can see below). The Olympus is quite amazing for its smaller sensor to have 12.7 stops but in the real world, the full frame sensor shows its stuff. Here is a shot that was blown out. I recovered the highlights the best I could for each file.
Below is the Sony file AFTER I brought back the highlights that were blown to shreds. The SONY has the most DR hands down, which is what I figured due to the full frame sensor and big fat pixels.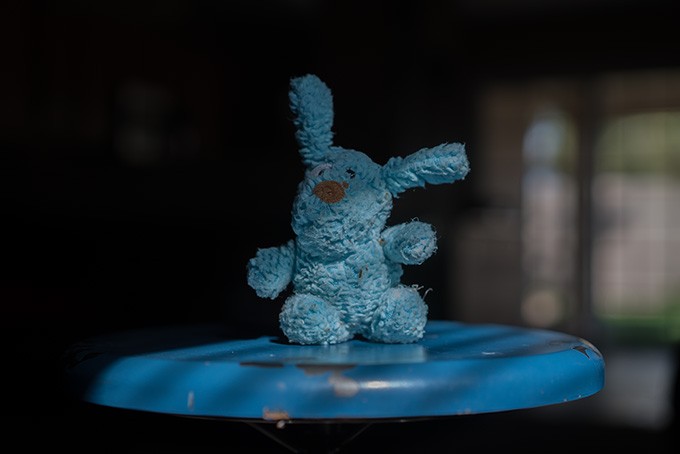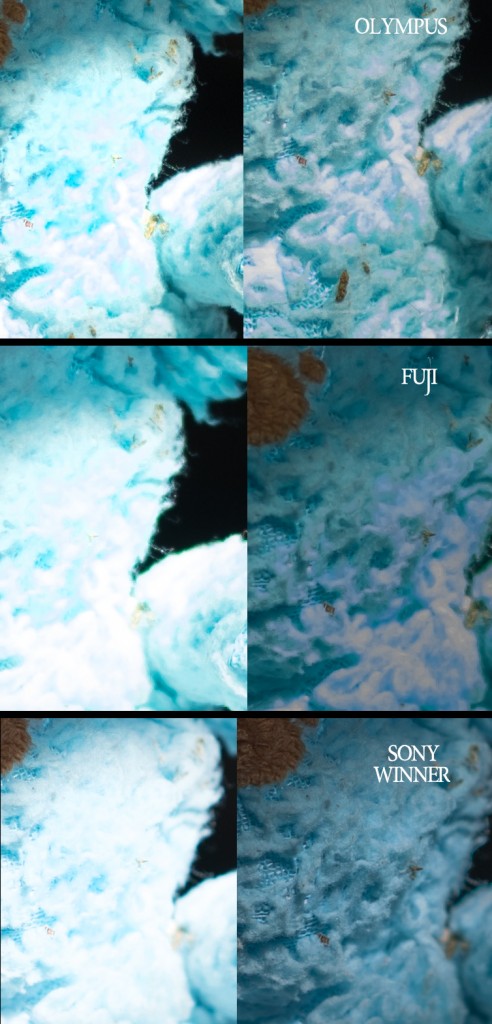 –
Low Light HIGH ISO Test 
Sony Wins ISO, no contest. 😉 What is interesting is that Olympus had the most detailed file at high ISO. For some reason the Fuji, even though tripod mounted and focus point selected manually, looks very soft (and yes, this is the sharpest part of the Fuji image) and that may be due to the NR Fuji applies that you can not turn off. The Sony looks softer but this is due to DOF even though I stopped down the Sony. It also appears that the Fuji RAW files are also doing some sort of Noise reduction even when turned off, which also loses detail. Me, I much prefer detail which is why I turn NR off on all cameras that allow it. (Fuji does not).
It seems here that the Fuji is even or slightly better than the A7s, but remember, the A7s allows you to go above and beyond most cameras with 102,000 ISO capability. Shooting at ISO 32,000 on the Sony provides usable and nice files. Not possible on the Fuji  or Olympus.
The Fuji, as I said, is applying NR to the RAW file and the Sony and Olympus are not. So not a fair test as the Fuji does not allow removing all NR. You can see the noise is smeared. The TRUE winner for high ISO is the Sony A7s. The winner for most detail at high ISO is the Olympus E-M1. The CA in the OLy shot is a result of using a Panasonic 25 1.4 which is an awful performer for CA.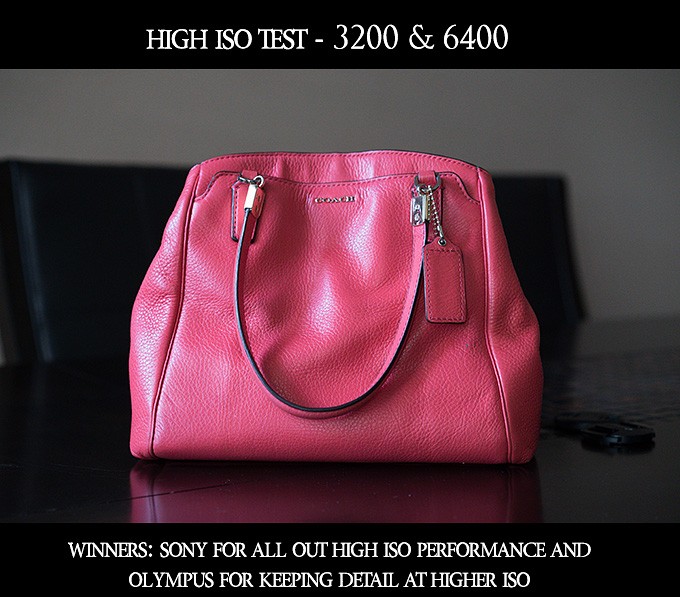 ISO 3200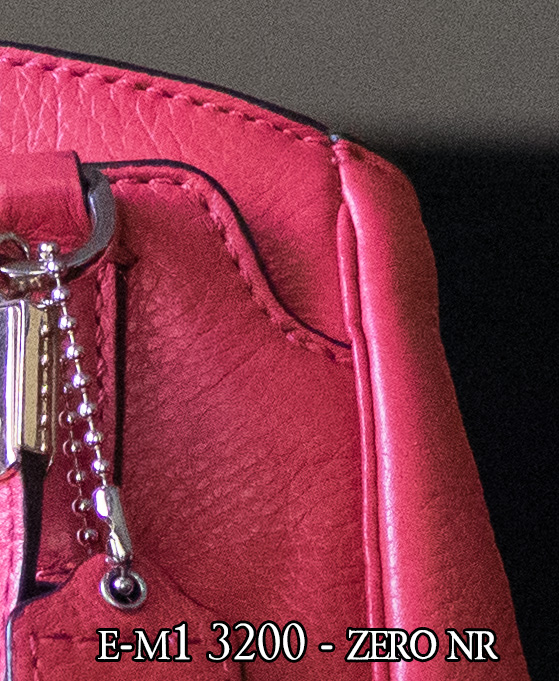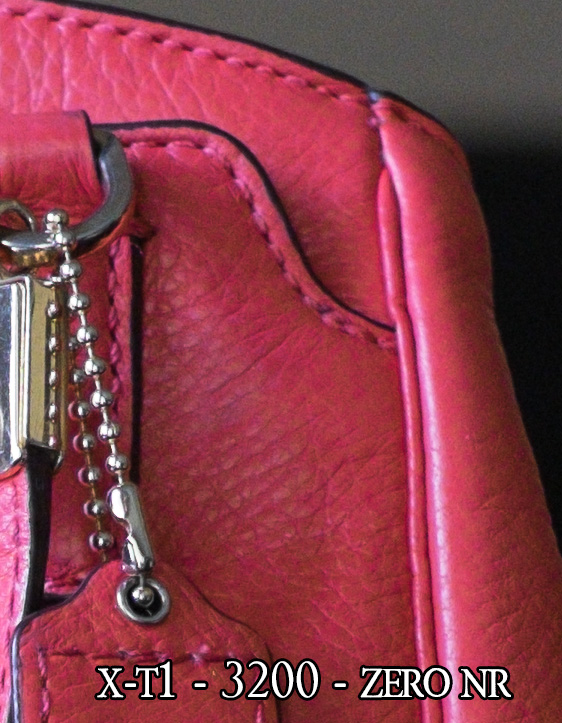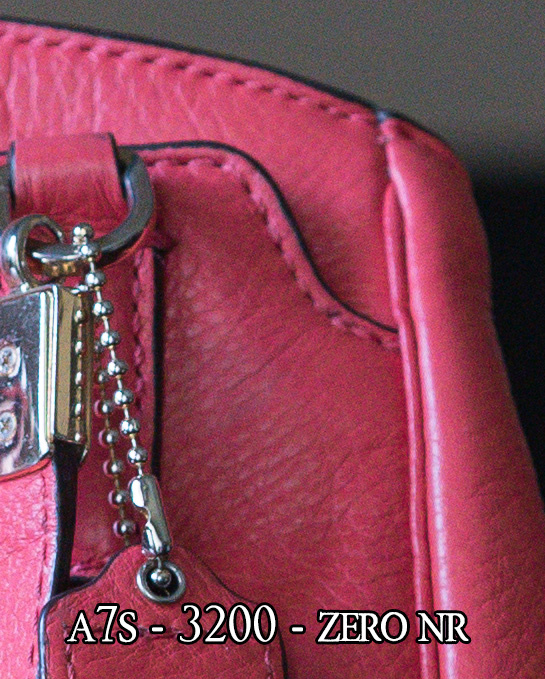 –
Now ISO 6400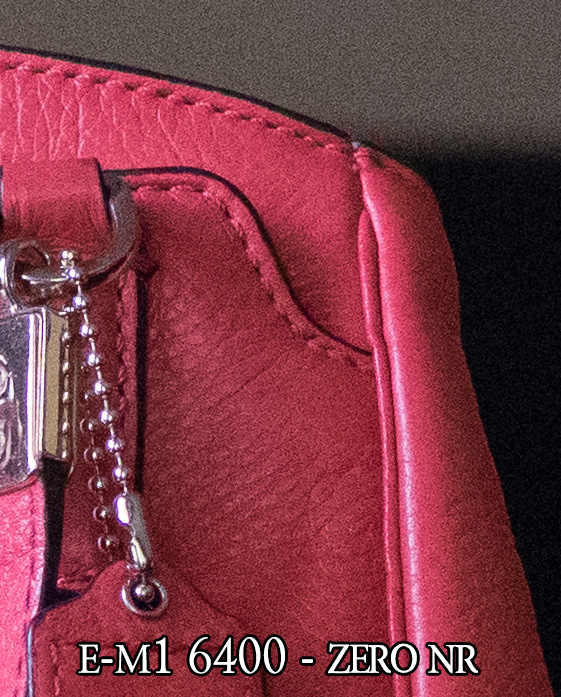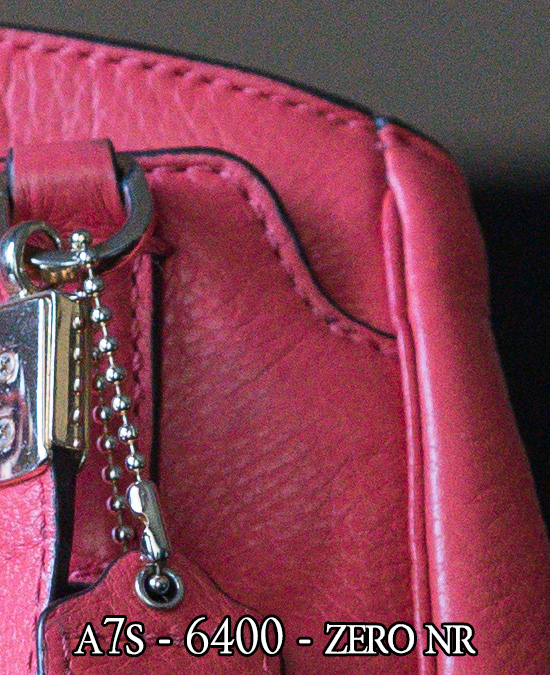 Again, (many do not read what is written above the tests) the Fuji has NR as it can not be turned off, which is why you see the noise is actually smoothed and smeared. So in the above examples the Fuji has NR and the others do not. The Fuji is also the softest (which some has to do with NR as it robs details) – a shame you can not turn it off on the Fuji. It is even applied to RAW files.
–
My Final Thoughts and which camera I prefer out of all of these..and WHY.
Moral of this story? Anyone who tells you Micro 4/3 cannot hang with larger sensors is 100% incorrect, as I have said for years.  Also, what was not mentioned yet is the fact that the best made and designed body here is the Olympus E-M1. It is built to a higher standard the the Fuji X-T1 from solidity, quality of dials and buttons, and unlike the Fuji  – ZERO hollowness and zero cheap feeling parts without much extra weight at all.
In other words, I found the Fuji's build quality to be the lowest of the three from body to dials and switches to the D-Pad, etc. This is not just talk, it is fact.
The E-M1 feels and operates like a pro camera, the Fuji *feels* more toy like (though it is NOT a toy, at all). The Sony is solid and hefty without any cheap feeling parts but again, the E-M1 slightly beats it in build quality and feel and control. The new Sony A7II stepped it up and is now about equal to or better the E-M1 in build.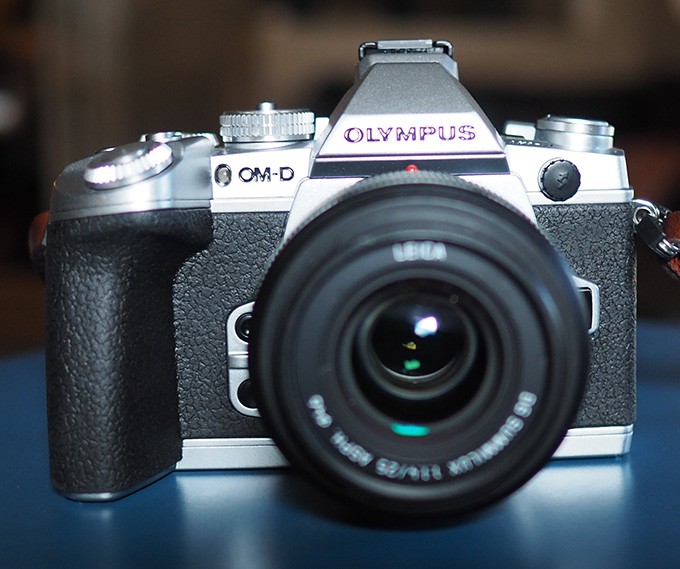 Of these three cameras my money would be spent on the Olympus 1st and Sony 2nd (and it was). I would skip the Fuji for my tastes. Just not my cup of tea from feel, focus, usability, speed and IQ in most lighting scenarios. For me the E-M1 has it all from build, speed, looks, feel, features, In body IS, lens selection, IQ and capabilities. The Sony A7s is a low light champ and works great with 3rd party and Leica glass but overall, the best all around general use every day and pro camera *of this lot* is the E-M1 by Olympus, and I say that without hesitation.
So take this for what it is, a few tests with a few cameras using one lens each, all 50mm or so equivalent. Any IQ discrepancies there may be with Micro 4/3 (and there really are none besides shallow DOF possibilities of full frame) are easily over ridden by the amazing tech in the body and the features, usability, and overall quality of the images. It's not only a superb camera to use, but it is a very FUN and enjoyable one to use. Many times the Fuji, again, frustrated me (dials would move too easily so settings were changed just from placing the camera in my bag, the way to change the drive mode is odd, with a cheap lever that also switches way too easily…overexposure on many occasions…etc). The Sony was fine besides a few AWB issues that I never noticed until doing these side by sides. So seeing the files next to each other and handling each body one after the other told me a lot.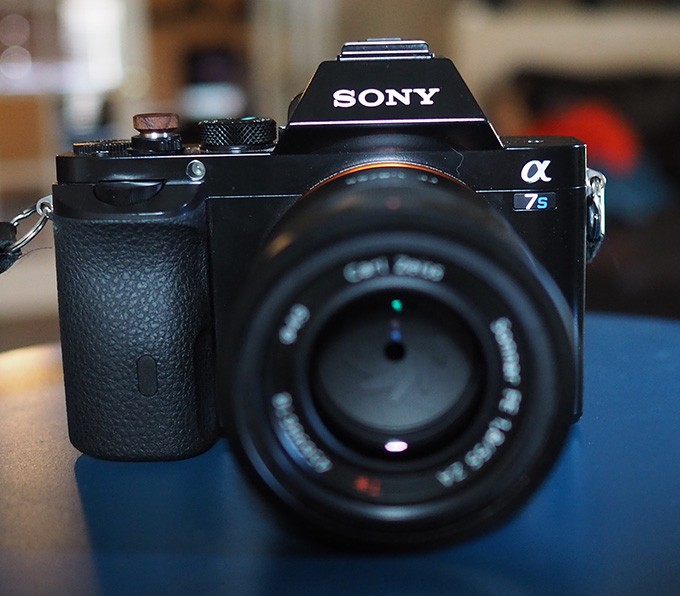 At  the end of the day these cameras can all do a great job, but it will be personal preference as to which one is best for you. Do some PP and the images can go to the next level, so remember that as well.
So for me, I love these two plus the Leica M, which will always have a place in my heart.
At the end of the test, here is the score with my eyes on all of the tests: Olympus with 6 wins, Sony with 4 wins and Fuji with 1 win. Your score may be different of course, as this is not a cut and dry thing. It is personal preference. So for you, Fuji may win or Sony may win. That is the beauty of it. It is not about WINNING or LOSING it is about WHAT YOU PREFER. 
Even though this test is what it is..some owners will come here to defend their choices, which is fine. But it doesn't change reality. Also, no need to say 'Fuji needs Capture 1, Fuji needs EV comp set at -1, Fuji needs sharpening, Fuji is light and hollow feeling  because of weight, Fuji needs a special technique for AF, etc etc". To me, these are all excuses and we should not have to fly through hoops to get the best quality from our cameras. It should NEVER be "work". All cameras were tested the same with no special treatment to any of them, that was important. Enjoy 😉
REFERENCE: See my Olympus E-M1 Review HERE, my Fuji X-T1 Review HERE and my Sony A7s Review HERE.  For the record over the past seven years I have been called a Leica, Fuji, Sony, Olympus, Panasonic, Ricoh, Nikon and Pentax fanboy. Lol. Why? Because I love many cameras from all of these manufacturers. 
———
PLEASE! I NEED YOUR HELP TO KEEP THIS WEBSITE RUNNING, IT IS SO EASY AND FREEE for you to HELP OUT!
Hello to all! For the past 7 years I have been running this website and it has grown to beyond my wildest dreams. Some days this very website has over 200,000 visitors and because of this I need and use superfast dedicated web servers to host the site. Running this site costs quite a bit of cash every single month and on top of that, I work full-time 60+ hours a week on it each and every single day of the week (I received 200-300 emails a DAY). Because of this, I need YOUR help to cover my costs for this free information that is provided on a daily basis.
To help out it is simple, and no, I am not asking you for a penny!
If you ever decide to make a purchase from B&H Photo or Amazon
, for ANYTHING, even diapers..you can help me without spending a penny to do so. If you use my links to make your purchase (when you click a link here and it takes you to B&H or Amazon, that is using my links as once there you can buy anything and I will get a teeny small credit) you will in turn be helping this site to keep on going and keep on growing.
Not only do I spend money on fast hosting but I also spend it on cameras to buy to review, lenses to review, bags to review, gas and travel, and a slew of other things. You would be amazed at what it costs me just to maintain this website, in money and time. Many times I give away these items in contests to help give back you all of YOU.
So all I ask is that if you find the free info on this website useful AND you ever need to make a purchase at B&H Photo or Amazon, just use the links below. You can even bookmark the Amazon link and use it anytime you buy something. It costs you nothing extra but will provide me and this site with a dollar or two to keep on trucking along.
AMAZON LINK (you can bookmark this one)
B&H PHOTO LINK – (not bookmark able) Can also use my search bar on the right side or links within reviews, anytime.
Outside of the USA? Use my worldwide Amazon links HERE!
You can also follow me on Facebook, Twitter, Google + or YouTube. 😉
One other way to help is by donation. If you want to donate to this site, any amount you choose, even $5, you can do so using the paypal link HERE and enter in your donation amount. All donations help to keep this site going and growing!
 I do not charge any member fees so your donations go a long way to keeping this site loaded with useful content. Thank you!