Great Sale on Voigtlander  Lenses at CameraQuest!
Stephen Gandy over at CameraQuest.com is having a FANTASTIC sale on all Voigtlander lenses for M mount and micro 4/3!!
ALL sale lenses bundled with a Premium B+W Nano 007 Filter! All have free expedited shipping. Lenses over $600 have free Next Day Shipping to most lower 48 locations. Sale available for North and South America only.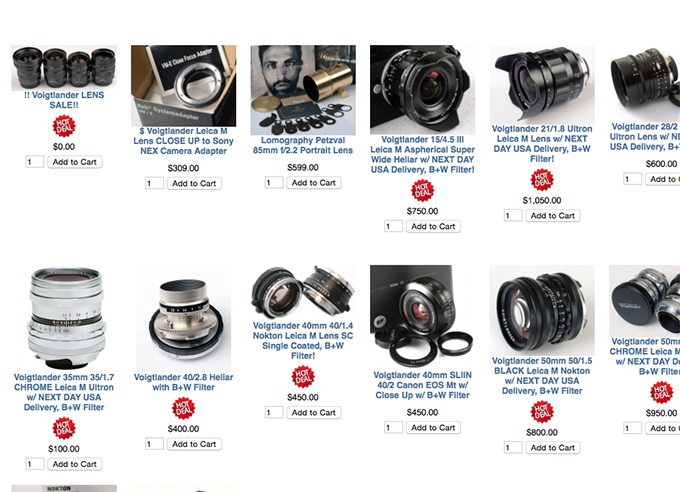 Voigtlander Micro Four Thirds Lenses
https://shop.cameraquest.com/voigtlander-micro-4/3-lenses/
17.5mm f/.95 $1200 now on sale $900
25mm f/.95 VII $1000 now on sale $800
42.5mm f/.95 $1000 now on sale $800
Voigtlander Leica M Lenses
https://shop.cameraquest.com/voigtlander-leica-mount-rangefinder-lenses/?p=catalog&mode=catalog&parent=191&pg=1&pagesize=48
12mm f/5.6 Leica M $750 now on sale $700
21mm f/1.8 Leica M $1200 now on sale $1050
28mm f/2 Leica M $630 now on sale $600
35/1.2 VII Leica M $1200 now on sale $1000
50/1.1 Leica M $1000 now on sale $900
50/1.5 Black Leica M $900 now on sale $800
50/1.5 Chrome Leica M $1050 now on sale $950
SL II Lenses for Nikon and Canon EOS
https://shop.cameraquest.com/voigtlander-slr-lenses/
20mm f/3.5 Nikon $550 now on sale $500
20mm f/3.5 EOS $530 now on sale$500
28mm f/2.8 Nikon $500 now on sale $480
28mm f/2.8 EOS $500 now on sale $480
40mm f/2 Nikon $500 now on sale $450
40mm f/2 EOS $550 now on sale $450