The Power of Imagery
by Sebastian Szyszka
Hi Steve and Brandon,
Been enjoying your site for a while, especially the positivity it exudes. It's a nice change of pace.
I started shooting sometime between the ages of 7 and 10 while I lived in Germany with my parents. We were Polish refugees waiting to come to America. One of my birthday presents during that time was a plastic 110 camera that I absolutely loved, which was quickly upgraded to a Polaroid. It was the Polaroid, decades before I ever read the words "decisive moment," that taught me the power of photography. I didn't gravitate towards posed stuff, I reveled in the moment. Real, unscripted, often ambushed. Those images were ones I was not used to seeing because most shots around me were "say cheese" kind of shots. Looking back at it, I still remember the first image that struck that chord with me. Can't share it though, my poor mother would kill me…
The power of imagery has always stuck with me. Nowadays photography is a quick, immediate balance against the daily routine of being an advertising artist. The two go hand in hand, and both strengthen and compliment each other.
I'm including three images, one that I took of a friend of mine, and two of my street stuff that keeps me sane on my Chicago commutes.
The first shot is of my friend and coworker Jeff on his custom 1967 Shovelhead. What makes the image special to me is the fact that it was taken in his father's gas station, which was built-in the 1920's. A lot of heritage and vintage in one frame. My only regret was not getting Jeff's father in the shot. Alas, he was not there that day. Taken with a Sony a6000 and Voigtlander 15mm f/4.5. Lit with some wirelessly triggered strobes layered on top of available light. Post work in LR.
Click it for larger and better version!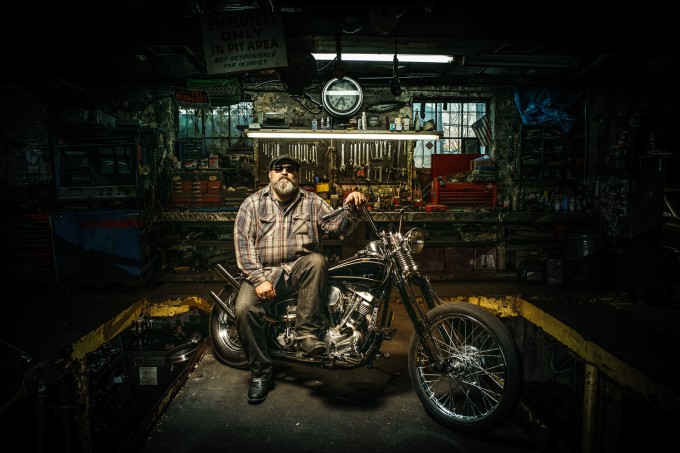 –
The second shot is of a "poet for hire" near Bourbon St. in New Orleans. For a small fee and 30 minutes of waiting, they write a bespoke poem for you. Taken with a Sony a6000 and Voigtlander 15mm f/4.5. Post work in LR.
–
The third shot of a man exiting a train is from one of my old commutes on the "L" Train in Chicago. Shot with a Sony NEX-5 and 16mm f/2.8 with fisheye attachment. Post work in Aperture with some Nik SilverEfex 2.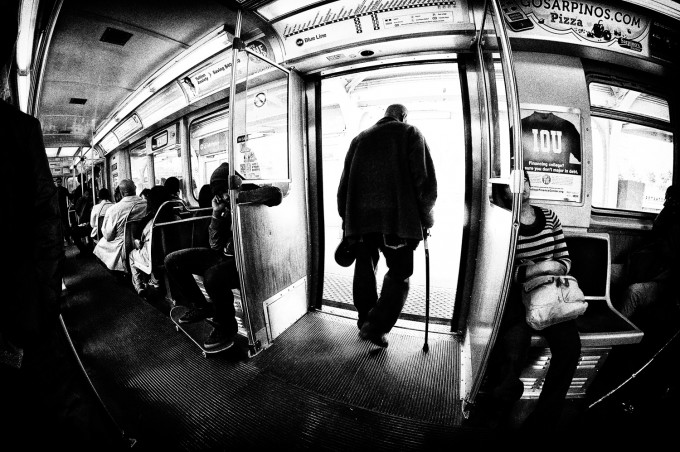 (I know, a lot of Sony, but my favorite camera by far is my X100T. I use both for their unique strengths.)
Thanks and keep doing what you're doing,
Sincerely,
Sebastian Szyszka
www.sebastianszyszka.com
500px.com/sebastiand
www.flickr.com/photos/sebastiand/