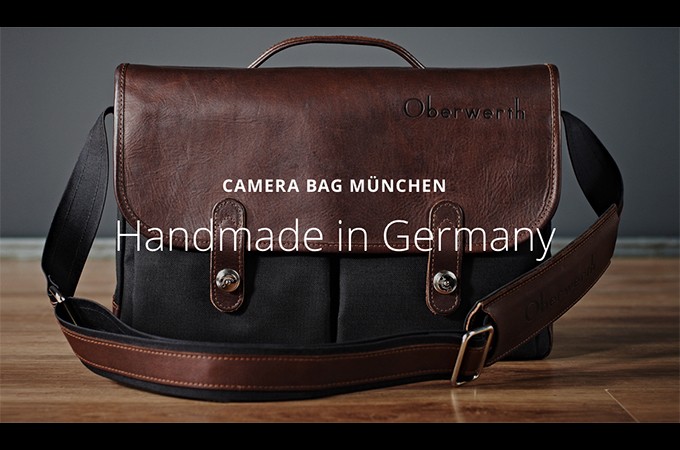 The new Oberwerth MUNCHEN Camera Bag. Made in Germany.
(From Steve: I posted this earlier but had the wrong NAME for the bag, well, wrong model. Silly me. I thought I was sent the Freiburg but was sent the MUNCHEN, so this is a repost with some corrections!)
I have had the pleasure of using the new Oberwerth Munchen camera bag for the last 7-10 days, even traveling with it twice last week and now that I am home bound all this week due to something out of my control I have decided to sit down and write some brief thoughts on this new camera bag that has been my companion over thousands of miles of traveling already. For those who just like plain black bags, this one may not be for you but for the photographers out there who like style and function (and there are thousands), keep reading.
If you have read the pages here on my website/blog over the years you will have seen countless camera bag reviews. From Think Tank, Billingham, Crumpler, Wotancraft, HoldFastGear, Tenba and more. These are the names that stick out in my head for quality bags that can last one a lifetime of shooting. Some are prettier than others, some are more functional than others. The main bags I have stuck with for my personal use, up to now, have been WOTANCRAFT for my day to day shooting and HOLDFAST for my travel bag needs (they are larger). But I love all bags and two weeks ago I was stuck on my Tenba Cooper bag, which is also a fantastic functional and good looking bag.
With all of that out of the way, I am here now to speak about a new bag that has the looks, the build quality and the feel of a premium high end camera bag. That is this new Oberwerth Munchen.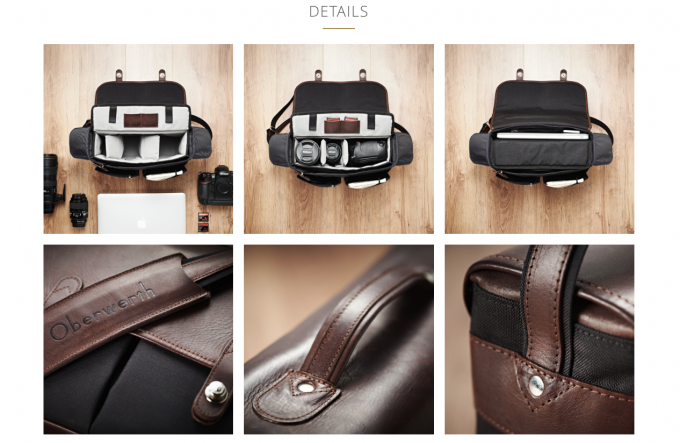 The "München" is the larger photo bag of the Oberwerth product range. Very spacious and with a timeless appearance, equipped with numerous additional storage compartments for photo equipment, laptop, tablet or PDA. Both front pockets provide enough space to stow personal items, independent of the camera. The well thought-out, removable insert with a closable top allows the storage of the gear also outside of the bag. Placed in the shoulder strap, an invisible cut resistant device ensures you and your photo bag are inseparable. The "München" adapts to your own style and is a perfect companion not only for the serious photographer but also for the office or a business trip.
Photo bag München: "The larger one"
A spacious partner for the engaged photographer with a practical, removable insert
Durable CORDURA® and high-quality leather protects the equipment against shocks, moisture or other external influences
Air-cushioned insert for camera and accessories included
Additional compartments for smart cards
Spacious front pockets provide additional space for personal items or further gear
Practical additional compartments for laptop, tablet, PDA and documents
Attuned to the Oberwerth product range available in CORDURA® and leather combinations
Like all Oberwerth bags: 100% handmade in Germany!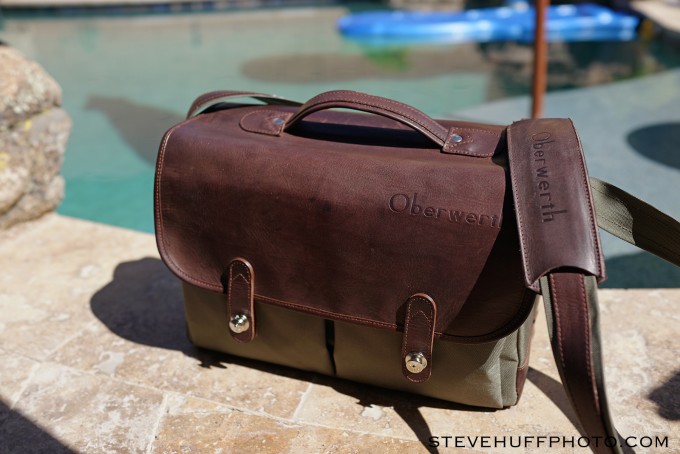 While I prefer the black/brown color they offer over this beige/cowhide version even this one is super nice and attractive. The inside is spacious enough for even a DSLR and a couple of lenses yet the bag is still on the small to medium side. The huge leather flap on the top is nice and thick and feels solid like it will really protect the gear under its umbrella. Open that up using the nice connectors and you will see a protective flap inside that will give an added layer of gear protection. You have leather rain flaps on the inner sides as well. This will ensure that even if you are out in the rain, water should not get inside. I have not had the luck to be out in rain recently so I have not tested this aspect of it but maybe I will head out back with the hose and give it a wash down, with gear inside 😉
For me, the black version may be the sweetest looking camera bag ever, in the same vein as Billingham and Wotancraft. In fact, the Munchen is almost perfect for me, ALMOST.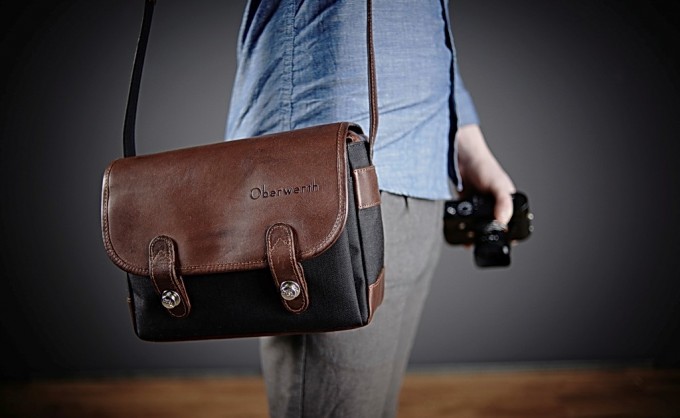 With so many bags I have here on hand, I pick my daily bag  these days depending on mood, what I am needing to carry and how large I want or need to go. If traveling, does it have a place for my 13″ macbook? The MUNCHEN does, and it worked very well for my last travels as it keeps it shape and is easy to store under an airline seat in front of you. It slides under perfectly and gives you very open and clear access to all compartments and it does indeed hold my 13″ laptop quite well, perfectly. It will not hold a 15″ btw.
The Oberwerth bag is quite nice when I study the details. Quality is here all the way around, and I feel it is a bag that will outlast the rest of my shooting days easily.
The one weakness I found for my use…
As I used the bag, walking through dirt, sand and heat..even setting it down where a stream of water soaked the bottom, it held up perfectly and when dusted off and cleaned looks as new besides the unique scuffs I put into the leather from actual use of the bag. It is a sturdy bag but I missed having pockets on the ends/side of the bag. I am used to storing cables or my phone or whatever into an outer side pocket and the MUNCHEN does not have any. What it does have is pockets and compartments inside, which makes up for it somewhat but there is no quick access to them as there would be on the side. I understand the reason for leaving them out, as it seems this bag balances a fine line between STYLE and FUNCTION. The easiest way for me to describe my thoughts here is to say that it is stylish as all get out but has 95% function instead of 100%. 95% only because there are no side pockets. With that, there is plenty of room inside after you raise the flap.
One of the unique things I love about this bag though it is the strap on the back for sliding onto your luggage handle when traveling. It is attached via velcro normally, so it stays out of the way when not using it. In fact, I did not even know it was there until I traveled and really looked for this. This is a must on travel bags for me, and this one implements it better than I have seen elsewhere. It stays on my luggage nice and firmly making it easier as I travel through large airports.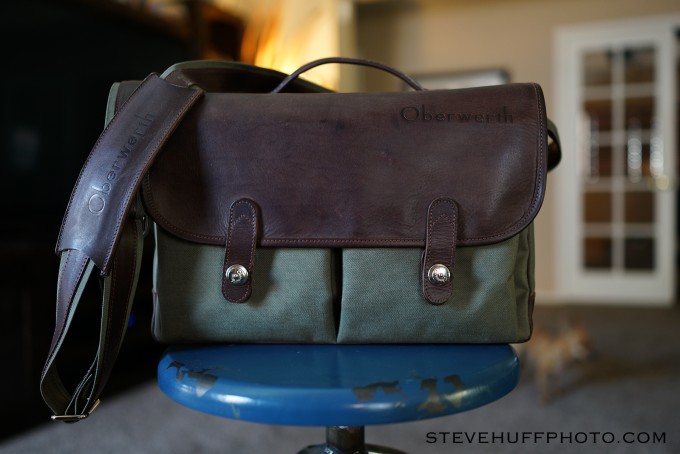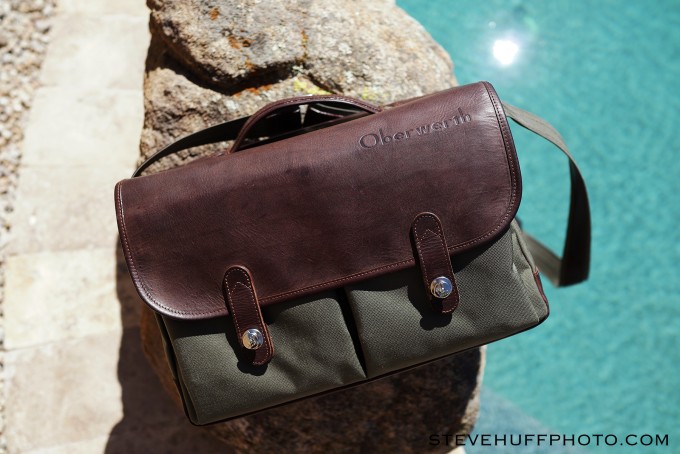 I was using this bag for a Sony A7RII and three lenses along with my 13″ Macbook Pro and some cables, accessories and chargers. I also used it for an Olympus E-M5 II system with 4 lenses. It can even hold a Leica SL with a few M lenses. I can see it also being used with a smaller DSLR system but not a huge large FF system with zooms.
The Oberwerth MUNCHEN is a stunning high end bag that looks nice, is built to the highest standard, will protect your gear from the elements and will wear in with a nice gorgeous patina over the years. If you want a bag to last you for many many years and like the looks of this offering, take a look at them closer at Oberwerth's website. 
The MUNCHEN is NOT cheap my friends. Think FOGG BAGG prices. This is what quality costs these days in exotic "made in Germany" bags. This bag comes in at $635  Would I spend $635 to buy this? Well, that would be a tough sell for me, but I am not rich and I already own around 13 bags :0
But for the ones who have been looking for that perfect, nice, higher end bag to last them the rest of their lifetime, this may be the one you have been waiting for. Think Fogg quality here my friends, up at the top of the quality heap.
Drew & Barry also are the Asian distributors for Oberwerth, so check their site out here and give them a facebook like HERE. They were nice enough to send me this bag out for review, and I am glad they did as it introduced me to yet another wonderful line of camera bags.