PRESS RELEASE
NEW: SLR Magic Image Enhancer Pro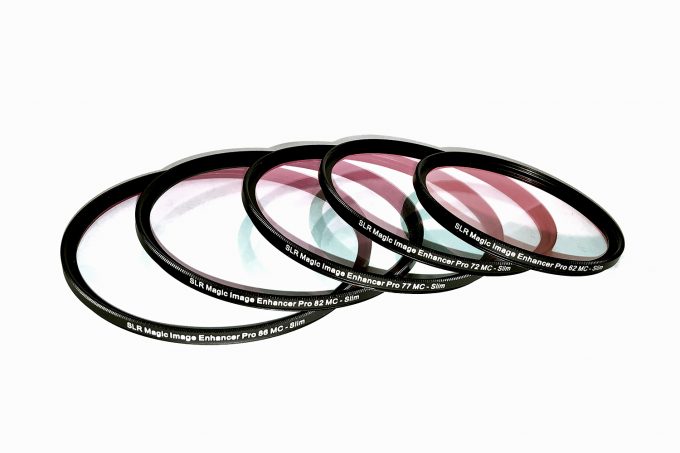 Hong Kong, China (August 24, 2016) – SLR Magic introduces the The SLR Magic Image Enhancer Pro (IE Pro), a unique filter suitable for use in both photography and cinematography to help increase image clarity and restore color shift issues introduced by light contamination beyond the visible spectrum to digital sensors. The filter will be officially introduced during the BIRTV 2016 show in Beijing.
The IE Pro is a unique filter that optimizes the light spectrum from 200nm to 1,200mn to ensure light rays passing through the filter are natural to the human eye. The digital imaging sensors' greater susceptibility to infrared light contamination leads to colorcasts when shooting subjects at instances where the light source has increased levels of infrared light that is not visible to the human eye.
Traditional UV/IR filters are commonly used to address color shift and infrared contamination. However, hot mirror type UV/IR filters sold as 680nm, 700nm, 715nm, or 750nm rating typically cut out the red spectrum along with infrared spectrum to produce blacker blacks but will create an unnatural skin tone reproduction. At times, traditional UV/IR cut filters produce a green or red color shift when certain lenses wider than 35mm are used. The SLR Magic IE Pro is designed to work with lenses from wide angle to telephoto.
The SLR Magic IE Pro is designed for use on digital cameras for both photography and cinematography. The light spectrum curve with IE Pro shows the optimization of light transmission through unique attenuation of light in the light spectrum leading to improved clarity within the image and more tonal depth. IE Pro can be positioned in front of your lenses with or without electronic ND filter or in front of your ND filter or variable ND filters. 50-layers of multi-coating is used in the IE Pro to minimize reflections and flare, thus achieving a unique level of optimization across the entire light spectrum as well as attenuate UV and Infrared light to minimize chances of colorcasts and ensure cleaner blacks and truer skin tones.
SLR Magic Image Enhancer Pro will be available from authorised SLR Magic resellers by October, 2016.
Andrew Chan
Product Manager