New Zeiss Loxia 85 f/2.4 Announced!
Zeiss has announced, ahead of Photokina next week, the new much-anticipated 85mm F/2.4 lens in the Loxia lineup. The Loxia lenses are fantastic, all manual, smaller than the AF Batis lenses and feel more like you are shooting a great Leica M lens with your Sony.
Many have been waiting for the Loxia lineup to get an 85mm, and here it is with an f/2.4 aperture to boot. WOOHOO! Now we have 21, 35, 50 and 85mm in the LOXIA lineup. I have reviews for them all so far, except this new one.
See my LOXIA 21mm review, my 35mm review and my 50mm review.  I will be reviewing the 85 as well, so stay tuned 😉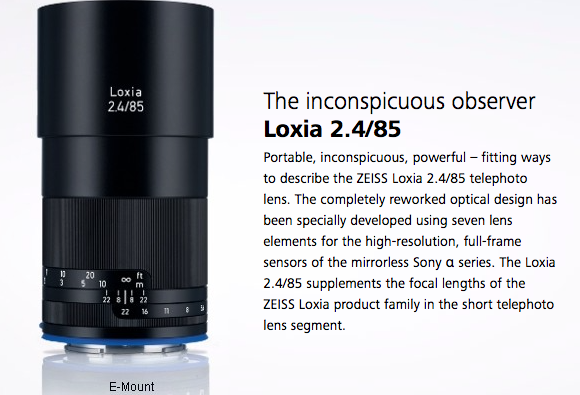 Here's the press release from Zeiss:
With the ZEISS Loxia 2.4/85, the optics company expands its compact lens family for mirrorless Sony full-frame cameras with E mount.
The newest member of the ZEISS Loxia family is a short telephoto lens called the ZEISS Loxia 2.4/85. It supplements three focal lengths that are already available for this lens family, namely the ZEISS Loxia 2.8/21, Loxia 2/35 and Loxia 2/50, and was specially designed for mirrorless fullframe cameras with E mount. The ZEISS Loxia 2.4/85 will be available in stores starting mid of December 2016.
The new ZEISS Loxia 2.4/85 has been designed for digital sensors. Based on an optimized ZEISS Sonnar design, it has seven lens elements in seven groups. "With the ZEISS Loxia 2.4/85, we have managed to develop a well-rounded and new interpretation of the original ZEISS Sonnar optical design that meets all the requirements of digital photography and videography," continued Casenave.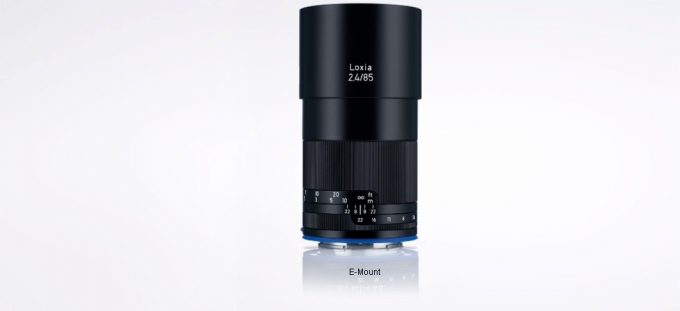 The lens has a minimum object distance of 0.80 meters and a manual focus ring with a rotation angle of 220 degrees, enabling the subtlest variations of focusing. The large aperture of f/2.4 combined with the high-quality optical design ensures an appealing bokeh. The electronic interface transfers both lens data (EXIF) and focus movements, and activates the magnification function of the camera if desired by the user.
With the well-known De-Click function of the ZEISS Loxia lenses, the optics company is also targeting videographers. The De-Click function allows to mechanically deactivate the click stops on the aperture ring — a condition for silent and smooth adjustments of the aperture. As a result, the ZEISS Loxia 2.4/85 is also an attractive lens for video cameras that have an E mount, such as the Sony PXW-FS7 and PXW-FS5.
Global delivery of the ZEISS Loxia 2.4/85 will begin mid of December 2016. The lens shade is included with delivery. The recommended retail sales price is $1,399 USD.