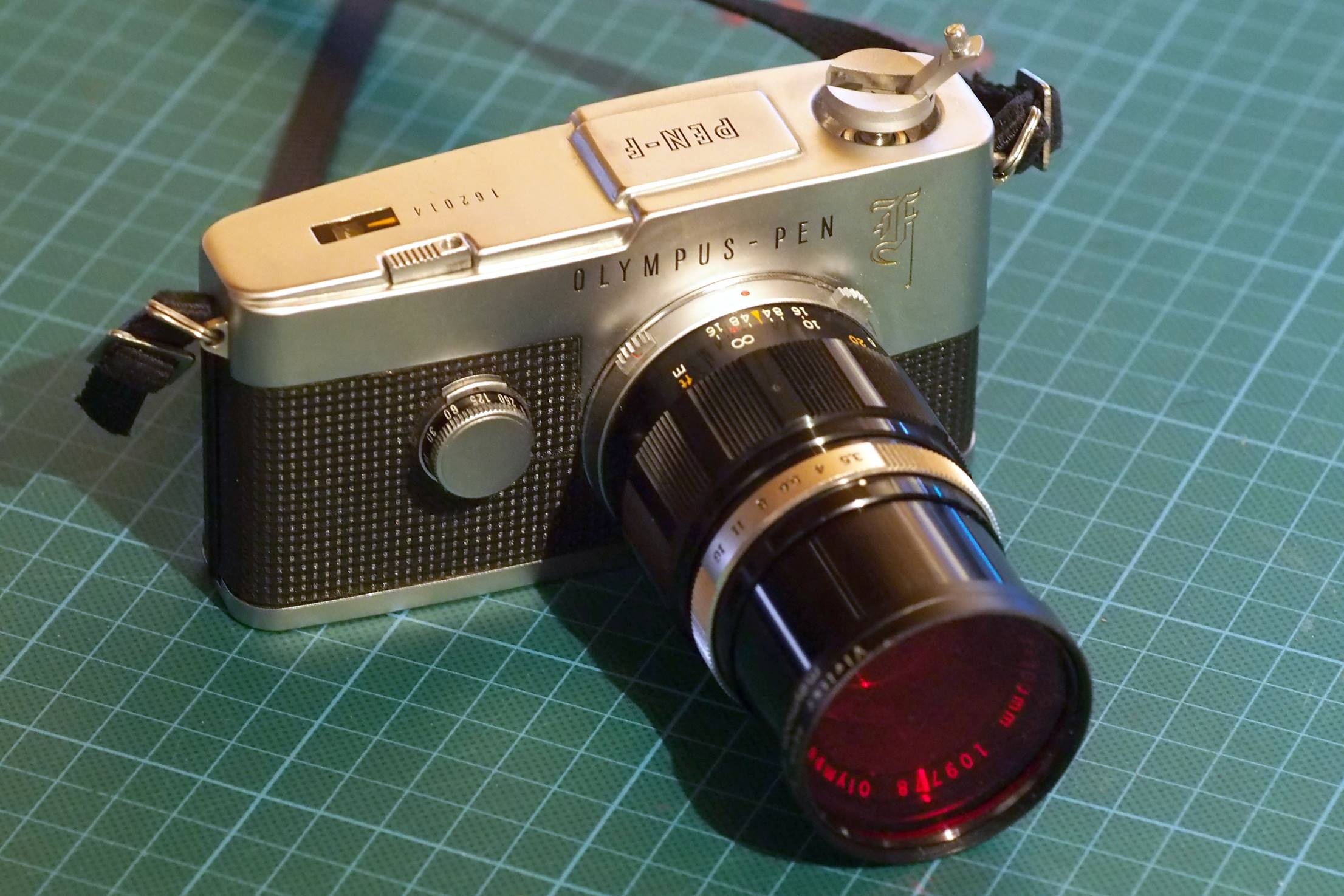 Shooting the Olympus PEN F half frame camera from 1960
And postprocessing…
By Dirk Dom
Hi!
I've been in Spain, Costa Blanca, for three weeks, I had a bunch of very serious camera's with me, but when leaving, as an afterthought I literally threw in, together with my bicycle gear, my little Olympus PEN F with 100mm lens and a red filter. This 1960 half frame camera I had bought about twenty years ago as an investment and I had never shot a single image through it. I brought ten rolls of Kodak Tmax 100. I also took my black and white developing kit.
Anyway, this is the camera: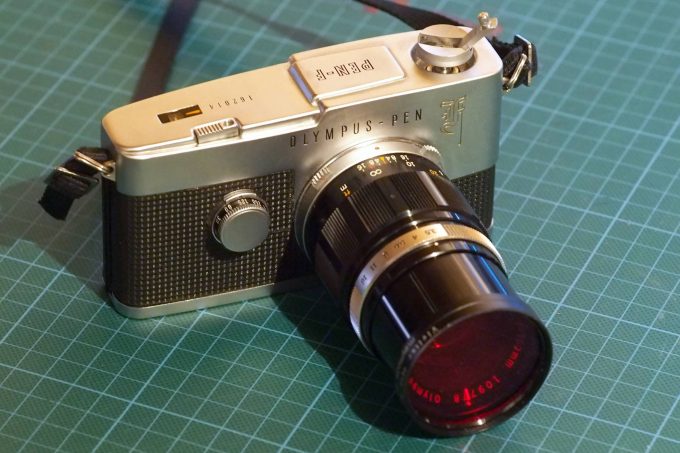 Beautiful, isn't it? It's a smooth looking chrome little gem, all mechanical, no light meter.
It makes quite a lot of noise when pushing the shutter, and the noise sounds cheap.
Anyway, I put a roll of Tmax 100 in it (72 images), put the red filter on and started shooting. I eyeballed the light, using the sunny f/16 rule, which, after developing my first roll, I made into the sunny f/22 rule. This was the first time in my life I did that, being used to 1/10th stop displaying spotmeters, and all my shots came out good.
I had my Rodenstock medium format loupe with me and I also looked through the 45mm lens of my Xpan to see the results. What I saw really pleased me, and shooting the camera was both challenging and fun, so I just shot the camera with the 100mm and red filter the entire three weeks I was there. I totaled two and a half films, about 180 images.
At home, I scanned on my Epson V750 at 4,800PPI, which brought out the Tmax grain real nice.
I expected some sort of ultimate grain pictures, which I truly love. What I didn't expect was the very mediocre sharpness. We are sooo spoilt by digital. The compositions were nice enough, but they had none of the WOW!!! Of my medium format.
A typical scanned image was like this: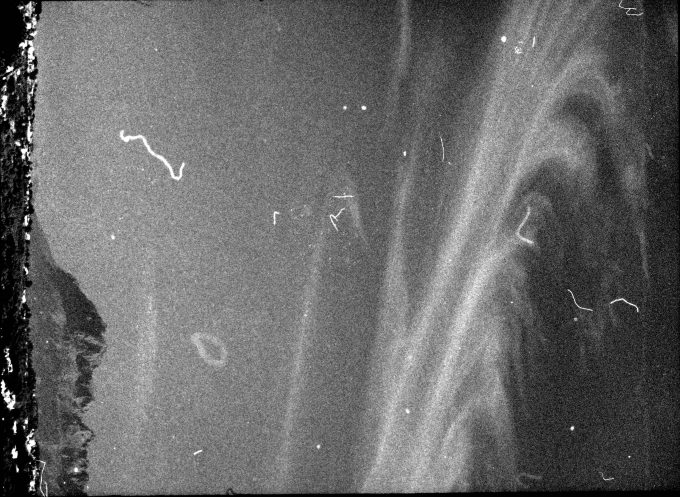 Not that great, isn't it? I 'd say pretty hopeless.
I had also shot with a red filter for the first time in my life, (normally I use an orange filter). You know, I'm crazy about clouds, and the red filter brought them out nicely. But my landscape part often was extremely dull, with such small differences in grey tones that I had banding in Photoshop, even in 16 bit TIF files. So, another lesson learnt: use a red filter with great discretion.
I went searching for a way to make the shots presentable and even beautiful. I'm giving you my evolution, not the finished stuff:
It took a great deal of burning and dodging, often very subtle, to make the images nice. I accentuated the grain by sharpening until it looked nice and balanced.
At first, I made the grain much too pronounced and aggressive: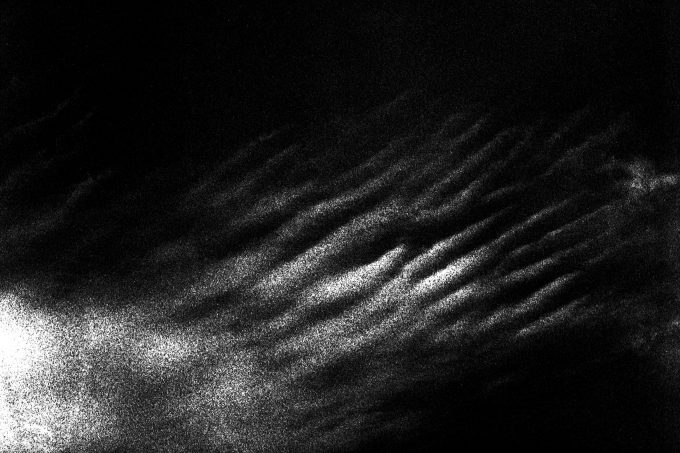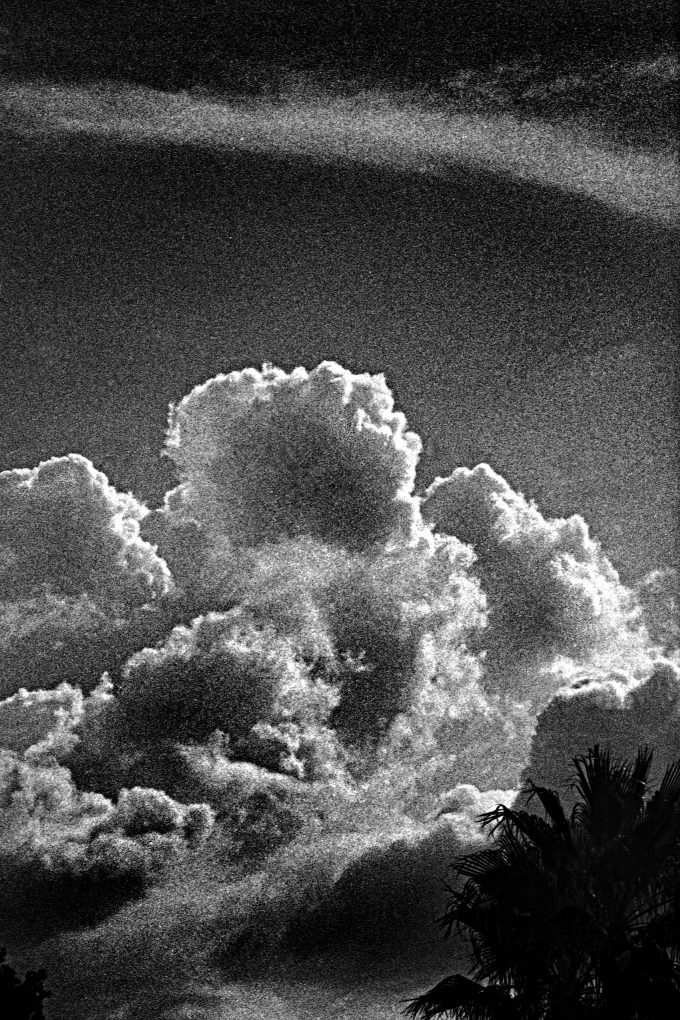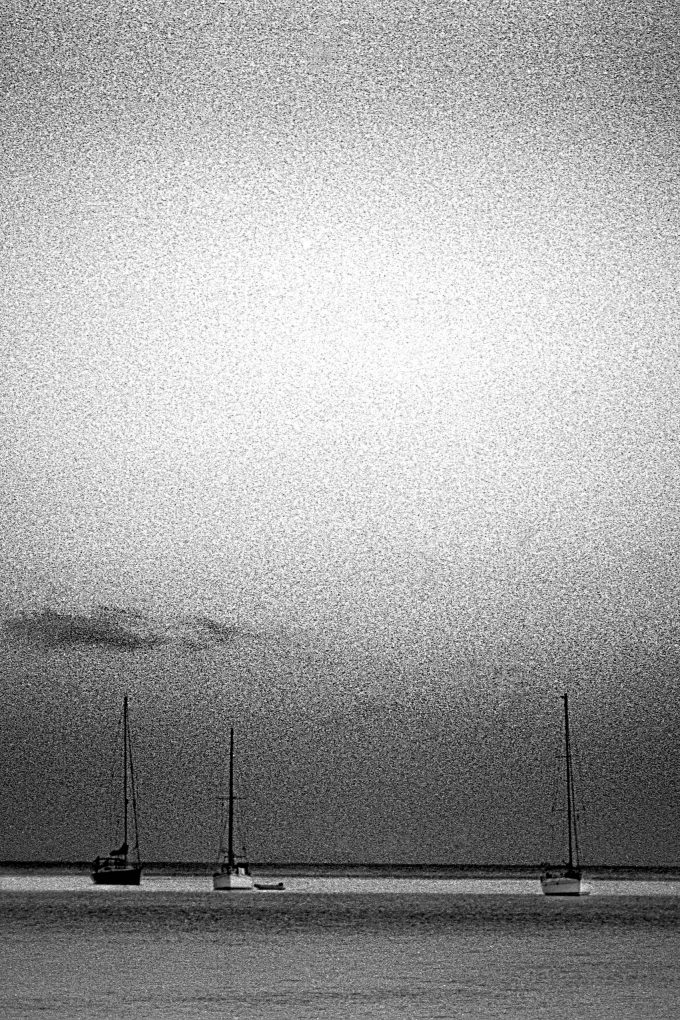 When I realized this, I got images where the grain looked more natural and which still had the spark in them: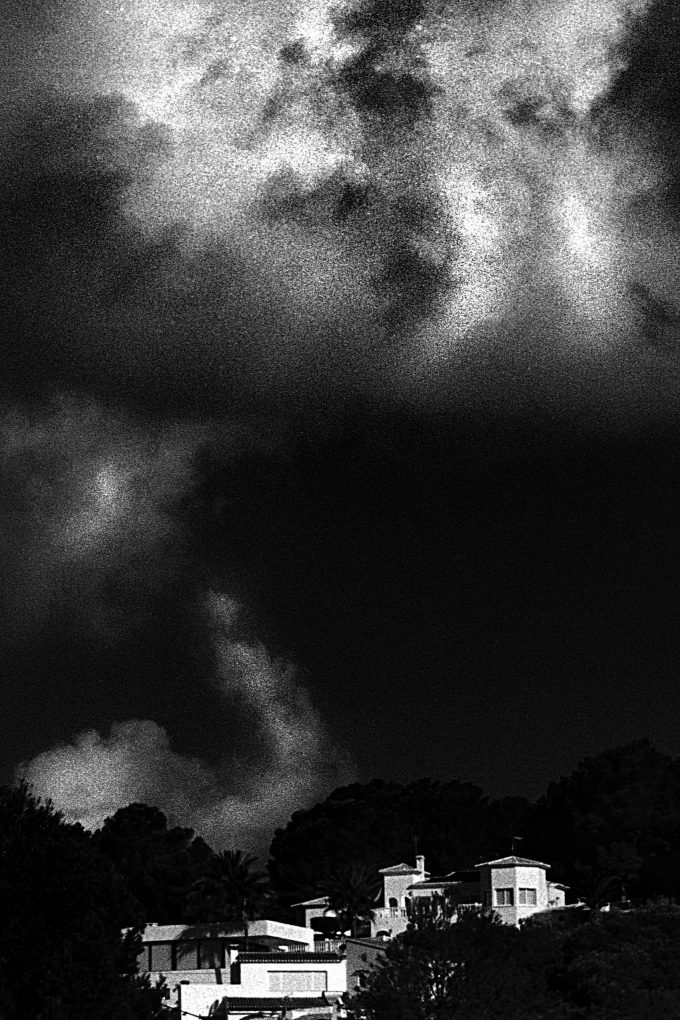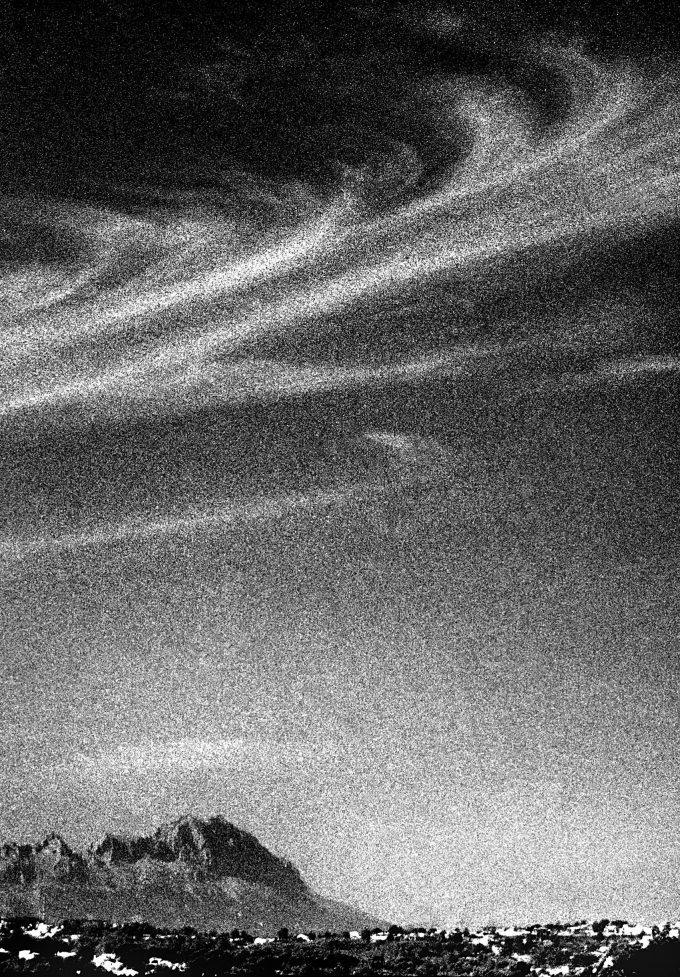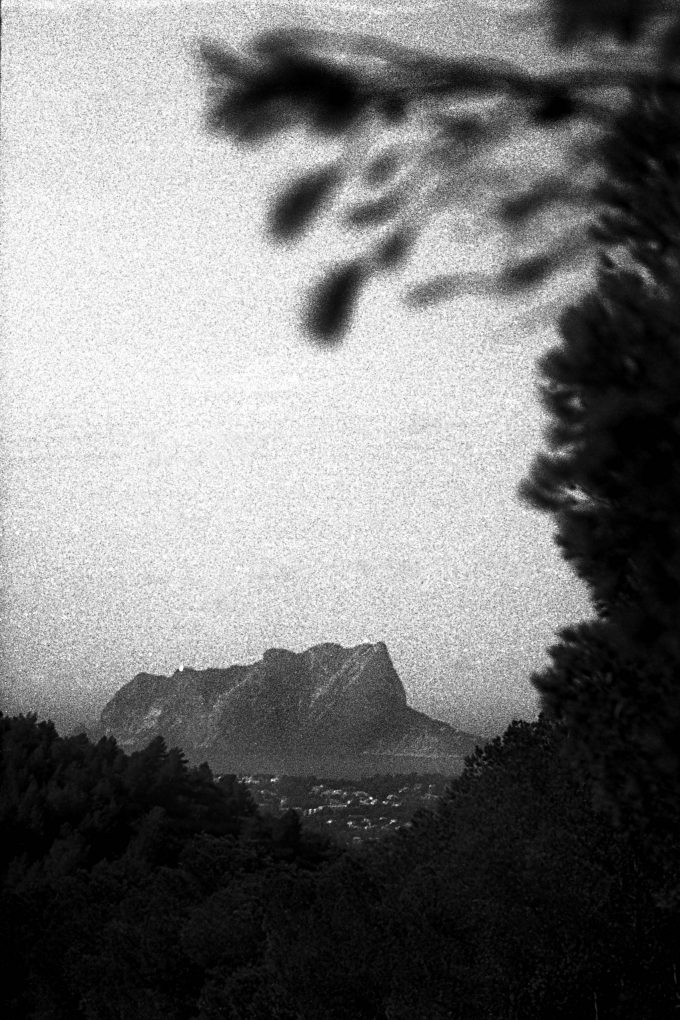 And, what do you think about this? I put in some crazy contrast.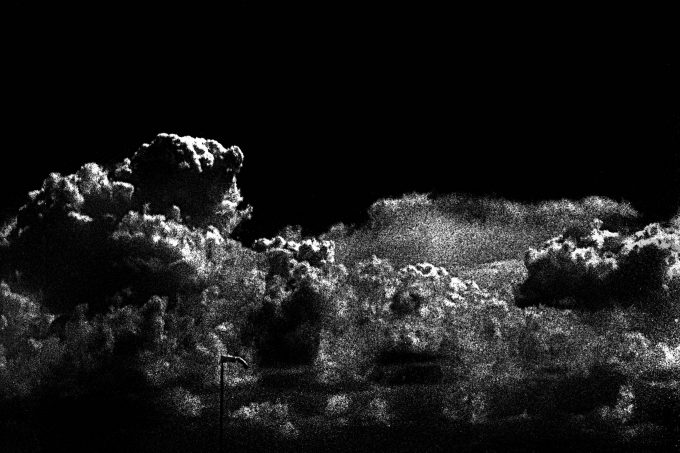 Now. I didn't just shoot crazy cloudscapes. What I had had in mind originally, was using the camera for street shooting. Didn't do a single shot of that. But the "normal" shots look absolutely nothing special.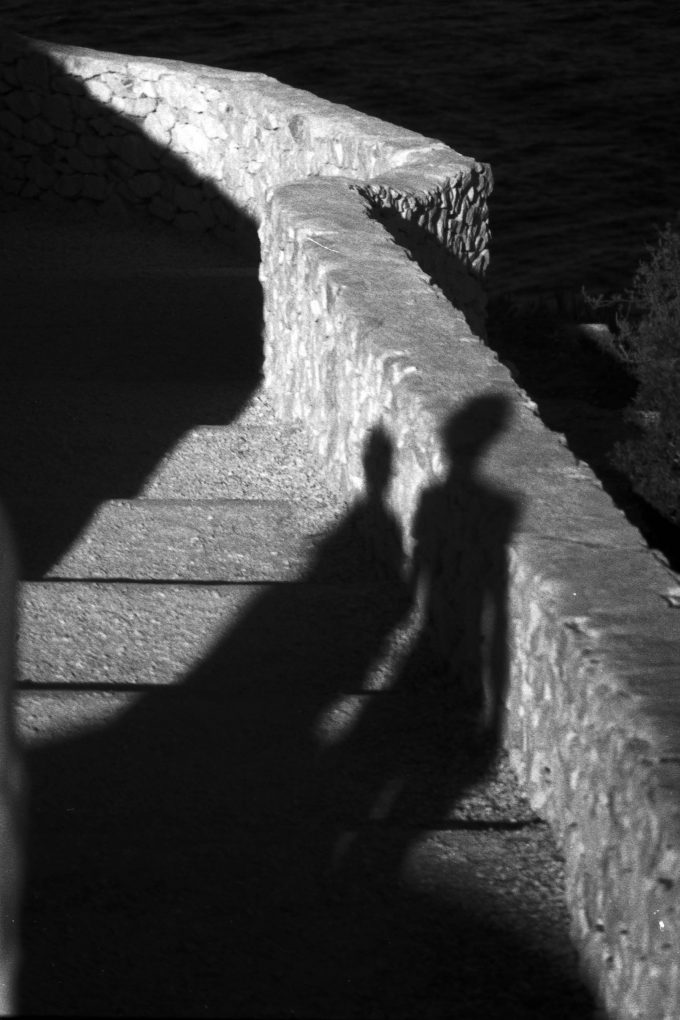 I kept myself at maximum 1/125th second shutter time, the sunny f/22 rule put me, in sun, at 1/250 and f/5.6, with the 3 stop red filter. I didn't go below 1/125, f/3.5 to avoid motion blur; so, evenings, I was a bit handicapped with was, in fact, exposure on 12 ASA. This is after sunset, have to do this one again, because it's oversharpened, see the white contour around the landscape part?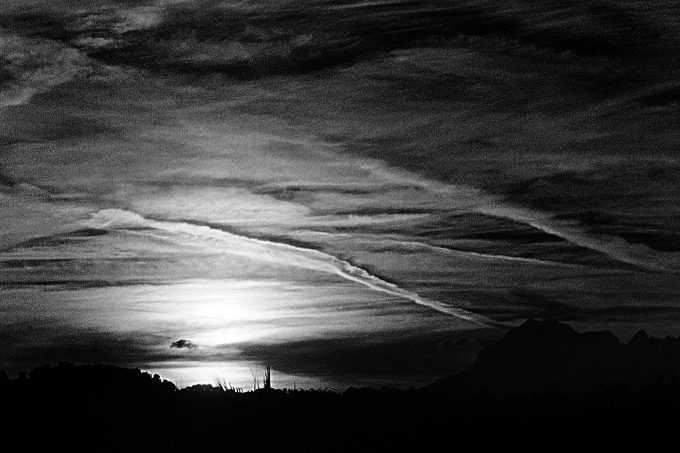 The 1/125 made for nice images, sometimes, also after sunset: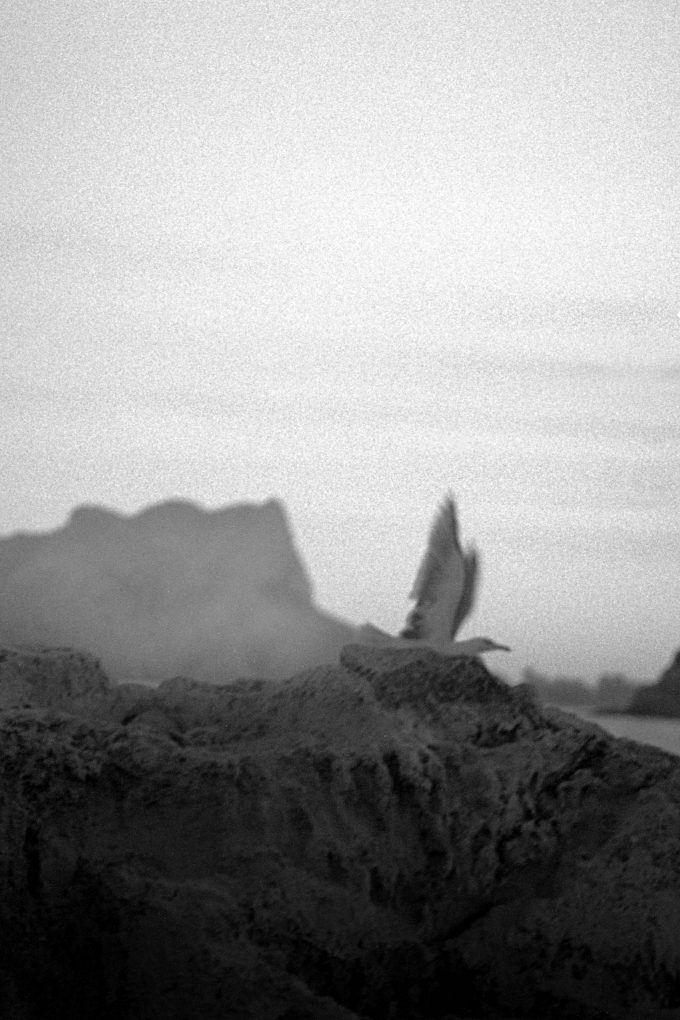 Now, a poll.
Do you think these images worthy of printing or do you consider them a failure? Personally, I think it was a worthwhile experiment, but I think medium format is more beautiful. Maybe more different than more beautiful? Should I make a 12 x 18 inch album on Hahnemühle Baryta out of these shots, just to show how different it can be, photography?
Dirk