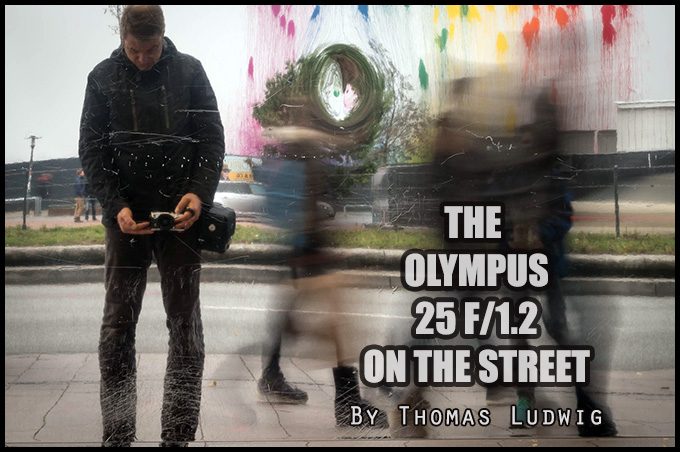 The OLYMPUS 25mm/F1.2 Lens Review, on the Street
By Thomas Ludwig 
F1.2 – WOW! It's the first time I've used a lens with such light gathering abilities. As a standard lens with a field of view like the nifty fifty in full frame terms, one should expect nice DOF effects – even on m43 cameras, where it is designed for. So let's have a look at the new OLYMPUS 25mm/F1.2 lens which I attached to a PEN-F. Huge thanks to OLYMPUS Europe for loaning me the lens.
I've put the PEN-F and 25/1.2 in my beloved CAMSLINGER Streetomatic Streethunters Editition and went to Hamburgs red light district to grab some street photos and portraits. I wanted to see especially how the lens would perform in the night, when light is bad and neon signs are mostly the only light source. And so most of the images were made in RAW at F1.2 and processed in Lightroom to my taste.
Ahoi Hamburg at F1.2
OLYMPUS throws another 'normal' lens in the game. Normal? It has a field of view of a 50mm lens in fullframe terms but is actually 25mm, as it is designed for the smaller Micro43 sensor. But that's the only 'normal' thing about this lens because it's a special one. 19 elements in 14, groups, 3 ED elements, F1.2 aperture and a rugged design. Promising specs which should result in nice image quality. So let's see if IQ really is a point where this lens shines.
The other thing is that this lens is not very small, but however it is not too big to be obtrusive when shooting in the streets. And this focal length is a classic in street photography. It is expensive. Around 1.300 bucks have to be spent to become the owner of this pro line lens. There are other standard primes available like the Pany/Leica 25/1.4, Pany 25/1.7 and the OLYMPUS 25/1.8. Of course the manual Voigtländer 25/0.95 and some others are an alternative, when you are willing to go without auto focus.
A night at Hamburg/Reeperbahn | F1.2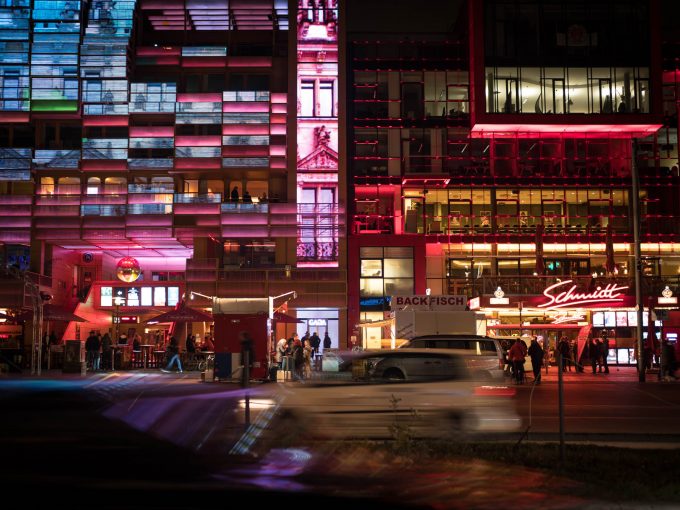 The Setup
OLYMPUS PEN-F | OLYMPUS 25mm/F1.2 | Spare batterie | 5.2″ Smartphone
All packed in a CAMSLINGER Streetomatic Streethunters Edition
CAMSLINGER Streetomatic Streethunters Edition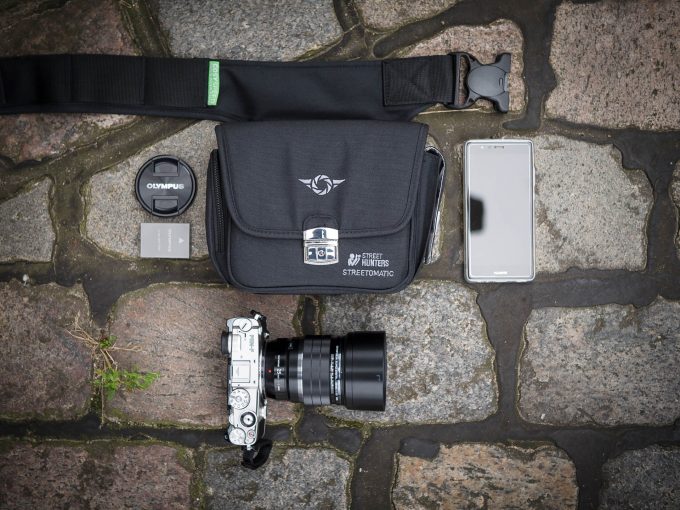 Gabriela ist the first female bouncer at Hamburgs red light district. She is doing this job since nearly 30 years. As she don't wanted to be portraied in front of her club, I made a blury shot of her while walking along the window front. Slow shutter speeds are super easy with OLYMPUS amazing in body image stabilisation – F4.5 | 1/8 Sec.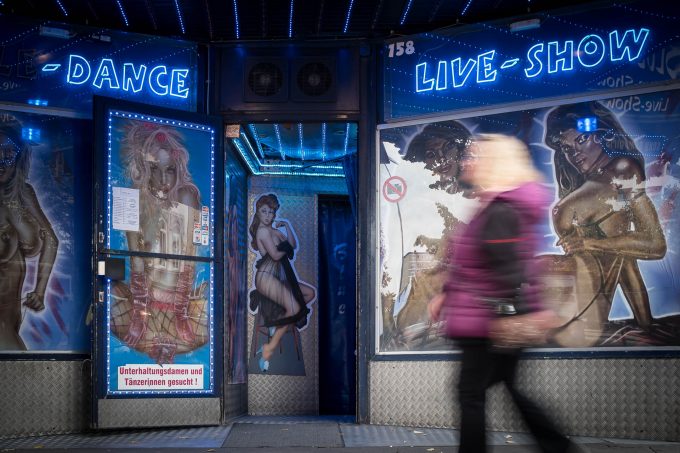 –
Hamburg is a seaport, so be aware of sailors. The OLYMPUS 25/1.2 shines really when it comes to portraits. This focal lengst is my favorite for portraits on the streets – F1.2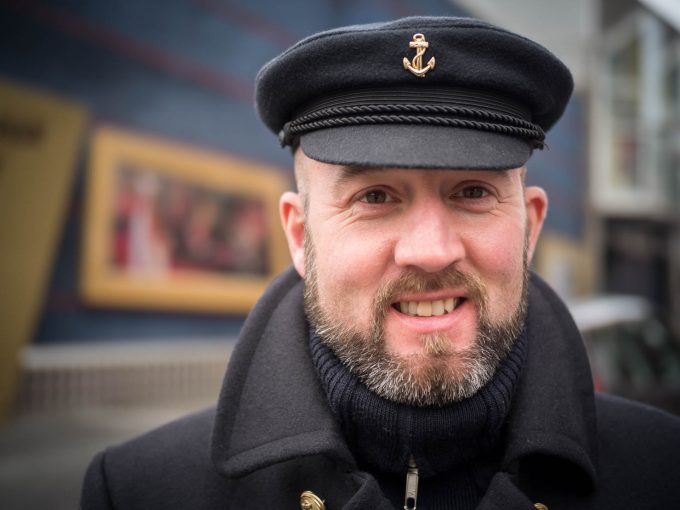 –
"We don't have a smartphone". Rainer and Joseph, two homeless guys at Reeperbahn. "Hamburg is the best place for homeless. You can get a free warm bed from October to March, free food every day and free second hand clothes." – F1.2 | ISO 1250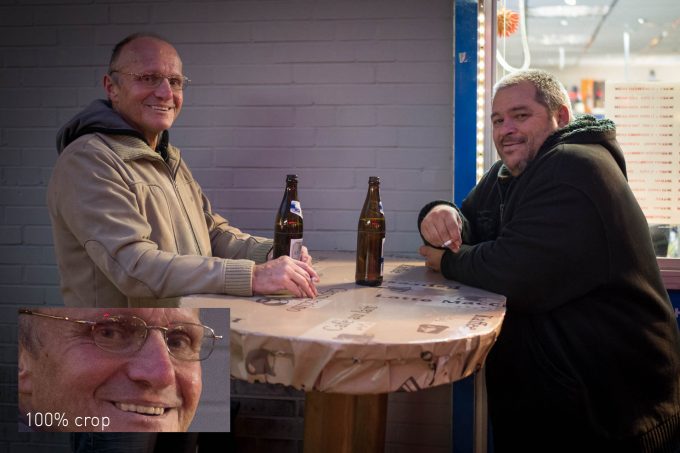 Image Quality
The image quality of m43 is really good, as long as you are below ISO 1600 and sometimes below ISO 3200. Paired with a lens this wide open and good IBIS you can get decent shots even in the night. But this review is about the IQ of the lens, which I had attached to a gorgeous PEN-F.
What makes a good lens? This is in many ways a question that can only be answered individually. To me it is not important that it is super sharp wide open or does not vignette etc. – to me the most important point is the esthetics, the look and feel it delivers. When I look at the images of a certain lens and it "feels" good, well, than it is a good lens. And you know what? The OLY 25/1.2 is a lens of this category. I'm simply amazed especially when looking at the portraits I made in Hamburg. Amazed not by my images but by the clean, natural and three-dimensional look.
The OLY 25/1.2 has a certain magic and I would describe its special character in the way it closes the gap between a pronounced three-dimensional look and a portrait friendly (lower) level of micro contrast. A high level of micro contrast gives 3D pop for example to LEICA and ZEISS lenses, but it can be a bit harsh when shooting portraits. I don't know how the OLYMPUS engineers made it, but they found a way to give it a lot of 3D pop while micro contrast is on a natural level.
Bokeh? Very smooth and elegant! Is it sharp? Yes, there is no need to stop down. What about chroma and other problems that appear when a lens has such a wide aperture? Well, I haven't really had a look at it as I'm all about the look and feel 🙂
OLY 25/1.2 at F1.2 on the PEN-F – RAW without adjustments. Look at the plasticity, details and natural look wide open. It's just as if the guy on this photo is sitting right in front of the screen – and this is an untouched RAW! Awesome!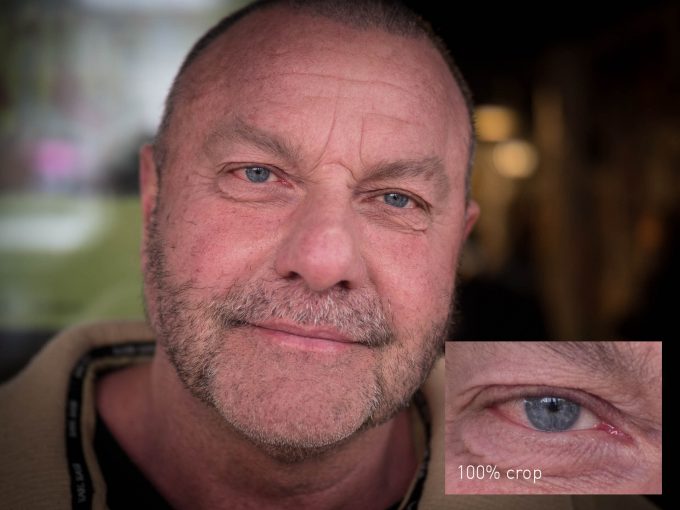 PANA/LEICA 25/1.4 at F1.4 on the LUMIX GX8 – RAW without adjustments. The Pana/Leica 25/1.4 is an excellent lens but can't keep up with the OLYMPUS 25/1.2. Even though it has it's own character, it is not as clean and three dimensional. But it is more affordable and for the price of an OLY 25/1.2 you could get the Pana/Leica 25/1.4 AND a PEN-F or GX8…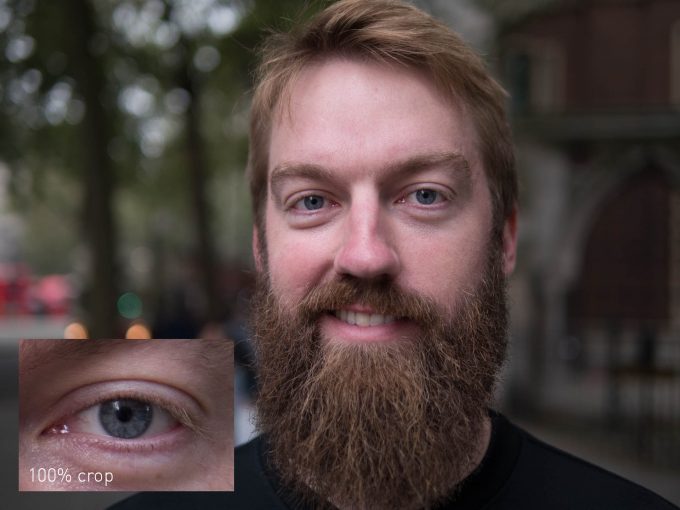 Handling and Focusing
The 25/1.2 is on the bigger side but not too big for using it on the streets. Especially when attached to one of the small m43 bodies like the PEN-F. It has a clutch mechanism, which allows to switch to manual mode while pulling the focus ring back – brilliant! AF is quick and spot on, even at F1.2.
OLYMPUS 25mm/F1.2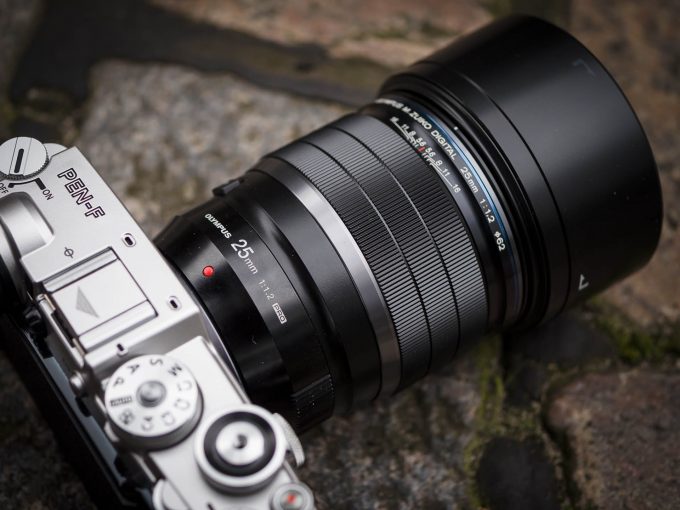 –
The PEN-F and OLY 25/1.2 in a CAMSLINGER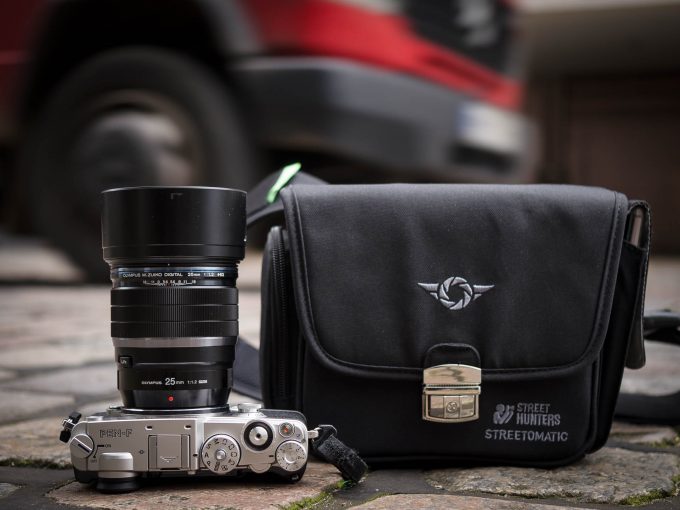 Even with lens hood attached it fits perfectly in the CAMSLINGER Streetomatic. I can't imagine a better bag for street photography.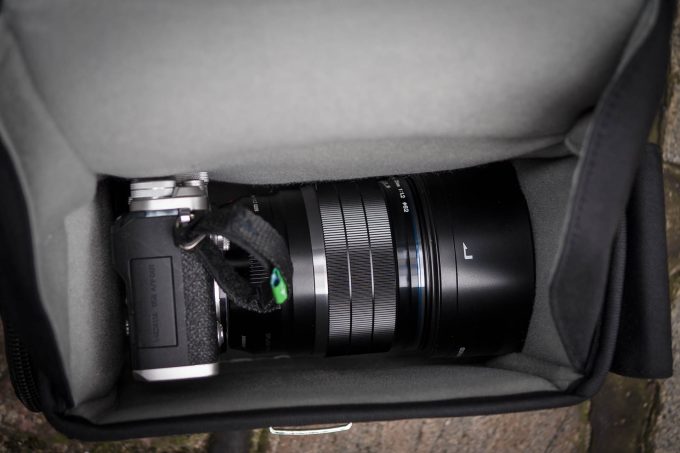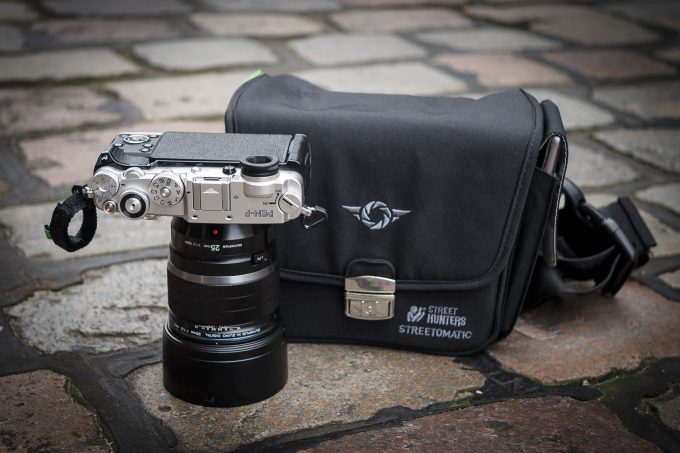 1 hand / 1 second – Carrying the PEN-F with 25/1.2 in a CAMSLINGER at the hip, is extremely comfortable. As your upper body is free of belts and straps, your neck will never hurt. In fact it is almost as quick to grab your cam, as it would be with a sling strap – 1 hand / 1 sencond! And the PEN-F and lens are always protected, when not in use.
Girl dancing behind a screen | F1.2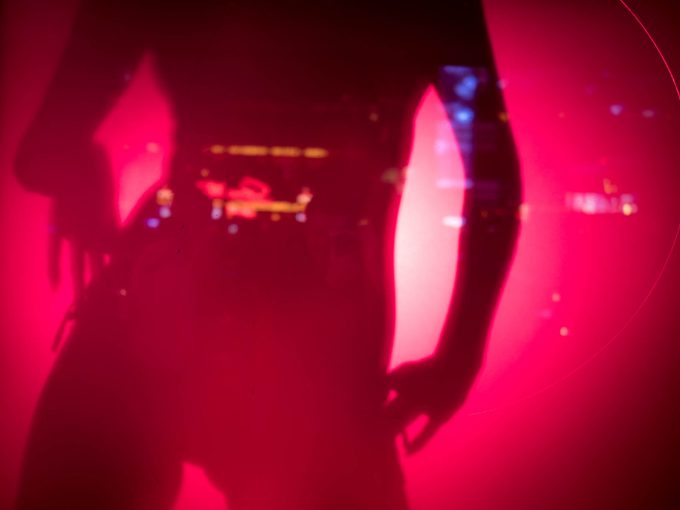 Selling Kebap in the red light district | F1.2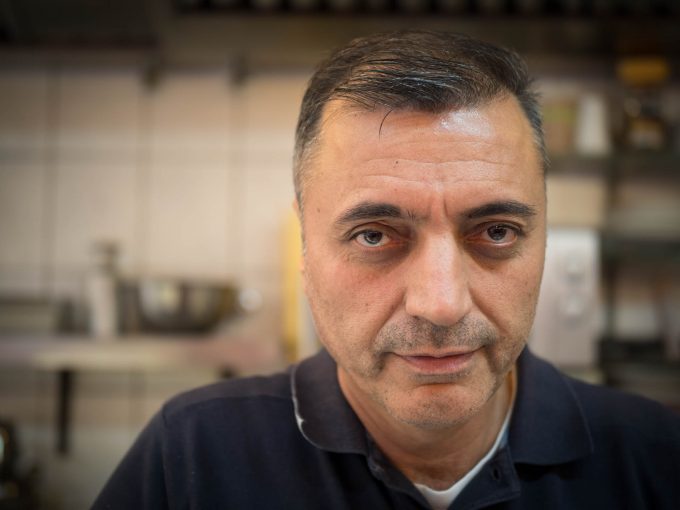 Contrasts | F1.2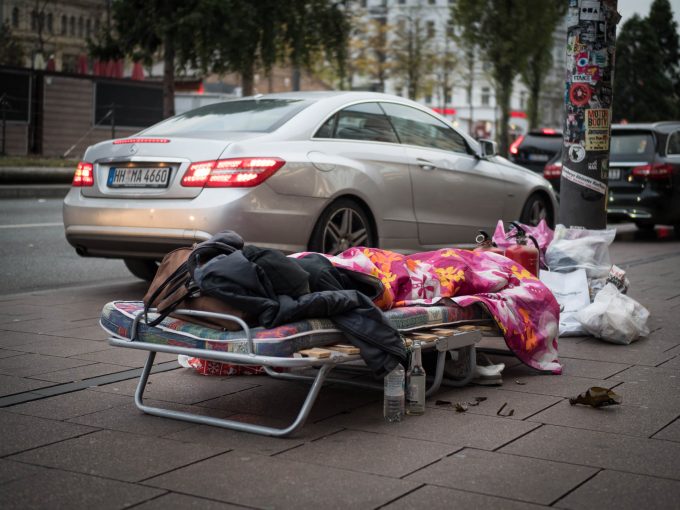 Hamburg/Reeperbahn is the place where The Beatles kind of started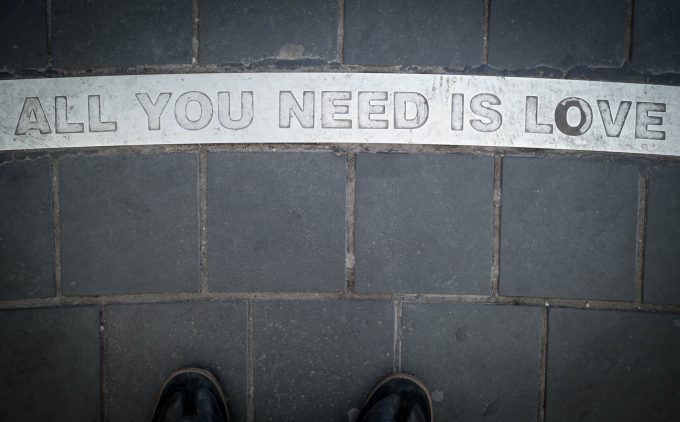 Insights | F1.2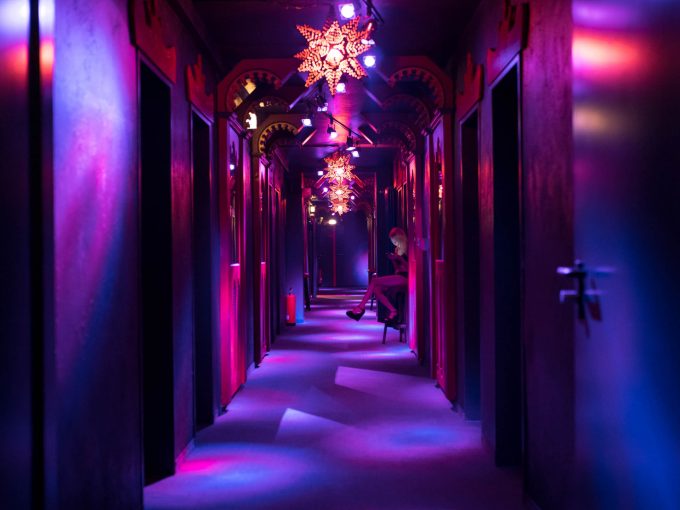 Cinema | F1.2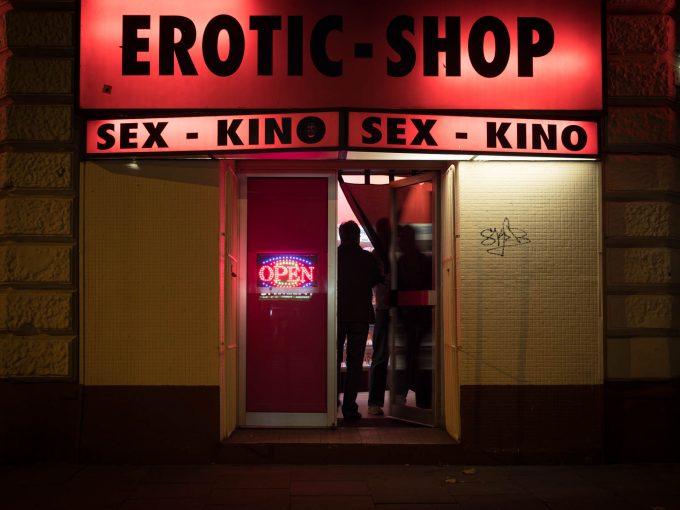 Conclusion
It's easy to write that I was extremely impressed by the OLYMPUS 25mm/F1.2. This lens delivers stunning images. Natural, three dimensional, sharp and with extraordinary esthetics in the way it renders a scene.
If you are ok with it's size, than it is the lens to go when you're looking for a standard prime for your m43 camera. The only thing you have to decide is if you would invest 1,300 bucks in it. I guess you won't hesitate when you're a pro photographer or an enthusiast with the budget for it. You can also be lucky with a Pany/Leica 25/1.4 or the OLYMPUS 25/1.8, but they do not have this extraordinary IQ. I love this lens 🙂
See more images made for this review in our SmugMug gallery: https://cosyspeed.smugmug.com/OLY25inHamburg/
Me, PEN-F, OLY 25/1.2 and my beloved CAMSLINGER Streetomatic in Hamburg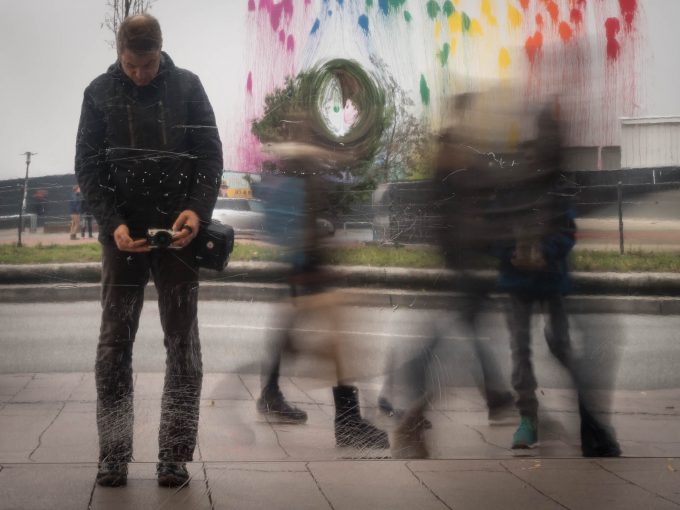 You can order the Olympus 25 1.2 lens Below: