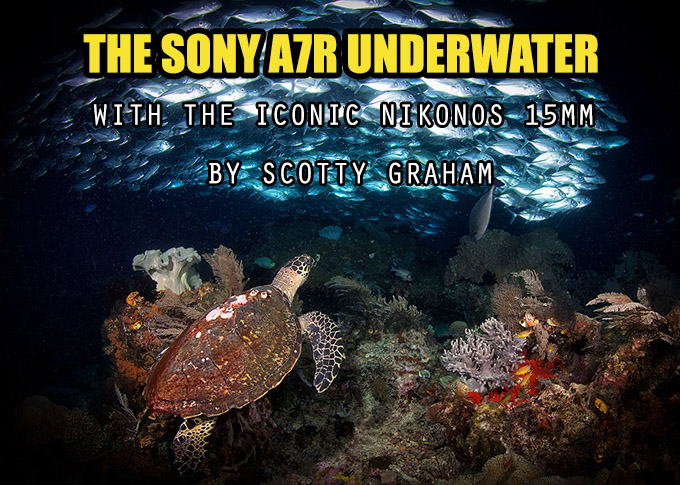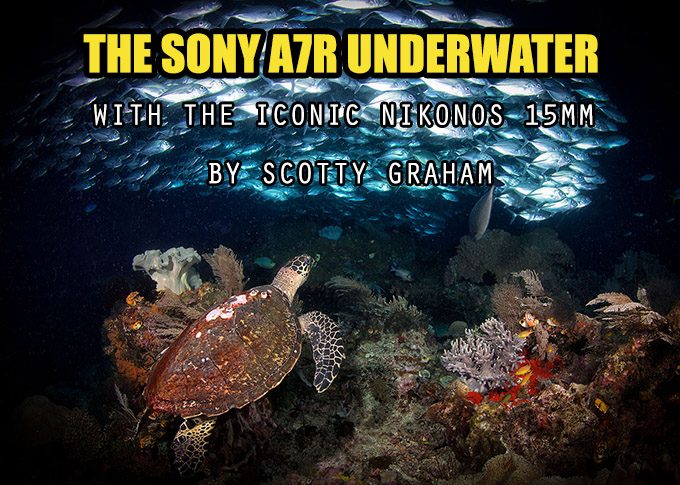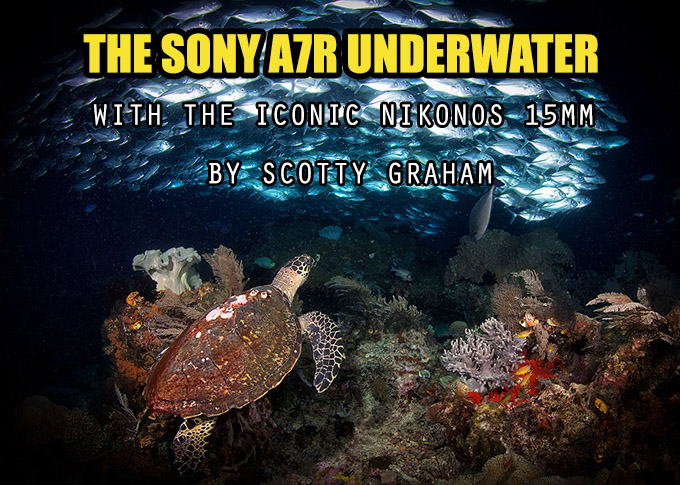 The Sony A7R Underwater with the Iconic Nikonos 15mm lens
Underwater photography, in my opinion, is not really appreciated by the wider audience. Most don't understand how difficult it is to take photos underwater. Lighting is near impossible, visibility is always a problem, currents push you all over the place, SCUBA gear, hoses, regulators, gauges, mask and fins all get in the way, controlling buoyancy to hold the camera steady is always a challenge, camera housings and strobes make it difficult to focus and compose, changing camera settings is never easy, and the models (fish and other animals) are very uncooperative. They never stay still, and are never in the position you want them. On top of all of this, the underwater photographer has to be careful to not damage the fragile environment they are invading to get photos, and has to be aware of the time at depth and air supply. We are clumsy, slow animals underwater…fish must laugh when they see us lumbering around to try and take their photo.
To nail a shot underwater is nothing like nailing a shot on land. On a typical dive trip, I MAY (if lucky) get 10 good shots out of a thousand…it's that difficult, folks….believe me.
Having said the above, it is my passion. Underwater photography has been a passion of mine since the early 80's (damn! I am giving away my age). Today, it still remains the ultimate photographic challenge…to NAIL a unique shot underwater!!
Unlike on land, equipment matters underwater. The camera, the housing, the strobes, and most importantly, the lens…ALL make a huge difference in "getting the shot" underwater. Well, I guess the same can be said on land to a certain respect, but it is magnified underwater.
Back in the old days, I used the infamous Nikonos V along with an assortment of lenses and strobes. The Nikonos is a "wet" system. It was not a camera in a housing. It was very similar to shooting a Leica Rangefinder underwater. All manual, and you didn't look through the lens. Talk about challenging. Only 36 shots on a roll of film. One would pay thousands of dollars to get to an exotic location, and you would have to wait until you were home to get your film developed. I can't tell you how many times I would want to break into tears coming back from the "Fuji Place" with my developed slides….focus wrong, exposure wrong, composition off, strobes not working, back scatter….etc….no Photoshop in those days…you either got it or you didn't, and mostly it was the latter.
Ok, I am rambling…."focus Scotty, FOCUS" ! Onto the main topic of this article…
So, back in those days, there was ONE lens that was coveted by most every underwater photographer. The Nikonos 15mm. A gorgeous lens. I would dare say, the BEST underwater wide angle lens ever made. I had to save money for years before I was finally able to afford to buy the Nikonos 15mm. I took care of that lens like it was my baby, and when I went diving with it, other divers on the boat would drool with envy, and say, "wow…that's the 15mm, right? Nice lens!!"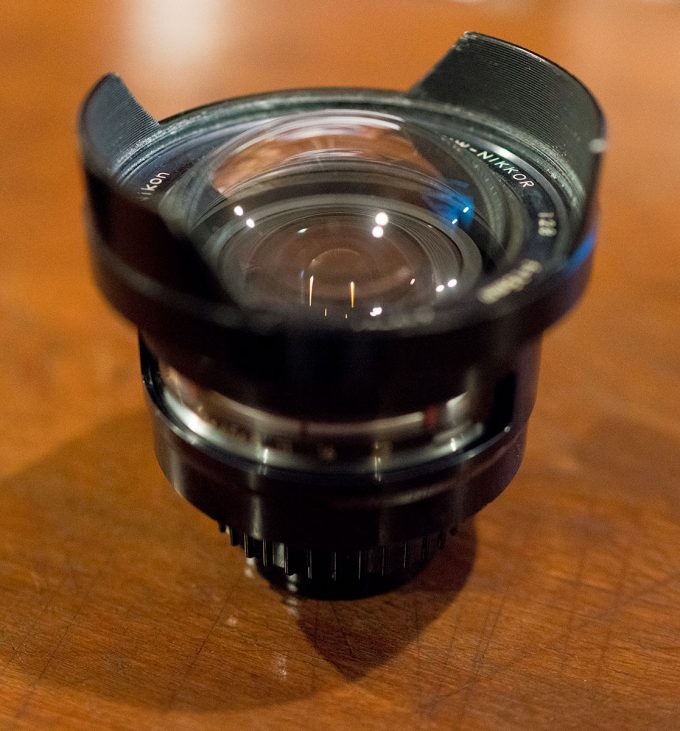 Jump ahead a few decades. The digital age. When digital came out, the Nikonos systems died. Young divers today probably have never even heard of the Nikonos. I sold all of my Nikonos equipment….everything EXCEPT the 15mm lens. I just could NOT part with that lens. I kept saying to myself, "SOME DAY, I will be able to use this lens again…SOME DAY!!"
It's a long story following my equipment changes both on land and underwater, but today, I am a SONY and LEICA user !! On land, I still use and love my Leica M9 and I also carry with me the Sony A7Rll….but underwater, I use the Sony A7R and will soon be using the A7Rll (as soon as I upgrade my housing).
Guess what?? If you put the Sony A7R into a Nauticam Housing, and use an adapter, you can use the Nikonos 15mm lens!! You heard me right!! When I saw that, my jaw dropped!! I am now using my favorite underwater lens again after almost 20 years of that beauty sitting on my shelf like a prized trophy.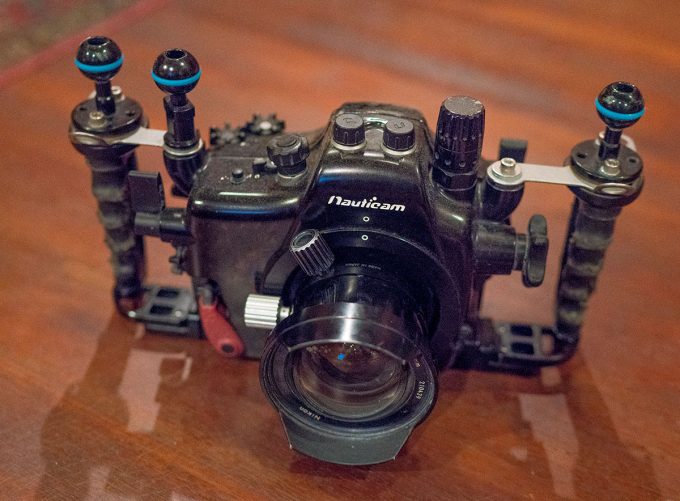 Since I am writing this for Steve Huff's Website, I will keep with Steve's tradition of making this a "Real World Review". I won't give you any scientific specifications of this lens or detailed analysis of the files. I wouldn't really know how to do that anyway…I will just give you my "hands on" review and some sample photos that speak for themselves.
I will tell you, though, that you can open this lens to f/2.8. It is also strictly an underwater lens…it can not be used on land.
How does it perform attached to the Sony A7R?
I can say unequivocally, it is every bit as good as I remember. Sharp corner to corner, very little distortion, and so small !! (I will talk about its size in the next paragraph). The images, when opened in Light Room, just scream at me, "Nikonos 15mm". I can't really describe it, but when compared to photos taken with the Sony 16-35mm (also an excellent lens underwater), there is just "something" that is different, and better. It's kind of like comparing images taken with my Leica and a good Leica lens with images taken with the Sony A7Rll….there is just something special about those Leica files…hard to describe.
Size matters.
With other wide angle lenses, a huge dome port is needed to correct for parallax, focusing and other things I don't quite understand. Dome ports are very expensive, large, and fragile. I used to need an extra Pelican Case to carry the port itself. With the Nikonos lens, I can pack my strobes, strobe arms, chords, camera, housing, and batteries in ONE small Pelican Case. It is amazing!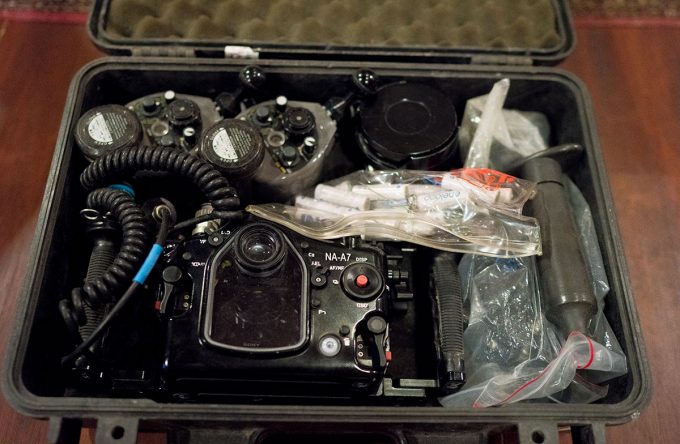 Underwater, it is unobtrusive. I can maneuver my camera so much easier and get in tight spots without worrying about scratching the dome port.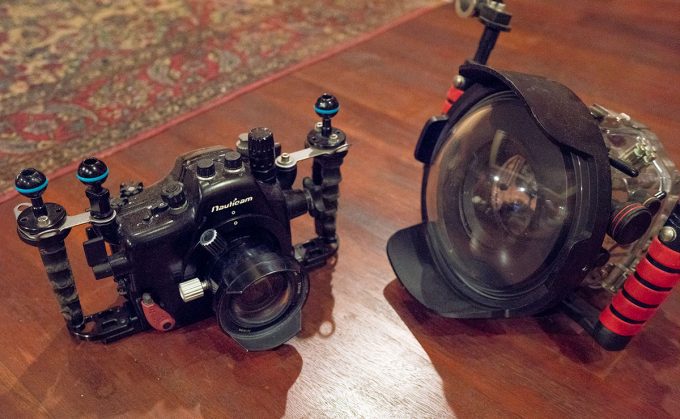 It is a WET lens.
I don't have to worry about flooding this lens. It is built for underwater. There is a single "O"-ring that attaches to the adapter, and that's it. With a Dome port, there are a couple of spots where water can leak in and ruin your day. I also don't have to worry about condensation on the inside of the dome port. Again, it is a wet lens. I can wipe the lens clean while underwater.
Any negatives??
Yes, but no deal breakers. It is a manual lens…totally. Focusing is not easy. The "focus highlighting" with the Sony certainly helps, but it is not always that accurate. I get way more "out of focus" shots with the Nikonos than I do with an auto-focus lens inside a dome port. The aperture is also set manually. Underwater, this catches me off guard often. The lighting conditions change constantly underwater due to ambient light from above, and depth. It gets darker the deeper you go. When something like a shark, a manta, or some rare fish comes into view, there is not much time to fiddle with camera settings…and that can be frustrating. I have missed many shots because my aperture is wrong or my focus is not pre-set. Very similar to shooting the Leica manually. However, when all is set correctly, the rewards are well worth the hassles!!
With my aging eyes, seeing my aperture setting on the lens can sometimes be difficult as well. Especially when diving at night. I have to turn the camera towards me, and then reach for the right knob to change the aperture…focus uses the "other" knob, and sometimes, I turn the wrong knob. The more I use the lens, the better I get with it, but it does take some skill and a good eye for the lighting conditions to get the settings correct.
Some sample photos.
Here are a few. I have been lucky enough to live in Indonesia for the past 20 years. The diving brought me here, originally, and the diving is what has kept me here for two decades…(well, an Indonesian wife and two daughters have also kept me here)…ha!! These photos are all from Indonesian waters…and all were taken with the Sony A7R and the Nikonos 15mm lens!! An unbeatable combination, in my opinion!!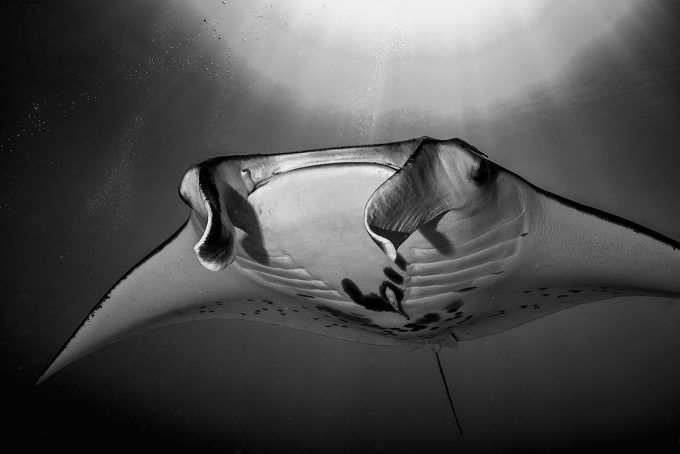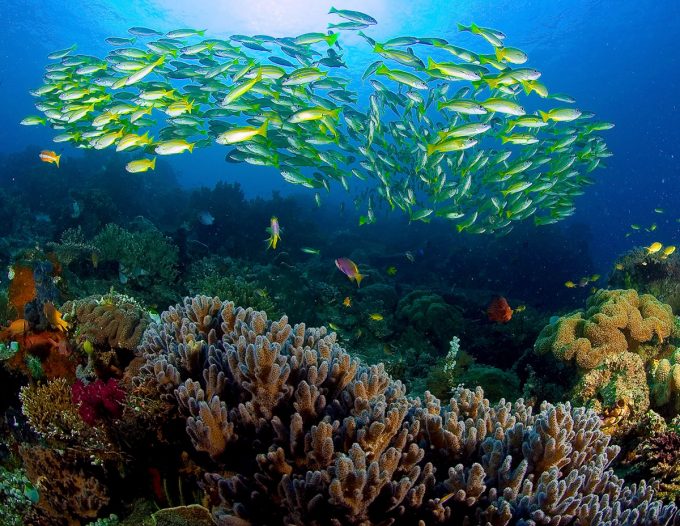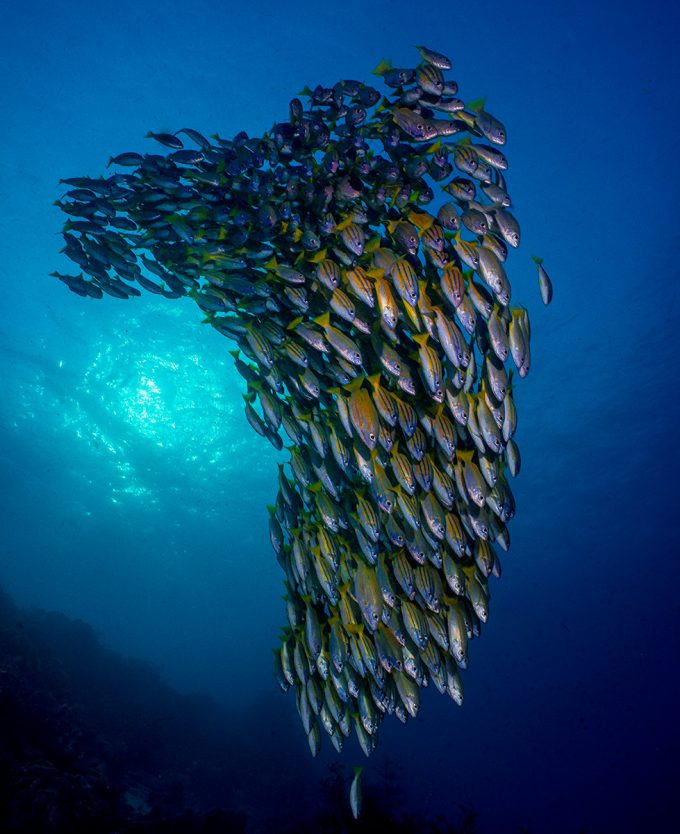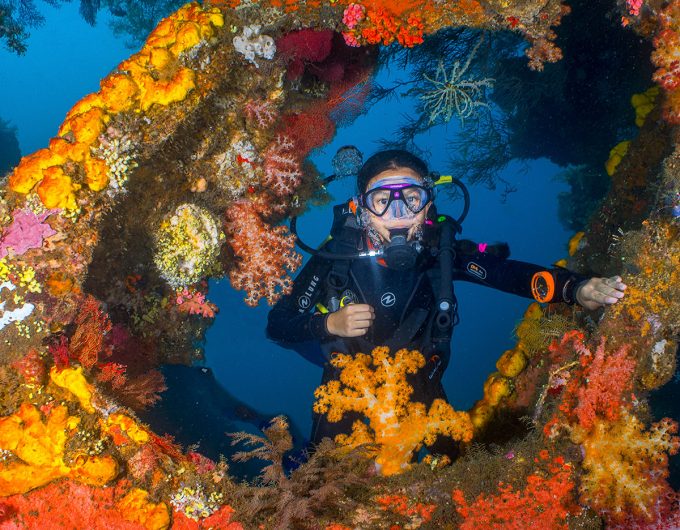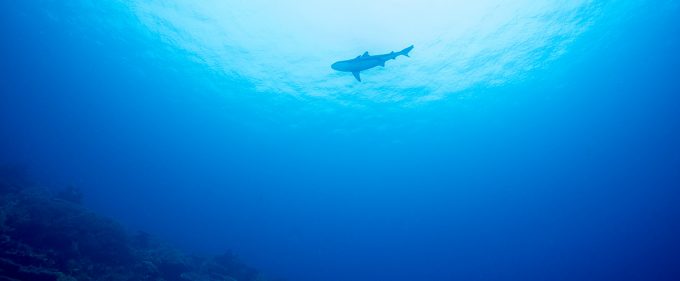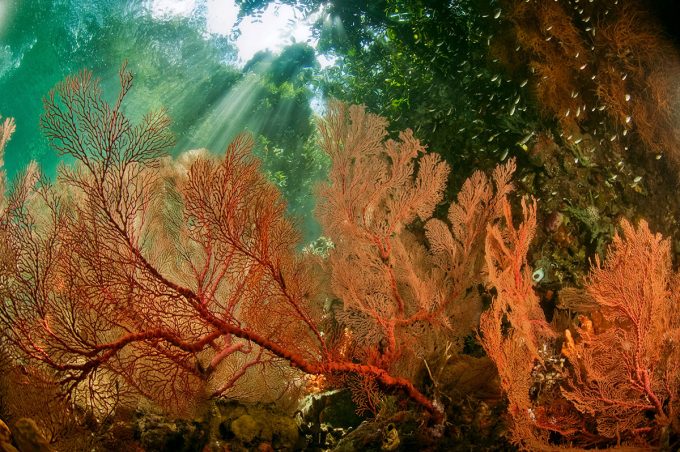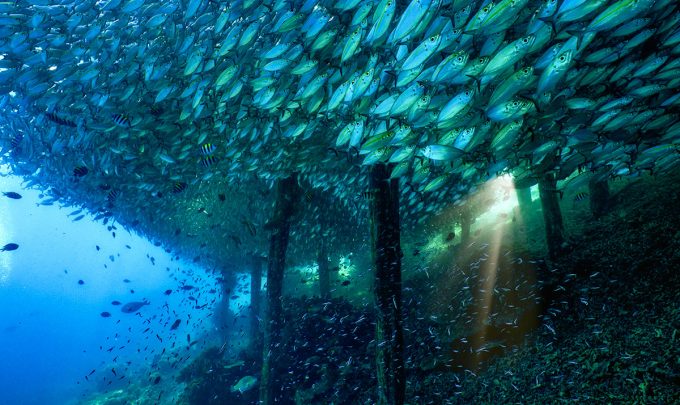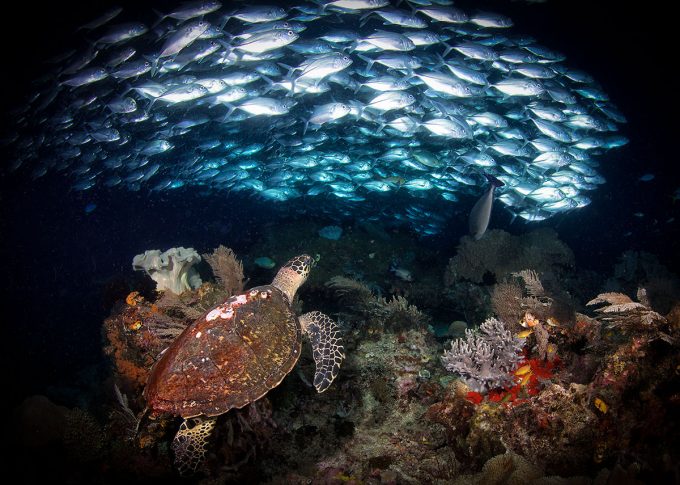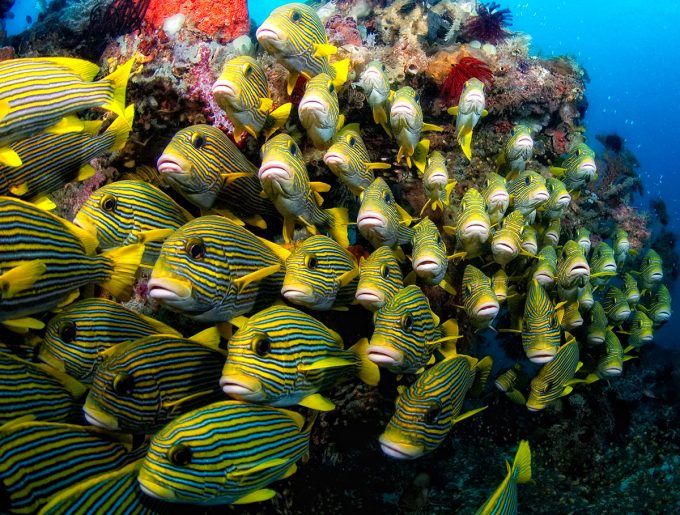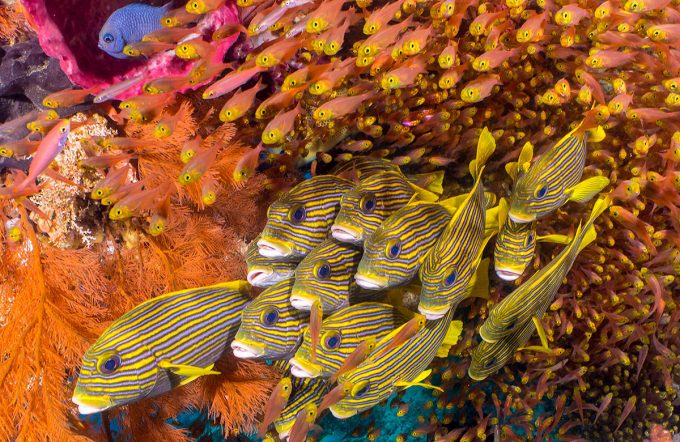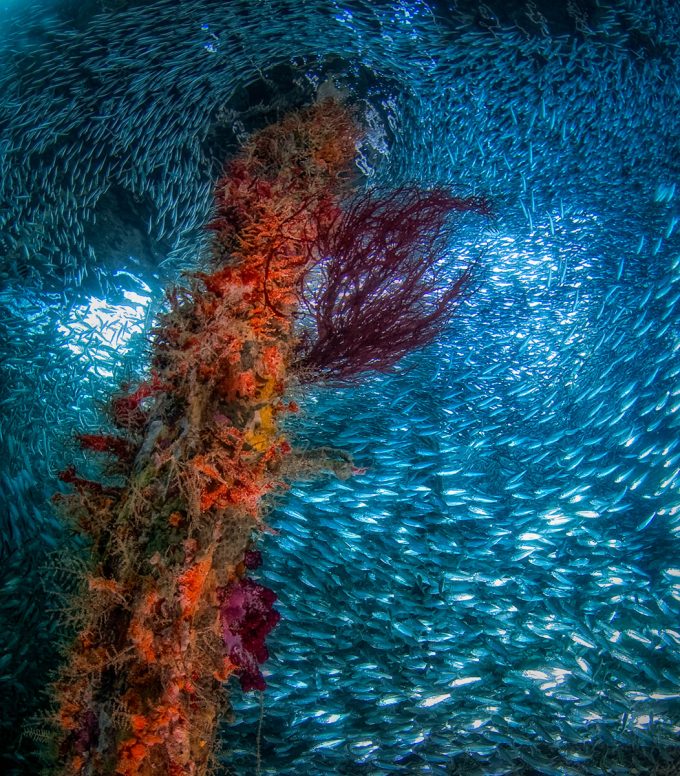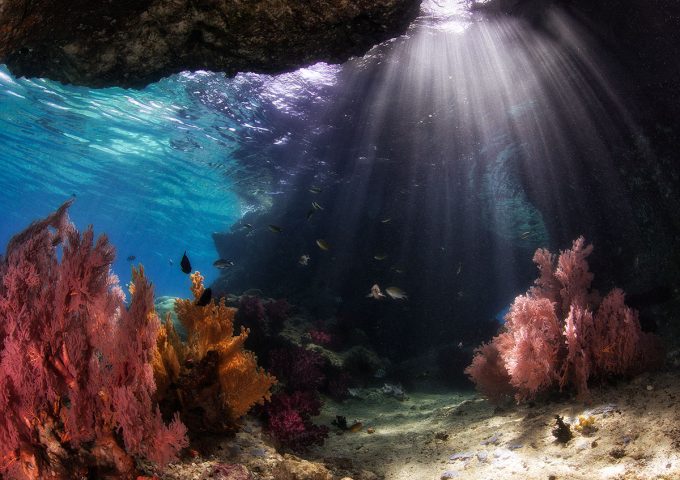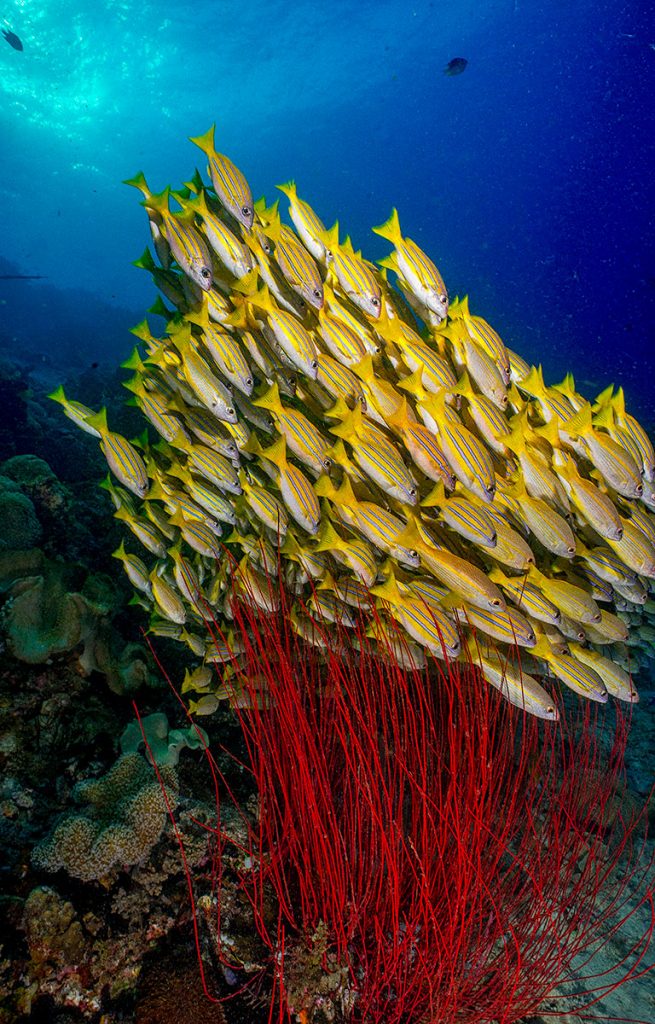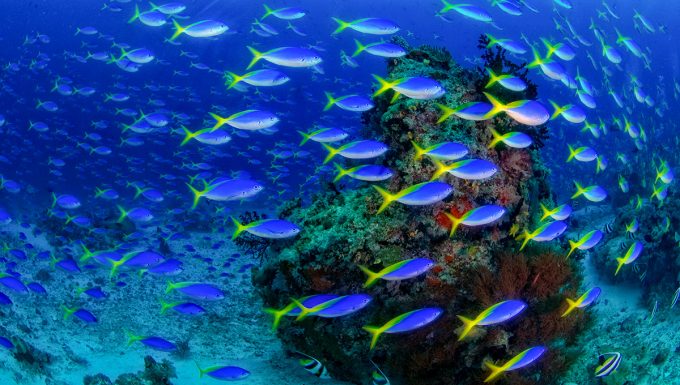 A huge thanks to Steve for his generosity letting us amateurs post articles on his website!!
You da man, Steve!!
Scotty is a Helicopter Pilot, SCUBA Instructor and High School Photography teacher at Jakarta Intercultural School in Jakarta, Indonesia. You can follow Scotty on Facebook or his blog/website,
---
Want to submit your own guest report and have a large audience for your work? Then check out how to submit a user report HERE! Thank you all! – Steve