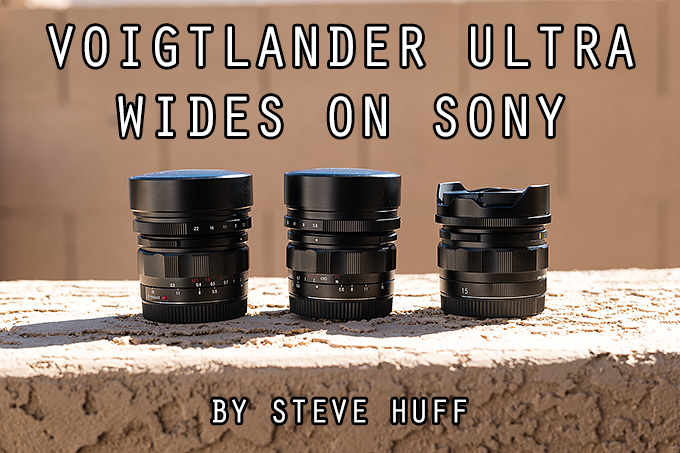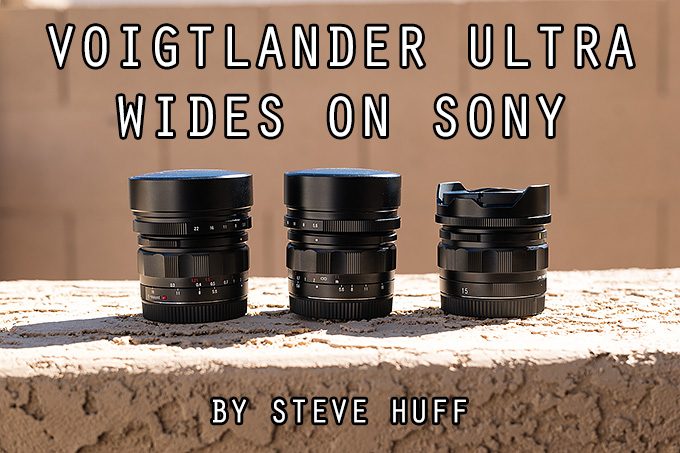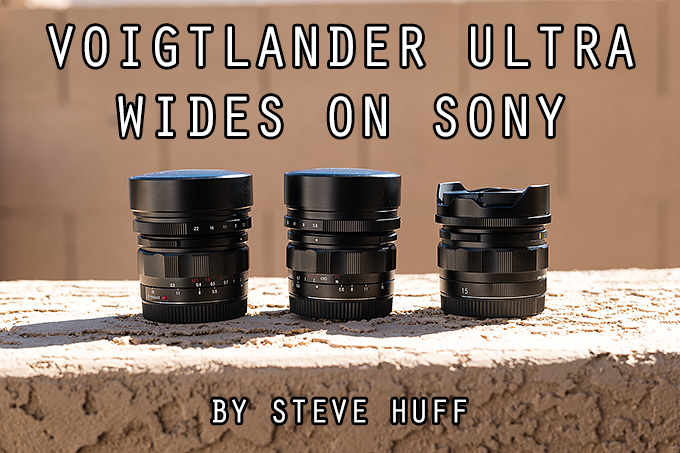 A Look at the Voigtlander Ultra Wides for Sony E Mount…10, 12 and 15!
By Steve Huff
Around two weeks ago Stephen Gandy from Cameraquest.com emailed me and asked me if I wanted to take a look at all three ultra wide angle lenses from Voigtlander made for Sony E Mount. Not being a huge Ultra Wide shooter, I hesitated..and then of course said 100% YES! I used to actually really enjoy the old 15mm M mount when used on my old M9 (even with the magenta issues) and then the version II which was improved, and finally the VIII that seemed to fix the issues of the past with the lens. But let's be real here…the 15mm has grown to double its size since the original little M mount version but I guess it had to as now in its VIII form it is beautiful with the M mount and yes, the E Mount.
But I always thought that the 15mm was SO wide, so what would a 10mm or even 12mm be like? Also, why is there a 10 and 12? To me, they seem very close when looking at the numbers..10 vs 12? Which one to get? Well, with the lenses on their way to me I was now intrigued. I could use them all, and see which focal length suited me the most of the three.
SLOW APERTURE
These lenses are pretty slow in aperture. The 15 comes in at f/4.5 and the other two the 10 and 12, well their fastest aperture is f/5.6. Not fast by any stretch of the imagination. The last time I tested a lens with a f/5.6 aperture it was THIS ONE, and I ended up really enjoying it (though I did not buy it due to cost).
About the time these lenses were sent to me Debby and I were about to head to Las Vegas for a three day getaway (and we do not ever gamble). We just like to walk, people watch and enjoy a show or two. I decided to bring the Sony A7RII along with the 10, 12 and 15 to see if I could get any use out of them. But I was nervous as I am a 50mm guy, and shooting a 10 or 12 was making me think "what the hell do people shoot with such a wide angle lens'?!?!? Truth be told, I still do not know! Lol.
With the slow aperture lenses I knew it would be a challenge unless I was in full sun, outdoors..or would it be?
The Amazing 15mm Voigtlander on the Sony A7RII (E mount)
Click for larger and crisper version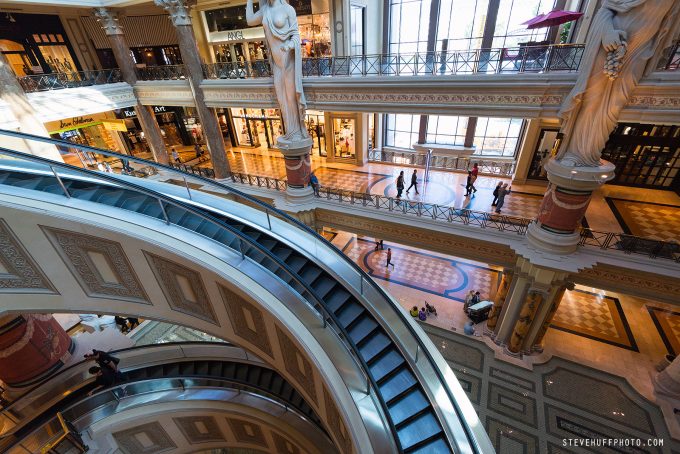 I will just say it now..I much preferred the 15mm for me and my shooting tastes. To me, that 10 and 12 were just toooo wide and I feel I would use it maybe once per year, if that. But again, take this from a guy who rarely ever shoots wider than 16mm (with my Zeiss 16-35 on my A7RII, one of my most used lenses which I use for video). So shooting at 10mm or 12mm is alien to me. So take that into consideration. What I can say is that I am used to that old 15mm, all versions actually. To me, this E mount is the best of the lot. No issues at all actually. It's just how I remember it through the years. Crisp, crazy wide, yet with no magenta issues and with great color and contrast.
As for the 10mm, well..it can be cool for selfies but it gives you the long arm syndrome 😉
A selfie with the 10mm on the A7RII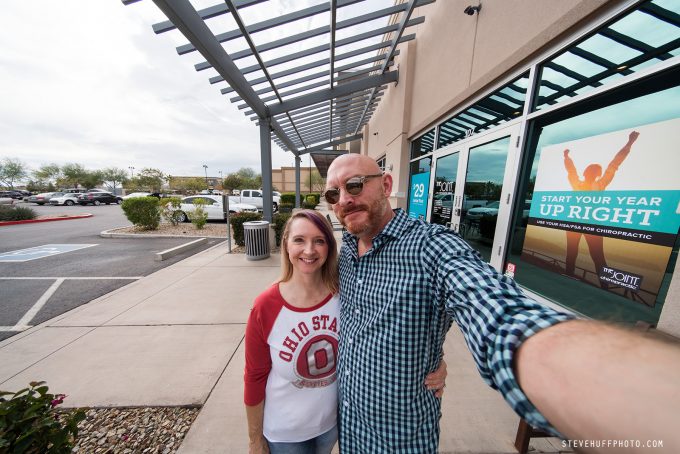 Yep, MANUAL FOCUS!
These are all manual focus lenses but trust me here, it is almost impossible to get an out of focus shot with the 10mm or 12mm, and to some extent with the 15. The depth of field is so so wide, and the largest aperture you have is f/5.6 so getting an out of focus shot would be harder than getting one in focus 😉 So using these lenses are simple, and one should not let the fact that these are manual focus bother them. When you look through the EVF and use focus magnification and turn the focus barrel you will see very little focus variance, so you have a huge huge area there to nail it.
But at 10mm, and even 12mm be prepared to see life wider than real life!
10mm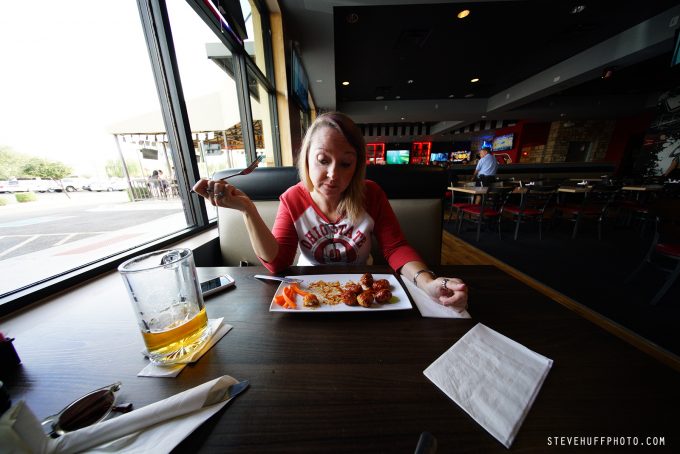 –
10mm but I cropped this one. With the Sony A7rII cropping is easy due to the super high resolution of the camera.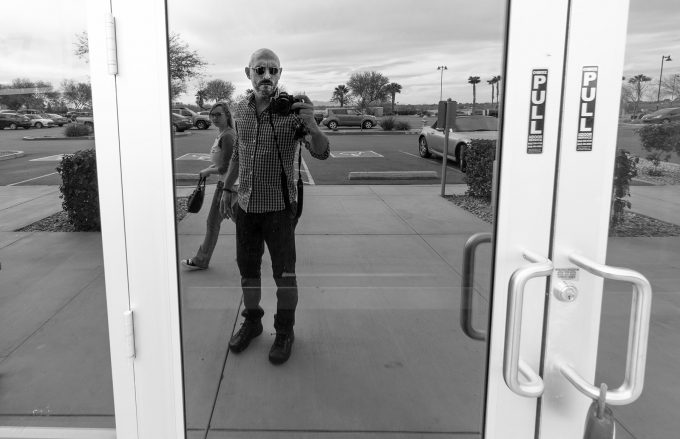 But man oh man, what to shoot?
No question these lenses are fantastic when it comes to IQ and capability. All of them. 10, 12 or 15. When shooting though you can get so much in the frame you have to be careful as metering can get tricky. As in the shot above we have the darkness of the restaurant mixed with the big window on the left shining in bright light. So luckily todays cameras have much better DR than the cameras of just a few years ago. BTW, the images here are pretty much all straight from the A7RII. Speaking of the A7rII, it's still a PHENOMENAL camera. I have shot so many frames in mine, and used it for countless hours of video and it has never failed me, ever. Not once. It's one hell of a versatile photo taking machine. I still highly recommend it to anyone who wants a super high res 35mm full framer. For what it does, and its versatility, its priced great even at $2900. 
As I said earlier in the write up…what the heck am I going to shoot with these wide angle lenses? You guys know me, I am just a real world passionate type of shooter. A normal guy who enjoys cameras and taking photos. I'm not a landscape pro, portrait pro, studio pro or any pro. I shoot life and what I enjoy doing is capturing memories of my life and I happen to love tech and the gear that lets me do this with the most enjoyment. I usually do these things with a 28, 35 or 50mm lens. So did I find it a challenge to find subjects to fit into these wide angle frames? Well, yes and no.
The least used lens was the 12. I just could not find a place for it. For me, it was either REALLY WIDE or ULTRA WIDE 😉 (10 or 15). 
BUT here is one with the 12mm, again click it for better!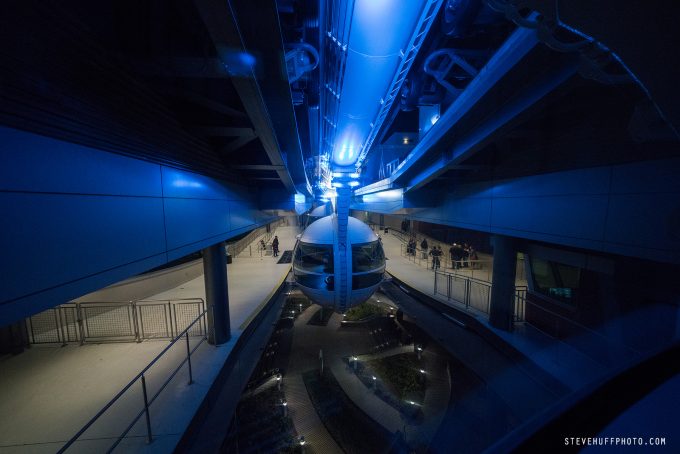 –
Two more with the 10mm which I started to like more and more, and even using it at night was a breeze due to the A7rII ISO capabilities. 
CLICK 'EM!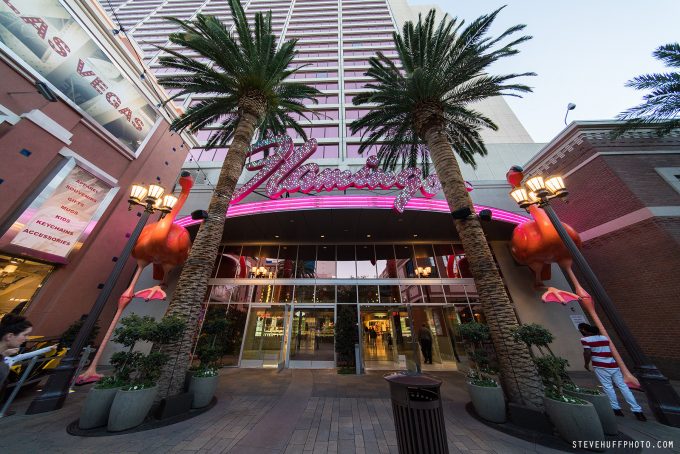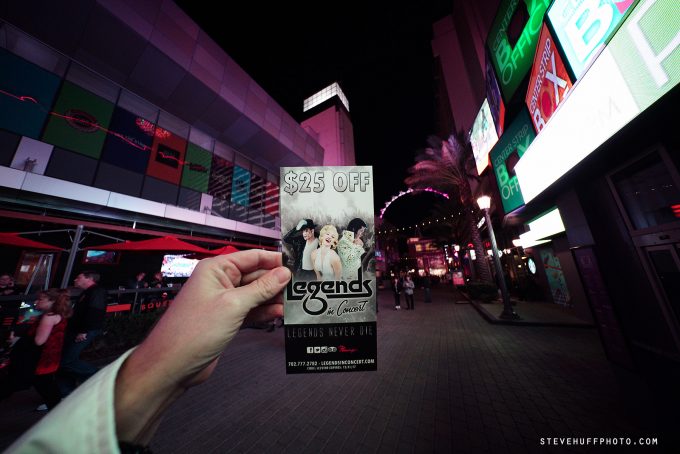 The color, contrast and sharpness for me was fantastic on all of these. Sure, you will get some bit of softening at the corners and edges but these are crazy wide my friends and the price point is within reach for the common man. These are not exotic pro Nikon, Canon or Leica lenses. These are Voigtlander who has always been known as a huge bang for the buck brand. But I will say I was thrilled with the performance even though my skill at these focal lengths is lacking. I can still see the lenses are of pretty amazing quality for what they are.
I am superhuman and my power is the power of STRETCHING my arms to take selfies 😉 The 10mm…WOW is it wide.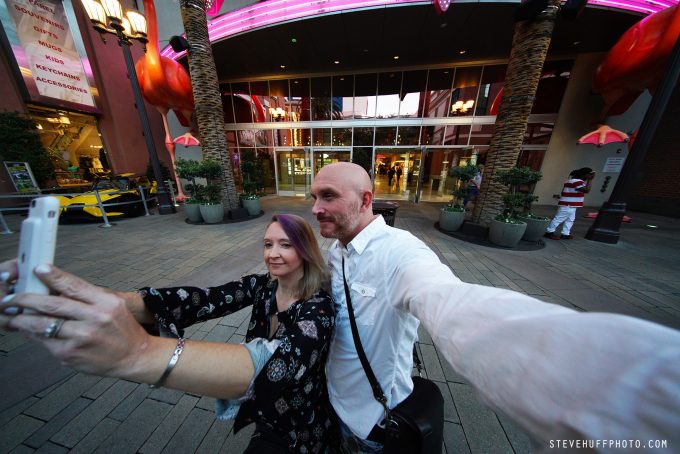 –
One more with the 10mm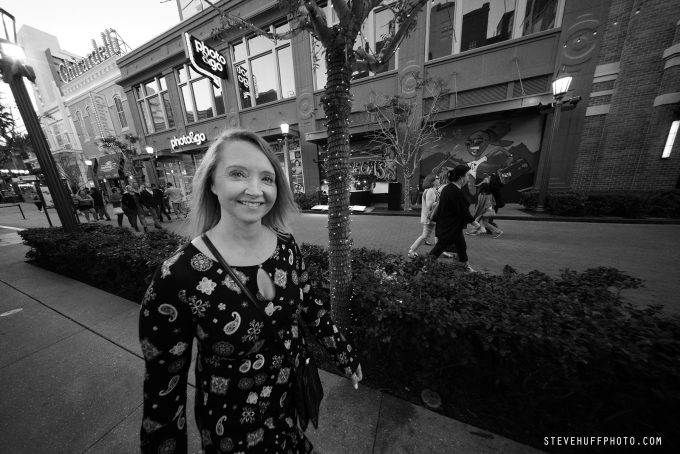 AT THE END OF THE DAY…
At the end of the day I think I would actually buy the 15 if any..again. I no longer own the 15 as I use the Zeiss 16-35 so much but I think the 15mm is actually better at 15mm than the Sony/Zeiss is at 16mm. IN fact, let me test that…
THE VOIGTLANDER VS SONY FLARE TEST – THESE ARE FULL SIZE OUT OF CAMERA FILES FROM RAW. NO EDITING.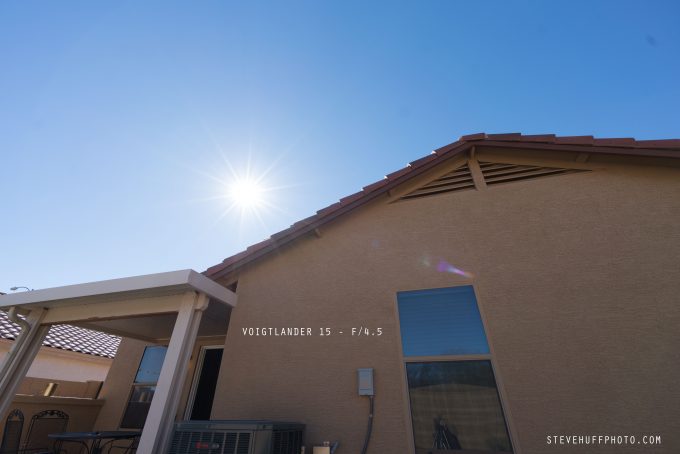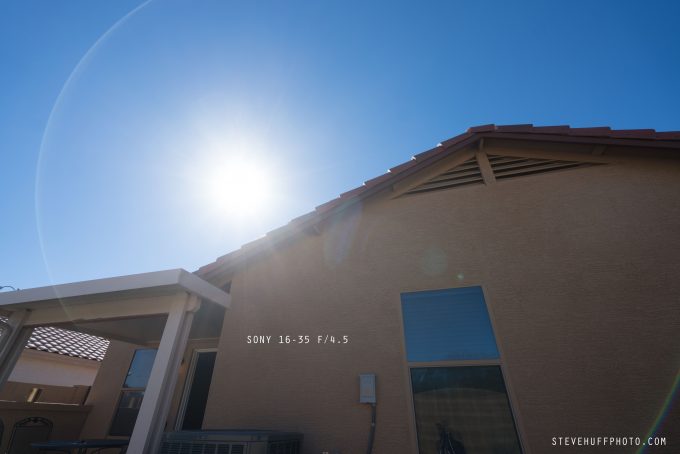 The Sony/Zeiss, which is much more expensive of a lens (though also gives you 16-35 zoom range and has AF) performs much worse here in regards to flare. The Voigtlander 15 is also a tad sharper. It is also smaller 😉
SIZE ON CAMERA
Here are all four of these lenses I have been discussing (The three Voigtlanders and the Sony) on the Sony A7RII..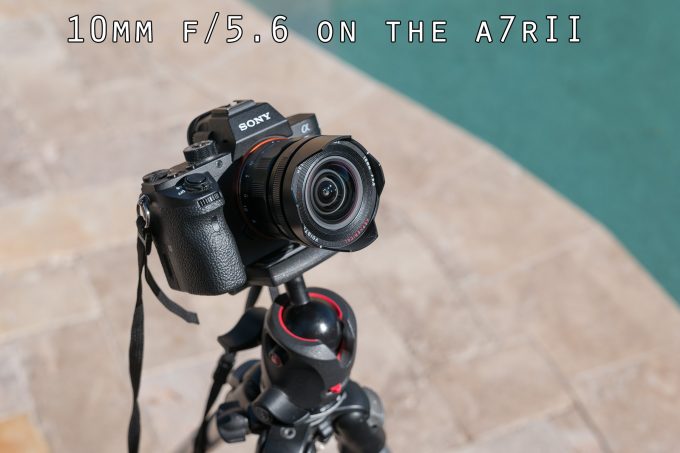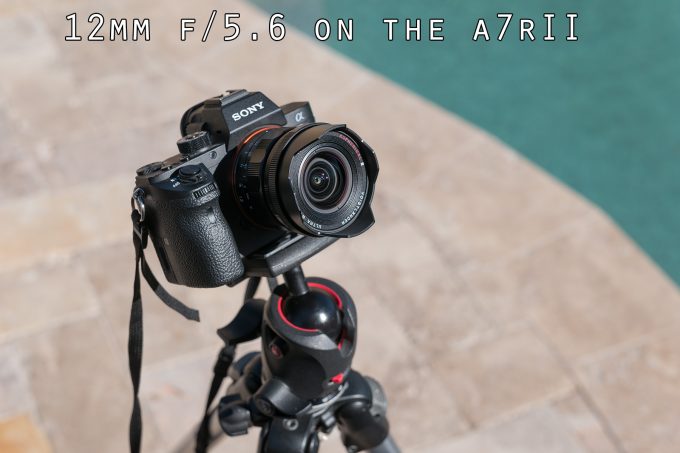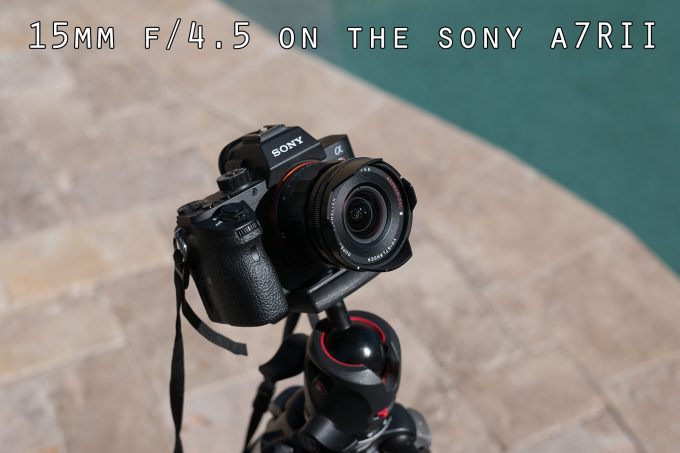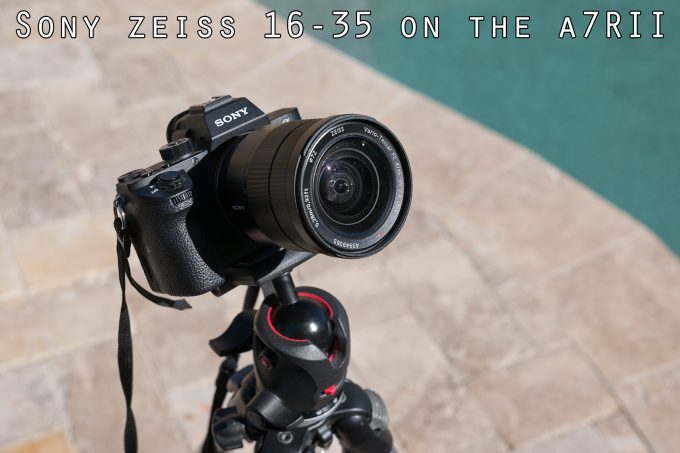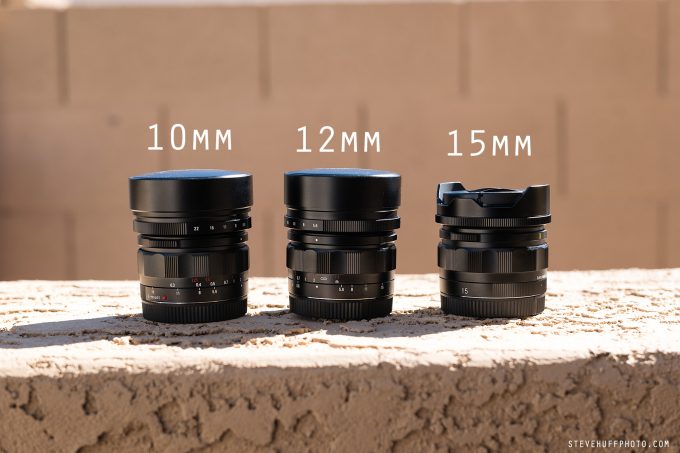 So as you can see the 10 and 12 are around the same size. They come with metal caps as well. The 15 is the smallest, and has a standard plastic squeeze cap. (the kind you lose easily). But I have to say, these little Voigtlanders are top performers and also small when compared to the usual ultra wide angle zooms on DSLR's and even Sony's own E mount. They also feel fantastic in the hand, and feel substansial, and in no way cheap. My fave of course was the 15 but all three perform to a high level and I would not hesitate to recommend all of them. Which one you prefer is up to your tastes? You have to ask yourself "How wide do I want to go"?
PRICE AND WHERE TO BUY?
The Voigtlander 10mm comes in at $1099 at Cameraquest
The Voigtlander 12mm comes in at $999 at Cameraquest
The Voigtlander 15mm comes in at $799 at Camerquest
The Sony 16-35 FE f/4 Can be bought for $1099 AT B&H PHOTO
The Voigtlanders are also available at B&H HERE. 
Here are a few more with the 15mm on the Sony A7rII…
Thank you!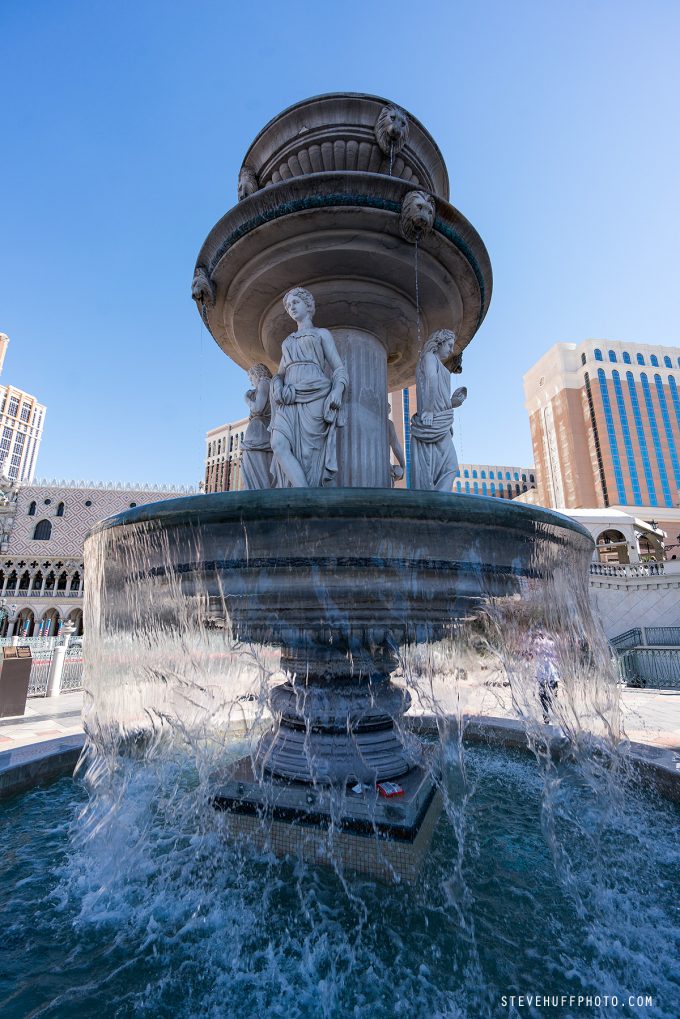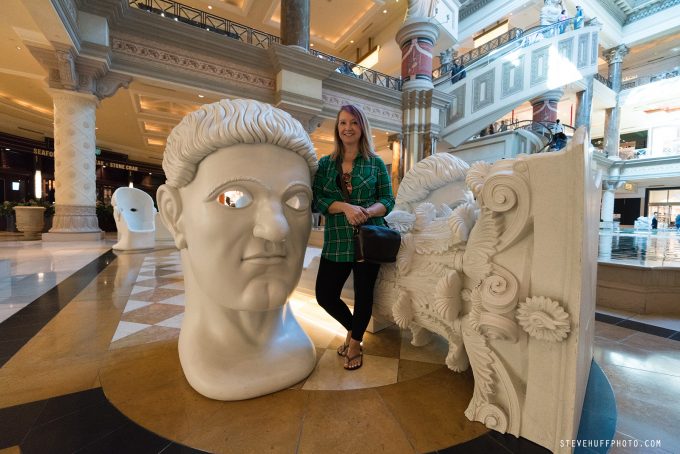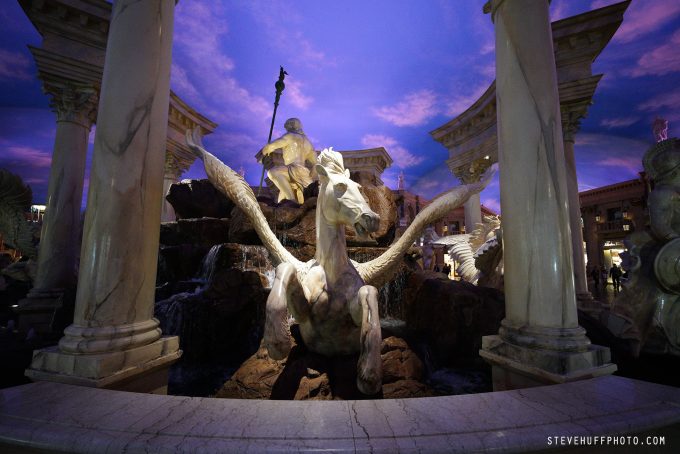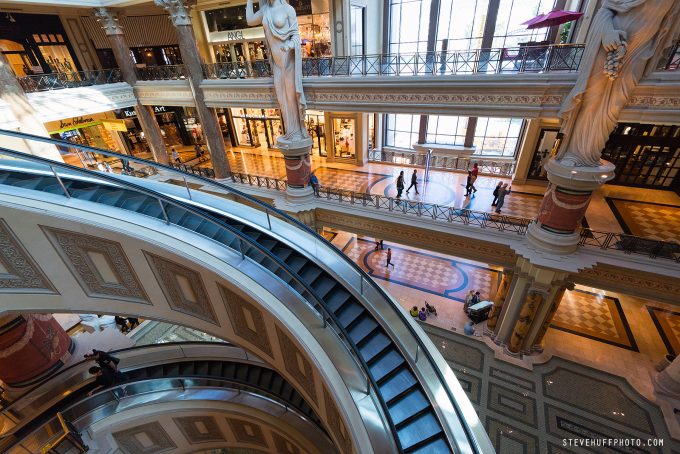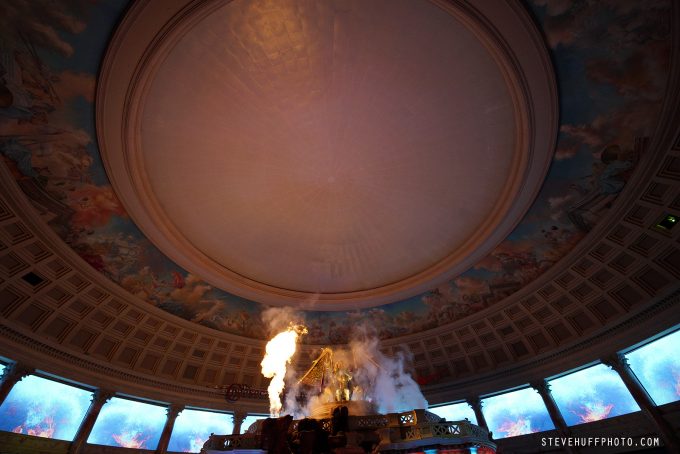 ---
PLEASE! I NEED YOUR HELP TO KEEP THIS WEBSITE RUNNING, IT IS SO EASY AND FREEE for you to HELP OUT!
Hello to all! For the past 8 years I have been running this website and it has grown to beyond my wildest dreams. Some days this very website has a crazy amount of visitors and because of this I need and use superfast dedicated web servers to host the site. Running this site costs quite a bit of cash every single month and on top of that, I work full-time 40-60+ hours a week on it each and every single day of the week (At peak times I receive 100-300 emails a DAY). Because of this, I could use YOUR help to cover my costs for this free information that is provided on a daily basis. 
To help out it is simple, and no, I am not asking you for a penny and I NEVER EVER DO! I do this for free basically, and have for years…but I do get paid when you, the reader makes a purchase (of anything) using my links to my sponsors. That is the only way I make the money to keep this free info flowing.
If you ever decide to make a purchase from B&H Photo or Amazon
, for ANYTHING, even diapers..you can help me without spending a penny to do so. If you use my links to make your purchase (when you click a link here and it takes you to B&H or Amazon, that is using my links as once there you can buy anything and I will get a teeny small credit) you will in turn be helping this site to keep on going and keep on growing. But each month I need HUNDREDS of you to do this in order for this site to continue, and believe me that is not easy.
Not only do I spend money on fast hosting but I also spend it on cameras to buy to review, lenses to review, bags to review, gas and travel, and a slew of other things. You would be amazed at what it costs me just to maintain this website, in money and time (250 hours a month, and about $3000 per month).
So all I ask is that if you find the free info on this website useful AND you ever need to make a purchase at B&H Photo or Amazon, just use the links below. You can even bookmark the Amazon link (not the B&H) and use it anytime you buy something. It costs you nothing extra but will provide me and this site with a dollar or two to keep on trucking along.
AMAZON LINK (you can bookmark this one)
B&H PHOTO LINK – (not bookmark able) Can also use my search bar on the right side or links within reviews, anytime.
Outside of the USA? Use my worldwide Amazon links HERE!
You can also follow me on Facebook, Twitter, or YouTube. 😉
One other way to help is by donation. If you want to donate to this site, any amount you choose, even $5, you can do so using the paypal link HERE and enter in your donation amount. All donations help to keep this site going and growing!
 I do not charge any member fees nor do I (nor will I ever) charge for reviews, so your donations go a long way to keeping this site loaded with useful content. If you choose to help out, I thank you from the bottom of my heart.