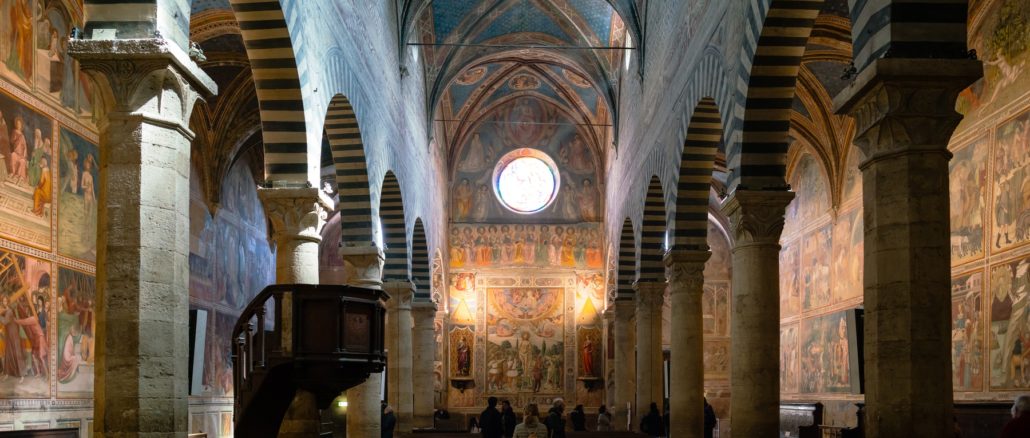 Tuscany with the Sony A7RII and Zeiss 25 f/2.4
by Martin Stelbrink
Dear Steve, dear readers of SteveHuffPhoto.com,
My name is Martin Stelbrink and I live close to Düsseldorf in Germany. For years I have read Steve's fantastic real life reviews and the wide selection of fascinating user reports. This year I may have my own story to share, which is based on being able to pick up a Zeiss Loxia 25mm f2.4 in March, just in time for my Easter holidays in Tuscany, Italy. It was the first and only one my trusted dealer received and I was the lucky one to get it.
I usually use a selection of modern Voigtländer (15mm, 75mm) and Zeiss (50mm) M-mount lenses and some classic (and old) Leica glass (35mm, 90mm, 135mm) with my Sony Alpha 7R II. I knew that for a trip to Tuscany I had a gap between 15 and 35mm that would probably hurt in cities with narrow alleys, huge cathedrals and artwork in locations, where I can't freely select my position to photograph. I also knew that my previous "always on" lens, the old Summicron 35mm pre-Asph, would struggle with strong back-light situations. Therefore I was more than happy to pick up this fantastic lens.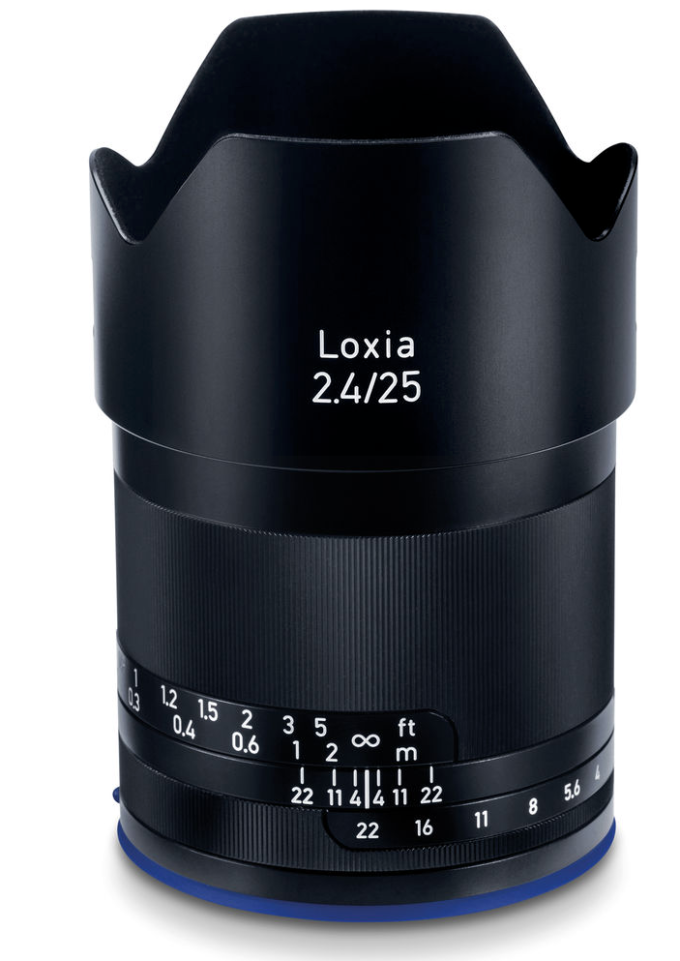 The trip was a two week family trip with my wife and daughter plus my in-laws. This not being a "photography trip" there had to be compromises to the time I could take to compose a picture or try out different angles on a subject. The high resolution combined with the wide-angle lens let me deal with some of these challenges in post-processing in Lightroom. All the pictures you see in this report have been shot in RAW format and then processed to straighten some lines (where appropriate), adjust contrast and color and crop to improve the composition. This is how I used the this lens on the trip and I am very satisfied with the outcome. I hope you don't mind me showing the real-life way of using it and not showing straight out of camera JPGs.
Vespa in San Donato in Poggio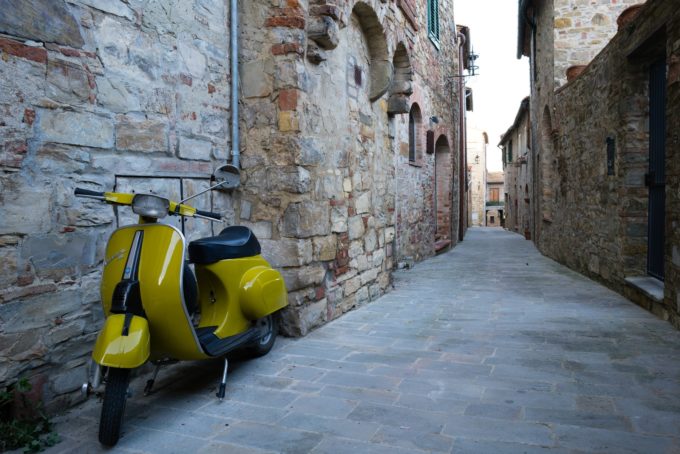 –
Olive grove in San Donato in Poggio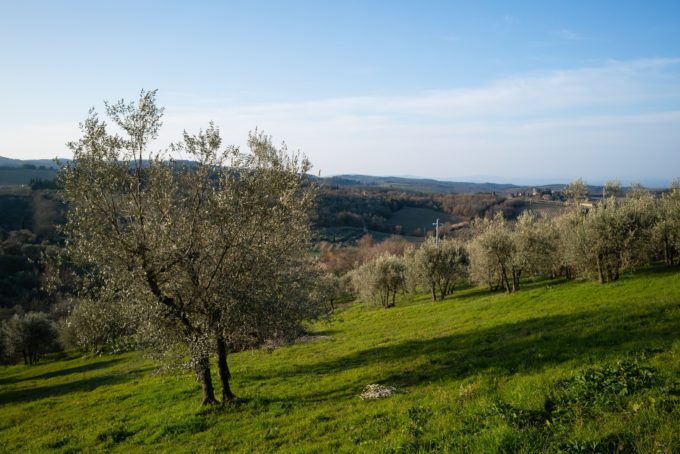 –
Laundry drying in San Gimignano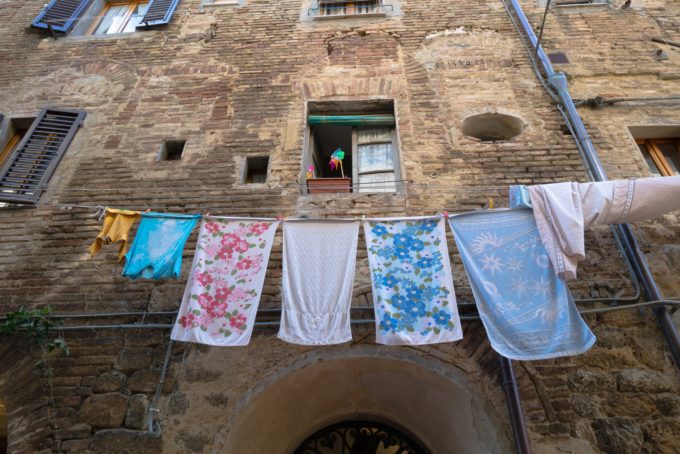 Most of the time I shot it at f8, when on the street or doing landscape work. Within buildings I opened the aperture generally to f4, which allowed me to balance depth of field with not having to set ISO too high. Once in a while I shot wide open (as in the two pictures of my daughter). It shows that you can narrow the depth of field, when you open the aperture and move very close to the subject (minimum focus distance is 25cm, which is quite close).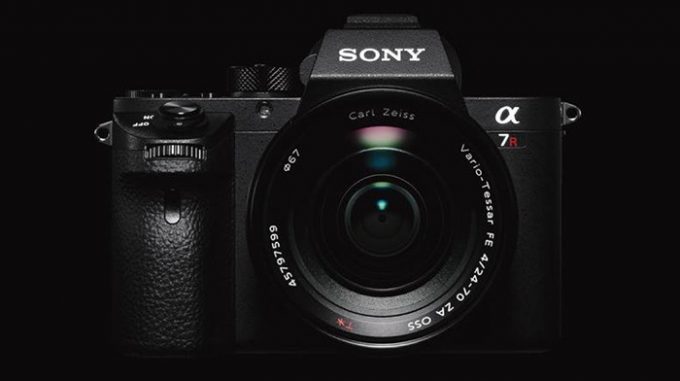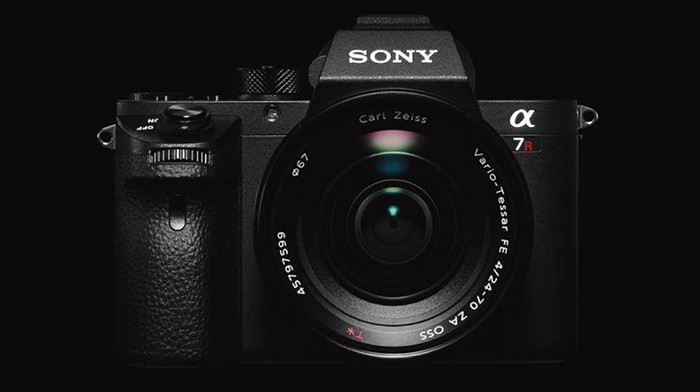 The versatility of the lens is really great. I could capture the nature of narrow alleys (e.g. the Vespa in San Donato in Poggio, the wall of the Piccolomini Palace in Pienza, or the book display in Volterra). For landscape work with a wide-angle lens I try to position subjects close to the lens with the view opening up behind (e.g. Olive grove in San Donato in Poggio or the olive tree in front of the Val d'Orcia in Pienza). Light and shadow can do a torture test in dynamic range to both camera and lens and the combo held up quite well (as in the Blub Street Art picture in San Gimignano or the Cathedral in Pienza). In street work, you can pre-focus the lens and shoot away (as done with the street vendor in Pisa). Inside buildings I always got pretty natural colors and a really balanced outcome of light and shadows (see the pictures from inside San Gimignano cathedral or San Biagio in Montepulciano).
San Gimignano Cathedral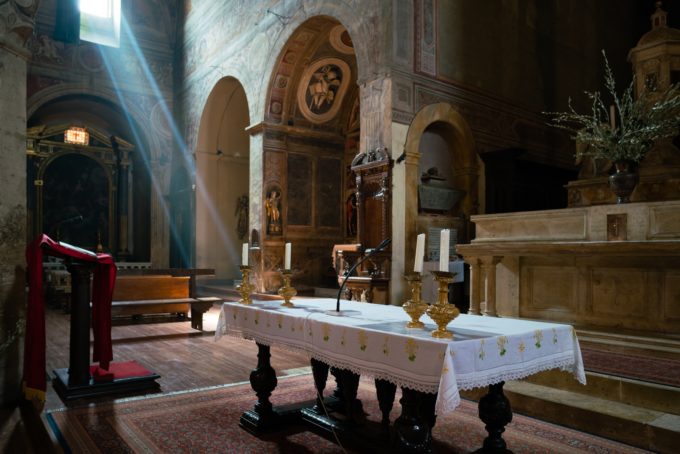 –
San Gimignano Cathedral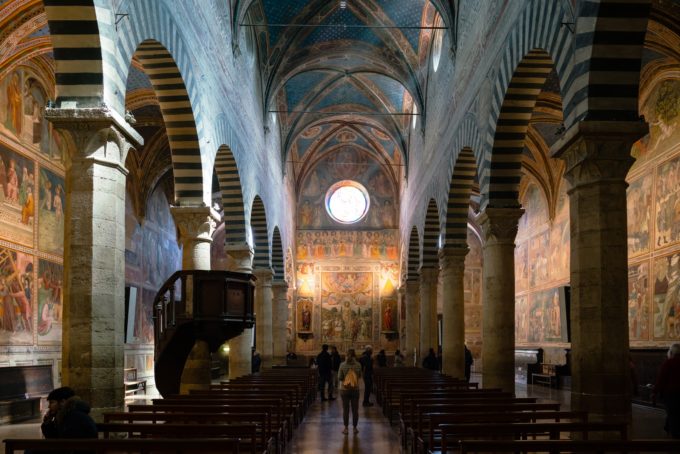 –
"Blub" Street Art in San Gimignano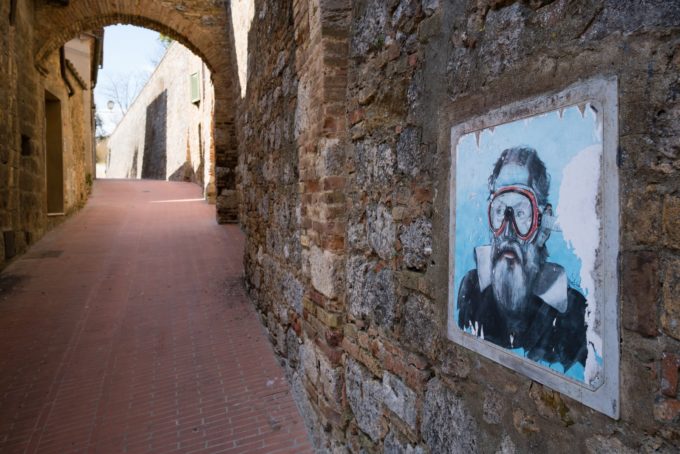 –
My daugher enjoying Val d'Orcia from Montepulciano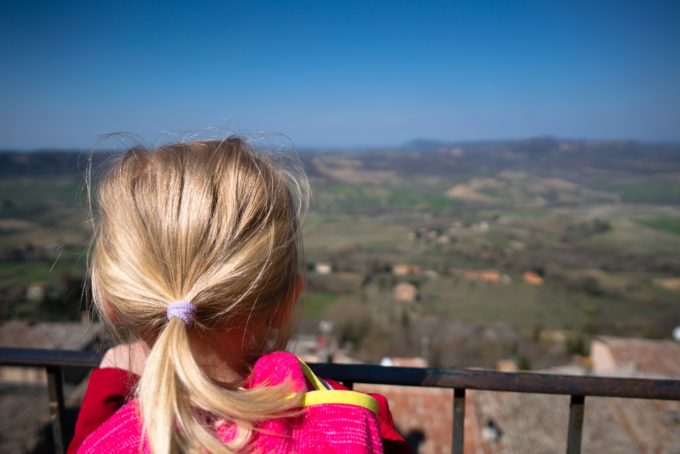 –
A "police cat" in Montepulciano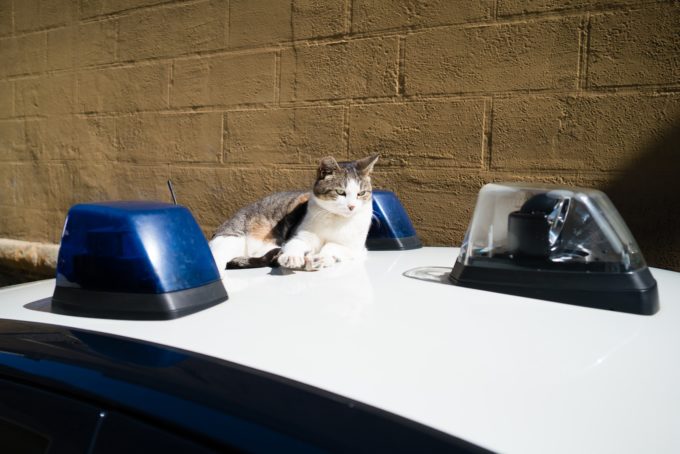 Let me share some observations regarding the quality of this lens. As with the other Loxia lenses, the build quality is superb. It's an all metal body with a metal detachable sun shade. The aperture ring is right next to the mount, so "touching" the camera. The focus ring is then next to it, a little bit further away from the camera. The placement of both rings makes it pretty usable and allows adjusting the aperture with the sun shade attached to the lens. I have had situations, where I accidentally changed the aperture instead of focusing, but given the electronic display in my viewfinder I almost always realized that immediately. The aperture ring also makes fixing the lens in the mount a little bit awkward (as it turns while turning the lens on the mount), but this is about all I can "criticize" about the handling of the lens.
San Biagio in Montepulciano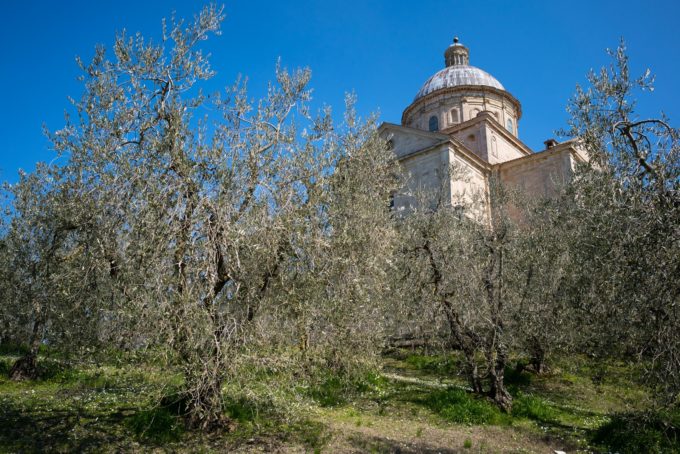 –
San Biagio in Montepulciano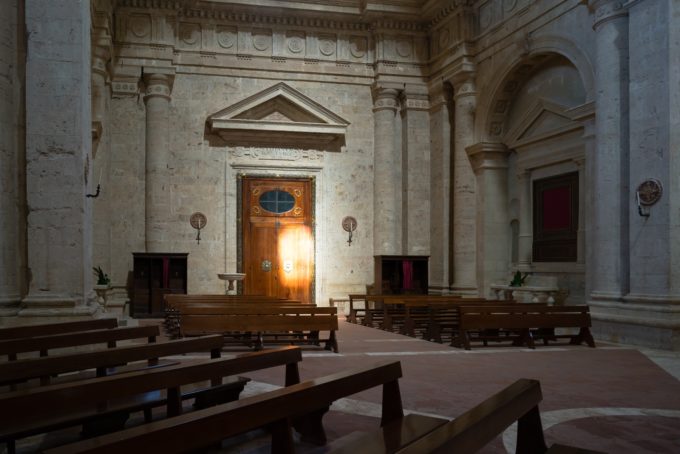 –
Santa Maria Assunta in Pienza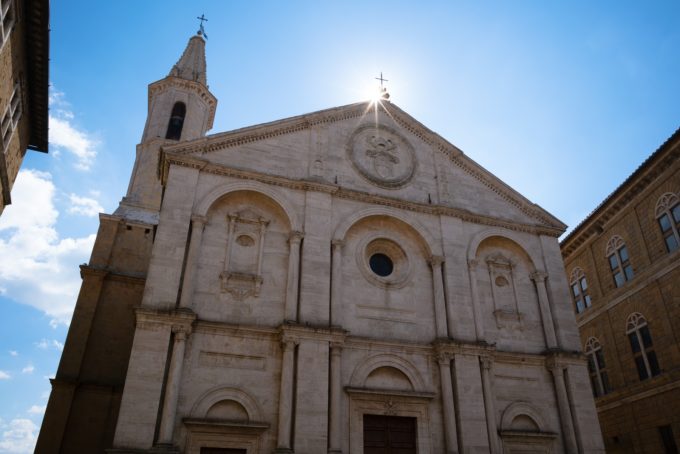 One important factor for me is also the size. This lens is just about small enough to suit me. For this Zeiss compromises on the aperture, but this being a wide-angle lens, which I would not usually use for narrow DOF situations, this is absolutely acceptable. The sun shade can be attached pointing insight making the lens really small to carry in a photo bag.
Most importantly the picture quality is outstanding. Many other reviewers have mentioned the corner to corner sharpness, which is not a small feat for such a wide-angle lens on the Sony full frame (I did test the Loxia 35mm, when it came out, and did not really find it superior to my old Summicron regarding sharpness). The distortion is very low, but visible when you use the lens tilted. Still it is much better than what I have seen from any other comparable lens. I have not perceived and chromatic aberrations (I am sure there is some, but in a practical sense it is non-existent). The color representation is the best of all lenses I own. Frankly, I am considering changing some of my old lenses (which I still love) to modern ones like this as the work on white-balance adjustments is so much less.
Olive tree and Val d'Orcia seen from Pienza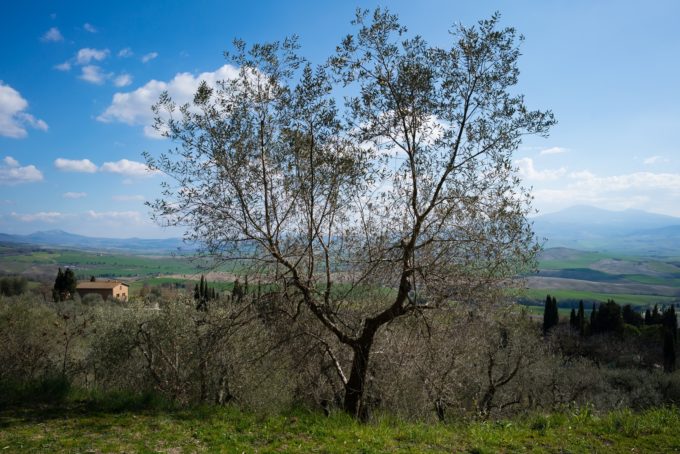 –
Book display in Volterra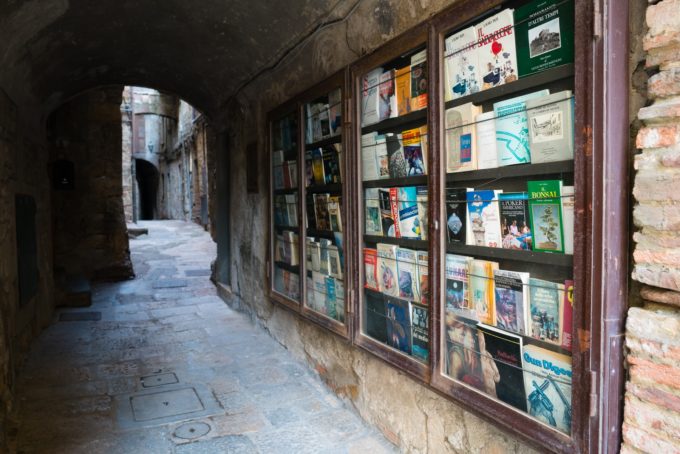 –
My daughter lighting a candle in Siena Cathedral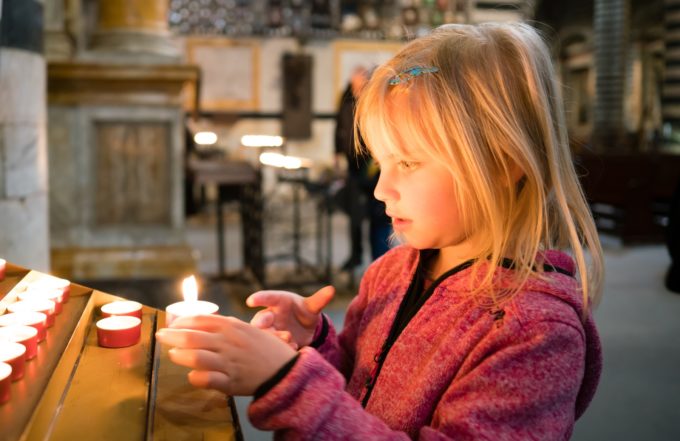 –
Street vendor in Pisa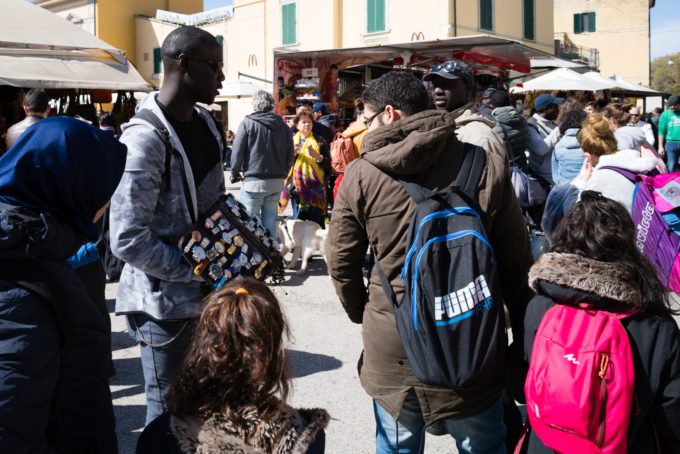 –
Souvenirs in Pisa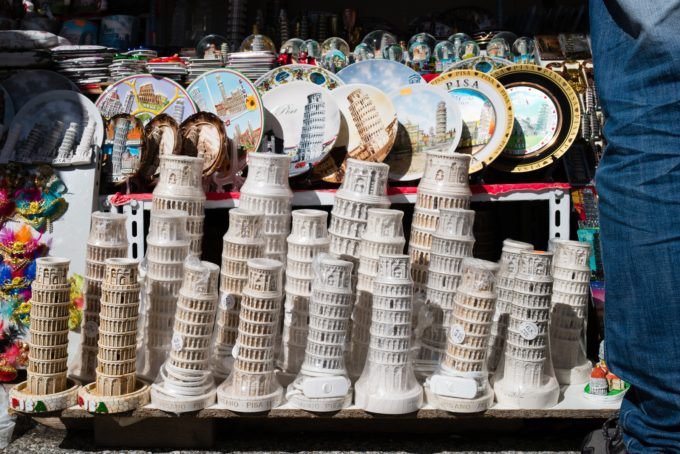 Overall I can highly recommend this lens, if you are a manual focus shooter. It's a real joy to use and touch and the results are really convincing. And it is just the right focal length for an area like Tuscany.
As a "bonus" I throw in three shots that I took after my return to show the lens in different situations. The first two were taken at sunrise in a nature reservoir in Germany (Krickenbeck lakes) and the last one from my home office window during a thunder storm (30 seconds exposure)
Palazzo Piccolomini in Pienza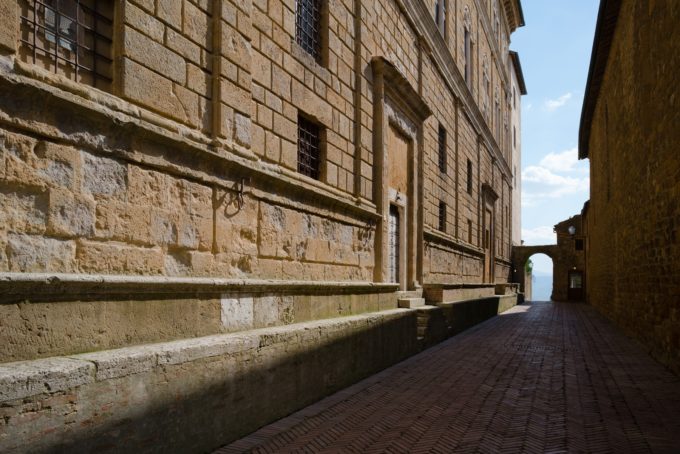 –
Florence Cathedral
–
Taking a photo of "The Birth of Venus" by Sandro Botticello in Uffici Galleries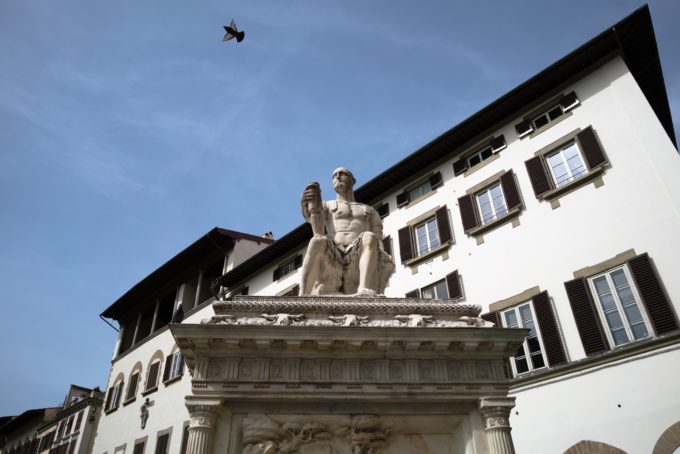 –
Taking a photo of "The Birth of Venus" by Sandro Botticello in Uffici Galleries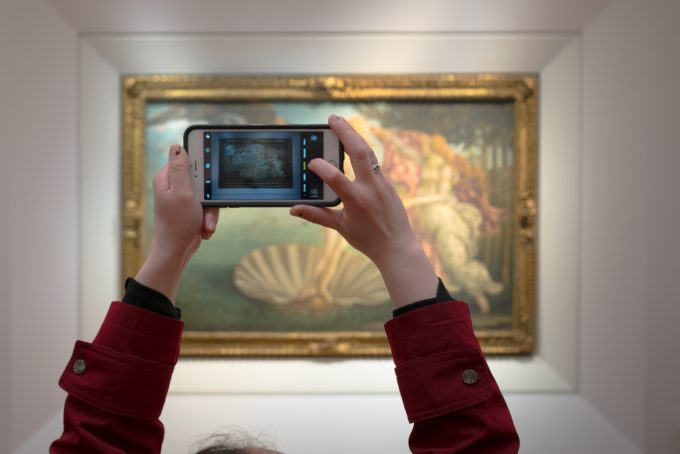 –
Square outside San Francesco in Arezzo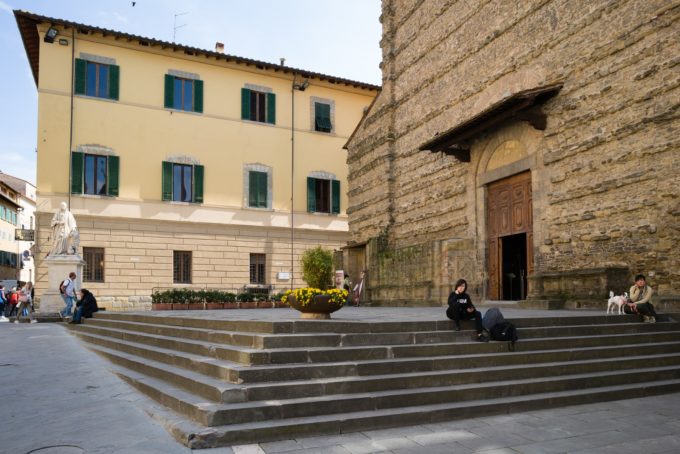 –
Early morning sun at Krickenbeck Lakes, Germany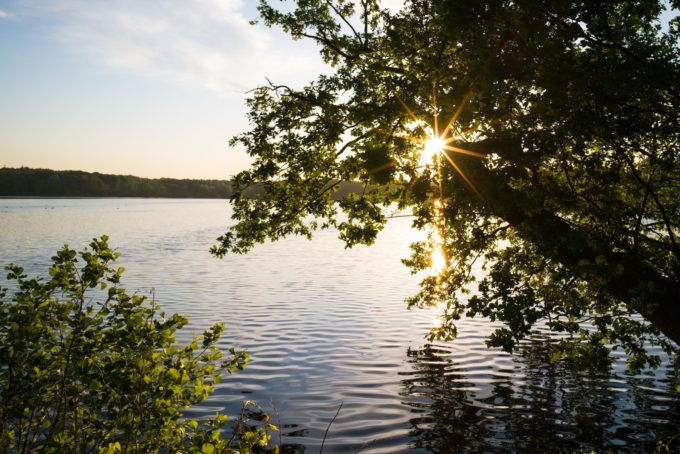 –
Blue hour at Krickenbeck Lakes, Germany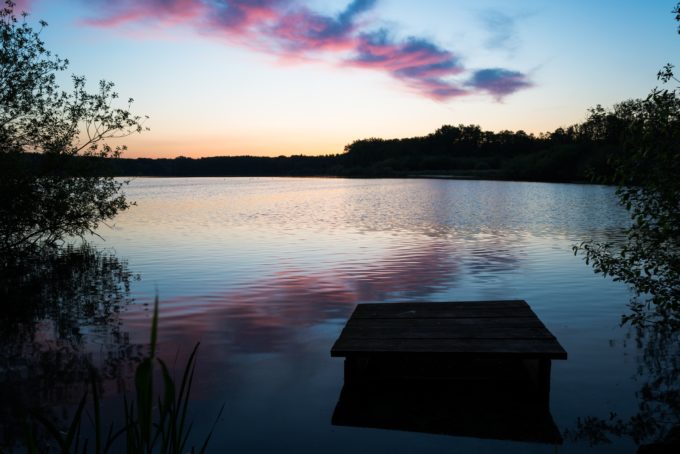 –
Long-term night exposure during a thunder storm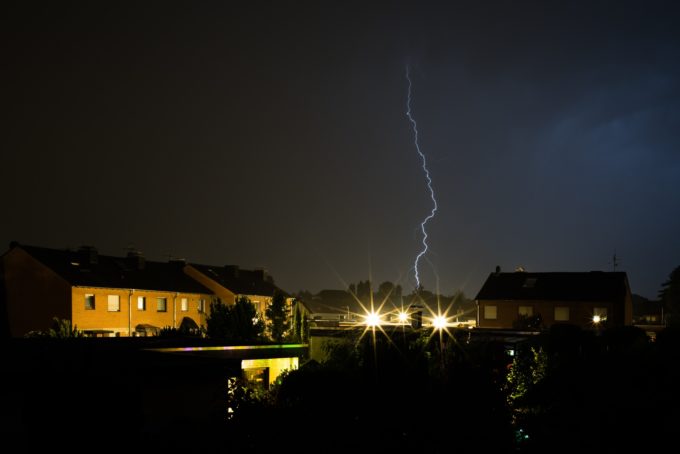 I hope you find this report useful and you like the examples I shared. If you want to see more of my pictures taken with this and many other lenses, visit www.martin-stelbrink.de.
Take care!
Martin