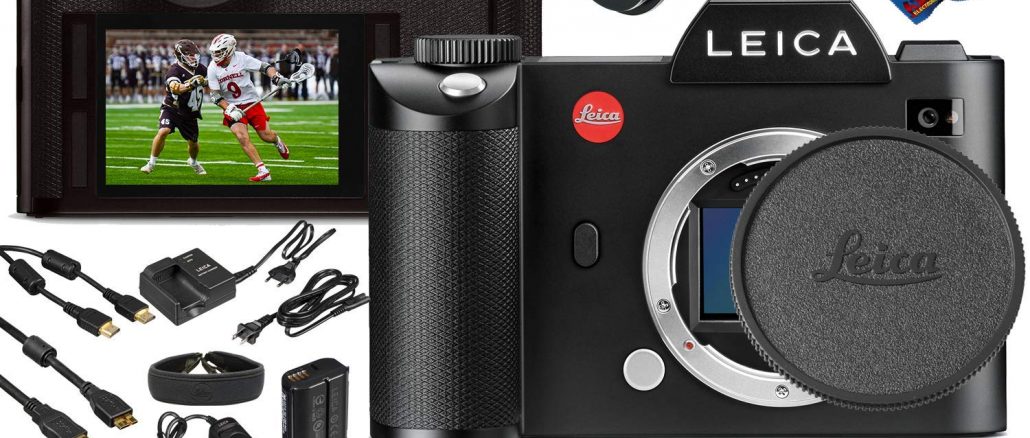 The $46,000 Leica SL Package available on Amazon is the Worst SL Package EVER!
No it is not April 1st.
It's been a slow week for me in photo land. Been taking a week or two off of reviews, and while browsing amazon today looking for deals, I found something crazy that I would never call a "deal" but if you have $46,000 to spend on a Leica SL package, I have not seen any that are more jam packed with gear (that makes no sense at all). ; ) So this is a post that is ridiculous but shows that some will try to sell anything. Oh, and this seller has a rep for selling grey market gear as well!
You know you (don't) want this kit!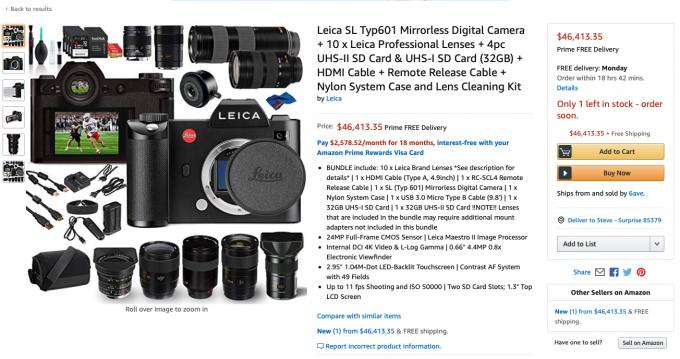 This kit includes 10 Leica lenses but not all SL lenses! It includes the camera. Lots of silly extras. It even comes WITH TWO 35mm f/2.5 S mount lenses!  
1 x Leica SL (Typ 601) Mirrorless Digital Camera1 x APO-Vario-Elmarit-SL 90-280mm f/2.8-4 Lens
1 x Leica Summarit-S 35mm f/2.5 ASPH CS Lens (why)?
1 x Leica Elmarit-S 30mm f/2.8 ASPH Lens (why)?
1 x Leica Summarit-S 35mm f/2.5 ASPH Lens (why a 2nd 35 S)?
1 x Leica Vario-Elmarit-SL 24-90mm f/2.8-4 ASPH. Lens
1 x Leica Summilux-SL 50mm f/1.4 ASPH. Lens
1 x Leica Summarit-S 70mm f/2.5 ASPH Lens (why another S lens)?
1 x Leica Super-Elmar-M 18mm f/3.8 ASPH. Lens (why, the SL 16-35 would be wiser)?
1 x Leica 75mm f/2.5 Summarit-M Manual Focus Lens (So we get a 70mm S lens and a 75mm M lens but not a 75SL lens)?
1 x Leica 35mm Digiscoping Objective Lens
1 x Leica Nylon System Case
1 x Leica RC-SCL4 Remote Release Cable
4 x Sony 32GB UHS-II U3 TOUGH SD Card Class 10
1 x Leica HDMI Cable (Type A, 4.9inch)
1 x Leica USB 3.0 Micro Type B Cable (9.8′)
4 x SanDisk 32GB Extreme UHS-I microSDHC Memory Card with SD Adapter U3
1 x Lens Cleaning Kit
1 x High Quality Dust Blower
1 x Lens Pen Cleaner
So here I see lenses for the medium format S camera. Leica M mount lenses. L mount lenses. Crazy. Who would buy this package?!?! I have seen some silly listings on Amazon but this one is probably the winner in that department. They even give TWO of the same S mount lens in this package!
The SL can be had for $4400 these days, NEW. As for lenses, why does this kit come with a 30mm and a 35mm S mount lens without an adapter to use it? The adapter is a $1200 piece and not even included in this $46k bundle! 
This listing gave me a chuckle but can you imagine someone putting down a credit card for $46,000 for a package that makes no sense at all? Eek! It does have free shipping though!