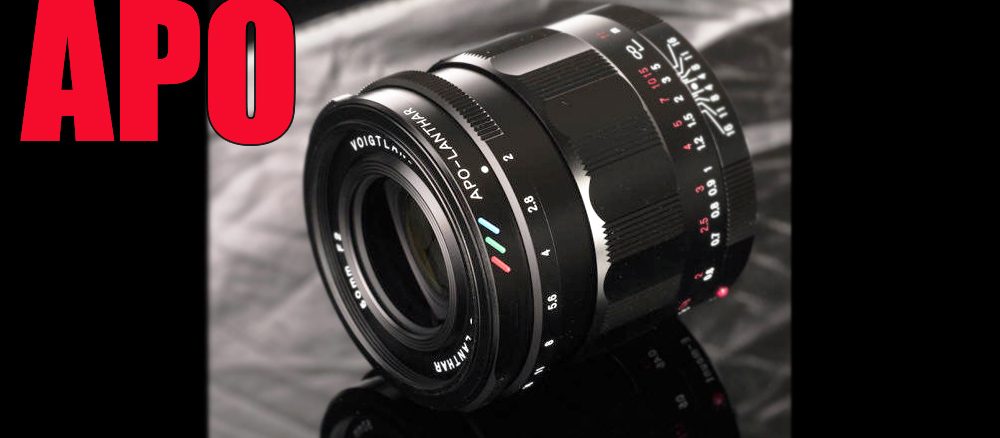 The Voigtlander 50 APO f/2 for Sony. Voigtlander's best lens ever? My first look!
By Steve Huff
You can order this lens now as it is IN STOCK at CameraQuest HERE.
SPOILER: The new Voigtlander 50 APO is possibly the best lens I have ever tested or used from Voigtlander.
I will be honest, when I heard the term "50 APO" it instantly reminded me of the gorgeous lens that is the Leica 50 APO. Yep, Leica's 50 Summicron APO is indeed THE finest 50mm lens I have ever used, touched, owned in life. (My part 1 review HERE, part 2 HERE) With that said, it's an $8795 lens, so it should be an excellent piece of glass. Well, it is and if I could justify a 50 APO I would own one, right along side the 50 Summilux. Both have their great traits and own character. But these days I can not justify that kind f cost for a single lens. The good news is that this new Voigtlander is in my price bracket of what I can justify for a lens today, and if it was say…90% of the Leica 50 APO for 1/8th the cost, well, I would snag one immediately.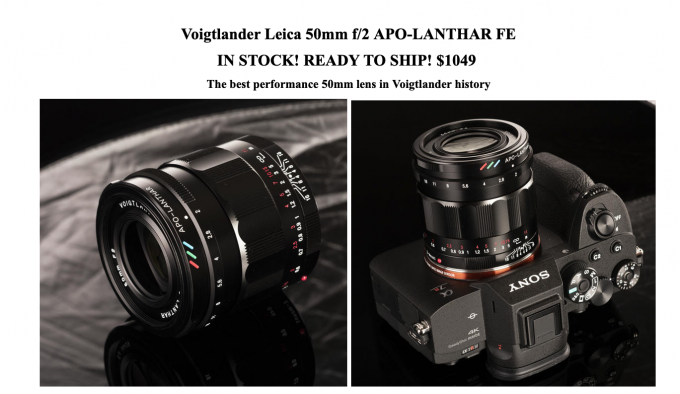 Yes this new 50 APO f/2 lens from Voigtlander has arrived and this one comes in at $1049. Here is what Cameraquest says about it:
Voigtländer APO-LANTHAR 50mm F2.0 is a high performance manual focus normal lens optimized for the imaging sensors of Sony mirrorless cameras. With its apochromatic optical design, the lens is highly corrected to eliminate optical aberrations including longitudinal chromatic aberration. In addition, it is optimized for the ultimate performance of the resolution and contrast reproducibility. (Ref. MTF chart)

 



Voigtländer APO-LANTHAR 50mm F2.0 has both ultimate optical performance and compactness. It addition, the twelve aperture blades with are specially designed to be round at not only at F2, but also at F2.8 for beautiful circular Bokeh from a point light source.
Two images from the Voigtlander 50 APO on the Sony A7III. The sharpness at the focus point is very Leica 50 APO like, as is the buttery smooth rendering..as is the rich color. This lens is really really NICE guys. Click them for larger and to see a better version. 
I am all about the 50
I am a 50mm guy, always have been, always will be. While I swayed away from 50 before to go all in on the 35mm focal length, it is still the 50mm focal length that I feel comfortable with, and what I prefer to shoot with on a day to day basis.
When Stephen Gandy asked me if I wanted to try this lens out, I immediately thought "50 APO? As in like the Leica 50 APO"?!?! I wondered if it could even get close to the Leica lens and would soon find out as one was on its way to me right after the email from Mr. Gandy. I was excited and planned to test the lens on the Sony A7III. I knew it would be a quick test at first, which is what this is, and I would need to use it longer to gain appreciation for it (coming later after I shoot some club shows). So what you are seeing here are my first results, reactions and snaps.
I wanted to post some about this lens NOW as I am excited about it because it is so so good. It's hard to get me excited about a lens or new camera these days, which is why I do no post as much as I did a few years back. I only write about products I love and would own myself, so this is why you do not see me reviewing every camera or lens under the sun. I have been running this website for twelve years, and these days I only post what I feel you guys would also get excited about. This is one of those posts. It's a special lens IMO and one that will be flying off the shelves as soon as more and more get one in their hands and share their images.
I also have been shooting with the Hasselblad X1DII and 45P lens over the last two weeks and have truly fallen back in love with that whole system. It's a beauty indeed but going back to the Sony A7III reminded me of just how good their cameras are. It's been a while since I shot with a Sony but they are superb capable little cameras. With the Voigtlander 50 APO on the Sony body, man, it's a perfect fit. Such a beautiful lens this is. I would love to see Voigtlander make this lens in M mount or even L mount. As it is though, it has the capability to perform some magic with Sony cameras.
THE LENS BUILD and SIZE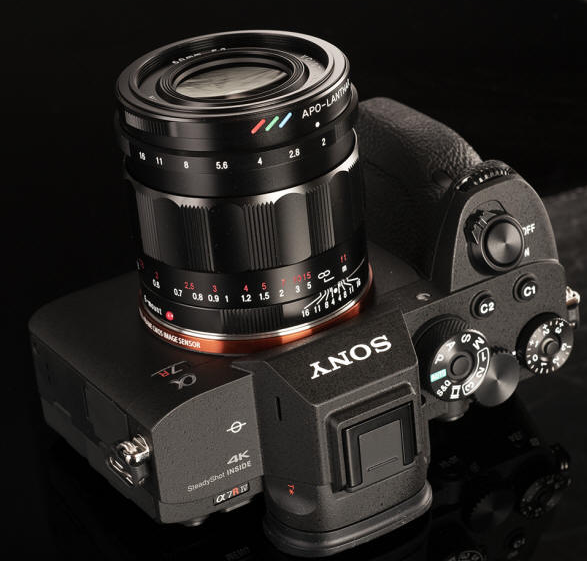 The lens is small yet very solid and looks and feels like a premium high end lens. In fact, and this may be controversial, it feels just as good as the Leica 50 APO in the hand, build wise. Yes, I said it. This gives nothing up when it comes to build, from what I can see. This is a lens that Voigtlander must be very proud of. It screams quality.
While this is a 50 APO f/2 lens much like the Leica 50 APO Summicron, it is around $7800 less expensive to purchase. Oh, and it does get mighty close to the Leica when I go by memory and look back at my Leica 50 APO images. The focus ring is pure silky smoothness and the aperture ring is quality. Solid clicks and many does it just feel amazing on the Sony body. Voigtlander did a great job on the lens as the size and design are gorgeous. It sort of reminded me (in use) of the older Leica 50 Summilux pre asph but in performance it is simply on a new level for Voigtlander.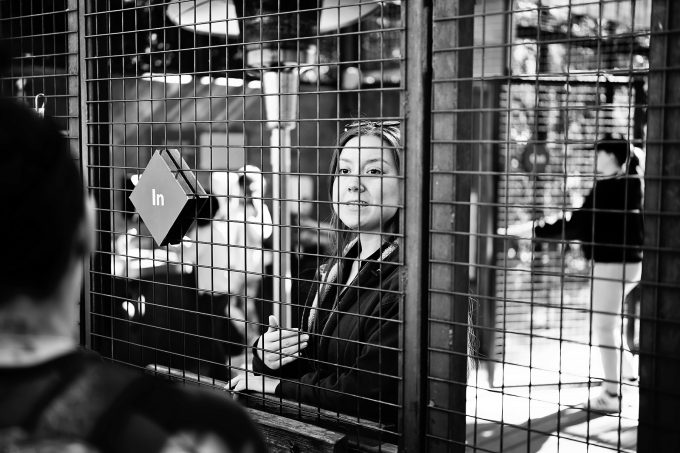 The images you see here are my very 1st images shot with this lens on a day I spent with Debby at the Local Zoo. While this lens is purely manual focus, it is a breeze to shoot even on the A7III, which is Sony's "entry level" full frame body. The EVF is more than good enough but I feel this lens would be amazing on the 60MP Sony A7RIV as it can handle the resolution I feel. It's almost as if the A7III is holding the lens back as it can scale up to more MP easily. In the past I loved Voigtlander lenses for their rendering which was a combo of old school and new school. In fact, you may have heard me say I do not like lenses that deliver perfection as much as I do lenses with character. Well, I am happy to say that just like the Leica 50 APO, this lens is sharp and near perfect in the regard but also has character. It's not sterile in any way and still brings a warm welcoming rendering with smooth Bokeh performance with that biting sharpness and micro contrast at the focus point even wide open at f/2.
Yes, Micro contrast is a thing. It is something I normally see alot of in Leica and Zeiss glass. Lenses like the Leica 50 APO, 50 Summilux, and Zeiss 35 1.4 for M mount. They all deliver amazing micro contrast and this Voigtlander does as well. It's part of what makes images pop and look so nice. Almost as if they have texture. NO muddy colors here, no softness wide open here and there is no wonky or crazy bokeh here either. For the money, this lens is quite stellar. So much so, I may have a hard time sending this lens back.
ALL of my test shots here are wide open at f/2 as if a lens is great wide open, it will only get better stopped down. I believe a lens has it's most character wide open, so that is where I love to test lenses. 
This lens renders in a gorgeous way. Sharp subject, creamy background, rich colors and it offers a look that most would associate with a lens costing 5X as much as this one does. While I did not have a Leica 50 APO here to compare it with, I wish I did as I feel they would be pretty close. Look at the shot below. The detail is astonishing for an f/2 lens. The contrast and micro contrast make the image pop and the bokeh is super smooth and lovely.
Click the image for larger size to see a much better version.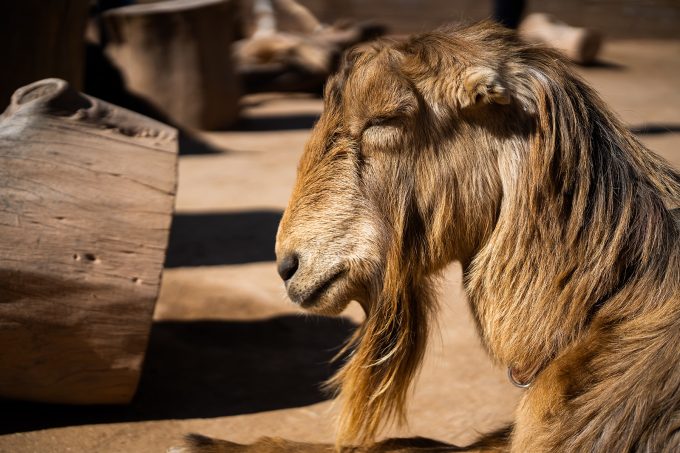 I said it in the title, and this was with just a few days of having the lens. I feel this is Voigtlander's best lens ever. The build, the design, the feel, the image quality and overall experience make it an amazing lens for the Sony E mount system. This is made for full frame and the lens is sharp across the frame, doesn't have issues with corners and does connect with the body to relay info. At $1049 it's a steal for anyone who wants to shoot a fine manual lens on their Sony camera. This reminds me so much of using M lenses on a Sony body but without needing an adapter, and without issues in corners.
No matter the lighting condition the combo of the Sony A7III and Voigtlander 50 APO deliver. Click images for larger and yes, those are two hairless rats my Son rescued so now they are part of the Huff family ; ) They are like mini dogs who cuddle, sleep in your arm, enjoy head and back rubs and love to play. They look strange but hey, we saved their lives and they are sweet little pets. One thing to look at here is the color. I normally am not a huge fan of the Sony color science but I feel this lens helps bring the best color out of the Sony sensors. I simply can not believe the performance of this $1049 lens. I prefer it to my Voigtlander 50 f/1.2 and not by a little…rather by alot. 
You can order the Voigtlander 50 APO now, as it is IN STOCK (but mat sell out quick) as of this writing at CameraQuest. They just received stock today so they are there, waiting for someone to give each of them a good home on a Sony body ; )
I so want to try this on a Sony A7RIV as I feel it would be absolutely gorgeous and keep the camera small, compact and light when compared to the big G Master lenses and it would deliver, I feel, astonishing results on that body. If I can find a way to buy this review unit I will, and then I will rent a Sony A7RIV for an updated look later on.
One thing I know and can say without hesitation is that THIS IS THE BEST LENS FROM VOIGTLANDER I HAVE USED. Period. I knew that as soon as I saw the first images. It reminded me ALOT of that Leica 50 APO in the way it had a buttery smooth rendering with that contrast and pop. I think it may have been Voigtlander's goal here to make a statement lens, but to keep it in the price range of the normal common man ; ) That is good, as it shows we can spend less yet get the performance of a much more expensive lens. The color also stands out for a Voigtlander lens. Comparing this lens to what Voigtlander did say 10 years ago is crazy. They have come a long long way since they were known as "the poor mans Leica" and today can compete head on with some Leica lenses.
Keep in mind this was not a scientific test in any way. I did not and could not compare to the Leica 50 APO but this lens gets close for sure. I hope one day to test them side by side. If and when I do, I will post my findings here. Either way this lens is a knockout for $1049. Highly recommend it. As for the Sony A7III it's still a fantastic camera that is well worth the price it goes for, which today is just under $1800. This lens is perfect on the A7III body and allowed me to shoot without worry of battery life, EVF quality, or speed of operation. Manually focusing on the A7III was a breeze as the image will magnify as soon as you turn the ring, making critical focus EASY!
All shot at f/2, wide open on the Voigtlander 50 APO E mount with the Sony A7III
DIRECT LINK: BUY THE VOIGTLANDER 50 APO E MOUNT LENS HERE AT CAMERAQUEST.