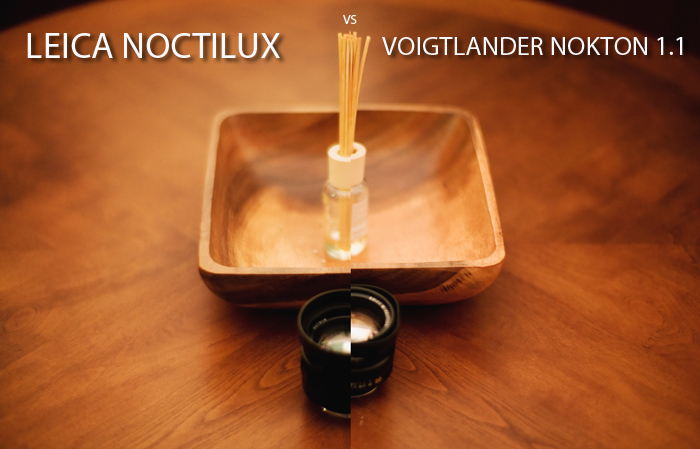 DING DING!
This is a title match between the classic Leica Noctilux 50 F1 lens vs the new kid on the block, the "budget" Voigtlander Nokton 50 1.1 lens as shot on a full frame Leica M9!
The Leica Noctilux has been around for many years and has even been replaced by the new $10,000 Noctilux F0.95, the worlds fastest camera lens in production today. MAN oh MAN is that a beautiful lens. One I will never own, but nevertheless it is gorgeous.
Before the new .95 version the Leica F1 version was known as the KING of NIGHT. A masterpiece and a lens that allowed users to create pieces of art. Its swirly creamy bokeh is legendary but some dislike it due to its cost, larger size, heavy weight and long focus throw.
Much to the happiness of Leica M shooters, this year Voigtlander released the new 50mm Nokton F1.1 lens in M mount. Finally, some competition for the classic Leica. Coming in at $1100 NEW, it was about $4k cheaper than a used Leica Noctilux!
When I reviewed the Nokton last week I was dying to see how it compared to the old Leica. I used to own the Leica and have missed it dearly ever since I sold it many years ago. I knew that it had some magic to it that I was not seeing in the Voigtlander but maybe I was wrong? I knew the Nokton was probably sharper at 1.1 than the Leica at F1 but what about the character of the lens? The color rendering? Was it worth spending so much for a used Leica if the Voigtlander was just as good or even better?
Noctilux F1 USED – $4500-$5000 – NEW IN BOX – $6800-$7200 – Voigtlander Nokton 1.1 NEW – $1100.
Well, just as I was pondering all of this I get an E-mail from Leica dealer Ken Hansen. He was letting me know he had 4 of the new Noctilux F.95 lenses IN STOCK and he also had one NEW IN BOX Noctilux F1 Classic as well as a used Noctilux classic. I succumbed to my desires right there and told him I wanted the used Noctilux. He sent it off and we agreed that if I was able to sell my Lux I would buy his Noctilux. If not, he told me to check it out, review it and send it back. Ken is such a GREAT guy and amazing Leica dealer. If you are interested in the old or new Noctilux, email him here and ask about price.
So here I am. I have both lenses in hand. The Leica F1 Noctilux and the Voigtlander Nokton 1.1. Keep in mind that this article will just feature some side by side test shots and I will have a real world review of the Classic Noctilux soon with better images! This test was whipped up just today as I know many are curious about these two lenses.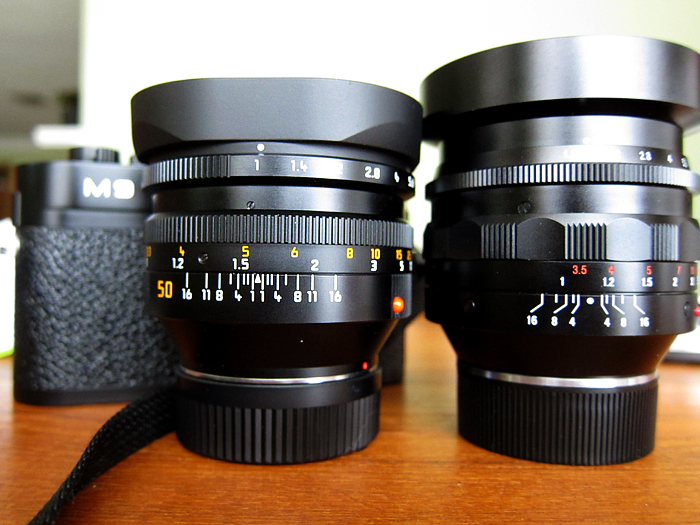 DING DING! ROUND 1: First impressions of the Leica compared to the Nokton…
The Leica Noctilux Classic F1: It is built quite a bit better than the Voigtlander and feels more solid in the hand. Great shape and nice pull out hood. This one is 6 bit coded and is in perfect condition. I attached it to my M9 and tested focus. It was spot on perfect. Awesome! But it i slow to focus with a loooong focus throw. Focuses to 1m so it will not focus as close as a Summilux 50 ASPH.
The Voigtlander Nokton 1.1: Built well, nice looking and focus is smoother and faster than the Leica. Not as well built as the Leica and the hood is a metal screw in. I can see this being used as an everyday lens due to ease of focusing. Focuses to 1m, same as the Leica.
ROUND 1 – WINNER – TIE – The Leica is built better and feels better but the Nokton has faster and smoother focus with a short focus throw.
"3D Green" – Noctilux at F1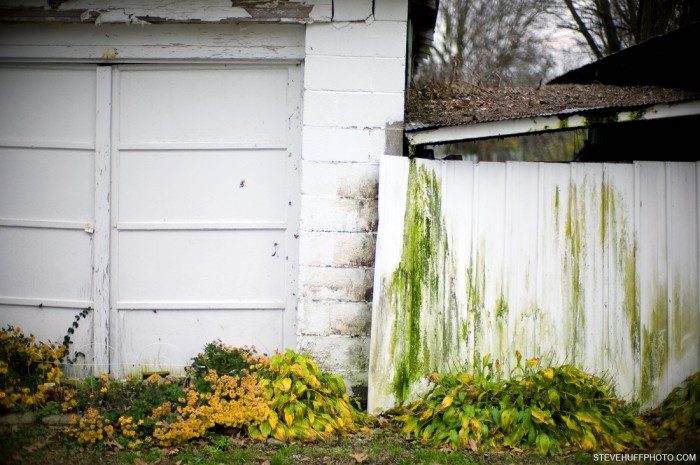 ROUND 2: Out of focus highlights.
I took them both out for an hour or so just to grab some quick test shots to see which lens is sharper and if I could find any of that Noctilux magic that I remembered so well. I walked over to my Mothers house hoping to get some portrait samples. NO GO! She was fresh out of bed with no makeup on so that was NOT going to work. She gave me the stink eye when she saw me show up with my camera so I settled for getting some pics of her Xmas Stick (tree). This was actually a good thing as I always loved how the Leica Noctilux rendered these lights in the out of focus background.
First shot, the Noctilux at f1. Ahhhh, looks so nice and pleasing doesn't it? Notice the lens still vignettes on the M9, even though its a coded lens.  I enjoy this slight vignetting and I feel it is partly to blame for giving this lens its look at f1. But if anyone thought it would be corrected with coding on the M9…nope. But the lights look just as I expected. Gorgeous (to my eye anyway).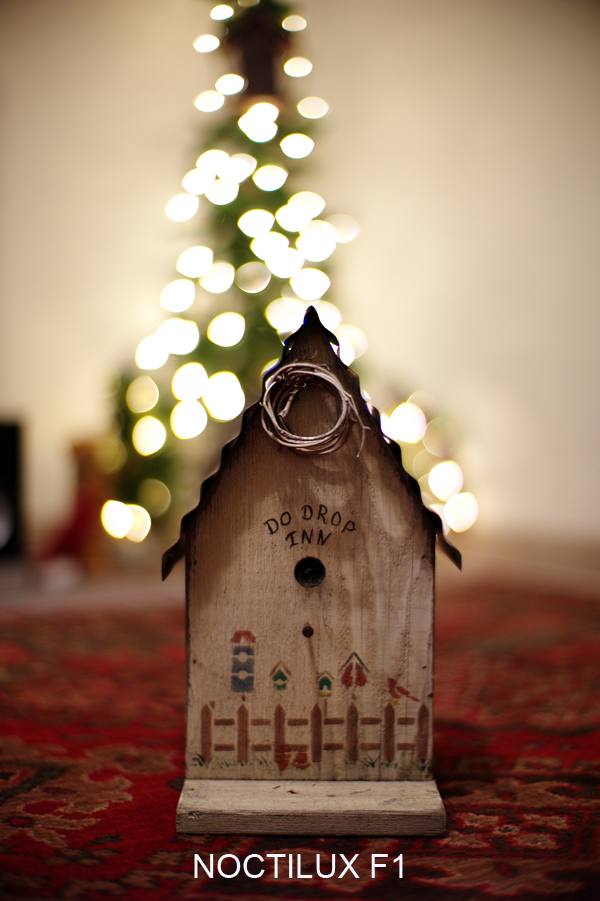 Now the Nokton at 1.1…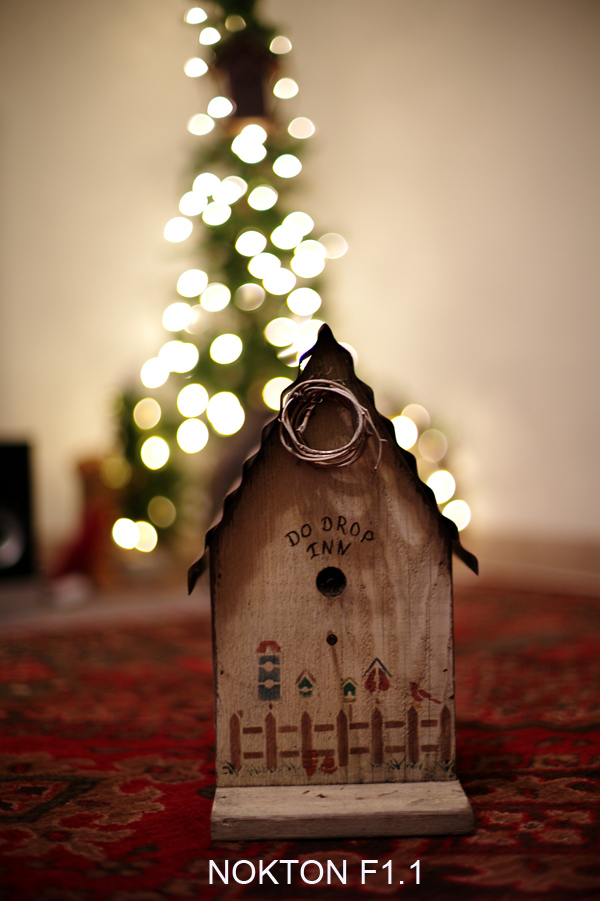 Do my eyes deceive me? Does the Nokton render the lights in the same way? Wow, I thought for sure the lights would be more pointy. They look smaller but are still oval shaped. Nice.
But here is what I noticed and why I prefer the Leica version. Both were shot at 1/90th at ISO 640. I think the OOF transitions of the Leica lens are smoother and also feel like the (Leica) shot has a more pleasing look. But, I admit…they are CLOSE and at this point do not feel the Leica is worth the extra $4k for IQ alone. These images were shot at the minimum focus distance so I snapped one a little farther back just to see if anything would change.
Here is the Leica with a 100% crop of the highlights: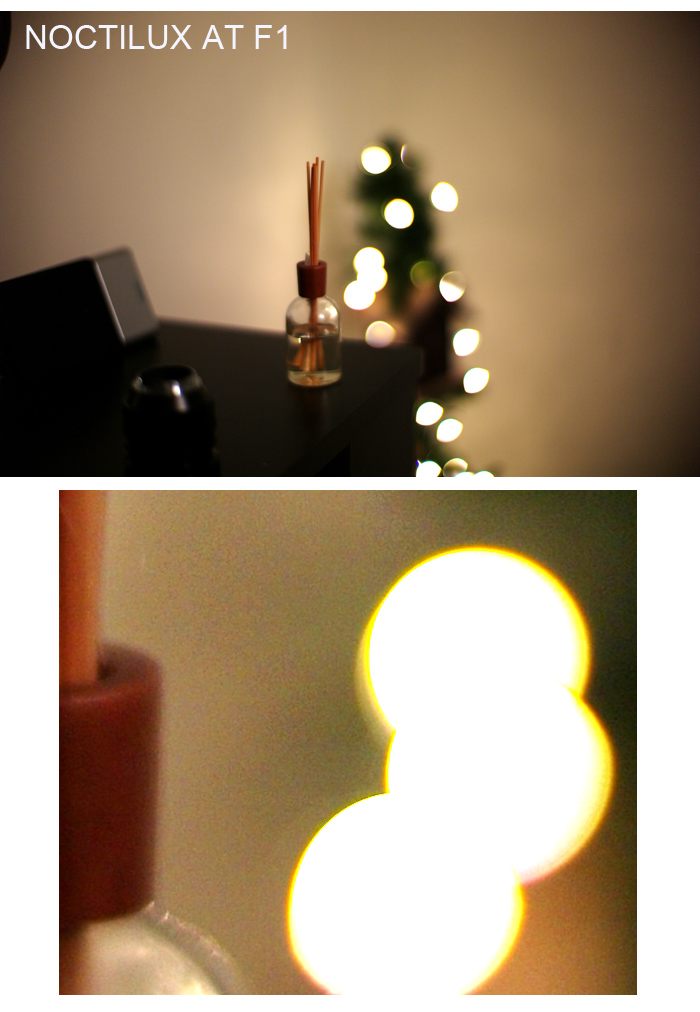 Now the Voigtlander Nokton at 1.1 with crop: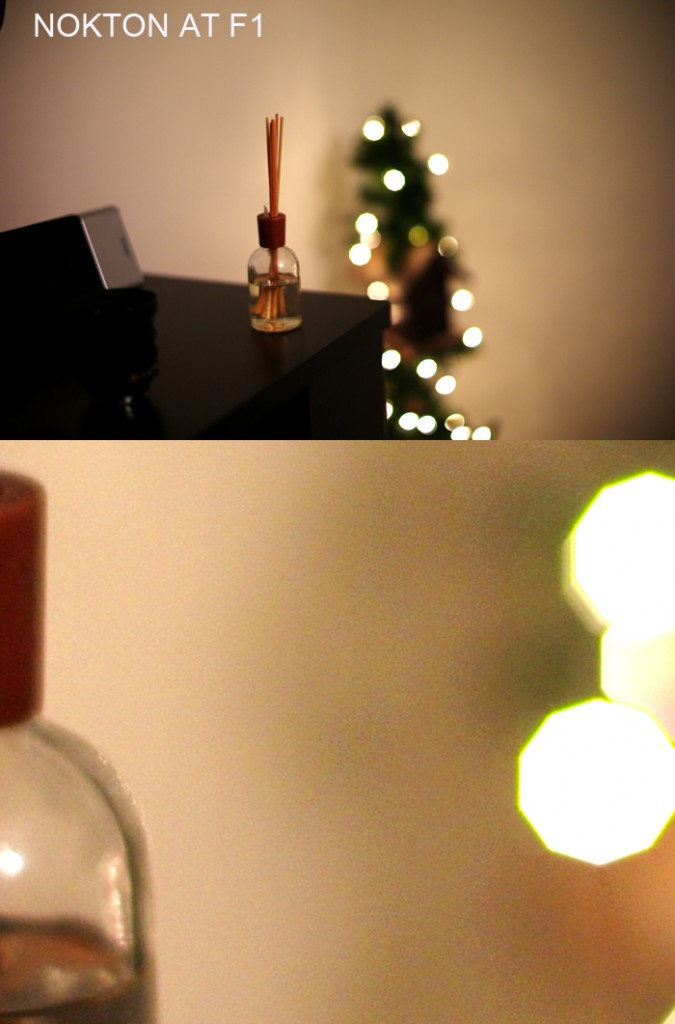 STOP!!!!! Well, it almost looks like a stop sign but there it is, just what I was talking about. See how round the Leica highlights are? The Noktons rendering in this test image is a bit rougher and honestly, a bit ugly when viewed next to the Leica image.
ROUND 2: WINNER – LEICA NOCTILUX – It just looks a bit better to my eye with its smoother look and gorgeous highlights.
"Fall Cleanup" – Noctilux at F1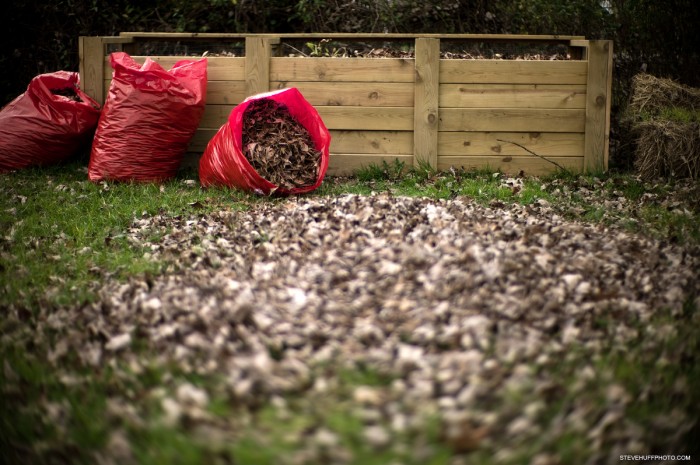 ROUND 3: Sharpness wide open
I spotted this old fire truck and the weather was dreary, gloomy and grey. I knew the color would suffer but I had to get a shot. Here is the Noctilux at F1, straight from camera.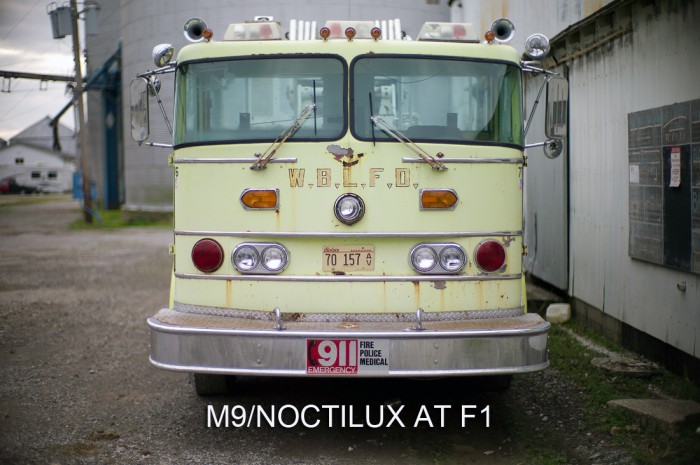 Now for the Nokton version, shot at F1.1…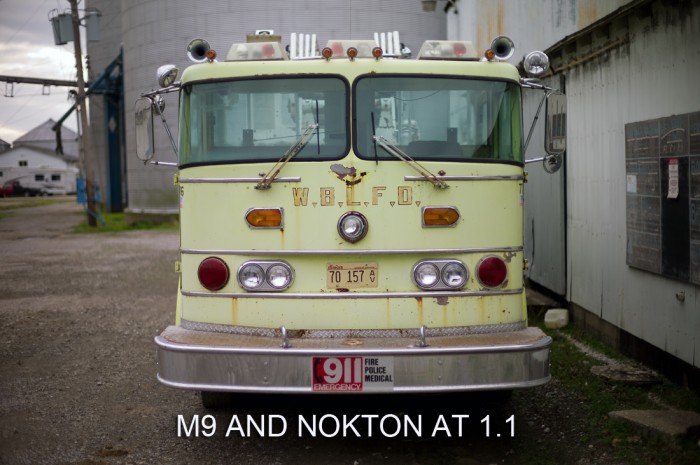 Again, not too much difference. I do see different tones and the Noctilux image looks a little better to me. The Nokton image looks a little bit flatter but again, they are close. These are untouched straight from camera images. No processing so you can see the color differences from the lenses. Would you be able to notice a difference in a print? Nope. But how about sharpness with each lens being wide open? here are some crops: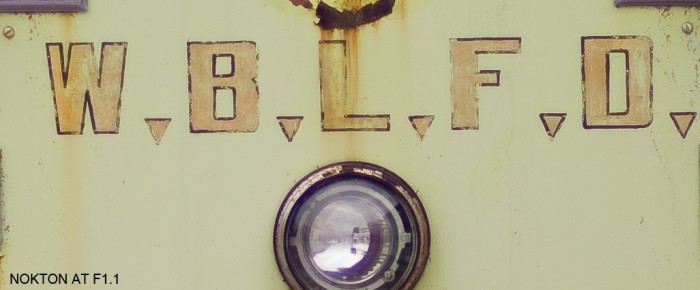 Yep, the Nokton does seem sharper but the Noctilux has a little bit of a lighter tone. If you want sharpness you may be better off with the Nokton. It has the more "modern" look. But, here is one more test I did and I even threw the Leica 50 Summilux pre-asph in this time. Here is the full frame scene (this one with the Noctilux) and then crops from each lens.



Here you can see that the Noctilux is the lens with the least amount of contrast. The Summilux has the most and the Nokton is in between. What you can also see is that the Noctilux has a little glow (look at razor handle) and a dreamy look. In these samples you really can not see any sharpness superiority. But, they were handheld in low light so that is probably why.
ROUND 3 WINNER: Voightlander Nokton – It really is the sharper lens (if that is your thing) but not by that much. It is more like a Summilux than a Noctilux in sharpness/contrast/subject separation.
"McPic" – Noctilux at F1
ROUND 4: BOKEH
This is the big one and the most important test for me. The Leica has a reputation for having a dreamy, surreal out of focus rendering (Bokeh) and Voigtlander usually has a rep for harsh bokeh. I had a feeling the Leica would be kicking some serious ass here, but maybe I was wrong?
First up, the Noctilux at F1. Just as I remembered it!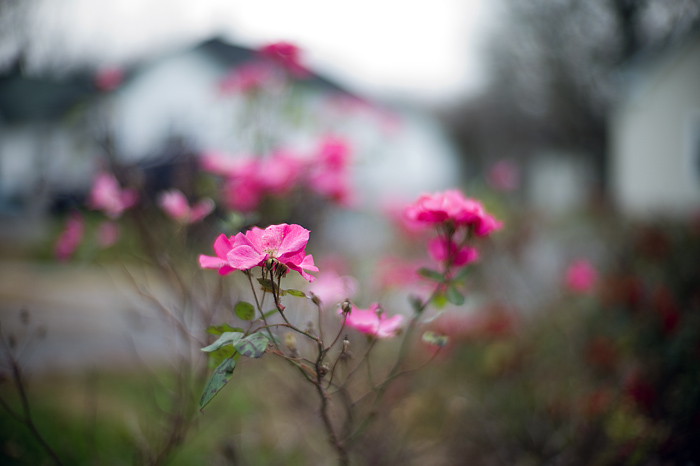 Now, let's see that "harsh" Nokton Bokeh:
OK. at first glance and to some people these may look IDENTICAL.  But I see the differences and I know many of you will as well. Some of you may not. The Bokeh of the Nokton is a bit harsher and not as smooth as the Leica. Still, the Nokton does much better than I expected. When you look at the 100% crops you can see the differences a little easier.
NOCTILUX F1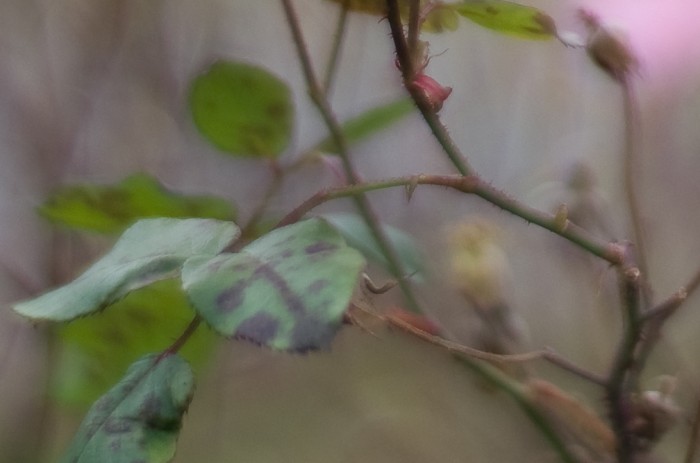 NOKTON F1.1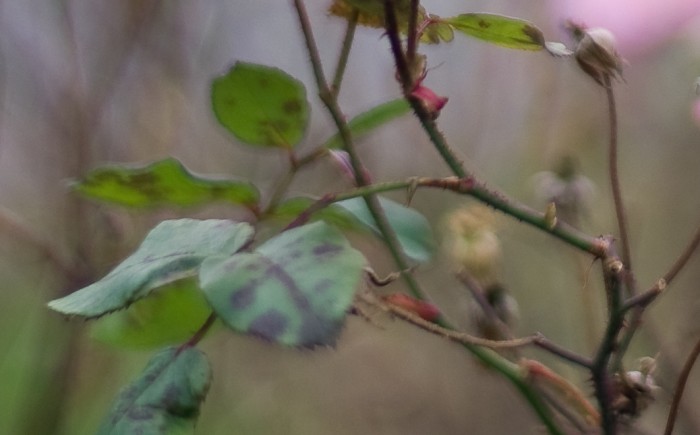 The differences are there with the Leica being gentler and smoother. The Nokton is harsher but is this worth the cost premium? I prefer the rendering of the Leica in this shot but to some the differences will not even be noticeable.
How about focus fall off? Here is one more set with both lenses wide open:
NOCTILUX AT F1 – ISO 500 1/40 SECOND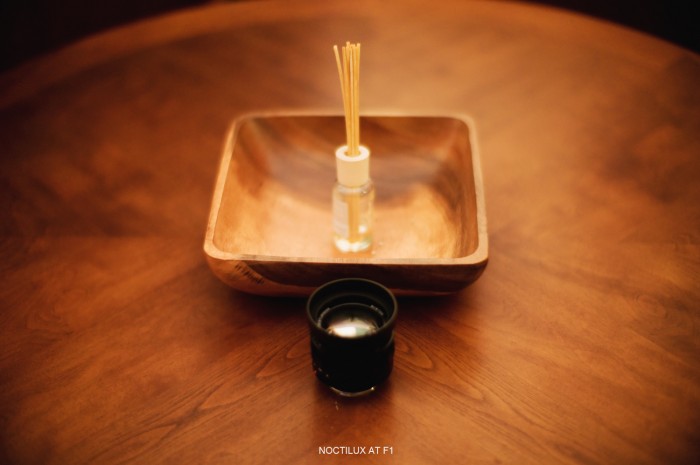 NOKTON AT 1.1 – ISO 500 – 1/30 SECOND
There is a little bit of that "dreamy" focus fall off of the Noctilux. If you look at the image at the top of this page you will see each of these split in half and side by side. You can easily see the difference in that image. I much prefer the Noctilux version here but I can not honestly say it is worth a $3500-$4000 premium! I could easily live with the Nokton but I have a soft spot for the Noctilux as it was my dream lens for years and when I had one I took some superb images with it. Yes, I have fond memories of the Noctilux. Plus, these are all silly test shots that I normally hate doing! I expect to get some very cool images with the Noctilux once I can get out and shoot with it.
Here is one more set where there seems to be little difference in Bokeh, BUT I did find the Leica seemed  to have a tiny bit more magnification that the Nokton, and the color from the Leica seems a little more pleasing. Remember, these are unedited images and the color was a bit off due to the odd grey skies coming in through the windows.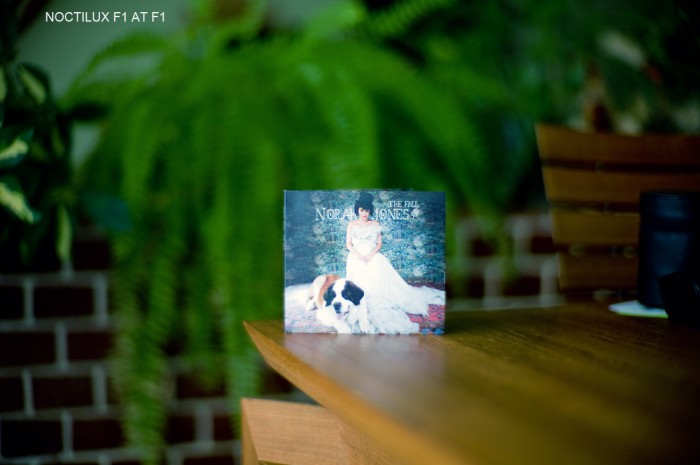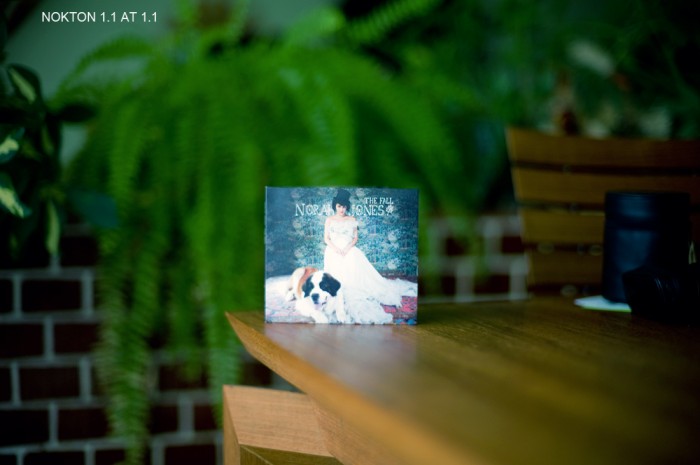 ROUND 4 WINNER – Leica Noctilux. It has the smoother, creamier more classical bokeh.
So far in the image quality department they are closer than I thought. Still the Leica edges out the Voigtlander by a hair for that magical quality, but the Nokton IS the sharper lens wide open. The Nokton is looking like a deal of a lens at $1195.
ROUND 5: PORTRAITS WIDE OPEN
While writing this article my son came home from school and he volunteered for a quick comparison. I had Xmas lights in the background to check the background out of focus area one more time. I also converted these to B&W since this was indoor under tungsten light and the color versions are not that great looking. This was LOW LIGHT folks at 1/6 of a second and wide open!
LEICA NOCTILUX – F1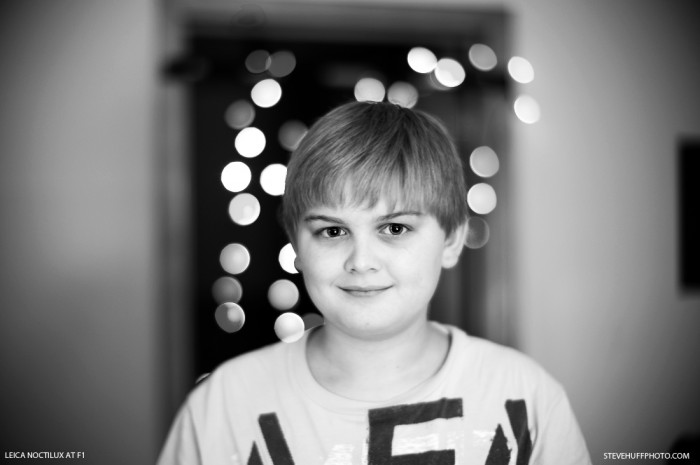 VOIGTLANDER NOKTON AT F1.1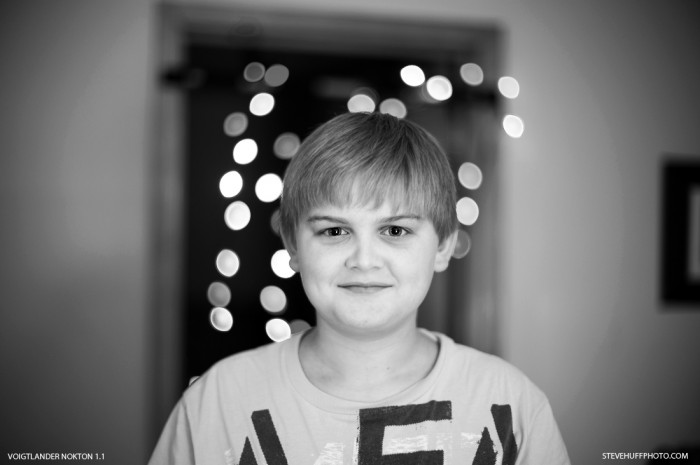 Basically the Nokton is a little bit more "crisp" and the Noctilux is a bit more "dreamy". Both lenses vignette on the M9 and the Noctilux vignettes all the way through 2.8. Personally, I like the Noctilux rendering here. Keep in mind all I did was process the RAW with default settings and then I converted each image to B&W with the standard Silver Efex pro setting. I resized and posted them here. How about a "split" side by side: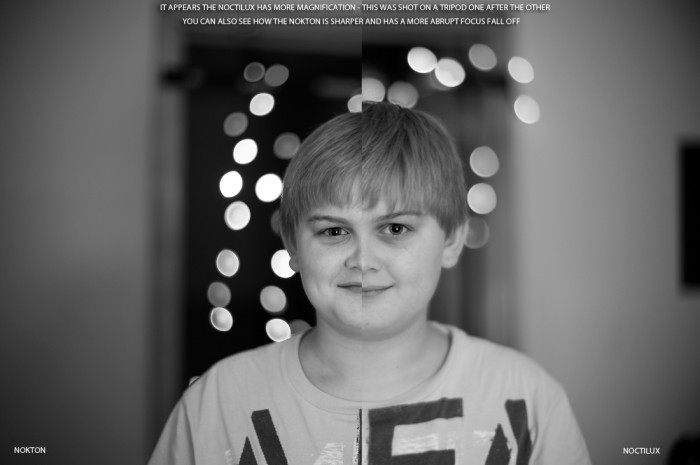 The Noctilux portrait seems to have a little more something special. Does this mean that I am finally going to say that the Noct is worth the $3500 to $4000 price difference over the Nokton 1.1? Well…no. I do not feel the Leica is worth the extra cash in this case, but if you HAVE the cash to spare I would say the Leica is the more unique and beautiful lens to own. Also it seems that either the Leica is a 53mm or the Nokton is a 47mm as the shot above was taken on a tripod that did not move between shots. You can see the Noctilux shot has more magnification like it is a little bit longer than a 50. I have heard that the Noctilux can range from 50-53mm so this may be the case.
UPDATE 11/25/09 – Took one more set of comparisons today with my wife and you can clearly see the difference in the way the lenses render: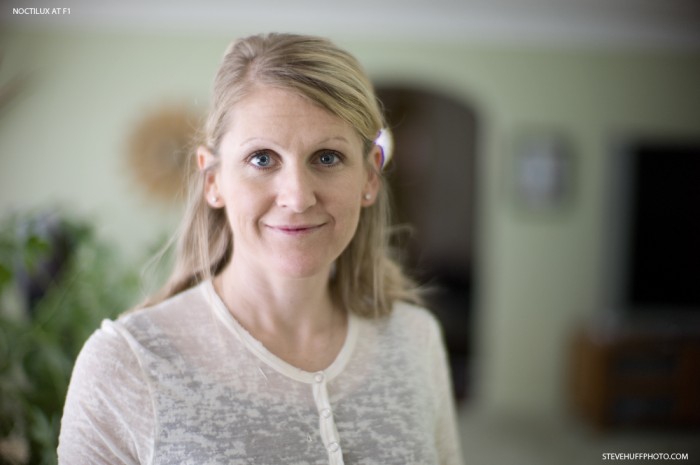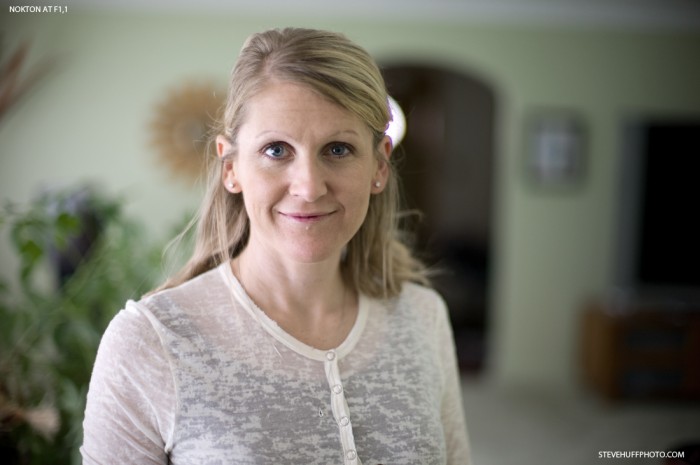 Again, the Leica Noctilux F1 puts out a very dreamy look. The Nokton at 1.1 gives you a sharper image and reminds me quite a bit of the Leica 50 Summilux. I also see some of that Leica "glow" in the Noctilux shot.
ROUND 5 WINNER – Leica Noctilux. Again, it is slight but puts out a more pleasing look to my eyes.
The Voigtlander is nice and can give you the same effect in some cases but its Bokeh is a little harsher and it has a more "modern" look. I said it in my Nokton review and I will say it again here. The 50 1.1 Nokton has the look of a 1.4 lens. The Leica Noctilux F1 has the look of a classic F1 lens, which it is. The Leica has a little more brilliance, a little more glow and nicer out of focus rendering. It is also built quite a bit better. I think some will prefer the look of the Nokton and others the Noctilux. Just depends on the look you like.
THEY ARE BOTH WINNERS!
Both are great lenses but I do feel the Leica is one of those "lifetime" lenses that will last you forever. In the coming days I will post more with the Noctilux as the shots in this article were all just quick silly test shots. I have not yet gotten out to do some real shooting with it and the weather was horrible today so most of what I did was limited to inside. Hopefully I can get out this week to shoot more.
Also, I will have the new Noctilux .95 in a couple of weeks where I will do a side by side in my full review for that lens. I suspect the new Noct will be pretty special. I can not wait!
But for all of you who have been wondering about these two lenses I hope some of this was helpful and fun to read through! If you want to buy a Leica Noctilux F1, email Ken Hansen as he has ONE BRAND NEW ONE IN BOX!! If  you feel the Nokton would suit you then here is the link to the B&H Photo Nokton page and as of this writing it is in stock (it seems to go out of stock quite often). The Nokton is $1195.
More from the Noctilux at F1.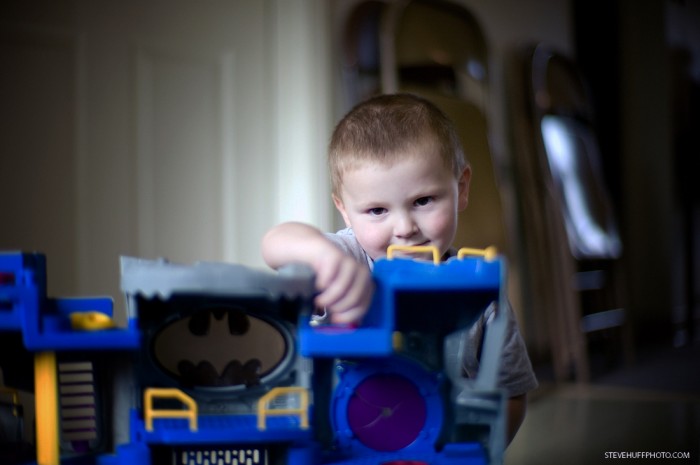 ISO 400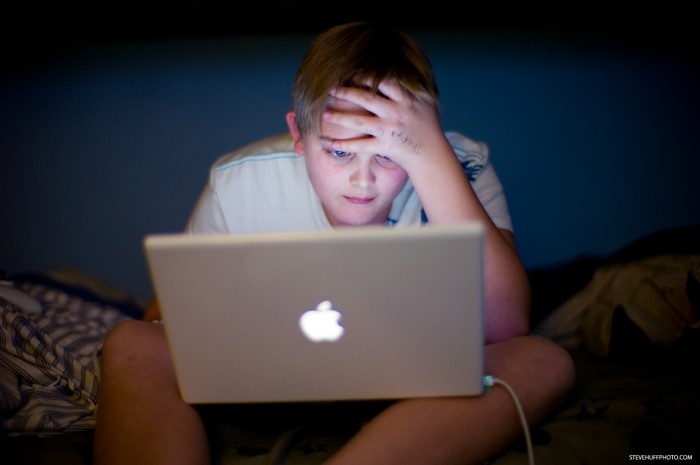 M9 – ISO 2500 – F1