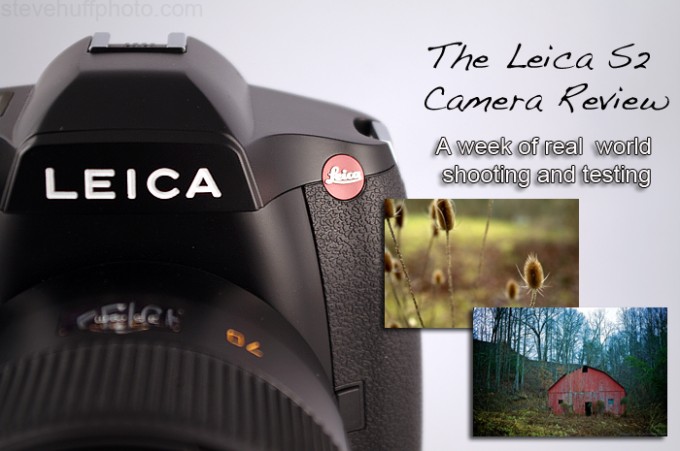 The Leica S2 Camera Review – I have finally decided to sit down and start working on this Leica S2 review! About 2 weeks ago I was lucky enough to get a call from Leica. They asked me if I wanted to review their incredible S2 camera and I told them "nope, not interested". YEA RIGHT! What I really said was "YES!!!!! Please send it right away!". Then it hit me…I do not own a massive studio….I am not a famous landscape shooter…hell, I test cameras by shooting silly stuff like barns, cats and simple portraits! Uh oh…maybe I was in over my head?
Truth be told, I was excited to not only review the Leica S2, but to get to even hold it and have it in my possession for a few days, well that was VERY exciting and crazy cool. The S2 is a true Leica masterpiece, but a costly one. If you want to own one of these be prepared to pay with your wallet, your heart, and your soul. Their top of the line digital "Pro Format" camera goes for a cool $23,000 and this is for the BODY ONLY! Throw a lens in your shopping cart and you are looking at a grand total of about $28-29,000. This is for the standard S2. They also have a "platinum" package with sapphire glass and a pro warranty for $27,995 (body only).
Leica calls the S2  "Pro Format" but it really is medium format, and all of that power comes packed in a package smaller than a Nikon D3s or Canon 1ds while having even better build quality than those top end mega cameras. The sensor in the S2 is a huge 30X45 mm monster and I have to say that when I received the pelican case loaded with the S2, I was very impressed when I held it in my hands for the first time. Before I go on and on about it, let me show you guys the specs of the Leica S2:
Here she is with her big mouth exposed! The S2 is not just a DSLR, it's a medium format camera with DSLR like features.
The Specs of the Leica S2
The specs of this camera are impressive. Before I even start talking about my experience with this camera, let me list out what this thing is made of.
Larger-Than-Full-Frame Image Sensor
The Leica S2 has a huge 37.5 megapizel 30X45 mm sensor which is 55% larger than even a full frame sensor (like the M9). Leica managed to achieve this while keeping the size of the S2 down to that of other pro DSLR's. Pretty amazing feat but this camera has been in development for 3-4 years so they took their time (just like Leica) and made the camera THEY wanted to make.
Uses new Leica S series Lenses
Leicas new line of lenses are big, bad, and full of the special magic that makes a lens a Leica. These lenses will not vignette, will not have distortion, and will not give you any focus shift. They are also weather sealed so feel free to shoot in the elements. Do they have any of that magic Leica pixie dust? Yep, it's there!
Yes, this is one of the first "real" Leicas with Auto Focus. The AF of the S2 is fast but do not expect pro DSLR speeds. It is accurate though! You can also switch to Manual Focus for when you want total control and that also is a breeze with the super huge, super cool, super sweet, super bright viewfinder.
With the 2 you can use the focal plane shutter with speeds of up to 1/4000s, or you can buy the CS lenses with a leaf shutter inside for even more versatility.
The magical MAESTRO Image Processor
This is the processor we have all heard so much about and is what does all of the work. Some say this will creep into the next M camera, whenever that may be. All hail Maestro!
High Resolution 3.0″ LCD Display
This 3″ LCD on the back has 460,000 pixels and is nice and bright with great color. No complaints here, good viewing angles. What do you expect in a $23,000 camera?
The Humongous Bright & Clear

Porthole

Viewfinder
Wow. NOW THIS IS A VIEWFINDER! HUGE, bright and beautiful. I have never seen anything like it. Makes the D3 series look tiny.
The full color Organic LED up on top of the camera tells you all of the info you need to know like aperture, ISO, battery life, shots remaining, etc. Only problem is that in bright light it tends to vanish…
The Leica S2 is a powerhouse medium format camera packed into a body smaller than a Nikon D3 or Canon 1ds while having better ergonomics, controls, and build than any of them. The design is superb and the body seems to melt in your hands like it was forged into your grip. Amazing feel and as much as I am not a "big camera" guy, the S2 felt good in my hand and around my neck.
Easy-to-Use Camera Functions
The menus are simple and quick. With 4 control buttons and a wheel/dial that pushes in for extra control (on the back) you can learn the camera within 10 minutes, without a manual! But for those who want to check out the manual, you can download it from me here in PDF 🙂
Finally!  A Leica that is weather sealed! Bravo to this. What other MF cameras are weatherproof?
You can shoot with a CF card or an SD card. One at a time, or both at the same time. This is great for backup!
The Leica S2 Arrives
When UPS dropped off the HUGE box the driver asked me what I am always buying. I usually get 4-5 packages every week and it appears curiosity has gotten the best of him. I just told him I am designing a time machine in my basement and these are all of the parts. :0
Anyway, I opened the box and pulled the S2 from its comfy spongy home inside the hard shell case. Leica did not send the packaging this time, so sadly no uber cool un-boxing video. They also did not send me a manual but as I was about to find out, I did not need it. Yes, the Leica S2 is a VERY simple camera to pick up, turn on, and start shooting. After all, it IS the Leica way. Just like the M9 and X1, the S2 keeps it simple. I did make a video showing the camera, the menus system, and the features that some of you may have seen already but here it is again for all of you who did not. BTW, some of you asked me what I shot the video with. It was with a Pentax K7 DSLR with kit zoom which I am testing right now as well.
I highly recommend watching the video as I explain the menu system which I am not writing about (in detail) in this review.
My Leica S2 "First Look" Video!
So if you watched the video above you will see how simple the S2 menu system is. You also saw how massive that mirror and sensor is inside the S2 body! Pretty sexy camera huh? The S2 build is absolutely INCREDIBLE. While holding it I felt like I was holding a solid block of steel. No creaks, no hollow feel, nothing. The S2 is as solid as any camera can possibly be. It almost seemed like it could fall down three flights of stairs and not suffer any damage. If I owned an S2 I would not worry about the build. It is the best I have EVER seen in any camera. Build would get 5 out of 5 stars. Easy.
The rear of the Leica S2 – Very simple. Four menu buttons, a scroll wheel, a function button and the on/off switch. Turn the camera to FPS when using a normal lens and CS when using one of the CS lenses with a leaf shutter in the lens.The function button can be used for AF which is how I preferred to shoot the S2. Just set the AF mode to manual and the button will control AF!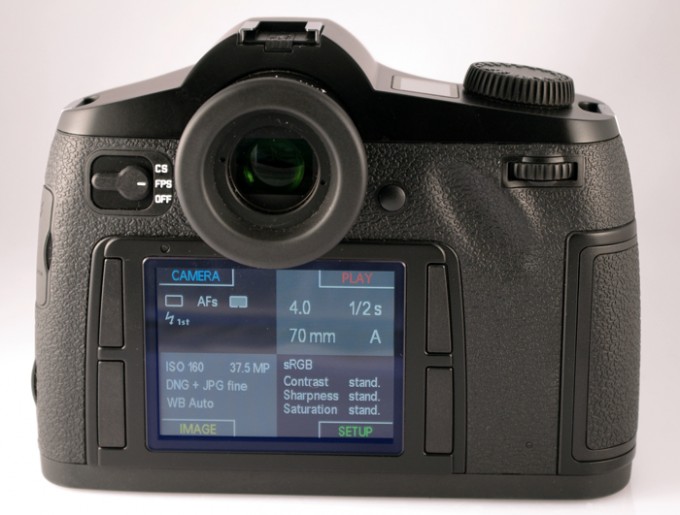 My 1st Day Impressions of the Leica S2
So my first day impressions of the S2? I was in awe. I have never shot with anything like it. I have always been a 35mm guy so I NEVER shot with any digital medium format cameras. I have shot with a couple of Hasselblad film cameras but nothing quite like the S2. I have seen the word "Hybrid" thrown around and I would say that is a good description. The S2 is like a pro DSLR in size and shape but a medium format camera in quality. The only thing that I had to keep telling myself was to NOT fall in love too much with it because at the price of $22,000+ there was no way I could ever buy or justify one, though I was already LUSTING for one. Uh oh…I smell trouble.
So after the fondling and messing around in the house it was time to go and shoot this thing! I mean, here I was with a $30,000 setup and I was sitting in the house!! So away I went with the S2 AND my M9. Just like an American Express card, I never leave home with it.
The First Shots
One thing to remember with the S2 is its large sensor. Much like a Micro 4/3 sensor has a 2X crop compared to a full frame 35mm sensor, the Leica S2 sensor has the opposite effect. The 70 Summarit F2.5 lens Leica sent me with the camera ended up being more like a 50mm focal length in full frame 35mm. Basically, I was getting just about the same focal length from my M9 and 50 Summicron that I was with the S2 and 70 Summarit. Pretty cool! I am not saying the 70 becomes a 50 because it does not. I am only saying what most of you know and that is when looking through the S2 with a 70 it will be similar magnification as shooting the M9 and 50. So, let's get to some images shall we?
My first shots were taken outside with my son and some bubbles…
Leica S2 – 70 Summarit at 2.5 – ISO 160 – 1/4000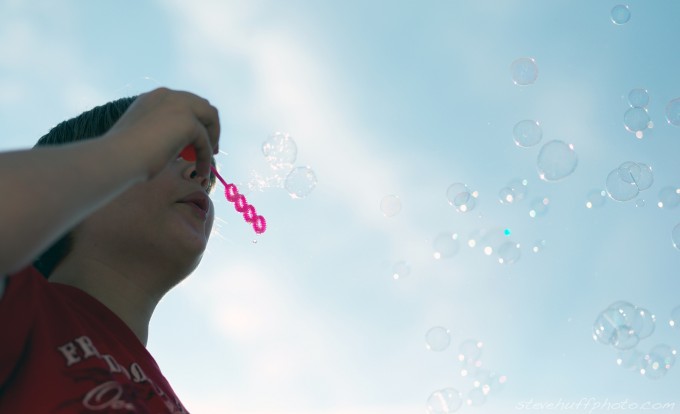 I took a few of these and you can see some of them HERE in my "first look" S2 post. The image above is direct from camera. No PP, nothing. It was shot wide open at F2.5 with the 70 summarit at ISO 160.
Here is another but this time with a "cross processing" filter from Nik Color Efex pro. I LOVE this filter with the S2 files!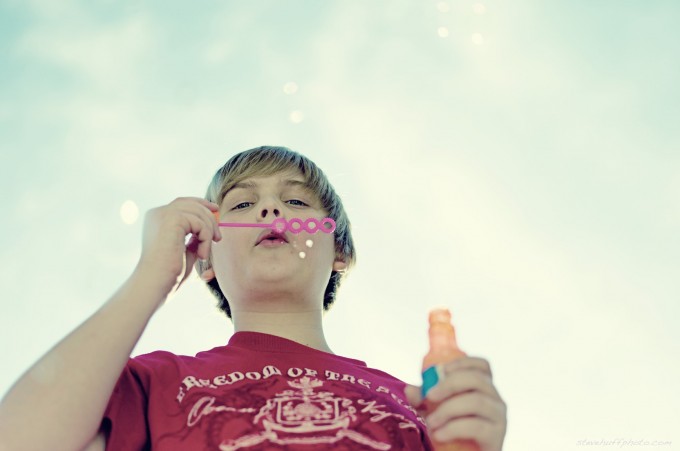 I also took a few more just trying to get used to the camera. One thing I noticed right away is that there was no way I could handhold the S2 with shutter speeds even close to the ones I can get on my M9. For  example, with the S2 and 70 I needed at least 1/160s for really sharp results. I found out the hard way when a bunch of my images were blurry. So if you shoot this camera, keep the shutter speeds up there! For comparison, I can handhold my M9 with a 50mm lens as low as 1/20s and get sharp results!
The S2 & High ISO
Ahhh, high ISO performance. Lots of worry about this with the S2 by many photographers. I have heard awful things with some people saying that anything above ISO 320 was not usable. Well, I disagree with that. Here is a shot at ISO 640, straight from camera with ZERO processing. Straight RAW conversion in Apple Aperture 3 at ISO 640. Sure there is some noise here but it is usable as far as I am concerned. But WOW, look at the way the camera and lens rendered this normal scene which practically had NO light. This was in my living room which is never bright or light. The S2 created a very rich file in conditions that were not ideal. I think this would print nicely.
Leica S2 – ISO 640 – 70 Summarit at F2.5 – Natural Light – Click Image for 1800 Pixel Wide version or Click HERE for full size JPEG.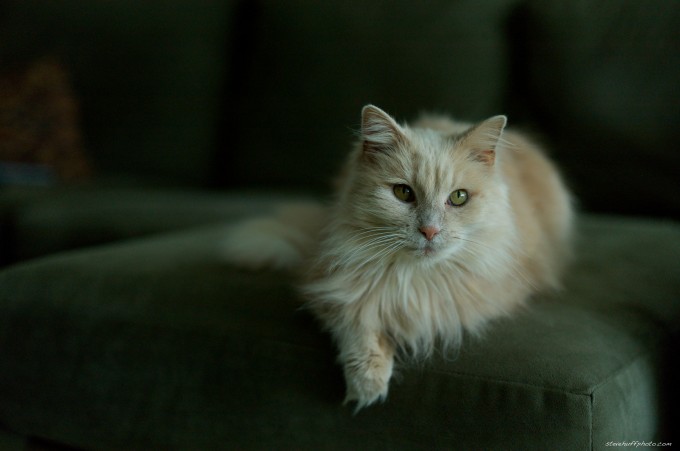 Remember, this is a Medium Format camera and high ISO has always been an issue with all MF cameras. It comes with the territory. I do not see the S2 as a late night street camera but more of a Studio/Landscape camera that you will want to use in GOOD light. After all, when the S2 has good light you will be rewarded with amazing color and beautiful images.
Leica S2 and 70 Summarit at F4 – ISO 320 – Click image for larger version – Click HERE for full size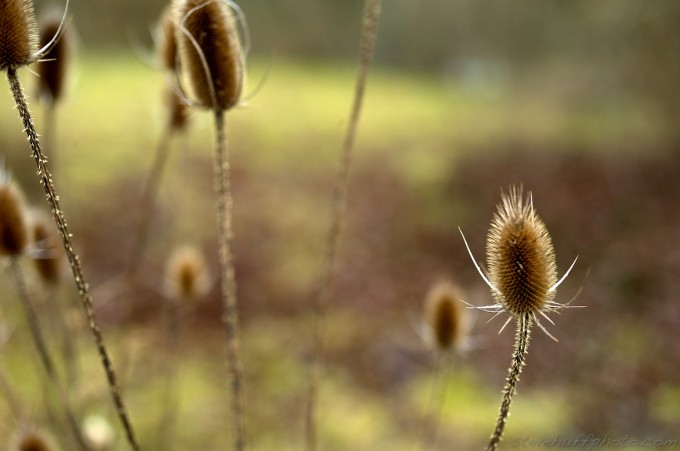 So out in the real world ISO 320 and 640 seem decent enough. Especially when you have some light. But I had requests to test the high ISO on my now famous "wall clock", so here ya go!
Here is the scene followed by 100% crops at all ISO's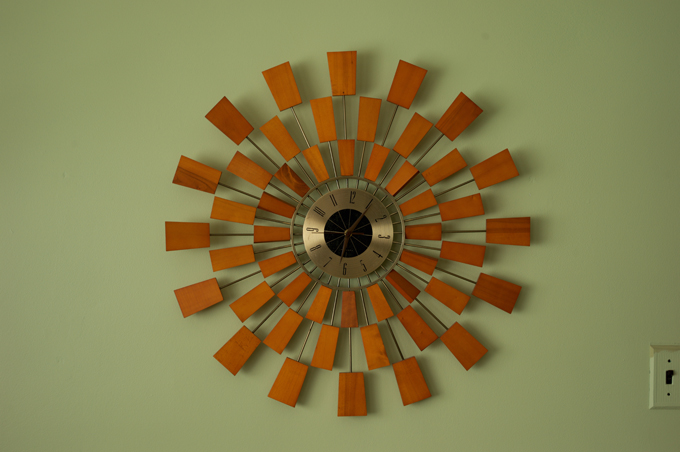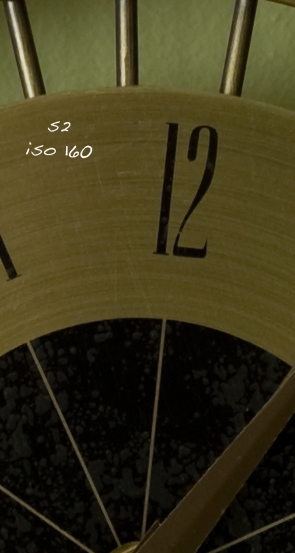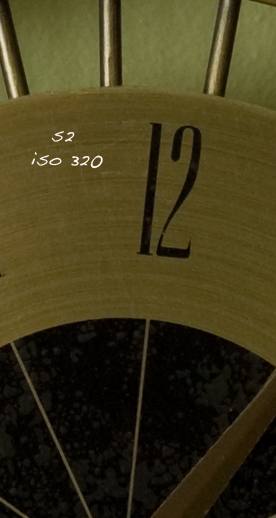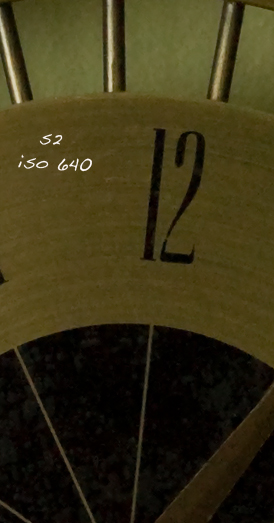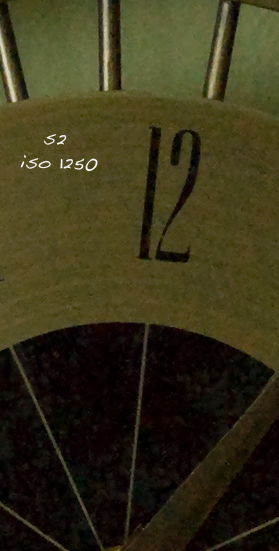 These are all straight from camera and it appears there is some NR going on in camera after ISO 320. For comparison, here is the M9 at ISO 1250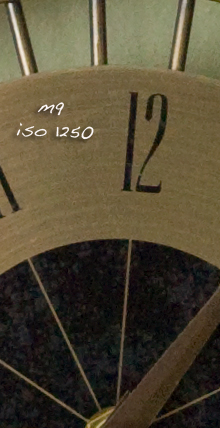 So for what it is, which is a medium format digital SLR, the S2 is not bad at all IMO. Again, this will not be a camera one casually buys (It IS $22k after all) to go out and shoot night scenes. It excels and provides sweetly rich files when you have some nice light, which is actually the #1 thing that can make a photograph magical. It's all about light as that is what the sensor is recording.
Taking a road trip with the S2 – A photo adventure
When I found out I was getting the chance to try out the S2 I immediately planned a road trip. You can read about that trip HERE. I really wanted some fresh scenery for testing this camera so I hit the road to visit the small town in Kentucky where my father was born, and my Mother ded. Along the way we spotted quite few sights though the weather was horrible for most of the trip. The rain was pouring down, the sky was grey, the wind was wild. Actually, it was the perfect chance to test the S2's weather sealing!
Below are some images from that trip because what better way to test a camera than to get out there and get some real images? That is ALWAYS what I look for when I am researching a new camera buy, so this review will be heavy on the "real world" images. There are close to 40 S2 images in this review!
A few of the following photos have had some corrections and tweaks in photoshop but nothing has been added or taken away from the photos. Just some color, contrast and dodge/burn. I will note when an image has had some PP. I also have PLENTY of straight from camera files here and even some full size downloads so hopefully you have some high speed internet!
As we drove down a curvy stretch of two lane highway I spotted this really creepy looking house. Mountains behind it and trees all around it and I thought for sure it was abandoned. I mean, look at it! I got out and grabbed the shot. As I was taking a few more I heard a dog barking from INSIDE the house! I decided to get back in the car before the owner came out wondering why I was taking a photo. I could see it now "Get off my land! – POWWWW!"
In The Hills Of Kentucky – Leica S2 – 70 Summarit at F2.5 – ISO 320 – 1/90s – PP in CS4 – Click image for larger view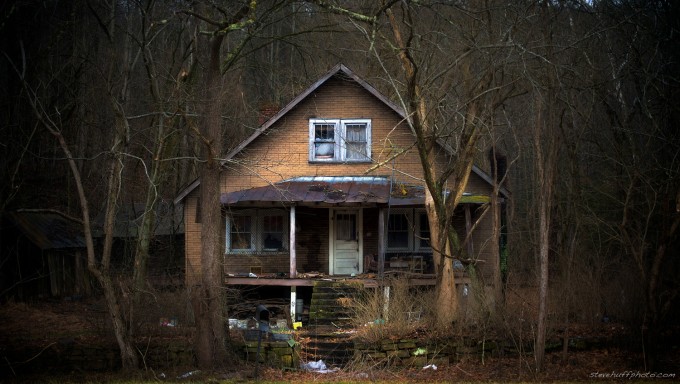 We got back on the road and went through quite a few towns. I spotted this orange van and had to get a shot.
"Porter Paints" – Leica S2 and 70 Summarit at f2.5 and ISO 160 – Click image for larger
The sky was getting darker and the temperature a little cooler but we plugged along and had about two hours to go until we hit our destination. Here are a few more images caught along the way with the S2:
Leica S2 – 70 Summarit at f4 – ISO 160 – 1/125s – slight PP here. Click image for larger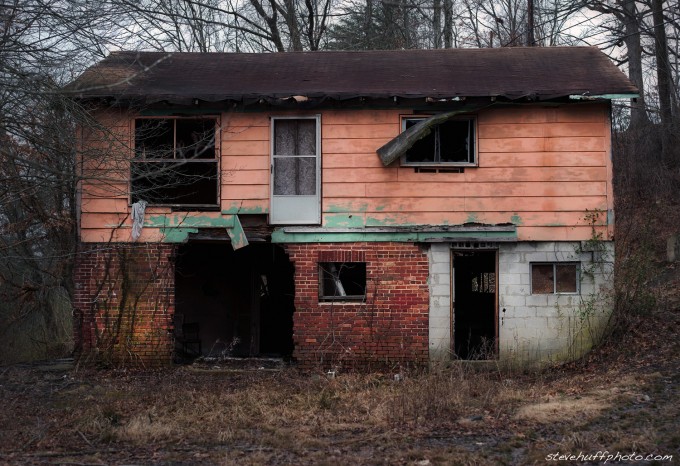 Leica S2 – 70 Summarit – F2.5 – ISO 160 – (contrast adjust)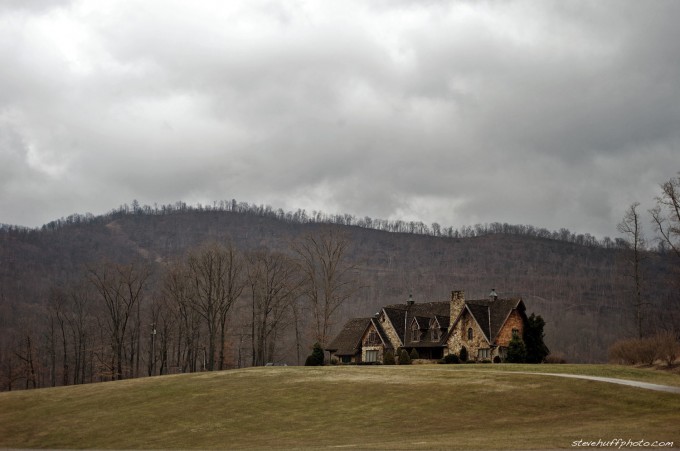 Leica S2 – 70 Summarit – f2.5 – ISO 160 – The depth of the images are pretty amazing. – Slight PP (color/contrast)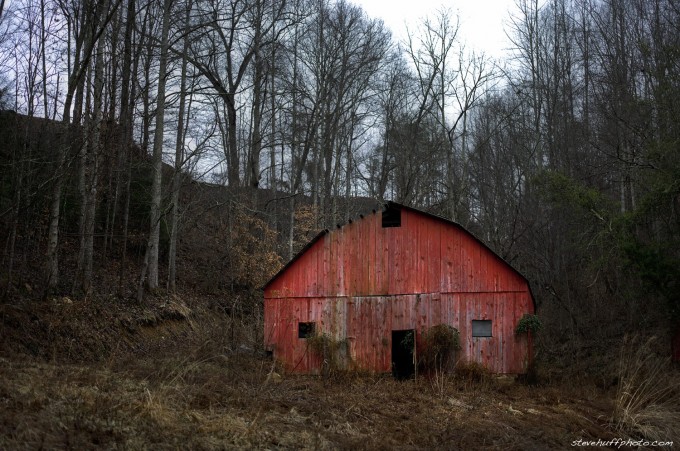 One of the many coal mines we found along the way – Leica S2 – 70 Summarit – f2.5 – ISO 160 – No PP.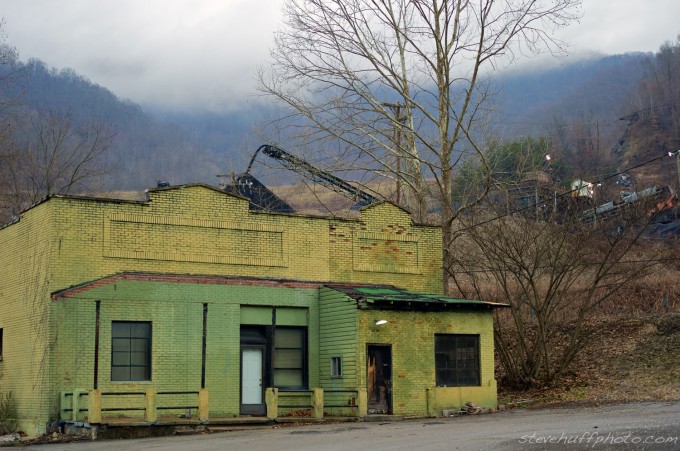 and after 8 hours…we made it! My mom jumps for joy on an old (what used to be) train track..S2 – 70 Summarit – F2.5 – ISO 320 – 1/90 – No PP.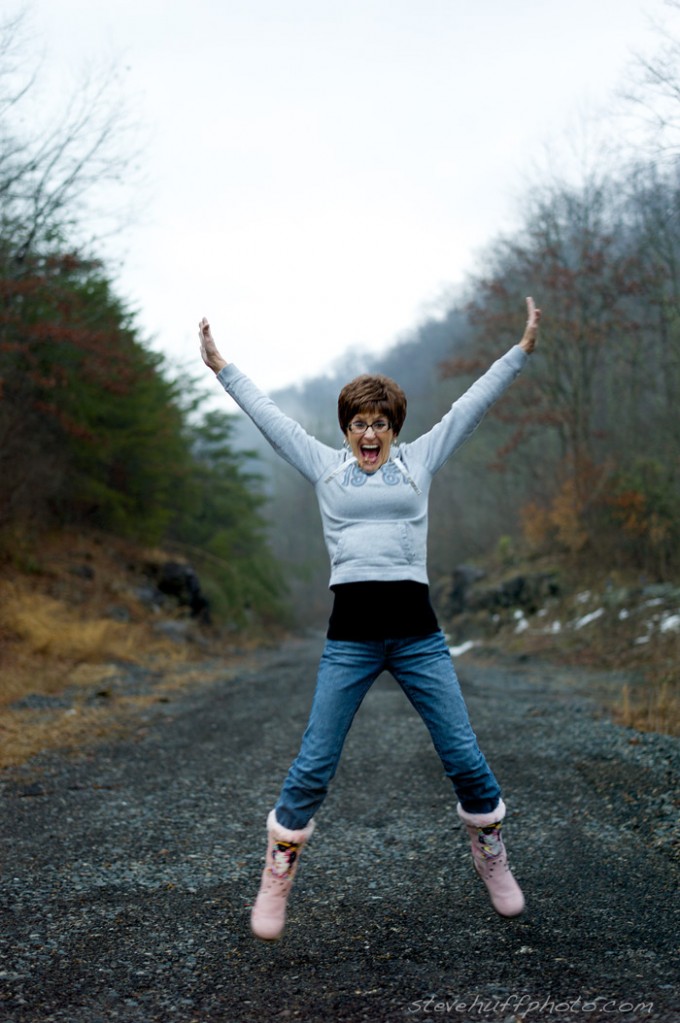 So there you go. For 36 hours during that road trip I had the S2 with me and the main thing I learned was that during cloudy gloomy days you may need more than a fast 2.5 lens. You need to bump up the ISO more because when low light hits this camera gets harder to use. The image of my mom was 1/90s at ISO 320. I really should have had 1/500s but even ISO 1250 would not have gotten me there. After the shot above I pulled out the M9 🙂
The S2 AF performance
Not much to say here but while using the S2's AF I found it to be pretty damn good for a medium format digital. Just do not expect to shoot blazing sports and do not expect pro DSLR type AF speed. Again, this is not a DSLR! This camera is aimed at Pros's who want the best IQ in a DSLR sized package. It is also aimed at rich enthusiasts who want the best image quality in a nice form factor. It will not replace a DSLR like a Nikon D3 or Canon 1Ds for fast AF. The AF is really good, just not super fast. For it's intended purpose of portraits, landscape, etc the AF is plenty fast.
The S2 and 70 Summarit BOKEH
Ah yes! Bokeh. The wonderful blur that so many of us drive ourself nuts over. The S2 with its massive sensor has no problem pumping out creamy backgrounds but how is the quality? I will post a couple of samples here and let YOU decide. After all, everyone has different opinions on what constitutes good quality bokeh. All three of these were shot at f2.5 and ISO 160 and are straight from camera files, meaning NO PP at all.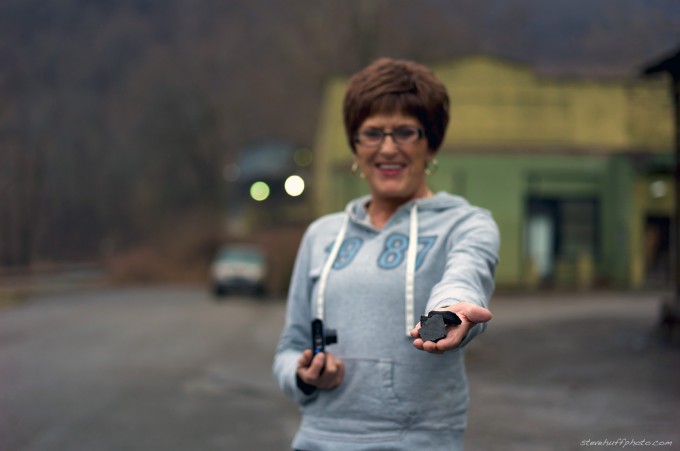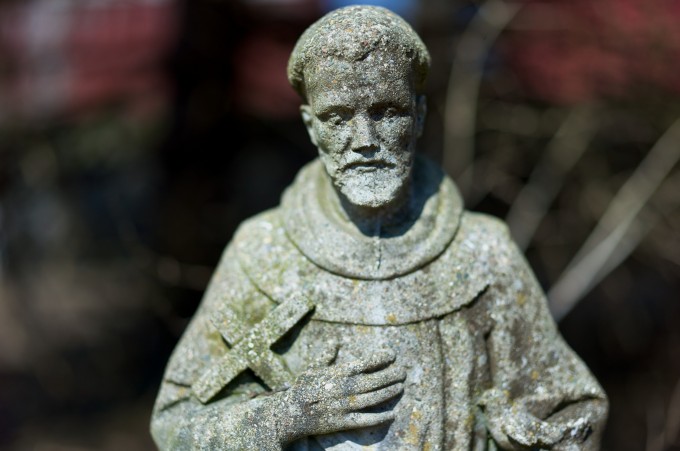 A CRAZY Comparison!
Ok, I had a few e-mails asking me to compare the Leica S2 with the Olympus E-P2. As crazy as it sounds, I was curious so I decided to do one small comparison with the Leica S2, Leica M9, Olympus E-P2 and even the Pentax K7 I have on hand. Here are the results…
Each camera was tripod mounted, lenses set to f5.6 and the base ISO of each camera was used. Here is the scene, followed by crops from each camera. These are all straight from camera with no sharpening applied and it was another grey, dreary day. (converted from RAW)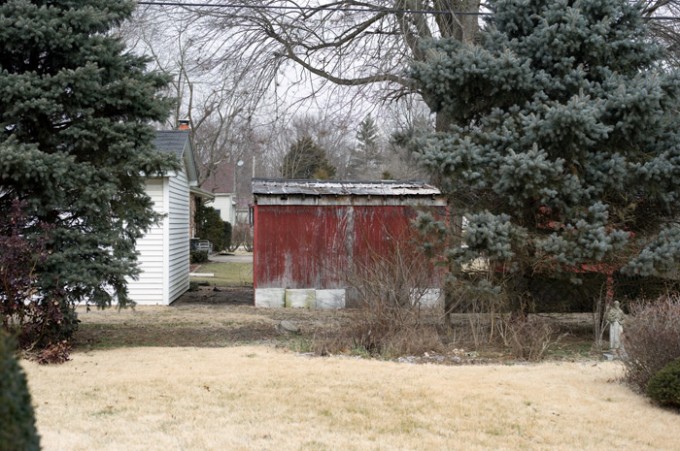 100% crop from the E-P2 with kit zoom set to 25mm (50mm equiv) – F5.6 – ISO 200 (base ISO)
Click here for the full image!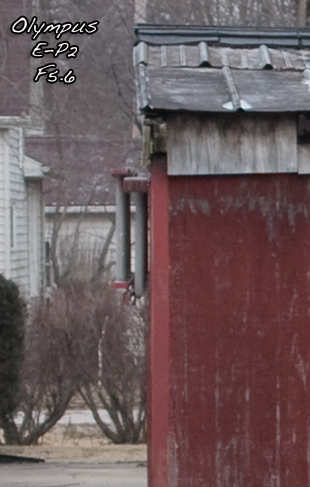 Now the Pentax K7 with its Kit Zoom set for 50mm equivilant – f5.6 – ISO 100
Click here for the full image!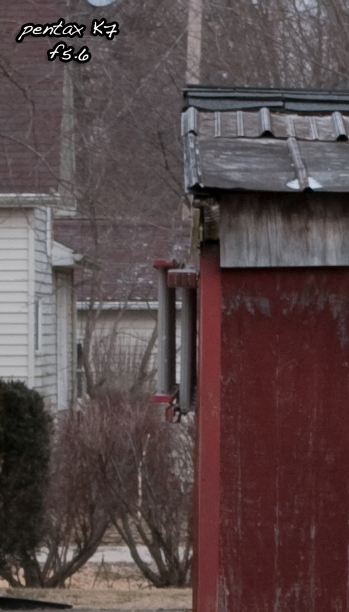 Leica M9, 50 Summicron – F5.6 – ISO 160 (base ISO)
Click here for the full image!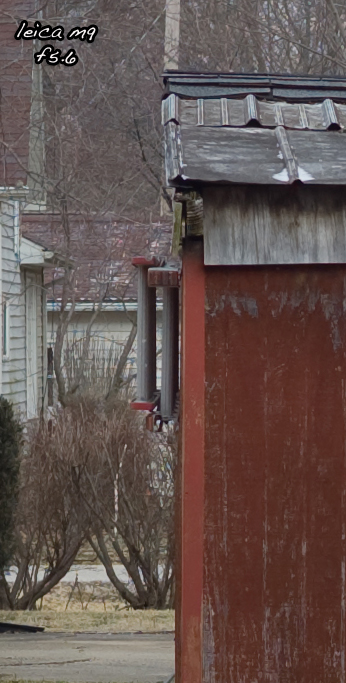 Leica S2 – 70 Summarit – F5.6 – ISO 160 (base ISO)
Click here for the full image!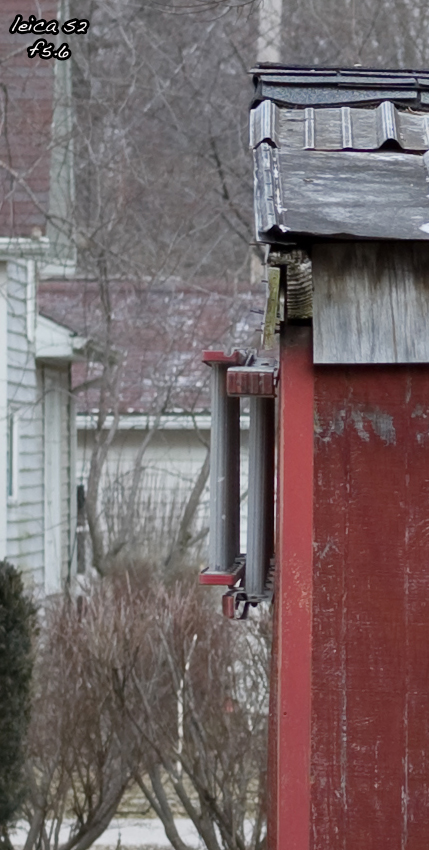 Out of all of these images the only one to get the color "right on the money" was the S2. The E-P2 came 2nd in color. AWB was used on all three cameras because I wanted to see how each camera would read the light and also wanted to check the AWB of the S2. That is one thing I really like about the S2. I find its AWB to be VERY VERY good and beats my M9 in this department. For some reason my M9 did not fare so well with the AWB here. I find the M9 is AWESOME as long as you have some sunlight but when its overcast it often gets the WB wrong.
If you downloaded the originals you will see that the S2 has less depth of field at f5.6 than the M9 due to the huge sensor. You will also see that the M9 may be the best of the bunch "overall".
After this test I still was not happy. I wanted to compare the S2 and M9 when I had some light because I wanted to see if my little M9 could at least come somewhat close to the S2 in IQ, with less MP of course.
Leica S2 vs M9 Comparison
The day I had to ship the S2 back I noticed the Sun was shining so I grabbed both cameras along with my tripod to do one more comparison.  Again, these are straight RAW conversions from Aperture 3. No sharpening, no color fixes, no tweaks. So if they appear soft it is due to there being NO sharpening applied.
Both cameras were at F4, ISO 160, tripod mounted, self timer shutter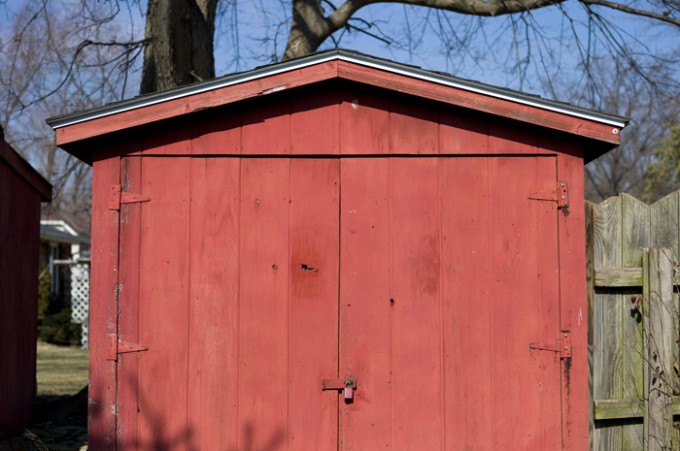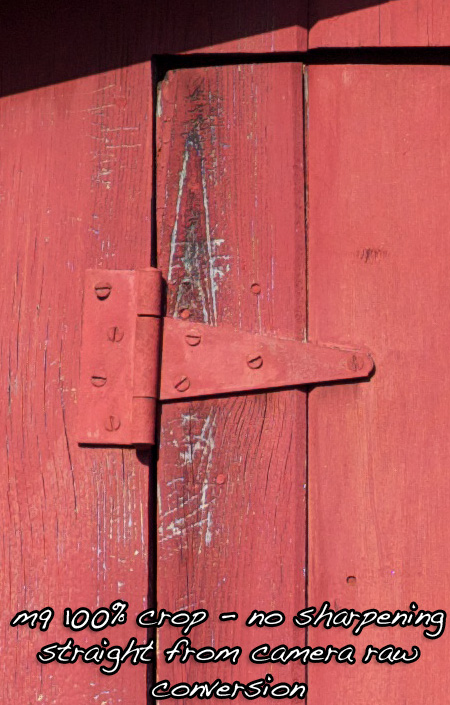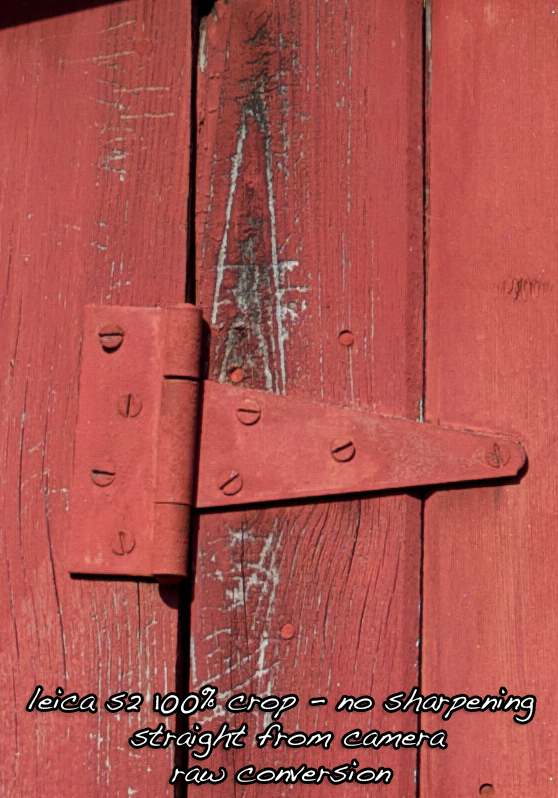 and just for fun, one more for color and bokeh, both at f2.5…
The S2…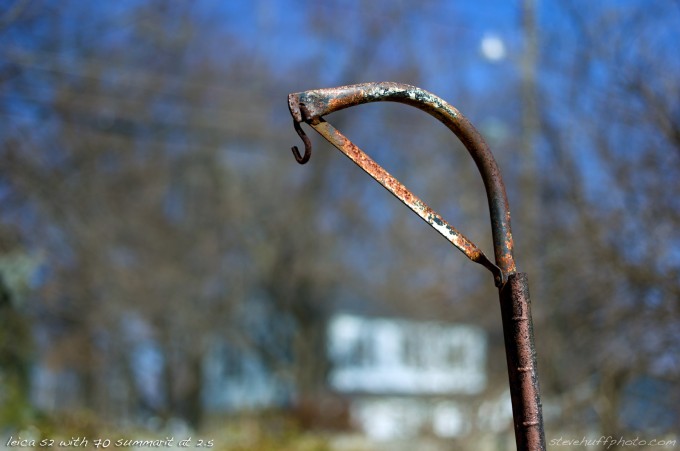 and the M9…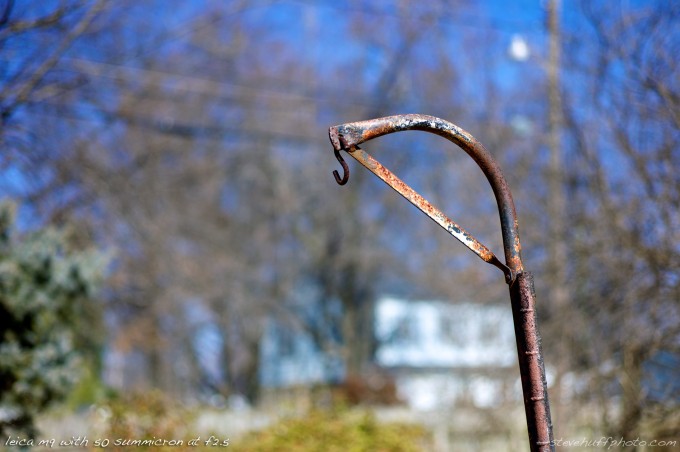 When I was shooting these cameras side by side I did in fact notice the richness of the files of the S2. The S2 has more Dynamic Range and also more resolution of course but I would still rather have an M9 over an S2 for WHAT I SHOOT. If I were a serious big time portrait/fashion or landscape pro who wanted the best image quality, then I would buy an S2. Its a beautiful machine! I would still want my M9 though and these side by sides show just how good the M9 is. With that said, who wouldn't want BOTH of these in their kit??
The image below can give you an idea of the size of the S2. Look at it next to my M9…
I would do almost anything to have BOTH of these cameras in my bag. Maybe one day…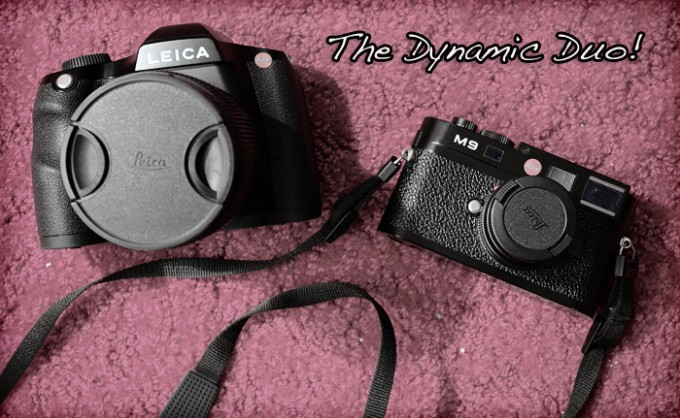 SIX FULL SIZE S2 SAMPLES!
Before I wrap this up and get to my pros and cons, here are a couple more images from the S2, and you can download the full versions (note: the 1st one is cropped)
Leica S2 – F5.6 – ISO 160 – Handheld at 1/125s – Click HERE for FULL SIZE Jpeg – This one is a pretty severe crop! No PP, straight from camera. Saved as "10" in Photoshop.

Leica S2 – 70 Summarit at F2.5 – ISO 320 – Click here for full size – Saved as a "10" in Photoshop  – So rich, even in the evening at ISO 320!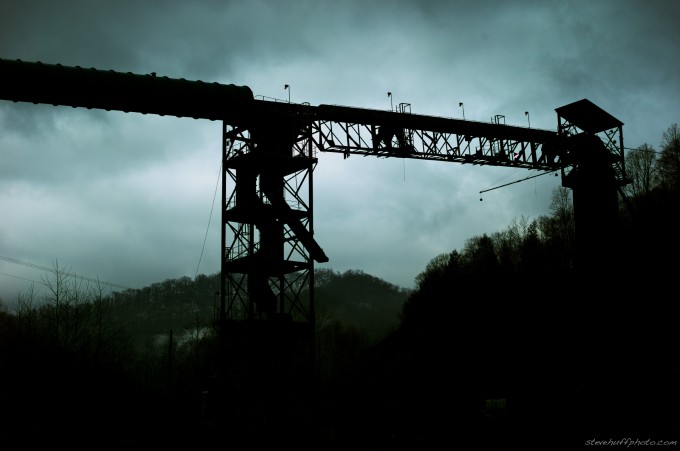 Leica S2 – f2.5 – 1/1000 – ISO 160 – No PP – Click here for full size – Saved as "10" in Photoshop. – NO PP. The detail in the cats face is amazing!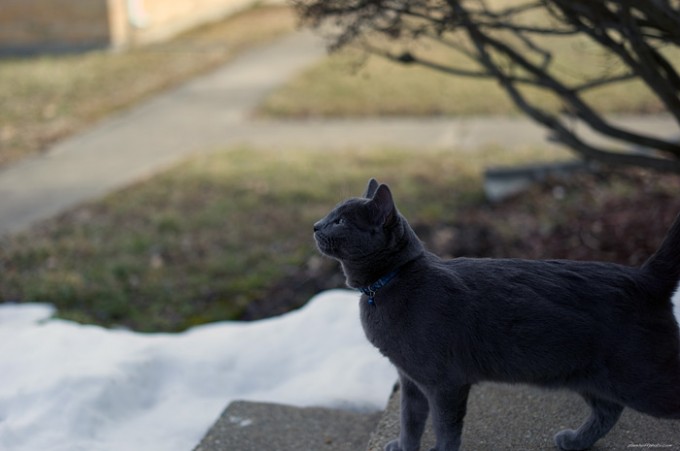 Leica S2 – f4 – ISO 160 – CLICK HERE FOR FULL SIZE JPEG – saved as a "10" in Photoshop – NO PP.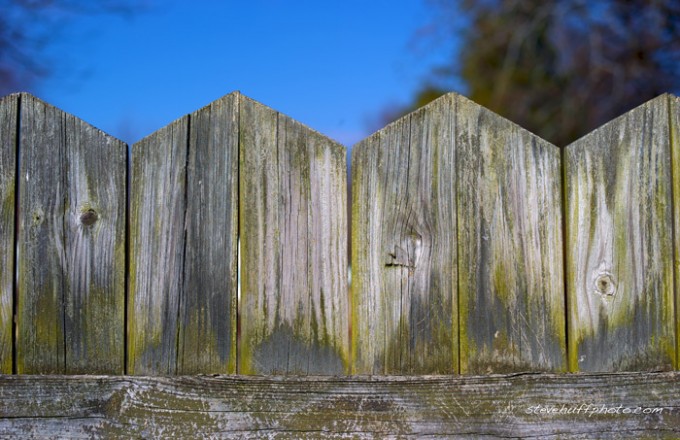 Leica S2 – 70 Summarit f2.5 – ISO 160 – 1/350s – CLICK HERE FOR FULL SIZE JPEG – Saved as a "10" in Photoshop. NO PP, just added some sharpening to this one.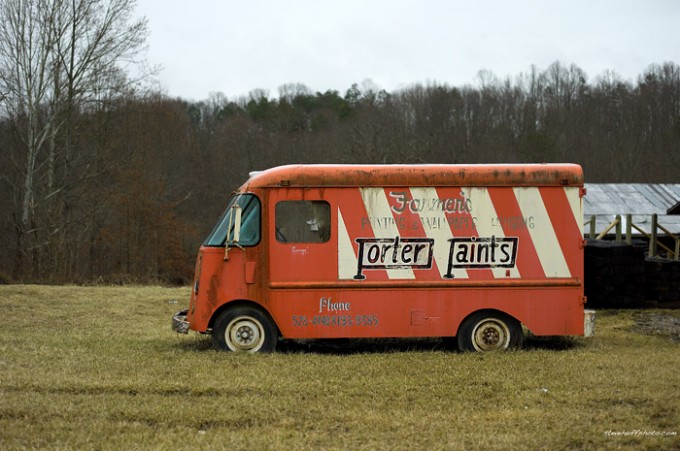 Leica S2 – 70 Summarit at f2.5 – ISO 320 – Click here for full size JPEG – Saved as a "10" in photoshop. No PP.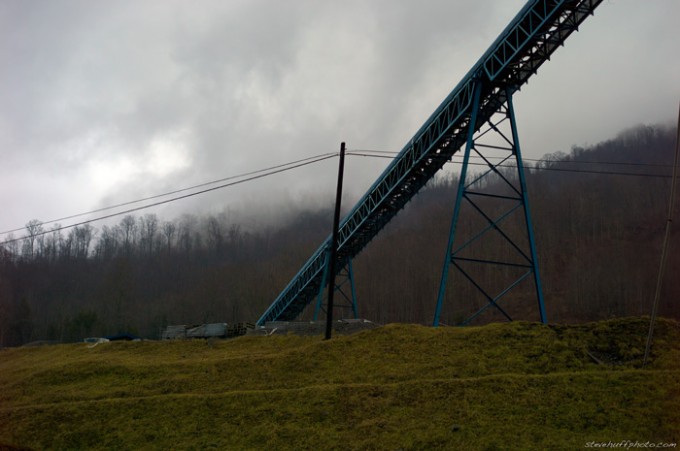 When you have light, and a fast enough shutter speed the images are crazy sharp and detailed. They also have that smooth medium format quality and color. During my time with the camera the light pretty much sucked so while I may not have gotten the absolute best out of the camera I did shoot enough to know that the S2 is the best camera I have ever held in my hands.
My Bottom Line Conclusion
Where to begin…well, first I want to thank Leica for sending me this camera to try out. They didn't have to and so I appreciate it. With that said, I am happy they sent it because it just confirmed what I already knew. That A: The S2 is the finest camera in regards to image quality that I have ever held in my hands and B: I will NEVER be able to buy one 🙂 The photographer that will buy the S2 is one who wants the build, the quality, and the simplicity that Leica offers. Having a medium format camera in a ergonomically designed DSLR body is a dream in itself, but add to that the ability to attach beautiful Leica lenses that were created just for this camera and you have a combo that can create jaw dropping images.
My time with the S2 was short and the weather was horrible but I tried to make the best with what I had. I found that many of my shots were blurred due to me trying to shoot with low shutter speeds (did not include those in this review obviously), and on the S2 that is not a reality. I also had to keep it wide open 98% of the time due to the grey skies. The S2 begs for a tripod, good light, and a photographer who will take their time getting everything right. When you do, the results are magic. I have been reviewing many S2 shots from a friend of mine and I can state that in good light, there is indeed that Leica magic infused deep within the S2's shell.
Would I buy one if I had the money? Sure, if I had a million or so in the bank I would add this to my collection but the M9 would still be my daily shooter. The S2 would also make for a superb landscape camera, again, using a tripod and with good light.
The S2 is a "dream" camera. A statement piece by Leica saying "THIS IS THE BEST OF THE BEST". The only flaws with the camera are the same flaws with most medium format gear. High ISO is average, the price is high and the file sizes are HUGE! But in the grand scheme of things the cost of the S2 is not really that far off from something like a Phase One P40+ and it really offers more with its wether sealing, DSLR body, gorgeous LCD and the viewfinder…wow. Hasselblad released their own H4D-40 at $20,000 WITH a lens but it's pretty large and does not have the weather sealed DSLR form factor.
One thing to remember if you buy a Leica S2 is that you will need a very powerful computer to handle the files. My Imac quad core handles them but once I start getting into opening a couple of S2 files things start to slow down. I would recommend something like an 8 Core Mac Pro (I am a 100% Mac guy) with loads of ram. The files from the S2 are 72MB each! For comparison,  M9 files are just over 17MB each so you can imagine how much computing power you will need.
At the end of the day the S2 is just what I thought it was and if you have the cash and want one of the best cameras on the market right now then go get yourself an S2! I can not imagine ANYONE not being absolutely thrilled with it. After shooting with the S2 it is VERY hard to look at images from a normal DSLR. Yes, I am now gaining a small interest in medium format due to the "organic" qualities. If only we were all rich 🙂
PROS & CONS of the Leica S2
PROS:
Amazingly beautiful build quality. Best built camera I have ever held in my hands.
The LCD is nice and can be seen in daylight without any issues.
Simple controls, easy to understand. Can learn within 5-10 minutes.
The file quality when in good light is flat out gorgeous. Best IQ I have ever seen (though I have not shot with other MF gear)
Medium Format in a PRO DSLR size body.
Battery life is good for this type of camera. (about 600 shots per charge, maybe more)
Made in Germany!
Dual card slots for backup – SD and CF capability.
The viewfinder sets the standard. It's more like a porthole than a VF.
Color, AWB and Depth of the images is awesome.
CONS:
The price of $22,000+ for the body only leaves out the poor photographers 🙂
ISO 1250 is pretty noisy, ISO 640 and under is good.
The file sizes are HUGE and will bring most computers to their knees (even my quad core IMac slowed down with the S2 files)
Buy An S2!
I hope you have enjoyed my real world review of the Leica S2. If you have the cash and want to buy one of these, B&H Photo has been getting them in stock on both the STANDARD and the PLATINUM edition. Amazon
also carries the S2. Also, you can download the S2 manual direct from Leica by clicking HERE.
More images from the Leica S2
I will leave you with a few more images from this lovely camera. These have all had some minor PP to them to match my style but the last one of the waterfall at ISO 640 is right from the camera. The S2 files are INCREDIBLY hardy! Thanks for looking!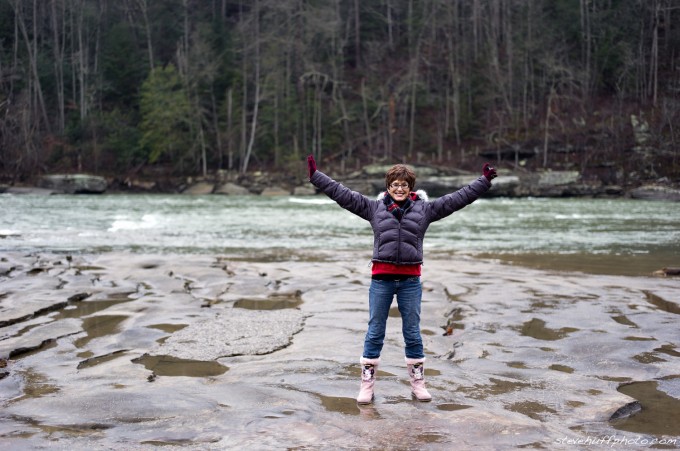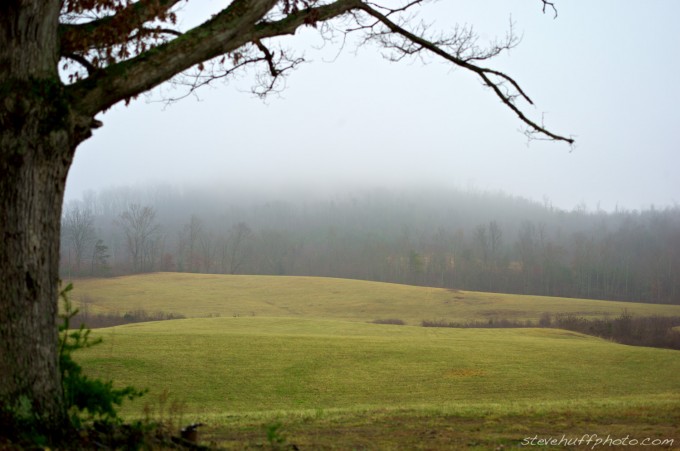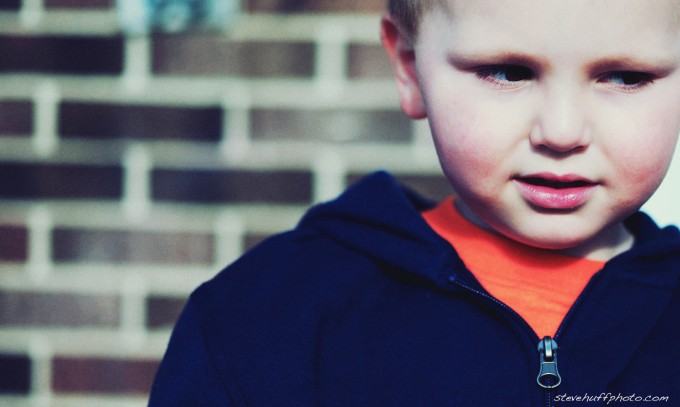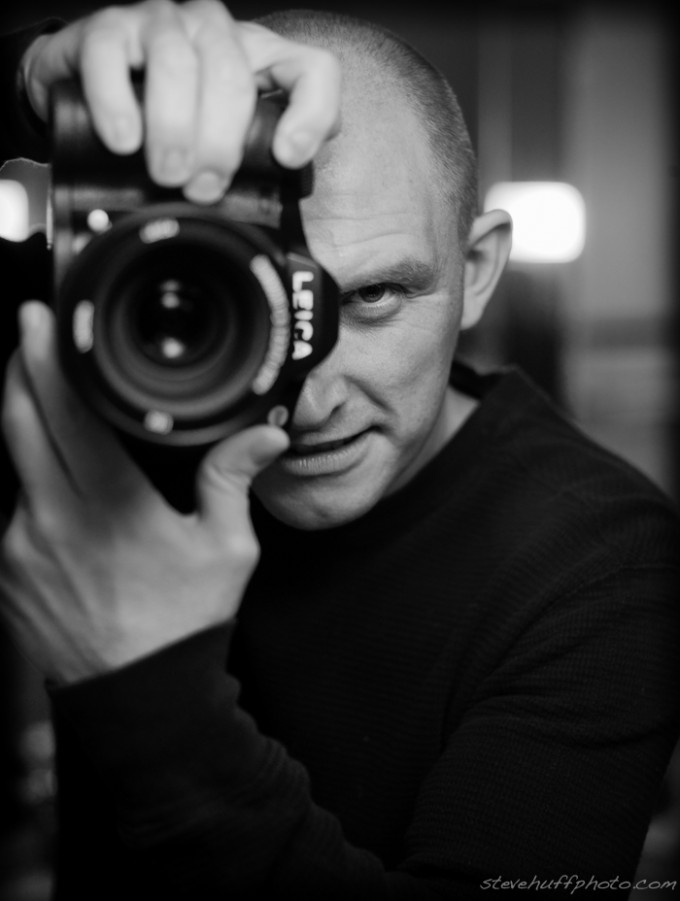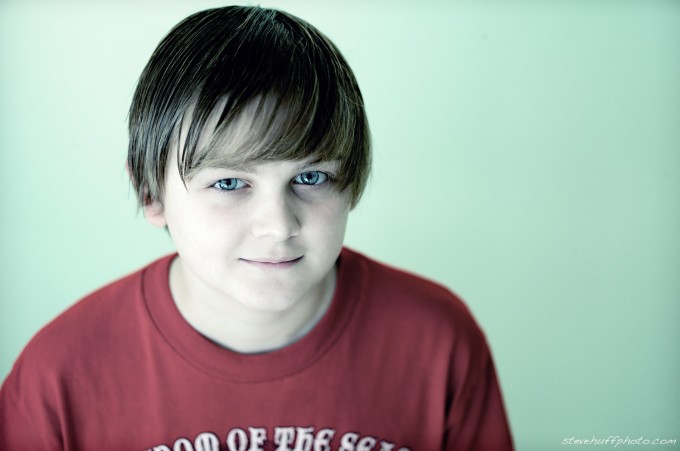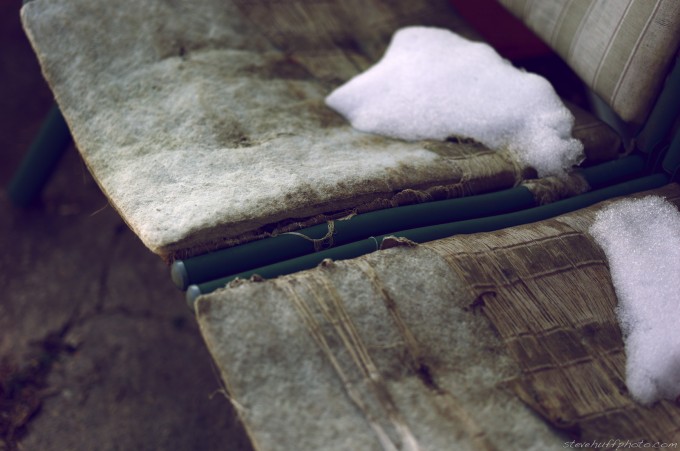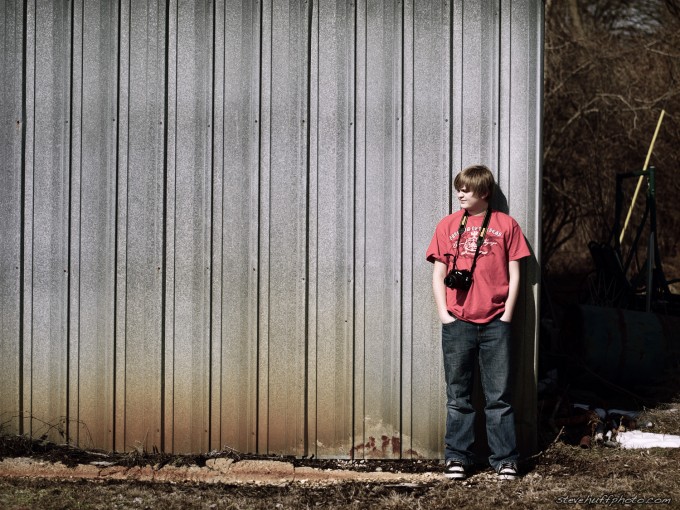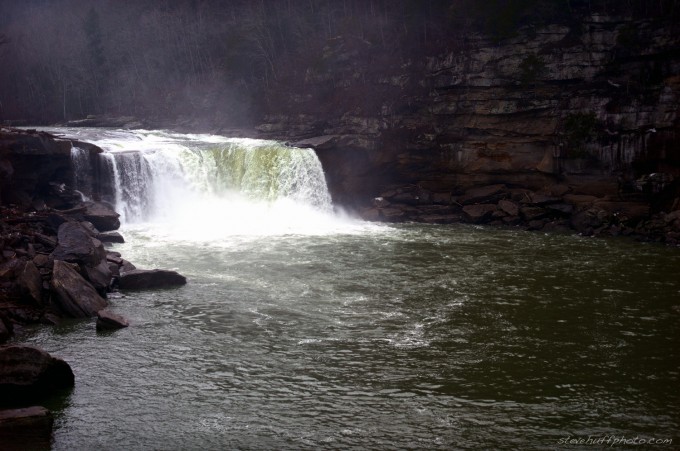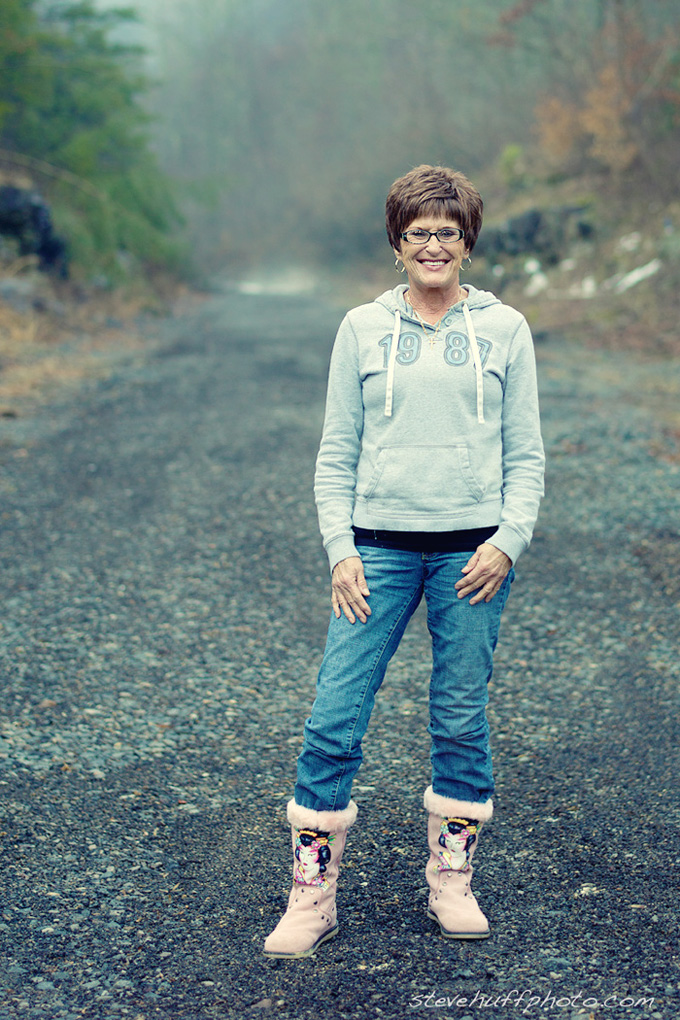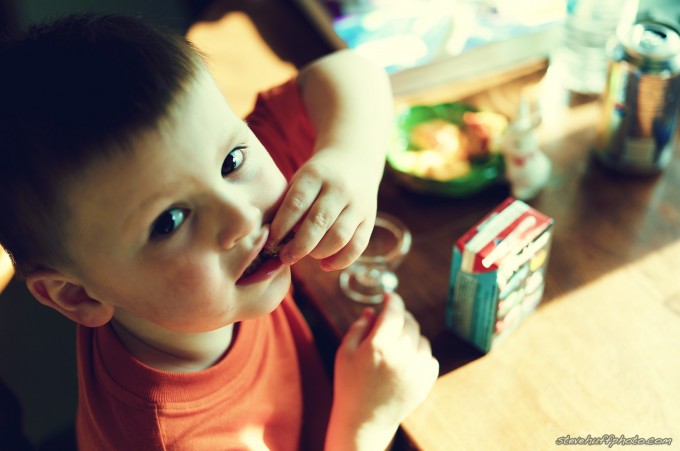 Waterfall was shot at ISO 640 in horrible lighting conditions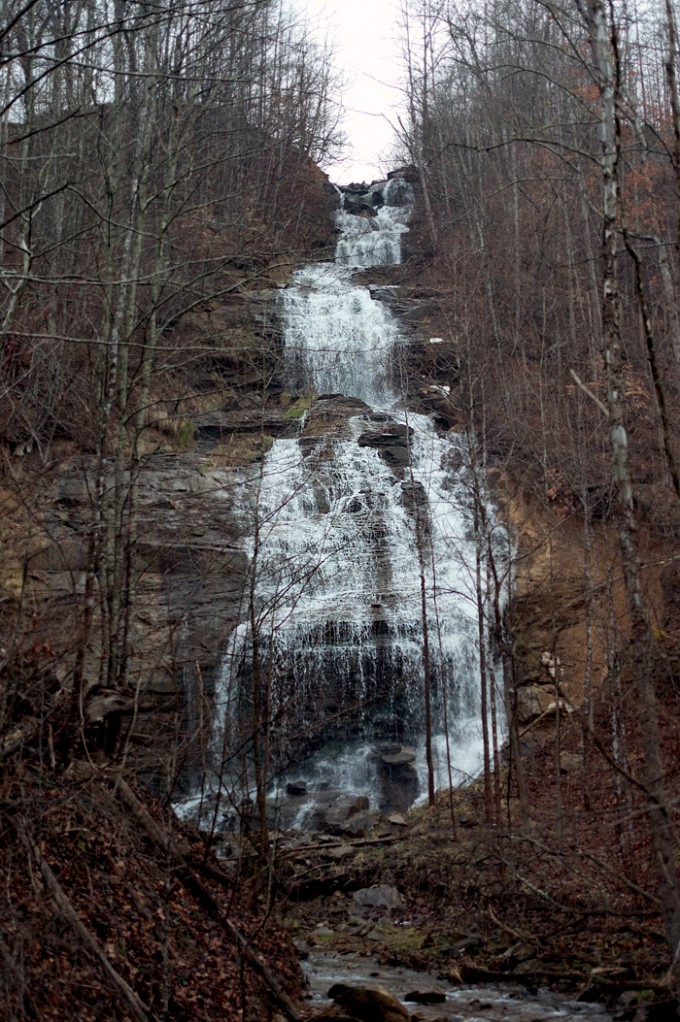 HELP SUPPORT THIS SITE TO KEEP IT GOING AND GROWING!
Remember, anytime you follow my links here and buy from B&H or AMAZON,
this helps to keep my site going. If it was not for these links, there would be no way to fund this site, so I thank you in advance if you visit these links. I thank you more if you make a purchase! I have nifty search bars at the upper right of each page so you easily search for something at either store! I currently spend 14 hours a day working on this site and the only way that I can pay for it is with your help, so thank you!
If you enjoyed this article/review, feel free to leave a comment at the bottom of this page and also be sure to join me on twitteror facebook! Also, you can subscribe to my feed at my subscribe page HERE and read these posts in your browser or news reader!
Be sure  to visit the new forums on the site as well! Thanks so much for visiting my site!