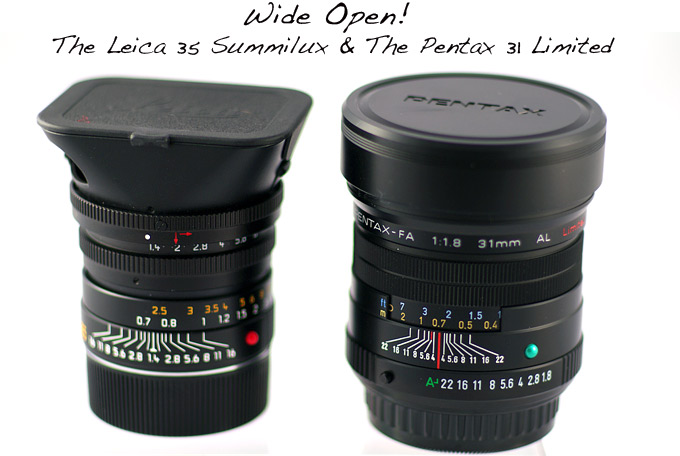 I have been testing out the Pentax K7 for a few weeks now and today I received a couple of nice lenses to use while I finish up with the camera, woo hoo! Finally happy to get some decent glass with a camera when testing it!  These lenses get super high raves from those in the Pentax community and the owners swear by them. The Pentax Limited FA 31 1.8 is one of these lenses. Many (in the Pentax community) say this is one of the best lenses ever made. A bold statement indeed! Since I happen to have a Leica 35 Summilux ASPH on hand I decided to do a "just for fun" comparison.
I was testing out the 31 on the Pentax K7 today, mainly shooting wide open at 1.8. Just for fun I was snapping right along next to it with my M9 and 35 Lux ASPH, also wide open! After looking at the images on my ImacI figured that some of you may like to see the results. I really just want to show how each lens renders. It's not about showing crops but more about the "feel" of each lens. I can state right now that the 35 Lux is leagues sharper at 1.4 then the Pentax at 1.8 but what about the color and bokeh? The Leica 35 Summilux is a $4500 lens so I would not expect the Pentax to beat it, but how close can it come for 1/4 the price?
The Pentax K7 is not a full frame camera but the FA 31 Limited lens is meant for full frame and it is beautifully made. It is a VERY nice looking and feeling lens. I will have much more from it in my K7 review (hopefully this weekend). For now, here are some comparisons.
To see the differences clearly you can click each image for a large 1800 pixel wide version.
I shot this with both lenses wide open. The Pentax at 1.8 and the Leica at 1.4. If you view the larger version you can easily see how much sharper the Lux is over the Pentax, which I find soft when shot wide open. Some will say the Pentax version is OOF but nope. Not only did I AF this shot, I also manual focused when I saw how soft it was and I shot this 4 times, each with the same result.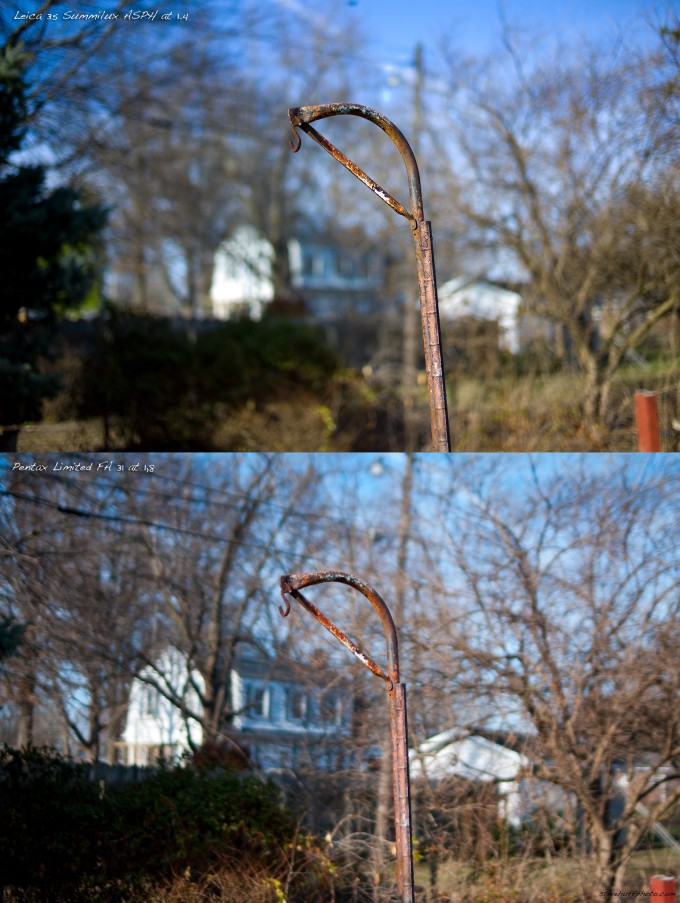 Again, both wide open. I was wanting to see the Bokeh of each lens. The Lux is MUCH sharper here but which do you prefer?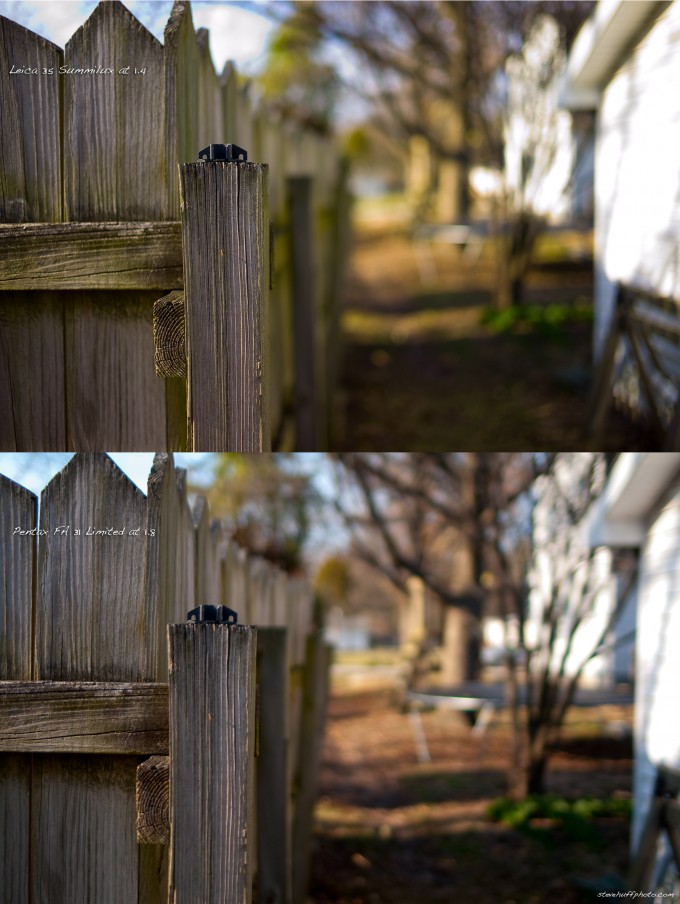 This time the Leica is on the bottom…and these two are straight from camera JPEGS this time.
and one more….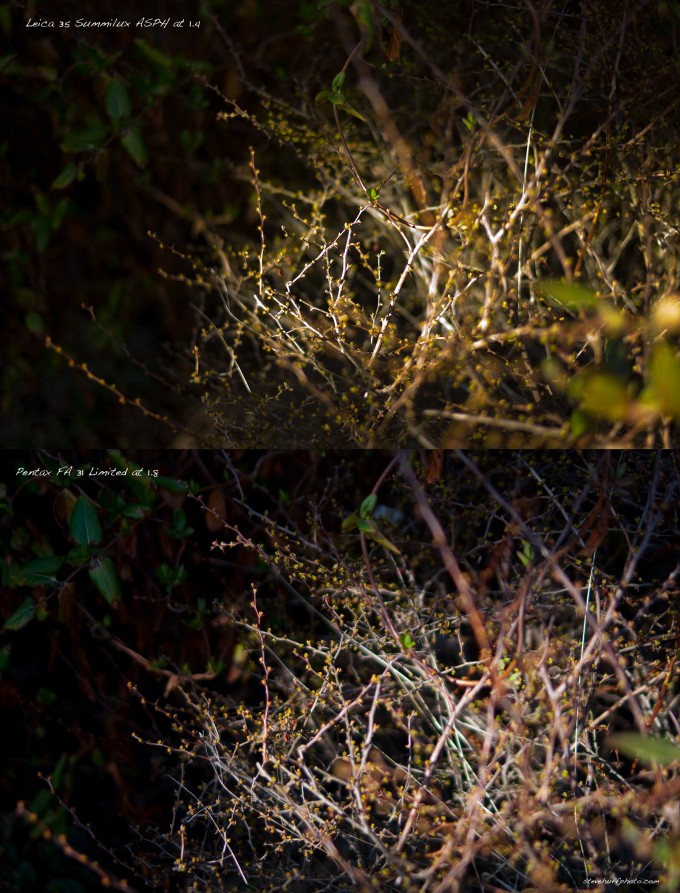 So far I have shot about 50 frames with the Pentax 31 Limited and maybe 15 or so of those have been "real" photos and not  tests. In these side by sides you can see that the Leica is a sharper lens with a more "wow" kind of look. But remember! The Leica is about 4X the cost of the Pentax which comes in at almost $1000. So far, even with it's softness wide open I really like the Pentax 31 Limited on the K7. It is not in the league of the Leica but there really are not too many that are and for the cost its build, feel and performance is really good. When stopped down to 2.2 it sharpens up nicely. If I owned the K7 or a Pentax Kx, I would probably buy the 31 Limited for myself.
The other Pentax lens I am shooting with is the 77 Limited 1.8 and that lens is REALLY sharp, even wide open. Look for images with both in my Pentax K7 review, which again,  I hope to  have up this weekend. Until then, here is one "real" image from the 31 Limited shot wide open at 1.8 and then converted to B&W using Silver Efex Pro. This is after all what the lens was made for…"real" photos 🙂
Pentax K7 and the FA 31 Limited 1.8 Lens, at 1.8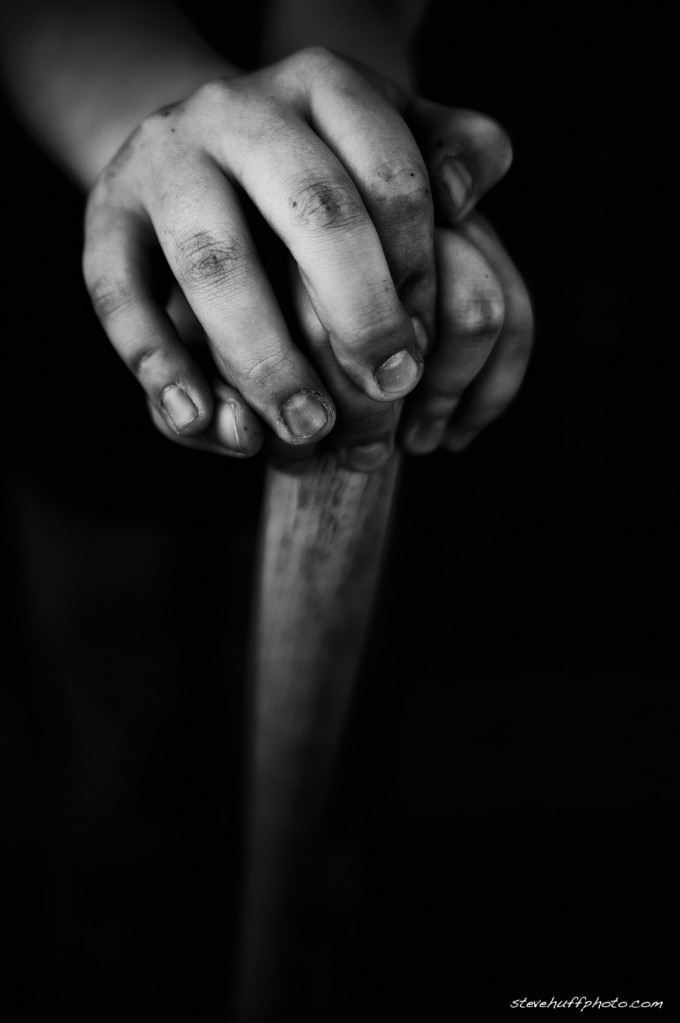 [ad#Adsense Blog Sq Embed Image]