The Crumpler 5 Million Dollar Home Camera Bag Review
Fun, fun, fun…It's time for me to search for a new bag for my camera gear!  I just sold my Billingham Leica bag through the buy/sell section here on this site and as much as I loved that bag (I had it for 4 years) I just outgrew it. I needed a new bag and I had a few things on my checklist of what this bag MUST have. I wanted a bag that I could keep for 10 years without the need to go bigger or buy anything better.
This was my checklist:
It must hold more than the Billingham did which held my M9 and two lenses along with some SD cards, cables, charger. I needed something that would hold my M9 with up to 3-4 lenses as well as a compact camera and charger, cables, etc.
It must be somewhat small and not much bigger than my Billingham. If it's too huge I will not want to lug it out.
It must offer good padding and protection for my gear.
A pocket is a must for an Ipod, Iphone, etc.
Finally, a nice strap so I can carry it around my body comfortably.
It must be made well and withstand years of use.
It can not be really ugly 🙂
While searching for a new bag I found some gorgeous bags from Billingham and Fogg but the prices were a bit high for my wallet at this time. I wanted to stay around the $100 mark and the one bag that kept popping up was the Crumpler "5 Million Dollar Home". Crumpler makes a line of bags that range from tiny to large and these particular models (million dollar home line)  have everything that I was looking for in a camera bag. If my budget was bigger I would have went with THIS bag.
The 5 million dollar home seemed like the perfect fit with its ability to hold my M9, up to 4 lenses and a few other necessities. When it arrived my 1st impression was that it was not nearly as cool looking as my Billingham and it was also not any bigger! Looked like I was going to be in need of an RA#! BUT, after closer inspection I realized that the bag had more room that it seemed and I ended up really liking the design and looks.
Here is a video of the bag…
The Crumpler 5 Million Dollar Home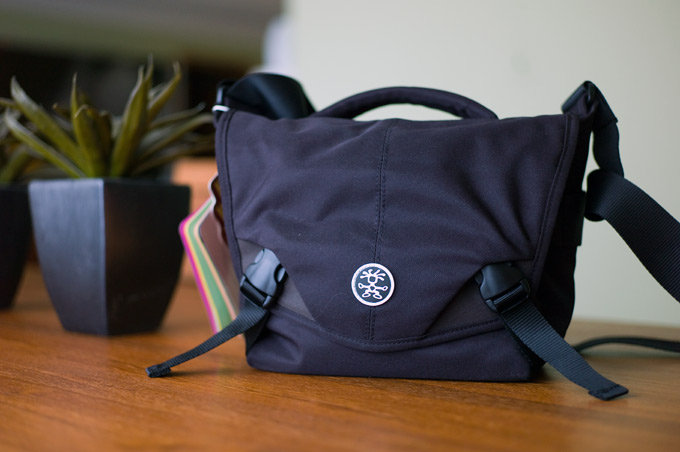 I packed in my M9, a 35 Summilux in the case as well as a 50 cron case. I still had room for two more lenses or a compact such as an Oly E-P2 and lens. I also had two pockets for cables, chargers, Ipod or whatever I wanted to stuff inside. Still, I read that the 6 million dollar home was only a little bigger but gave quite a bit more room so I placed an order for the 6 million dollar home in Grey/Red and that is set to arrive tomorrow! I will compare both side by side with all of my gear and see which one I will decide to keep.
I love the color of the interior padding and the padding is nice and thick for extra protection. There is also a nice pocket in the front though it does not seem like it will hold that much without making the bag bulky and fat.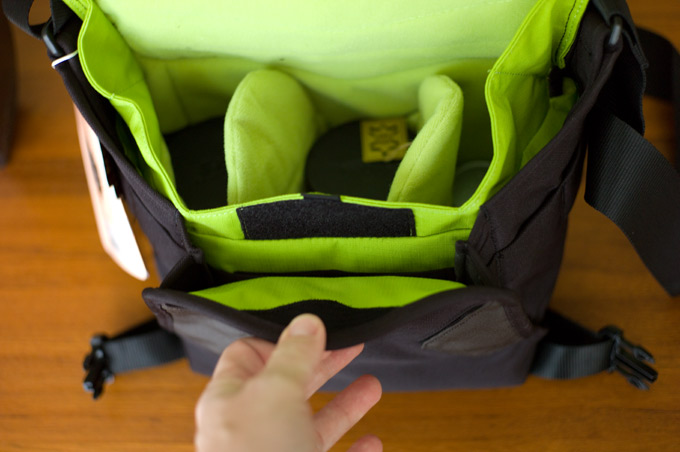 The 5 Million Dollar Home is a very nice bag and the great thing is that it is fairly small. It IS indeed the perfect size for a Leica M and two lenses. It's pretty much like a messenger bag though a little fatter. Crumpler says the bag is weather resistant but I would not say that it is rain proof. If you were out in a light rain you would be ok. In a heavy rain I would not trust that my equipment would not get wet thought it may keep it dry. I have not been out in a storm with it yet 🙂
Here are the specs from Crumpler:
Construction

900 denier, water-resistant nylon
Lined with 300 denier ripstop nylon
Padded and brushed nylon main compartment
Two moveable dividers to customize the bag
Plastic stiffening layer in base
Two strap and 2 buckle closure
• Touch fastener Silencer flap prevents the "hook and loop" closure from being used
Pockets

External pocket with internal mesh pocket
Mesh zip pocket under flap
Two hidden internal side pockets
Carrying options

Padded carry handle
Attached, adjustable shoulder strap
The bag is nice and I may give this one to my son for his NIkon D5000 kit if I decide the 6 Million Dollar home fits my needs better. I could get by with the 5 million dollar home and honestly ,I feel it is one of the nicest bags I have ever owned. Its build is top notch, its padding is super protective and it's small-ish size would make it an easy bag to carry for a long day of shooting.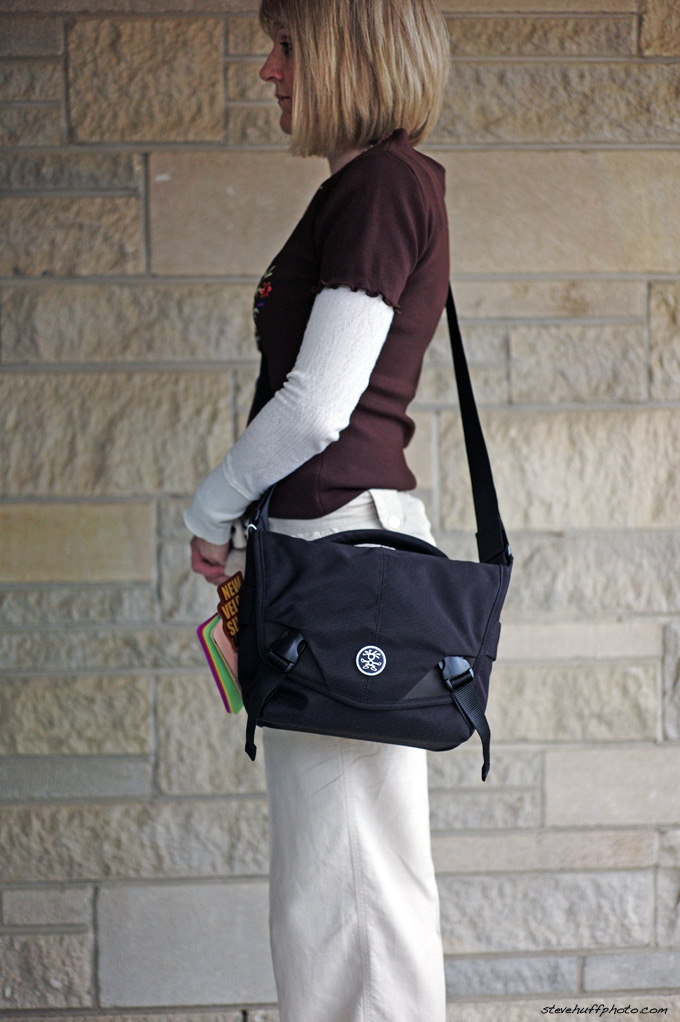 Not much more I can say about it but here are some pros/cons:
Pros
Very well made bag

Padding inside is plentiful and will protect your gear nicely. Padding offers more protection that the Billingham but also bulks up the bag a bit.
Nice design which makes for a bag you either LOVE or HATE the looks of 🙂 I like it.
Small with lots of room
Comfortable to hold/wear
Perfect for a Leica M with 2-4 lenses
$90 is either a pro or con depending on what you want to pay for a bag. I think the price is right for what you get
Cons
You may need more room if you want to carry a DSLR with a 3 lenses so I recommend going up in the million dollar line
Obviously, the more you try to pack in, the more bulky the bag becomes.
Not as luxurious as the Billingham or Fogg bags but much cheaper
If you use the front Velcro for closing the bag it is very hard to open and it is LOUD. Luckily they added the "velcro silencer" which I used immediately.
Overall this is a great bag. If you want great protection and lots of room in a somewhat small package I can highly recommend the 5 Million Dollar Home. They also come in some great colors like Grey/Red, Black/Grey, Olive/Olive, Brown/Orange, Oatmeal/Red, Red/Red. If your budget is higher then a Billingham would be a gorgeous bag for your Leica kit.
B&H Sells this bag for $81.99 and they usually have most colors in stock. It is where I ordered mine and if you want to see all of the colors you can click here to go to the 5 Million Dollar Home page at B&H! Thanks for reading this overview of the Crumpler 5 Million Dollar Home camera bag!
[ad#Adsense Blog Sq Embed Image]