Refreshed, Re-Inspired and Re-Loaded!
By Steve Huff
It happens after a while to ALL of us. For one reason or another, we can lose our creativity. We can lose some passion, and even get burned out with photography. With so many websites out there concentrating on tech specs, megapixels, high ISO, and larger than life sensors, I believe that many people out there in this great hobby have lost their way. If we get caught up in all of the charts and graphs, it can overtake us and drive us mad. Then, we lose our creativity. We get frustrated with our images and the end result of this is that we lose interest in shooting. We sell our gear and then later regret it. We buy more gear and start the process all over again.
This happened to me just a couple of months ago. With all of this camera testing and reviewing, I sort of "lost my way" and started realizing I was no longer having fun with photography! I was stressing out when I did not get great shots for a review and started to question why I even bother with it! Yes, I admit. I was getting BURNED OUT! To fix this, I did something extreme…something forbidden..something unheard of in todays photo world. I decided to stop shooting digital for a little while and ONLY shoot film. What a concept!
It was time to go back  to the basics. Back to the simplicity of analog and even take a little break from post processing every image that popped off of a memory card. It all started when Leica sent me the M7 to review and I remembered how much I loved shooting that camera! I used to have loads of Tri-X and Portra and always had great results. I had loads of fun processing my own negatives and scanning a few here and there. It seemed more relaxing. Less stressful.
Have fun and don't worry about sharpness, softness, color, or perfection. Just shoot! When you do this you can end up with some fun results.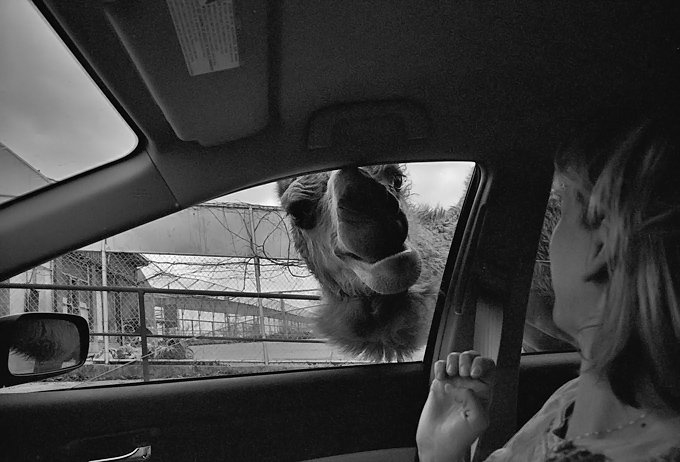 As I shot the first roll of film, I was instantly re-inspired when I cocked the film advance lever. It felt like I was actually working for my image and the thought of it being physically recorded onto film, which is tangible and can be kept for all time, made me think about why we all go so nuts for digital these days. Sure, digital is instant gratification and nice, but I also think it is nice to take a break from all of that and go back to the basics.
After 2 weeks of film, I am now REALLY in deep. I bought the Leica M6, a silver 50 cron to match it, and set my digitals in a cabinet for future use. I also aquired yet ANOTHER film camera! When my wife Mina saw how much fun I have been having with film, she decided she wanted a film point & shoot camera. After some research, I found one from Mr. Ken Hansen. He sent me the camera which is a used/mint Contax T2 and guess what? It's frickkin' awesome! Very solid, aperture ring on the lens, auto film advance/rewind, and a great viewfinder/rangefinder. Ken has a few cameras like this on hand all the time, I think. I know he has a Leica minilux and a few others, and he always gives great deals on these used cameras.
If you are thinking of trying out film but do not want to invest in a Leica M, then you can e-mail Ken and he may have something you are looking for. B&H Photo also has a pretty vast used section. When you go to their site just click on the "search used only" section when searching. You can search for Leica, Contax, Nikon, Canon, Olympus, etc. There are THOUSANDS of film bodies out there and available. Even this site is superb for old cameras and yes, I visited them in person a few weeks ago. They were GREAT!
I'M HAVING A BLAST!
Since going back to film, I have been re-inspired and have been having a BLAST shooting and yes, even scanning! I bought the Epson V700 and it is DAMN good and is so close to my old Nikon Coolscan V that I no longer have desire for a dedicated film scanner. I have been getting great results using Silverfast software and I will be putting up a video on using this scanner that will show how you set it up, load the negatives, and the settings I use when I scan. I spent a whole day messing with software, settings, and scans, and am now getting great results with this scanner. To those who have requested this, it's on the way!
"Roadblock" – Leica M7 and 24 Elmar with Ilford XP2 400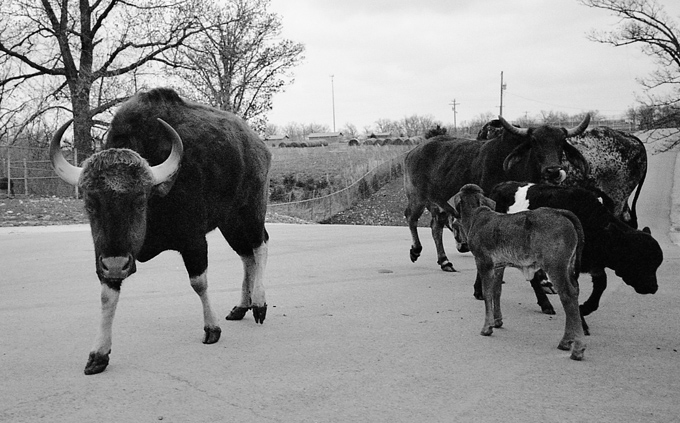 For the past two weeks, I wake up, answer e-mails (I really do try to get to all of them), and usually have my breakfast while I decide what film I want to shoot for that day. I bought 10 different types of film as I want to try them all! The looks you can get are pretty incredible… just by changing your film. Want super saturated smooth files? Try some Velvia slide film. Want a nice print film with great color? Try the new Ektar 100. How about portraits? Portra is the answer for print film, but for something really nice, grab some Fuji Provia. BTW, Here is a link to B&H with my fave print films. Yes, I have shot them all 🙂
TIME TO PARTY…
I am going to a huge party in Mexico in about 3 weeks and will be on the beach for 2-3 days. I decided to only bring my M6 and 50 cron with some Velvia 50, Provia, and Neopan. Maybe a roll or two of Portra and Ektar as well. My wife wants to bring her new T2 and she may load hers with some Ektachrome. I keep asking myself if I will cave and bring a digital…so tempting, as I could shoot and edit photos at night on my laptop, right?!?!  But that is what takes away some of the fun! When you shoot film, part of the fun is waiting for your images/scans to come back! When you get them, it is like you are receiving a present. Like it's your birthday or something. Call me crazy, but that is how I feel.
I still love digital cameras and technology, but I think it's great to go back every now and then to remember how it used to be. If you have never shot a roll of film, you should go out and try it. It can be fun, but also can get addictive. So many film stocks, so many old GREAT cameras to choose from, and so many great lenses. It can be overwhelming, but I suggest keeping it simple. Even a small P&S with a good lens can give you stellar results. My suggestions for quality P&S bodies are the Leica CM, Leica Minilux, Contax T2, and Nikon 28 or 35Ti. These can all be found used if you look around hard enough.
I'm sure I will soon be back to my Leica digital cameras and talking about how much I love them, but for now, in this moment, I am really digging film again. It's a breath of fresh air in this ever-evolving digital craziness. Plus, I will always have digital cameras coming through here to review. But for my personal images, I think film is here to stay 😉
Some images…
The first set of Black & White were shot with Ilford XP2, an easy-to-use C41 B&W film that even drug stores can process. I had my negatives done for $2 at the local CVS and scanned them on my Epson V700 at home. This first set was also taken with the Contax T2. I had to at least try it out and make sure it was working before I handed it over to the wife 🙂
I like to find ways to take images of just about ANYTHING!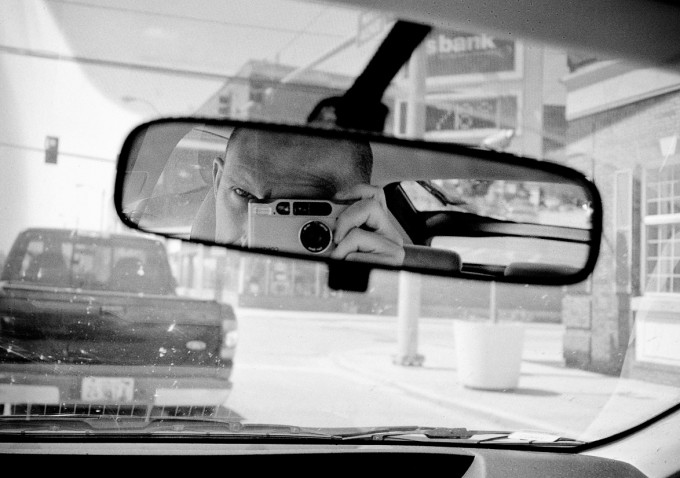 This film thing is addicting. I enjoyed this T2 so much, I can see myself becoming a collector of great film bodies like the Leica CM, Nikon 35Ti, etc. Even with ISO 400 film and mid-day light, the exposure was great.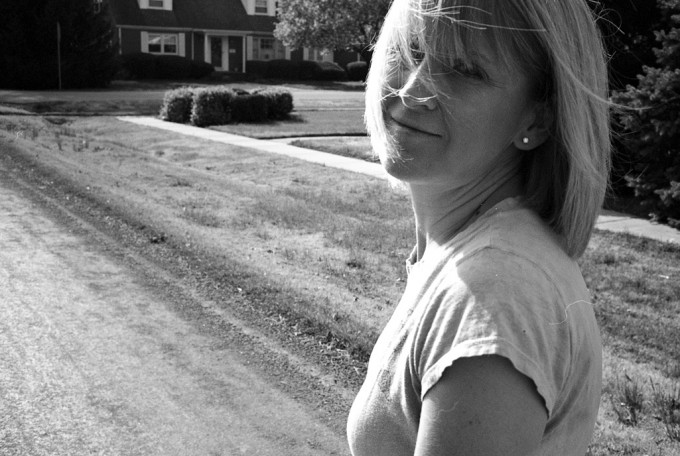 My wife said, "HEY!! That is MY camera!"  So she shot this one of me. The lens on the Contax T2 is a Zeiss Sonnar 38mm F2.8. It seems like a GREAT little lens.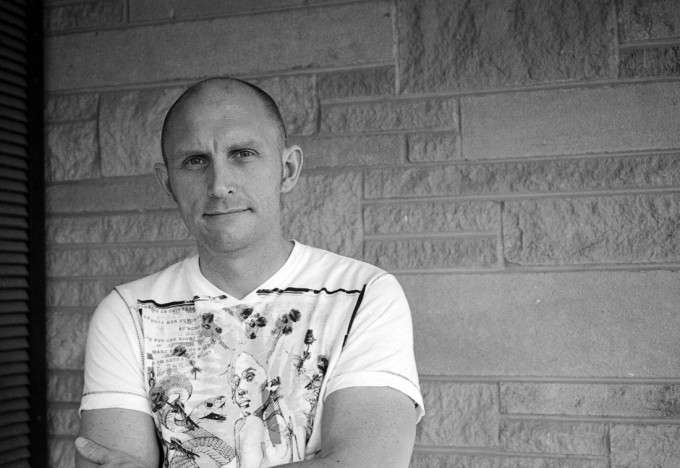 My son has decided that anytime I try to take a picture of him from now on, that he will make a goofy face. I just tell him, "FINE! But remember that thousands of people will be seeing you with that goofy face!"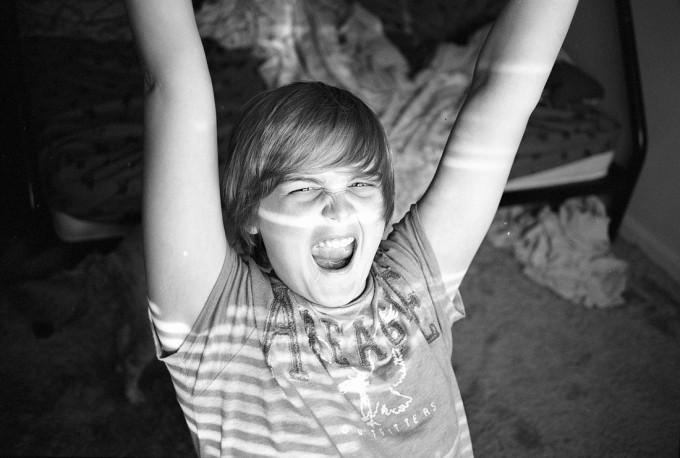 How about some Fuji Reala? This was actually shot 6 years ago. No processing, just a straight scan. Leica M7/35 Lux. Look at how rich the reds are.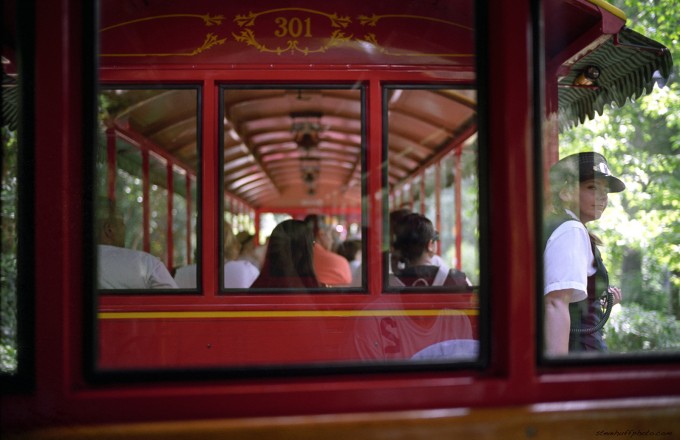 Leica M6 and 50 Cron at F2 with XP2. Even with this C41 B&W, the results are great.
Here is a classic shot. I snapped this image of the "Westward Ho" which is a historic hotel that used to be visited by the stars. These days, it's some sort of retirement home, but there are many homeless who live here as well, from what I hear. After scanning this image, I noticed that the guy in the lower right was flipping me off! To make it even more classic, he is sitting under the "no loitering" sign. Too funny 🙂 This was harsh mid-day AZ sun with ISO 400 film. NOT The best choice, but it still did fine.
One more from the Contaxt T2…
Thanks for reading! If you guys are sick of the film posts, let me know 🙂 More coming soon…
Epson Scanner Overview/Video
Leica 18 Elmar Review
MORE Binoculars…from Zeiss!
Hopefully…the Zeiss Sonnar 1.5 M mount lens re-review!
Samsung NX10 and more guest articles!
[ad#Adsense Blog Sq Embed Image]