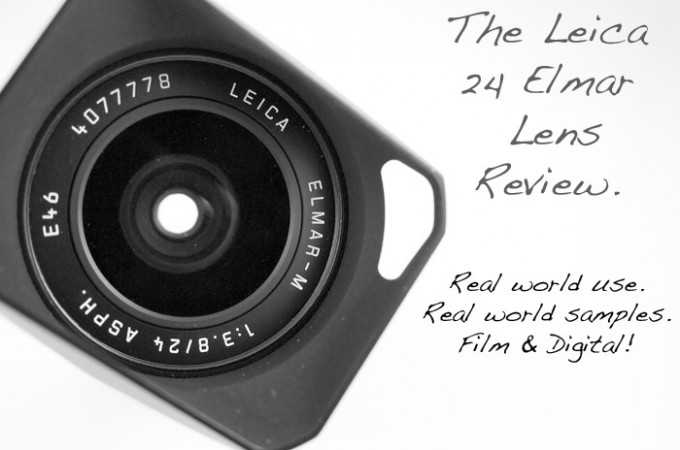 The Leica 24 Elmar Lens Review – I have had a Leica 24 Elmar in my possession for 2-3 weeks now and have been having fun with it on the Leica M9 as well as the Leica M6 & M7. Problem is, I am not really a wide-angle guy (but that may change soon). So, my use has been rather limited with the lens. Many of you may remember that I LOVED the Leica 24 Elmarit and the 24 Summilux. But when I reviewed those lenses, I was shooting them on a crop sensor Leica M8. This made those lenses closer to a 35 than a 24, so I was not really experiencing the true wide angle that a 24 will give you.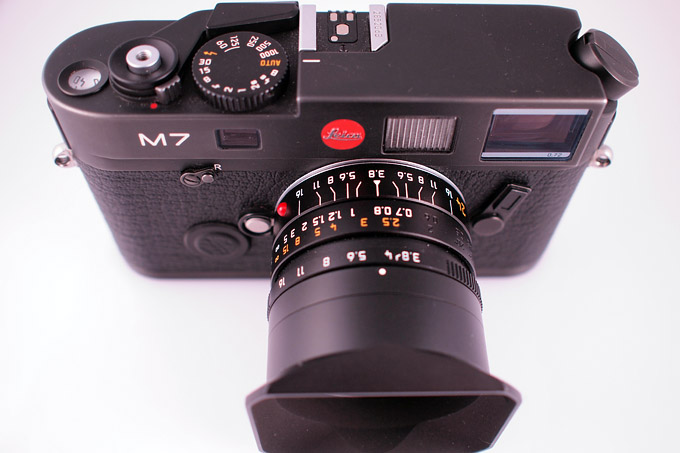 On the M9 and an M film camera, a 24 is pretty wide and Leica now offers three choices for your wide angle fix. This lens, the 24 Elmar, is the least expensive, but best feeling lens of the bunch. It's small, light, and the build is top-quality, much like all of the recent Leica releases. The lens has the metal screw-on hood just like the 24 Summilux, but the lens itself is MUCH smaller and lighter. This is due to the fact that the Elmar has a maximum aperture of 3.8, not 1.4! Yes, the faster the lens, the larger the lens. The larger the lens the HEAVIER the lens!
One of my fave wide lenses ever, no SCRATCH THAT. MY FAVE wide angle ever  is the 24 Summilux.  If I lived in a perfect world, I would own one, no question. BUT, how often would I use it? It's large and it's heavy, so the reality is that on a full-frame camera, I would probably end up leaving it at home unless I really needed low-light performance, which is where that lens shines anyway. Ahhh, the creamy, dreamy 24 lux… One of those to put on my "dream lens" list.
The 24 Elmarit 2.8 is also a FANTASTIC lens. It's a bit slower than the Summilux, with a maximum F2.8 aperture, but it has a very sharp and very 3D rendering. On the M8, this was another 24 that I wanted and was about to buy. But when the M9 was announced, I decided to wait because I had no idea if I wanted to go wider than 35mm on full frame.
Now that I am shooting only full frame with Leica, I had the opportunity to test out the 24 Elmar, their latest 24mm, and also their cheapest 24 🙂
"Reflections of Spring" The Leica M7 and the 24 Elmar with Portra 160NC film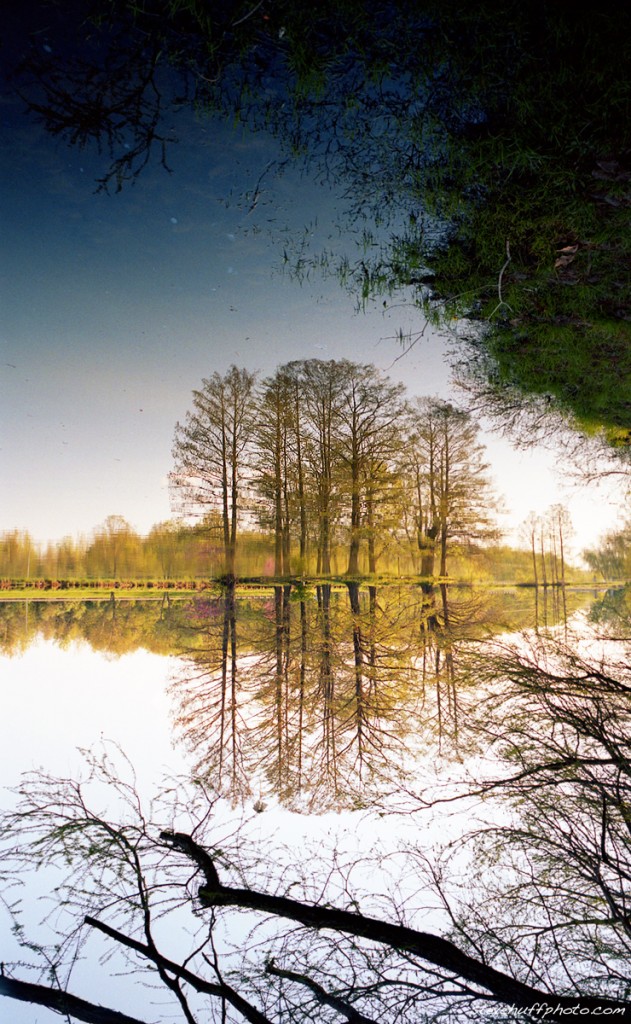 I was pretty excited. Not only was I getting the chance to shoot with a new 24, but I was getting to test it out on the M9 AND and M7. I want to thank Leica USA for sending these to me to test out. Due to them sending me the M7, I ended up buying my own M6 and getting hooked on film! It never ends does it?
First Impressions Always Count
When the lens arrived, my first impression was, "Wow, this is TINY!" It is easily the smallest 24mm lens I have ever held in my hands, but also the nicest built 24. The lens is small, but solid, and it's not too heavy. Truth be told, the 3.8 aperture turned me off as I am not a huge fan of slow glass. I realized that it really is mainly a lens for daylight use. The photographer who buys this lens is one who is looking for an incredible wide angle for daylight landscape or even travel photography. I have heard that this lens is super sharp with excellent performance across the entire aperture range.  As soon as I shot some stuff at 3.8, I knew that was true because the lens was sharp, contrasty, and rendered much like the 24 Elmarit. Maybe even a little sharper!
"Sedona" – Leica M9 and the 24 Elmarit at 3.8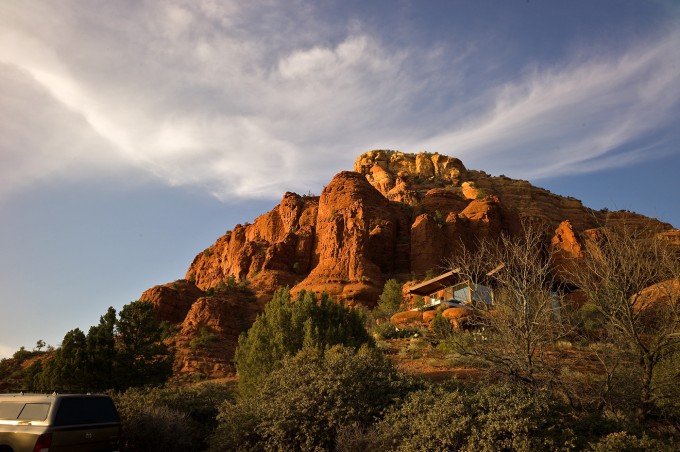 "Spring HAS Sprung" – Leica M7 and 24 Elmarit (approx F4-5.6) – Portra 160NC
The lens did great on both the M9 and the M7/M6, but I have to say that as far as film cameras go, the M7 is a joy to shoot due to its AE mode. With the M7, I am much faster as I can shoot it just like an M9. The M6, while I love it to death, is a bit on the slow side as you have to adjust the shutter speed and aperture each time you shoot. With that said, I still slightly prefer the M6 only due to the fact that it has less electronics to go bad in the future. As far as the 24 Elmar is concerned though, I seem to get better exposure with it while shooting it on the M7 and M9. There, I knew that little off-topic rant had to head somewhere 🙂
The Price Tag – $$$$
The prices on Leica gear these days is astronomical. Who would have thought 20 years ago that to buy a current Leica camera and one lens would cost $10,000? Hell, even about 6 years ago, when I bought my first Leica, I got a brand spanking new M7 and 50 Summicron for $3400. These days, an M7 is $4600, a 50 cron is $2000, and the current M9 rings in at $7000! Part of my brain tells me I am CRAZY as my 96 year old Aunt Sally to even buy these things, but the other part of my brain tells me, "YOU ONLY LIVE ONCE. LIVE LIFE. ENJOY IT."  I tend to listen to the part of my brain that tells me to ENJOY life, even though sometimes that can lead to trouble (like a bank account going bankrupt).
Yes, Leica lenses are expensive. Leica cameras are expensive. They are also freaking gorgeous and  make you feel like you own something special. To this day, I have never been happier (with photography) than when I am out shooting with a Leica M, whether it is with an M6, M7, M8, or M9. I love them all and I also happen to love almost every single one of their lenses. They seem to connect to my heart, and I guess that makes them worth the cost. If you are a Leica fan, then you know what I am talking about here.
Back to the 24 Elmar. As I shot this lens, I kept wanting to put a 35 or 50 on the camera. I was just not finding the subjects that fit a 24mm lens. I guess that is why I am mainly a 35/50 kind of guy. In any case, I did end up with some nice images. M.y feeling on the 24 Elmar is that I would be thrilled to death to own it, IF I was only using it in decent light. It gives you all of the quality of the Elmarit starting at 3.8 and is so much nicer to handle.
"Brandon" – M7 and 24 Elmar at F8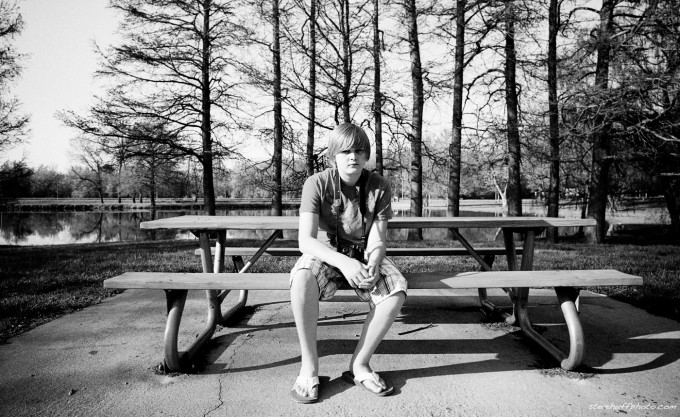 "Liquid Mirror" – Leica M7 and 24 Elmar – Portra 160 NC film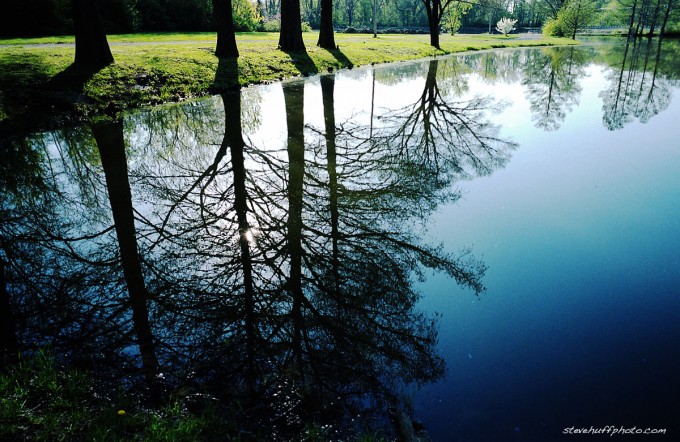 Detail/Sharpness
As stated, the lens on the M9 is ASTOUNDING, even wide open.
Click HERE for the full size from RAW file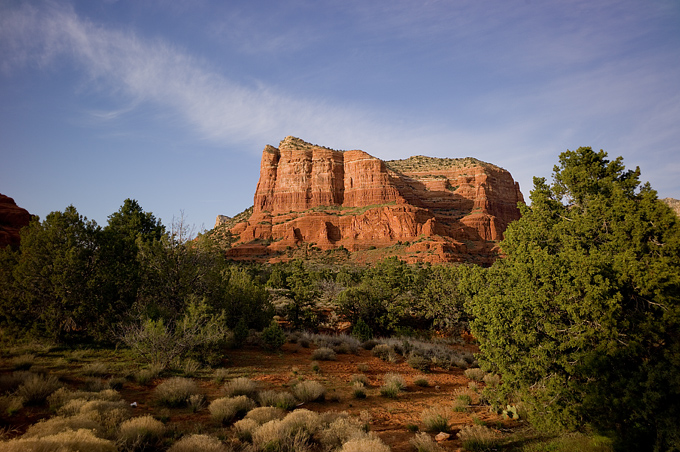 This is one thing you will NOT get from film. The M9 produces stunning, medium format like results. And if the light is right, the camera delivers. View a 100% film scan and you will see grain and softer details. BUT with film, you can get some pretty special results as well, with rich color that is so different from digital. Either way, the 24 Elmar continues the Leica tradition of excellence with their glass. Seriously, I feel Leica glass is THE BEST in the world and I guess it better be for what we have to pay for it. Honestly, this 24 Elmar is actually somewhat of a Leica "Bargain." At $2395, it's much less expensive than the other 24's in the Leica lineup and its performance is just as good.
Leica M7 and 24 Elmar at F8 – Portra 160 Film
Leica M9 with 24 Elmar at 3.8
Leica M7 with 24 Elmar at 3.8 – Portra 160NC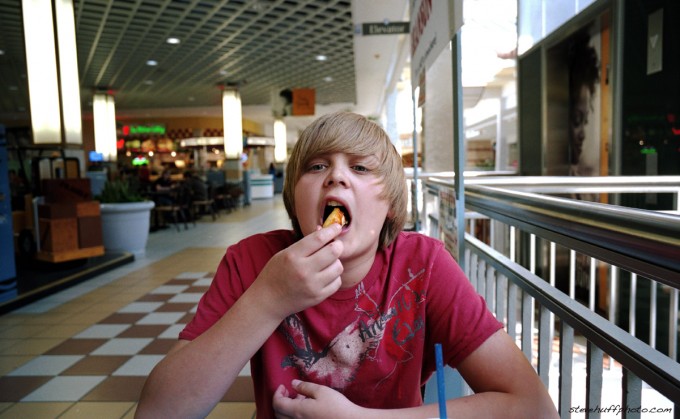 How's The View?
Some Leica lenses are larger than others and tend to block your view through the viewfinder. Being compact, the 24 Elmar is not so bad, even with the hood. Here is a view through the viewfinder with the lens and hood attached. Also, the lens has a weight of 9.2 Oz.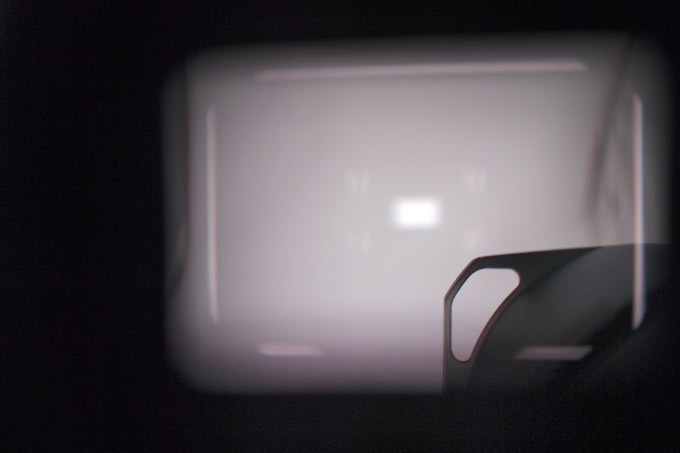 The Bottom Line
This review was kept short and sweet, as there really is nothing I can say that I have not already said about the Leica 24 Elmarit. The only difference between the two appears to be speed.  I prefer the build of the Elmar, but of course the faster 2.8 of the Elmarit. The ultimate 24 is the 24 Summilux, but at $6500, it won't be making its way into my bag anytime soon. If I had the spare cash, it would have been mine a long time ago 🙂
The 24 Elmar is a gem of a lens. It has a solid build, a smooth, but solid aperture dial, a nice compact metal screw-on hood (that actually STAYS on the lens), and the cool part is that you get mega lens performance in a pretty small package. I never had my doubts though, as the slower lenses always tend to be stellar performers. With Leica, I knew it was going to be sensational.
If you are in the market for a 24mm for your Leica M, whether that be a digital M8, M9, or even a film MP, M6, or M7, then the 24 Elmar should be on your list. If you do not need a wide angle for low light, then it should be at the TOP of your list. I had no complaints, no problems, and no issues with this lens. Even though I rarely have the need for a slow 24, I feel sad sending it back. I wonder why???
Where To Buy…
You can pick this lens up at B&H Photo here or you may want to give Ken Hansen a call. Ken is an old-school Leica dealer with the most Amazing service. I get ZERO money from Ken when I mention him, but I do this because I feel that he is an asset to the Leica community. Great dealer, great service, and GREAT GUY! He probably has these in stock, so give him a shout at his email here.
I will leave you with a few more images from this lens. BTW, the film shots here were all scanned on an Epson V700 scanner, which I am finding WONDERFUL. I used to own a Nikon Coolscan V and have many huge scans on my external HD's and the V700 comes pretty close to those. Love it!
Thanks for reading!
Steve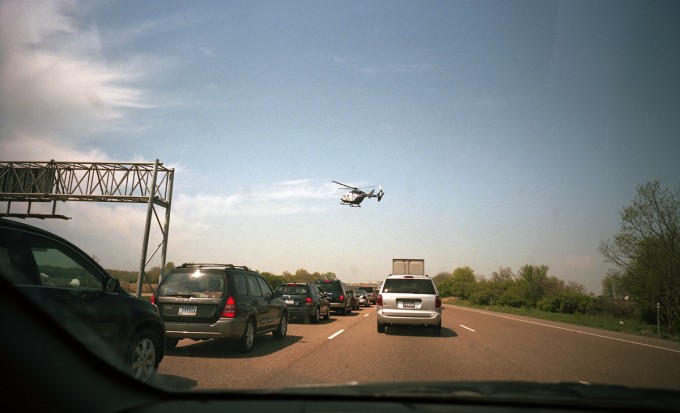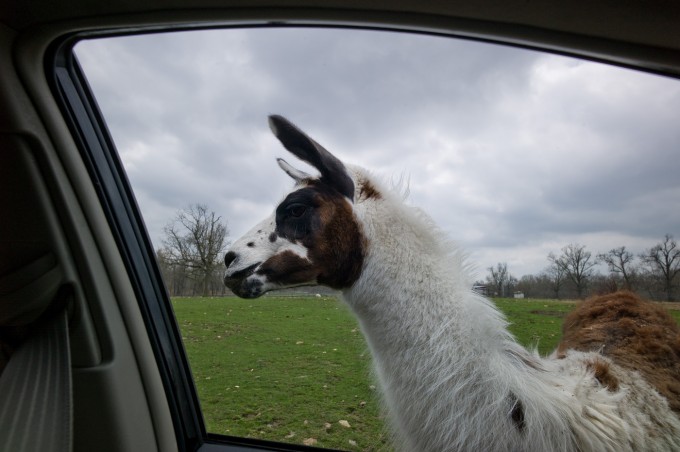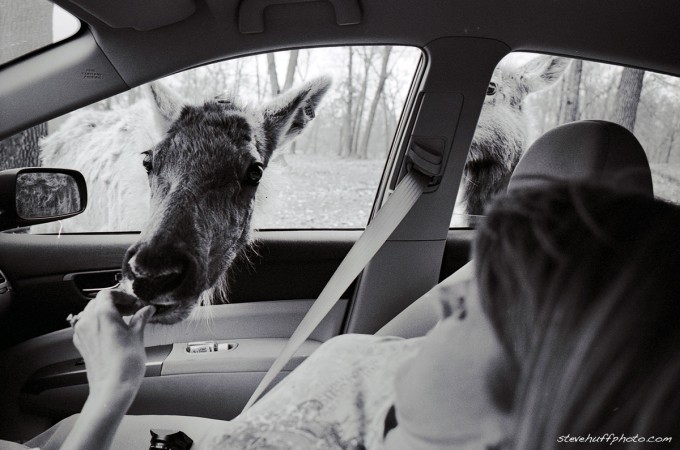 [ad#Adsense Blog Sq Embed Image]