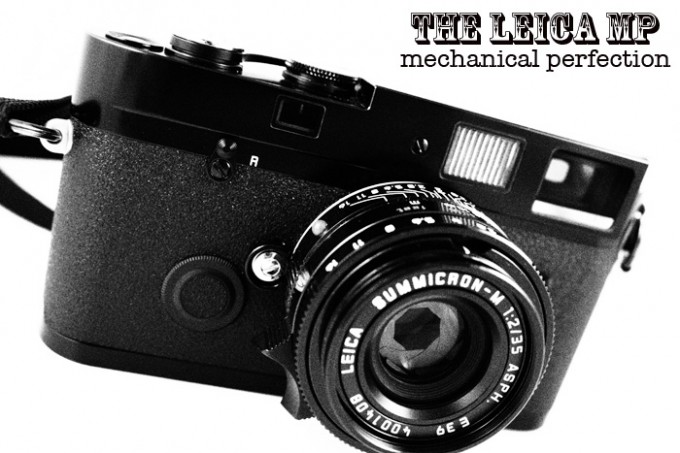 The Leica MP Camera Review – Film is NOT dead!
By Steve Huff
Well, it's Friday and many have been on the look out for the "Friday Film" update. Well, today I have a VERY SPECIAL edition because I decided to post my Leica MP real world use review which will be filled with all kinds of film shots taken with this beautiful FILM camera. Sorry if it was posted late but I had a BUSY day with some cool new deliveries that arrived today 😉 More on what those were later! But yes, the film love continues here at stevehuffphoto.com and I know there are MANY of you out there who also are spreading the love.
I will say this right up front. The Leica MP SUCKS!!! Yes it really sucks, but not in a bad way. What I mean is that it sucks all of your emotion, all of your creativity, and all of your passion and it sucks it right in through its big, bright, and beautiful viewfinder. Then it slaps all of that on the frames of film that flow through its body like a freight train loaded with memories.
The MP is about as classic as they come these days unless you want to buy an M2 or M3 which many say is the best film M ever made. My only complaint with the early M's is  that they do not have a built in meter and I like to keep it light, so I prefer the meter in the MP to be IN the camera. Other may prefer an M2 or M3, all personal preference really.
But I am here to write about the MP and the MP is simply gorgeous. It is minimal in its design and with No Leica red dot on the front. Just a slick, smooth, all mechanical camera. Mechanical Perfection as Leica calls it. The Leica logo is on the top plate which is made of solid brass, as is the baseplate. The original MP was made in 1956 and in 2003 Leica re-introduced the MP to the joy of many Leica shooters.
It is still the same camera today and actually their current "top of the heap" mechanical film M, but the price of admission is HIGH. A new MP from a Leica dealer that doesn't discount is about $4600. Crazy expensive, but for the past few years film sales have steadily declined due to the digital craze. Leica, well, they are Leica. They raise prices every stinking year and with lower sales of their film cameras, the MP and M7, they had to raise the prices to offset the loss in sales. But I can feel it in my bones…film sales are going UP right now. There is somewhat of a "happening" going around and many photographers are either going back to film or trying it out for the first time or adding film to their digital kit like I did.
The Leica MP with the Black Paint 35 Summicron ASPH attached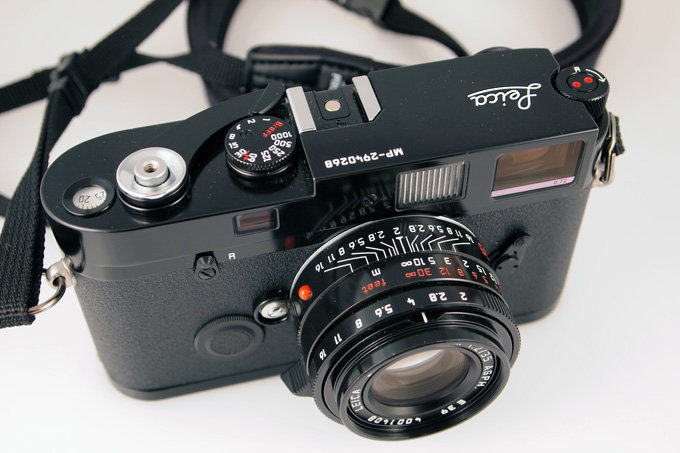 The MP Features and Build
The MP is a BRICK. It's very solid and holding it gives you the feeling that you are holding a camera that is a precision instrument. As much as I love the M8 and M9, the MP just feels much better in your hand and I think it's due to the fact that it feels like a solid mass of sweetness. It inspires confidence. When I took delivery of my first MP in 2004 from B&H Photo I pulled it from the box and I was immediately impressed with EVERYTHING about it. The look, the feel, the quiet "snick" of the shutter. It is the best feeling and built camera I have ever owned. Some of the old Nikon film cameras are also built like tanks but the MP, to me, is "pure". It has everything you need and nothing that you do not. It's a dream camera for those who want to keep it SIMPLE.
Think about it. All you need in a camera is a shutter, a shutter speed dial, a lens, a way to control the aperture and advance the film. Also, a meter is nice to have and the MP has a great one. This is what the MP has, and that is about it. Unlike the techno super whiz bang digitals of today the MP is stripped down to the basics and I like it. Leica has kept the same philosophy with the M9, and that is a good thing IMO but some of my most memorable images were shot with a MP with Tri-X film. Those two things go together like butter and toast. If you shoot a Leica M you HAVE To at least shoot one roll of Tri-X if you never have. Great film for street shooting.
The black paint of the MP is so sexy and just think, if you use one daily for 20-30 years it will age like THIS one (scroll down to see the image in the post).
The MP comes in black paint which is semi shiny but really nice looking. Some say it is too shiny but I like it. It reminds me of  the paint of the M8.2. The M9 is more of a dull finish in comparison. You can also buy an MP in chrome which also looks quite nice but I have never seen one of these in person, only pics.
The MP in chrome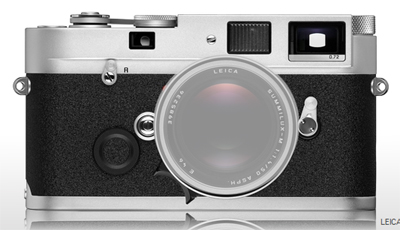 MP enhancements over the M6 classic. Why spend more on the MP?
I guess you can think of the MP as a modified M6 classic. A simple, basic, reliable and beautiful all mechanical film camera. Just writing about it is giving me goosebumps, but I'm a camera nerd so I guess it would. Ha ha. There are indeed differences between the M6 and MP and I have been asked by several of you what those are. Many of you have asked  "Why sell an M6 for an MP", "You should have kept the M6 and had the finder upgraded" or "What does an MP give you that the M6 does not". Well here is your answer! The MP is in fact an improvement over the M6 in some ways but it's also an emotional thing. The M6 is FANTASTIC but the MP is the ultimate for Leica M fans. My opinion of course. It has been said that once you hold and shoot an MP, there is no going back to any other film M.
Here is the partial list of enhancements that the MP has over the M6:
New flare free finder
New shutter curtains
Slightly smoother film advance due to better internal parts (shutter break base board is made of bronze in the MP)
Brass top and bottom plates. M6 is Zinc.
Better paint job 🙂 Well, the black paint is a beautiful sight IMO.
It's the same size as the M6 classic, smaller than an M6 TTL
Better metering. The M6 classic wont meter in really low light, the MP will plus lower battery drain.
Nice top plate engraving which is just cosmetic, but nice.
Rewind knob is the old classic style which is good and bad. Its good because mid roll you can stop and it will hold its place. With an M6 if you let go it starts to spin and you lose it. The MP rewind is slower though, but very solid.
Anti scratch coatings on windows
When metering with the MP you have the red dot confirmation between the two arrows
So for me, the MP is the ULTIMATE film M. It's the FINAL film M. When I had a chance to buy one for not much more than I could sell my M6 for I jumped…HARD.
Here is the feature list of the MP:
Lens Mount Leica M bayonet
Focus Modes Manual only
Exposure Modes Manual only
Exposure Metering TTL (Through-The-Lens) selective center-weighted
Metering Range EV -2 To EV 20 with f/1.0 lens At ISO 100
ISO Range 6 – 6400 (manually set)
Shutter Speed
1/1000 to 1 second
Bulb
PC Terminal Yes
Flash Mounting Hot shoe – X-sync up to 1/50th sec
Film Transport Manual (optional winder available)
Viewfinder .72x magnification. Bright-line frames for 28, 35, 50, 75, 90 and 135mm lenses automatically engaged with attachment of lens. Optional viewfinders for 21 and 24mm lenses mount in the flash shoe.
Viewfinder Info Over/under and correct exposure indication (LED Classic > 0 < manual metering, LED Battery status)
Diopter Correction Optional -3 to +3 available (attachable to existing eyepiece)
Self Timer No
Remote Control Possible with optional standard mechanical cable release
Multiple Exposure No
Power Source Two (2) SR44(76S) 1.55v Silver Battery or one (1) DL76 Lithium
Dimensions 5.4 x 3 x 1.5″ (138 x 77 x 38mm) WxHxD
Weight 1.3 lb (600g), including batteries
My MP History
I bought my first MP back in 2004/2005 and shot with it daily for months. I must have shot a roll a day with that camera and I even had it around my neck when I almost died in a massive car accident. I can't say the MP saved my life, hell it didn't even help. When a car pulled out of a liquor store right in front of me while I was going 40MPH my MP slammed up and smashed me in the head before my airbag went off. Car spun into the other side of the street and I was a bloody mess. The accident gave me a huge jolt and the MP gave me a HUGE gash. My car was totaled, I was a wreck, but the MP was fine. Yep, I cleaned the blood from the MP a couple day later and sent to Leica for a cleaning and it was as good as new. It was not even scratched.
My film of choice back then was Ilford HP5, Delta 100 and 400, Tri-X, XP2, etc etc. I was a black & white fanatic with that MP and the majority of my images taken with it were family memories. I have not looked at those scans in about 5  years so while preparing for this review I decided to pull out the hard drive they were on to load them up. Luckily, that old HD fired up and I was able to scroll through those memories on my gorgeous Imac 27″ display. There is some dust/scratches on my negs because they were the first rolls that I developed myself, and scanned back then.
These were scanned on a Nikon Coolscan V in 2004/2005. One thing I can say is that the metering in the MP never let me down. As simple as it is, it just seems to work in almost any situation I put it through.
Leica Mp and Voigtlander 15 which is a FANTASTIC lens on film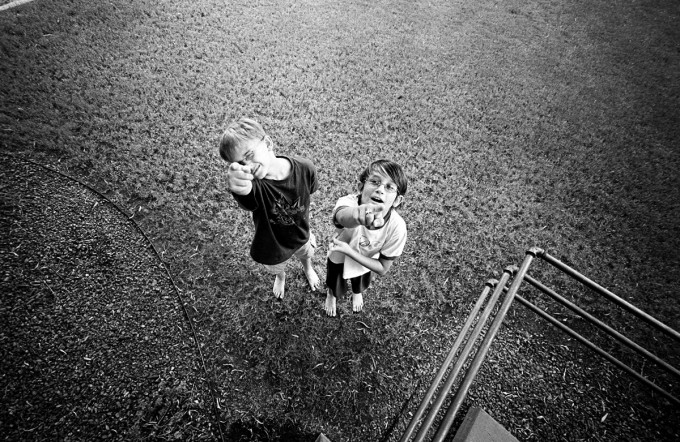 You guessed it, the Leica 50 Noctilux at F1 on the MP with Ilford Delta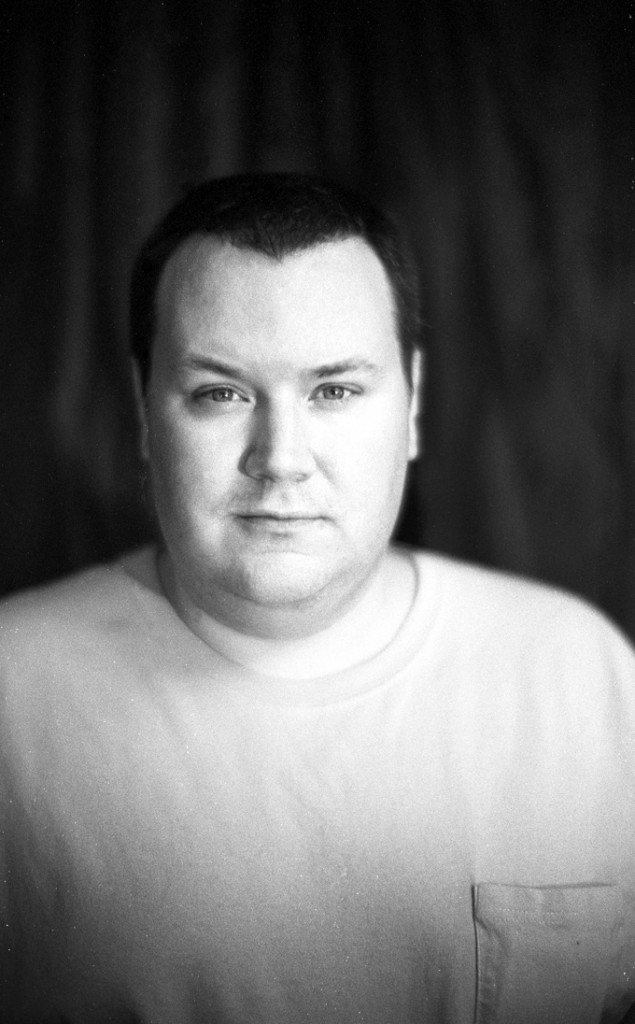 Noctilux at F1 with TriX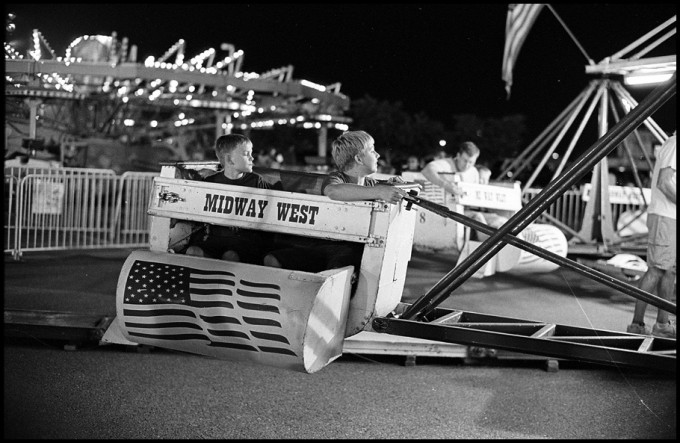 In a move I would regret for years and years, I ended up selling my original MP to fund the newly released M8 when it came out. As much as I hated to sell it I HAD to. I do not have the luxury to have several cameras that cost several thousand dollars. If I want a new camera, I have to sell what I have. In other words, my camera budget is limited and with Leica, one camera and a couple of lenses almost takes it all up! So I sold the MP and enjoyed the M8 for a few years. But deep down I always missed that MP. I always said that I would buy one again someday, even with the future of film unknown.
Well, here I am 6 years later in 2010 and I have managed to acquire another MP! I was so excited about it that I made a video of it the day it came in.
I bought this one from Ken Hansen (email here). It was old stock..REALLY old stock. Like 2003 old stock. I though UH OH, its gonna be sticky, stiff, or just not feel "right" but Ken gave me a great price on it and it's NEW so it has warranty and all. Due to some paint scuffs on top he shaved the price down so I could not pass it up. I sold my chrome M6 and bought the MP. Then a few days later I ordered a Artisan & Artist half case from Popflash along with a spiffy Artisan & Artist leather strap. I now have a fully equipped MP that is ready for action 🙂 All I have been able to shoot lately is boring stuff around my house but I will soon be giving it a workout while on a mini vacation on some Mexico beaches next week. Can't wait.
The MP with the Artist & Artisan M3 case and Leica 35 Summicron ASPH lens. This is one handsome camera. This one was taken by my son with his Nikon D3000.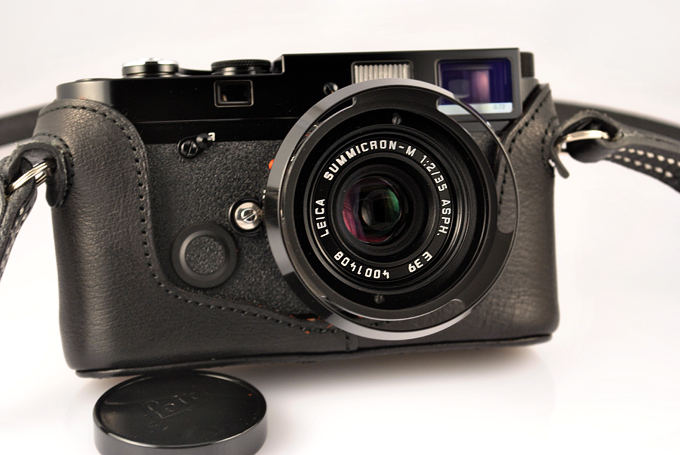 It Has Soul
It's a fact. The MP has soul. It has feeling and it has the capability to bring out a confidence in you when you shoot with it. Not sure what it is but I am going to call it the "MP Mystique". I think the combo of its good looks, super build, minimalistic controls and being all mechanical all adds up to a terrific user experience. Yes, the MP just has it. Throw in a roll of Tri-X or ANY black and white film and you have an instant classic that is able to produce some very nice photos. Especially when a Leica lens is attached because after all, it is the LENSES that make the magic happen. You could shoot a $500 Voigtlander bessa with a $3000 Leica lens and get the same results but if you want a lifetime film camera then it has to be the MP.
I shot the MP everywhere. Street shooting, low light, bright light… it has never failed me. The center weighted metering is so simple but so effective, even more so than in my M9 (I know I already said that but it never fails to impress me). That could be the latitude of film talking though. Here are a few shots from the street with the MP and 50 Cron from 2005:
Stanley 2005 – Leica MP and Tri-X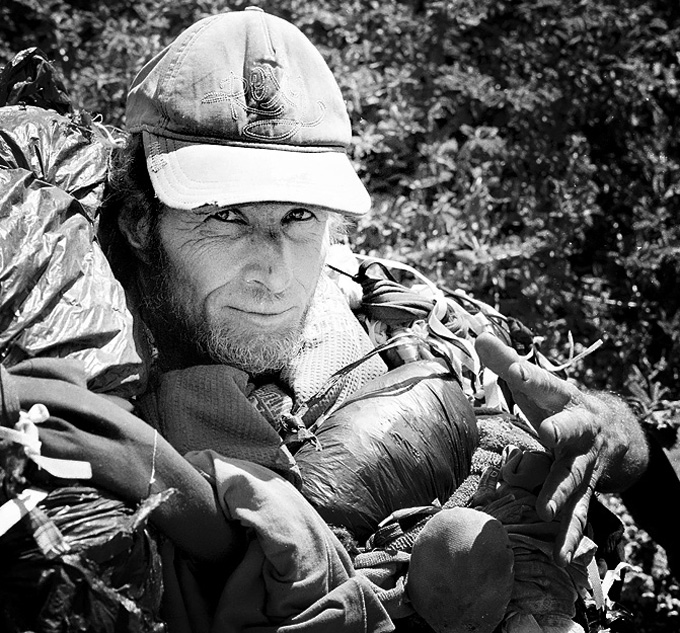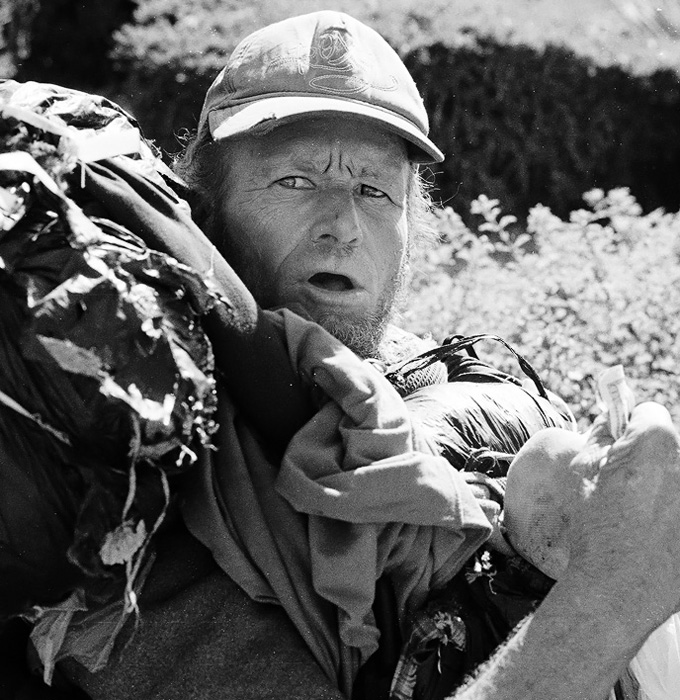 Rodney 2005 – Leica MP – 50 Cron – Excuse the horrible scan. I used bad water when developing and this is what happened. It would take me hours in photoshop to remove these so I am putting it here as a reason to take extra care when developing your negatives! This was shot on Delta or Tri-X, can not remember as i was using both at the time.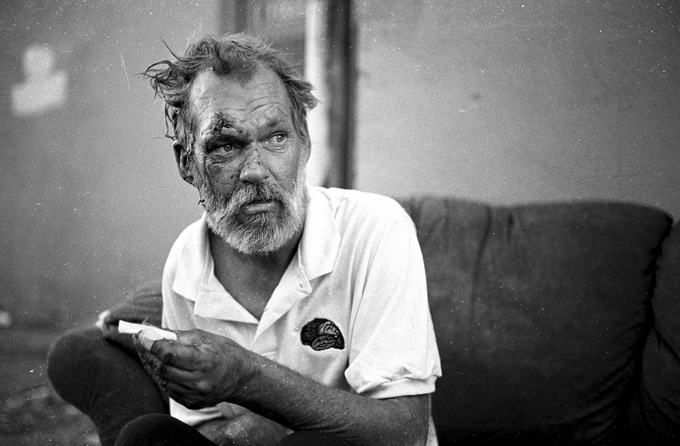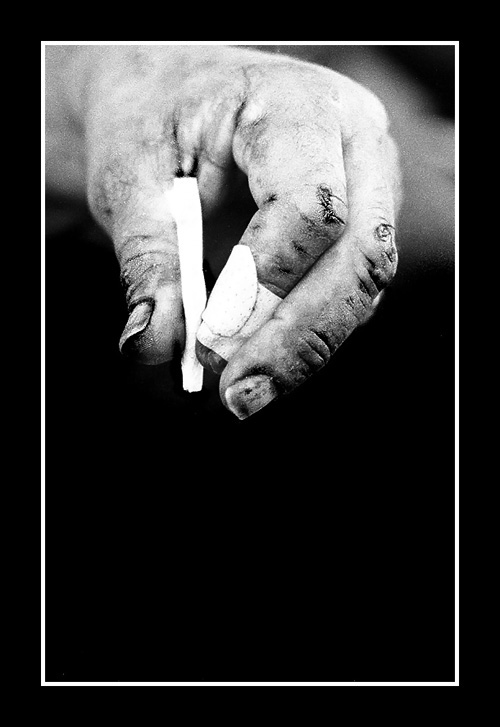 How About The Leica M7? Which one should I buy?
Well, the two film cameras Leica sells are the MP and M7. They are both fantastic. Both of them are the best rangefinder cameras you can buy new today. Period. End of story.
The main differences between the two is that the MP is all mechanical. It has a mechanical shutter, it has all manual control and it's design is minimal without any fancy fluff. It's discreet in all black and you could be out on the street shooting and no one would know you have a $4600 camera around your neck. It has old school charm AND looks, and that is a good thing. Also, if your battery runs out in the MP you can still shoot with it as the shutter does not need the battery to operate. The battery in the MP is only for the metering.
The M7 on the other hand has an ELECTRONIC shutter so it needs the batteries to control it. It also has Aperture priority so if you do not want to mess with setting the shutter speed AND aperture then the M7 may be the better camera for you. My only niggle with the M7 is that with the electronics in it there is more opportunity for trouble. If your batteries die in the M7 its ALMOST useless. You still have 1/125 and 1/60s shutter speeds so it is still usable in certain light. I had an M7 but it jammed on me in the first week and I had to have Leica repair it. Then they had issues with the DX which detects what ISO film you loaded. I decided I wanted something all mechanical so that is when I went for the MP. I did own the M7 first and enjoyed it but the MP was calling my name, so I caved.
But really, both are fabulous and these days any bugs that the M7 had are ironed out so I would feel secure in buying either. The way to decide which to buy is to ask yourself what you want in a film rangefinder. If you want to shoot faster and have AE, get the M7. All you have to do is control the Aperture. It's the same as the M9. If you want a solid as a rock all mechanical RF, the MP is the winner. It's all up to you. Both are the same price new.
The M7's are also beautiful. Yea, Id sell a kidney for one of those Titanium M7's 🙂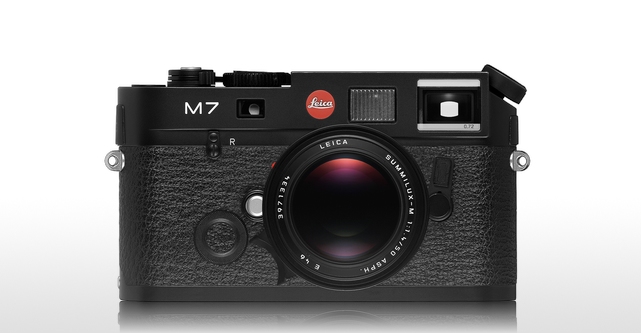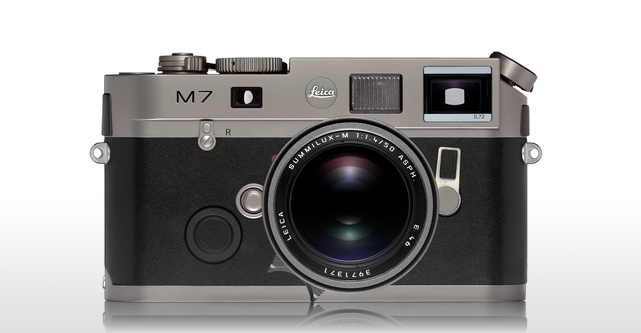 How about other rangefinders?
To shoot and enjoy film you do NOT need a Leica camera. These are for those who simply want the best rangefinder for 35mm film. You can gain entry into shooting film with a Voigtlander Bessa R2M FOR $600 or so. Or a Zeiss Ikon. Both are great cameras though not up to the Leica standards for build and ruggedness. The Zeiss has a SUPERB viewfinder but I just did not get the same joy shooting it as I did with my Leicas. Still, if I could not own a Leica I would but the Zeiss Ikon or a Bessa and shoot away! That Bessa in black paint is pretty nice looking, no doubt.
My Conclusion…
Well, as you can tell by my glowing review, I love the Leica MP. I think it is the finest film rangefinder made to date. I like it better than any M that has come before it. The MP and M7 are the ultimate for shooting 35mm film. PERIOD. I feel lucky to own one and really hope I can hang on to this one for life. I can not imagine that anyone interested in film being unhappy with a Leica MP. You can buy them at any Leica dealer. B&H Photo, my fave photo shop EVER sells them but they always sell them pretty quick and go out of stock fast. Ken Hansen sells them but I think he is all out as well. They may be hard to find but B&H has a used one in 8+ condition HERE. Get it while it lasts 🙂 You could always return it if its not in good condition.
THAT'S ABOUT IT! I mean, what more can I say when you are talking about a camera that Leica calls "Mechanical Perfection". I already talked about the pros but what about negatives? Well, some dislike the rewind knob but I like it. Yea, it's slow but when you let go it stays put. Some dislike the shiny black paint but I feel that is what gives the black one its beauty. Others dislike the classic advance lever but it is fine by me. If I had to complain about something it would be the fact that the max shutter speed is 1/1000th due to the cloth shutter used in the Leica M film cameras. But, that is easily cured with an ND filter for sunny days. I like to shoot wide open so if you do too, an ND filter will be needed for your lens.
All in all, for me this is my perfect film camera just as the M9 is my perfect digital. But remember, FILM IS NOT DEAD! Go shoot some if you can!
I hope you have enjoyed the review for the MP. If you are getting into film be sure and check out my recommended film and stock up! I have my fridge loaded with film and I am having a blast trying the many different film stocks. I do have a warning for you though. Shooting film is addicting! Don't say I didn't warn you 🙂
The great thing is I always have the original negatives stored away for future scanning or use.
Here are more images I shot with my new MP, all using Ilford XP2 and exposed between 200 and 800 ISO. Yes, this film REALLY CAN be used at these ISO's with great results and standard processing at your local drug store! Thats where these were processed.
1st three shots, MP and 35 Summicron – Black Paint Edition – LOVELY lens! Ilford XP2 C41 B&W film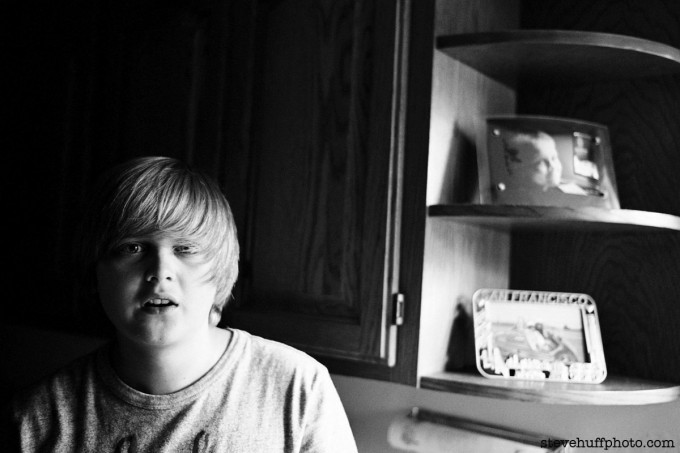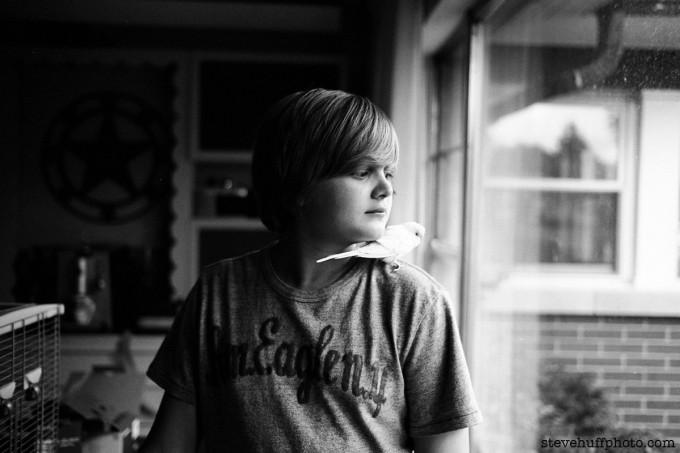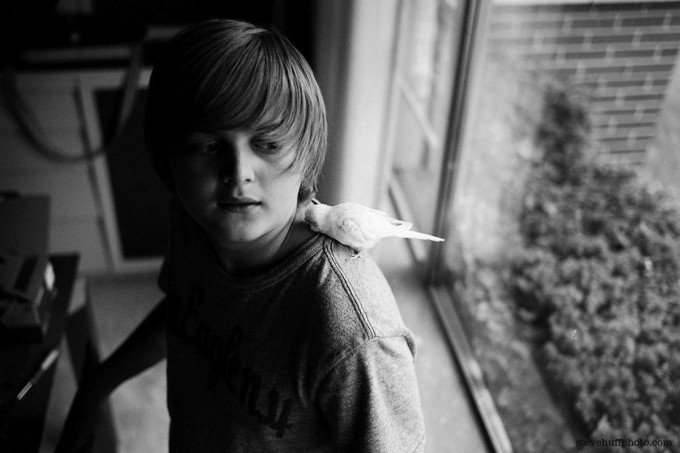 50 summitar – XP2 – Exposed at ISO 800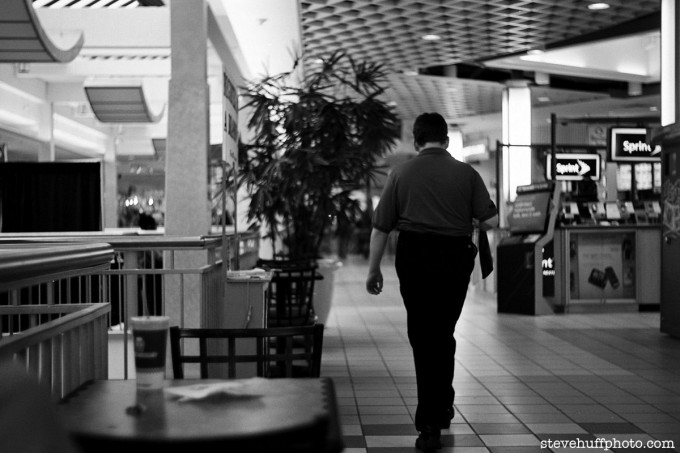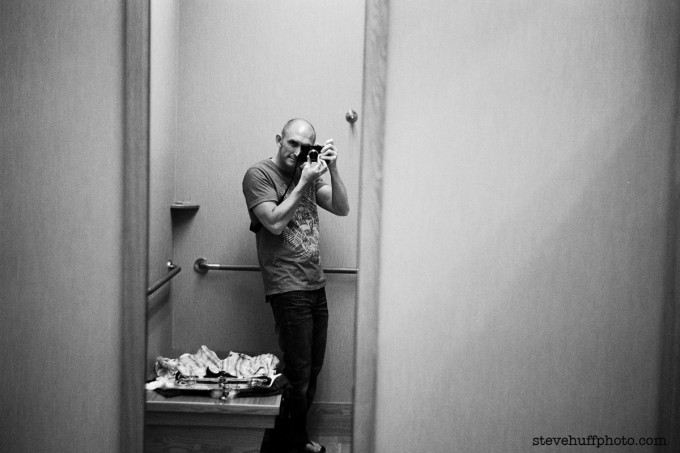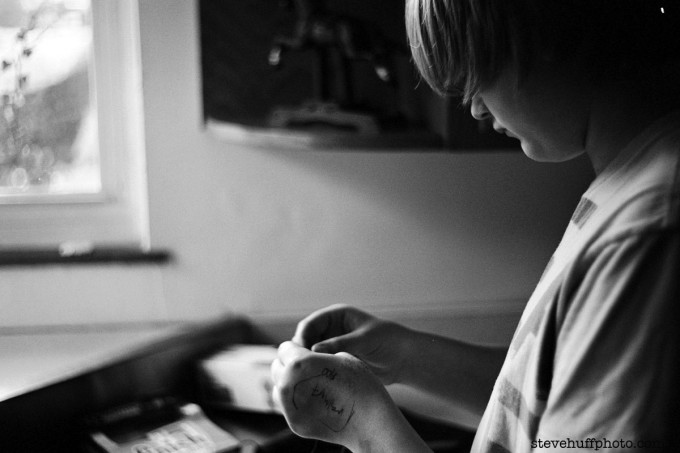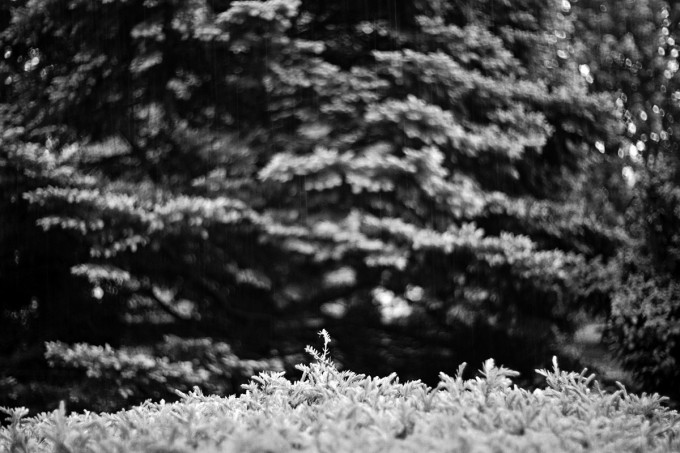 35 cron at F2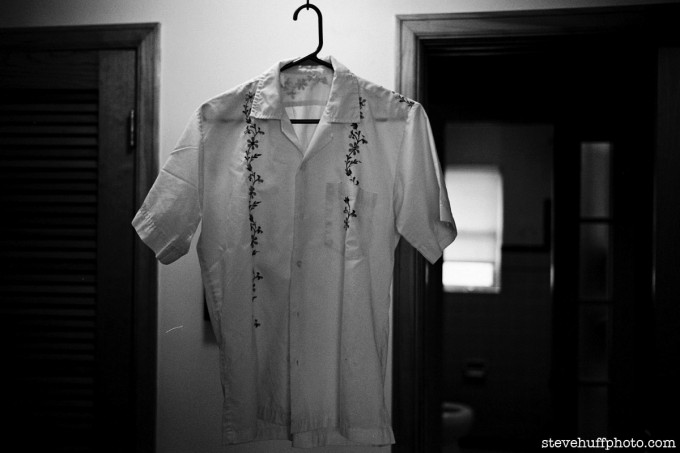 and some older shots from 2005 – All with Tri-X and various lenses
[ad#Adsense Blog Sq Embed Image]