Street Shooting…Wide Open!
By Max Marinucci
When it comes to street shooting, we all know well that Rangefinders (and Leica especially) are in an undisputed domain. It always amazes me to see street shooters walking around Manhattan with huge Canons or Nikons and telephoto lenses. I guess they don't have much of a choice since sticking a DSLR in someones face would probably not exactly go unnoticed and may even get you a dirty look or worse. A Leica with a small lens (a 28mm or 35mm are usually a wise choice) with its silent shutter click and non-intrusive look has been the weapon of choice since the the 1940s for many professional and amateur street-shooters, with many memorable shots by famous photojournalists.
The old say in street-shooting world is "f8 and be there". With a Rangefinder and manual focus, catching that fleeting moment can be a little more difficult but, with your camera set @ f8 and using zone focus, one can easily concentrate on quickly composing and snapping away. It is also key here to practice your distances. I usually set my lens so that everything between 10 and 15 feet is in reasonable focus @ f8 and, with practice, I have learned to estimate those distances without any issues.
Having said that, I am a man who loves challenges and the look of certain lenses shot wide open. The king in this regard, in my opinion, is still the Noctilux Classic f1. No, it is not a "almost perfect" lens as the new Noctilux f0.95 but that's exactly why it is so special. This amazing lens renders outlines, colors, out of focus backgrounds, shadows, like nothing else out there. The only lens that comes close to this type of rendering (in regards to shadows and colors) is the 50mm Summar from the 1930s. The Summitar may be a close second but its rendering is sharper and cleaner.
Make no mistake, the Noctilux is a specialty lens. If you plan to heavily use it @ f2 and beyond, get yourself a 50mm Summicron or even a Summitar for a mere fraction of the price. Its magic resides @ f1 and f1.4 at the most. Some people may say it is a gimmicky lens but trust me, it isn't by a long shot. It is a lens that I never get tired of shooting with because of its unique look. Skin tends to glow, outlines are unsharp, and, for this reason, it is one of my very favorite lenses for portraits.
When it comes to street shooting though, we have a few challenges to overcome. First of all, it is not a small lens. You will lose that "nimble" factor you would have with a 28 or 35 Elmarit or the great 35mm Voigtlander Color Skopar. Also, the long focus throw takes a while to adjust to but, with practice, that can easily be overcome and can actually work to one's advantage. Now, street shooting wide open @ f1 with the Noctilux can give some very special results but it is not easy. You may miss a few shots but not as many as you may think, once you practice a bit. One issue to be considered, even with the M9's top shutter speed of 1/4000, is f1 in the middle of a bright day. This is where the Leica shines and DSLRs leave you in the dark (pun intended). On a very bright sunny day I use a B+W six stop ND filter so I am able to use the Noctilux wide open and at speeds between 1/250 and 1/500. Try to do that with a DSLR. With a DSLR, you see
through the lens and slapping a 6 to 10 stops ND in front of it, will render you pretty much blind. But, the good old Leica doesn't see through the lens so my finder is as bright as the day. Perfect for wide open street shooting! Depth of field: like I've mentioned above, @ f8 and with a little practice estimating distances, you're golden. But, at f1, the Noctilux depth of field is literally razor thin and that means you have to focus on your subject manually, fast and accurately. That's the way I enjoy shooting this lens but I also have used, successfully, the "walk to me" method for certain situations. That means parking yourself in a suitable spot, set your lens to focus let's say, at 15 feet and with your subject moving towards you, snap the shutter when he comes into focus.
Besides the welcoming challenge that I find with this approach to street shooting, the results can truly be special. You can achieve a very 3D look by playing with depth and, with the Noctilux way to render shadows (darker and less defined), black & white processing is quite gorgeous. In the color department, and with minimal post processing, I also like the way the Noctilux renders: subtle, not overblown, good, natural skin tones and that wonderful glow that no other lens in the world quite has.
All of the following were shot with the M9 and the Noctilux @ f1. Interestingly, the Exif data for those shot with the ND filter are screwy and recorded @ f11. I guess the filter throws something off and I am not sure of why. Also, Lightroom keeps giving me f1.2 or f1.4 for everything shot @ f1 so something needs to be fixed there. Most where converted to b&w with Nik Silver Efex Pro while I've also shot a few straight with Leica b&w onboard JPG which can be fantastic. Frankly, I'd be happy to use the M9 as a b&w only camera with the onboard JPG. With minimal post processing, it gives great looks. Also, it goes without saying that you don't need a Noctilux to attempt this. The Voigtlander Nokton 1.5 comes to mind and it would be a perfect lens to have fun with at a fraction of the cost. Nothing will give that Noctilux Classic look @ f1 but that should not preclude anyone to get out there and have fun street shooting…wide open!
This was shot by focusing on a nearby window at about 10 feet and snapped from the hip when the subjects approached the set range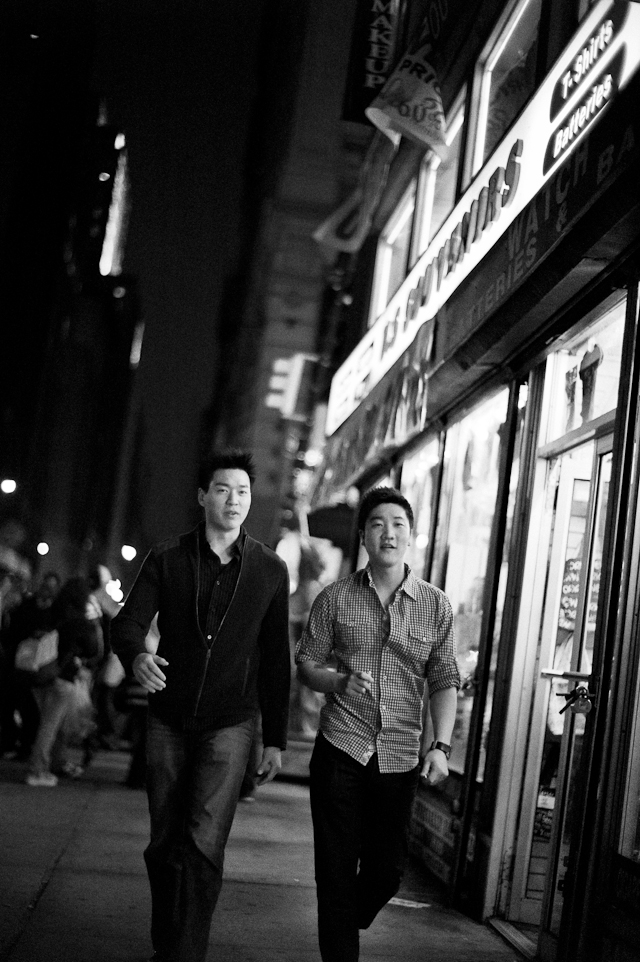 This is another hip shot by zone focusing at about 10 feet and estimating distance from camera to subject.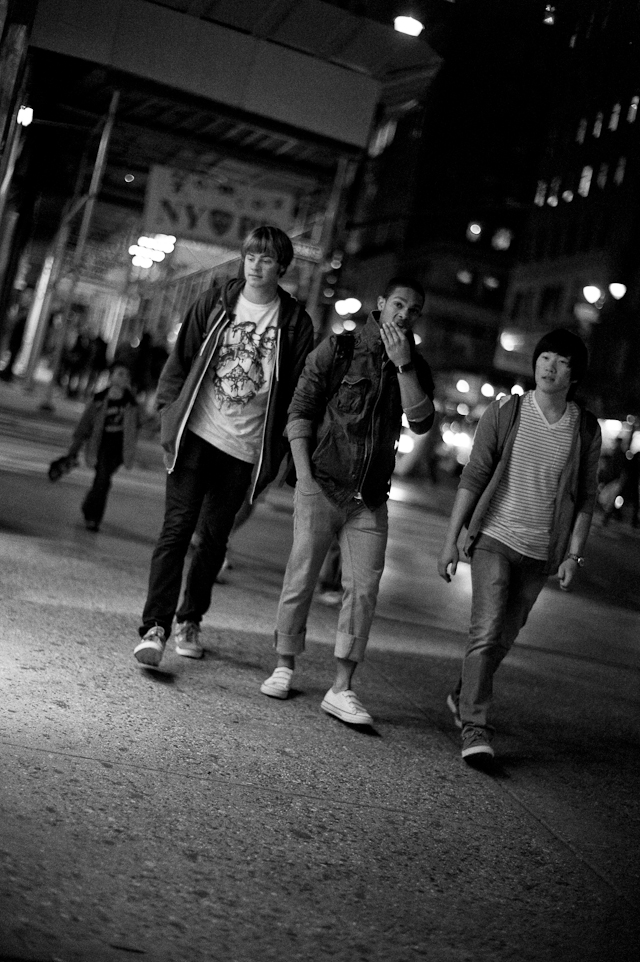 This obviously required a quick draw and focusing. I saw the scene as nice 3D situation by focusing on the subject on the phone at an angle that I know would render an interesting depth with the bright pedestrian lines and background subjects. With little post processing in slight darkening of the left and right, there is an interesting and pleasing sense of depth.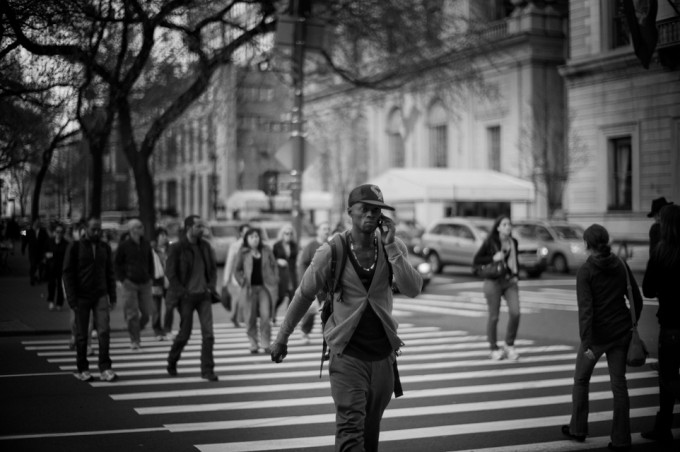 Same as above, this required some quick thinking and focusing, as I wanted to catch the three main subjects while they were all on the phone. Again, with the out of focus detail, a nice sense of depth is achieved.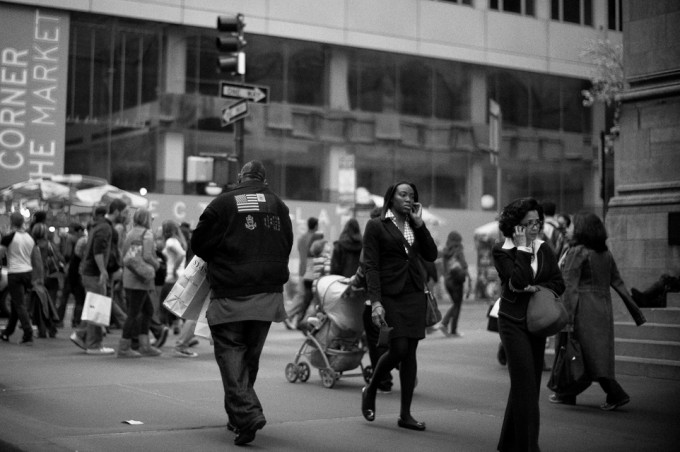 Shot while walking right behind the subjects and moving, correct focus was achieved by maintaing the same distance and snapping at the right moment. Again, great isolation and blurring of the background.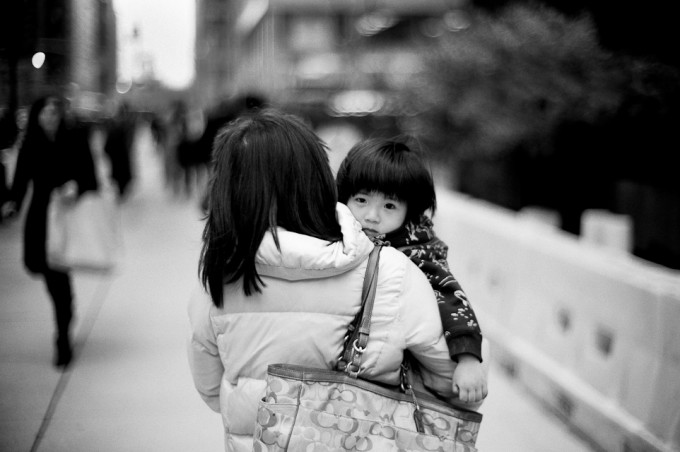 Quick turnaround shot of my lovely wife and smiling daughter in the background.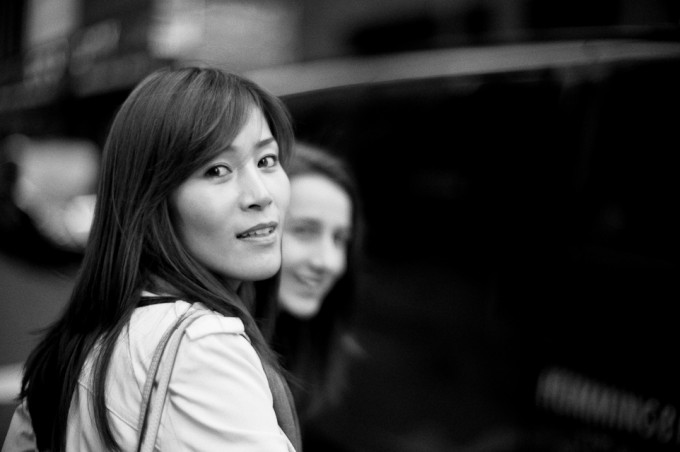 For more examples, visit my Flickr page @ http://www.flickr.com/photos/leicaman/sets/ 72157623763960544/