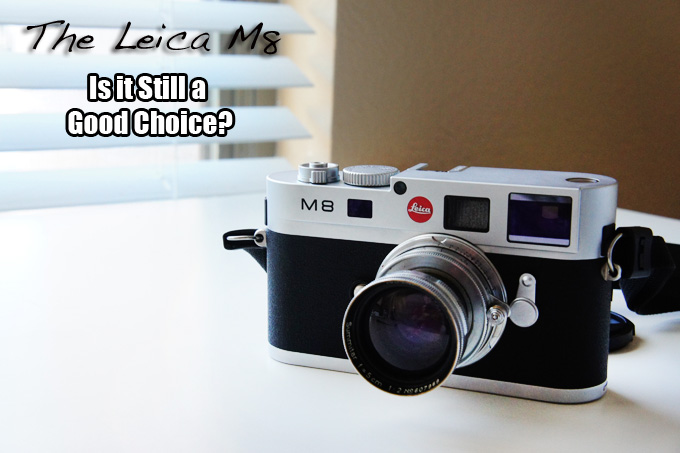 Is the Leica M8 Still A Good Choice? By Steve Huff
(or, one hour with an old friend, the Leica M8)
Hey guys! Still working on my film stuff as I am awaiting a couple of more rolls to get back from the lab. Having a lab process and scan this time and they take 2-3 days! Anyway, I was out in Phoenix today with a dear old friend, the Leica M8! Yes, an M8.It's been a long time since I shot with one, and a local shop in Phoenix had one in mint condition, used, at a very good price. Looked like new so it got my brain to thinking… Seeing that I have been missing my M9 so much, and really missing having an M in general, I sold my X1 to fund this M8. DOH! But I  feel REALLY good about the decision. I love the X1, and as fantastic as it is at what it does, my heart is with the M.
So….there I was at the shop and I bought it, and after selling my X1 it only cost me a teeny bit more for the M8, so it was almost an even swap. It already had a fully charged battery and a 4GB memory card inside so I took a quick walk even though the temp was a pretty hot 110 degrees. On these days it feels like you are walking inside an oven. Brutal!
Anyway, I had the old 40mm Summicron attached (from the CL)  and my 50 Summitar from the 40's, without a UV/IR filter (dont have one on hand) and took a few shots around town. No premo lenses..nope, nothing fancy. No coding either. Just the basics. A used M8 and some old lenses. I was not expecting much and started to wonder if I should have kept my X1 for its lovely size, quietness, and image quality. As soon as I lifted the viewfinder to my eye I felt like I was home! THIS is me. THIS is what I have been missing. No, it's not an M9 but the next best thing IMO, and until I can save for another M9, this will be my constant companion. This leads me in to a question I get asked quite often, at least 1-2 times every single day…
So, is the M8 still a good choice, even today?
I always get the question…."Is the M8 still a good camera"? I always say OF COURSE IT IS! The M8 and M8.2 are still my 2nd favorite digital camera ever (the M8 and M8.2 are really the same as far as operation and IQ) with the M9 being #1. It's not all about the image quality with these cameras but more about the "usability factor" AND the quality! Using an M, any M, is just a rewarding experience and yes, with plenty of M8's on the used market these days, it is still a GREAT alternative if you want a digital M. If you do not have the $7000 for an M9 that is. For about $2200-$2700 you can buy a perfect M8 on the used market. Add a used Leica lens and you have a wonderful digital M setup!
M8 vs M9 – Well, I am betting that ALL of you reading this have read my M9 review, so you know the differences between the M8 and M9. After an hour of shooting today with the M8, I can say that the M9 has richer files, better color out of camera, and better high ISO. Also, full frame, no need for UV/IR filters and its somewhat faster as well. The M9 IS a better camera, but the M8 is no slouch. The key to the M8? Shoot RAW and tweak during processing!
Here are a few during my one hour I spent with the Leica M8 today 🙂 Click on any image to have a lightbox open up with a nicer, larger version 🙂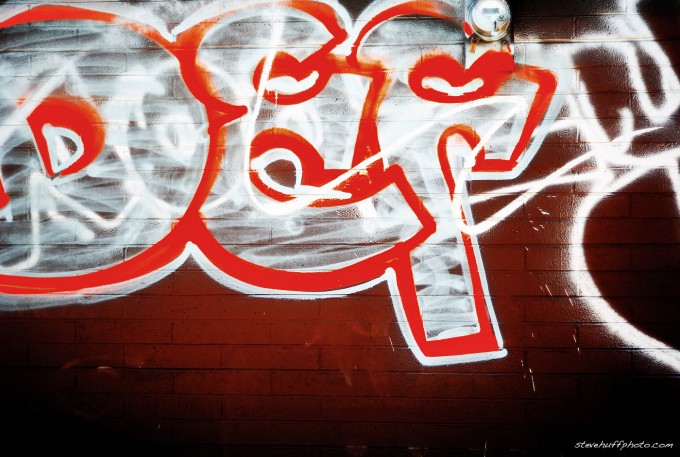 ABOVE: I shot this graffiti mid day in the Phx, AZ sun. After the RAW conversion in ACR, it almost looks like a nice chrome film stock! This was using the old 40mm Summicron that came with the CL I am reviewing. A lens that usually sells for $300-$400. Click the image for a larger version!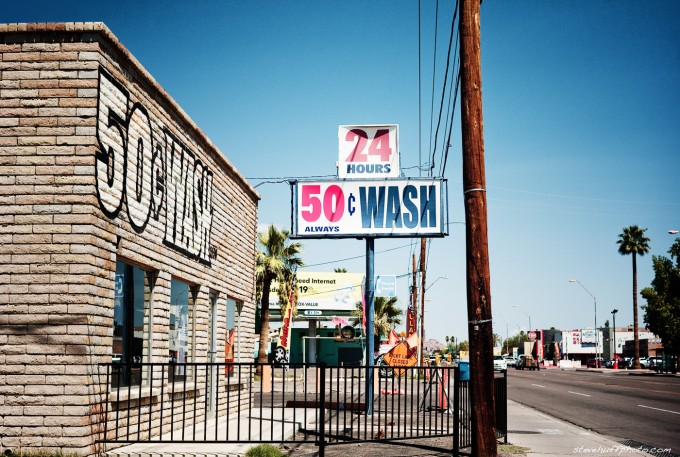 ABOVE: Again, the 40mm summicron, no coding and no UV/IR…mid day full AZ sun…Leica look anyone?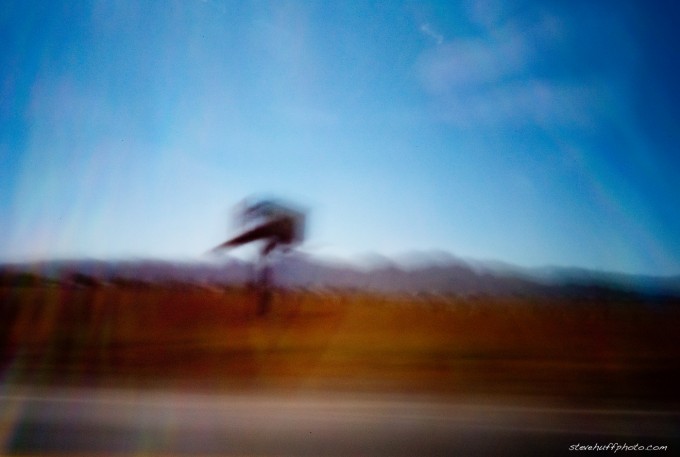 ABOVE: Check this out! The M8 I was walking with today had a pinhole body cap adapter. I shot this out of my window while driving. It's Abstract yes, but the possibilities seem interesting. More testing with this coming soon.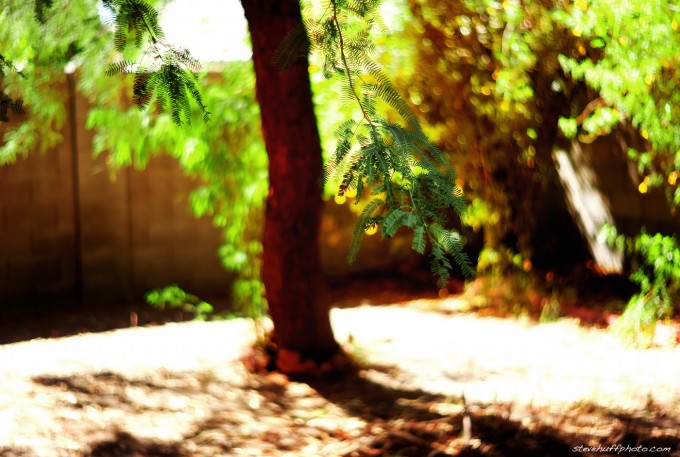 ABOVE: Crazy bokeh anyone? Colors were pumped up here but the lens used was my 1940's 50 Summitar wide open at F2. Just seeing how this lens behaves on the M8 as I loved it on the M9.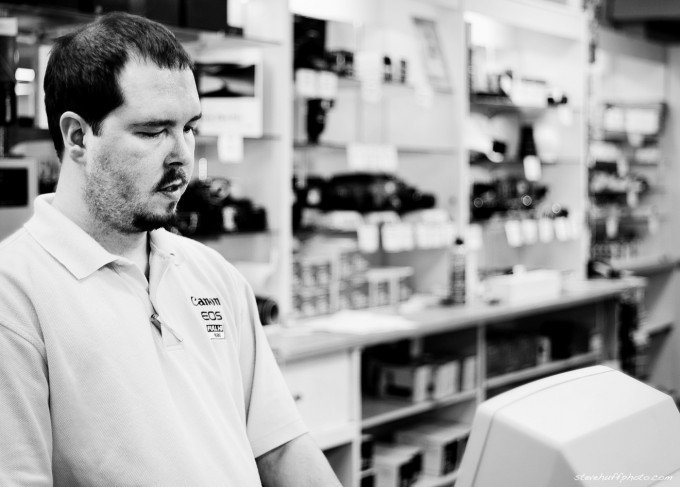 ABOVE: At Photomark in Phx, AZ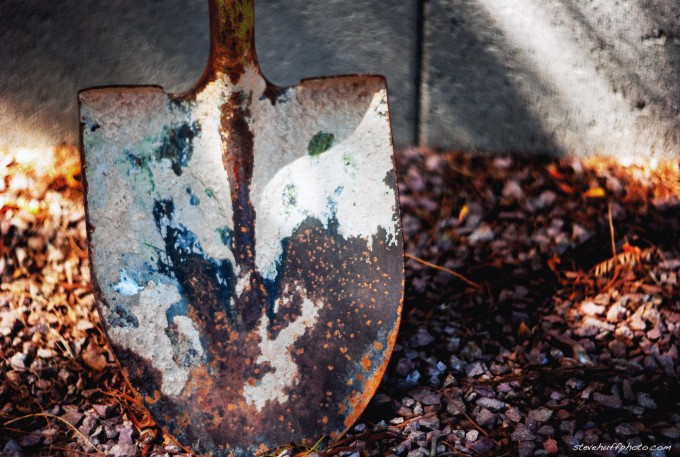 ABOVE: I was testing focus with the 50 Summitar and focused on the right edge of the shovel (when looking at photo, right) – found out focus was spot on and that this lens still has a unique character.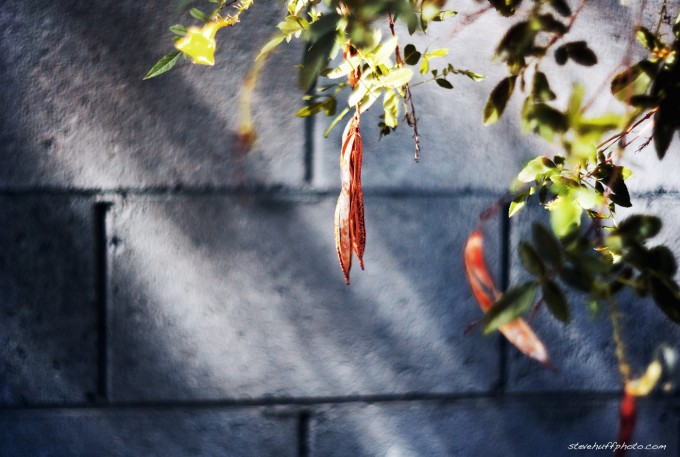 ABOVE: A pretty silly subject for a photo huh? But look, an M camera with a unique lens like the $300 50 Summitar can make almost anything look interesting 🙂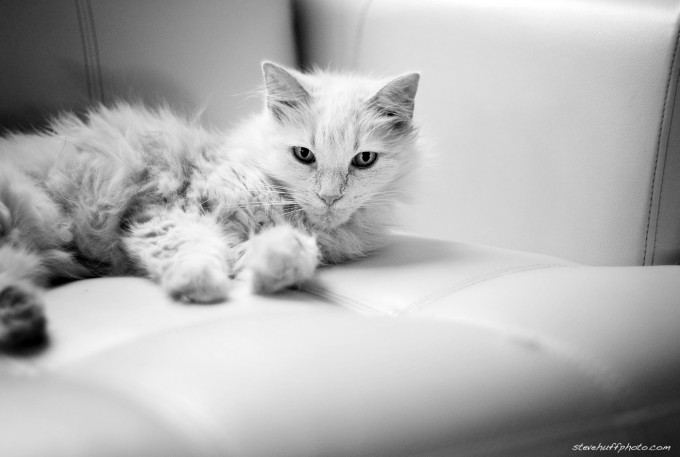 ABOVE: More with the 50 Summitar – lovely at F2 in my living room.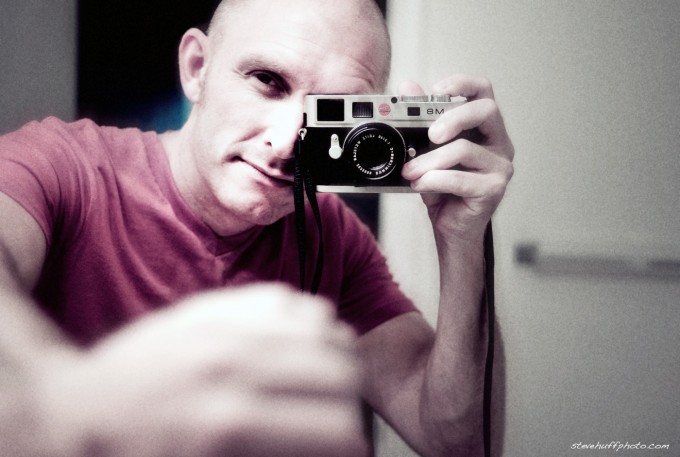 ABOVE: Me with the M8 and the 40 Summicron at F2.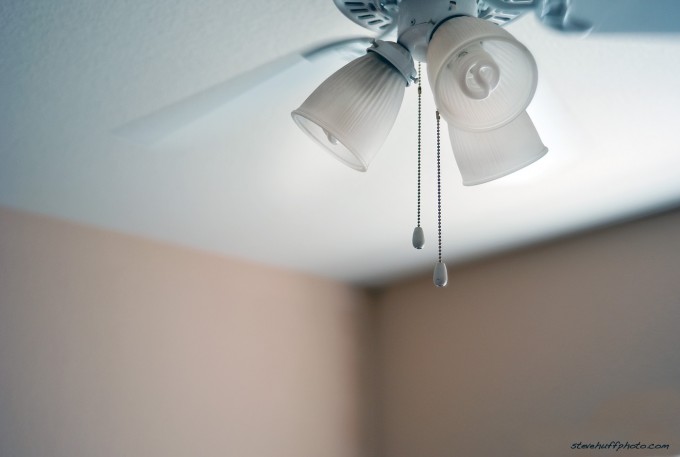 ABOVE: With the 40 Summicron at f2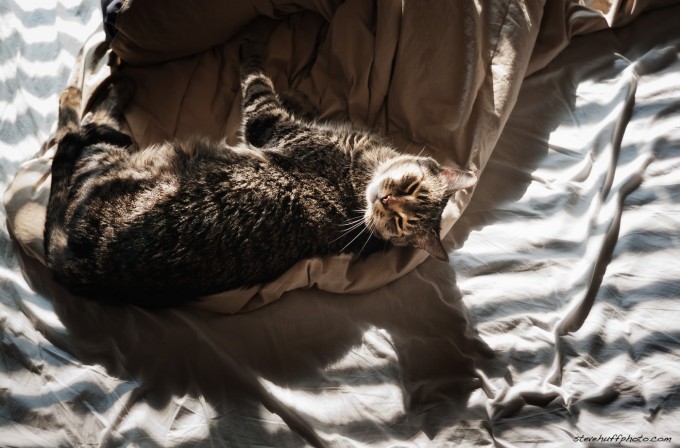 ABOVE: Another with the 40, wide open.
ABOVE: Just a quick window snap…40 Summicron at f2
ABOVE: 40 Summicron at f/2
ABOVE: Crazy 50 Summitar Bokeh…
ABOVE: The M8, just like the M9 has always been a great camera for B&W conversions. This one was done with Silver Efex Pro.
ABOVE: OK, these last three were shot after the first hour, but still within a 10 minute time frame of each other 🙂 With the 40 again, which seems to be a great lens on the M8 with the crop.
ABOVE: Abandoned Shopping Carts, M8, 40 Summicron at f/2
ABOVE: M8, 40 Summicron, f/2
ABOVE: M8, 40 Summicron
ABOVE: The 40 Summicron DOES looks good on the M8!
So while I only shot for an hour today with this camera, it's pretty amazing that no matter what I shot, no matter how silly, the results came out nice. Maybe it's the "Leica Look" or maybe it's just the way one shoots with a manual M camera? Not so sure, but I like it! So if you are out there and wanting an M mount digital, give the M8 more than a thought. Even with old lenses and no UV/IR filters it can pump out more unique images than most other cameras in the price range of $2000. Also, you get the enjoyment of using an M camera, which is a thing of beauty in itself. 🙂
[ad#Adsense Blog Sq Embed Image]