From Steve: I've been busy all week testing out the Pentax K5 with the 40mm 1.9 Limited lens but this week has been all about Guest Articles! So let's keep it moving along with another from David Babsky, who if you remember wrote THIS controversial article a while back. What do you think of his new article? Feel free to comment and enjoy! You can also comment in the forums HERE.
–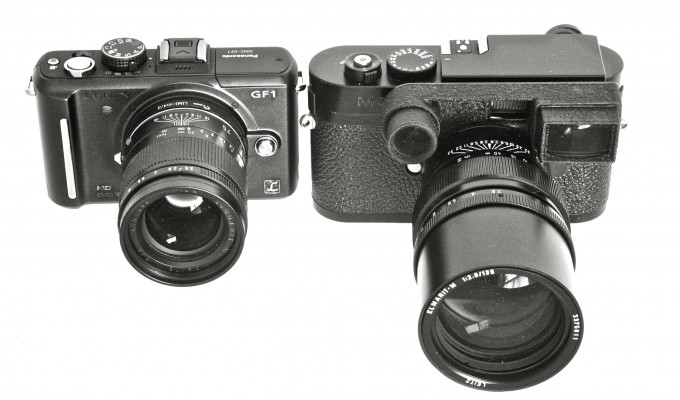 "Leica M9.5" – The Small But Excellent Panasonic GF1 by David Babsky
Invited to the UK launch of the Panasonic AG-AF101 micro-four-thirds video camcorder (also known as the AG-AF100 in the USA) I thought I'd take a Four-Thirds-to-Micro-Four-Thirds lens adapter with me. This was so that I could use the Leica Digilux-3 lenses I had in my cupboard on this new camcorder. For good measure, I thought I'd take a Canon-to-micro-4/3 and a Leica-to-m4/3 adaptor, too, so that I could try Canon and Leica lenses on this new video camera.
To check out the Leica Digilux-3 lenses on a micro-4/3 stills camera before trying them on the camcorder, I hunted for a suitable camera: Olympus Pen? No; weird shape and slow autofocus. Panasonic micro-4/3 single-lens-reflex? No; too bulky. Panasonic GF1? ..Looks good, and with a reputation for very fast focus and excellent image quality ..and I've been using Pannys for a while, so I know where the buttons are and what they do.
Micro-four-thirds, of course, uses the same size sensor as the original 'Four Thirds' (Olympus, Panasonic and Leica) standard used in, for example, the 'Leica' Digilux-3 (which was really a Panasonic L1 by another name). It's a sensor about a *quarter* the size of the Leica M9's full-35mm-frame sensor, so it sees the view through only the central region of any full-frame lens. A normal 50mm lens becomes, effectively, a 100mm lens when used on a 4/3 – or micro-4/3 – sensor, but it keeps the same aperture settings. Although the Four Thirds (and micro-4/3) sensor is roughly a quarter the physical size of the Leica M9's full-frame sensor, they currently have *two-thirds* the resolution of the M9, with – presently – 12 megapixels, compared with the M9's 18 megapixels. So using just the central highest-resolution region of high resolution Leica prime (non-zoom) lenses, the 12 megapixel micro-4/3 GF1 may be able to out-resolve, or give 'better' results than, the 10 megapixel Leica M8 and M8.2 sensors, at least at low ISO settings – although any flaws in the central region of any lens will also be magnified by two. The m-4/3 sensor may give more digital "noise" at higher ISO settings than the Leicas, because each actual pixel 'photo-site' is smaller, and so captures less light at a given moment than the bigger sensors in the Leicas. So the 'signal-to-noise' ratio of the Leicas' larger Kodak sensors may be more impressive than results with the smaller sensors in m-4/3 cameras. Panny 12 megapixel pictures can't, for example, deliver as much enlargement as the 18 megapixel pics of the M9 before fuzzy or unsightly 'pixellation' sets in.
–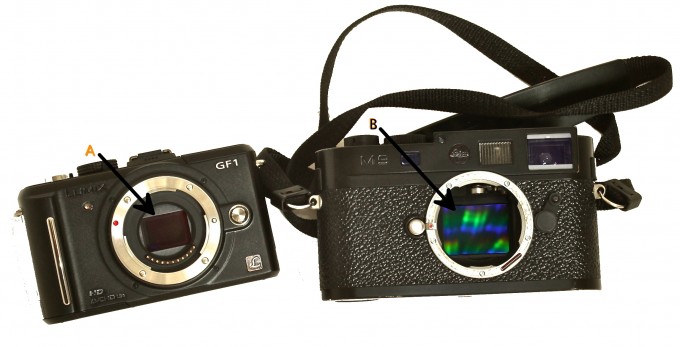 –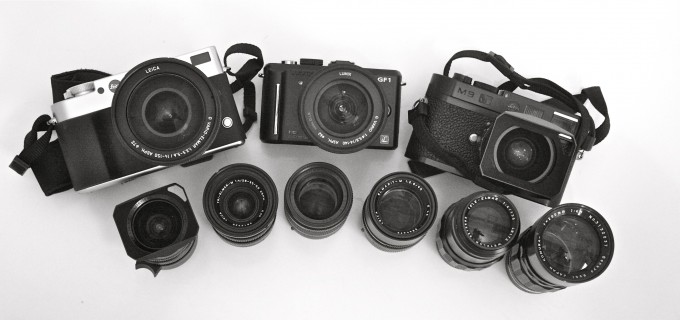 The little micro-4/3 camera in the middle (the GF1, or 'Leica M9.5') and its one lens replaces the big 4/3 Leica Digilux-3 on on the left, and *almost* replaces the big Leica M9 on the right – and all those other lenses!
–
The various m-4/3 lens adaptors have no glass inside: they're just "extension tubes" to hold non-micro-4/3 lenses further from the sensor than the proper 'designed-for-m-4/3' lenses, so that lenses built for larger cameras with a greater lens-to-sensor 'flange-back' distance will focus correctly onto the m-4/3 chip. Panasonic's own adaptor includes nine contacts to transmit power and info between Four-Thirds lenses and m-4/3 camera bodies so that the lenses' electrical circuits (should) work properly. But as there's no stabilisation, auto-focus or auto-aperture in Leica-M lenses, the Leica-M-to-m4/3 adaptor is just a metal tube with a precision mount on each end.
What a revelation! I'd bought a small second-hand Minolta CLE film camera to mount my Leica lenses on, as the M9 is just too heavy and too bulky to be a proper pocket camera ..for me, anyway. (Why is it BIGGER than the original Leica M3 of 1954?) ..But the Panny GF1 Leica-lens-plus-teeny-body combination is *exactly* what I'd been looking for! Leica has a partnership with Panasonic going back many years (the Leica Digilux cameras were Pannys in different livery, and the Leica V-Lux 20 is just the Panny TZ10 (its UK name) with a red dot on it). Leica should now grab the Panny GF1 – on its way to being phased out as the new GF2 is on its way – and should re-brand it as the Leica 'M9.5' (with a black dot on it, just like the M8.2) ..and that, I think, would be the perfect pocket camera, just as Oskar Barnack intended!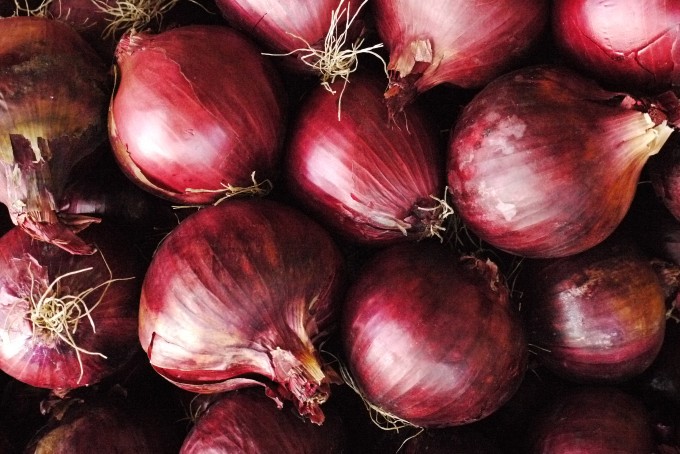 –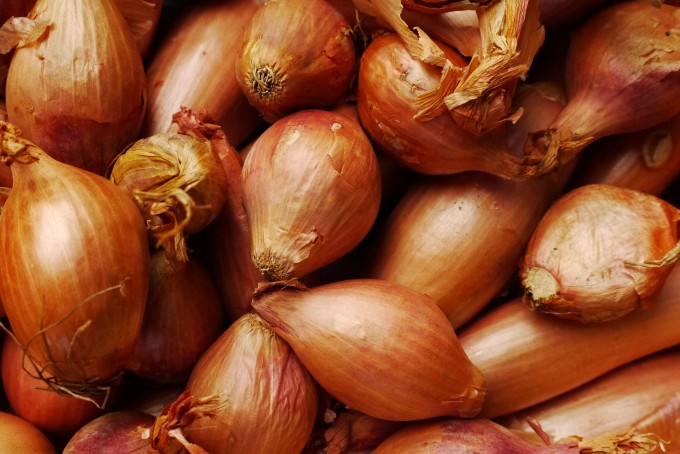 –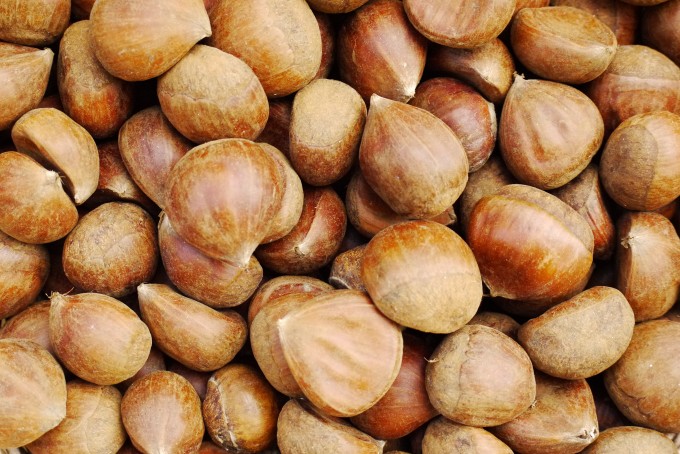 Delicious patterns, textures and colours of Christmas fare: straight-out-of-camera jpegs from the GF1 (click for larger). Why no similar comparison shots taken with the M9..? Because the 56-year-old rangefinder mechanism of the current M9 can't focus close enough to take these shots. The GF1, er 'M9.5', offers manual and auto focus – with anti-shake image stabilisation – for close-ups and small apertures at high or low ISO. The first image was shot at ISO 3200 ..not bad for a small sensor, eh? (The M9 won't go above ISO 2500, without dialing-in some under-exposure.) (F) was shot at ISO 1600. All these were taken with the default Panasonic 14-45mm 'kit' lens.
–
All the Leica lenses I've tried fit the GF1 – especially the wonderful Dual Range f/2 50mm which is unusable beyond 4 metres on the M9 (..or 2 metres on the M8 and M8.2..) because its focusing cam bangs against the digital M cameras' metering cell! Doh! The exotic long-rear-end Russar 20mm doesn't fit on the GF1, because its back end protrudes too far, but the less protrusive Voigtländer 21mm (and the Voigtländer 15mm and 12mm) will fit perfectly, and give brilliantly sharp shots!
These wide lenses don't need extra external viewfinders on the GF1 – unlike using them on a Leica M – because What You See Is What You Get; the 'live view' screen on the back of the GF1 (..let's call it the 'Leica 9.5' from now on..) shows exactly what each lens sees ..and a small clip-on electronic viewfinder is available if you can't – or don't want to – focus at arm's length.
Focusing with older Lumix/Leica 4/3 lenses, which don't auto-focus on the GF1 – or with any Lumix lens set to Manual Focus – will automatically give a magnified view on the camera's focusing screen to help get the focus spot-on: connection pins in the 4/3-to-m4/3 adaptor tell the camera that focus is being manually adjusted. This doesn't happen automatically with other lenses on a 'dumb' adaptor, like Leica, Canon or 35mm-film Olympus, as there are no connector pins on these adaptors to tell the camera what's happening inside the lens. But by pushing IN on the over/under-exposure adjustment wheel on the back of the camera, focus-magnification's turned on with ALL 'dumb' lenses!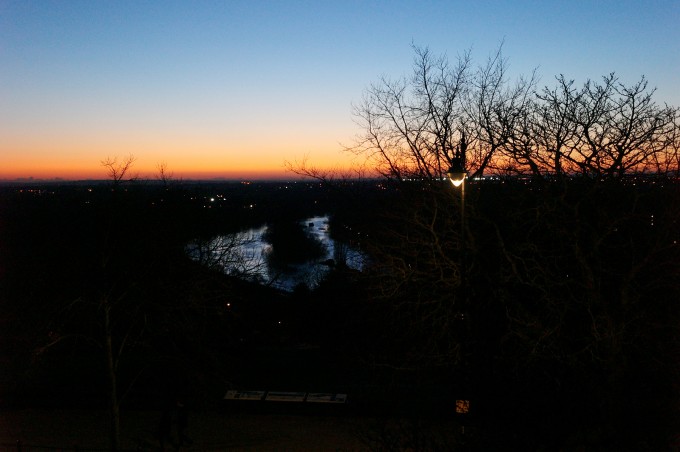 –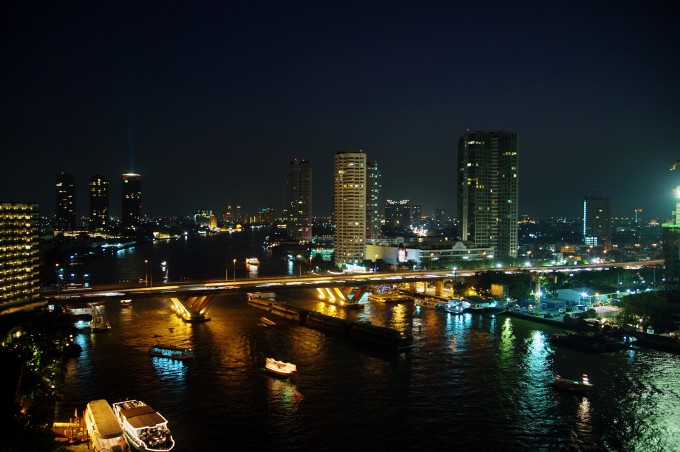 –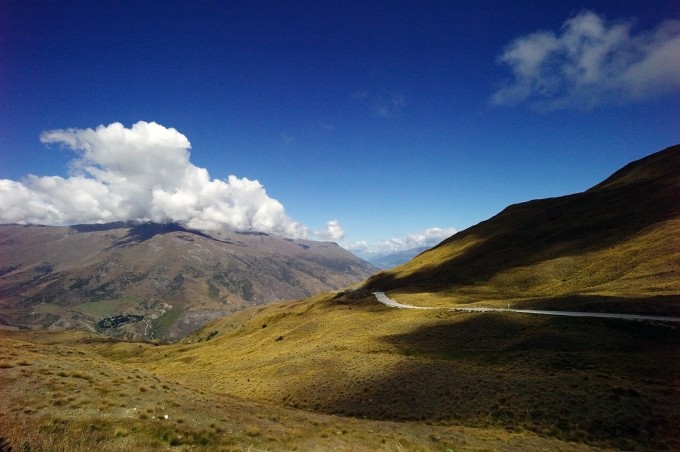 The M9's redeeming feature is that it beats the GF1 in richness and depth of colour, in both day and at dusk, which the GF1 just can't match – yet! Last one at ISO 2000.
–
As focal lengths effectively double when used with 4/3 sensors – compared with full-35mm-frame sensors – the Leica f/2.8 14-50mm wide-aperture zoom from the old Digilux-3 becomes an f/2.8 28-90mm zoom on the GF1 (as it did on the old Digilux itself), and Panasonic's Leica-branded f/3.5 14-150mm Digilux-3 lens behaves as a 28-300mm super-zoom. But those older 4/3 Digilux lenses are big and bulky compared with the newer miniature f/3.5 14-45mm and f/4 14-140mm lenses designed especially for the GF1 ..er, 'Leica M9.5' *micro*-four-thirds system. The Digilux-3 wide-aperture f/2.8 14-50mm would seem to have the edge over the new smaller-aperture f/4 14-45mm, but not so, because in-built stabilisation in the old lens doesn't work when used on the '9.5', but stabilisation in the new miniature lenses *does*, giving an extra two stops' worth of non-shake shooting!
Fitting Leica's f/2.5 75mm Summarit-M on the '9.5' camera gives a small and pocketable f/2.5 140mm that's a fraction of the size of the M9-plus-Leica's-own f/2.8 135mm ..which needs a crane to hoist and hold it!
A Leica 24mm lens behaves like a 48mm, of course ..but using the Cosina-made Voigtländer *12mm* on the '9.5' gives pretty much the same view as a 24mm on an M9. (The Panasonic 8mm – and 7-14mm zoom – will approximate to a similar view as Leica's super-wide-angle 'Tri-Elmar' 16-21mm zoom at its widest setting, so all wide-angle boxes are ticked if you splash out on an 8mm.)
The Voigtländer 21mm gives – oddly – a far wider view than Panasonic's own 20mm f/1.7 autofocus m-4/3 'pancake' lens when used on the GF1; they should both be a 40mm equivalent, but I prefer the Cosina-Voigtländer for its wider angle of view and incredible sharpness – when correctly focused! (The small Panasonic lenses auto-focus of course, but Leica-M-fit lenses – obviously – can't. You can manually focus with the Panny m4/3 lenses; but you can choose an aperture (in 'A' or 'Manual' mode) by turning a dial on the camera.)
Black-&-white results at 1600 ISO on the '9.5' are nicely 'grainy' like venerable ISO 400 Tri-X film ..but needing only a quarter of the light which Tri-X needs! This GF1 is just *great* for hi-ISO black-&-white. Low-light colour shots, though, aren't anywhere near as vibrant (..even though 'Vibrant' is selectable in its menus..) compared with pictures the M9 delivers at night (or the little Panasonic LX2 used to give).
I'd previously thought "why put a Leica full-frame lens on a tiny Four Thirds sensor? ..there's less resolution, and you lose the wide-angle facility".
But having tried it, I see advantages:
[a] the body – and body-&-lens combination – is FAR smaller and lighter than using a Leica M.
[b] the body-&-lens combination may, in some circumstances, out-perform the Leica M8.
[c] although you can't use a Digilux zoom on a Leica M, you can use it on the 'M9.5'. Same goes for defunct Leica R lenses.
[d] focal length doubles, so a Leica f/2.8 90mm becomes a very compact f/2.8 180mm, giving longer "reach" – and plenty of aperture – with a small lens.
[e] no 'cyan corners' using a Voigtländer 12mm on the 'M9.5': it's a usable 24mm instead.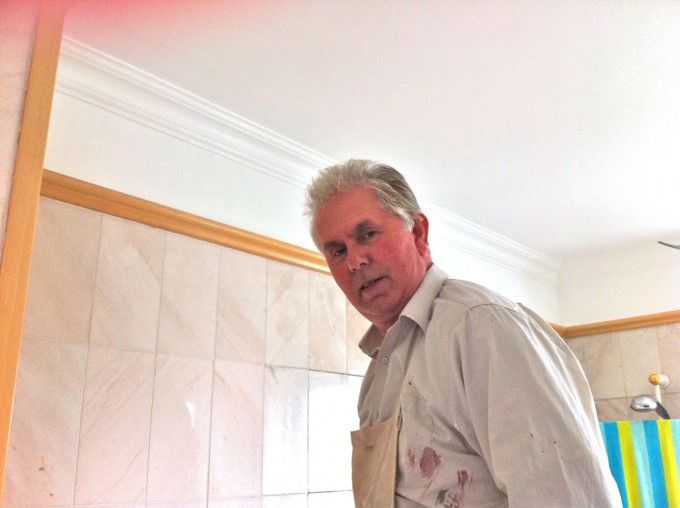 –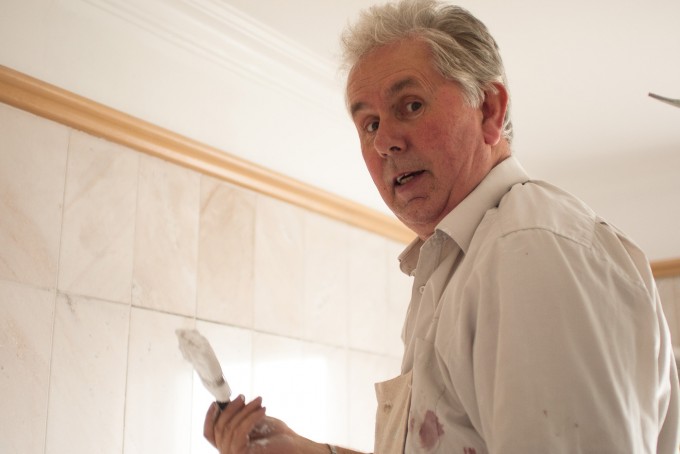 –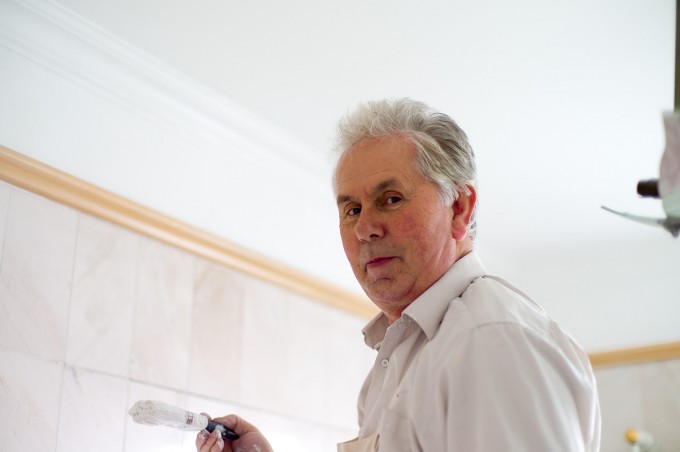 Which is which? iPhone 4, 5 megapixels, 2.3MB, ISO 125, 3.9mm, f/2.8, 1/15th.
GF1, 12 megapixels, 12.9MB RAW, 5.6MB jpeg, ISO 200, 24mm, +1 stop exposure, f/1.4, 1/80th
M9, 18 megapixels, 36.4MB RAW, ISO 200, 50mm, +1 stop exposure, f/1.4, 1/60th
The short focal length of the iPhone, and its f/2.8 aperture, means that the whole picture's sharp. The GF1, with a Leica f/1.4 24mm, gives less depth-of-field; the M9 and f/1.4 50mm gives even less d-o-f to isolate Steve the painter from the background. (There's a 15x difference in price – and in file size! – between the iPhone and the M9 pics ..is there a 15x difference, though, in *visible* "image quality"?)
–
I've, at last, found a generally 'easy-to-use' small, compact "all-rounder" to almost match the big, heavy Leica M9. Leica's chairman Alfred Schopf should encourage a deal with Panasonic *right now!* to offer the GF1 as a mini 'Leica M9.5' because it takes Leica lenses – think how much more glass they'd sell! – it gives great results, they already rebrand Pannys as Leicas, and (some of) the world wants a pocketable Leica which takes interchangeable lenses – unlike the silly fixed-lens X1. (Or else put a Leica-M bayonet on the X1 ..though that leads us into the land of "one-and-a-half-times" focal lengths, with a 50mm becoming a 75mm instead of 100mm, and the X1's focusing just isn't as fast as the 'M9.5'.) The Leica 'M9.5' would be a compact Leica "for the rest of us".
The GF1, er 'Leica M9.5', is – obviously – the digital version of the Leica CL (the "Compact Leica"): it takes M lenses, gives great quality (RAW and jpeg), doubles the range of existing M lenses – so a 135mm becomes a 270mm ..a focal length unheard of on a Leica *rangefinder* camera – and it's just the smallest, sweetest Leica ever made. Call it the "mini-M" if you like. And make an 8mm M lens to go with it. Make the call, Herr Schopf!
David Babsky was, many years ago, Technical Editor of the UK's best-selling 'Practical Photography' magazine. Years later he bought, and ran, his own 3-screen cinema. Now he teaches photography, mainly in Greece and Thailand.
[ad#Adsense Blog Sq Embed Image]