Christmas is just days away and some of you have e-mailed me asking where you can find a Leica M9 ASAP. I have placed direct links below to the shops I use and promote for Leica gear. It appears you can find a black right now at Amazon through Adorama. B&H is sold out at the time of this writing and Dale has a Grey in stock. Ken Hansen may have black and grey so be sure to e-mail him for availability! They seem to be selling fast for the holidays!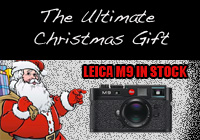 Ho Ho Ho! Looking for a Leica M9 by Christmas? Below are my recommended dealers who may or may not have one in stock…
B&H Photo – Black M9 or Grey M9
Dale Photo – Black M9 or Grey M9
Ken Hansen – E-Mail him at khpny19@aol.com for availability.