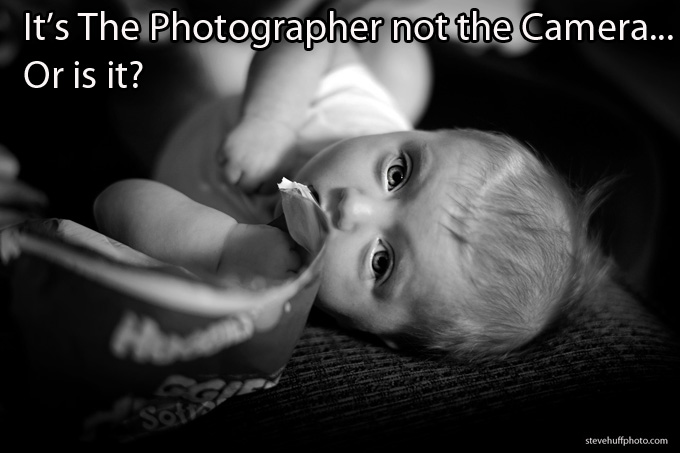 It's the photographer not the camera! Or is it?
You know I have been thinking and the more I think the more I realize that the old saying of "It's the photographer, not the camera" is sort of BS. Well, kind of… Sure, someone who knows nothing about photography will not be able to create a work of art, but with the right camera and right lens that person could get much closer to producing a photo that will WOW those who look at it. Why do you think so many of us keep lusting after certain cameras and lenses?
Let me explain…
For years and years I have seen photographers say that it is not the gear that makes a good photo, its the person who is taking the photo that matters. I also always hear about famous photos from back in the day, and how cheap old film cameras were used to create those photos. Well, just think if those photographers back then had access to some the tools we have today?
Lets face it, Ansel Adams was a GREAT landscape photographer but he did so much darkroom work to his prints that the final outcome was nothing like what was on the negative. He had to do hours and hours of work in the darkroom AFTER he took the shot, basically using the technology he had back then to improve his photo. HIs compositions were spot on, sure…but if he were shooting today I would bet anything that he would be using some killer medium format digital back, others will disagree though.
Example…
Let's say you are an experienced photographer and you own a decent camera… say, a Sony NEX-5. You want to go out and shoot a portrait photo. You go out and come back with something like this (click image for larger):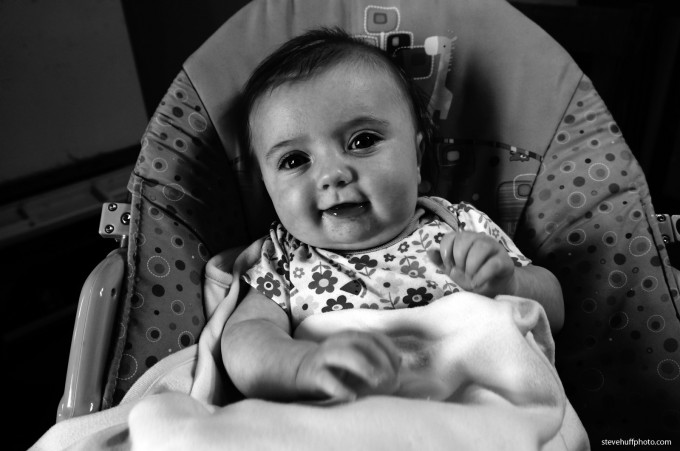 Now, the above photo is super cute thanks to the subject and it is also a nice quality image. But does it have any special qualities that would wow the normal Joe looking at your work? Not really, just a cute baby. Now let's say we have the same guy shooting with something like a Leica M9, and they also go out to get a portrait of the same baby (click image for larger)…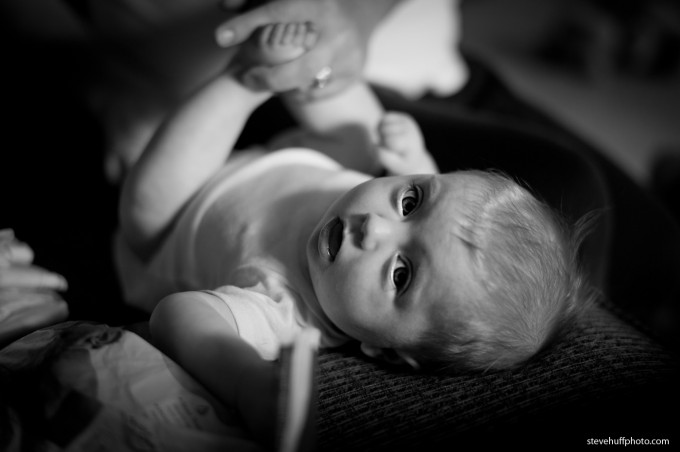 Now, the same photographer used both the NEX and the M9 but the M9 is giving the more "wow" shot. Why is this? Well, it is the lens of course. The 50 Summilux ASPH to be exact. The Sony used the 18-55 kit zoom. But the Leica has the more WOW factor due to the shallow depth of field and great B&W rendering. It also has more emotion due to it's lack of digital-itis (sony looks more digital to my eyes). Somehow this M9 combo seems to always create beautiful photographs. Slap that same lens on an M6 or M7 or MP and the same feel will shine through, even more so.
This 2nd shot shows right here that the equipment does indeed make a difference when shooting a photo and certain equipment can give you more WOW to your shots, though it does depend on the type of photo you are shooting and the look you are going after.
A photographer who has a point and shoot and wants to shoot an image like the ones above (portraits) would get much better results with the M9 and Lux or even a DSLR or Olympus E-P3. End of story. So, the gear does make a difference and it is not ALL the photographer though having a good eye will help you get great shots with whatever you are shooting with. Different gear does indeed bring on different looks, which is probably why so many of us keep chasing the latest and greatest.
So, the moral of the story is that owning a nice camera with a nice lens can help to take better photos not only because you will get better quality but also because something like an M9 or Fuji X100 can inspire you to do more with it. Sure, if you have experience and "the eye" then you know what to look for but these days almost anyone with enough cash to buy a decent camera can pump out decent photos, even EXCELLENT photos.
Now I am not saying that everyone needs to run out an buy an M9 as that would be ridiculous. You can get amazing photos with almost any of the cameras out today, even an iPhone but I just wanted to jot down my thoughts while I sit here at the Chicago Airport waiting for my delayed plane 🙂
I'm sure this article will get loads of conflicting comments but fact is fact! It is not always the photographer because depending on the type of shot you want, certain cameras and lenses do indeed make a difference. Then again, I took both photos and the argument has always been that a great camera will not make a bad photographer better. THAT is a fact as well 🙂 Thanks for reading!
[ad#Adsense Blog Sq Embed Image]