Leica — Love and Hate
By George Sutton
Owning a Leica M9 has been a real love/hate experience.  I am frequently on the verge of selling it because it is outrageously expensive and limiting then I get a shot that is so stunning I just want to get out and start shooting it again.  Here is why I decided to keep the Leica and some other random thoughts after a year of use.
The M9 is unmatched if used as a smaller and lighter substitute for a DSLR in situations where there is time to manually focus.  The clarity is remarkable.  The attached photos exemplify this.  Both were taken at a 1,000 year old Hindu monastery in Cambodia named Bantay Sri.  Its carvings are among the most detailed and elegant I have ever seen and the Leica captured that very well.  Both shots are cropped yet the detail is still crisp and clear, almost three dimensional.  I hope viewers on the website can see how the clarity just jumps out of the photo.  I think even a larger format camera would be challenged to take a better shot.
Click image for larger version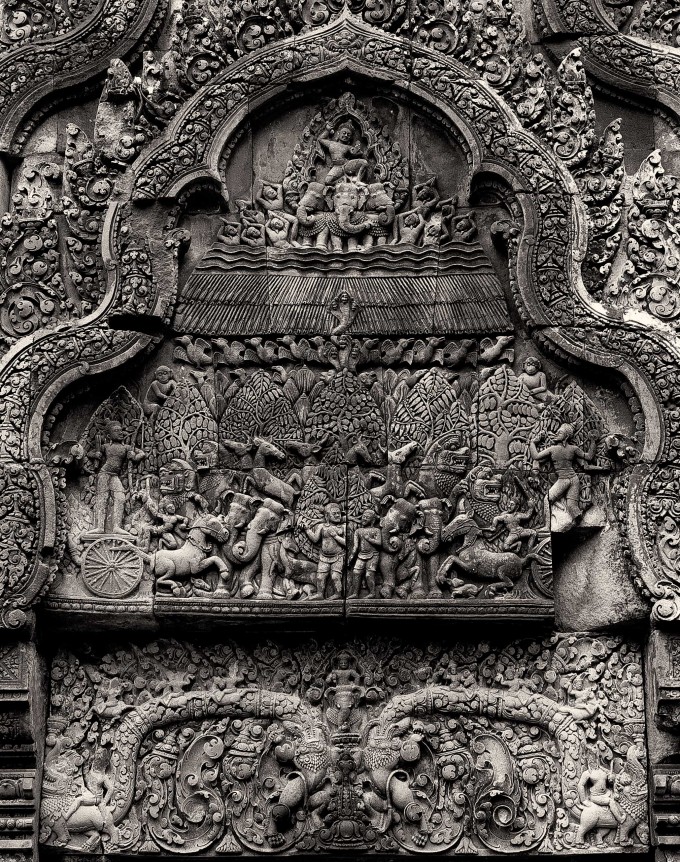 –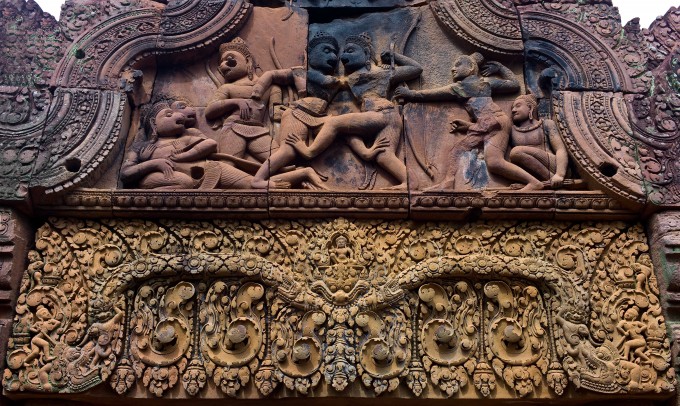 That is the Leica's strong point, and it is a very strong point.  But the frustrations can be almost as big.  
The Leica is not a replacement for a DSLR.  It doesn't have the versatility to take most kinds of shots.  For example, it is hard to shoot people close up.  I can get many more keepers with my Canon 85mm f1.8 and even a 24-105 f4 zoom.  Both lenses autofocus and are very sharp.  Unless a person is posing or holds still, or you are able to take a lot of shots in the hope that one will work, manual focus is just too hit and miss when you want to take a shot from ten feet away wide open and hope to see the pores on the person's skin after the shot is cropped.  I can get that shot with the Canon.  I recently spent time with a pro who mainly takes candid shots people in everyday life.  He carries two Nikon DSLRs that clip onto a belt he wears on his waist, one with a zoom wide angle and the other with a zoom telephoto.  He only shoots JPEGs because he doesn't have time to edit raws and he shoots many shots as fast as he can and doesn't want raw photos to fill up his card and camera buffer.  He tried my Leica and said it would be much easier to carry around but he would miss most of his shots.
The M9 is also not useful for very wide or long photos.  I shoot a lot of landscapes in the southwest.  Many of my best shots were with a fisheye lens.  The Leica can go 21mm or 18mm but as Steve points out in his lens reviews you usually need a Leica lens to shoot wide angle and avoid color problems at the fringe.  Effectively the M9 has no telephoto capability.  90mm is slight telephoto and 135mm, the maximum for a Leica rangefinder, is too inconvenient to carry in addition to a 90mm.  My full frame Canon DSLR will go much wider and longer with no fringing problems.
Leica's software is relatively primitive and colors are hit and miss.  Sometimes they are great.  Others times there is a yellow or orange cast.  On the other hand, no other camera I have used does as good a job in long exposures on a tripod.  Take a shot in moonlight and it will come out like it was day.
I hope you find this interesting.
George Sutton