Back to its roots, feat. Olympus PEN EP-1
By Illya Reddy
"The photography is all about me, not the camera, but me, me, me…" – I have been repeating these words in my mind. It was too hard for me to leave the cameras and go to photography itself, because I used to be a huge camera geek. Though I didn't have a lot of cameras I spent all my time thinking about the gear, about how it limits me, about how I need a new camera. And it was really bad period in my photography life. I was stuck for 1,5 years worrying about the gear and not paying any attention to photography. During this period I got interested with street photography and fell in love with it immediately. That was a turning point and I realized that the only problem was that I didn't want to actually LEARN.
My requirements to cameras have changed, and I also realized that I didn't need all the DSLR power that much. I decided just to pick up the right one for me and leave it up. Well, I went back to its roots and choose the first digital PEN – the EP-1. However I can't say that DSLRs are bad – no! They are actually great, but not for my particular needs. I need just a simple tool to study the art of photography. And EP-1 is the way to it.  
And it would be pity of me if I didn't mention my feelings to this camera. I LOVE it. Though it can't be called a perfect one. But the thing is when something kind of suits you, you can easily get through its weak points. I love almost everything about it. Despite reasonable price, this camera is made quite well and I like this nice solid feeling in my hands. Compact size, discreet body, it does not look like you are going to shoot someone with a gun. And I completely agree with Steve – this camera is really fun to use, I just can't stop shooting.
Street photography requires a fast camera. And in this respect Olympus really does NOT stand out. You can hear a lot of complains about the slow autofocus speed. And it is slow indeed, although it is MUCH faster with 17mm pancake than with the kit zoom. By the way I quite often stop 17mm one down to f/8, pre-set the focus at 3-4 meters and then almost everything will be in focus – that is the way to get through EP-1 slowness. I have both of kit lenses and Arsat 50mm f/2 lens with a Nikon>M4/3 adapter. Most of the time zoom is just resting in the bag. The 17mm and 50mm lens couple gives me nice 35mm and 100mm equivalent. And kit zoom is used mainly to get a 28mm equivalent. Pancake is quite a good lens: fast f/2.8, reasonably wide 35mm focal length and incredible small size make it really great carry-around lens. And the 50mm Arsat one is also worth mentioning. Well. It is actually a Ukrainian-made lens for Kiev cameras, which have the Nikon F bayonet. I used it with my Nikon DSLR and kept it with me after selling the camera "just-in-case". And voila: it perfectly suits EP-1, makes it well-balanced all-metal body and delivers this nice 100mm equivalent which I love using for portraits and far-away landscapes. Though it is a Soviet-designed lens, it is pretty sharp wide open and produces nice creamy swirled bokeh. Obviously as an old, cheap lens it has some weaknesses like bad handing against the sun, but I don't care about it. If you do, then there are plenty of nice manual Nikon, Pentax, Canon 50mm lenses, which are almost as affordable as mine one. And nice thing about these lenses is that metering does work, so you have to just focus and shoot. Manual focus with this lens is just a pleasure: smooth focusing ring gives that classy like-the-Leica feeling. This Arsat is probably my favorite lens for the PEN in terms of feelings.
Anyway, I got distracted, let's get back to the street photography. I started it 1 year ago. It became a big part of my life. It helped me to fight off my shyness. It is something like a special lifestyle, when you are not just walker-by on the street. You are kind of storyteller of what you see, and what will never be repeated. Walking down the street you can see many people or one person or no people at all, but almost everywhere there will be something special and your mission is to capture that. It's interesting to capture some emotion, geometry and mood of the street's life. I'm still looking for my own style; hope I will work it out soon.
It's always like a small trip, a little adventure to go to the photo shooting. You'll never know what kind of people you're going to meet, what kind of places you're going to visit. Maybe it'll be a successful day and you'll get a few nice shots, maybe it won't and you'll come back home a bit disappointed. But the next day, if you have some time, you'll just grab your camera bag and go wherever and obviously this time you will get a few good pictures.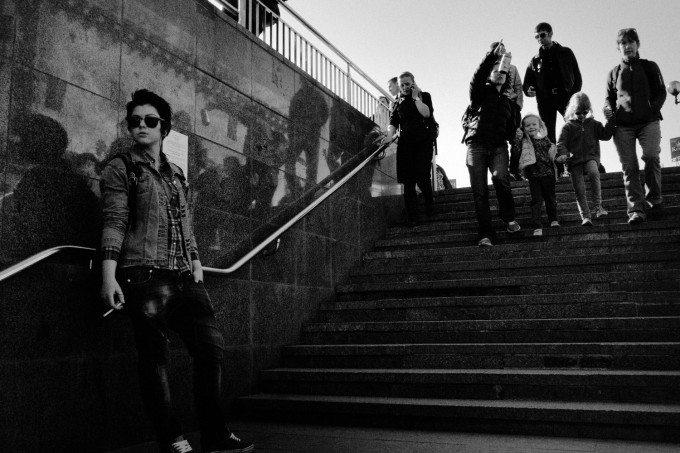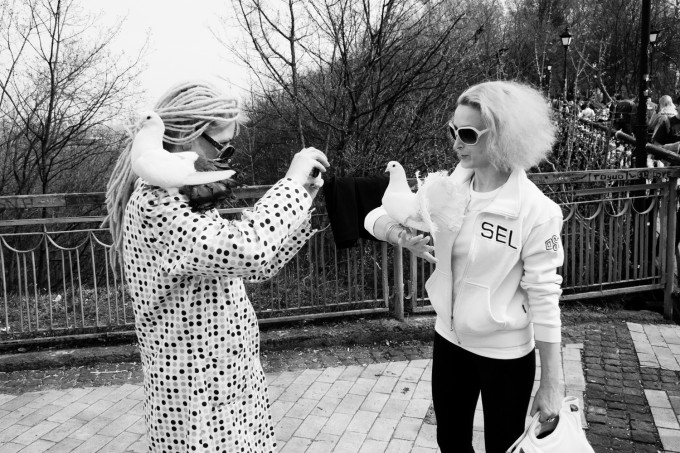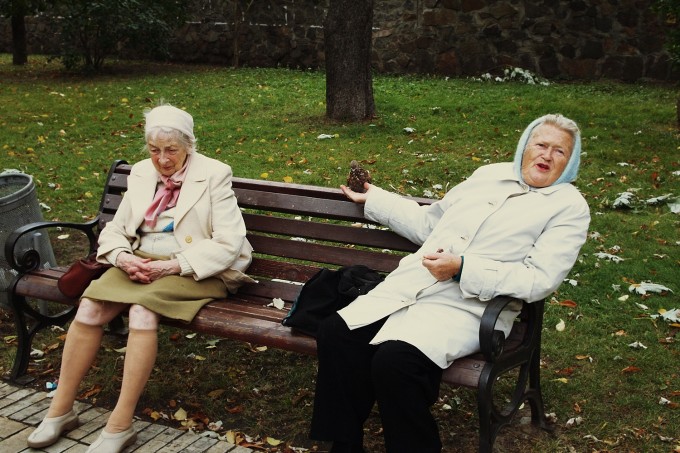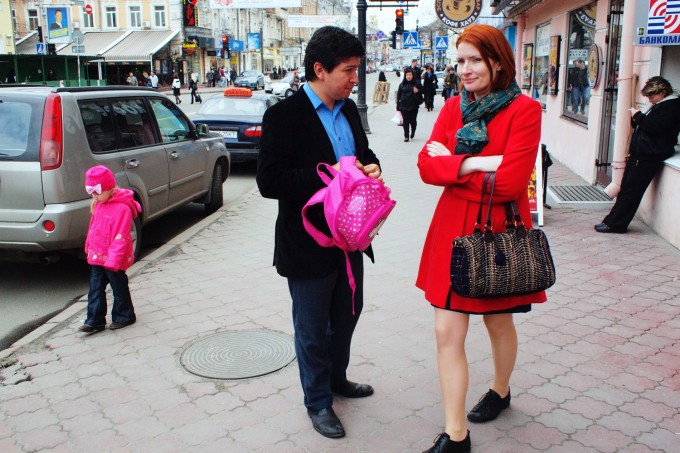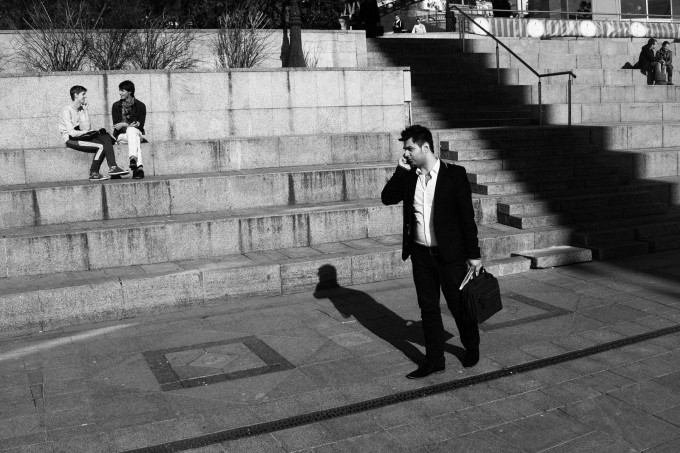 Check out my Flickr page:
http://www.flickr.com/photos/illyareddy/
Also check out those beautiful guys' work, that inspired me a lot and helped with priceless advice:
– http://vk.com/sparrow_sparrow?z=albums6587480