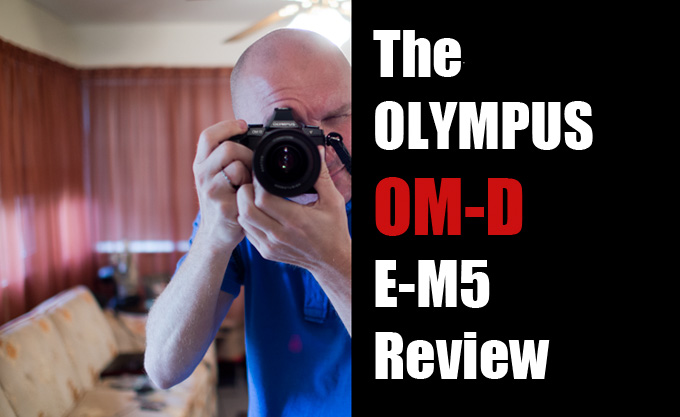 The Olympus OM-D E-M5 Digital Camera Review by Steve Huff
Micro 4/3 finally matures..for real.
Well here we are in May of 2012 and Olympus has now released a new line of Micro 4/3 cameras,  fittingly called the "OM-D", which is actually a homage to the little "OM" of the film world.  The OM series has sort of a cult following and for good reason. Those little film cameras were so good, so small and so solid that even today many are still in use. The original OM series film cameras are highly recommended if you want to get into some low cost film shooting.
My original Olympus OM-1 that belonged to me for many years – was a GREAT camera and the 50 1.4 that I shot with it was also very good..and cheap! I think I paid $125 for the entire set.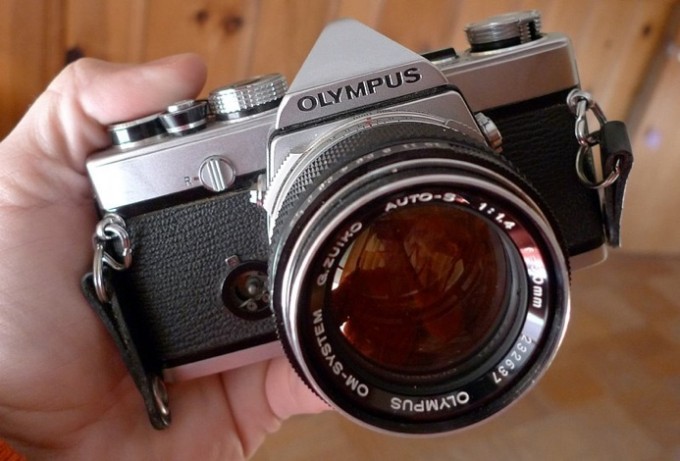 But as for today in this digital world the 1st camera in this new OM-D line is called the E-M5, and the specs and details of this camera looked amazing when it was announced by Olympus. Everything that was missing from the already great E-P3 (my review here) was now included in the E-M5. A built in EVF, weather sealing, tillable LCD screen, better video quality without any jello effect, improved high ISO quality, a new button and control layout and even an optional grip that can not only be used as an additional handgrip with extra dials and buttons (which are nice and solid) but you can also add on an extra battery pack to the grip if you want more stamina. It all seemed so perfect… but I was wondering if the camera would live up to the hype, because they rarely do. I mean, this E-M5 has been hyped and marketed like mad so does it live up to all of  the hoopla?
The OM – DIGITAL – Same classic looks with that special old school charm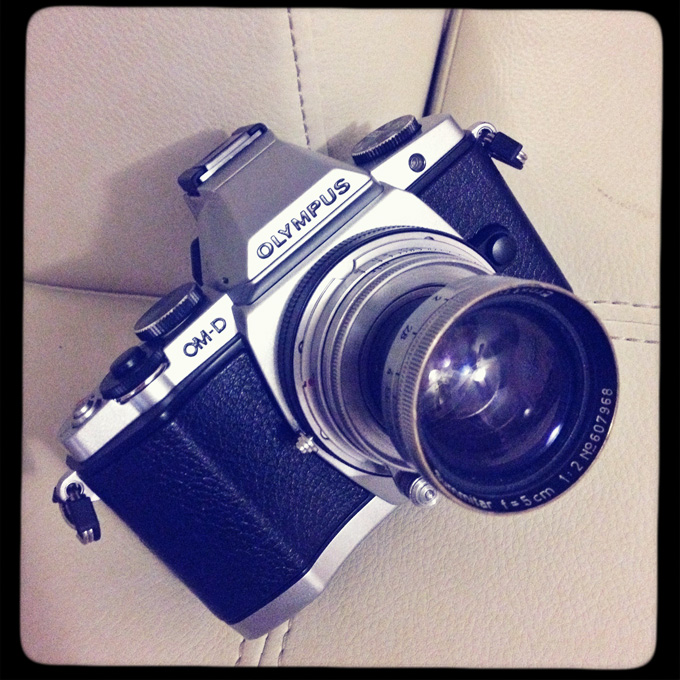 **NOTE:  for reference you can see my Olympus E-P2 and E-P3 reviews.**
Well…
I have been using the E-M5 for over 3 weeks now and have found the camera to be an absolute joy to use. Micro 4/3 has now really matured and Olympus has answered many of our concerns, needs, and wants and seriously, I am not sure how much better the Micro 4/3 format can get but keep in mind, this is still Micro 4/3 and will not give you the depth of field or richness of an APS-C or full frame sensor.
OM-D TIP! BEFORE YOU SHOOT THE OM-D E-M5 I recommend to TURN OFF the warm color setting in the picture IQ menu! Otherwise your images will all have funky warm colors! Many of the JPEGS in this review were shot with the warm color set to ON. I prefer it set to OFF..
This review will go over the usability, speed, ISO, image quality, lenses and just about everything that has to do with real world use of the E-M5. This is not going to be a tech head scientific review as anyone who knows me will know that I do not test cameras in that fashion. If I did, this would be a rather boring review.  I prefer to focus on the way we use the cameras – the way they handle, the controls, the joy of use. Does it inspire you to get out an take pictures? Will it put a big fat warm smile on your face? Will the image quality be really good and satisfy our needs?
THESE are the things I like to look for.
Also note, 75% of the images in this review, just like my E-P3 review, have been shot as JPEGS. So what you see here are mainly images that came right out of the camera. Olympus has usually been great with JPEGS and at the time I started writing this there was no real RAW support for the OM-D just yet. RAW support did become available after I was 3/4 of the way done with this so you will see some RAW shots here in this review as well. All images are marked either as JPEG or RAW.
So with all of that said..let's get started!
Olympus E-M5 and the Olympus 12mm f/2  – A man and his wolf – OOC JPEG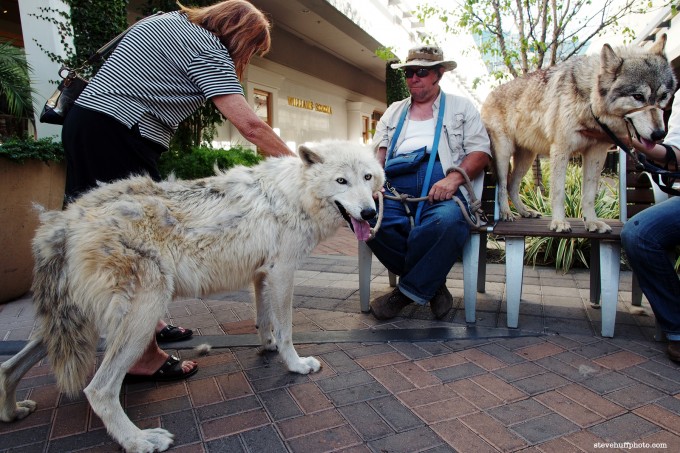 –
Sexy thing that E-M5 …Weather and Splash proof. It can take rain and cold but do not dunk it in water 🙂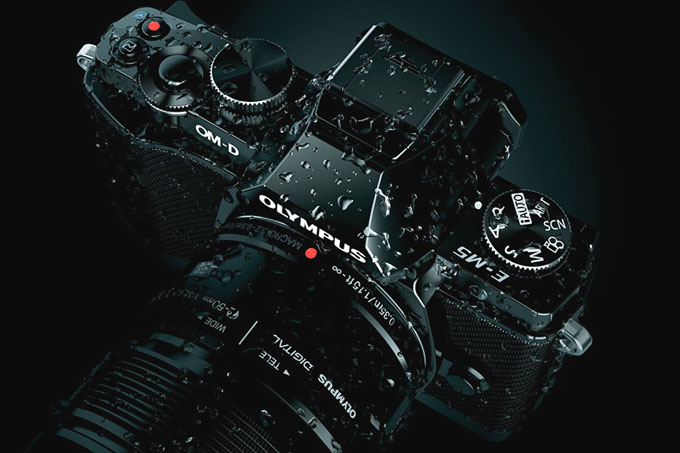 –
Is the E-M5 a Game Changer?
So right up front…is the Olympus OM-D E-M5  a game changer in the world of digital mirror less cameras? Well, not really. Sure it has a great body, great controls, and it has all of the stuff we wanted to see but at the end of the day there is nothing really revolutionary about it. It doesn't have any magic fairy dust sprinkled inside nor does it have anything amazingly special. The image quality is pretty much on par with other Micro 4/3 cameras.
Basically, it is a souped up and hot rodded E-P3 that beats any Micro 4/3 to date in regards to usability and fun factor. There has been no Micro 4/3 to come before this that I liked better so while it might not be an overall game changer it is a game changer in the M4/3 world!
The PEN series has always been super fun to shoot. I loved and still love the E-P3 though it's high ISO performance is lacking a bit. ISO 1600 was and is about the max you want to go to when shooting the E-P3. The E-M5 can shoot ISO 3200 and be fine and even 6400 can be used if you need it, even in low light (and yes, this guy can focus fast in almost any light). The ISO improvement in real world scenarios has been improved without any doubt. When you add in the other new features and the new 5-Axis IS then it is a no brainer to go for an E-M5 if you want a M4/3 camera today. It appears Olympus just lowered the price of the E-P3 to $799 which now makes it about $300 less than the E-M5 kit but the E-M5 is well worth the extra $300 just for all of the improvements (EVF, 5-Axis IS, swivel LCD, new sensor and better low light, better video, etc). I have spoken to some OM-D owners who said they would pay double for this camera just because it does so much right. That right there says quite a bit.
[ad#Adsense Blog Sq Embed Image]
In many ways, shooting this little camera has reminded me of the Nikon V1 (see my review of the V1 here). The speed, accuracy, and lack of any problems or quirks was refreshing. The way it should be when we plunk down our hard earned cash for a new camera. What I mean by that is that if I spend $2500 or more on a digital camera setup and it gives me hassles, issues, missed shots or can't do what I need it to do then to me, it is worthless. If a camera can be responsive, do things it is designed to do without hassles and give me output that I can live with then all is good. The E-M5 is one of these cameras where ALL IS GOOD.
The OM-D E-M5 and Panasonic 25 1.4 – WHAT A COMBO!!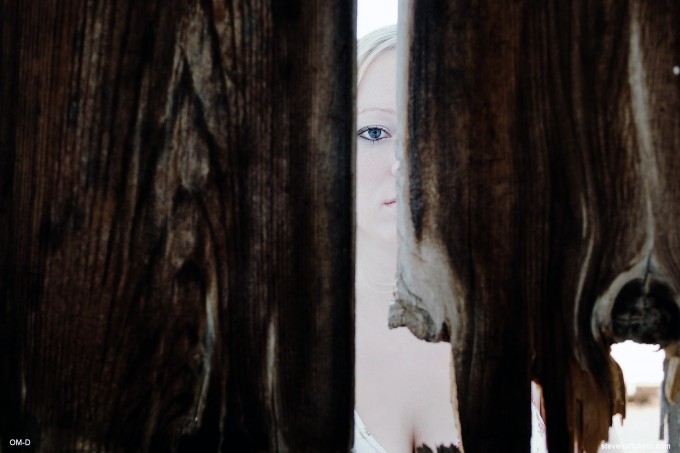 –
But it is Micro 4/3, the sensor is too small!
Many have this complaint about the M4/3 format and some shooters always will I guess. I hear it all the time. "The sensor is too small, it limits my depth of field". Well, that used to be true but not today..well, sort of. With lenses like the newer 25 1.4, 45 1.8, and upcoming 75 1.8 even those who crave shallow DOF will have little to complain about. NO, you will not get the full frame super creamy DOF look but you can get nice results with the right lenses. Even with the new Voigtlander 25 0.95 and 17 0.95 it gets even better (if you are looking for a unique look, more on that below). This camera no longer has all of those limitations many associate with Micro 4/3.
Why? Well, because it has a fantastic sensor and when you add those amazing lenses it does just about anything you need it to do.
The Olympus 17 2.8 is a bit softer on the OM-D than the other lenses, but i is also the cheapest and offers a 35mm view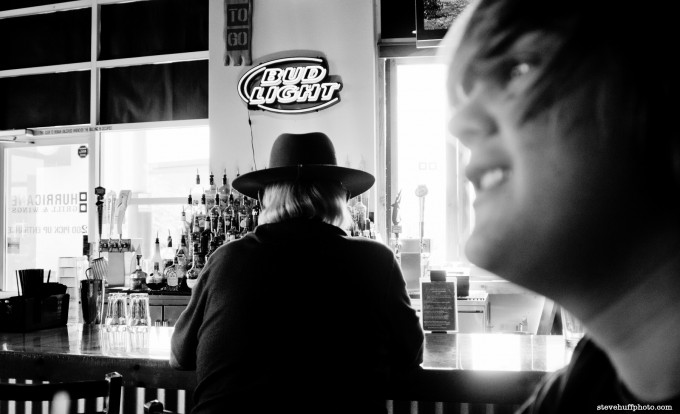 –
The 75 1.8 is sharp and with great color, fast AF and nice video performance – a little pricey at $899 but if this focal length is your thing..a steal.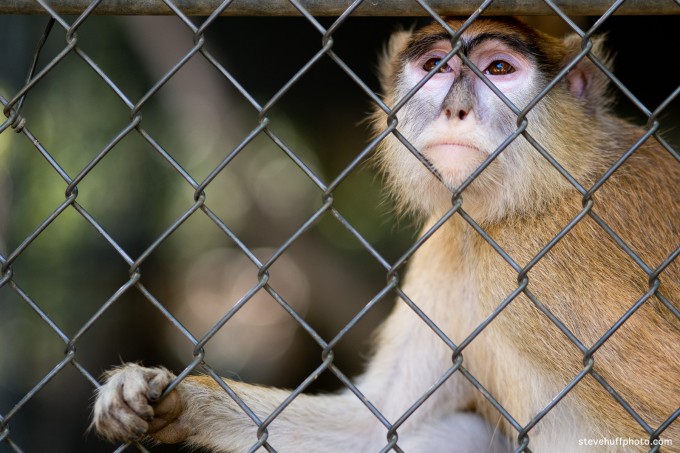 –
The Voigtlander 17 0.95 up close – from RAW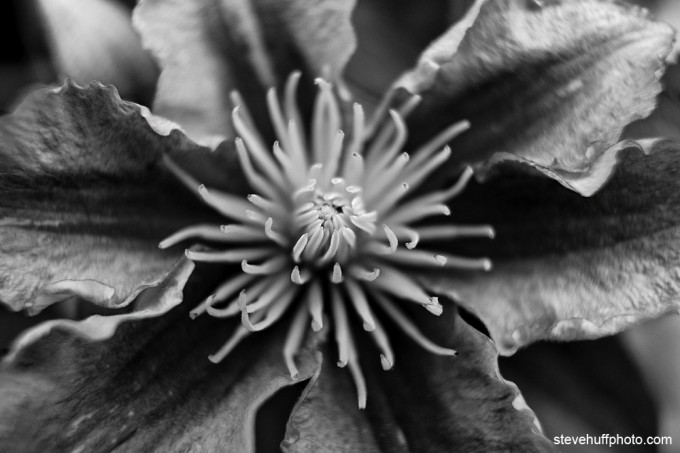 –
The new 16MP sensor – It's good 🙂
Have no fear! The new 16MP sensor in the E-M5 is a nice improvement over the E-P3 sensor, again, mainly in the area of ISO. The files are nice, the color has the typical Olympus quality and yes, the overall quality is there. The files are also bitingly sharp if need be. I have had no complaints with the new sensor and many suspect it is the same one that is in the Panasonic G3. This has not been confirmed though and there are those who say it is not. Me, I do not know the truth but I do know I really like this sensor and I have mainly been shooting in JEPG for the bulk of this review!
I do know that this new 16MP sensor (new to Olympus) is capable of very large prints and sharp output so in reality, this is as good as most people will need for their everyday photography, actually, even better. I have said it before but it's all about the lenses and now you can have your choice between many quality lenses.
Check out the amazing detail at f/4 with the 17mm – from RAW – YOU MUST click image for larger view and full crop!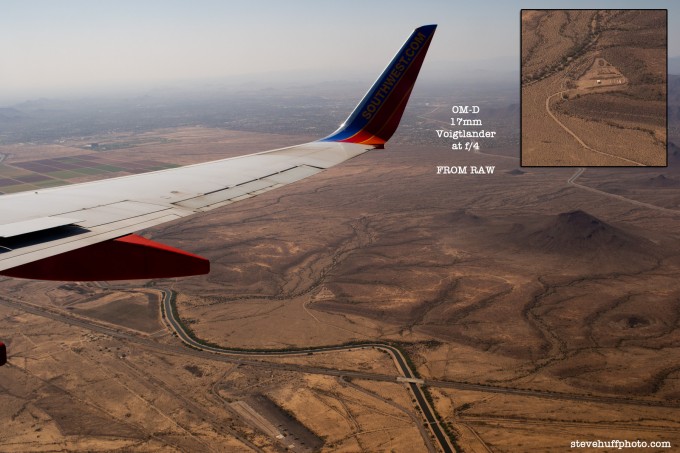 –
Check out the following images with 100% crops embedded  – click them for larger views and true crop – from RAW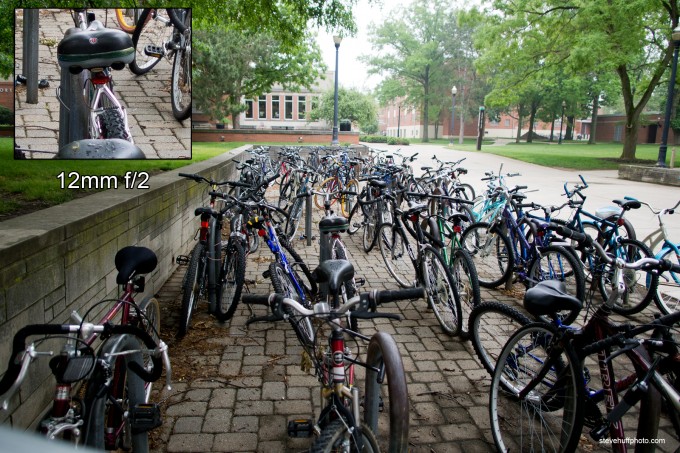 –
This one was at f/4 – from RAW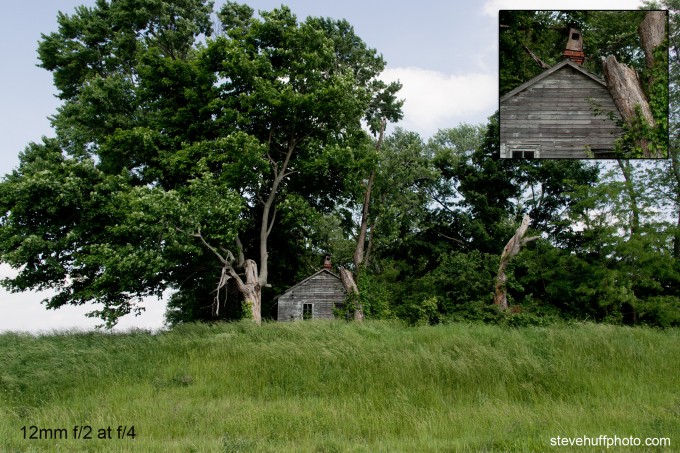 –
With the 25 1.4 from Panasonic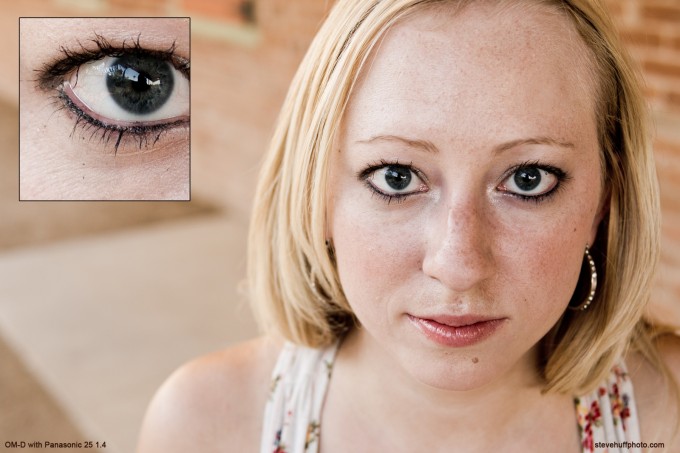 –
The Specs of the OM-D E-M5 – What Olympus says and What I say. 
Here are the specs and features of the camera, or at least what Olympus has to say about it…followed by my thoughts
Intuitively Designed Electronic Viewfinder
What Olympus Says: The OLYMPUS E-M5 is the first Olympus interchangeable-lens camera to incorporate a 120fps refresh rate, high definition electronic viewfinder with an eye sensor to seamlessly switch the display between the tilting 3.0″ touch screen OLED and the electronic viewfinder for ease-of-use. It features a 100% field of view, maximum 1.15x magnification, and an eye point of 18mm for fatigue-free viewing. Camera setting information, such as shutter speed, is displayed at the bottom of the viewfinder so photographers can concentrate on framing shots and take full advantage of an EVF's ability to display the effects of various exposure adjustments and Art Filter effects – all without having to take the eye away from the viewfinder.
What I say: Well, the VF is great. No complaints. It seems to be crisp and clear and when you put your eye to the EVF it automatically switches on. Again, no complaints. In real use it works just fine. It is basically their newer VF-2 but since the camera is better in low light with less noise, the EVF has less noise than you would have found if using the VF-2 on the E-P3. No complaints. The EVF switches formats to whatever you switch to: 3:2, 4:3, 1:1, etc.
Superior Image Quality
What Olympus Says: The Olympus E-M5 uses a 16.1 megapixel High-Speed Live MOS Sensor offering improved performance and exceptional clarity and speed in all aspects of image capture. Olympus' TruePic VI image-processing engine dramatically improves image quality in low-light environments. The camera's sensor allows for a maximum ISO of 25,600, and the dynamic range has been expanded for more faithful color reproduction
What I say: WOW, I was impressed by the high ISO performance of this camera. It is a big leap up from the E-P3 so BRAVO to Olympus. The camera will still not give you X-Pro 1 ISO performance but up to 3200 ISO it is VERY usable and actually very close to the X-Pro. I recommend to turn OFF Noise Reduction. Dynamic Range does indeed seem to be better as I have not had any issues with blown highlights. Overall, the image quality of this camera is damn good. Again, the best M 4/3 quality I have seen to date.
Panasonic 8mm Fisheye on the OM-D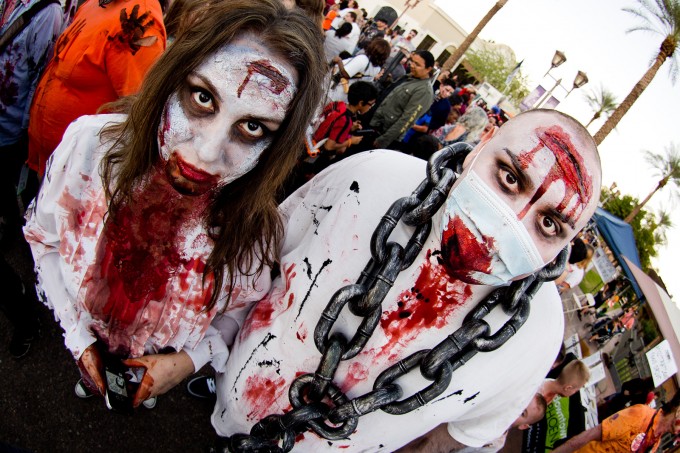 Unprecedented 5-Axis Image Stabilization
What Olympus says: The Olympus E-M5 is distinguished by the world's first 5-axis image-stabilization mechanism capable of reducing the effects of camera motion and image blur from five directions on stills and video, even including motion blur caused by the photographer walking or running. Previous IS mechanisms compensated for camera shake by addressing only two kinds of movement along the vertical and horizontal axis. However, camera shake can actually be caused by five different kinds of movement: horizontal shift, vertical shift, rotary motion, as well as the yaw and pitch. While some technology has attempted to correct for camera blur by building the Image Stabilization mechanism into the lens, the Olympus E-M5 IS mechanism is incorporated into the camera body itself so that all lenses mounted on the body can take advantage of this sophisticated technology, whether shooting stills or HD video.
What I say: I LOVE this 5-Axis IS. Simply put, I have never seen IS in a camera as good as this. Video almost seems "steady cam-ish". For images it works just as good. Again, BRAVO to Olympus for this as it is another 1st that Olympus brought in. Remember when Olympus designed and created the dust shaker? Now almost everyone uses some form of automated dust remover.
Blazing Speed
What Olympus says: Focus and shoot faster with record-breaking autofocus speed and imaging processing. The Olympus E-M5 employs the FAST (Frequency Acceleration Sensor Technology) AF system, introduced in the PEN E-P3, but with even greater speed. The 16Mp Live MOS chip drives image data off the sensor at a blazing 240 frames-per-second, a 2x speed increase in Continuous Autofocus, with reduced image blackout enabling photographers to track fast action. Maximum frame rates in sequential shooting have also increased more than 2x with a max frame rate of 9fps in Single AF. A new 3D tracking AF system can follow the subject through the X-, Y- and Z-axes to dramatically improve focus on moving subjects.
What I say: The AF is faster than any mirror less camera I have shot with to date…in fact, faster than just about any camera I have shot with.
Creative Freedom
What Olympus says: The Olympus E-M5 features a 3.0″ tilting OLED touch-screen to enable photographers to get up high or down low for any shot. The touchscreen interface offers intuitive focus and release of the shutter and review and enlargement of images in playback with the touch of a finger. The Live Bulb feature updates the Live View image on the OLED screen at pre-set intervals during long exposures and enables the user to preview continually unfolding action such as fireworks or waterfalls and adjust the exposure time accordingly while capturing the image at the desired moment. An innovative new interface, EVF Creative Control, produces a tone curve overlay on the viewfinder screen to enable separate adjustment of highlight and shadow brightness, white balance, magnification and aspect ratio can also be manipulated via the EVF.
What I say: The tilting LCD is very useful. I often wished Olympus would put this onto the PEN series and now they did, but on this OM-D. I have used this much like I would shoot a hasselblad kit, at my waist and looking down at the LCD. Works great. The controls on the OM-D are good but I do have one complaint though. The buttons on the back are way small. For example the play button is so small, those with large fingers may have trouble. My fingers are small and I sometimes have problems with the smaller buttons on the back.
Powerful Portability and Rugged Durability
What Olympus says: The striking, iconic design of the Olympus E-M5 is more than just looks; its magnesium alloy body is rugged enough to stand up to severe environmental conditions like heavy rain and blowing sand. The Olympus E-M5 employs internal seals extensively and, when the optional M.ZUIKO DIGITAL ED 12-50 mm f/3.5-6.3 EZ lens is attached, this combination delivers an integrated dustproof and splashproof camera system. The electronic viewfinder section of the body is also made of magnesium alloy to ensure durability, and the FL-LM2 Electronic Flash that ships with the camera features the same dustproof and splashproof construction
What I say: Again, BRAVO to Olympus! The fuji guys are not going to like me for  this one but I tell it like it is…the Olympus build quality is fantastic and with the weather sealing beats the Fuji build. When you add the 1st part of the external grip the camera feels really solid and comfortable. It feels like a camera well worth the $999 price. Then again, adding the grip will add $299 so you do have to add that to the cost if you want that solid comfy feel I speak of.
The OM-D E-M5 and 12mm at f/2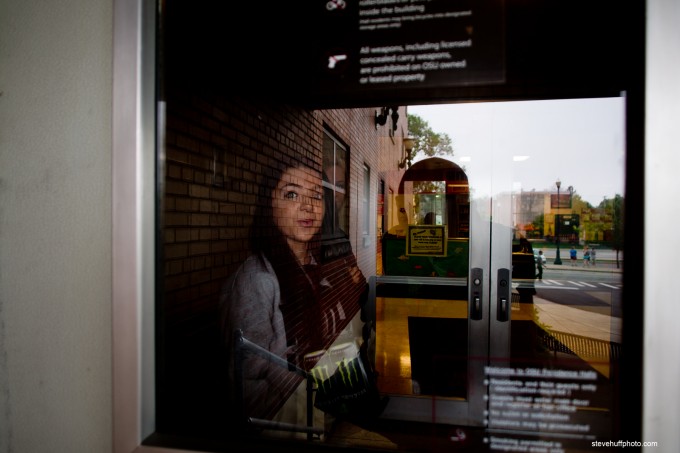 –
The OM-D and Voigtlander 17 0.95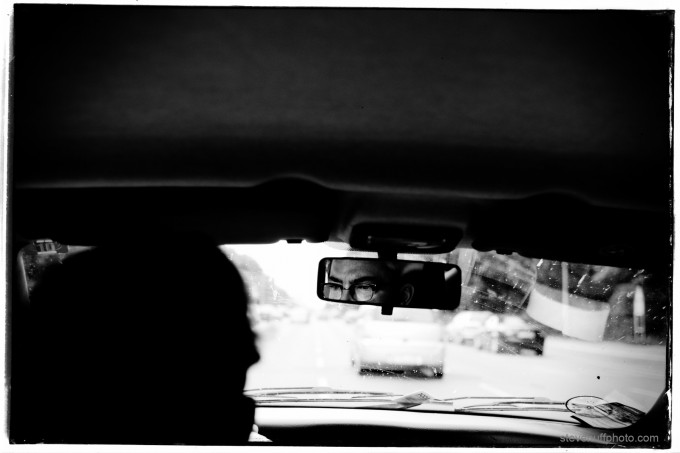 Compatible with All Micro Four Thirds-Compliant Lenses
What Olympus says: The Olympus E-M5 is compatible with all Micro Four Thirds-compliant lenses, including two lenses that Olympus will introduce later this year: the M.ZUIKO DIGITAL ED 75mm f/1.8 and the M.ZUIKO DIGITAL ED 60mm f/2.8 macro. The 75mm lens is a high-quality metal design with fast aperture settings for portraits and indoor sports shooting, while the dustproof and splashproof 60mm lens features 1:1 macro and a closest shooting distance of just 7.5 inches
What I say: YES! I am so looking forward to the 75 1.8 as I have heard it is going to be awesome. The metal build and quality construction will make it a popular lens. The 60 macro is also a welcome addition. Yes, Micro 4/3 has matured and it is finally an AWESOME choice if you are looking for a new system that is QUALITY. The 12mm, 25 from Panaosnic, the Voigtlanders, the 45 1.8 and upcoming 60 2.8 macro and 75 1.8 lenses really show that this format is here to stay. Even the cheap zooms such as the Panasonic 45-200 are fantastic, and CHEAP!
Cross Process Art Filter – Olympus 75 1.8 at f/4 – OOC JPEG. Click it for larger!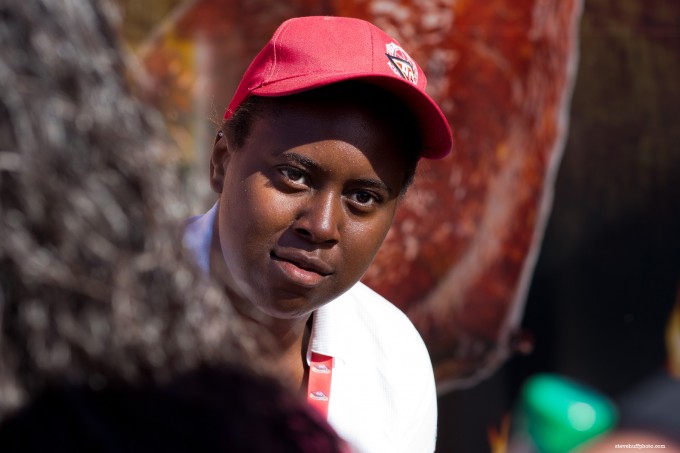 –
The Olympus OM-D and 17 0.95 at f/4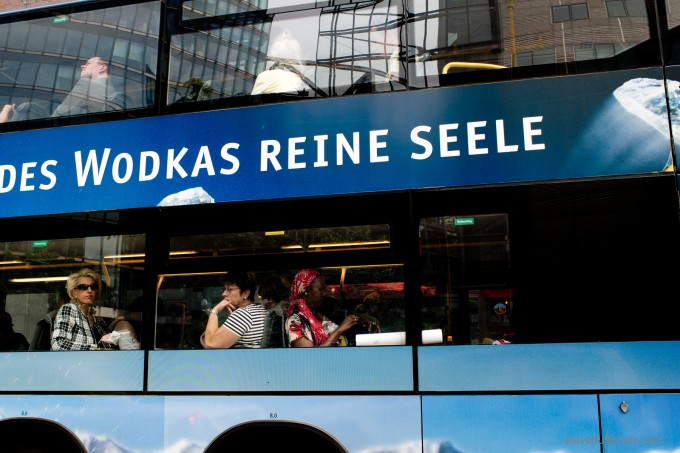 –
The Olympus OM-D E-M5 and t he 45 1.8 at 1.8 – OOC JPEG at night.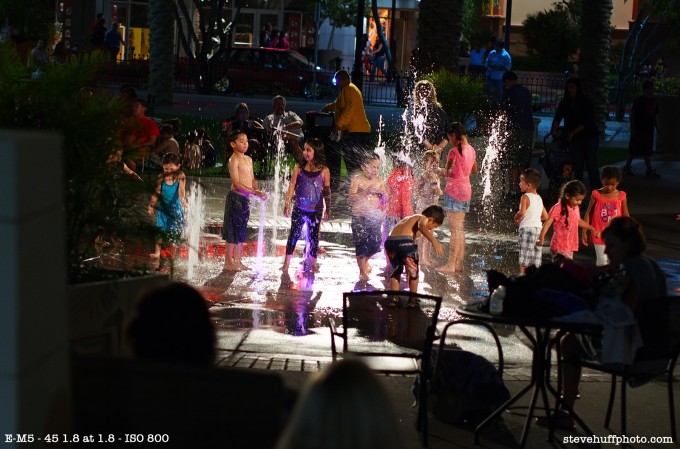 –
My 1st impressions after Delivery of the camera. 
So after all of the hype..after all of the excitement and after all of the waiting for this camera to be released I finally had one come in thanks to Robert Jagitsch (e-mail him here) who managed to get me one the first week after the cameras were shipping, so THANKS Robert! When the package arrived it came along with the 12mm f/2, 45 1.8 and the grip. I am so glad I bought the grip though as it makes the camera feel SO much better as I feel it is a bit on the small side without it.
So with the grip attached and the battery charged I went out to snap a few quick snaps to see how the camera performed. I mean, I was excited to see if it lived up to the hype after all.
When I turned it on in my kitchen I heard a whirling purr..a sound that reminded me of a sea shell humming in my ear. What was this? I assumed it was for the new 5-Axis IS so I turned it off and it was still there! Hmmmm.
The only time it turns off is when you shoot video, and then the camera is silent. You can hear this sound in my 1st look video I posted to youtube…but keep in mind it sounds louder in the video due to it being right up to my microphone.
My 1st look video on the OM-D E-M5
So after I started shooting with the camera the sound disappeared. It is not noticeable when you are out shooting so it is not an issue. I have to say that after my 1st couple of days with the camera it felt like an E-P3 with an improved sensor, an EVF and nice handling. I liked it and after shooting it side by side with a Fuji X-Pro 1, I personally preferred using the OM-D to the Fuji. Why? Because quirky cameras frustrate the hell out of me, especially when you spend well over $2000 on them. So usability was high with the Olympus but I wondered if the IQ would hold up to the Fuji because this is where the Fuji struts it's stuff'. (See my X-Pro 1 review HERE)
Overall, I was happy with the OM-D E-M5 though I felt it was on the small side without the grip. I also found the buttons on the back were a bit small, especially the playback button. Even my little thumb seemed to big for it.
All in all I was impressed with the OM-D E-M5 when it first arrived. It is pretty much what I expected and my 1st snaps looked really good though I knew that the IQ would not really match the X-Pro 1 I had shot for the few weeks prior. With that said, the IQ is really good and will satisfy most peoples needs very well. In fact, some who shoot this camera will rave about how amazing the image quality is. Now that I think about it again…in the right hands this camera could produce gorgeous results (I have seen it).
In regards to handling, this camera feels really good in the hand but without the grip feels a but too small. Almost like a mini camera. In my opinion, you need the grip for this one to feel good in your hand. With the grip it comes into its own. Also, button placement is really good. The dials on the top are solid and we have one for changing the aperture.shutter speed and one for EV. They are solid, and click into place nicely. The buttons on the back are a little small though, but not a deal breaker.
The OM-D with the fantastic Voigtlander 25 0.95 wide open. Again, this lens is sharp, contrasty and renders beautifully on the OM-D. I prefer it slightly to the new 17 f/0.95. When shooting at a distance the rendering is gorgeous .Up close it can get a bit creamy dreamy but the shot below shows what it can do. This is an OOC JPEG, click it for larger.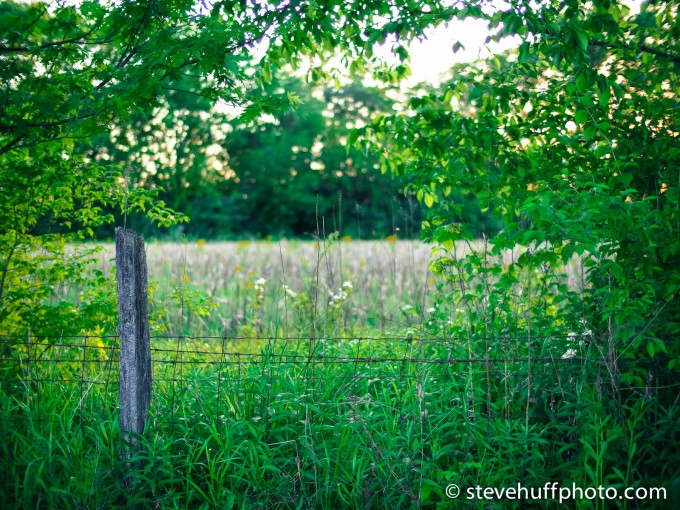 –
The 25 1.4 from Panasonic/Leica  – The best lens for this camera, period!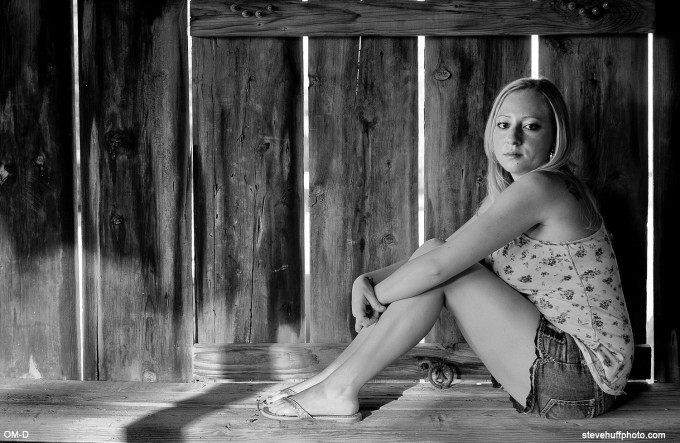 –
The Voigtlander 17mm  f/4 – OOC JPEG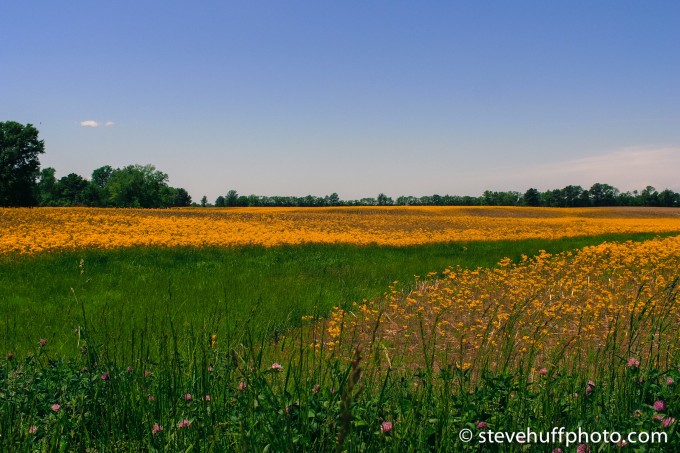 –
The Panasonic 25 1.4 wide open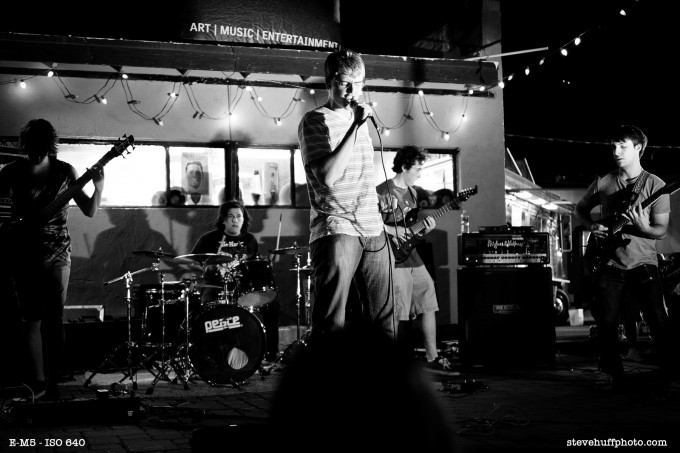 What Micro 4/3 has going for it..THE GLASS!
Well what is a camera system without GREAT glass? Not much, and even Sony has been getting a bunch of complaints about the lack of good lenses for their NEX system. People used to complain about M4/3 as well, until the last year or so when Panasonic came out with the SUPERB 25 1.4 and Olympus released the 12 ands 45, which I feel are two of the best M4/3 lenses available and they are beautiful to look at as well though I feel they should also be made in black for those of us who do not like black bodies and silver lenses.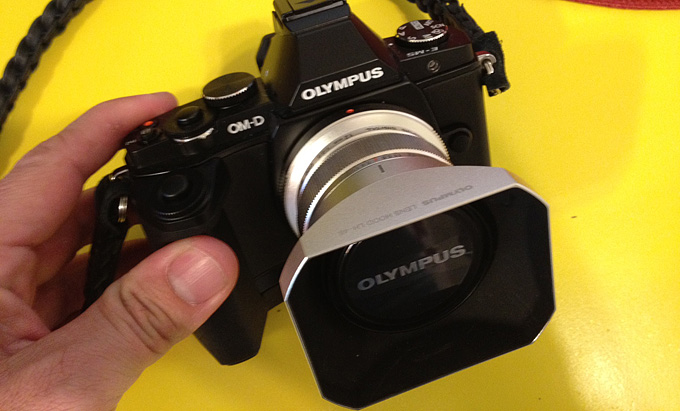 –
Voigtlander Super Fast Nokton Lenses for Micro 4/3. The 17 and 25mm f/0.95
We also now have others in the M4/3 glass game – Sigma and even Voigtlander are now making lenses for this format and that is a good thing. I picked up the Voigtlander 17 and 25 f/0.95 super fast lenses to test with the OM-D and have sort of mixed feelings on them. They are beautifully made and have the Leica M glass kind of feel. Focusing is smooth, and the lenses are all metal and solid. The only issue is that they are large and heavy! If you got into this system to stay small and light then these lenses throw all of  that out of the window..then again, even with the 25 0.95 on this is still s much smaller setup than a DSLR with fat lens.
After shooting with them for a few days they started to feel really good on the body with the grip attached (I do not have the battery part of the grip on, only the grip) and it looked pretty bad ass..just big. I think I prefer the Panasonic 25 1.4 to the Voigtlander though. It is sharper and has a more "Leica-Like" rendering. The Voigtlanders are nice but render a bit flat, which is how I usually find Voigtlander glass.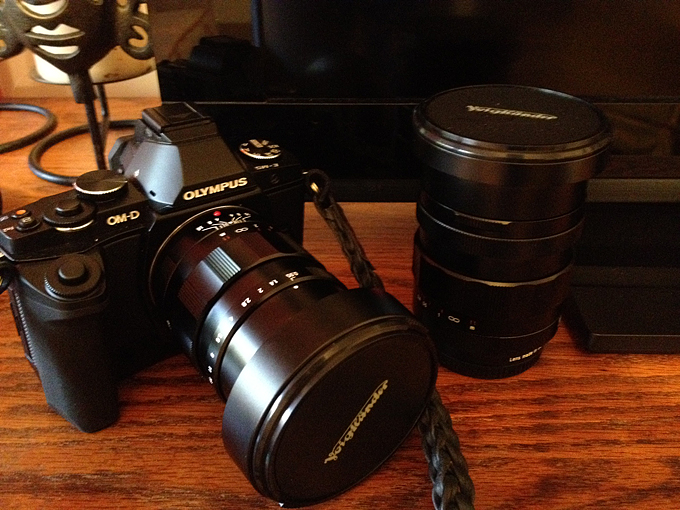 Another thing is that these two lenses both have that signature "Voigtlander" look that I just spoke of so if you like that rendering then you will love these lenses. If you dislike this look, you will NOT like these lenses. Also note that these are not coded or chipped so when you shoot with them yo will NOT be able to see what lens you used or for aperture info in the EXIF. Kind of like shooting film so if you want to remember, you have to log it.
Shooting them in manual focus (they are NOT auto focus) is easy and quick and even without peaking I shot the images below without magnification or any help. You can easily manually focus just using the EVF. See some samples below from these two lenses. Yes, the EVF and LCD are good enough to nail focus without any assistance, at least they are for me.
One unique feature of the 17 is that you can configure it to have aperture clicks or set it to be clickless if you want to use it for cine or video. THIS is a nice feature and it is easy to switch using a dial above the aperture dial. VERY nice feature. Gives us a choice.
So bottom line on these lenses? If you don't mind the size, they are really good for this format and better than plopping on a $6k Leica lens with a shoddy adapter as I feel Leica glass is best used on a Leica M body, period. They are full frame lenses and only when used on a full frame camera will you see the true beauty of the them. So to save some cash, if you want to buy a new fast lens for your M4/3 body, try out one of these Voigtlanders. They provide the build quality, silky feel and weight of Leica glass for a fraction of the cost and on a crop sensor, you really do not miss out on IQ.
The 1st three images are from the 25 f/0.95 Nokton – click for larger – OOC JPEG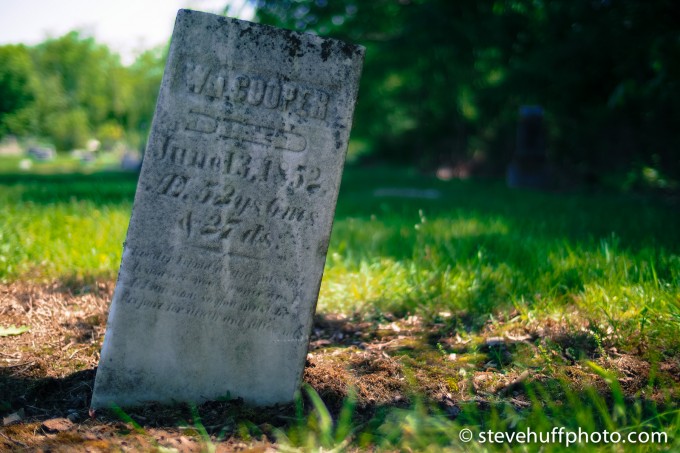 –
Another OOC JPEG but shot with the "Toy Art Filter" which gave it that old school look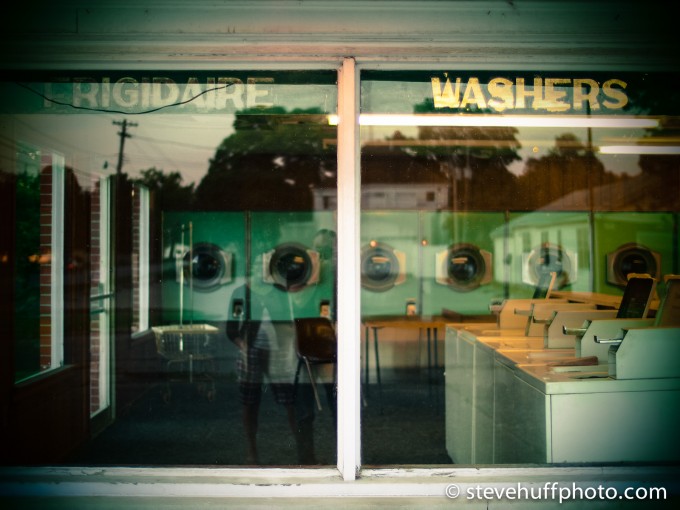 –
and one in square format..OOC JPEG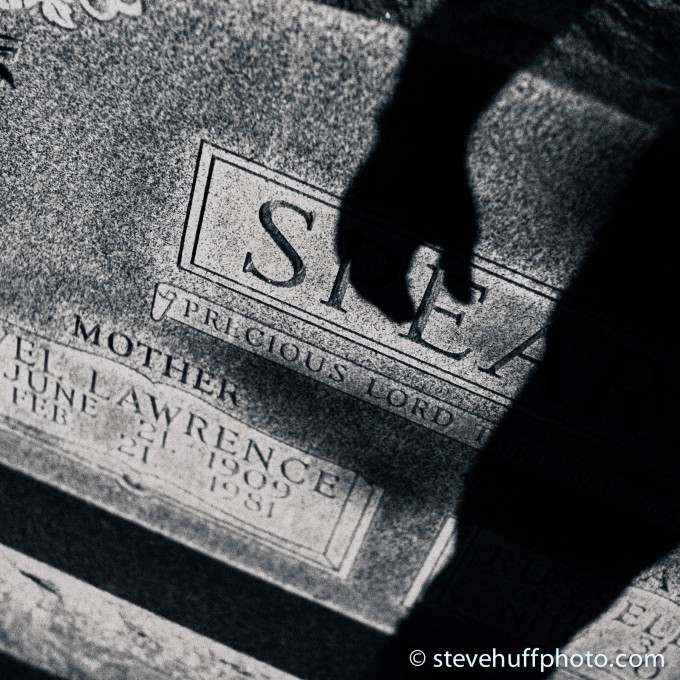 –
The next three are from the 17 f/0.95 -1st 2 are  OOC JPEGS, the dog was converted with Alien Skin 4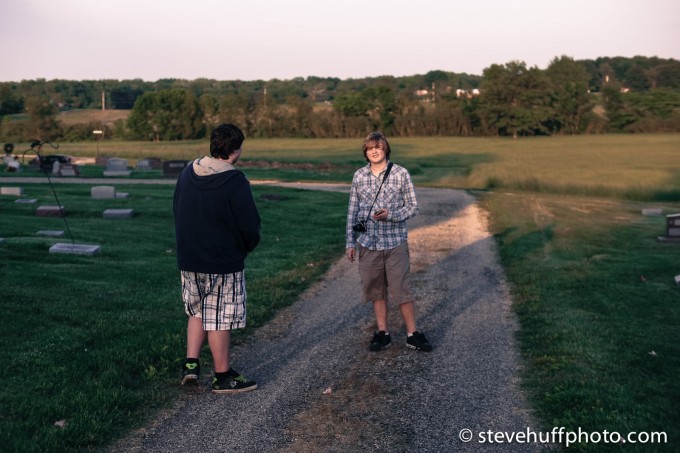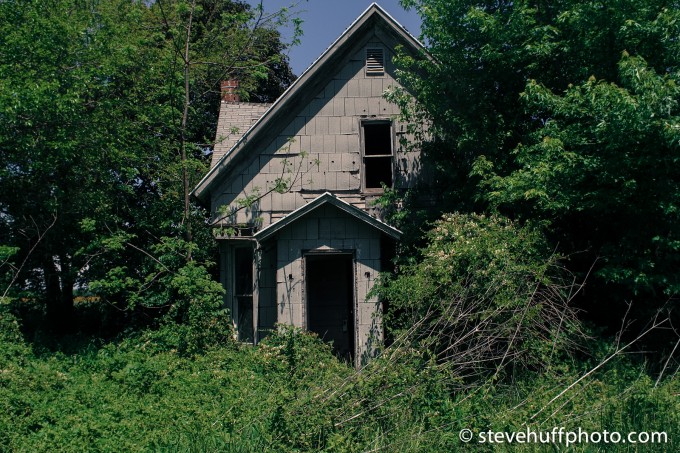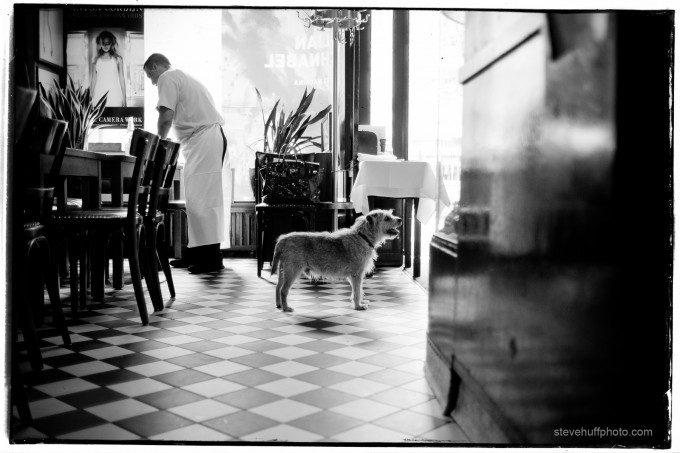 –
The fun little SLR Magic 11mm 1.4 Toy Lens
This little $169 lens is fun. I have not shot it since I did my review of it a while back but it is a blast when shooting in square format. It is not sharp, it vignettes and it has a very dreamy "holga-like" look but this is what makes the lens. I like it and am glad I pulled it back out to shoot on the OM-D E-M5. Again, no issues with focusing this manual focus lens and it could be fun to shoot if you want to do some creative styled portraits even.
All are OOC JPEGS shot in 1:1 mode with the SLR Magic lens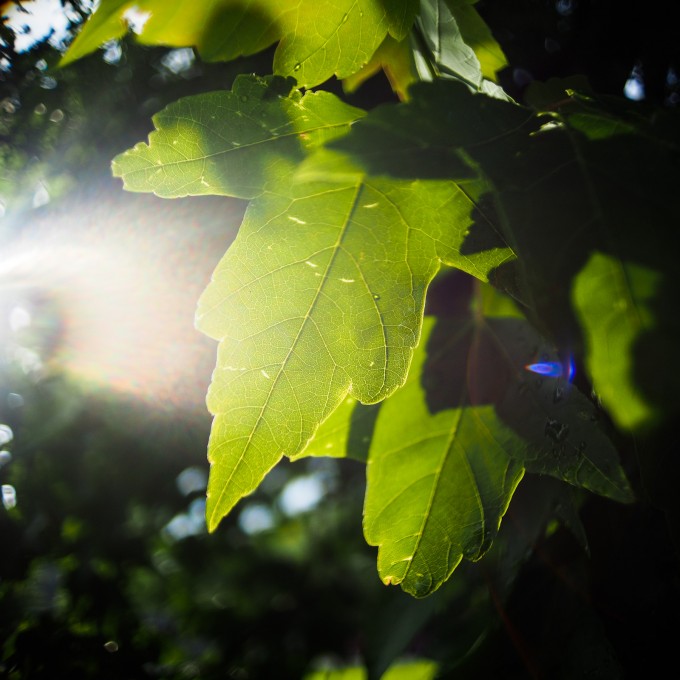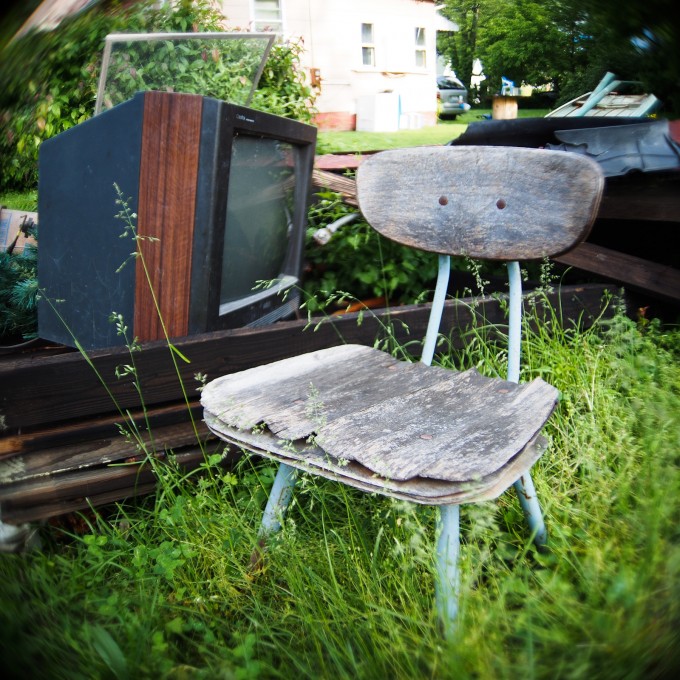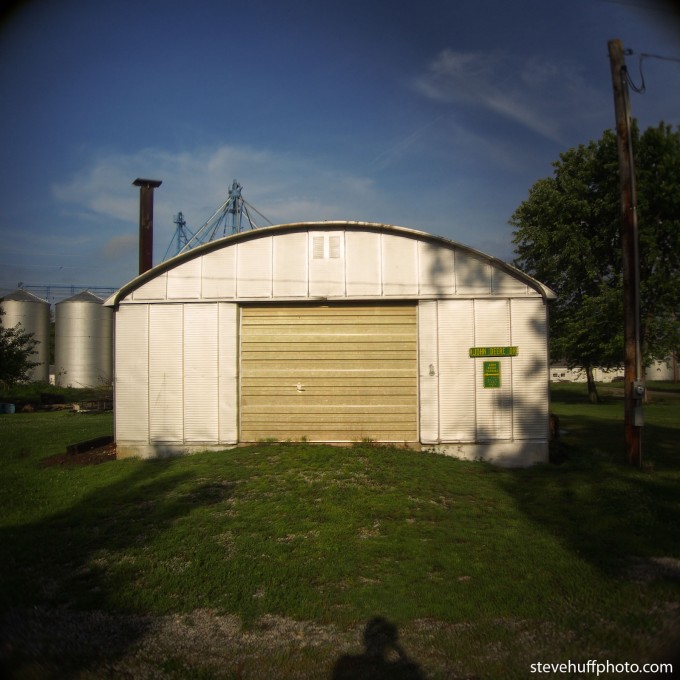 –
OMD TIP: Turn off face detection and just focus on what YOU want to focus on. Sometimes it will miss or focus on another part of the face. It can be set to focus on eyes specifically but I suggest turning it off and shooting without it. 
The Olympus 12mm f/2 and 45 1.8 – superb glass
These two lenses are sharp and have no real issues of distortion or vignetting. They give a more "perfect" rendering than the others but have less character as well. If you want a modern look with sharp images, great color and minimal distortions this is where to look. They are also really small and light compared to the Voigtlander beasts. To me, these lenses are some of the best of what the Micro 4/3 world has to offer. The 12mm is a bit on the pricy side but is made form metal and has the manual focus snap feature. It is a GREAT street lens.
The 12mm is great for interior and natural light as the f/2 aperture opens it up nicely – OOC JPEG – My mom making lunch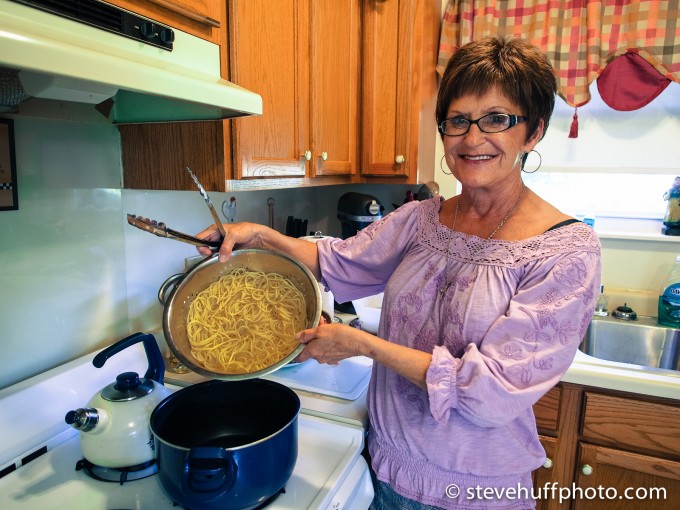 –
The 12mm will give you a wide 24mm equivalent – great for quick grab shots or group portraits – AWB did not nail this but got close!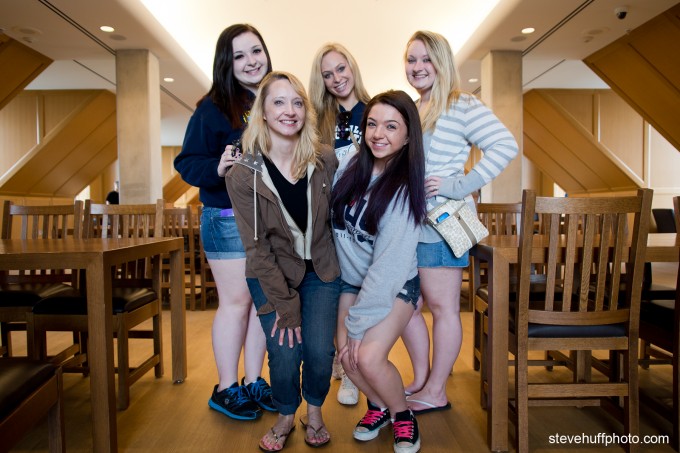 –
Great bite and contrast even at f/2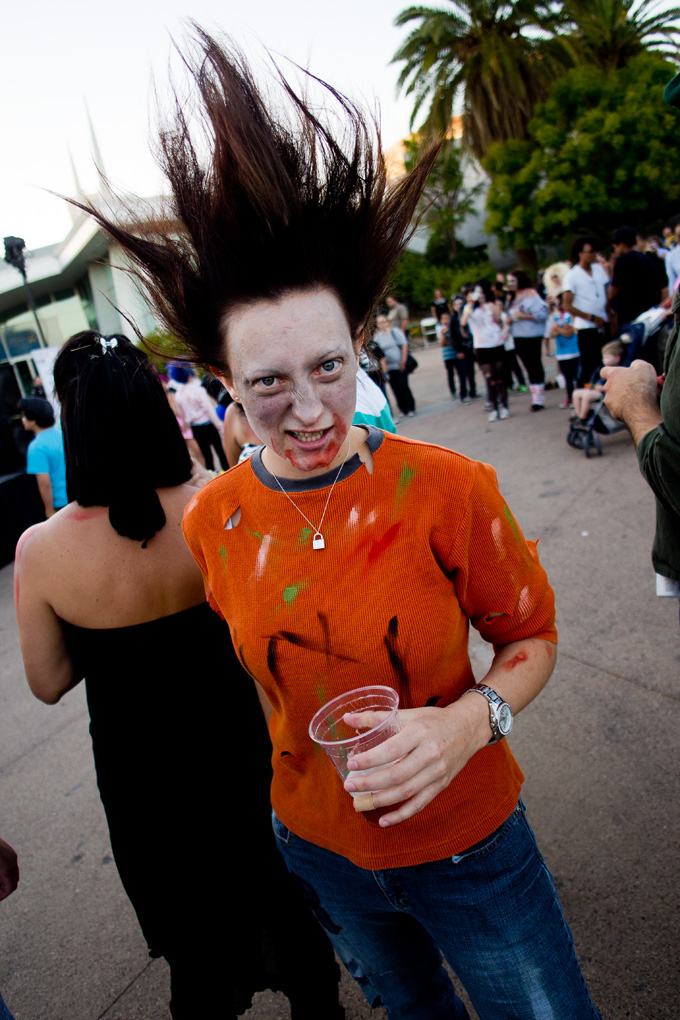 –
The 45 1.8 at night – JPEG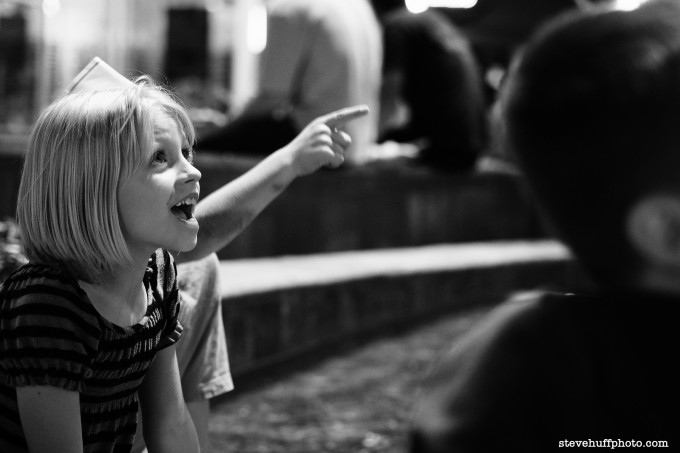 –
The Olympus 17 1.8 Lens rocks as well! The Color!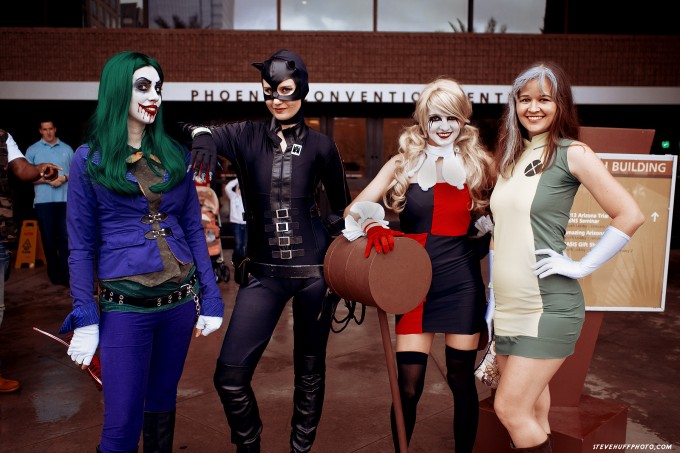 The 5-Axis IS and the  HD video quality of the OM-D E-M5 
When Olympus started marketing the E-M5 they were touting this new revolutionary 5-Axis IS and how it will give you the best results yet for hand holding in low light. What I did not realize is how awesome it would be to use for video when shooting with movie compatible lenses like the 12mm and 45mm. WOW. When shooting with the 12mm it is almost like you have the camera attached to a steadicam!
Not only does the 5-Axis IS compensate for yaw and pitch, but also for horizontal shift, vertical shift and rolling motion. This does wonders for macro shooting.
The video quality is also so much better than it was with the E-P3 and  there is NO jello effect! Check out the video sample I made below to show the quality of the video this camera puts out. Amazing. I also enjoy my NEX-7 for video but it always overheats after 5-6 minutes which frustrates me on many occasions. The OM-D has not overheated on me at all yet. Hope it doesn't.
Some will notice the OM-D E-M5 does NOT have an Audio Input for an external mic but the camera aid compatible with the Olympus SEMA-1 that attaches to the hotshoe of the camera. This allows you to plug in an external mic with a mini jack (not XLR of course).
The Olympus SEMA-1 external mic adapter is compatible with the OM-D E-M5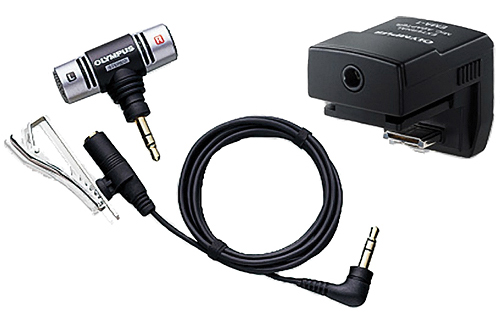 Shooting RAW – Better than JPEG? Yep!
As you can see almost every image in this review so far has been shot using standard JPEGS. I did so because RAW support was not available yet and honestly, many people love to see what these cameras can do with standard JPEGS. But after I was about 3/4 of the way done with this review, RAW support was released from Adobe so I suggest anyone shooting the E-M5 to shoot RAW as you will get better and richer file quality than JPEG. No question.
When shooting JPEG you will get nice results, but images may be a little flatter. Shooting RAW allowed you to enhance your image by changing your settings after you shoot. The works well to bring certain things out and make your image pop more.
All images below are converted from RAW with the E-M5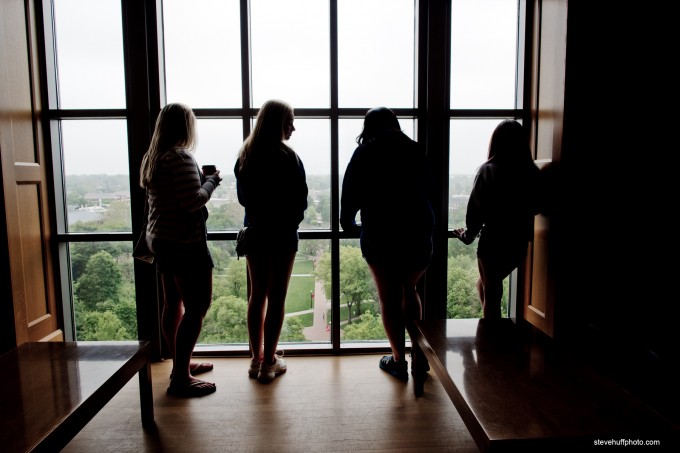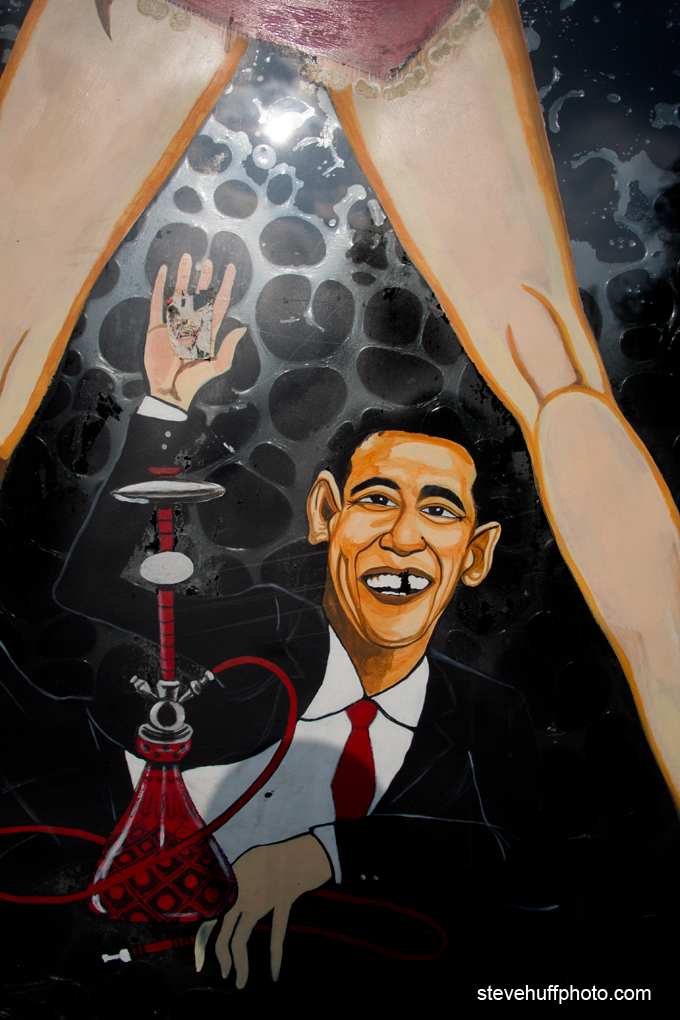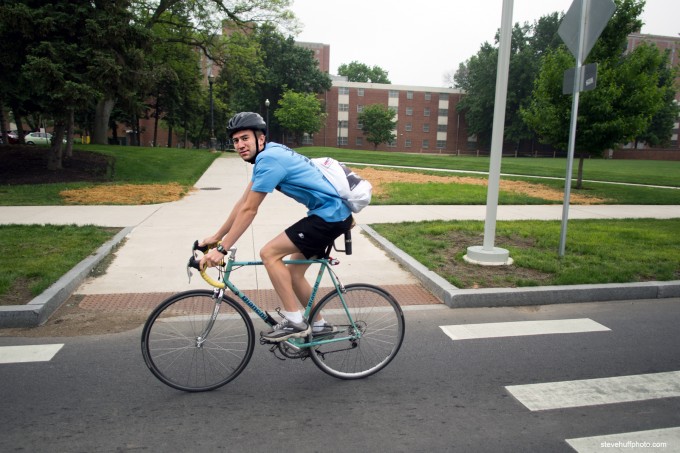 –
HIGH ISO Performance of the E-M5
I immediately noticed an improvement over the E-P3 when shooting low light and high ISO. NOW, FINALLY, this is usable in low light. The files stay sharp and what you see below are all samples from ISO 3200-12,800 processed from RAW with ALL NOISE REDUCTION TURNED OFF! So imagine how good these could look with a little NR.
OMD TIP: I suggest turning OFF Noise Reduction wether shooting JPEG or RAW. If RAW just dial it down using the sliders in your RAW processing software. You will get a little more noise but your file will retain the sharpness and detail as well. 
I prefer the NR off to keep sharpness and detail and ISO 3200 is still really good by M4/3 standards.
ISO 3200 – from RAW – No Noise Reduction at all – click image for larger view and full 100% crop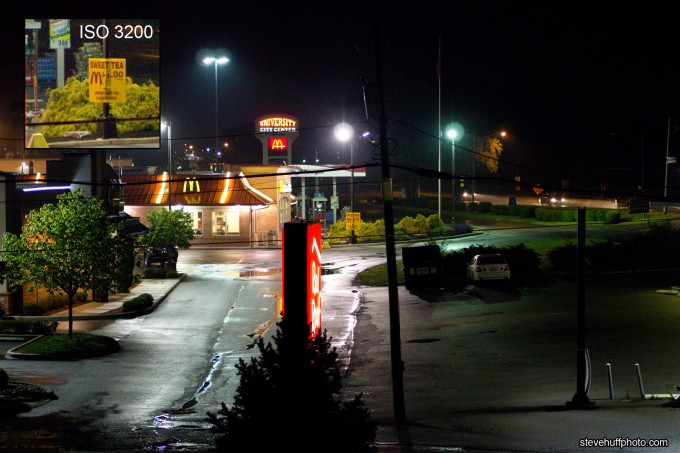 –
ISO 6400 – same thing as above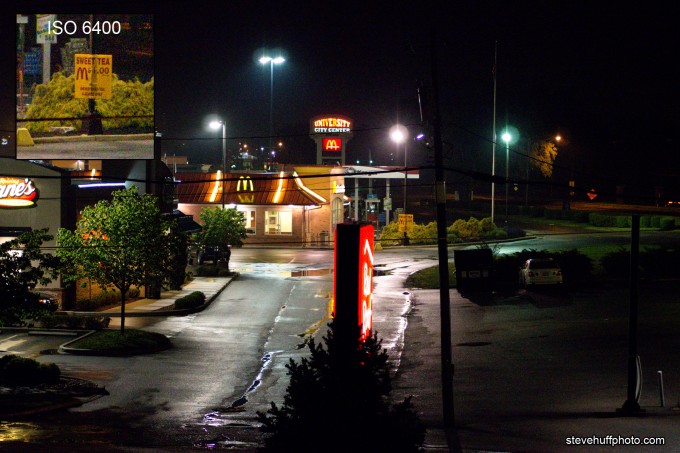 –
ISO 12,800 – same settings as the two above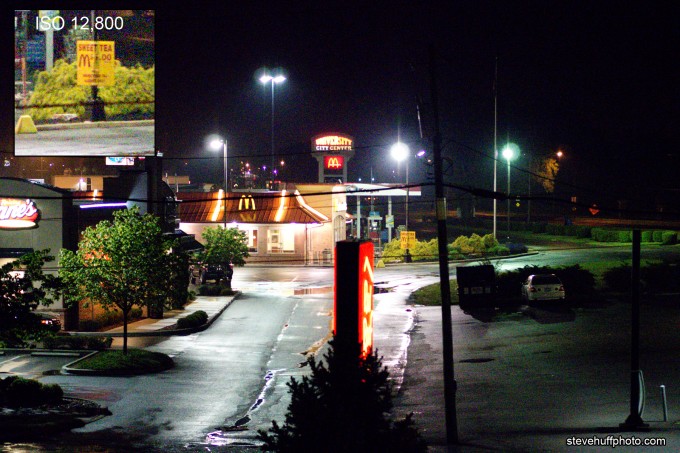 Even ISO 12,800 seems usable if needed. The high ISO capability is superb and is no longer a weakness of this format.
Here are a couple of shots at ISO 3200-6400 in B&W – straight OOC JPEGS with NR turned off 100%! Shooting in this mode could yield impressive results when shooting street or when you want to add some mood to your images. I can't believe how good ISO 3200 is now with M4/3!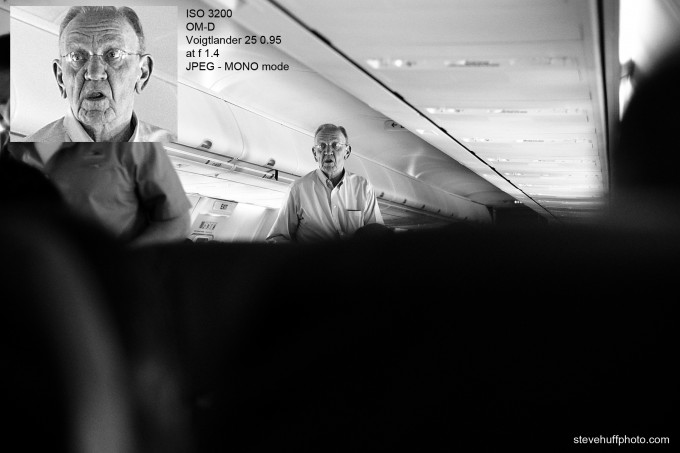 –
ISO 6400? No problem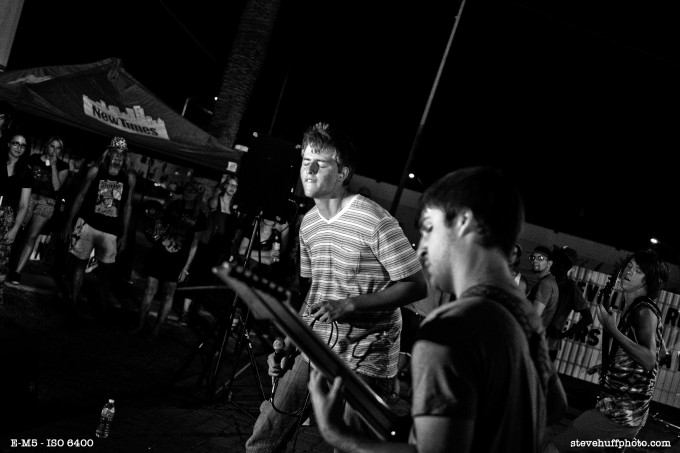 AF Speed
The AF speed is about the same as it is on the E-P3 in real world use, which is really fast. Olympus says it is a bit faster though and I can't argue as I really have had no delays or hunts at all. What is really cool is using the touch screen to touch and shoot. One touch on the back and you not only get instant focus on what you touch but the camera will then fire and take the shot. I made a video showing a comparison in low light with the Fuji X-Pro 1. If you are a Fuji X-Pro 1 user and are happy with it, I suggest you do NOT watch the video. The bottom line FACT of the matter is that the Olympus focuses MUCH faster than the X-Pro 1, especially in low light where the Fuji does indeed struggle. On the flip side, the OM-D can't compete with the Fuji in the IQ department.
So overall I have no complaints with the AF speed of the OM-D. I did NOT try shooting fast action or sports so can not really comment on the speed of the tracking. I would guess that it would snot compete with a upper end DSLR though. Still, for M4/3, this is about as fast as it gets and it blazes past the Fuji's and Sony offerings.
–
The Art Filters –Great for fun JPEG shooting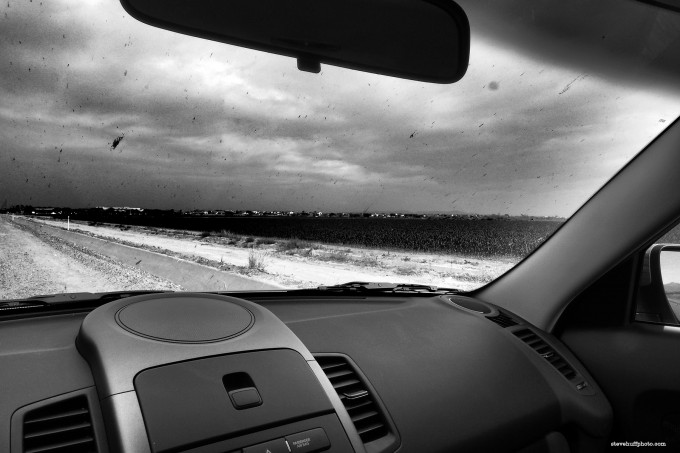 One more thing the Olympus offers is the Art Filters that have been in every camera since the E-P1. Now we get quite a few filters but I still really only enjoy the Grainy B&W, Cross Process and sometimes the Dramatic Tone in B&W (the pic above was shot in this mode). You can access any art filter by pressing the OK button and quickly going to the picture style choices.
The Pinhole Art filter will vignette the image and richen the colors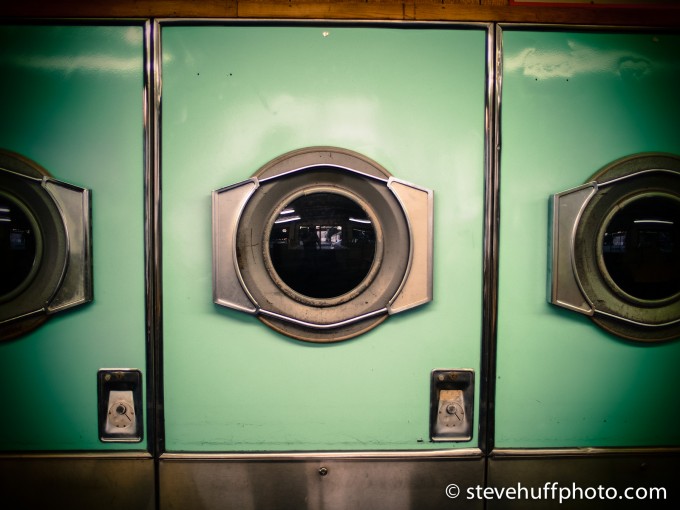 –
Grainy B&W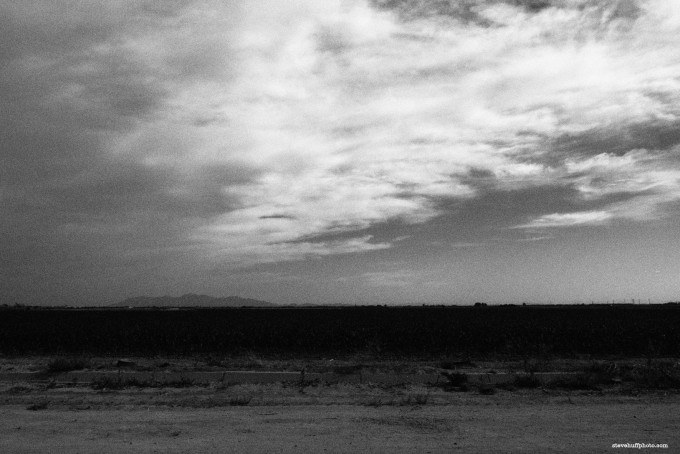 The included filters include soft focus, pop art, key line, dramatic tone, grainy B&W, sepia, light tone, cross process, pale and light color and pinhole. There is not much to say on these as I have talked about them in the previous pen reviews and they are basically the same.
–
Compared To…
Being added May 16th-20th, come back and check!
Olympus E-M5 pros and cons
Pros
Small size but great feel and build
weather sealed and splash proof
Built in EVF
Swivel LCD
Much improved high ISO performance over previous PEN cameras
Super fast AF speed
Much improved HD video quality
5-Axis IS works extremely well
Price is right at $999 for body only
Grip accessory makes the camera feel REALLY good
Has all of the same Olympus color, art filters and features
Touch screen LCD works amazingly well for shooting
There are some amazing TOP NOTCH lenses available for the system
Image quality is excellent as is dynamic range
Shoot in different aspects and EVF will show these aspects as well
Cons
Some buttons on the back are a bit too small
Slight hum when camera is on, but only heard when you are in a quiet room
camera can feel too small without grip
Grip is $299 – wish it was $199
Battery life is about 300 shots which is low compared to some other cameras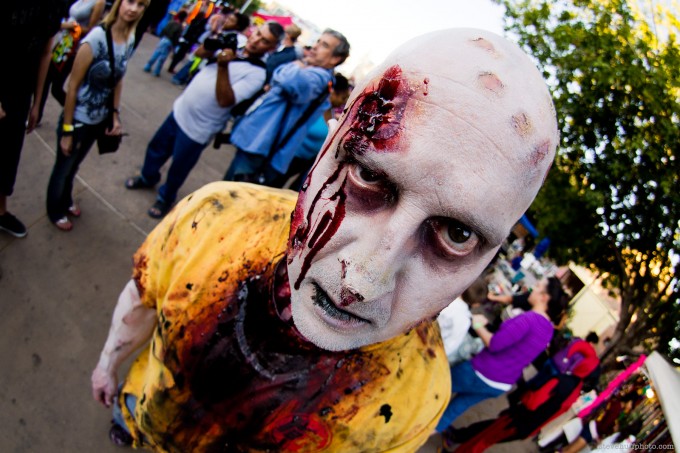 My Bottom Line Conclusion on the Olympus E-M5. 
So here we are at the end of this 6300 word review. The OM-D has impressed me and met all of my expectations. It seems Olympus has been getting better and better with each new release, so they have been listening to our wish lists. I have loved all of the PEN series cameras even though when I look back at the E-P1 it was seriously crippled in comparison to what we have to choose from today. The E-M5 is a serious camera with serious capabilities. When you shoot it with some of the quality glass you feel like you are shooting with a quality tool, and that is because you actually are.
I like to say that if a camera motivates you to shoot that is a huge step in the right direction. This camera motivates me to want to shoot with it, much like the little but extremely fun and useful Nikon V1 did when I reviewed it. I have not had this much FUN shooting and reviewing a camera since the E-P3 🙂 Yep, these camera are not only serious but fun as well! Do not confuse that with me calling it a toy as it is not, and anyone who says it is a toy is either a full frame fanatic or has never used the E-M5. Besides, cameras do not make the image, the Photographer does.
If you want something easy to shoot that can grow with you over time, the E-M5 is a great choice. It is amazingly versatile as well and it no longer has limitations of the 1st gen Micro 4/3 cameras as the sensor is now capable of great low light shots using higher ISO. The AF is blazing fast and accurate though I did have a few missed shots using the 45 1.8 where the camera focused BEHIND the subject. To be fair, the NEX-7 does this all the time with the Zeiss 24 and  the Fuji X100 and X-Pro 1 did it as well.
Even so, this camera rocks. No, it will not give you full frame quality. You will not get that Leica look nor will you have the capabilities of a Nikon D800. BUT if you want a small little well made powerhouse that does almost no wrong, the E-M5 is one of my TOP picks right now in the smaller camera/larger sensor market. In fact, I bought mine and am going to keep it to replace my E-P3 that I sold a little while ago. BTW, The handling without the grip is a bit on the small and cramped side, but with the grip it is fantastic.
If you want a small system that offers fast AF, great metering and offers just about everything you could ask for including super HD video, the best IS system of any mirror less camera to date and well, a camera that just plain works, then take a long hard look at the E-M5.
To all of those who feared M4/3 in the past, fear no more. The E-M5 is versatile, capable, fun, serious, well built and offers everything we can ask for in a take anywhere camera. BRAVO OLYMPUS! I highly recommend this one guys as I can not imagine anyone not liking it (as long as you have at least one good lens). Yes, Olympus  has paid tribute to the original OM series with the E-M5 and they did it well.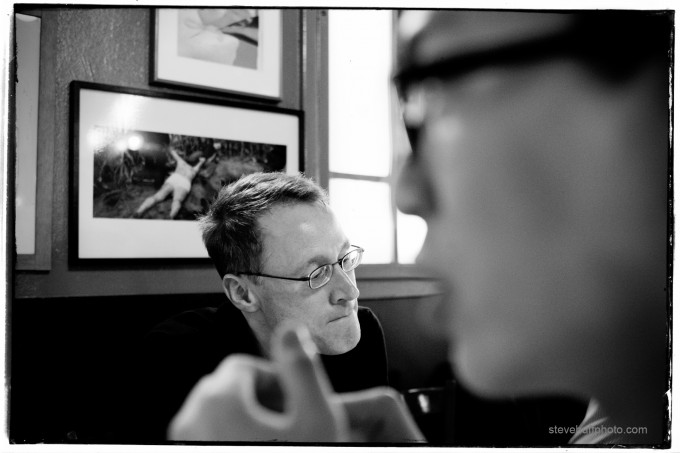 My recommended lenses for the OM-D E-M5
The Olympus 12mm f/2 – At $799 it is not cheap, but it is quality all the way. Superb lens for this camera system. This is a 24mm equivalent. (see more shots in my E-P3 review)
The Olympus 45 f/1.8 – Great for portraits and shallow depth of field. This will give you a 90mm equivalent. $399 (quick review here)
The Panasonic 14 f/2.5 – Want a less expensive wide angle prime? This one is just about as good as the 12 for MUCH less! (review here)
The Panasonic 25 f/1.4 – A Panasonic/Leica collaboration so it has to be good right? A 25 Summilux for your M4/3. $539 but worth it though the lens is larger and rattles the aperture when you are powered on. (quick review here)
The Panasonic 20 f/1.7 – The original and classic! This is a great lens and if you can find it, buy it! (review here)
The Panasonic 45-200  – (for those who want a good quality tele zoom on the cheap) (see it in use in my G2 review)
The Voigtlander 17 f/0.95 – This one is big, it is heavy, but it gives you the speed you sometimes need!
–
More samples
Below you can find more snaps I shot while I was reviewing the camera. They are a mix of JPEG and RAW and with various lenses. This camera was so much fun I found myself snapping shots of almost anything 🙂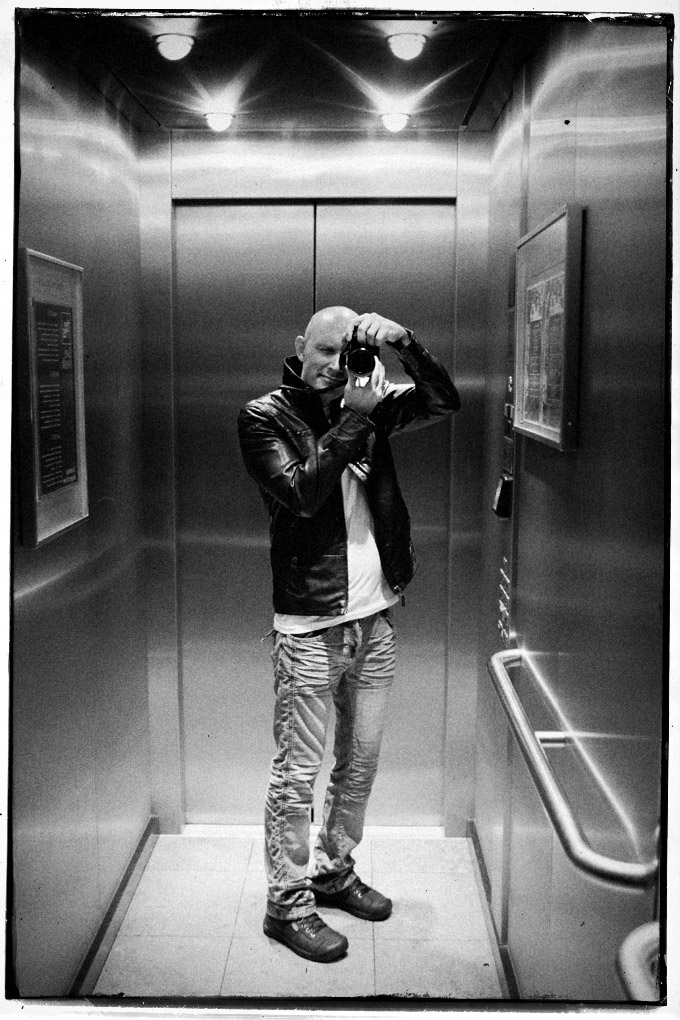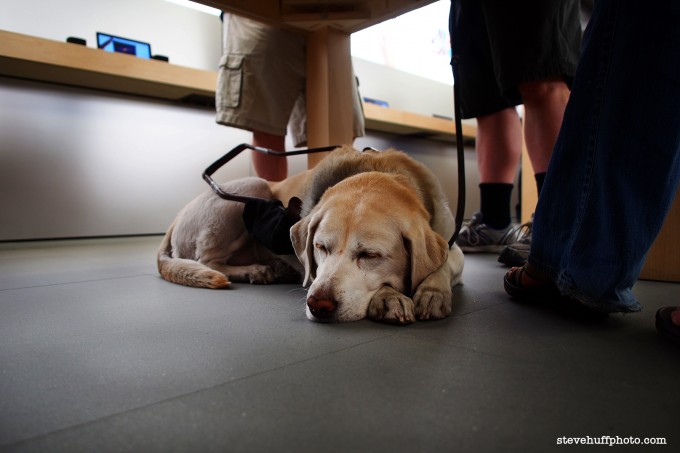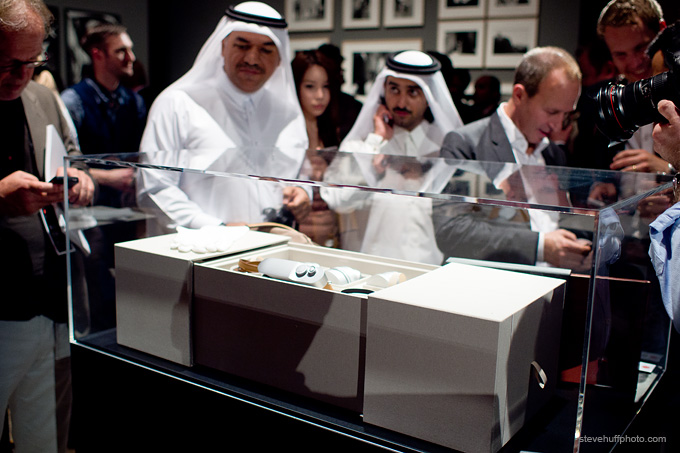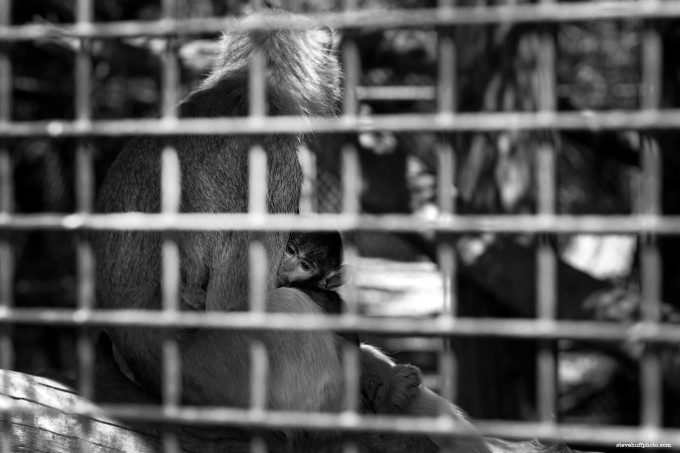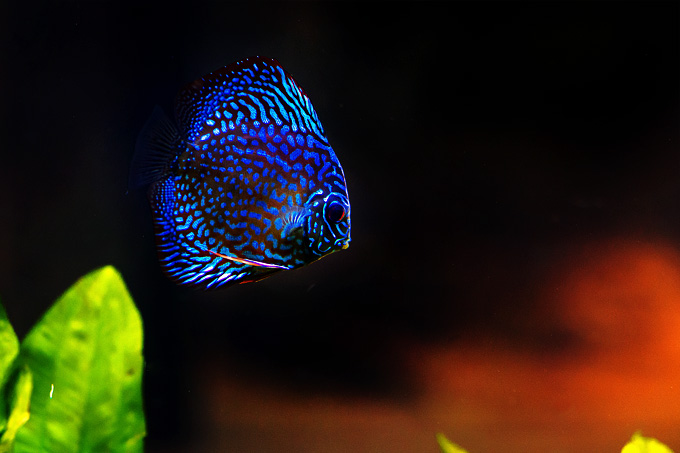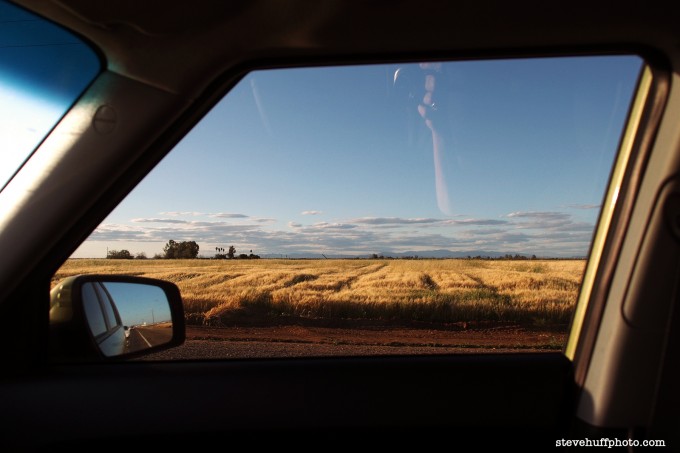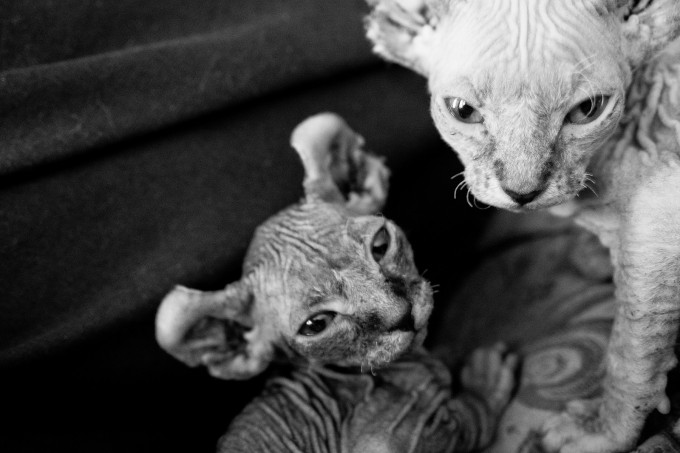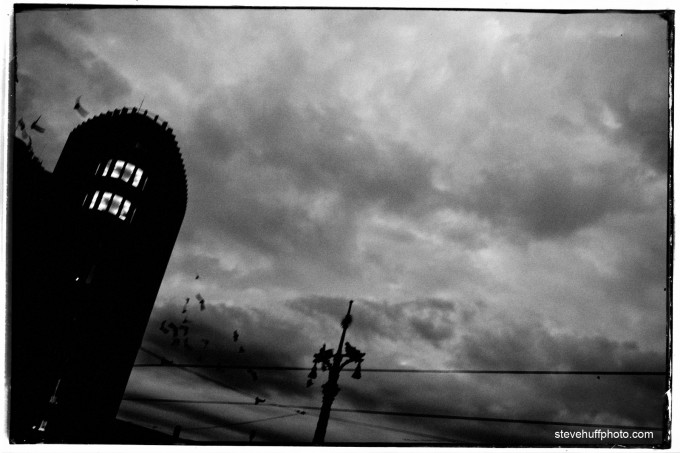 ALL I ASK! HELP ME TO KEEP THIS SITE GOING AND GROWING!! IT'S EASY TO HELP OUT & I CAN USE ALL THE HELP I CAN GET!
Remember, anytime you follow my links here and buy from B&H or AMAZON,
 this helps to keep my site going. If it was not for these links, there would be no way to fund this site, so I thank you in advance if you visit these links. I thank you more if you make a purchase! I have nifty search bars at the upper right of each page so you easily search for something at either store! I currently spend 10-14 hours a day working on this site and the only way that I can pay for it is with your help, so thank you! Currently my traffic has been increasing but my funds to pay for the site has been decreasing, so any help would be GREATLY appreciated!
Even if  you buy baby food, napkins or toothpicks at amazon it helps this site, and you do not pay anything extra by using the links here. Again, you pay nothing extra by using my links, it is just a way to help support this site, so again, I thank you in advance 

If you enjoyed this article/review, feel free to leave a comment at the bottom of this page and also be sure to join me on twitter or my new facebook fan page and Google +  page! Also, you can subscribe to my feed at my subscribe page HERE and read these posts in your browser or news reader!