Lazy Sunday used deals! Well, some are deals! Leica, Olympus, Fuji, Nikon and more!
It's the weekend and today I am going to be busy transferring all of the old reviews from my old iWeb site to this site because Apple is shutting down all mobile me services at the end of the month. So yes, I will be busy all day. Before I get to that though I thought I would mention that there are MANY great buys in the classified section here. Everything from a full Nikon V1 kit with everything included to a Fuji X100 with all accessories to a black OM-D from yours truly (have a silver on the way).
Check out the classified section HERE 
Also, noticed that B&H Photo had some used deals on Leica today…check out what they have below – click each image to be taken to their site for ordering or to check it out further. The 50 cron is the one I would go for because I would never spend the cash on the new 50 cron as we are getting to the point of diminishing returns, and yes, I have seen many samples from it that were unpublished. The new 50 will indeed be gorgeous, sharp and almost like a mix of the 50 Lux and 50 Cron but man, for $2100 you can get a mint as new 50 cron classic. $5k cheaper than the new one. Then again, if you have the cash…the new one is better but I do love the old one and many of my favorite M shots were taken with the classic cron (the samples in that link are not my faves, but shots with the classic on film and an M6).
BEST BUY HERE! A used Leica 50 Summicron in a 10 condition with box, basically NEW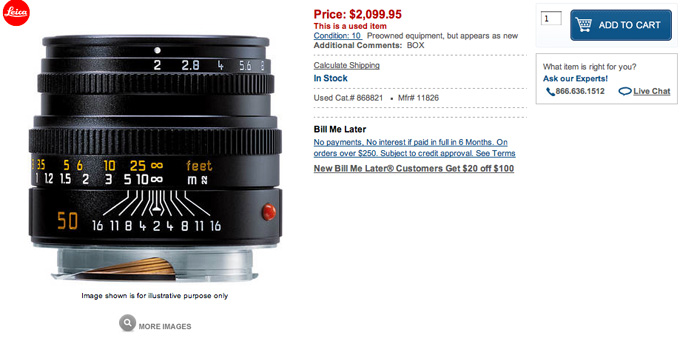 –
A used 9+ in box condition Leica 35 Summarit, a lens I prefer in many ways to the $3300 Summicron!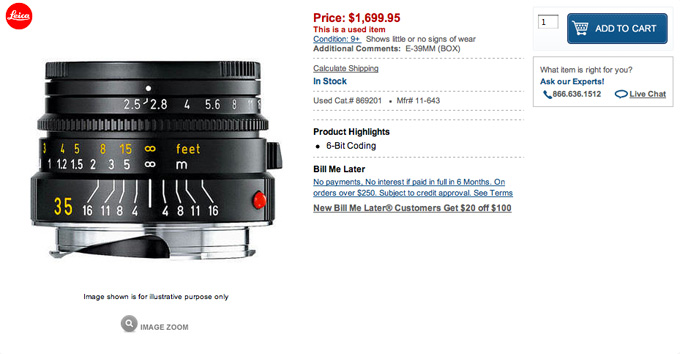 –
A USED LEICA X1. in box, 8+ condition for $1299  – basically a slower X2
–
The Leica OVF for the X1 or the new X2! Used, 9 condition.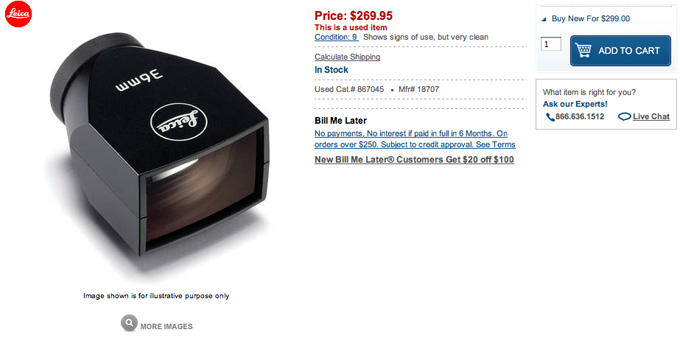 –
HOW ABOUT A NOT SO MUCH OF A DEAL? Used Leica Noct F1 for about $8k!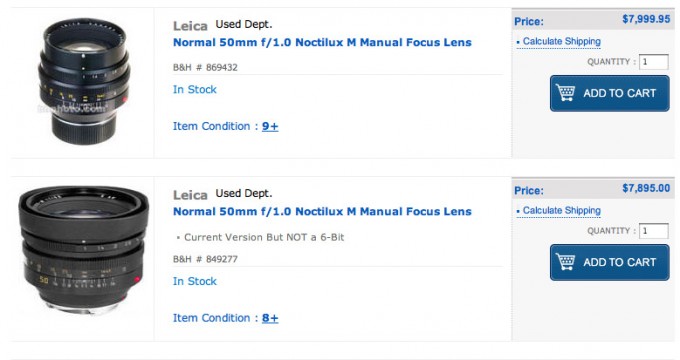 –
I also found that Amazon has a load of special edition black Fuji X100's in their warehouse deals, which means these are the customer returns they sell at a discount. You can see all of them by clicking the text below!
Fuji X100 Black Amazon Warehouse Deals!