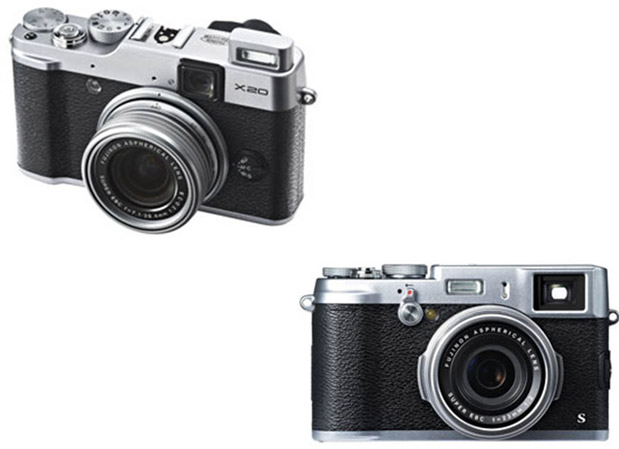 The Fuji X100s and X20 announced! Hands on at CES coming next week!
Just what the Dr ordered! The new X100s puts fast AF as it's priority! See my old Fuji X100 review here to see what this camera is replacing.
Finally! The FujiFilm X100s has been announced and it looks to be a pretty nice improvement over the aging and slow-ish X100. How so? Well Fuji is claiming the worlds fastest Auto Focus! What?!?!? FUJI? Worlds Fastest AF? Well, they say that the new Fuji X100s can AF in as little as 0.08 seconds but they also give a disclaimer saying *under certain conditions" which tells me that it will AF pretty fast in good light but not so much in low light, just like all other cameras on the market today. The addition of Phase Detect AF will surely help Fuji's claim. Pretty exciting if you ask me.
All in all my guess is the X100s will AF much faster than the old sluggish (but beautiful) X100. It is good to hear that this camera has gotten such an update as the AF was the weakest link with the X100.
The X100s also gets the new X-Trans APS-C CMOS II 16MP sensor. I am guessing this will provide excellent IQ as Fuji IQ is always stellar and if you really want to know my thoughts, I would bet that this X100s will provide better IQ than the X-Pro 1 just due to the new processor and matched prime lens. This X100s appears to have the same f/2 lens as the X100 (which is the 24mm) that will give us a 35mm equivalent due to the APS-C crop. As for aperture you will have the light gathering capability of an f/2 lens but for Bokeh freaks, the lens will not give you the depth of field of a 35 f/2 but of a 24 f/2. So in 35mm terms it is more like a 2.8 when it comes to depth of field.
Also look for the digital split image feature which is a first and a new way for you to manually focus for Fuji. It also seems that Fuji has added some sort of Focus Peaking as well along with some new filters. We still get the Hybrid EVF with an OVF/EVF included and better high ISO capabilities.
It also seems that Fuji improved the startup and lag times and all in all it appears to be a nice upgrade from Fuji. In fact, my guess is this will be the little jewel in the Fuji line. Fastest AF of all X cameras, best high ISO performance, most responsive of all X cameras and sleekest and best looking of all X cameras. I think Fuji has a huge hit as there are many who love the X100 and would jump at the chance for a speedier version with better IQ thrown in to the mix as well. The X100 had plenty of "soul" and the X100s appears to have it too. Fuji is looking good lately!
I will be at CES this week so I am hoping to get over to the fuji booth for a hands on with the new X100s. Look for a video soon. No price yet but I am guessing it will come in around the same as the X100 was at launch or maybe $100 more at around $1299. I could be wrong of course but this is usually how it goes. 
The new X100s features and specs. 
·                  16.3 megapixel APS-C X-Trans CMOS II sensor
·                  EXR Processor II
·                  High Definition Hybrid Viewfinder (OVF / EVF)
·                  FUJINON 23mm f/2 lens
·                  Intelligent Hybrid AF (with the world's fastest AF speed of 0.08 secs (*1))
·                  Start-up time of 0.5 secs (*4)
·                  Shutter time lag of 0.01 secs
·                  Shooting interval of 0.5 secs
·                  High-contrast and wide viewing-angle 2.8-inch Premium Clear LCD (460K dots)
·                  Super Intelligent Flash
·                  Burst shooting rate of up to 6 frames per second at full resolution (max. 29 frames)
·                  Focus Peak Highlight function
·                  Digital Split Image display
·                  Artistic filters
·                  Full HD movie recording (60fps / 30fps)
The new Fuji X20, a nice looking upgrade to the X10 that looks gorgeously retro.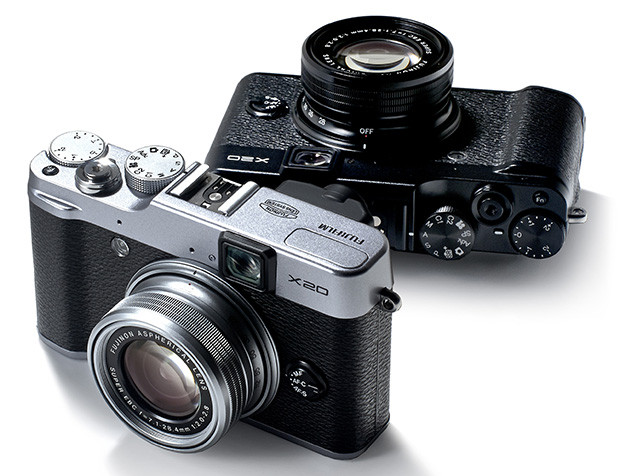 Woohoo! Fuji has updated the X10 with the new and handsome X20 which now comes in black or silver. Say goodbye to the white orb issue of the X10 as this guy packs in an all new X-Trans 2/3″ CMOS II 12 MP sensor that has cured the issues that plagues the X10 (though I never had the issue during my X10 review period, it showed up in certain lighting conditions).
Upgrades from the X10 are cosmetic (color) as well as the promise of 20% less image noise so it will be better in low light. The X20 will also retain a zoom lens which is a 28-112 f/2-2.8 lens with an all new coating to minimize flare. There is also the same optical VF but this time we get a panel overlay onto the VF which shows the cameras settings. The VF still will only give us an 85% field of view.
The cool thing is that this camera also gets Phase detect focus much like thew new Sony NEX-6 and 5R which means the AF will be pretty fast. Fuji is set to take on the Sony RX100 for the title of "Best compact" but let us wait and see what lies ahead. I am hoping to handle an X20 at CES this week so look for a hands on report if this happens.
These two Fuji releases look like winners. Let's hope they deliver the goods! I have no doubt that they will.