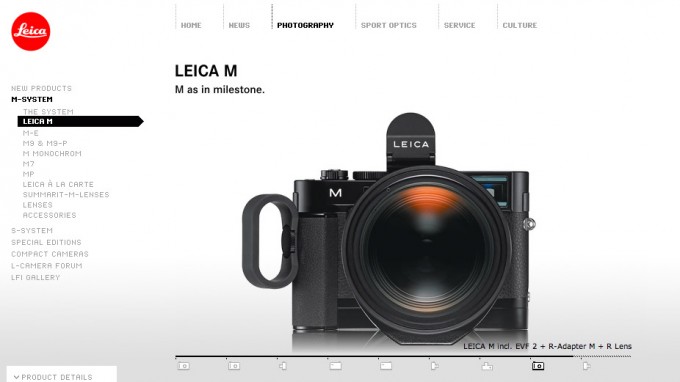 More Leica M Porn: It's getting closer! More info and Brochure available on the "Milestone"
Woohoo! It is getting closer! The new Leica M appears to be almost ready to ship. Why do I say this? Well, there is a certain buzz in the air, and my inbox from excited Leica shooters who have pre-ordered the camera. No one really knows though when this new "M 240" will hit the streets but it should be by the end of Feb. Yes, that is a month and a half away but maybe Leica will surprise us with an early delivery. Me, I am excited as it has been a long time since a fresh new M has been in my hands, and if we go by specs and what the paper tells us, this one will be flat-out amazing.
*You can download the new M brochure HERE.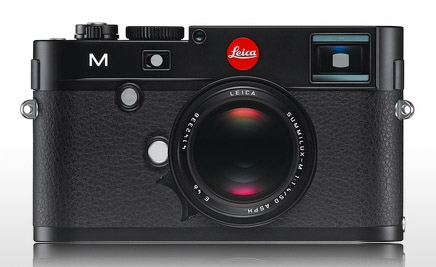 Sure we have seen some rotten "examples" that were supposedly taken by this camera but I have zero doubt that once it is in the right hands it will produce some magic. THIS new M is the "R Solution" all of you "R" guys and gals have been waiting for. It is the first M ever to shoot HD video and paired with these Leica M lenses I have no doubts that it will produce stunning quality HD footage (as long as you are on a tripod).
It is splash proof, it is high res with the all newly designed Leica "MAX" CMOS 24 MP sensor and it even has LIVE VIEW so those pesky back or front focusing lenses will no longer be a problem. The Maestro processor trickled down from the S series so this M should be nice and speedy.
Yes ladies and gentleman, the future of the M is finally getting closer. Leica even put up a new page devoted to it with more images and even a video, which you can also watch below:
 –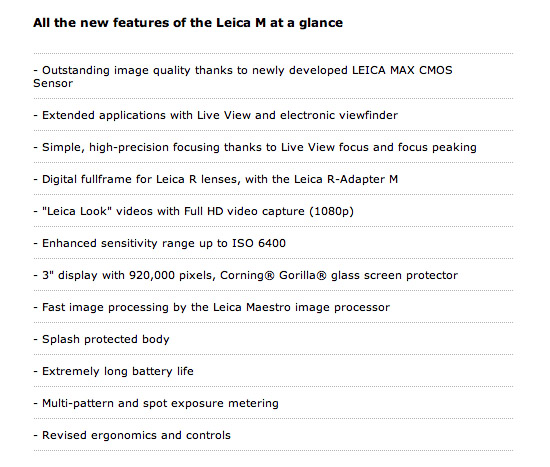 My favorite part about the new M? The price. It is the same as the M9 was at launch. Sure it is a huge chunk of change but at least Leica did not pull a $10k mistake. This new M comes in at $6995 and pre-orders are being taken by Ken Hansen (khpny19@aol.com), Popflash Photo, Pro Shop and Dale Photo – ALL amazing dealers who help keep this website alive.
BTW, most Leica lenses are in stock at all of the dealers above. I think once the new M hits, if it is as good as Leica claims we may see another wait for the popular glass like the 50 1.4, 35 1.4, etc.
See more at the official Leica M page HERE