My first shots and impressions of the Fujifilm FinePix X100.
By Lee Craker – His website is HERE, his BLOG is HERE and his Flickr is HERE
Yes, the X100 is still a valid choice in a compact mirrorless camera that will not break the bank. Thanks to Lee for writing about his experience with the Fuji X100.
A few months ago I started a quest looking for yet another point and shoot camera (It seems in the last 10 years I have owned so many). I travel quite a bit and in the last few years have found my professional Nikon DSLR's have become a burden to carry all day. In fact the weight of a bag or backpack with 2 bodies 4 lenses and other paraphernalia becomes a detriment to making the kind of images I enjoy, candid, fast-moving, people and street shots. A couple of years ago to help solve this problem I purchased a Leica M8, and then the M9. The Leica M's solved the problem of weight, and produced amazing image quality (IQ). I found however, that with my age, eyesight, and my inability to manually focus quick enough I was missing many shots. So I decided to compliment the M's with a small auto focus camera. I purchased a Leica X1. The large sensor and IQ appealed to me. Alas, I only carried the X1 for serious photography for a few weeks. A trip to Diyala Iraq on assignment with the X1 and my pro Nikon proved to me that the X1 could not be used for anything other than static shots. The slow focus did not cut the mustard. So on the shelf it has sat for 2 years, with only a few shots put through the camera.
[ad#Adsense Blog Sq Embed Image]
With an upcoming trip scheduled in March I thought it was once again time to look for a small autofocus camera to compliment my Leica M9. The research has been long, but fun. Since I live in a remote part of rural Thailand testing cameras in person is impossible, so I have read every review available on the 3 cameras I narrowed my search down to, The Fujifilm FinePix X100, the Olympus OM-D E-M5, and the Leica X2. The OM, although reportedly has fast focus, which is a necessity for me, I ruled out because of it's DSLR like handling, and removable lenses. While interchangeable lenses are a must for my pro cameras, for a point and shoot I'd rather be assured I will never have to clean a sensor. The Leica X2 was in the running up until the end. I am familiar with the IQ and handling, so if the focus problems were fixed, it would be a good little camera. However the price factor of the X2 was just too much. After Thailand VAT I was looking at close to $3000.00 for the the Camera and the EVF. So this left the Fujifilm FinePix X100. In all honesty I would have probably opted for the X100s, but unfortunately that will not be available until after my trip in March. So I want on eBay and found a black X100 like new for a reasonable price and ordered it. I had read about of all the problems, and also read about the work arounds and great IQ, so I crossed my fingers and waited for delivery.
I tracked the order on line so I knew the camera would be delivered yesterday. My stomach was in knots. Thailand is a strange place to order on line. The customs duties and VAT are applied without any rhyme or reason. I have purchased clothing on line from one place and have been charged 50% duties and ordered the same amount from another manufacturer and was charged nothing. I had made up my mind that if it was going to cost me three or four hundred dollars in customs fees and duties to receive this camera then it was going back, I would refuse delivery. I got the notice from the post office around noon that the fees for receiving the camera would be $100.08 USD. I breathed a sigh of relief and went to pick up the camera.
I picked up the X100 and dropped my wife at a local market to do some shopping while I unboxed the camera. I found the battery was charged and put an SD card in the camera. It took a couple of minutes to figure out how to take a photo, and then I headed to the market to catch up with my wife.
Less than 5 min. after unpacking the box I made my first X100 photos. The camera was at default settings, and has the latest firmware upgrade. I saw a woman in the market raised the camera focused recomposed and fired. The focus was fast and sure. What a relief after all I had read. Would my Nikon D3s or D800 focused faster? Well sure, but I think that is a strange comparison. This camera is a point and shoot, and it focuses as fast or faster than any point and shoot I have ever owned and many times faster than the Leica X1 it is replacing. When I got home I opened the files the way I process any image, with Photoshop and ACR. For a B&W I use Silver Efex Pro 2. The image files are impressive, even in jpeg. I'm used to looking at files all day long and I can tell you the IQ of the X100 is not hype, it is real.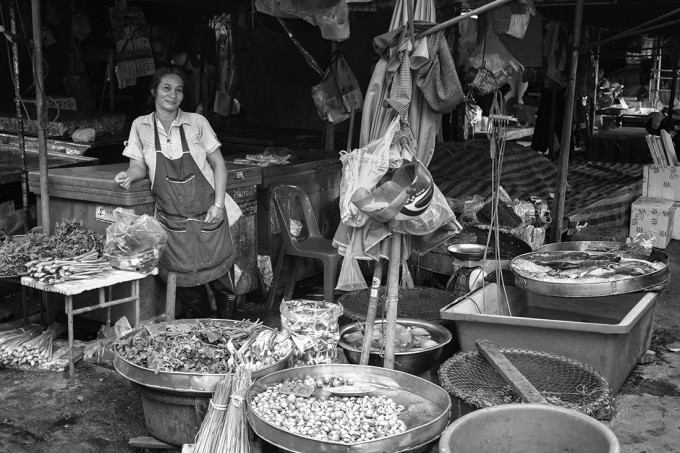 This morning, after playing with the camera settings for an hour of so last night, I went out to shoot my daughter going to school. I thought for sure I had missed this shot. I saw the wide eyes and expression on my daughters face raised the camera and fired, just as I would have done on my pro Nikon's. I really thought the camera would not have had time for focus, but no problem. This image was from RAW converted with ACR.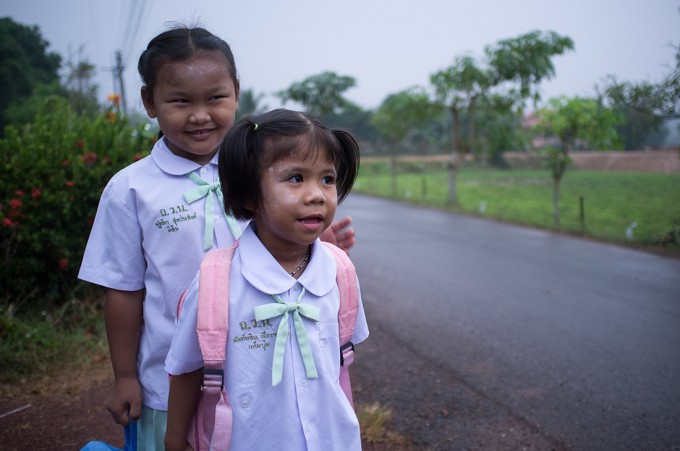 The last test I did this AM was to test auto focus continuous mode. Every review I have read says it does not work. I set the camera to AF-C and focused on a motorbike coming towards me. I waited with the shutter pressed half way and fired with a panning motion. This is not a conclusive test, and sure the camera focus drive makes all kinds of noise while constantly trying to acquire focus, but the proof is in the pudding as they say. This image is in focus just as I had intended. Will I use this allot? No way, this is not a sports camera, but I proved to myself that if I want to use it creatively I sure can. This image was again from RAW converted with ACR. The whites in the shirt are blown out somewhat, and I found that the recovery was not as good as if this had been shot with my pro Nikon's. But I think I can live with that, or I think I can modify some contrast settings, I'll play with that in the future.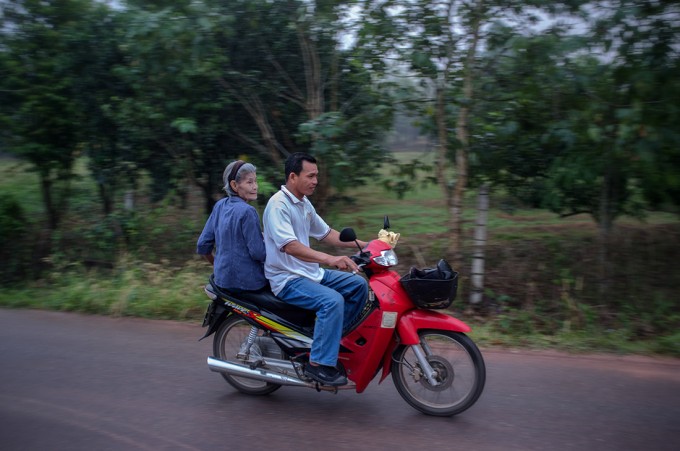 Overall I'm very impressed with my first 20 shots with this little camera. It will find a home in my small camera bag along side the M9 and 3 Leica lenses.
Thank you,
Lee
Lee Craker