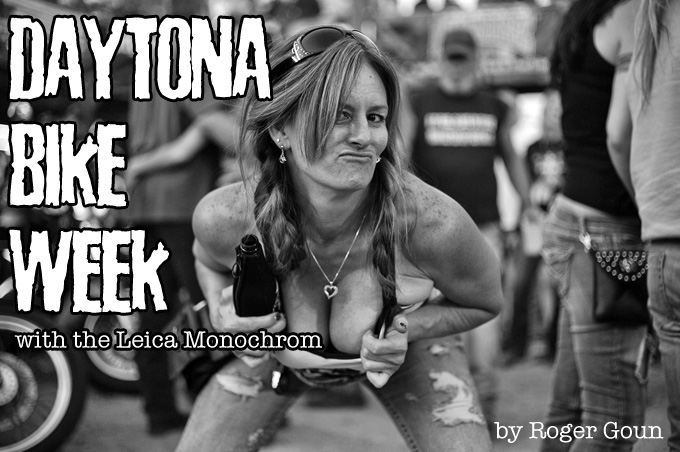 The Leica Monochrom at Daytona Bike Week by Roger Goun
NOTE: I attended Bike Week as part of Craig Litten's Street Photography Workshop. I really enjoyed shooting with Craig and I recommend his workshops to anybody who wants to learn more about street photography!
Bike Week is an incredible, mind-blowing experience. It's wall-to-wall people, noise, drinking, events, and of course, motorcycles. In photographic terms it's a very target-rich environment. The Monochrom is a nearly perfect camera for Bike Week. It's unobtrusive, it has a beautiful optical viewfinder that lets me see what's going on beyond the edges of the frame, it stays out of my way, and it can shoot in the dark. Most of these images were shot with a Leica Summicron 50mm f/2 (Type 3). The wider ones were with a Voigtlander Ultron 35mm f/1.7, and the cabbage wrestling was shot with a scary-sharp Leica 135 mm f/4 Tele-Elmar that I happened to find used at a camera store in Maine the week before. The day shots are at base ISO. The photos at night were shot in "available darkness", mostly at ISO 5000.
Coming from a Leica M8.2, I'm still getting used to the Monochrom. I tend to overexpose in tricky light. I'm amazed, though, by how many daytime shots come out of the camera with a histogram that stretches perfectly from end to end without spilling over either edge.
I'm a wheelchair user, so the perspective in my shots is generally different from most people are used to. Whether that's an advantage or disadvantage I don't know. My mobility is somewhat limited, so when I find a good a scene I tend to work it more than other shooters might before moving on. I do think that's good for my photography. Best of all, no one considers me a threat, and no one has ever gotten angry with me for taking a photo, so I tend to be fairly aggressive about getting in people's faces. People are usually quite nice – sometimes too nice. One girl in Daytona Beach tried to take the Monochrom off my neck so her friend could take our picture together. I quickly handed her my cell phone instead and tried to control my sudden panic.
Hope you like the photos.
Roger Goun