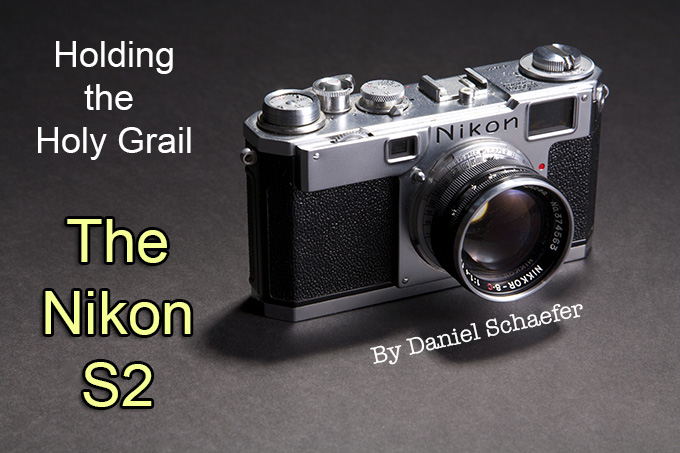 Holding the holy grail. A Nikon S2. By Daniel Schaefer
Hello Steve
Growing up in LA, there was a camera shop two blocks from my house, I would pass it and it's blinking flashbulb sign day after day, for years I would duck in every now and then with my father or uncle, both avid photographers to pick up a chip, or a filter or some small accessory, but for years I just tapped my fingers on the counter and waited patiently to be lead to the toy store two doors down.
Everything changed when I was twelve years old. Sitting there one day twiddling my thumbs waiting for my father as he compared one UV filter after another, my eyes wandered around the shop, and finally came to rest on a leather case sitting quietly at the used counter, next to an elderly gentleman who had just sold his equipment and with a satisfied but solemn look, folded his money and waked away, leaving his well worn gear glistening on the counter.
I wandered over and started staring at the glisten of the old silver gear, I had only ever seen my fathers black plastic behemoths with heavy lenses and six point harness straps. I had never before seen the shined chrome of an old camera, used hard, but loved well. My eyes flitted across a few old F bodies, and a well brassed black rangefinder of some unknown origin, but something made me freeze, my eyes widening. Sitting behind the rest of the pile, it's leather case peeling, it's rangefinder sporting a sharp scratch, and a deep gouge in it's steel face, right across the word Nikon, sat an S2. I reached out and picked it up, it was heavy, it felt solid in my hands, I could see where the hands of the old man had worn the leather and steel over time, patina marks where his fingers had gripped the black lens, and rolled the razor toothed focus wheel.
I was in love. I had never held something in my hands that felt like it, it felt solid, it felt like it was meant to be used. At that point my father walked over, I showed him the camera, I begged him for an early birthday gift, I honestly didn't care if this was every gift for the next three christmahanukwanzika's combined, I wanted that camera, but when the salesman told my father it was all mine for just barely over a thousand dollars, he took the camera out of my hand, said thank you to the salesman, and walked me over to the toy store and bought me whatever the latest lego was.
I remembered the number, I remembered the name, the Nikon S2 was the first object I ever fell in love with, and i wouldn't forget it. I did somehow forget about photography for a while though. I would pick up my fathers camera on vacation, task some snapshots of friends, or some selfless in photo booth, but it wasn't until eleventh grade I picked up a camera with any seriousness again.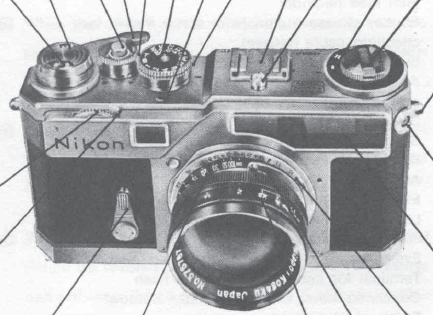 Fast forward to two weeks ago, I'm a part-time student in my sophomore year at parsons in the photography program, working for three different commercial photographers in NYC as an assistant and second camera, repairing and restoring vintage equipment in my free time for a little extra cash. I take a break from color correcting some shots for one of my finals and slide on to Facebook for a while, I check on my friends, make sure my fifteen year old brother hasn't triggered the apocalypse yet, and make sure my farmville crops aren't running dry. I suddenly notice a post by my aunt Julie, I recognize the telltale leather case of an old camera, and curiously click the link that declares, Pop Pop's camera!
The image loads, and my jaw drops, an S2, sitting on my aunt's kitchen table after being dug out of her closet after who know's how long. I comment "you have NO idea how beautiful that is" and she replies, "well our resident photographer would be the one to know!"
I suddenly see a message in my inbox, and a few minutes of chatting with aunt Julie, she says "the camera deserves a good home! what's your address?" my heart is practically beating out of my chest at this point, memories click back to the now abandoned camera shop and the feeling of that steel wheel rolling under my forefinger, watching the twin images line up, back then I had no idea what was in my hands, but now that steel and leather sculpture had gone from a pleasant memory to a Holy grail that I hunted for in every thrift shop and camera store I had ever walked past, and now, it was on its way to my doorstep in a priority mail box straight from Minneapolis.
When the camera arrived, opening the box felt as if i was opening the suitcase from pulp fiction, gold rays of light emanating from the silver machine surrounded by packing peanuts with its 50mm 1.4 eye staring back at me.
I wasted no time, I went to load the camera, only to find the rewind rolled when I took a shot, it was still loaded! I developed the roll the next day, only to find a picture of a pudgy little baby, later identified by my aunt, as my uncle! With the camera now empty, I locked a roll of Tri-X in, and stepped out into the big apple with my holy grail hanging around my neck.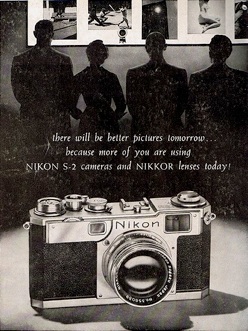 I spent the next three days shooting anything I could, I always have a camera around my neck, it's been a long time since I left the house without a lens around my neck, and the S2 with the 50mm 1.4 in all its hefty glory felt like the right kind of weight.
I'm a night owl, so I rode the 2 train down to canal street, and spent the night walking from the south street seaport, all the way home to ninety seventh street, zig zagging 14.5 miles across new york, shooting slowly and carefully, feeling the solid click of the release, the hollow thunk of the shutter,and feeling the smooth roll of the advance as I spent the roll carefully as I could.
I shot the roll both as a technical test, and as a photographer, I wanted to push the cameras limits but also take pictures that meant something to me. The camera was smooth, the rangefinder bright, the settings were accurate across the range, and aside from some slight blooming in the highlights at 1.4 the lens was so sharp it spit razors. It's a rare privilege to hold something in your hand that you are truly in love with, to have a camera that truly feels like it's simply a spare set of eyes, to be able to raise it to your eye and not have to think about anything aside from what to place in your frame.
For me, the Nikon S2 is my perfect camera, it is that extension that we all hunt for, it falls into my palm and I see everything i walk past during the day in frame lines. If you're ever lucky enough to find your holy grail, I hoe you're lucky enough to be able to sling it at your side and take it for a long, productive walk.
Cheers
-Daniel Sawyer Schaefer.