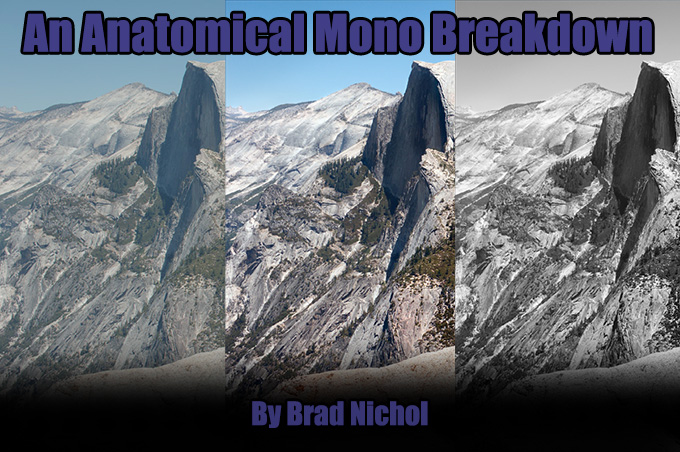 An Anatomical Mono Breakdown
by Brad Nichol
I while back Steve published an article of mine titled One Giant Polaroid where I gave some insight into photographic processes I use which I felt it might be of interest in the context of the artwork discussed in the article. This time round I thought I could give some insight into monochrome techniques that perhaps readers might be able to at least partially put into practice their own work. Please bear in mind this is not meant to be an instructional piece but rather some words to provide a little inspiration regarding the options you may consider in working in monochrome.
As said in the previous article, I am a firm believer that to be consistently creative, a photographer needs control over their tools, processes and methodologies, otherwise it's all a bit of a lottery and potentially wasteful of time and resources and creative energy. Today I will look specifically at some methods I use to create high quality monochrome images. Methods in this article are for landscapes and static subjects, for moving subjects, street photography etc a different approach is needed.
BACKGROUND
First a little background, going back several years ago, probably like a lot of people do, I looked at my work and wondered why there wasn't that real life "being there" punch and why did my images not match the vision that I saw with my own eyes, and more importantly how could I address this imbalance and get closer to my artistic intents?
From these three questions and following many years of exploration, testing and taking literally thousands and thousands of images I determined the answers and subsequently developed a holistic system of photography which I call True Light Capture. TLC fundamentally works on a completion backwards principle, in other words I determine what I want as the end result and then put into place all the steps I need along the way to get to that end point, being careful that nothing is done that would compromise the following processes. It sounds technical and perhaps limiting but in fact it is quite the reverse, the methods are now so ingrained for me that I feel free to just concentrate on the creative output.
Today I'm not here to promote that system and in any case I only run the workshops once a year in Australia, but rather I would like to give insight into a couple of contributing techniques that might be of benefit to you when capturing and editing monochrome images.
[ad#Adsense Blog Sq Embed Image]
CAPTURE
First up I firmly hold to the belief that to create a really good quality monochrome images you actually need a truly excellent initial capture in every technical sense. Without colour Monochrome lives and breathes by dint of its detail, texture and tonality, especially tonality. This is not to discount composition of course, and I would regard myself as being very composition driven but even the best composition can be totally brough undone by poor execution.
It is possible to use monochrome conversions to salvage noisy and sometimes poor quality files but that is not a pathway that holds any interest for me, I set out from the very beginning knowing that a mono output is the target, everything is driven be that consideration, I would never convert to monochrome as a salvage option. Such a file would be just discarded as I would feel embarrassed to present it, but perhaps that's just me.
For my purposes JPEGs are completely useless, in fact I need low contrast RAW files that have full tonal information right into the highlights and shadows unless of course those areas are meant to be pure white or black. I think of it this way, I can always boost contrast and push tones around for artistic effect and interpretation but they have to be rendered in the file in the first place! JPEGs sacrifice an enormous amount of subtlety, especially in highlights and if you hold the highlights back enough via exposure to fully render them then your shadows are toast! JPEGs also have lots of noise reduction cooked in regardless of the camera settings and that sadly just eats the micro detail you need for great textural mono work.
I realize that JPEG quality is somewhat camera brand dependent, and being a Sony user I would never claim they produce great JPEGs, but nonetheless all JPEGs have significant limitations. I often tell students, if your RAW file derived images are not better than your JPEGs it's either you have not yet reached a stage of being able to truly process them to their maximum capability or the RAW converters are just not up to the task yet for that file type yet. For example I am sure the Raw files from the X series Fuji cameras offer more potential than we are currently seeing, it is just the converters that are the problem and they will undoubtably get better as raw software developers learn to better crack the unusual Fuji RAW files. In any case RAW future proofs you, the converters will continue to improve and thus open up further options for you down the road.
Fully rendered highlights are I feel particularly important because the human eye is not used to seeing bleached or absent detail in highlights unless of course it is a specular highlight, it is that lack of subtle highlight details that helps make images look…… well digital.
Since I am after a certain look, I also choose my lenses accordingly, generally this means high contrast Zeiss style renderings are off the agenda and typically with both my NEX and Sony A series cameras I shoot with low contrast legacy glass.
Some lenses are particularly nice for certain types of monochrome images and fail miserably for others. For example I often use an ancient Minolta 28-85 f3.5-4.5 zoom, it's a superb lens at the wide-angle end, but only if using the green and blue channels for the final image, it displays amazing clarity and micro detail in the green channel. Should your image however require a channel mix involving the red channel it is far less suitable as the red channel is very poorly resolved, especially in the outer reaches. Go to the long end on the same lens and the blue channel falls apart and the red shines! One needs to know their lenses and importantly where the individual strengths lie for any photography need, but especially for mono work.
One of the biggest impediments to truly successful high quality color to monochrome conversions is image noise. Don't get me wrong noise can be a really good thing in a monochrome image but it needs to be applied post-production in the areas where you want it, it is definitely not desirable to be fighting noise from the very beginning of the conversion process, it will simply limit every process you try to implement from tonal adjustments right through to sharpening.
I shoot always at the lowest ISO I can get away with, which with the NEX 5N used for these pics is 200 ISO, I prefer 100ISO and there is a significant difference but if I am forced to hand hold, as I was for these images I will trade the higher potential quality off for a sharper capture.
Obtaining the greatest level of exposure without clipping any of those precious highlights is paramount to me, sometimes you will hear this referred to as ETTR, (Expose To The Right) which refers of course to shooting with your exposure set to the right side of the histogram.
ETTR is a little controversial and in any case there is a lot more to it than just going to the right side of the histogram, and I feel those arguing against it often misunderstand how it works and is actually used but the principle is simple enough, the more light you capture the further down the exposure scale your noise will be buried. The optimum setting for exposure to be set at the point where your brightest wanted highlights details just avoid clipping.
Sometimes I take several frames and noise stack to average noise out, sometimes I bracket the exposures, sometimes I even take the same frame at differing ISOs for later blending, there are lots of things one can do but ultimately really low noise in the file coming out of the RAW convertor means far greater post Raw flexibility. It is a beautiful thing to be able to just push tones around without having to worry about banding and rampant noise.
None of the above is radically different to anything a great number of photographers do but there is one other tool in my armory which you may consider is a little bit unusual.  The use of "balanced sensor capture" which forms an integral part of the whole TLC process.
THE PROBLEM
Bear with me please….don't nod off now.
Fundamentally good colour to monochrome conversions are impeded by differing noise signatures across the three colour channels, normally the green is quite noise free, the red has a greater level of noise and the blue may have quite radically high levels of noise.
With some cameras the red channel maybe the worst with the blue in the middle but the green will always be the best.  The problem is that most channel mixing processes involve mixing the green with some red and some blue or perhaps just green and red or perhaps green and blue etc In all cases you'll find that the level of noise in the resulting image varies depending upon the donor colour of the items in the original scene. In other words perhaps blue objects may appear far more noisy and less detailed than those objects which were initially green. There will also be differences in the levels of details that are held in the objects once again dependent upon the colour of the initial object.
The root cause of this is that the three colour channels at capture are not actually exposed identically typically the green channel will receive far more exposure than the red or blue.
Without going into full details and there are many, this also means that the red channel and the blue channel will possess less detail in the shadows than the green channel and will clip in the shadows far earlier, likewise the green channel may clip highlights before the red and blue channel and please note: Here we not talking about JPEG images but actual raw file data, that is as they say a horse of an entirely different colour.
If you could actually obtain a close to equal level of exposure across all three channels you would have roughly equivalent noise signatures for each channel making your monochrome conversions far more successful. Well in fact you can do exactly that.
This state of Nirvana is achieved by filtering the light before it reaches the camera sensor, there are no post production methods that will give the same result.
Typically this will mean you need to use a combination of red and magenta filters and this is exactly what I do. As to the exact values they will vary from camera model to model and even with the lens used. The filtration required is quite significant.
The trade-off of course is that the sensor is receiving less light for any given EV value so your exposure times become longer, in effect it's like shooting at around 16-32 ISO instead of 100 ISO! Hence a tripod or really steady hold is doubly important.
The resulting files are low in contrast and very low on noise which means they are eminently suitable for monochrome conversion.  The most important factor being because the noise signatures are roughly equal across all three channels, channel mixing can be done using almost any combination of mixes, safe in the knowledge that your image will not fall apart due to weird noise signatures in certain donor colours.
A side benefit the images are slightly sharper, probably due to the better quality of the data being fed into the interpolation algorithm at the beginning of the process.  Even more importantly because there is a lower level of noise across the entire image it can withstand far greater and more sophisticated approaches to sharpening than is normal.
Because I'm obviously aiming for a high-quality result I'm very careful about controlling camera movement and shake, picking the exact focus point usually using magnified live view and using an aperture which is optimal for the final DOF that I want. Nothing startling there but take it as a given, this is no off the cuff high-speed street shooter option.
Back at the office the next important step is the conversion of the raw file into a Tiff file. For the ultimate high-end work I choose to use our RPP (Raw Photo Processor) a Mac only converter, but I also use RAW Developer (also Mac only). I adjust RPP to output the files as low contrast 16-bit files without any sharpening or noise reduction. RPP has an option to render files with a film-like tone curve, I use this because it allows an enormous level of flexibility in the post processing.
A cursory glance at the converted RAW files will show just how low in contrast they are, there is no clipping anywhere in the files and a wide amount of tonal wiggle room.
In some cases, mainly with very high contrast scenes I produce multiple conversions of the same RAW file, for example one better attuned to highlight rendering, one for the shadows etc, but in the case of all these example it is just a single conversion.
As mentioned I almost never use any noise reduction in the conversion process regardless of the converter used, this is handled later and very selectively in Photoshop should I need it, In reality I almost never need to apply any noise reduction at all except perhaps to clear cyan/blue skies, which are always a problem in any type of photography. It is in fact quite amazing how much more detailed a monochrome image can be if no noise reduction was applied anywhere in the early processes and when you do apply NR it often makes the noise look worse, clumping fine film like noise into dirty great gobs. Trust me what matters is the final look of the print output, and way too much noise reduction is aimed at making 100% on-screen views look smooth as silk, I suspect so people can brag on photo web forums about their latest wonder cam. Noise is not the enemy! and a 100% on-screen view is not a useable way to display a photo.
EDITING
This next point which might be a bit challenging for those looking for an easy pre-potted solution, is I firmly believe that for high-quality monochrome conversions there is zero possibility of using automated processes. Every image is different and needs to be treated as such.
I need constantly changing combinations of channel mixing, and other mono conversion methods, local and wide area tone curve variations and much more. It simply defies my experience that you can automate any of it to even a moderate degree and get truly high end custom results. And I didn't even touch on sharpening, which most definitely cannot be global in nature.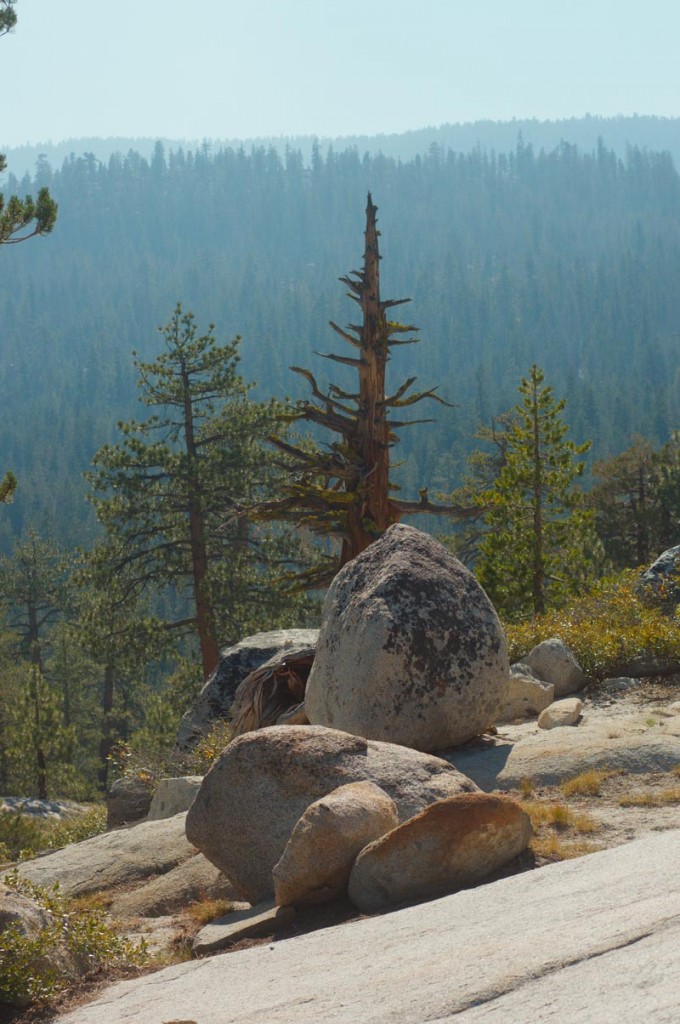 Upon opening the resulting file in Photoshop, which starts as  a 16 bit Lab mode file I make an initial levels adjustment to the L Channel being very careful to keep all the highlight gradation with a bit of headroom to allow for the printing needs and increase the colour saturation by adding equal levels of contrast to the A and B channels. Once the file looks OK I convert it to RGB mode but leave it in 16 bit.
Continuing on I make several duplicate copies of the file, usually five, maybe more. Each of these copies are treated differently, one copy may be converted from colour to monochrome using a gradient map, another simply desaturated, yet another may be converted using a combination of red and green channel mixes and so on. There is no limit to the possible combinations that I would use and sometimes that includes oddballs like infra-red simulations for some parts of the image.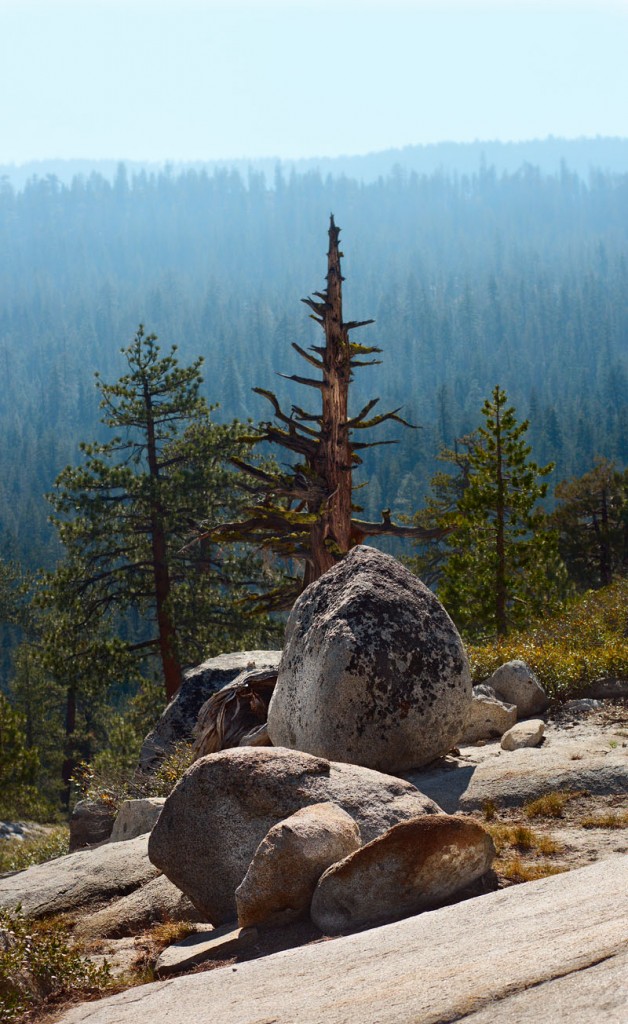 I keep one open version of the full-colour image, this can later be it used to make further mono versions if I need to, and usually I edit the colour one at the same time as the monochrome versions.  Additionally I may use this with Photoshops' black and white conversion option.
Having created my multiple mono versions I have Photoshop arrange them by "floating all in windows" which means I can see each version side-by-side.  I then closely examine each version deciding on which parts I wish to use from each and decide on which version will form the best core image to work from.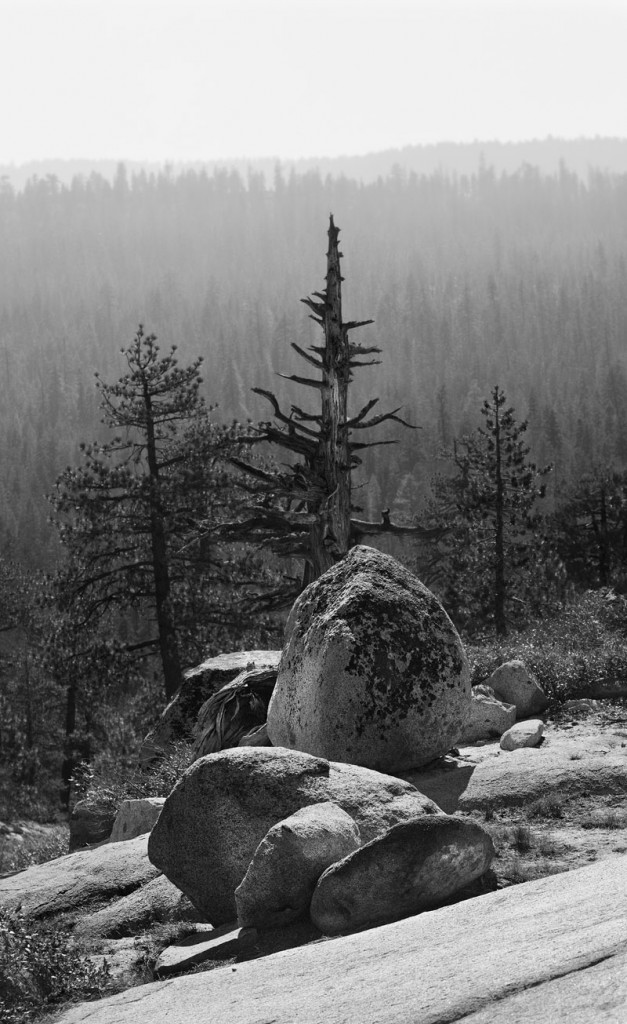 The composited full range tonal version is obtained by copying and pasting different versions of image over the top of one another and using the eraser tool to reveal the pieces that I want to keep each of the underlying layers, this gives me absolute flexibility over how the tonal range is rendered for every part in the image. and with practice I am able to do this quite quickly.
FINE TUNING
Having flattened the monochrome image to a single layer I'm still nowhere near finished, it requires localized dodging and burning and tone curve adjustments, sharpening and to a certain degree blurring.
A great deal of this step is aimed at giving a closer simulation of how our eyes perceive things in landscapes due to atmospheric factors, for example distant objects appear lower in contrast and lighter, close up objects are often higher in contrast and show deeper detail in the really dark tones, mid range objects rarely show full black, but have only a slightly flattened tonal range compared to the foreground. I've literally spent sleepless nights thinking about these factors and hours and hours looking at scenes in real life and questioning myself on what I was really seeing. Most painters understand this stuff intuitively almost but most cameras totally overcook all this.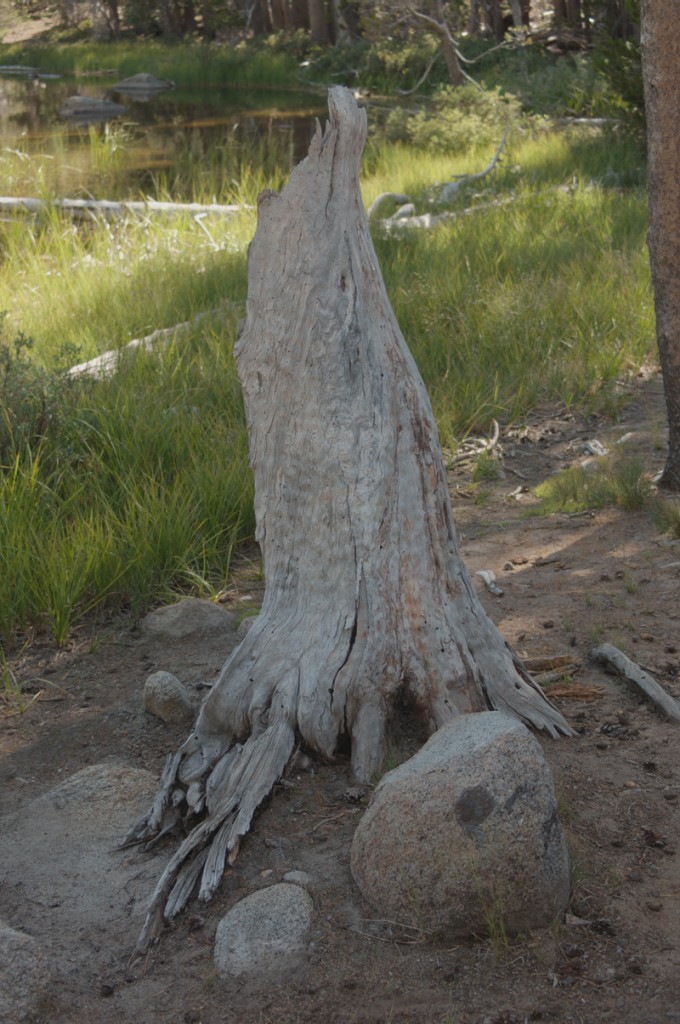 Sharpening is normally carried out on a localized basis I do not apply any global sharpening and I apply differing degrees of sharpening depending upon the objects in the photo and where they are placed in relation to the plane of focus.
The sharpening methods include USM, High Pass and even Gaussian Blur with custom fade modes (yes I know that one sounds odd). The radiuses used range from 60 pixels down to even 0.2 pixels. Its complicated, heck it would take a book to explain and again it definitely defies any method of automation.
Much of the sharpening is aimed towards creating a more 3D look, but it is a long way from the more, now traditional HDR look which generally is quite forced and global in nature.
The flip side of sharpening is that in a lot of cases I apply lens blur to certain parts of the image to give greater separation and the appearance of having shot at a wider aperture. In fact my general principle is to shoot with an aperture that is just slightly smaller than I would optimally like to use for the required depth of field, this gives me more flexibility in terms of setting precise focus and DOF look in post-production.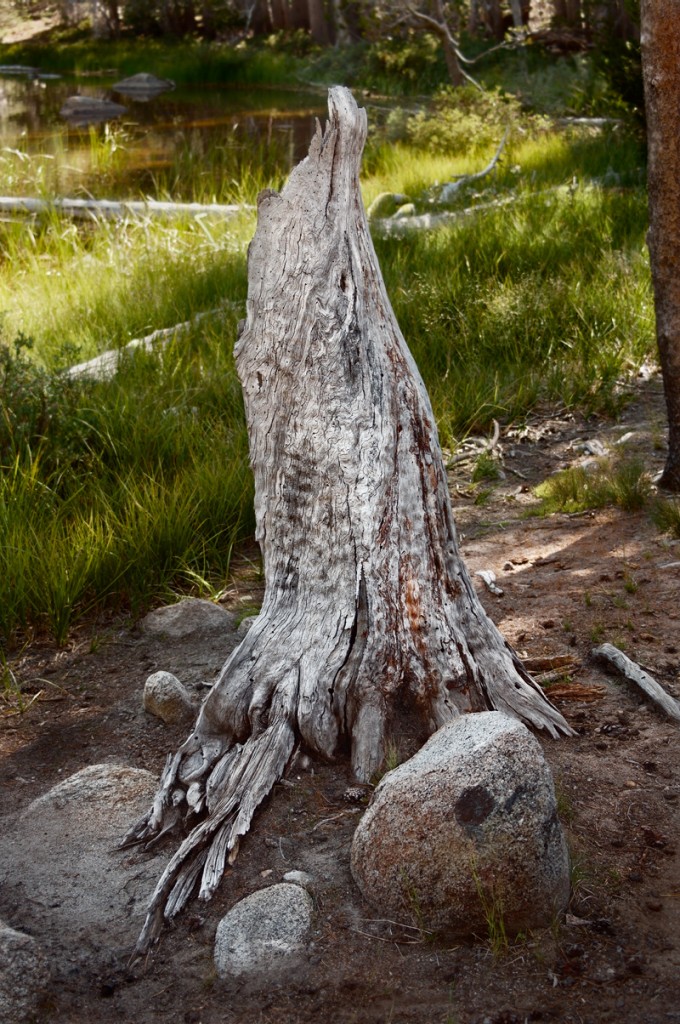 An added benefit of finalizing the DOF in post is that you can get effects that would not be possible with regular aperture adjustment of DOF, for example you can simulate field curvature etc. It must be added that DOF adjustment is not particularly easy and care needs to be taken not to overdo things, often in conjunction with masking but well done in tandem with a sensible shooting aperture choice it can be seamless in final appearance.
I personally have a bit of an issue with the current trend for ultra shallow DOF shot with really fast lenses, whilst it might look interesting and all for web images, most times the images lack sufficient clarity and DOF for real world "on the wall" printed use. There is a vast difference between a 600 by 400 px image on-screen or in flikr and a 16 by 20 inch print, but each to his own, if you shoot solely for web use then go as wide as you like.
Ultimately I can take detail away, but I sure as hell can't create it afterwards if it is lacking and since for me many shots are a once in a lifetime opportunities taken when traveling, I'd just rather not throw all caution the winds with ultra shallow DOF recordings of the scenes.
Once all the tones are finalized, final DOF is set, dodging and burning done and sharpening sorted I have one final thing to do. Add the noise!
Normally I don't just add noise globally, rather it is added subtly to parts of the image to either increase micro tonality or synthesize detail, in fact in many ways you can think of "noising" as part of the sharpening process.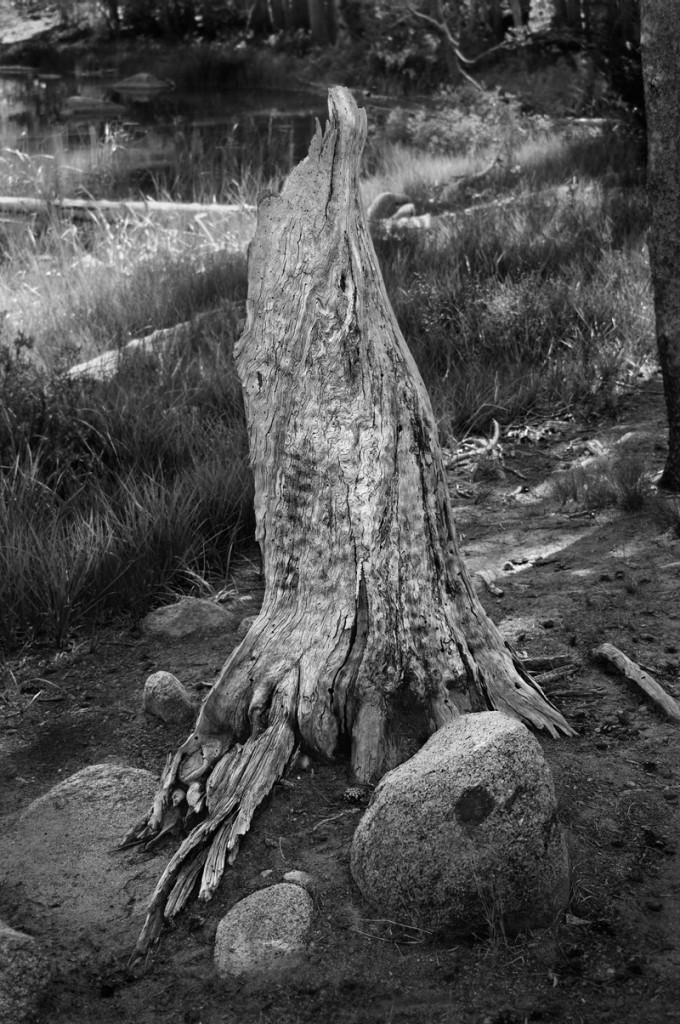 I am not normally adding noise to simulate film noise….if I wanted that look I would and often do shoot film. No the noise done properly gives the printed image (note, the use of the term printed) a more organic 3D look. This will rarely be obvious on the computer monitor because the pixels of the screen tend to alias the noise dependent upon the screen view, downsizing the image won't give much of an idea either, ultimately I have to make test prints to verify the result. "Noising" is again usually done via layers and the use of the eraser tool, and again it is almost the subject of a book in itself.
Once the monochrome image is finished I usually copy the flattened monochrome image and place it over the top of the original colour image then choose luminosity mode for the top monochrome layer. The resulting rendering represents the detail and tonality from the mono image mixed only with the chrominance info from the colour image, and usually results, to my eyes at least, in a much better colour version of the photo. I normally then make further adjustments to the colour image but that is the subject of another installment.
PRINTING
And finally the printing, I don't even attempt to do this myself, despite being capable of doing so, it's simple really. I don't have the room for a high-end large format printer and I don't have the throughput to justify the prodigious expense.
Instead I use a local company who know and appreciate exactly what I am trying to achieve, we have a great working relationship. I have them run some strip tests to ensure everything looks right and of course adjust it if it doesn't. They do not make any adjustments to the file unless under the watch of my eye.
The prints are made on only a limited array of substrates which we know will work as intended.
Ultimately with printing it is not about the price but the quality, for my part I'd rather spend more knowing that the result will be great than have to worry about the outcome by saving a few dollars working with someone who doesn't care.
THE WRAP UP
So there you have it, an anatomical look at one approach to monochrome, my approach. Don't for a moment think I am advocating that this is what others should do, I have offered this to perhaps inspire those who are wanting a bit more from their images, pick and choose as you wish.
Best be a little realistic here, before going off all excited consider that neither you or I are going to whip up a whole batch of these cookies in one afternoons sitting. Most images take me 5 hours or more spread over a few sittings, but then I am not into posting stuff on flickr etc, prints on walls it where it's at for me so I don't really need to do stuff quickly.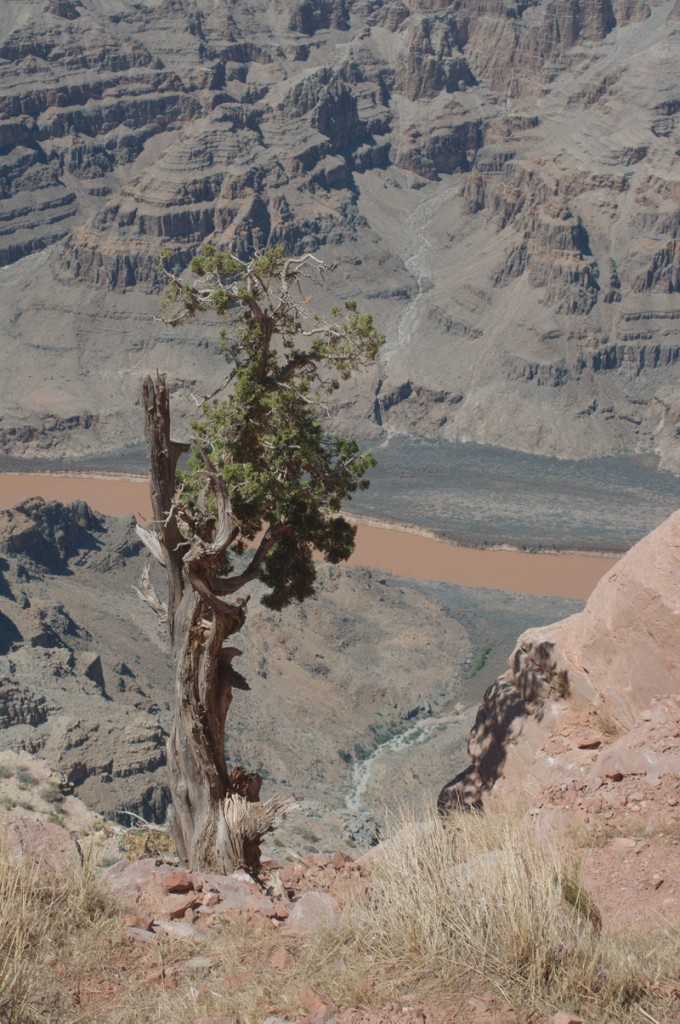 Probably one thing you would glean from my approach is that it is designed to work only with colour as the original capture method, personally I could never find happiness with a monochrome only camera, much as I really like the idea of the Leica Monochrom it would be just to limiting for my way of working, though I know there would be benefits.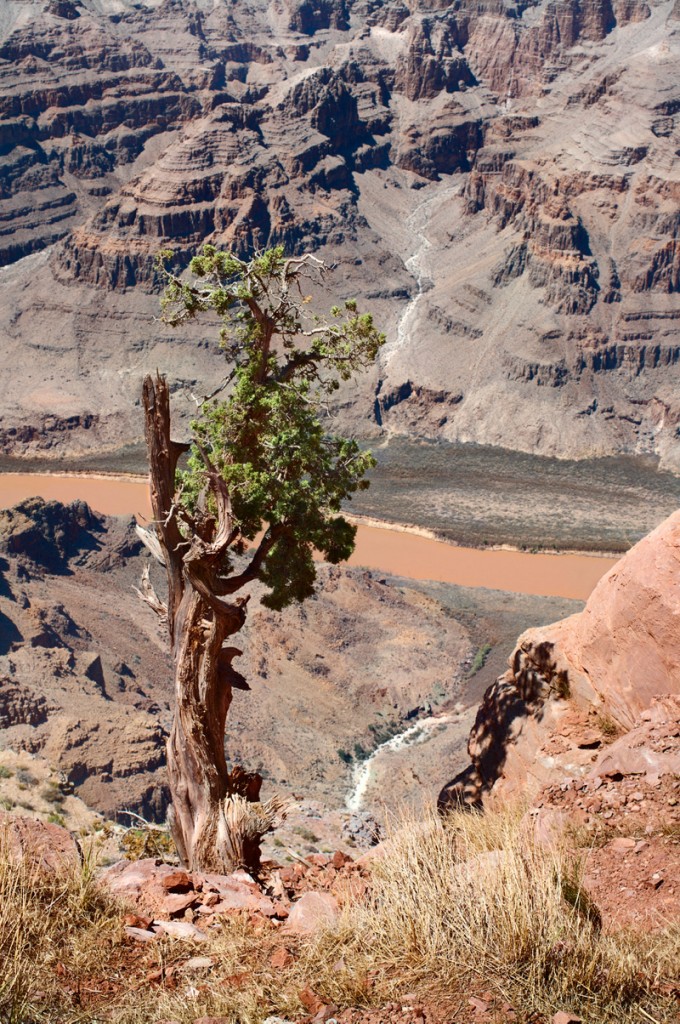 The photos I have included in the article show the original colour extracted TIFF image (in compressed jpeg form of course), the Monchrome version and the Monochrome over Colour info version. I think you will agree that the final colour version is quite lovely as well. It's a funny thing but often a good colour image and a good mono image are much the same thing!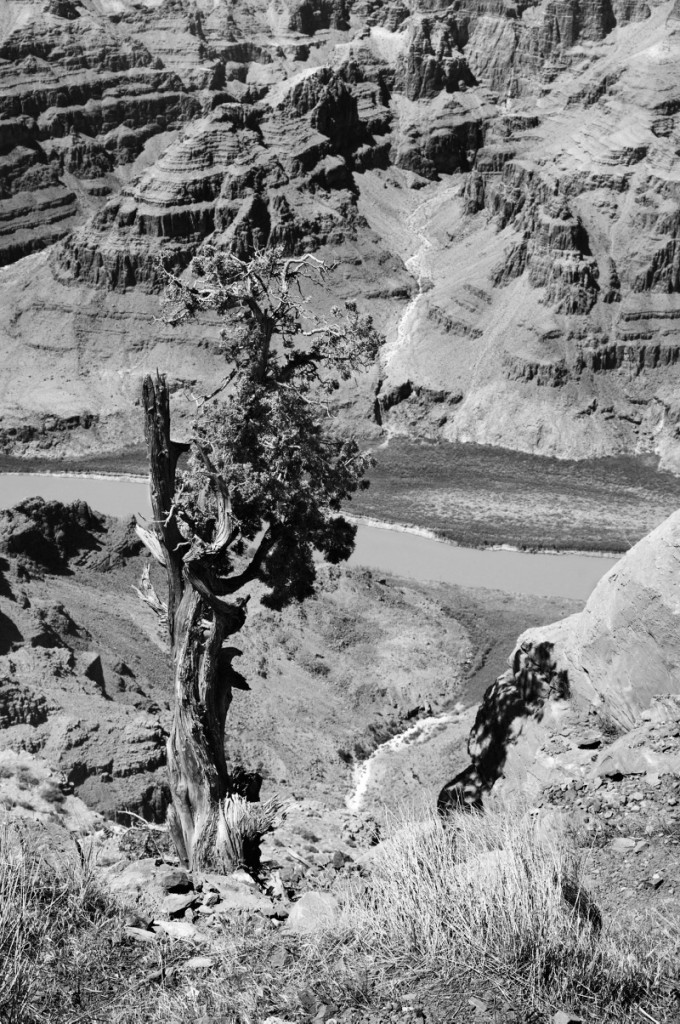 These images were captured with a Sony NEX 5N using legacy class, for these ones it was a Nikon 35-70mm f3.3-5.5 zoom and 55mm f2.8 micro nikkor with TLC pre-filtering. All are shot at 200ISO and around 1/100 sec. Being compressed web images of course it is a bit hard to judge the full effect, but they print superbly I promise.