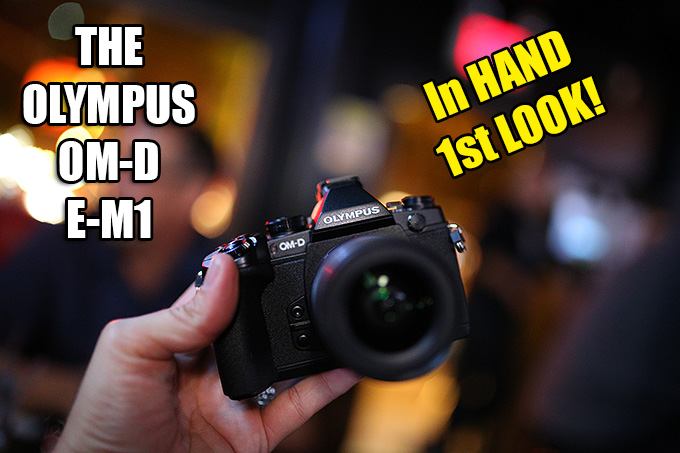 The Olympus OMD E-M1 in hand quick 1st look report!
Hello to all stevehuffphoto.com readers! It is Monday, 9/10 at 12:44 AM New York Time and I just arrived back to my room after a very cool event put on by Olympus USA where they presented the new OM-D E-M1 PRO Micro 4/3 camera. Yes my friends, the rumor sites were true and the OM-D E-M1 is already available to pre-order at B&H HERE or Amazon HERE. The new 12-40 PRO 2.8 Zoom is HERE.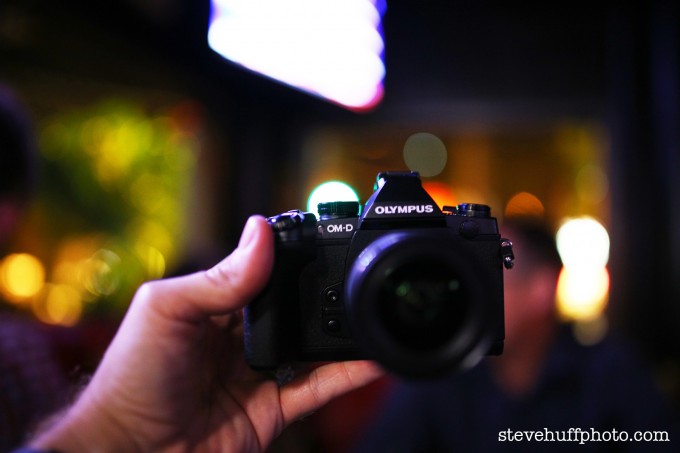 The OM-D E-M1 is truly a pro-built body with a much nicer feel in my hand over the OM-D E-M5. I had the chance to hold it, shoot with it a little and even shoot one after the event (though with the slow as mollasses 12-50 kit zoom) but the speed of the camera in regards to AF is now up one more notch over the E-M5. When the new upcoming 12-40 was attached it was a speed demon, and much faster than the Canon 6D and Sigma 35 1.4 I was shooting with. I REALLY liked what I saw in the 12-40 f/2.8. Top class all the way. This is a lens that will eventually come bundled with the E-M1 in a kit for around $2200 or so (The 12-40 is pro..similar to the $1200 Panasonic 12-35 but smaller and feels nicer as well AND a couple hundred less at $999)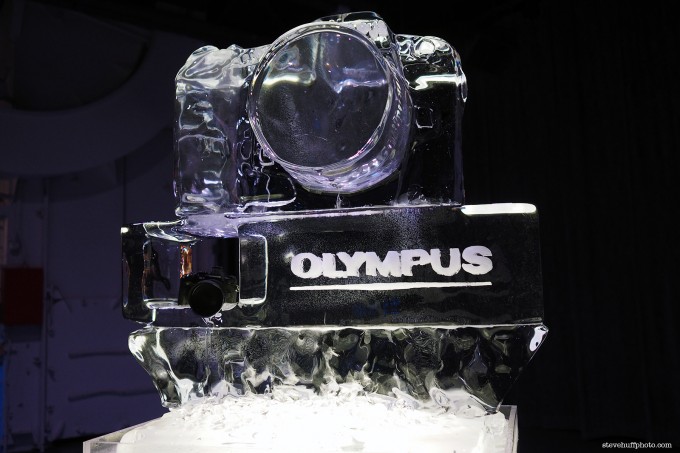 [ad#Adsense Blog Sq Embed Image]
Many of you know I am a huge fan of the Olympus Micro 4/3 cameras. They simply…rock.
The E-P1, E-P2, E-P3, OM-D E-M5, E-P5..all fantastic and cameras I adored and used heavily. With the E-M1 Olympus has made it into a true pro body with advanced weather sealing (they even displayed it in a block of ice all night to show it can take the extreme freezing temps), faster AF with phase and contrast detect, improved 5-AXIS I.S. (yes, improved) and the buttons, dials and controls felt AMAZING and they were placed in the right spots.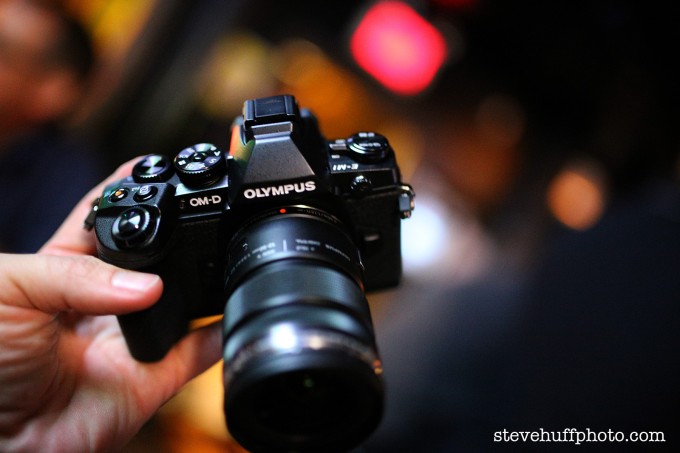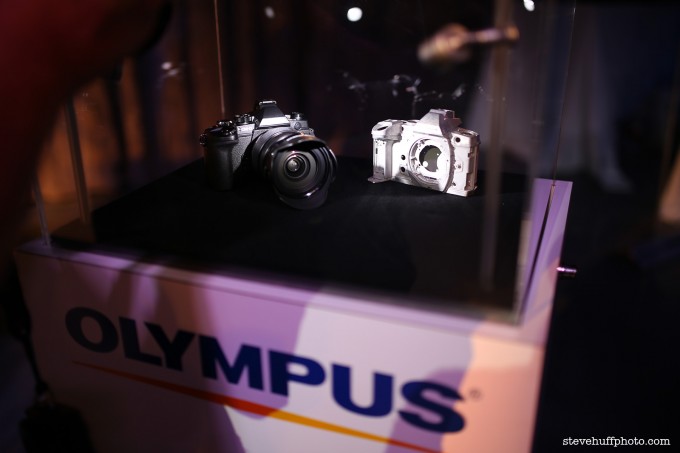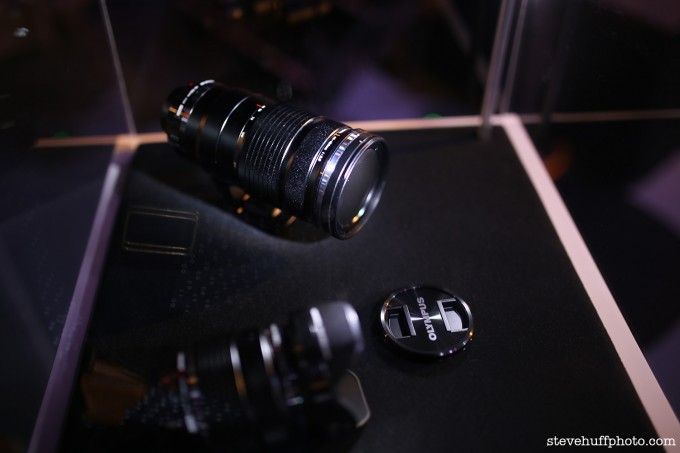 So what do I think after using it for a few minutes? I think it is a definite improvement in the E-M5 in just about ALL areas and I can not wait to shoot  this bad boy with the 12, 45 and 75 1.8 and maybe a Voigtlander or two 🙂
The viewfinder is AMAZING!! This is a HUGE improvement over the E-M5..when I say the EVF is amazing, believe me, it is the best looking EVF fro any camera to date, period. The grip feels NICE..just right.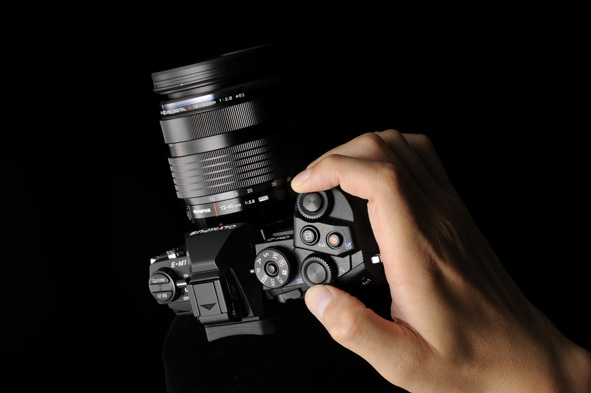 So the bottom line is that the camera feels amazing in the hand, is built to pro spec (except no dual memory card slots), is weatherproof and freezeproof, is fast as lightning and I predict Olympus will have a HUGE hit on their hands. The E-M5 has proven itself in big time ways over the past year or so and I believe this one will as well.
One thing I have not even mentioned yet is that this camera does MUCH MUCH better with 4/3 glass than ANY Micro 4/3 camera ever. Slap on the 4/3 to Micro 4/3 adapter to use some of the best 4/3 glass. Even lenses like the 14-35 f/2 or 150 f/2. They will now focus FAST. In a way this camera is a replacement for the E-5 and E-M5 and has come full circle. The E1 was the 1st Olympus 4/3 camera and now we have the E-M1 (Like a Mini E1, but much better)!
I said in my E-M5 review that Micro 4/3 has matured..well now it has blossomed into a full grown beauty named the OMD E-M1.
Not much else I can say as this is NOT a review, just my thoughts after seeing one, holding one and firing off shots with one. My full review will be coming soon as well as a review of the Panasonic GX7. STAY TUNED!!!!
I snapped a few shots with the camera but they were all set to JPEG only, all had NR set to on and all were..well..just set up by Olympus to shoot in auto mode with basic settings. When I get a hold of one for extended testing the 1st thing I will do is set it to RAW and JPEG, turn off NR, and set it up to my liking 🙂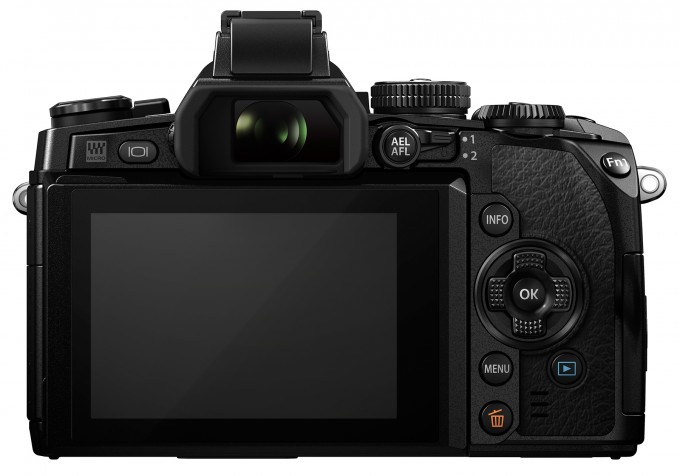 You can pre-order the OMD E-M1 at B&H Photo at the links below:
OMD E-M1 BODY ONLY – $1399 – SHIPS OCTOBER 4TH (Olympus said the earliest orders may go out end of September)
OLYMPUS 12-40 F/2.8 PRO ZOOM – $999
AMAZON IS ALSO TAKING PRE-ORDERS:
OLYMPUS 12-40 F/2.8 PRO ZOOM – $999
To those who complain the price is too high, the OM-D E-M5 was a great camera at a RIGHT price. The E-M1 is improved in EVERY way from build, to controls, to performance so $1399 is expensive but priced RIGHT. This camera, just like the E-P5 and E-M5 can do what the big guys do WHEN USED WITH THE GOOD LENSES. It's small, solid, and performs so yes, it is worth the premium over the E-M5. I have seen E-M5 images that are better than some images taken with a full frame camera like the M9, 5D, etc. It's all about the glass my friends, and Olympus and Panasonic have a ton of it to choose from.
BTW, Olympus also said they are commited to releasing more PRO lenses with the very 1st pro lens being the 12-40 f/2.8 zoom. Yep, they called this their 1st ever PRO Micro 4/3 lens. It is expected to ship in December 2013.
I was only able to get off a few shots with the camera, and only in JPEG mode and mainly with the 12-50 Kit Zoom with the camera in default settings. MUCH more will come in my review with a bevy of lenses being used. Stay tuned!
A couple of quick shots in JPEG with the OMD E-M1 and the 12-50 Kit Zoom, ISO 1000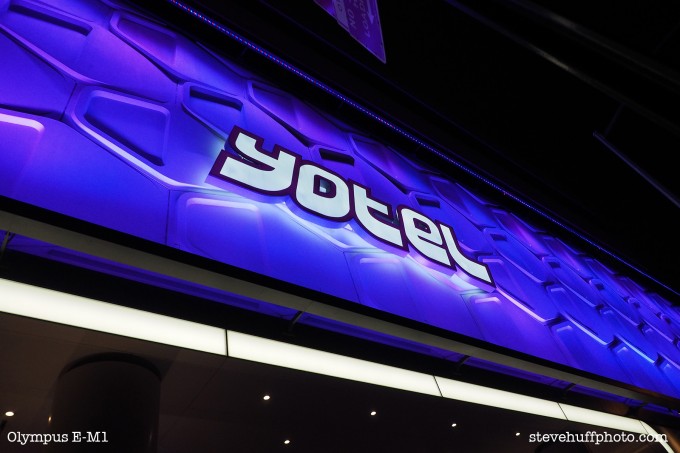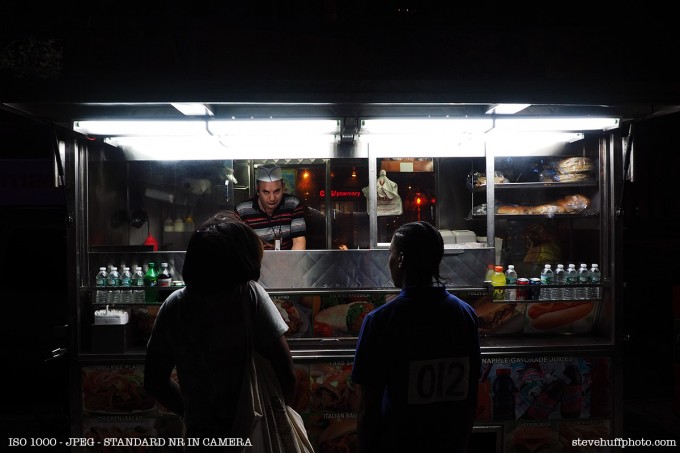 –
A 20 second long exposure with the 17 1.8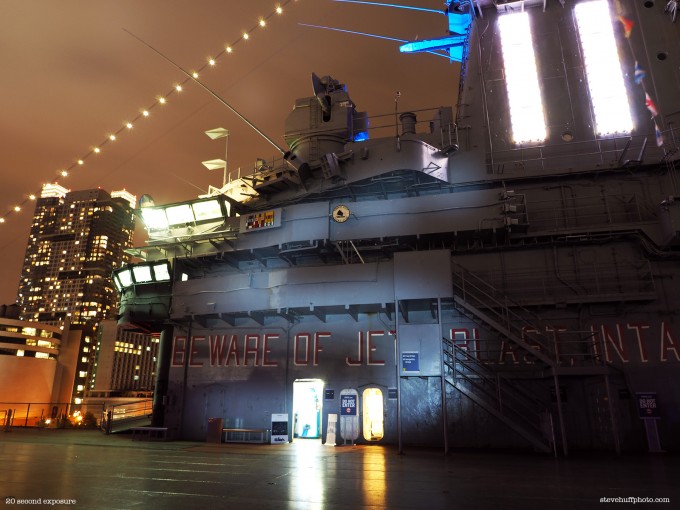 –
ISO 1600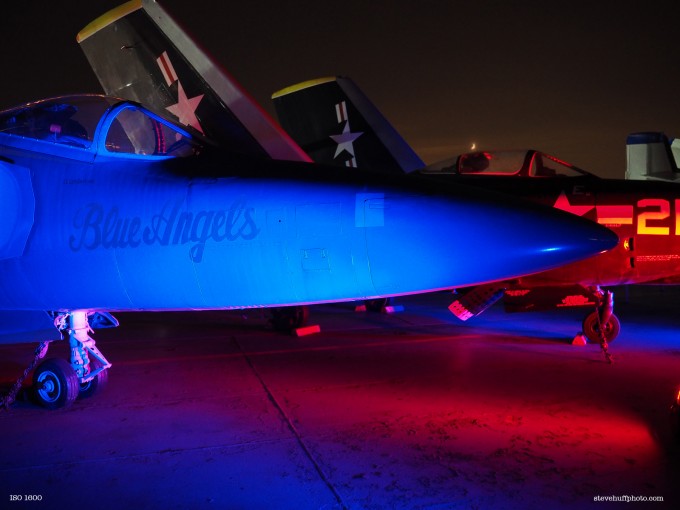 OFFICIAL PRESS RELEASE:
NEW FLAGSHIP OLYMPUS OM-D E-M1® CAMERA IS THE PINNACLE OF OLYMPUS INNOVATION
Micro Four Thirds® Camera Delivers Maximum Four Thirds® Lens Performance, DSLR Image Quality, Rugged Durability and Super-Large EVF; New Lenses Establish M.ZUIKO® PRO Category
CENTER VALLEY, Pa., September 10, 2013 – In response to the demand for a compact system camera as powerful as a professional DSLR, Olympus introduces the OM-D E-M1®, its new premium flagship camera and worthy Micro Four Thirds successor to the Olympus E-5 DSLR. The E-M1 has a revolutionary design for advanced photographers looking for a high-performance tool in a compact system camera package. The powerful E-M1 is packed with incredible speed and image quality that rivals full-frame DSLRs, in a portable yet lightweight body designed to go anywhere.
The Olympus OM-D E-M1 now works seamlessly with all ZUIKO Digital lenses, in addition to working with M.ZUIKO Digital lenses, so photographers can enjoy optimum performance of the entire Olympus lens lineup. This is possible due to advanced DUAL FAST AF system that combines both Contrast AF and On-Chip Phase Detection AF. DSLR users familiar with an optical viewfinder will marvel at its electronic viewfinder (EVF) that is as large as a full-frame DSLR viewfinder and has added creative control. Its ergonomic body provides easy access to all manual controls and is ready for action in the most difficult shooting conditions.
Olympus also announces today the development of two new high-performance lenses, establishing the M.ZUIKO PRO lens category. The ZUIKO Digital ED 12–40mm f2.8 PRO lens (24–80mm, 35mm equivalent) and the ZUIKO Digital ED 40–150mm f2.8 PRO (80–300mm, 35mm equivalent) will expand the imaging options for professionals and serious photo enthusiasts alike.
DSLR Image Quality
With the OM-D E-M1, experience the highest image quality of any Olympus camera through the combination of a new 16.3 megapixel Live MOS sensor, a new TruePic VII image processor, and its best-in-class M.ZUIKO lenses. The TruePic VII image processor reduces noise and color fading at high ISOs for improved image reproduction. New Fine Detail Processing II technology configures the appropriate sharpness processing for each individual lens for natural, high-quality resolution, as well as reducing compression artifacts when recording movies.
Fast and Accurate AF for Complete Four Thirds and Micro Four Thirds Lens Compatibility
The newly developed DUAL FAST AF selects the ideal method, depending on lens type and settings: either 37-point On-Chip Phase Detection AF or 81-point Contrast Detection AF to maximize the performance of both ZUIKO and M.ZUIKO lenses. Both systems work together to significantly improve continuous autofocus tracking performance when a Micro Four Thirds lens is attached and C-AF is selected. Users can select Group Target AF for a variety of situations, Small Target AF for pinpoint shooting, or Super Spot AF for capturing even smaller subjects and specifying a small area focus location during macro shooting.
The TruePic VII engine supports 10 frames-per-second shooting with a 41-picture RAW buffer in single autofocus (S-AF) mode and 6.5 frames-per-second shooting with a 50-picture RAW buffer in continuous autofocus (C-AF) mode.
New Super-Large Interactive Electronic Viewfinder
The E-M1's advanced, built-in Interactive Electronic Viewfinder features a 1.48x (35mm equivalent of .74x) magnification factor that rivals full-frame DSLR cameras. The extremely high-resolution 2.36 million-dot LCD panel provides a large, clear image that is on a par with optical viewfinders. Tracking moving subjects is completely natural, with a display time lag of only 0.029 seconds. Users can experiment with aspect ratio, magnification, color, and highlight and shadow, and the effects of camera settings on subjects are viewable prior to capturing the finished image. Adaptive Brightness Control raises the brightness when shooting in bright outdoor conditions and lowers the brightness in dark indoor conditions, reducing visual errors from light and dark adaptation of the eye.
Color Creator is a new easy-to-use tool that fine-tunes hue and color saturation using the intuitive GUI and Live View screen, so users can create original images imbued with their own choice of colors. Creative Color was created with a designer's sensitivity in mind, and hue can be adjusted in 30 steps, and color saturation adjusted in eight steps, including the baseline.
The Most Effective 5-Axis Image Stabilization System
The Olympus E-M1's built-in 5-Axis Image Stabilization with Multi-Motion IS mechanism reduces the effects of camera motion and image blur from five directions. Whether shooting stills or HD video, even the motion blur caused by walking or running is stabilized. New algorithms make image stabilization more effective at low shutter speeds. When it is employed while panning during still image shooting or movie recording, IS-AUTO mode automatically detects the camera's movements and provides optimal correction regardless of direction or camera orientation – even when panning in a diagonal direction. Users can check the image stabilization effects on the Live View screen as well as the viewfinder to accurately frame and focus, even during telephoto or macro shooting. Multi-Motion IS, used in combination with the 5-Axis Image Stabilization mechanism, produces excellent correction during movie recording.
Rugged Freeze, Splash, Dustproof Durability
The Olympus OM-D E-M1 expands the dustproof and splashproof capabilities of the E-M5 even further with freezeproof capabilities — guaranteed operation down to 14 ºF — for the best environmental resistance of any Olympus interchangeable lens camera. Its durable magnesium alloy body, and weather-resistant seals and gaskets block moisture and dust for use in any environment, without sacrificing image quality. The camera's Supersonic Wave Filter (SSWF) dust reduction system vibrates at a super-high speed of more than 30,000 times per second to powerfully remove dust particles so users can shoot in dusty environments.
Ultimate Camera Control
Advanced photographers will appreciate the intuitive 2×2 Dial Control system to easily adjust four often-used functions with the camera's lever or two dials: aperture/shutter speed, exposure compensation, ISO speed and white balance. A built-in grip similar to that of the E-M5 makes shooting with Four Thirds lenses more comfortable, and all frequently accessed buttons are logically laid out. Controls are now more functional: the settings reset function is activated by pressing and holding the OK button and there is a toggle option for the My Settings shortcut and a locking mode dial to prevent unintentional movement of the mode dial during shooting or when removing the camera from a case or bag. The dedicated "mic-in" jack supports an external microphone when recording HD movies and a built-in X-Sync socket easily connects to studio strobes.
Built-In Wi-Fi
The Olympus OM-D E-M1 includes built-in Wi-Fi, and the set-up is simple. By quickly scanning the QR code displayed on the camera's LCD with a smart device, it syncs with the Wi-Fi network created by the camera. The free Olympus Image Share 2.0 smartphone app synchronizes a user's smartphone and E-M1 so the camera's "Live View" is effectively displayed on the phone, and the camera can be controlled by touching the smartphone display as if it were the camera. This is ideal for taking self-portraits, capturing images of wildlife from a distance and sharing images easily online. The E-M1's remote shooting function has been improved for use in all main shooting modes (P, A, S, M and iAUTO). Users can now wirelessly adjust various settings, such as the shutter speed, aperture value, ISO and exposure compensation, as well as operate the Live Bulb shooting mode from their Wi-Fi devices. They can also use their smartphone to embed GPS information into their images.
More Creative Features
New Diorama II adds to the popular range of Olympus in-camera Art Filters and offers left and right blur effect in addition to the top and bottom blur effect of Diorama I. The Olympus E-M1 is equipped with two variations of HDR Shooting – HDR1 and HDR2. With a single press of the shutter button, four images with differing exposures are captured and automatically merged in the camera into a single HDR high-contrast image or super-high-contrast image. Photo Story mode enables users to capture a scene from multiple viewpoints and then combine the images into a single image to create unique collages inside the camera. Time Lapse Movie converts the series of pictures taken using interval shooting into a movie inside the camera. The Time Lapse Movie length has been increased to a maximum of 100 seconds. The number of possible shots that can be captured with Interval Shooting has been increased to 999. The E-M1 is also equipped with Focus Peaking, which dramatically improves the usability of older manual focus lenses.
New High-Performance Lenses and Accessories for Every Shooting Challenge
The M.ZUIKO Digital ED 12-40mm f2.8 PRO lens (24–80mm, 35mm equivalent) is the first model in the new M.ZUIKO PRO category and is scheduled for release at the same time as the Olympus OM-D E-M1. It features dustproof and waterproof performance, toughness and excellent image quality. Its mount employs the same type of sealing as the camera body and is Movie & Still Compatible (MSC) with high-speed, near-silent autofocus during still shooting and high-definition (HD) video capture. It maintains the brightness of a constant f2.8 aperture for high-grade image creation, one of the requirements of professional photographers for a high-performance lens.
The M.ZUIKO Digital ED 40-150mm F2.8 PRO (80–300mm, 35mm equivalent) also joins the new M.ZUIKO PRO lens category. This lens is currently under development, with a planned release in the latter half of 2014. It will be a telephoto zoom lens with a bright constant f2.8 aperture and will feature a dustproof and splashproof construction rugged enough for professional use.
Several new accessories are designed to complement the Olympus OM-D E-M1 and broaden the creative horizons of all advanced photographers. The HLD-7 Power Battery Holder is a dustproof and splashproof power battery holder that can enable the capture of approximately 680 shots (based on CIPA tests) between charges. It features a shutter button for shooting with the camera held vertically and two control dials and two function buttons for the same easy controls as when shooting from a horizontal position. The GS-5 Grip Strap for the HLD-7 keeps buttons and dials accessible even when the battery holder is attached. The PT-EP11 Underwater Case is made exclusively for the Olympus E-M1 and allows shooting down to 45 meters.
The new CBG-10 Camera Bag is compact, yet designed with Four Thirds lens use in mind, and the highly water-resistant CS-42SF Soft Camera Case, which is part of the Camera Bag CBG-10 system, is made exclusively for use with the E-M1. The CSS-P118 Shoulder Strap is made of washable material with a slender width that matches the versatility of the Micro Four Thirds System.
U.S. Pricing and Availability
The Olympus OM-D E-M1 will be available in October 2013 in the following configurations.
Estimated Street Price:
$1399.99 Body only, available in Black