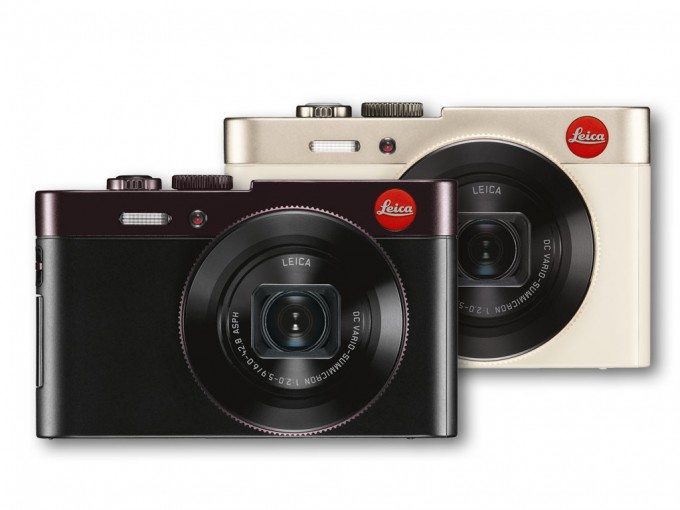 The new Leica C (Type 112) Compact Camera 
Beautiful compact design!
Leica got it RIGHT with this one folks (for a rebadged Panasonic)! A spiffy and attractive compact pocket camera with a 28-200 zoom that looks amazing and has a built-in EVF. Based on the Panasonic Lumix LF1 but with much more style, the new Leica C looks more like an old Leica CM than anything, and that is a good thing. It will be shipping in October and will come in at $699 which is $200 more than the Panasonic version but this is a Leica with an all new design and as usual will have the Leica warranty and come with software. I think the new colors here are very very nice with a black/dark red top and white with a Champaign colored top. Very elegant if I do say so myself.

You can pre-order at dealers like Ken Hansen (khpny19@aol.com) or the Pro Shop (561-253-2606) if you want yours at launch next month. 🙂
This new C Type 112 is a point and shoot style with a small 1/1.7″ 12 MP sensor and a 28-200 f/2-f/5.9 equivalent lens. Full HD video and WiFi/NFC.  Based on the Panasonic LF1 BUT this Leica is much nicer looking and designed by Audi Design. A slew of accessories is slated to hit by December.
I LIKE THIS one just for the design and the fact that it has a built-in EVF. Can't wait to give it a spin. To be fair, the LF1 is the same but with a matte black finish. I played with one at B&H Photo today and it was actually quite nice. Also played with a Hasselblad Stellar at another store. That was very interesting 🙂
To those who feel this is overpriced..do you really think LEICA would release its hot rodded customized looking LF1 for the same price as Panasonic? NO. $200 upcharge is quite good for Leica as in the past it has been as high as $500, so $200 is not so bad for the premium for the Leica design and name and warranty.
Below the Panasonic LF1 which comes in at $498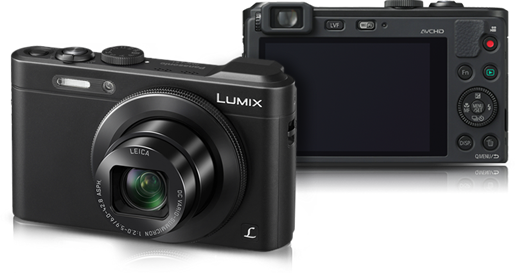 OFFICIAL PRESS RELEASE BELOW of the NEW LEICA C:
LEICA C – the new line of Leica digital compact cameras
With the Leica C, Leica presents the first model of a new line of Leica digital compact cameras. Featuring a high-performance Leica DC Vario-Summicron 6–42.8 mm f/2–5.9 ASPH. zoom lens and an exceptionally large sensor with a resolution of 12 megapixels, the Leica C guarantees images that are particularly rich in details. Together with this, the fast zoom lens is ideal for an almost infinite number of photographic situations and delivers outstanding imaging performance even in unfavourable light. The Leica C is the first Leica compact camera to feature an integrated Wi-Fi and NFC (Near Field Communication) module for the wireless transmission of image data to smartphones and tablet PCs. It also offers a wide range of camera functions, various settings, in-camera processing options and an intuitively simple handling concept for flexible and spontaneous photography. All this, plus its particularly stylish and elegant compact design, makes the Leica C an ideal companion for all occasions where photos are a must.
Its technical features are certainly impressive, but the eye-catching beauty of the Leica C is above all characterised by its slim and stylish form. The elegant looks of this camera are the work of Audi Design, who were also commissioned with the development of the unique range of camera accessories. An unusual colour concept – the Leica C is available in two finishes, light gold and dark red and is complemented by a range of accessories in premium materials that highlight the unique looks of the new Leica compact camera line.
Its Leica DC Vario-Summicron 6–42.8 mm f/2–5.9 ASPH. 7× zoom lens, with a range equivalent to 28 to 200 mm in 35 mm format, is extremely versatile and ideal for every kind of photography from portraits to wide-coverage shots and capturing the beauty of landscapes. Even more creative freedom is provided by a freely programmable ring on its lens. The combination of high-precision optics and a large sensor guarantees outstanding imaging performance and pin-sharp pictures with brilliant, natural colours, clarity and contrast. Thanks to its extremely fast autofocus and a continuous-shooting mode with up to ten frames per second, it captures even the tiniest details.
The Leica C is the first Leica camera to feature an integrated Wi-Fi and NFC (Near Field Connection) module. This allows the wireless transfer of still pictures and video data to smartphones and tablet PCs via a WLAN connection. To enable this function, all users have to do is download the Leica C Image Shuttle app and install it on their iOS or Android end device. The photographer can then dial into a WLAN connection and the data transfer can begin. Another highlight: WLAN and the app enable remote control of the Leica C from a smartphone or tablet PC – particularly practical for remote-release photography and shooting with the self-timer.
The camera's full-HD video function opens up even more creative opportunities. The 3″ camera monitor offers photographers complete control during exposure and recording. The camera's integrated viewfinder is an additional aid to composition and assessment of scenes in brightly lit situations. Videos and still pictures alike can be creatively processed either in the camera or with the Adobe® Photoshop® Lightroom® professional imaging software supplied with the camera.
Concurrent with the launch of the Leica C, Leica is also extending its service portfolio. This provides particular benefits for Leica C customers, as they can take advantage of a secure image-archiving package as an exclusive starting offer. More details will be announced in the near future.
As the perfect complement to the Leica C's elegant and stylish looks, Leica now offers a range of specially designed, perfectly finished, premium matching accessories. The range currently features five different models. Every single one of these bags and cases is a unique and fashionable accessory – for example, the Leica C-Clutch, an elegant clutch handbag with carrying strap. In light gold or dark red Alcantara with a sandblasted metal closer, it offers two separate compartments with ample space for the camera and other personal belongings. The Leica C-Twist wrap-around bag is also new. Also in Alcantara and in a choice of two colours, this bag is attached to the tripod bush on the base of the camera and then simply wrapped around the Leica C and elegantly closed with a magnetic clasp. Available in light gold and dark red, the Leica C-Snap and its materials mix of hard plastic and elastic silicone provides optimum protection against scratches and inadvertent knocks. A unique design lends this unusual accessory for the compact camera an eye-catching and personalised look. The Leica C-Pouch is an elegant pouch with a fascinating wrap-around design in black lambskin nappa. The Leica C-Case, an elegant case in black leather with lighter contrast stitching, also offers excellent protection for the Leica C. Thanks to its magnetic clasp, the case can be opened and closed quickly and ensures that the camera is always ready for action within seconds. This case is supplied complete with a matching carrying strap in black leather with lighter contrast stitching. The C-Hand Straps in soft and supple Alcantara in a choice of light gold or dark red complement the collection of premium accessories for the Leica C and guarantee optimum carrying comfort.
The Leica C will be available from authorised Leica dealers starting in October 2013. The Leica C-Pouch and C-Snap accessories will be available from December.