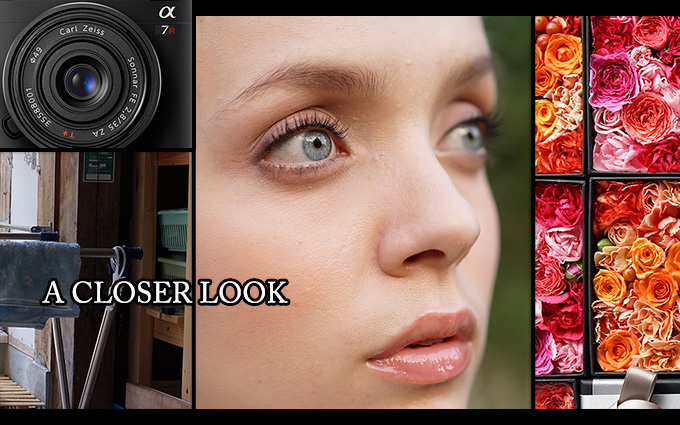 A closer look at the Sony a7 and a7r official samples
Buzz…Buzzzzzz….BUZZZZZZZ! Can you hear it? That is the massive amount of BUZZ going around the internet on the new Sony a7 and a7r cameras over the past week since Sony made these official. Sony released their official samples and I am sure 90% of you have seen them already, but I wanted to take a closer look and see just how good these new cameras are. As I suspected, the two primes are going to be stellar. When I shot a few frames off with each last week they were VERY fast to AF on the A7r, so should be faster on the A7. The IQ through the EVF and LCD seemed razor-sharp, even wide open so I expect these to do very well with the cameras. As good as the Zeiss 35 f/2 of the RX1? Maybe not (and by Sony making the 1st lens an f/2.8 35mm may mean they did not want to kill their RX1 and RX1r sales, which it could have done in a heartbeat if the IQ was the same or better).
The RX1 has a perfectly matched lens and sensor, and it shows. I mentioned at the RX1 release that even if Sony released an IC full frame body that the lenses released would probably not reach the level of what we get with the RX1 due to the matched setup. Looking at the 35 2.8 official samples though it gets close, probably due to the fact that the lens is an f/2.8 design.
With the A7 series comes some versatility that we lose with an RX1. Using different lenses like  the new Sony 55 1.8 or 24-70 Zeiss Zoom will bring in possibilities not possible with the RX1. Using old E-Mount glass in crop mode is also something we can do, though this would be like using a cropped body as well as your images will be cropped in camera. (unless you choose to turn off the crop, then you will get massive tunnel like Vignette)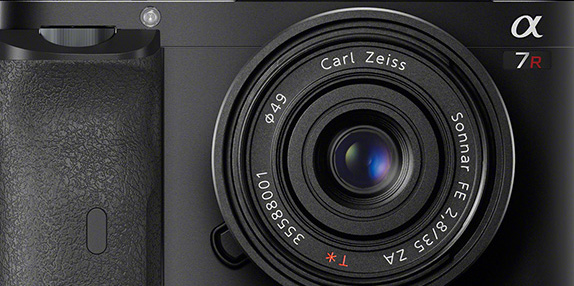 With the 1st reports not looking so good with the Sony A7 not working so well with wide-angle Leica M glass (as I expected) we can not forget that the native lenses from Sony may be just as good AND include Auto Focus to go along with it.
I downloaded the official samples from the 35 2.8, the 55 1.8 and the 24-70. When viewing them I remembered why I avoid zooms and treasure primes. 🙂
The 1st two images with the 35 2.8 and 55 1.8 were shot on the A7, the $1698 model. Yep, a full frame latest sensor tech compact IC camera for under $1700 that will give you Leica M quality (I think it may surpass it in color, detail and ISO capability) with everything but wide-angle Leica lenses.
Leica M Mount – 12-24 wide angle may be a no go on the Sony A7 and A7r.
Early reports suggest any lens in M mount from 28mm and up will be just fine. 28mm and under will have color shifts and corner smearing. I have yet to see for myself but will I will be bringing a slew of M mount glass with me next week to the week-long Sony event where I will have an A7r glued to my side (if they let me) 🙂
I will test a 12mm, 15mm, a couple of 35mm, a 21mm and a couple of 50mm lenses as well (4 of them). All M mount. Guess my travel bag is going to be a little crowded! (Thanks to Stephen Gandy at Cameraquest as he is sending me a slew of Voigtlander lenses to test) 🙂
But even if the Camera has color shifts with the 12 and 15 Voigtlander lenses, so does the Leica M which comes in at $7000. I use the 15 in B&W only on the M and would do so with the Sony as well.
At the end of the day though, if you own wide-angle LEICA lenses with 6-Bit coding, these will always work best on the Leica M 240 due to the correction the Leica applies in camera to your files. The Sony will NOT apply correction like this in the camera for the lenses like a Leica 21 or 24 Lux, or Wide Angle Tri Elmar. So if you are a wide-angle Leica lens guy who likes to shoot his 21 and 24 and WATE, the Leica M is your best bet. My bet is if you shoot 28mm and up, the Sony will do fantastic and may have some vignetting. We will see VERY Soon.
The Sony Native FE Lenses
So let us get back to the lenses that were designed to be used with the new Sony full frame cameras. The FE line. At launch pickings will be slim with only a kit zoom (which I do not recommend if you want the best quality from these cameras) and a 35 2.8 Zeiss, which is the main lens I will use until the 55 arrives later.
The Zeiss 35 that I shot with briefly on the A7r was small, light and seemed like a good mate for the body. The 55 was a little larger but light and fast as well as SHARP.
Both will be part of my Sony kit as I feel these will extract the best quality from the cameras. Also, just as the Sony RX1 beat the IQ from the Leica M and 35 Summicron, I feel that the A7 or A7r may just beat out the Leica in general when using the higher quality Sony/Zeiss glass that was made for the camera. Again, time will tell. I feel the color coming out of the A7 and A7r is beautiful, rich, correct. The detail is staggering when using the primes and the DR should be HUGE.
Let's take a look at Sony's official samples from each lens in detail:
1st up, the official Sony sample shows a nice kitchen scene with natural light from the window. It was shot at f/5 and ISO 400. YOU MUST click the image below to see it in larger size with 100% crops that are embedded with it.
You will see VERY nice color, large dynamic range, sharp edges and nice details. This lens is a must own lens for the system as it will give you a nice mix of sharpness, detail, color and a very rich tonality. The Leica M and 35 cron could not do any better here and I should know as I have processed  thousands of files from the Leica. If you put a Zeiss ZM 35 2.8 on the M you may do a little better but maybe not. I am liking what I see here. 
At $2500 total cost for the A7 and 35 2.8 and the fact that it can meet the quality of the Leica (maybe exceed it) which would set you back over $7800 with a 35 2.8 Zeiss ZM AND Give you a choice of Auto Focus if you want it say a lot. Then again, to some, nothing will ever replicate SHOOTING with a Leica. Manual focus RF shooting is a whole different experience that EVF manual focus shooting 🙂 The Leica feels like an instrument. The Sony like a machine. To many, that is part of the whole user experience and some would NOT swap that at any cost. With that said, the Sony combo is looking really good here, but it gets better (and worse). 
You can Pre-Order the 35 2.8 at B&H Photo or Amazon – Ships around Dec 1st.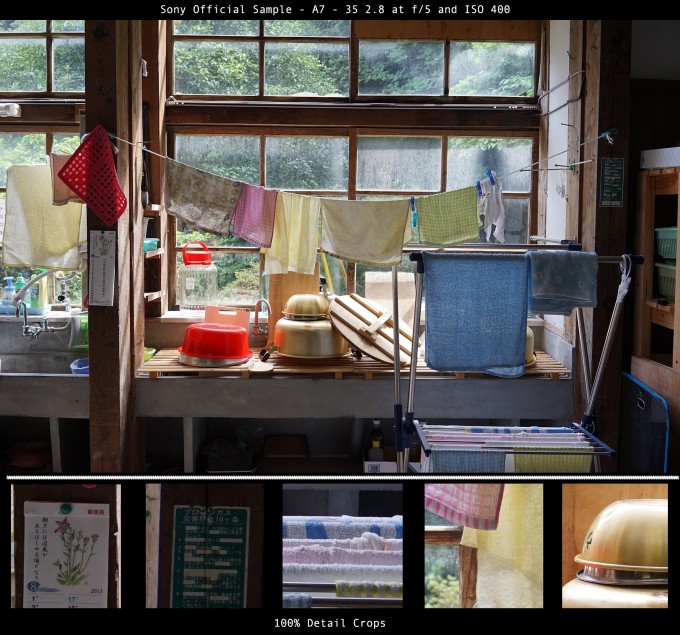 –
Now we have a beautiful sample with the A7 and 55 1.8 at f/2.2, so close to wide open. This is another HQ Zeiss lens and it shows. Click the image for larger to see the real crops and details.
What I see here again is nice color and fantastic details. The DOF is shallow and creamy and the Bokeh is in no way offensive. It is SMOOTH. But if detail is what you want, this lens will give it. The crops of the eyes, the mouth and nose show this. Full Frame gives you this so if you are a pixel peeper, a person who prints VERY LARGE or you just like that massive full rich file quality, the Sony A7 (again, this is not the higher res A7R) or A7r will fill your pixel peeping needs. This is also a lens I pre-ordered as the speed was superb when I tested it for a few shots.
You can pre-order the 55 1.8 at B&H Photo or Amazon.  Ships around Dec. 22nd, just in time for Christmas!
Again, the image below is the Official Sony Sample, and belongs to Sony 🙂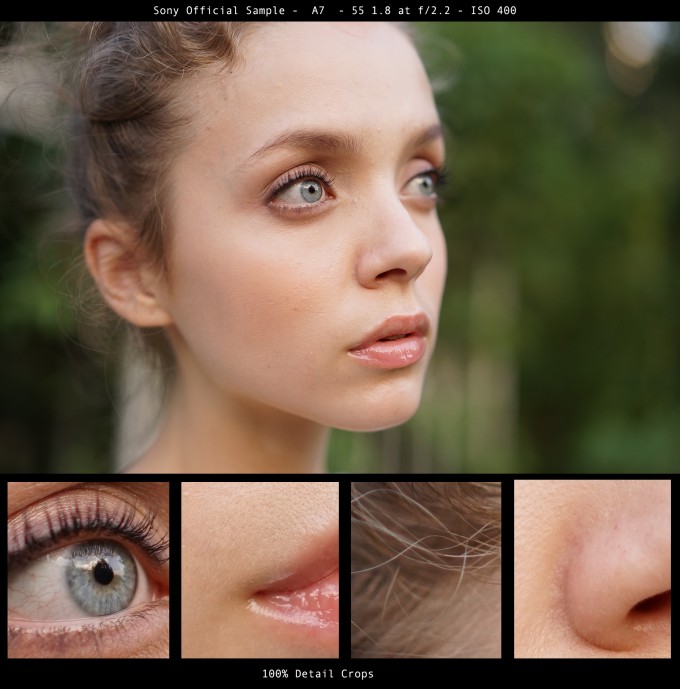 –
Finally a sample with the A7r and they used the Zeiss 24-70 Zoom. Click it for LARGE size and true crops.
Zooms. I have not been a fan of Zoom lenses for probably 15 years. To me they offer convenience but to get that convenience you always lose three things. Speed (as in Aperture), Sharpness and SIZE.
The Zeiss 24-70 Lens is larger than the primes of course and I was able to hold one while mounted to the camera but not shoot with it. After holding it I realized I would never order it due to the size. If I wanted large I would buy a large DSLR. (Canon 6D would be my choice). But I want small with the quality that meets or exceeds those large DSLR's. The A7 and A7r has that capability but when using it with the 24-70 it appears to give the same old full frame DSLR Zoom quality. 
Many shooters LOVE zooms. I prefer primes for DOF control, small size, and better quality. The only zoom I have tried in the past 15 years that I would consider buying is the new Olympus 12-40 for  their Micro 4/3 cameras. When mounted on the E-M1 it was blazing fast and offered prime lens quality. But this Zeiss, not so sure after looking at the official Sony sample below.
The corners are soft (especially the upper left corner) and overall there is a softness across the whole image that we do not see in the prime examples and this is with the A7r, which is without AA filter. Now I admit, I am spoiled. I am used to Leica prime lens quality and when I see Zoom lens results I am always disappointed. Many may be thrilled with the Zeiss Zoom, but not me. In any case, the colors look wonderful, which seems to be a strong point for the new Sony cameras. Since the RX1 Sony has improved their color over past models and I like it.
You can pre-order the Zeiss 24-70 at B&H Photo or Amazon – Ships around Feb. 2nd 2014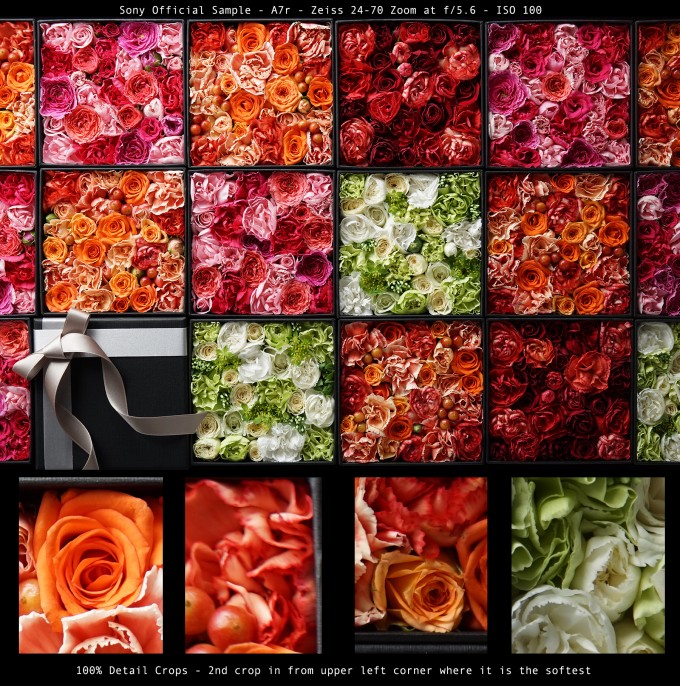 –
How about a Black and White conversion? I took the Official Sony Sample and converted it to B&W using the DXO Filmpack Neopan 1600 setting (minus the grain/noise). Looks DAMN good to me.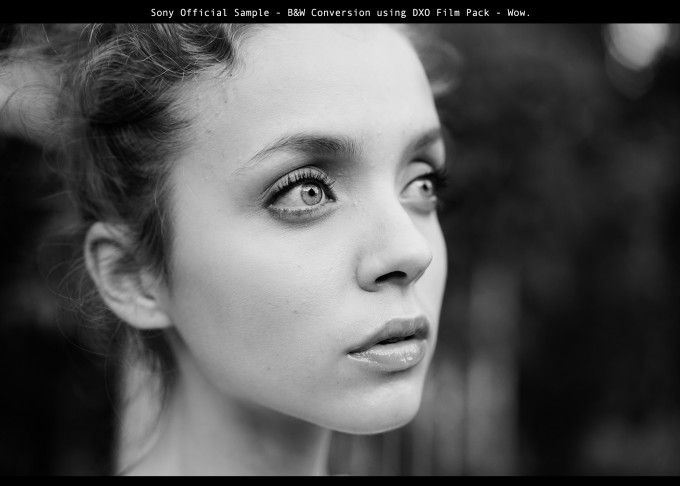 At the end of the day I can tell just from these samples that the Sony A7 and A7r will be image quality monsters. That is without question. I also think they will do well with Leica M glass past 28mm, best with 35mm and up. But do not discount the Sony FE offerings that we have so far. The 35 and 55 look AMAZING. The Zeiss 24-70 looks good, but to my eye, could be better in the corners. My pre-order is in for the A7r ,35 2.8 and 55 1.8. The A7 looks REALLY good as well and it has the faster AF (though the A7r is 40% faster than the NEX-7 AF).
So get ready for the blitz of samples that will be headed our way over the next 10 days. Believe me, there will be LOADS of image samples coming from me as well as MANY other websites.  I will be headed to NYC tomorrow for Photo Plus so if you are there, look for the guy walking around with the shiny bald head 🙂 I am easy to spot.
Steve
Help This Site! It's EASY and you can help just by doing what you already do!
My pre-order page for the Sony A7 and A7r plus accessories and lenses is HERE. If you use my links you gain instant convenience of ordering as well as helping this site to continue. I never ask for donations so this is the only way this site keeps on chugging along. Without you guys using those links, this site with its 5 years of resources, reviews and articles would vanish. So thank you. 🙂 I work on this site 6 days a week, and on many days it is really a 24/7 operation with constant e-mail, updates, communications, and news. The cool thing is that I love it and even after 5 years it is still my passion.